Happy employees spend longer time in their organizations and work more efficiently. And the onus of ensuring employee satisfaction and happiness is on the employers. To retain employees and attract new talent, you must create a work culture where employees are not just happy but can also keep in sync their own objectives with that of the shared organizational objectives.
To win the marketplace, you must first win in the workplace - Doug Conant
But how to win the workplace?
How to know if your employees are happy?
How to create a happier workplace that is also conducive to everyone's growth?
The answer is Employee Net Promoter Score.
To measure Employee Satisfaction, you can use Employee Feedback Software and run surveys at regular intervals to learn more about how your organization and the overall working environment are perceived.
In this article, we talk about employee Net Promoter Score as well as employee Net Promoter Score calculation. We also discuss how you can maximize employee satisfaction using feedback.
Read on.
Boost Employee Engagement
Measure, analyze and improve employee feedback and reduce employee turnover with Zonka Feedback.
How to Measure Employee Net Promoter Score
Employee Feedback is all about the information regarding the perception of your employees about the managers, team, work culture, and the organization as a whole.
So, in order to get Employee Feedback, you should keep doing regular surveys to measure employee happiness at the workplace. When we talk about Employee Surveys, we don't necessarily mean long questionnaires; you can create short surveys to measure feedback across the most critical metrics, such as eNPS.
Like there is NPS or Net Promoter Score used to measure the likeliness of the customers to recommend a brand to their known ones, eNPS is a variant of NPS used to measure the likeliness of the employees to recommend their company to their friends as a great place to work.
Let's read in detail about employee Net Promoter Score.
Overview of Employee Net Promoter Score
eNPS or Employee Net Promoter Score is a metric for measuring Employee Satisfaction and loyalty. It is also a quick way to measure Employee Engagement and the health of the working environment in an organization.
It measures employees' satisfaction with their jobs and their likeliness to recommend their company to their friends and known ones as an awesome place to work.
eNPS is a score that is measured through an employee survey that prompts them to rate the company and workplace environment on a scale of 0 to 10. The employees who rate 9 and 10 are promoters, those who rate 7 or 8 are passives, and those who rate from 0 to 6 are detractors. eNPS is found by subtracting the percentage of detractors from the percentage of promoters.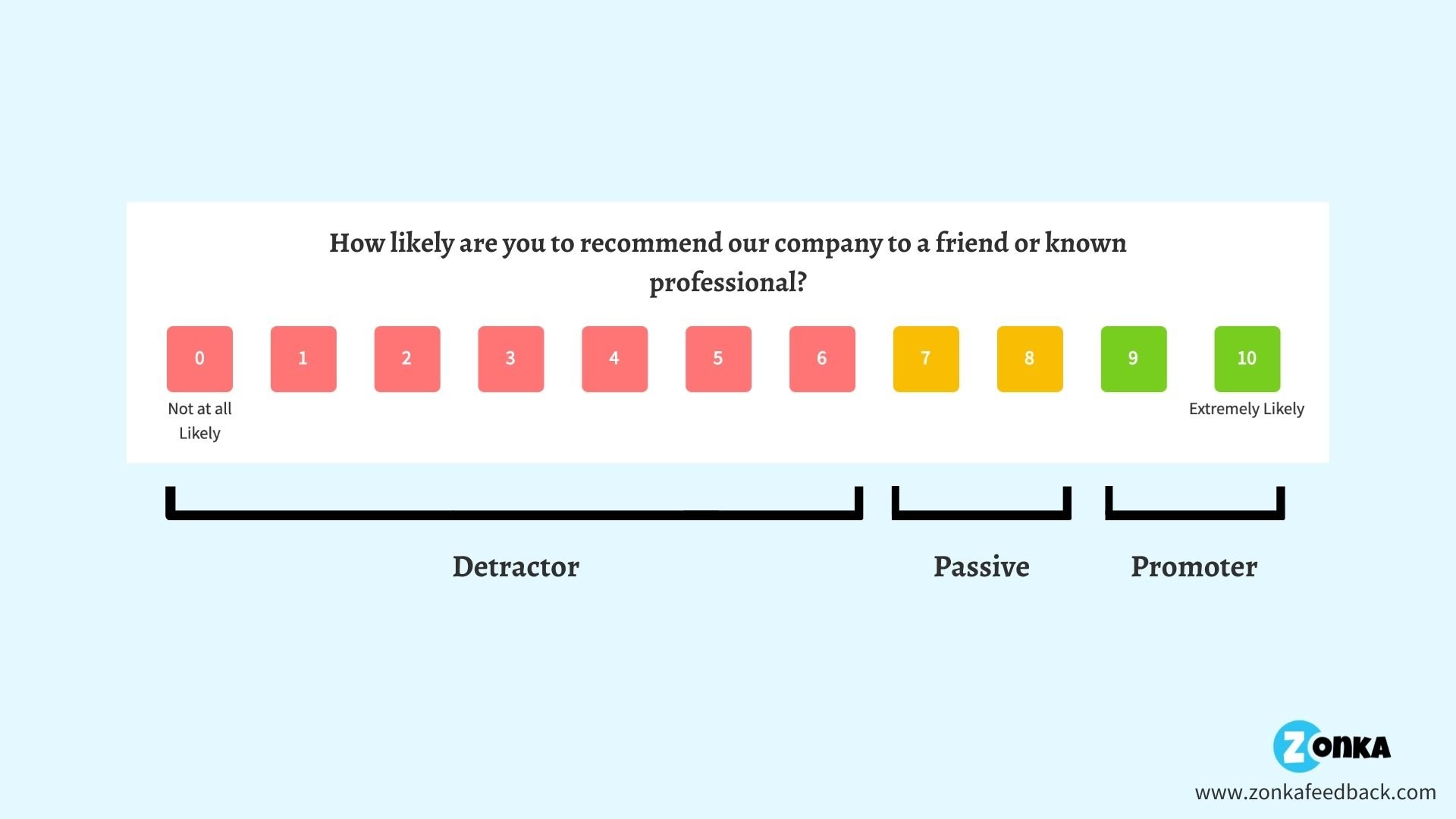 A good eNPS shows that more number of employees are happy, which will attract more talent to your organization. Whereas, a bad eNPS shows that a large number of employees do not feel motivated to work. They may leave their jobs as soon as they get a better opportunity, let alone recommend the company to their friends.
In this article, we discuss how you can maximize the value of the eNPS score in your organization. Moreover, we will share some tips to ensure employee happiness and build a healthy work environment. where the workers can strengthen their work ethics and also experience personal growth.
Talking about Employee Net Promoter Score calculation, here's the formula that you can use
NPS = % of Promoters - % of Detractors
To learn about other methods to calculate NPS, you can read our article on How to calculate the Net Promoter Score formula?
How to Maximize the Value of eNPS?
Let's study how you can maximize the value of eNPS in your organization.
1. Ask reasons for eNPS ratings
In your employee feedback survey, after the eNPS question, the next question should be aimed at understanding the reason for such a rating.
You can set logical surveys to ask the reason for the rating for detractors, promoters, and passives.
What is the reason for your score?
What do you like the most about the company?
How can you feel even better in this company?
What can we do for you to improve your experience at the workplace?
Below is a ready-to-use eNPS survey template to help you better understand how employee feedback works. The survey consists of an NPS question and an open-ended question to collect qualitative feedback along with employee loyalty ratings.



2. Timely Surveys
Conducting the eNPS survey is very important. Sending out surveys too frequently like every month will lose its value. Whereas, measuring feedback after long gaps will not yield effective benefits.
Therefore, it is necessary to send eNPS surveys at the right time. Conducting quarterly or half-yearly eNPS surveys would best suit almost all organizations. It will help you observe the eNPS trends and understand how business decisions make or break your employees' satisfaction levels.
If you wish to understand how to time your surveys correctly, you can read our article - The Right Time to Send NPS Surveys
3. Act on the Feedback Received
Merely taking feedback is useless until you take action on it, even with an effective metric like eNPS. No matter how successful the survey was, if you didn't try to go with the opinions of the employees, eNPS will not improve at all.
When you are conducting Employee Surveys, you must be open to improvement and change. If you don't act on the results received, employees will not even bother to take the survey next time, let alone give a better rating. Whereas, if employees see an improvement in the areas they specified that need improvement, it has a very positive impact, and eNPS improves to a large extent.
Apart from this, you must keep in mind that the most effective way to improve eNPS is enhancing Employee Satisfaction and making your organization genuinely an awesome place to work. Let's list out some effective tips which can help you do so.
Ensuring Employee Happiness and Healthy Workplace Environment
Develop a learning and knowledge-sharing culture
Organize fun activities
Be open to employees' suggestions
Employee recognition and motivation
Maintain work-life balance
Let's review how these tips can help you in improving eNPS from the roots by ensuring employee happiness and healthy work culture.
1. Develop a learning and knowledge-sharing culture
To create a healthy work environment, you must motivate and appreciate a learning and knowledge-sharing culture. A competitive environment is not bad, but encouraging cut-throat competition does more bad than good. It hampers teamwork and spoils the environment of trust and support.
Whereas, if you encourage knowledge-sharing and a supportive environment, it will not only create a better work culture but will also help your employees develop their skills. Moreover, try to organize training sessions for the development of the employees.
2. Organize fun activities
Entertainment and fun are necessary to be happy and feel energetic. Merely pushing the employees for a high volume of work without any fun will ultimately decrease employees' productivity.
Work without fun is like peanut butter without jelly - Jase Robertson
So, you must promote a culture with fun activities from time to time. You can arrange activities like weekly Friday Fun, monthly Birthday celebrations or quarterly recognition programs, or festival celebrations.
3. Be open to employee suggestions
To promote Employee Engagement, always be open to suggestions from the employees. If you take employee suggestions and try to implement them, employees feel very engaged and attached to the organization.
For welcoming employees' suggestions, you should motivate the employees to give their ideas. You can also keep a suggestion box where employees can share their suggestions with their names or even anonymously.
Moreover, you can also use our employee exit survey template to collect feedback on various aspects like supervisor performance, professional growth, work-life balance, work culture, etc.
4. Ensure employee recognition and motivation
Employee recognition is a very important aspect in order to increase employee happiness and engagement. You must give proper recognition to the employees doing good work. This will not only boost their confidence but would also motivate other employees to work like them.
5. Maintain work-life balance
Work-life balance is one of the most important that determine employee happiness. Small benefits like an added week of vacation can work wonders because happy and well-rested employees contribute more towards the success of a company.
You can also use our employee wellness survey template to gauge your employees' physical and mental health, work environment, intellectual stimulation, workplace satisfaction, etc.
Conclusion
Employee Net Promoter Score can give you deeper insights into your employees' happiness levels, which can help you create an employee-centric environment.
So, choose a reliable survey tool with readymade NPS survey templates and questions so you can kickstart your feedback strategy and also close the feedback loop to improve employee satisfaction.
Boost Employee Engagement
Measure, analyze and improve employee feedback and reduce employee turnover with Zonka Feedback.