Customer service has become indispensable for not just ensuring customer satisfaction but also for earning customer loyalty and building a positive brand image. Therefore, brands all over the world need to excel in their customer service.
According to the Institute of Customer Service, 58% of customers would stop buying from a company because of poor customer service. And 70% of them would also discourage others to engage with the same business. But what exactly is great customer service? Is it giving your customers a compensatory gift card for all the trouble they went through? Is it sending them a bunch of flowers on their birthdays and making them feel special? No!
Excellent customer service is ensuring that customers require putting in the least amount of effort in doing business with you. And their effort is measured using one of the most important customer feedback metrics – the Customer Effort Score.
Measure & Improve Customer Effort

👩‍💻
With CES Survey insights, design low-effort experiences for your customers and improve loyalty.
Customer Effort Score is measured using a CES survey that prompts participants to rate their effort in doing business with you on a scale of 'Very Difficult' to 'Extremely Easy'.

On this scale range, a 1-3 segment (Strongly Disagree to Somewhat Disagree) will be associated with negative results, whereas the 5-7 segment (Somewhat Agree to Strongly Agree) represents positive results. CES surveys also further ask customers to rate the reason for their scores, thereby allowing businesses to identify what is leading to an increased customer effort.
Here's a live CES Survey you can try right away:
How can I Reduce Customer Effort?
Harvard Business Review stated that 94% of clients would make repurchases from you only if they don't need to put in a high level of effort working with you. Therefore, it is not only important to measure Customer Effort Score but also to improve it.
Let's understand how to reduce the Customer Effort Score in your company.
1. Make Service Accessible
According to Salesforce, 75% of customers desire a consistent experience, regardless of how they engage with a company (through telephonic conversations, in-person communication, social media, etc.). Some customers may choose to opt for customer service via call while some may prefer other channels, such as email or webchat. The key is being accessible via different channels so that they can reach you and seek resolution.
This does not only mean being present on different channels; being accessible means helping customers quickly find what they need. For example, the right FAQs on the support page, availability of a support executive on live chat without a long waiting time, being connected to a live support person without a long wait, etc.
Make sure to map the customer journey and identify points where customers frequently reach out for service. It will help you create an omnichannel customer support strategy.
Additionally, understanding and optimizing on target earnings for customer service representatives can contribute to a motivated and efficient support team, further enhancing the overall customer experience.
2. Increase First Call Resolution
According to Hubspot Research, 90% of customers rate an "immediate" response as essential or very important when they have a customer service question. 60% of customers define "immediate" as 10 minutes or less. Therefore, FCR of first contact resolution is important in lowering customer effort.
Your customer service team must be equipped with information, such as trending complaints, recurring challenges, common solutions, etc., to be able to provide solutions to customers without them having to wait for days and months. The key is ensuring that customers do not have to call or email multiple times for a single service challenge with your brand.
3. Don't Make Customers Repeat Their Challenges
According to a Zendesk report, more than 70% of consumers believe that companies should collaborate on their behalf so they don't have to repeat information to different representatives. Customers find it extremely frustrating if they have to repeat their problem for the same challenge. Therefore, it is important to use the right technology that syncs all the customer information, the resolution status, last feedback, etc., to the customer contact or ticket so that every time a new representative is handed over the ticket, they know exactly what the customer needs.
Integration of survey software with customer servicing and ticketing tools is a good example of this. The integration allows customer tickets and contacts to be tagged with the recent feedback so that agents can modify support communication based on feedback without asking customers to share their challenges again.
You can read our detailed articles on Measuring CES in Zendesk and Measuring CES in Intercom to understand this better.
4. Allow Self-Servicing
69% of consumers first try to resolve their issues independently before reaching out to seek support. Therefore, it is important to allow self-servicing through automated chatbot technology, FAQs, knowledge library, etc. Moreover, when you're looking to introduce a self-service chatbot, make sure the technology is easy to use. And when you're creating a knowledge base, ensure that it answers all the questions that customers may have and is placed correctly for customers to easily find the information.
5. Close the Feedback Loop
A concern that is bigger than getting negative feedback is not addressing negative feedback. 78% of consumers will do business with a brand again after a mistake if it addresses their complaints and provide appropriate service support. Therefore, in addition to collecting customer service feedback, it is critically important to respond to complaints and close the feedback loop. Here are some things you must do:
Respond to customers and explain to them what you have done to resolve their challenges.
Offer an apology for a delay in response, if any.
Clearly communicate if the issue at hand cannot be resolved at the moment.
Compensate with gifts or discount cards to apologize for the inconvenience caused to them.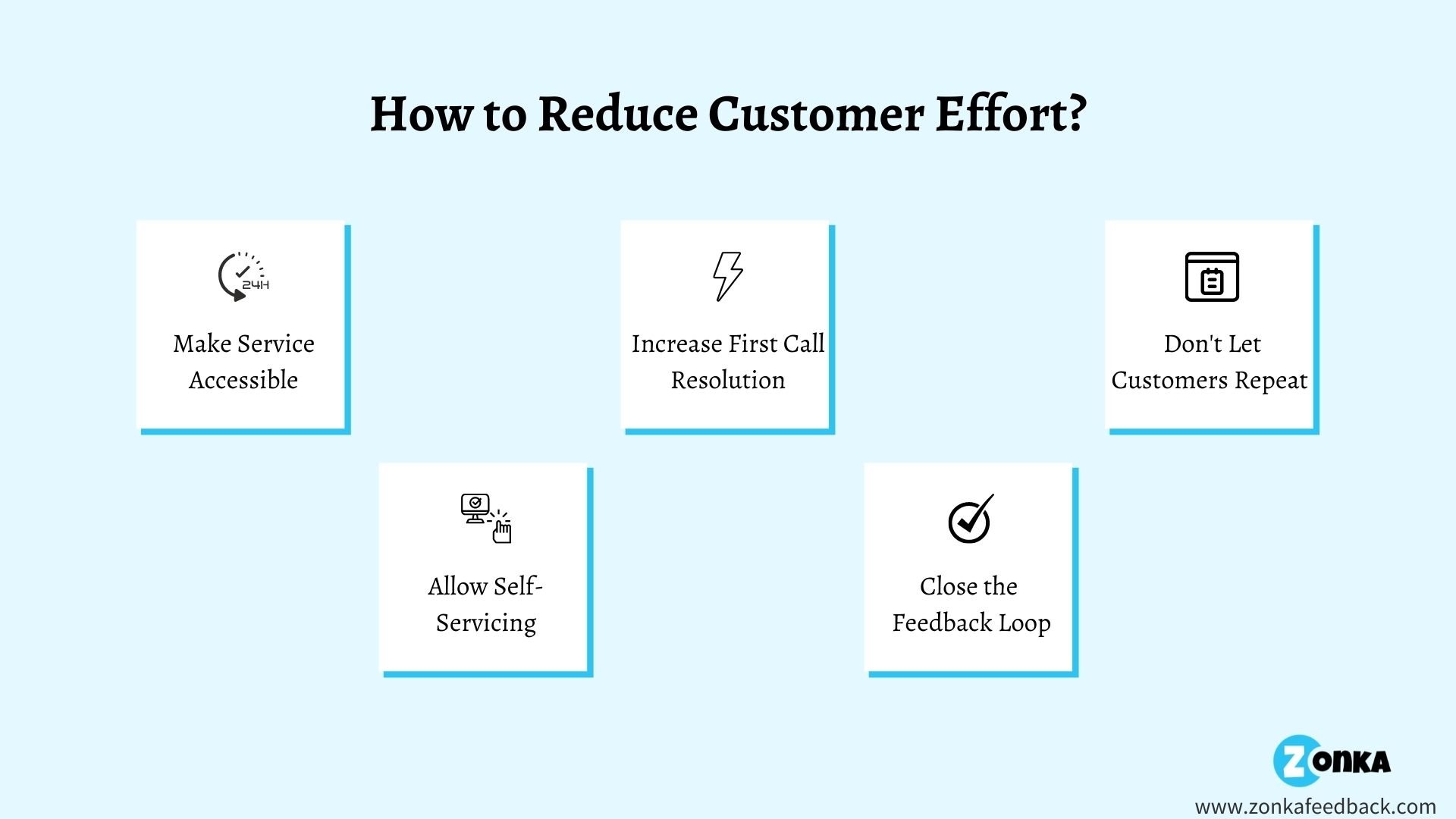 Conclusion
Customer Effort Score does not only give you an insight into customers' effort in doing business with you, but it also highlights specific customer challenges that brands must work on. Therefore, use feedback efficiently to prioritize complaints and identify feedback trends so that you can lower the overall customer effort and improve the Customer Effort Score.