Surveys are a great method to ask your customers what they feel about you and your business. It is the best way to capture Customer Feedback. Creating a good survey is not enough to get a good response, but it is also important to send them through the right way.
Surveys can be taken via different ways. You can make them appear on your website through survey links and pop-ups. You can use android tablets to capture survey responses from your customers at your workplace or any offline location. You can also set up unattended kiosks at your workplace to capture survey responses and you can also send survey links via emails and SMS too.
An Email survey is a survey that you distribute to your customers via email. Although, any question you ask from your customer through email is an email survey but technically, a real email survey is when you send a survey link to your customers via email, clicking on which, customers can see the full survey, fill it and submit it in a matter of few clicks.
To send surveys via email, the best way is to use good Email Survey Software. An effective Email Survey App or Software helps you to capture Customer Feedback through well-built customized survey.
It allows you to create customized surveys and white-label them with your own brand. Lets review how you can send surveys effectively via email.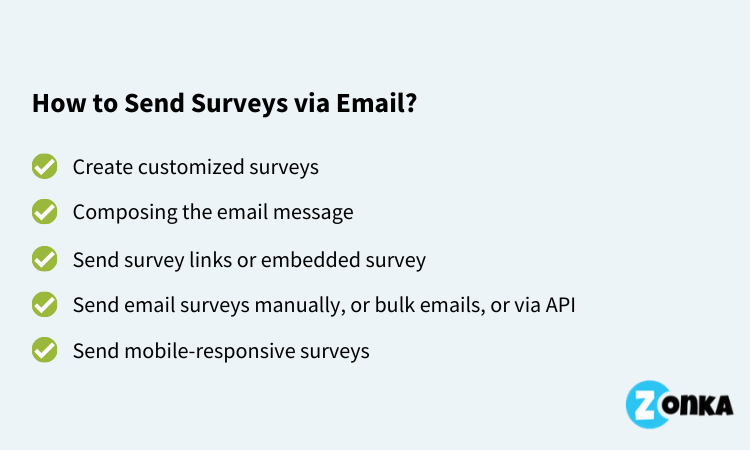 Sending Surveys via Email
Create customized surveys
Composing the email message
Send survey links or embedded survey
Send email surveys manually, or bulk emails, or via API
Send mobile-responsive surveys
Lets review how you can do this through an Email Survey Software or app.
1. Create Customized Surveys
When you are creating an email survey, you should customize it as per your survey requirements. You can choose among open-ended and closed-ended questions depending upon what you wish to ask from the customers.
For instance, you need to ask if the customer is satisfied or not, you can simply use a closed-ended question with two options. But if you want to gather detailed data about the overall Customer Experience, you should include open-ended questions where the customers can respond in their own words.
Also, you should decide the survey questions considering all the facts like the industry you are working in, the respondents you are dealing with and the purpose of the survey. For instance, you are running an apparel store and you want to survey all the customers who made a purchase from your store in the last week, you need to ask feedback regarding their experience at the store and their satisfaction with the quality of clothes they bought.
Similarly, if you are running a restaurant, along with the taste and quality of food, you will have to focus more on the feedback related to the service, hospitality, hygiene and the overall Customer Experience. Whereas, if are running an IT company and just gone through a client interaction and provided IT support to the client, your questions would be to collect the feedback regarding the support and issue handling by your employees.
With the help of an Email Survey Software, you can create surveys based on metrics like NPS(Net Promoter Score) for measuring customer loyalty, CSAT(Customer Satisfaction) scores for measuring Customer Satisfaction and CES (Customer Effort Score) to measure the effort made by the customers to get their work done or issues resolved.
An Email Survey Software also helps you to create beautiful surveys with advanced level customization. You can white-label your surveys with your own brand logo, theme colors and send them to the customers. This helps in reinforcing brand identity in the minds of the customers and thus increases brand recognition.
2. Composing the Email Message
Email message is an important part of email survey. Even if it does not contain the real survey, it does have a big impact on the response rate of the survey. Therefore, to compose an effective email message is also essential to make your survey a success.
Most of the people decide whether to read an email or not, on the basis of the subject line of the email. So, it is necessary use an engaging subject line. It must have the name of your brand or company and the purpose of email clearly mentioned. You should also try to make it more personalized and interesting. For instance:
Peter, you can share your opinion on the purchase you made yesterday from Great Attire
Moreover, the email message should be composed in a way that it motivates your customers to respond. You can mention an estimated time to complete the survey along with a motivating line, something like:
Help us to serve you better by sparing just two minutes of your time to complete this short survey.
In this way, an email message can be composed effectively to receive a good response rate on the survey.
3. Send survey links or Embedded surveys
You can choose either of the two ways to send your email surveys. Either you can use a survey link, or you can go for an embedded survey email. When you choose a survey link, make sure that it opens within a second or a couple of seconds with a single click. You can simply use a small motivating message in your email body, as mentioned above, followed by the link to your survey.
You can also send embedded email surveys. Embedded email surveys are those where the first question is already embedded in the survey. Customers can see that question as soon as they open the email.
To answer the question, they need to click on the question which takes them further to the full survey and they can take the whole survey. For instance, customers have contacted you to seek some support on an issue. You have provided all the support and the issue is resolved. Now, you are sending an email survey to know about their experiences.
You can use an embedded survey in this case. You should embed the first question in the email itself asking the customer:
Are you satisfied with the support provided to resolve your issues?
Yes, Satisfied.

No, not satisfied.
On clicking in the radio button of one of the options to answer the question, the customers will enter into the next questions of the survey and take the full survey.
This method helps in increasing the response rate as busy customers usually avoid clicking on a link to take a survey, no matter how short the survey is. Whereas, when they see a simple question to answer on the mail body itself, they tend to revert and after viewing the short survey, they also respond to some other questions and complete the survey.
4. Send email surveys manually or bulk emails, or via API
You can send email surveys by choosing one of the alternatives. You can either type manually the email addresses of the mail recipients, or you can use the bulk uploading option in your survey tool, or you can use APIs(Application Programming Interface) for Integrations.
If you have very few recipients, you can choose to do it manually. Whereas, if you want to send bulk email surveys, you can use your Email Survey Software to upload a list of bulk email addresses. With the help of good Email Survey Software, you can send bulk email survey simultaneously to multiple customers through CSV and bulk import.
For instance, you can select to send bulk email surveys to all the customers who made a purchase recently within a couple of days, or you can send to all those registered visitors who visited your place within a week.
Through APIs, you can connect the platform to other tools and apps. APIs help you to find email addresses and automate sending of email surveys from other apps and pull responses and reports to other apps.
5. Send mobile-responsive surveys and email responses
Because of the increasing use of mobile phones, many people have started making use of android phones in place of laptops and PCs wherever possible.
According to Adestra, "Top 10 email clients" (July 2019), "61.9% of emails are opened on mobile phones followed by 9.8% on desktop and 28.3 % on webmail client."
So you must always send emails with mobile-responsive survey links to your customers so that they can easily read the email, open the survey link on their mobile phones and respond to the survey questions through their phone.
You should also send email responses to the Customer Feedback you receive in the form of customer reviews, comments or complaints. This will convey that you value your customers and their satisfaction matters to you.
In this way, you can send surveys effectively via emails.
Get Started with Email Surveys
Send Email Survey Invitations, Embedded Email Surveys, In-Signature Surveys, and measure Customer Feedback remotely, in real-time.
Learn more about the Email Surveys