With COVID19, Customer Experience & Support Teams across the globe are speedily changing the way they are dealing with customers and issues. Business isn't going on as usual and most strategies that normally work, now don't work. They are extraordinary circumstances and they need extraordinary measures as well.
Imagine this, your business is facing cutbacks and business losses due to the pandemic. You're stressed about employee safety and customer experience and amidst that, you are reaching out to other businesses you work with for support. What do you expect? A quick response and a good interaction.
Elevate CX with Customer Feedback🔥
Collect real-time, in-moment feedback at all touchpoints in customer journey and leverage feedback insights to transform customer experience.
That's exactly what you need to offer your customers as well. A good interaction, particularly in these times of crisis, is likely to have a lingering effect on your customers and will definitely impact their loyalty and trust towards your brand. Moreover, you also need to ensure Employee security and well-being also so that they can work efficiently to satisfy the customers.
And we know it's not easy. You're dealing with the crisis too and there will be days you will be frustrated and exhausted. Don't be too hard on yourself. And don't let this get to you or your business.
We're here to share some sure-shot steps to ensure you excel at giving a great Customer Experience even during these testing times, without adding stress to your business.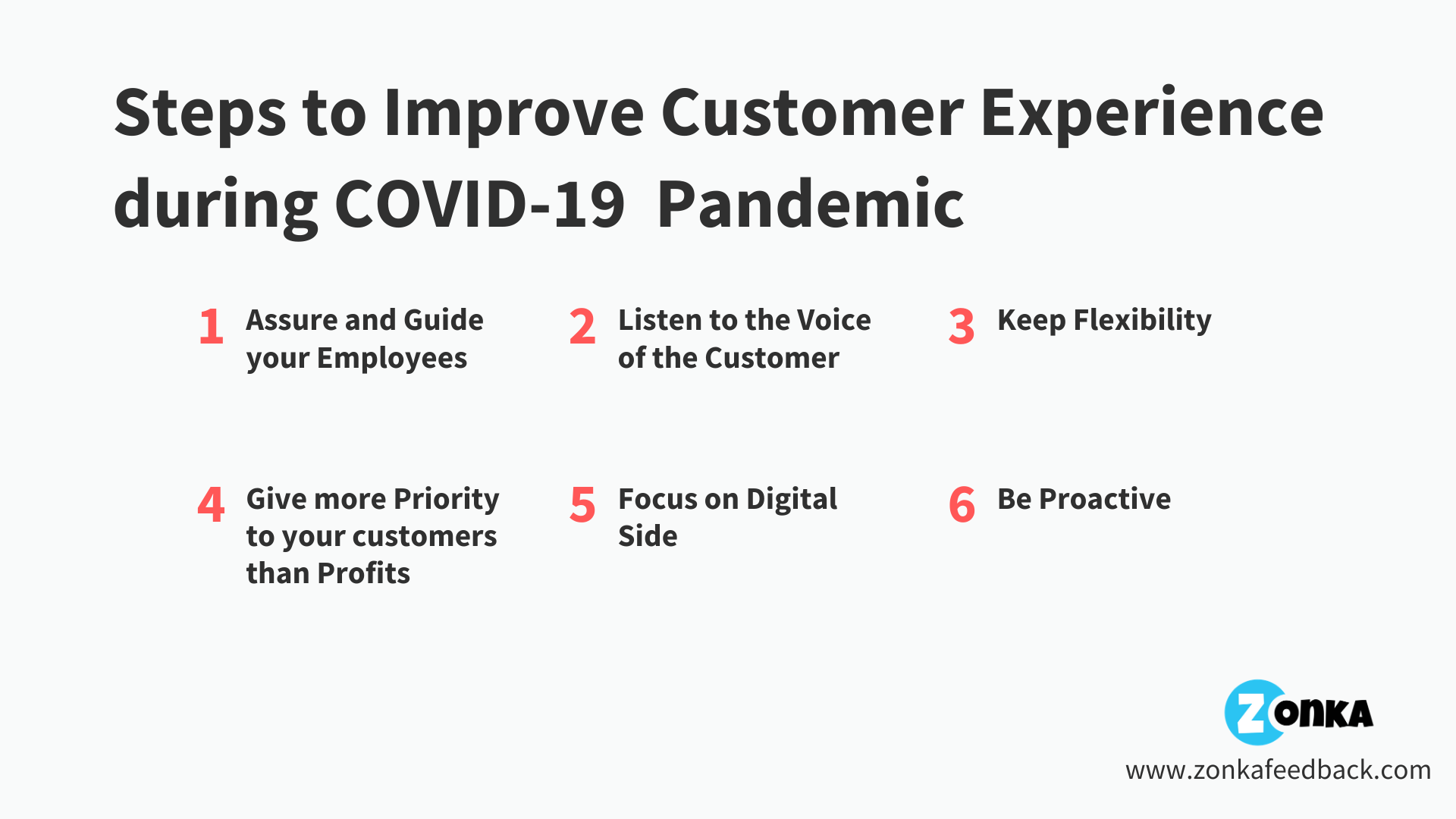 Let us review how these steps can prove to be useful for improving Customer Experience in this tough time of pandemic.
1. Assure and Guide your Employees
Employees are the greatest asset of an organization. To keep your business running to provide a great Customer Experience even in this tough time, do ensure that your employees are secure and motivated to work. Let your employees know how your company and its business is affected due to this pandemic and how you are dealing with it.
Along with the whole world, your employees are also going through stress and anxiety and you need to do something more than just empathize. Do whatever it takes to safeguard employees' well being.
Moreover, be honest and upfront. Share the company's position with them to assure them that their jobs are safe. If people inside don't know about the organization, and are not feeling secure, they can't really be confident in assuring customers regarding business continuity. So, it is very important to ensure mental health of your employees to ensure your customers have a good experience as well.
2. Listen to the Voice of the Customer
Always listen to the voice of the customers to know what's going on in the customers' minds at this time. The situation is common and you cannot predict customer behavior at this moment. You need to capture Customer Feedback and work accordingly. You can do this with the help of a good Customer Feedback Software.
You even have to pay heed to unstructured feedback. This can be done by taking open-ended feedback with comment boxes and analyzing those comments. With the help of Text Analytics feature of an effective Customer Feedback Software or App, you can do this analysis and also recognize trends and act accordingly.
You can also opt to take feedback in the form of different Customer Satisfaction metrics like CSAT, NPS and CES. These metrics also help you to listen to the voice of the customers through simple and easy surveys to get customer insights.
3. Keep Flexibility
Remember that policies are made for people and not vice-versa. Following your corporate policies is no doubt important, but in such an emergency situation, you need to be flexible. You should not be too rigid with your policies and should make your employees understand this too.
You need to be flexible on certain things like timings and SLA (Service Level Agreement). This is not the right time to do strict adherence of every policy and procedure if you want to improve Customer Experience.
4. Give more Priority to your customers than Profits
We understand that everybody works for profit and you also would be facing economic crises like any other company all over the world at this point. But customers will remember those who provided them full support and cooperation at this time. So, prioritize your customers over profits.
For example, you are in a service industry and customers are able to provide your payments late in this situation. Try to empathize with them and waive off late payment charges. At least they are giving you business and paying you, isn't it? Imagine your vendors charging you late payment fees and interest in this pandemic situation when your business is already suffering. Would you like it? Of course not!
Similarly, customers would also be facing some issues related to cash flow during this period. All you need to ensure is that your actions represent that you care about your customers. This will improve Customer Experience and increase your goodwill in the market.
5. Focus on Digital Communication
Most of the people are avoiding to go outside to prevent them from getting infected. At this time, you have to focus more on your digital communication. You must ensure a great online service for your clients.
Try to do more and more work online whatever possible and provide good online support to your customers in need. Just do your best to make everything easy and simple for the customers.
6. Be Proactive
Follow a proactive approach while dealing with the customers. If something is taking long, do not wait for the customers to approach you for asking the status of their work. Send proactive notifications to the customers regarding every step.
Imagine you ordered something online and you neither receive your ordered product nor any information about it for about 15 days. How would you feel? Of course not good! But if you get proactive messages for every step like packing service, dispatch etc., it will be a pleasant experience, isn't it? Same is with the customers. Proactively let the customers know that their work is being done and at which stage it has reached.
Note:
Keep in mind that this is an unusual situation for all, be it you, your employees or your customers. Empathize and cooperate with everybody. The situation will hopefully improve in the coming days but your patience and great Customer Experience will help you come out of the crises with a good brand identity.