According to PWC research, 86% of customers are willing to pay more for a great customer experience. But as it is correctly said, you can't improve experience unless you measure it.
Renowned brands like Apple and Google use customer surveys to capture really useful insights into customers' expectations and experiences. It can be an excellent idea to equip your customer service team with useful customer feedback and improve customer experience dramatically.
But before brands start conducting customer surveys – they require making an important decision. Should you invest in a dedicated survey tool or use customer satisfaction surveys in your Zendesk tool?
For many reasons, businesses prefer measuring customer experiences using Zendesk surveys in a dedicated survey tool. In this article, we will expand on those reasons.
Measure Customer Service & Agent Feedback with Zendesk Surveys🔥
Trigger automated email, in-signature, SMS surveys after tickets are closed, measure CX Metrics and Agent Feedback and sync back feedback data to Zendesk with Zonka Feedback.
To help you better understand the differentiation between your Zendesk tool and dedicated customer survey software, we will use Zonka Feedback Survey Tool as an example.
Let's get started.
Why Choose a Survey Tool Over Zendesk Surveys?
Customizability for Relevant and Insightful Feedback
Freedom of Design
Feedback Across Different Customer Experience Metrics
Customer Surveys at Any Time
Syncing and Migration of Data
Availability of Insightful Reports at All Times
Access to All CX Surveys with a Single Plan
1. Customizability for Relevant and Insightful Feedback
The aesthetic appeal of an interface highly appeals to users, which can then increase the survey participation rate and improve the quality of feedback. Therefore, you might want to customize your surveys in a way that customers are more willing to take them and answers are more insightful.
With Zonka Feedback Survey Tool, you can effortlessly create surveys that are attractive and easier to take. For example, you can add a rating scale or an emoji bar for customers to rate their level of satisfaction. This can improve the quality of feedback since you're giving customers a chance to rate their experience, especially when they do not wish to share a detailed answer.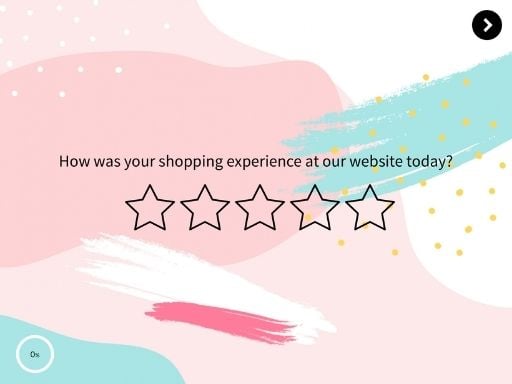 Moreover, the Zonka Feedback survey templates embedded in Zendesk customer emails are clickable and can be redirected to a survey the size of your choice. You can simply ask customers the reason for their answers or ask multiple questions to gather feedback on different aspects, such as the quality of product, the quality of service, price feedback or suggestions, product delivery effectiveness, etc.
On the other hand, Zendesk surveys only allow collecting customer feedback on a scale of just two answers: Good or Bad. Once the customer clicks on an answer, another page opens up and prompts them to share the reason for their answer.

This may not work for customers who do not want to write a detailed answer and rather prefer rating their experience on different aspects with just a few clicks – something that can be done using a dedicated survey feedback tool.
2. Freedom of Design
The drawback of Zendesk surveys is the design customizability remains limited. The maximum you can do to make a Zendesk survey look better is to replace the binary text answers with buttons using placeholders. This is what the survey question would look like:

But with Zonka Feedback Survey Tool, you can choose from hundreds of appealing, ready-to-use survey templates to create crisp as well as detailed surveys.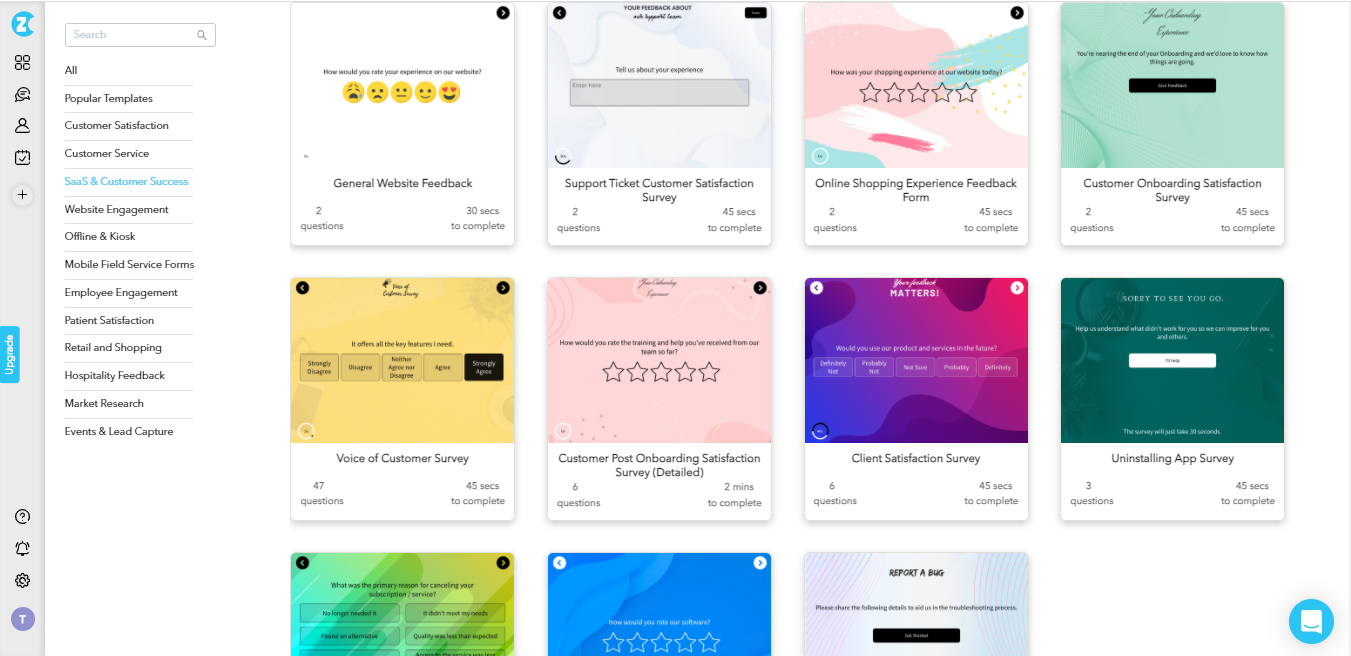 And when it comes to customizability, here are a few of all the things you can:
Brand surveys using your logo, theme, font color & family, etc.
Use different types of question styles, such as MCQs, rating scale questions, Likert scale questions, ranking questions, dropdown questions, open-ended questions, etc.
Insert survey logic to make the survey questions more relevant.
Autofill customers' information available to the brand, such as contact number, email address, purchase ID, etc.
3. Feedback Across Different Customer Experience Metrics
In a comprehensive feedback survey tool, for example, Zonka Feedback Survey Tool, you can collect customer feedback across different metrics, such as:
NPS
NPS or Net Promoter Score indicates how willing your customers are to promote your brand among their friends and family.
CSAT
CSAT surveys or Customer Satisfaction Surveys are designed to measure how satisfied the customers are with the product or service received.
CES
CES or Customer Effort Score survey measures customers' effort in getting a resolution from your brand. This can be used to measure the effectiveness of your customer service agents or self-help portals.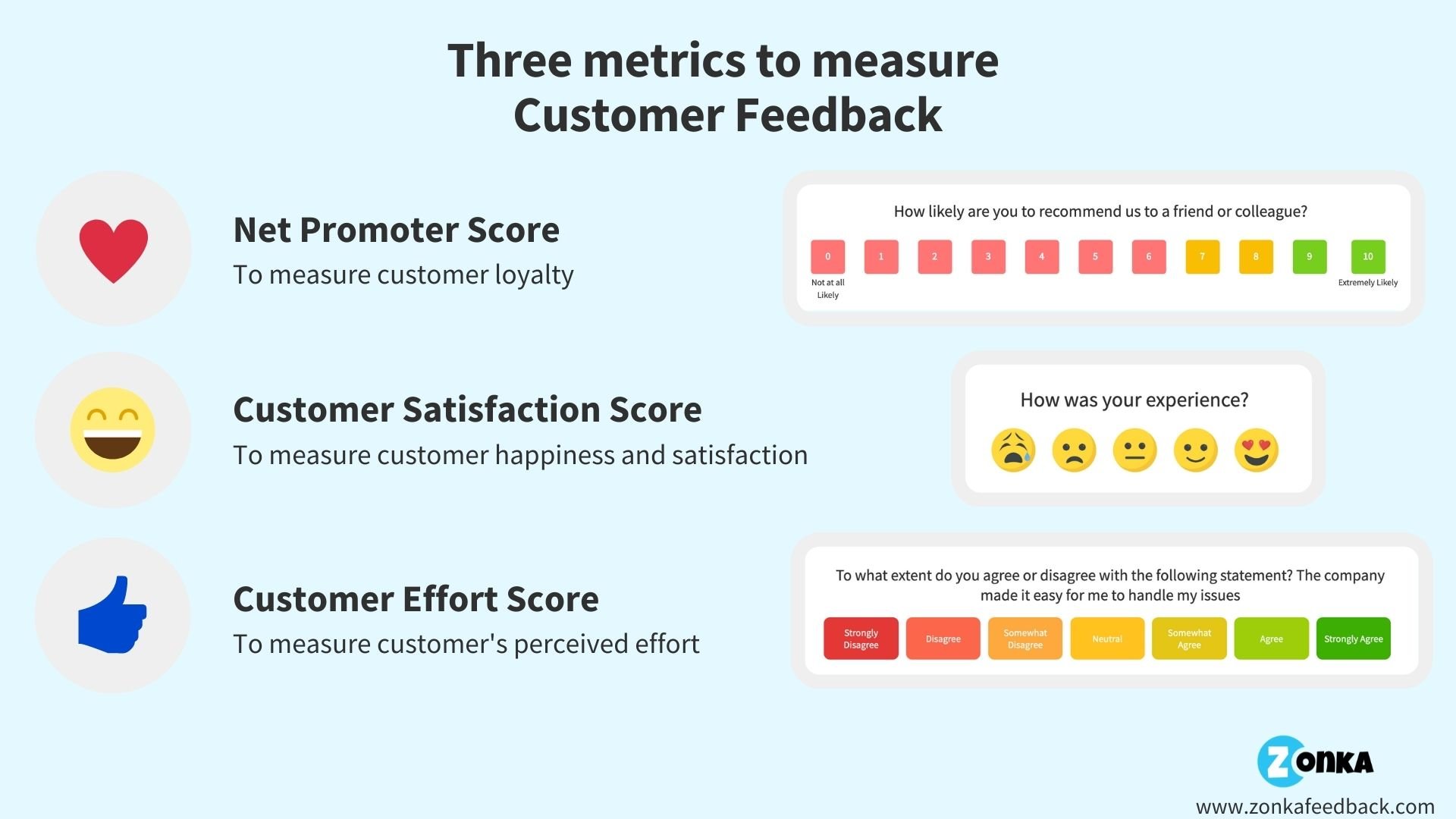 Of course, you can ask customers to share the reason for their answer by following the previous question with "Please share the reason for your answer".
And on the other hand, the Zendesk customer tool only allows measuring customer satisfaction with a CSAT survey. And though you can modify the question to get feedback on customer service and understand customers' willingness to promote the brand, the binary answer choices affect the quality of feedback.
4. Customer Surveys at Any Time
The Zendesk tool allows you to collect customer feedback only once the ticket is marked 'closed'. With this you can miss out on customer feedback you can gather during the support process.
The benefit of a dedicated survey tool is that it allows sending customer surveys even before the ticket closes and during the customer support process. As a result, you can enable customers to elaborate on their feedback, report ongoing issues, take feedback on any new developments, and rate customer service at each step of problem-solving.
5. Syncing and Migration of Data
One of the biggest drawbacks of using Zendesk in-built surveys is that if you decide to move to a different platform, all the customer data you have accumulated would be left behind. You cannot migrate the data to different software and continue with your customer feedback program.
But a dedicated survey tool like Zonka Feedback Survey Software offers several integrations so that customer data can be synced without making any extra efforts. This means that your responses respective to contacts are backed up at all times.
For example, if you integrate Zonka Feedback Survey Tool with Zendesk, the contacts, as well as the responses and survey scores from customers, automatically get synced to their respective tickets. Moreover, you can share feedback between different systems, such as CRMs, helpdesks, call-center systems, etc., and also download data.
6. Availability of Insightful Reports at All Times
In Zendesk, you can view the overall Customer Satisfaction Score, customer comments, answers, and ratings for only 90 days.
Whereas in a dedicated survey tool, you get access to feedback reports for as long as you want. For example, Zonka Feedback Survey Tool generates insightful reports that help you analyze statistics, trends, and feedback breakdown within a single dashboard. And the best part? There is no 90-day limit.
You can organize the reports according to teams and evaluate feedback in the most efficient way to make business decisions that have the potential to improve customer experiences dramatically.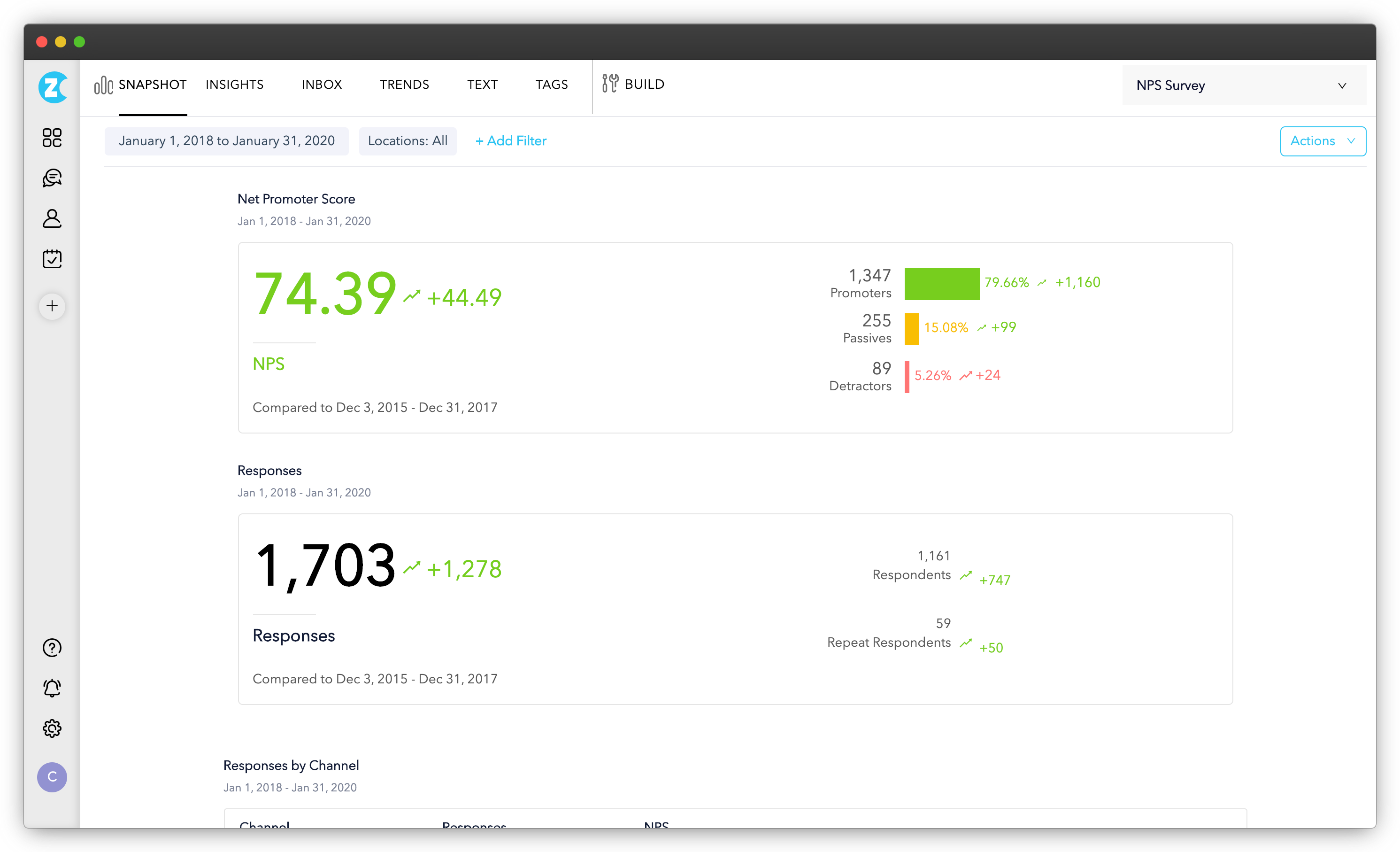 7. Access to All CX Surveys with a Single Plan
In Zendesk, surveys are only available to Professional, Enterprise, and Elite plans. Those using the Essential or Team plan cannot enable the survey feature.
But a dedicated survey tool like Zonka Feedback Survey Software allows you to create and run any survey, be it CSAT survey, CES survey, or NPS survey, with even the basic plan.
Conclusion
If customer experience measurement through surveys isn't one of the primary customer experience methodologies for your brand, then you can do with Zendesk surveys and gather small amounts of feedback when necessary.
But if you are thinking of stepping up your Customer Experience game and diving into customer feedback, then a dedicated survey tool is the way to go. Brainstorm with your team and set goals you wish to achieve. It will certainly help you select the perfect survey tool for your brand.