Preparing a restaurant feedback form and survey to evaluate your guests' restaurant customer experience is a tricky affair. On the one hand, you need to keep the feedback form short and relevant so it doesn't bore the guests. On the other hand, you need detailed customer feedback to know about their experience at your restaurant so you can improve service and connect with your guests better.
Measure Restaurant Feedback and Satisfaction
Gauge feedback from guests and visitors at various touchpoints in your restaurant.
This one is hard to crack. A feedback form that's either too long or too short can ruin your guests' feedback response rate in the restaurant. But don't worry! We've got you covered. Here are some suggestions that can help you build a good survey.
For starters, keep your feedback form short and relevant. You may be tempted to ask a lot of questions. But hold your horses. Your guests aren't going to be as enthusiastic about answering a million questions. An effective survey should have between 5 to 10 questions. Anything more can lead to a lower survey response rate and completions.
We've listed the top five questions that you can ask your guests in a customer experience survey after they've dined at your restaurant.
Customer Details
Capture customer details including an email address, phone number, age, date of birth etc. by creating a separate survey screen in your feedback app or survey software. This will ensure that you can stay in touch with your customers even after they've left your restaurant. Use these details to create a record of your customers. Keep them updated on the latest additions to your menu, and remind them about your promotional events and season discounts. Store their birthdays and anniversaries and send them greetings on their special days. Nothing makes a person's special day more special than receiving an unexpected greeting. You will be able to create an indelible impression in your customers' minds about your brand.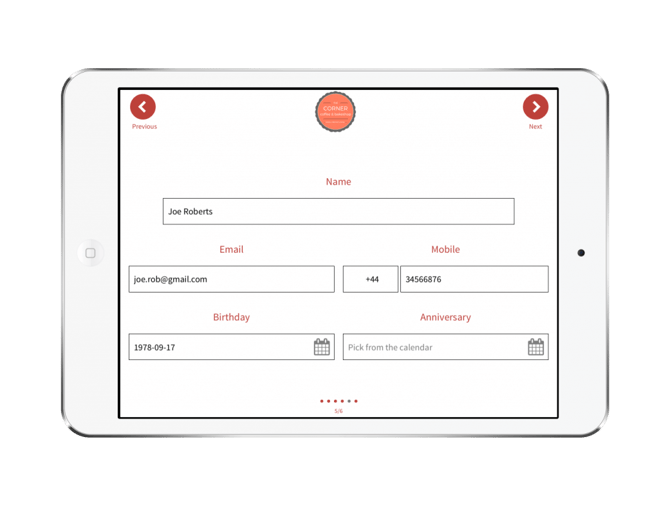 Customer Experience Rating
It is vital to know your customer's opinions about your service. After all, they're paying for it, receiving it and are in the best position to comment upon it. No matter how convinced you may be about the superiority of your own service, it is ultimately the customer's word that counts. Asking your customers to rate the various aspects of your service is essential to your long-term planning and success. Collect your customers' opinion on various aspects of your service. Ask about the taste and quantity of food served, ambiance, the time taken to fulfill the order, politeness of servers, price for service rendered etc. You can find out which areas of the business your customers are most happy with, and which areas you need to improve upon.
A Restaurant Survey App or feedback app often comes with an interactive reporting suite. You can examine the individual impact of each of the aspects that make up the overall restaurant customer experience to determine the return on investment in any one aspect. For example, you can examine the effect of investing on ambiance by compensating the increased cost with higher prices. This can allow you to establish what your customers think about your service in totality, as well as when the various aspects are viewed in contrast to each other. Do your customers find a noticeable difference in ambiance, and do they perceive it positively? Are your customers price-sensitive? You'll thus be able to focus on areas that need your attention the most.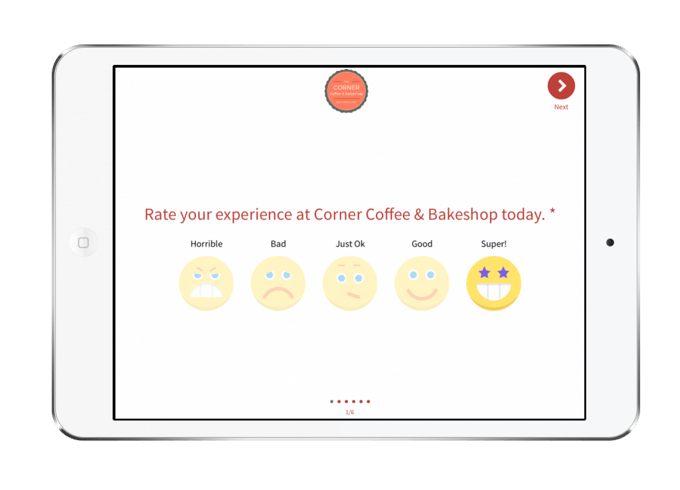 Customer Loyalty
If there is one question that presents an aggregate view of your customers' loyalty, it is the Net Promoter Score survey. The NPS® survey asks a simple question, "On a scale from 0 to 10, how likely are you to recommend us among your family and friends?" In just one simple question, you can determine if your customers are impressed enough with your service to put their reputation on the line by recommending your brand and acting as your brand ambassadors/ evangelists!
By tracking the trend in your NPS over time, you can also see for yourself the growth and maturity of your company in the market. Typically, as your company grows, the NPS should increase, while a decreasing trend of NPS could signal a problem.
Marketing and Customer Service
Don't forget to ask your customers questions about the effectiveness of your marketing and customer service efforts. Specifically, ask questions like "How did you hear about us?" or "How accessible is our restaurant?". The answers to these questions can help you determine your reach within your market. You can also assess your most reliable advertising and marketing channels. Use this insight to plan and change your advertising mix to increase your reach to existing and potential customers. Consider the reach and return of different channels, from pamphlets, newspapers, social or strategically-placed hoardings, and more.
You can even include a Customer Effort Score (CES) question. The CES question asks, "The company made it easy for me to handle my issue". It provides a seven-point scale ranging from strongly disagree to strongly agree. You can tailor the CES question to, "The restaurant made it easy for me to resolve an incorrect order". Assess the answers to this question to get a better understanding of how well your restaurant is doing at resolving complaints about orders and how you can improve it.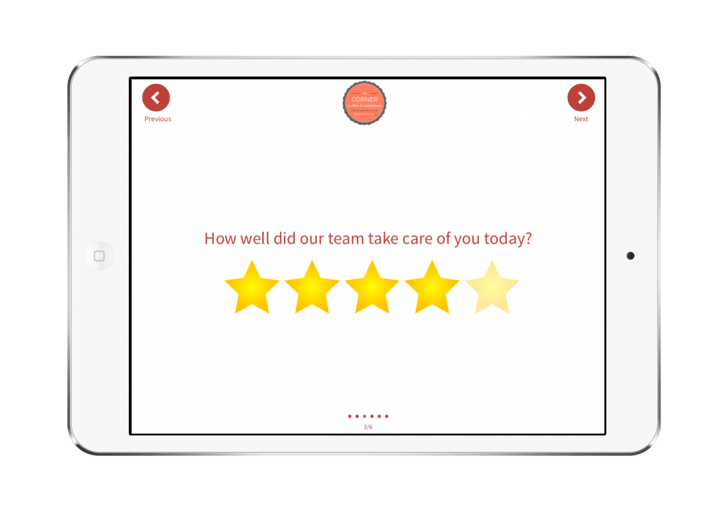 Customer Comments & Views
Always wrap up your survey with a question that allows your customers to share comments and views about the restaurant customer experience. Make sure you don't ask too many open-ended questions. This can be exhausting for the guest filling the feedback form. However, a single open-ended question asking them to summarize their experience can be very helpful. These questions are a great way for you to know what's going on in your customers' mind. Open-ended questions in the form of customer comments also help you gain a richer, more qualitative review of your restaurant's performance.
By keeping a few of these things in mind, you can create an extensive feedback survey for your restaurant. Remember, creating a good restaurant feedback form is the first step to getting the most from your customers – and a restaurant feedback system is perfect for the task!
Learn more about the Restaurant Surveys