Customer Service is an integral part of the overall Customer Experience. No matter how good your product is, there will be some instances when your customers will need you to serve them well. If you provide a great service to your customers, their overall experience improves to a large extent. Whereas, if you fail to provide satisfaction through your services, it will ruin their overall experience and made them think of switching to other brands.
Measure & Improve Customer Effort

👩‍💻
With CES Survey insights, design low-effort experiences for your customers and improve loyalty.
Researches suggest that 96% of consumers consider customer service as an important factor in their choice of loyalty to a brand. In fact, customers may even be willing to pay more for a great service experience. Measuring Customer Effort Score is increasingly becoming an integral part of customer feedback programs across different industries.
Customer Effort Score is measured using CES surveys where customers can share how easy or difficult it was to do business with a brand. CES surveys also prompt customers to share the reason for a low score, for example, long waiting time, calls transferred multiple times, impolite support agents, lack of knowledge or self-servicing, etc.
But measuring Customer Effort Score can bring you no good unless you make strategic changes and improve customer service as per customers' expectations.
In this article, we explore why it is important to reduce Customer Effort and what impact it can have on your brand. Read on.
Benefits of Reducing Customer Effort Score
Lesser Negative Reviews Online
Reduced Customer Churn
Increase in Repurchase
Reduced Service Cost and Effort
Improved Customer Service Decision
1. Lesser Negative Reviews Online
Reading online reviews is the easiest way for customers today to decide whether or not they should do business with the brand. But just like positive reviews invite new customers, negative reviews push the potential customers away. And if you are unable to meet the service expectations of customers, receiving negative reviews online may be a common occurrence. This is because 13.5% of disgruntled customers want to hurt your reputation and 73% write negative reviews to save others from bad experiences.
By reducing the Customer Effort Score, you can create more pleasant and helpful service experiences, thus preventing bad online reviews of your brand.
2. Reduced Customer Churn
According to Esteban Kolsky, only 1 in 26 customers will tell a business about their negative service experience; the rest simply leave. In today's competitive marketplaces, customers have different options to choose from. So, gifts and cashback to compensate for poor service experiences aren't enough to keep customers loyal. What customers need is to make the least effort to get their job done and challenges resolved.
And this can be done by serving them the best to get their job done as soon as possible with minimum effort. This prevents customers from going elsewhere. A consistently low customer effort is also a motivator for customers to report challenges instead of taking a chance with another business.
3. Increase in Repurchase
34% of customers are more likely to purchase again from brands that deliver good customer service experiences. This can increase your revenue by 10% to 15%. Customer Effort Score surveys can be sent at different touchpoints, for example after service interaction on-premises and remote support. This can help identify poor service instances that drive customers away.
By addressing these issues, brands can not only reduce customer effort but also communicate how important customer satisfaction is for them. This can dramatically influence customers to continue purchasing from you and even pay more than what they would pay other brands just to be able to do business effortlessly.
4. Reduced Service Cost & Effort
Being unable to provide first call resolution, multiple follow-up calls to customers, multiple customer support tickets for the same or similar issue – all of these customer service shortcomings increase the customer service cost as well as effort. Customer Effort Score helps put an end to these problems by helping identify customer complaint trends, reducing resolution time, and prioritizing complaints efficiently.
As a result, the service cost and effort reduce tremendously. This means that with customer service feedback, you can save on the service budget while also ensuring improved experiences. Moreover, CES data also equips support agents with data to offer the right solution in lesser time, thus reducing cost.
5. Improved Customer Service Decisions
Offering excellent customer service isn't a single department's job. It requires making top-level decisions in terms of training, agent productivity, cost, use of technology, and much more. With Customer Effort Score data, businesses can make the right decisions at the right time to improve customer experiences.
For instance, if several customers give your brand a low Customer Effort Score because of the lack of self-service channels or technology, then you can decide to introduce self-servicing to improve customer experience. Similarly, CES data can help in making other service-related decisions without much scope of error.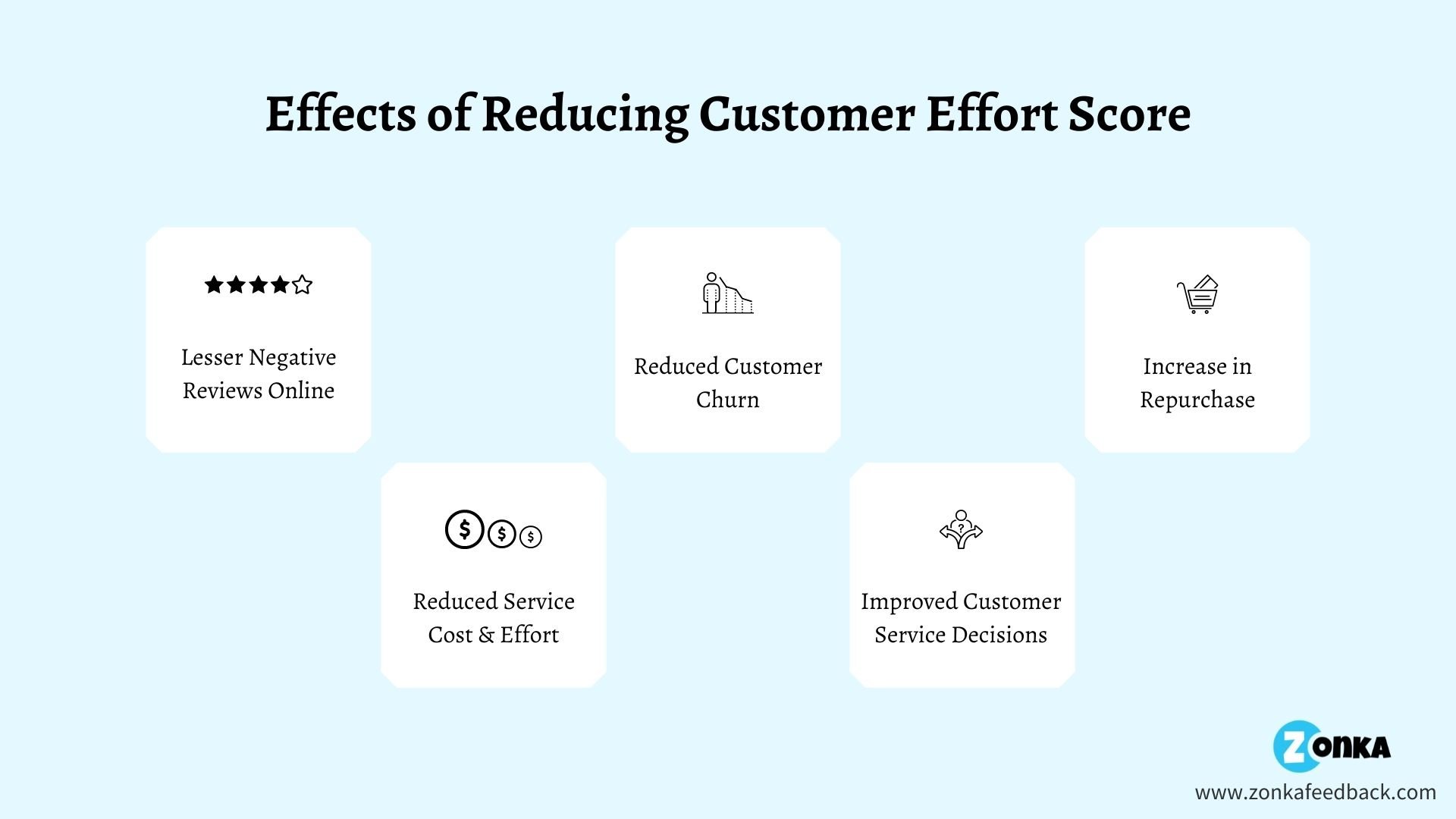 Conclusion
There are several benefits of measuring Customer Effort Score, but only if you analyze CES responses to reduce customer effort.
You can also read our article How to Use Customer Effort Score to understand how you can leverage CES data to improve customer service experiences.