Formed in 2021, Forsta is designed to measure customer and employee experience that aims to turn data into insights, and insights into stories.
It may be a top choice for many businesses due to its Human experience platform that captures feedback using customizable surveys, centralized data hub, effective reports, and workflow automation. However Forsta isn't for every enterprise.
Although it's an all-encompassing tool, enterprises looking for a modern and simplified user interface, a steep learning curve, and an expansive resource bank might consider searching for Forsta alternatives.
Fortunately, there are several Forsta competitors available today; however, we have picked the best 7 Forsta alternatives specially designed for enterprises.
TL;DR
Enterprise are looking for Forsta alternatives due to its limited question types, hard to use UI, expensive pricing plans, and lack of integration with popular CRMs.
We have curated a list of top seven Forsta alternatives mentioning about their unique service offerings and pricing plans for better insights.
Our top alternatives to Forsta are Zonka Feedback, SurveyMonkey, Medallia, AskNicely, Qualtrics, InMoment and GetFeedback.
Apart from Forsta,

we have also shared a list of other platforms and their various alternatives like

Medallia alternatives

,

SurveyMonkey alternatives

,

Hotjar alternatives, Typeform alternatives, GetFeedback alternatives, Cloudcherry alternatives, Jotform alternatives, AskNicely alternatives, InMoment alternatives, Forsta alternatives, Delighted alternatives, Survicate alternatives, Qualtrics alternatives, Uservoice alternatives, Canny alternatives, Nicereply alternatives, Satismeter alternatives, SurveySparrow alternatives, Google forms alternatives, Data collection tools, Forms on fire alternatives, Paperform alternatives, Fulcrum alternatives, and GoCanvas alternatives.
To see how Zonka Feedback can be your top choice as Forsta alternatives, sign up for a free 7-day trial or book a demo!
Measure Customer Feedback & User Insights
Try the best Forsta alternative & competitor to understand what users need and learn ways to delight your customers.
#1. Zonka Feedback
As one of the top Forsta alternatives and competitors, Zonka Feedback is a perfect fit for enterprises looking for a comprehensive customer experience strategy and enhanced business growth. The customer feedback platform empowers users with advanced and powerful features that allows them to collect customer responses, act on them, and quickly closing the feedback loop.
As a valuable tool, and an alternative to Forsta, Zonka Feedback enables enterprises to streamline customer and experience management, get more insight from a 360-degree view, and hear the Voice of Customer. You can even collect employee feedback using its advanced CX metrics, and feedback software like Net Promoter Score, Customer Satisfaction Score, and Customer Effort Score.
Enterprises can quickly gauge customer satisfaction, and boost their business expansion with Zonka Feedback, making it a popular choice among competitors for Forsta alternatives. The omnichannel feedback and online survey tool makes feedback data readily accessible to get better insights. You even get enhanced data security features, ensuring secure synchronization of data across large organizations, mobile apps and various devices.
Besides that, enterprises also get access to some notable growth+ features that includes SSO sessions, the ability to import contacts, designate custom roles and permissions, set custom SMS gateway, custom integrations, NDA, signed agreement, and importing of historical data.
Zonka Feedback Features
Easily measure, track, and collect customer feedback trends and grow your business
Hear the voice of your customers from wherever they are and at every touchpoint
Use the right CX metrics to measure customer happiness, loyalty, and effort
User Segmentation to analyze the different groups and identify opportunities
Securely sync data between different devices within a centralized database
Integrate with many CRMs, Point of Sales, SMS Gateways, and more
Get custom billing and payment options or choose your own billing cycle
Easy to close the feedback loop with real-time feedback alerts
Omnichannel signal collection to get a 360-degree view
Get and create custom reports in a single click
Setup your brand through multiple channels, and get enhanced security features
Pricing:

Custom plans for enterprise users with Growth Features+. Works on all survey channels - Website Feedback, email surveys, SMS surveys, In-app surveys, mobile app surveys, and Offline surveys.

You can also try Zonka Feedback for free for 7 days.
#2. SurveyMonkey Enterprises
With over 150+ integration, SurveyMonkey is best known as a customer feedback survey platform powered by AI. The platform empowers users with AI-powered guidance and logic.
Using its business intelligence capabilities, enterprises can make data-driven decision making through real time reports. The platform is one of the top choice for Forsta alternatives as it enables users to integrate it to enhance customer satisfaction, gain a deeper understanding of insights, monitor, and create user-friendly surveys.
The best thing about this top alternatives is its holistic approach to manage and gather customer feedback due to its robust data governance features. Its impressive dashboard segments and robust set of advanced reporting capabilities make it a top-notch alternative to Forsta.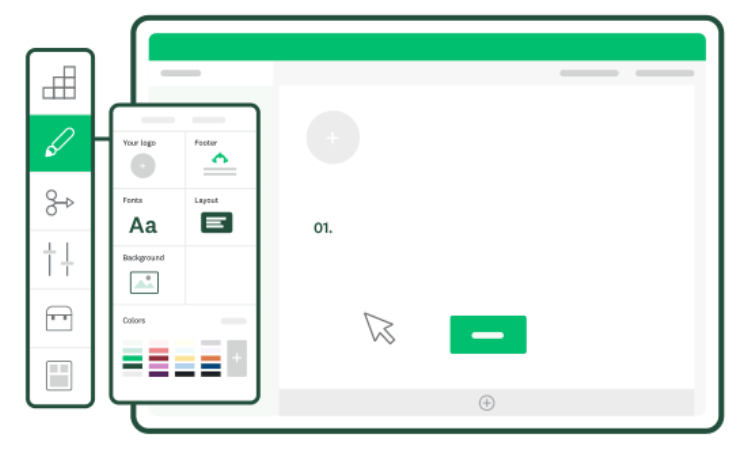 SurveyMonkey Features
Increase contextual feedback through a better understanding of the customer's journey
Reduce negative feedback by implementing an EFM program
Full understanding of customers, and continue to sharpen ideal customer profiles
Uncover customer insights using AI
Secure sensitive data collection with SSO, data encryption, and governance capabilities
Use market research templates to receive insightful analytical reports identify new areas of growth, and track brand performance
Automatically respond and capture in-app user feedback with a relevant response
Pricing: You can get in touch with the sales team or book a demo to get more personalized options.
SurveyMonkey is known as one of the oldest feedback-collection tools; however, it lacks some of the advanced features. You can check out the blog on SurveyMonkey competitors to learn about its alternatives.
#3. Medallia
Medallia is an Enterprise Feedback Management software that enables users to drive loyalty at every point of the customer journey, using its customer experience management platform.
The enterprise tool is one of the best Forsta alternatives that is equipped with one of the most innovative capabilities for capturing feedback and analyzing experience signals. The platform uses highly engaging online surveys software and forms to capture responses combining experience data, and operational data.
The survey analysis tool also goes beyond feedback results and traditional responses to fully analyze surveys and understand customers.
Medallia Features
Drive loyalty at every point of the customer's journey
Omni-channel data capture through advanced analyses and analytical reports
Capture VoC via frontline employees by providing them with ideas, and suggestions on CX
Create dynamic dashboards and gain visibility to improve customer experience and sentiment
Create a rich experience profile for every customer to gain a 360° view
Apply AI and machine learning to predict customer behavior
Pricing: You can schedule a consultation or request access to a demo to learn about their pricing plans.
As a customer experience management platform Medallia is a brilliant tool; however, its complex learning curve and high costs may force enterprises search for other options. You can go through Medallia Competitor blog if you're searching for its alternatives.
#4. AskNicely
As a known alternative to Forsta, AskNicely allows users to measure customer loyalty using the NPS tool. Its skillfulness is unmatched as it enables clients and employees to share insights for building customer loyalty and take benefits of customer satisfaction surveys.
As one of the Forsta alternatives, the platform enables users to configure feedback forms, send surveys, and study customer perception through actionable data. One can easily choose this Forsta alternatives if you're looking for a more affordable CX platform with fantastic features.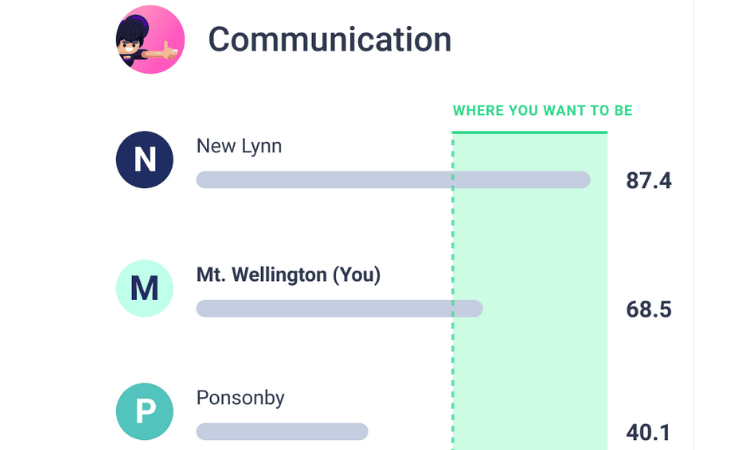 AskNicely Features
Suitable for enterprises seeking a more streamlined and user-friendly approach
Quickly measure every customer experience and motivate your frontline teams
Offers features like real-time feedback collection, and specializes in customer loyalty
Compare performance across locations for every team member.
Offers predictive analytics to some extent, helping businesses anticipate customer behavior based on feedback
Leverage workflow automation and integrations to take action on customer feedback
Pricing: For a tailored options, you can contact with their sales team or book a demo.
AskNicely aims to motivate the frontline teams and collect data through NPS; however, it may be the best fit if you want to measure customer feedback with other CX metrics. In this case, you can go through AskNicely competitor blog to learn about its alternatives.
#5. Qualtrics
As a leading enterprise customer experience and management software, Qualtrics is one of the top Forsta alternatives. Trusted by some of the popular brands, this customer experience platform works with data collection, a prominent feature, giving the organization better insights to drive results for enterprises.
The platform also promotes omnichannel communication to collect customer data effectively. Using this data Qualtrics employs ML and predictive intelligence to analyze and improve customer experience and behavior.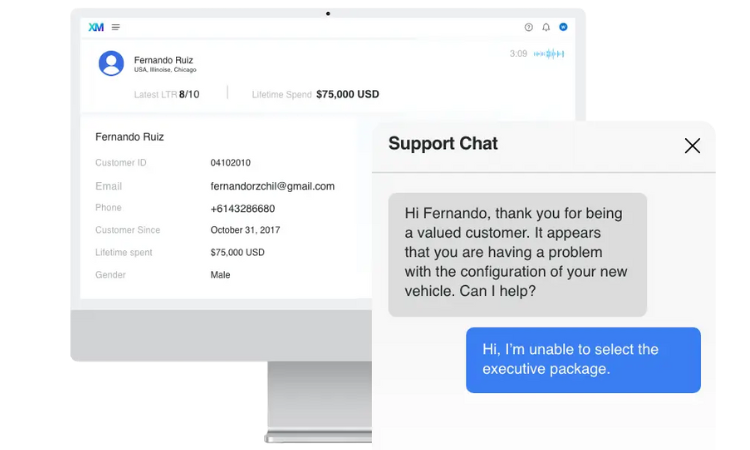 Qualtrics Features
Get quick and faster insights with enterprise survey software
Get role-based security and brand controls
Discover insights faster through real-time analytics and intelligence features
Integrate your surveys with top CRMs like Salesforce, Marketo, Adobe, and many more
Manage data collection rules and permissions with advanced governance and administrative controls
Get Qualtrics iQ as your automated expert to provide recommendations or run analysis
Empower every team-mate to gather insights through a powerful, easy-to-use platform
Control data collection rules like sensitive personal data
Prevent unauthorized personally identifiable data
Pricing: You can contact the Qualtrics support team to get custom pricing plans based on your requirements.
Enterprises are looking for Qualtrics alternatives due to its complexity and advanced features. Here is a blog on Qualtrics competitors to enhance your customer experience.
#6. InMoment
As a leader in Enterprise Feedback Management software solutions, InMoment is one of the best Forsta alternatives. The platform enables users to make data-driven business decisions with its EFM software that is powered by business intelligence features to deliver a comprehensive solution.
The cloud-based go-centric employee experience platform offers features such as executive dashboards, employee communication tools, indirect feedback, and models for gauging employee engagement and loyalty.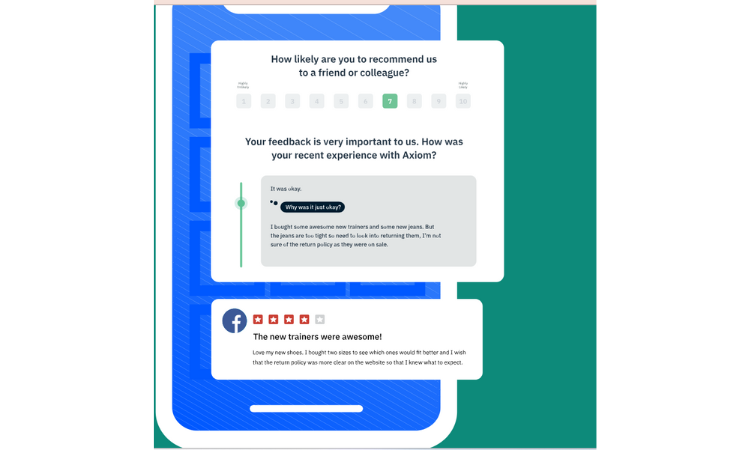 InMoment Features
Collects CX from every format-social media review, video, web session, or visit to a store
Provides comprehensive analytics and prescriptive actions to increase retention, acquisition, and profitability
Helps enterprises continuously improve experiences at the intersection of value
Get mobile-optimized reports for better clarity
Execute data-identified learnings, socialize feedback, track and resolve customer cases
Get future-proof customer data and high-security standards
Give your team members the opportunity to delight every customer
Driving consistency across the organization by sharing results in multiple languages
An integrated AI-powered approach to eliminating data silos
Pricing: You need to book a demo with the InMoment team to learn pricing for their enterprise package.
Although InMoment is a popular customer experience platform, it lacks advanced security features, reporting capabilities, and more. You can read this blog on InMoment competitors to learn more about its alternatives.
#7. GetFeedback
As a top Forsta alternatives, GetFeedback is a versatile and powerful feedback management platform designed for both mid-size businesses and large enterprises. The platform aims to help enterprises scale within days through its popular CX metrics like NPS ®, CES, CSAT, Digital and Purchase Experience, and more.
GetFeedback enables users to build effective customer feedback through online surveys, drag & drop option, sentiment analysis and personalized features. Enterprises can keep themselves updated using customer data, timely information, deep insights, and insightful analytical gathered using GetFeedback.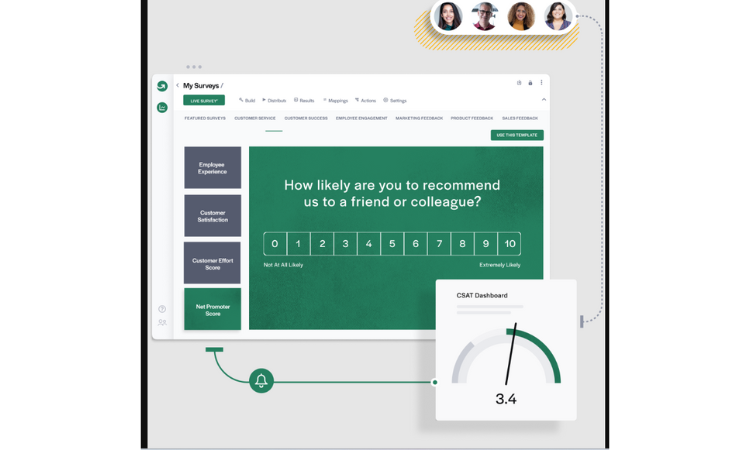 GetFeedback Features
Increase adoption of products or services through the CX program
Win loyalty by actively listening to customers
Collect data through customer feedback management and quickly iterate digital experiences
Quickly pivot based on customers' feedback and drive more value
Reduce customer churn rates into winbacks by bringing more value
Close the feedback loop faster with real-time alerts
Pricing: For pricing, you can connect with their product management support, or sales support team.
Although GetFeedback is well-known for its customer experience management platform, the platform can work on complex user interface, restricted integration capabilities, and steep learning curve. Here is the blog you can read to learn about the top GetFeedback competitors.
Why Are Businesses Switching To Forsta Alternatives?
Forsta is a company mainly known for its customer experience management tool, and an extensive base of features including advanced analytics tools, customizable templates, and interactive dashboard, it still lacks access to some features that majority of enterprises are looking for.
There are many reasons that are forcing enterprises to search for the best Forsta alternatives and seek for comprehensive solutions that align more closely with their business needs. Here are some of the limitations that are driving the market shift towards alternatives to Forsta.
Question Library: The question library provided by Forsta requires enhancement, and some of the ways the questions are set up are hard to change.
User Interface: Forsta UI is complicated and hard to use. Also, looking at the data for questions with many possible answers is hard. It needs a lot of work and can be challenging for users to understand.
Customization: Forsta's customization options are restrictive for businesses requiring highly tailored surveys and reporting structures.
Scalability: As your business grows, you may require a more scalable solution, and Forsta alternatives might offer better scalability options.
Integration: Integrating Forsta with existing systems and databases can be complex. It lacks integration with most of the popular CRMs and support tools.
Pricing: The pricing plans aren't available publicly. It can be frustrating for customers to connect with its sales team to learn about their previous plans.
Conclusion
By now, you have a better understanding of all the options Forsta alternatives can offer. Each of these alternatives highlight specific features, strength, and enterprise specific service requirements for a meaningful outcome.
As we conclude this in-depth piece, we hope this article has provided you with ample information to select the Forsta alternatives that best aligns with the specific requirements of your business.
Also, it is important to keep in mind while choosing the right alternatives to Forsta is to make sure it's smooth fit with your organization, current and future growth plans.
If you're still unsure which platform can be your best alternatives, you can try Zonka Feedback. The platform offers 7-day free trial before you choose the enterprise plan. You can take advantage of this customer experience management platform and get started today!