Customer Service is one of the most important aspects of the overall Customer Experience. And how customers perceive service experiences dictates where your brand stands in terms of customer loyalty.
Customer service ranks number one among customers in terms of factors that influence their loyalty to a brand. Moreover, customers expect that the agents know their name, purchase history, and the history of any previous interactions with the brand.
So, how do you learn about customers' unique preferences when it comes to customer service? Most customer-centric organizations use the key CX metric - Customer Effort Score.
Measure & Improve Customer Effort

👩‍💻
With CES Survey insights, design low-effort experiences for your customers and improve loyalty.
Let's learn about how the Customer Effort Score (CES) is measured through CES surveys and how to use Customer Effort Score to resolve even the most demanding customer service challenges.
What is CES?
CES is the indicator of customer effort in doing business with a brand. It is measured on a scale through a Customer Effort Score survey. The CES question prompts participants to rate the effort they were required to make when seeking support or assistance to resolve a challenge.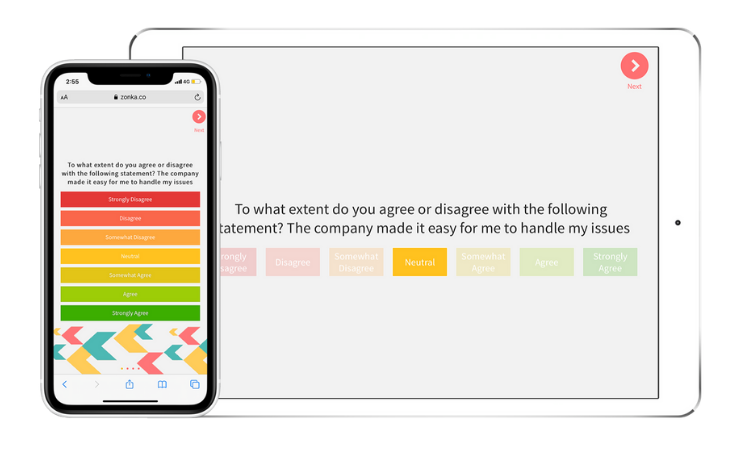 Your CES survey can also have an open-ended question to allow customers to share in their own words the reason for the CES score they chose to give for the service.
Following is a ready-to-use CES survey template that you can try out yourself to understand the flow and types of questions:
Businesses can use Customer Effort Score to understand where to increase service efforts to be able to reduce the overall effort of customers. We have a little breakdown of what CES data can do for your business.
Use Customer Effort Score to:
Improve Support Agents' Performance
Decrease Problem Resolution Time
Aid in Business Decision Making
Discover what is Working Well for the Business
In this article, we discuss how you can achieve these objectives.
How to Use Customer Effort Score?
Here are some CES use cases in detail:
1. To Improve Support Agents' Performance
This is the most important use case if you are wondering how to use Customer Effort Score. An intuitive survey tool would allow you to send Email Signature Surveys as a part of each interaction with customers while offering support. This means that you can send CES surveys to check the quality of each response or solution that is provided to customers. The survey questions can be formulated to measure agent performance in terms of knowledge, willingness to help, proactiveness, etc. This CES data can be a significant performance indicator in addition to internal performance reviews and can be super helpful for decisions such as promotions, appraisals, training, etc.
Moreover, insights on individual agent performance can help identify issues that require to be worked on to improve performance.
2. To Decrease Problem Resolution Time
69% of customers chalked up their good customer service experiences to a quick resolution of their problems. This means that you can resolve customers' queries and challenges in the right way, but if they require putting in more time, it's seen as a bad experience.
With the help of Customer Effort Score data, you can identify complaint trends and patterns, i.e., the challenges that are usually reported by customers. This information can help the customer support team to respond to or resolve similar queries quickly, reducing the resolution time. Similar complaints can also be batched together and moved to the agents trained to handle the specific issues. All of this together increases customer satisfaction multifold, which is one of the reasons why you should care about Customer Effort Score.
3. To Aid in Business Decision Making
There are various decisions that are made at the top of the hierarchy but are influenced by events at the functional level. For example, the decision of creating a new training program, training guide for support executives is usually dependent on how they are performing and whether there are still gaps between the current and expected service standards.
Customer Effort Score draws a clear picture of the customer service provided to your customers and CES surveys also help in identifying issues that are leading to bad experiences. This information can prove to be crucial when it comes to business decision-making in terms of training, the need for new technology, the introduction of self-servicing, etc.
4. To Discover What is Working Well for the Business
Customer Effort Score data does not only help in identifying challenges leading to poor customer service experiences, but it also uncovers what's working great for your brand. For example, if customers are repeatedly sharing how happy they are with a short waiting time before speaking to a support agent, you can ensure that you always have a good number of support agents serving the customers.
When the number of customers increases, you should also hire new agents to be able to cater to the requirements of more customers. You can create CES surveys with open-ended questions to ask the reason for a low or high effort rating. Alternatively, you can also add the question "What did you like the most about your customer service experience?" with options to choose from. The answers can help you find out things that can create better customer experiences.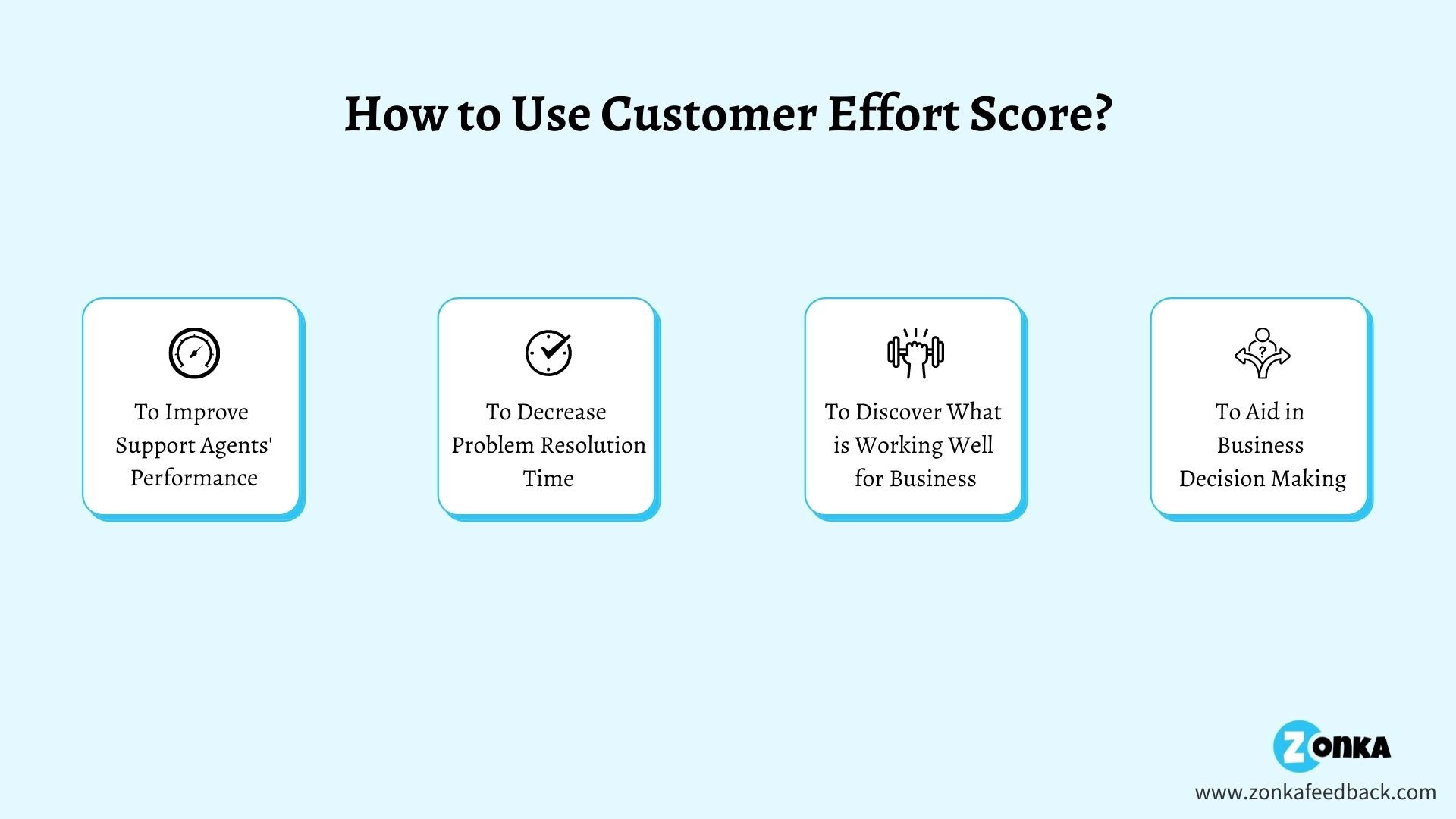 Measuring Customer Effort Score (CES) Using Zonka Feedback
Sending out CES surveys to calculate Customer Effort Score isn't all that's needed to capture valuable data. You must know when to send out surveys and how to use customer responses to improve Customer Effort Score.
What's most important is choosing a survey software that makes taking surveys easy for customers and allows you to manage customer data in the most efficient way.
Zonka Feedback is designed to enable brands to make feedback collection and analysis easier and more powerful. Here are some effective features of our survey tool:
Ready-to-use CES survey templates
Easy to use survey builder
Survey distribution through multiple channels, including mobile phone, tablet, email, SMS, website, QR code, Kiosk, live chat, mobile app, and survey links
In-Signature Surveys or Email Embedded Surveys to collect feedback during customer support interactions and after the resolution
Survey logic and personalization to improve survey experience for customers
Easy integration with customer servicing tools and helpdesk to collect quick in-chat and email feedback
You can read our detailed articles on Measuring CES in Intercom and Measuring CES in Zendesk
Survey branding using your logo, brand design theme, personalized URLs, etc.