Do your customers like your product? What do they even think about it? Do they enjoy using it? What if they switch to an alternative?

Well, these aren't just some arbitrary fears but genuine concerns of every small or large enterprise who are trying to build a customer-centric product. While feedback collection plays a huge role in improving customer satisfaction and retention rate, gathering it can be tricky without effective tools in place.
That's why most businesses with online presence incorporate a feedback button on their website. The button contains a survey form that can be filled by the visitors to share their feedback.
Collect Actionable Feedback through Feedback Button ⭐
Survey your product users and website visitors without creating any interruption in their work and get valuable feedback to build delightful experiences for them.
Now, when it comes to providing a website feedback button, there are already some key players in the market like HotJar and Zonka Feedback. So let's dive deep into the comparison so that you can make the choice yourself.
Table of Contents
Overview
Build Engaging Surveys
Manage CX Metrics
CX Automation and Integrations to Close Feedback Loop
Actionable Reports and Insights
Final Verdict - Which Feedback Button is best fit for you?
Overview
In the process of finding the best online feedback and survey button provider, you may wonder how Hotjar compares to Zonka Feedback. Hotjar is a popular website heatmaps and behavior analytics tool that promises to give you an overall view of how to improve your website's user experience and conversion rates.
Zonka Feedback, on the other hand, comes across as one of the top Hotjar alternatives that offers an easy way to collect feedback from customers and measure CX metrics. It's an omnichannel survey app offering actionable insights, collaborative inbox, and real-time reporting. The platform also offers workflow automation, integrations, and in-depth reporting to transform customer feedback management and deliver an exceptional customer experience.

In order to compare the feedback button offered by tools like Hotjar and Zonka Feedback, let's take a look at what sets them apart.
Build Engaging Surveys
Hotjar
Hotjar provides businesses with a survey builder that offers pre-built survey templates with customizable design. While the choice of templates is limited, the platform is easy to use when it comes to building your own responsive surveys. Once built, the Hotjar surveys can be shared with the customers via link or email to collect their valuable insights.
Zonka Feedback
Zonka Feedback's multi-channel feedback and survey platform also offers a survey builder with 500+ pre-built industry-specific templates with customizable design for examples Retail Store Customer Feedback Template, Banking customer Feedback Form, Movie Theatre Experience Survey Template, etc. With a plethora of categorically organized survey options, it gets easy to find the perfect survey feedback template without wasting any time. The benefit of using this platform over Hotjar is that it offers faster multi-channel survey distribution and collects feedback from website, email, sms, mobile, offline, intercom, and integrations.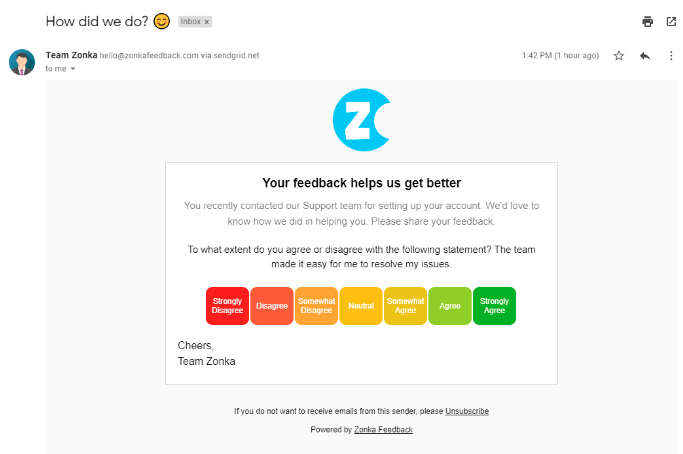 To understand the use case of building surveys, let's take the example of Jessie who wants to initiate feedback in her SaaS product. Last month Jessie witnessed a surge in her product subscription cancellation. She started losing some crucial existing customers. With an aim to build a customer-centric product, Jessie will need to incorporate feedback at multiple customer touchpoints in her product and within her team. This posed for a perfect opportunity to gather customer feedback and make the necessary improvement to increase the retention rate. To accomplish her goals, she will need to run the following surveys-

- A survey to get subscription cancellation feedback
- A survey to get bug report feedback to be shared with the QA team
- A website survey to get feedback from new users, prospects and existing customers.

For the aforementioned feedback, she has to create an engaging survey feedback button, and distribute them on multiple platforms. With Zonka Feedback, she can easily find the survey templates she needs and fast track the distribution process that usually goes into searching or designing the required template, saving her a considerable amount of time. The platform has industry-specific templates, device-specific templates, online & offline templates, and much more. Her survey template will look something like this.

Manage CX Metrics
Hotjar
Hotjar surveys gives you an option to measure the CX metrics of your business by providing you with NPS surveys (Net Promoter Score). This survey measures how likely your customers will recommend your business to a colleague or a friend on a scale of 1-10. Hotjar offers you to collect multi-channel and multilingual surveys. So, if your customers are ecstatic about using your product, you'd be able to measure the customer satisfaction with Hotjar.
Zonka Feedback
Zonka Feedback gives the option to measure the crucial CX metrics with NPS, CES, and CSAT surveys. With omni-channel survey management for website and in-app surveys, you can measure the CX metrics at multiple touchpoints and get feedback during the entire product & customer life-cycle. To measure the CX metrics with Zonka Feedback, you can choose from the existing industry-specific survey templates. It also enables you to collect multi-channel, multi-location, and multilingual feedback.
Apart from the feedback button, Zonka also enables you to do:
1. Market Research
The platform allows you to perform both online and offline surveys to determine product market fit and feasibility.
2. Product Design Feedback
Once the product is live, the design feedback can be collected using the feedback button variations like pop-over feedback and exit-intent feedback.
3. Quality Assurance Surveys
As mentioned earlier, a business can perform bug report surveys for the QA team to resolve issues with the product and improve customer experience.
4. Production Surveys
Here you get the option to collect feedback after the production via email, sms, kiosk, website, and all other channels.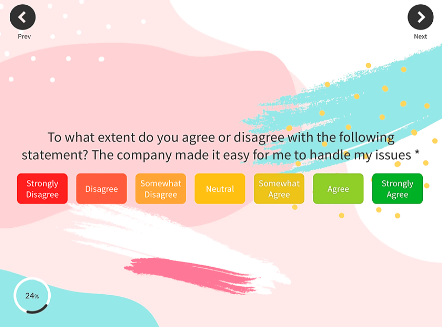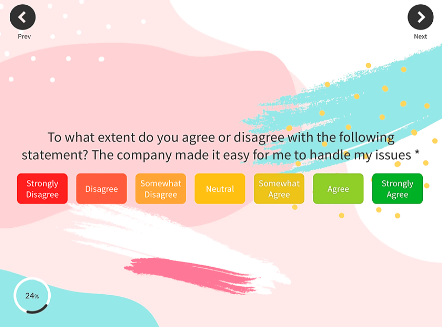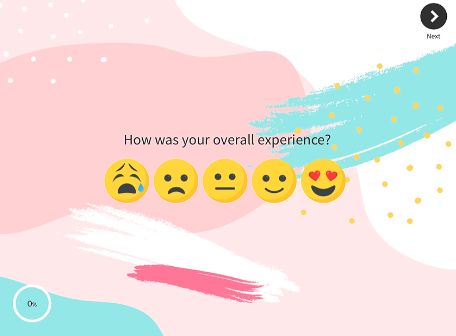 Now Jessie wants to measure the customer satisfaction with her product. For that she needs to measure the Customer Experience Metrics. With Zonka Feedback, she can measure the Net Promoter Score to quantify the loyalty of her customers/audience with a simple question - 'How likely is it that you would recommend this company to a friend or colleague?' on a scale of 0-10. With an NPS survey, she can improve customer loyalty by identifying the detractors and measure NPS at every touchpoint to strategize a customer-centric business strategy.

Jessie can also measure the perceived effort of customers with a CES survey (Customer Feedback Score). CES can be especially useful when it comes to driving strong customer loyalty. For starters, it effectively measures and analyses the customer's effort with your business. She can set up CES after every transaction and interaction to measure customer feedback at every touchpoint. And based on the score, she can further analyze the feedback and make improvements for a seamless customer experience.

Lastly, she can measure the customer's happiness and satisfaction with CSAT surveys to know how happy customers are with her business. Zonka Feedback's CSAT surveys can measure anything from customer satisfaction to employee satisfaction and much more. The feature will also allow her to identify at-risk/unhappy customers and get the team notified about the same.
CX Automation and Integrations to Close Feedback Loop
Hotjar
Although Hotjar enables feedback collection with pre-built customizable survey templates, it also allows integrations for improved workflow. With Hotjar, you can automate your workflows and manage your data using 7 native integrations, including Slack, Segment, Hubspot, Google Optimize, Omniconvert, Optimizely, and Zapier. The integration with Zapier allows you to connect Hotjar with popular apps so you can leverage automation.
Zonka Feedback
Zonka Feedback offers workflow automation on its platform that saves businesses tremendous amounts of time by automating repetitive tasks and closing the feedback loop faster. It ensures that the feedback and response are addressed timely by the right team. The customer feedback automation of Zonka Feedback offers you pre-built workflows that allow you to:
- Send email and SMS notifications automatically to the respective team members or respondents.
- Categorize responses automatically using labels, address customers by assigning tasks to your team, and set up an escalation matrix.
- Send follow-up surveys to respondents via SMS and email.
- Create a new ticket based on the responses using Zonka Feedback or integrate your own customer support manager like Freshdesk, Zendesk, and Hubspot.
- Target multiple touch points by adding unlimited actions and setting the triggers based on the survey questions, contact attributes, and in-survey smart inputs.
When compared with Hotjar, Zonka Feedback offers you to build your own workflow by customizing the notifications based on the responses. You can also integrate Zonka with your existing tools or if you want to have custom data sync, you can consume the platform's APIs and Webhooks. Zonka Feedback offers 25+ integrations for the following tools:
- CRM tools like Salesforce, HubSpot, Zendesk
- Customer Service Tools like Front, Freshdesk, Intercom, HelpScout, Pipedrive, ActiveCampaign, Airtable
- Marcom Tools like Webex
- Email Marketing Tools like Notifyvisitors Mailchimp
- Marketing Automation Tools like Zapier, Integrately, Integromate, and ability to integrate with 5000+ tools.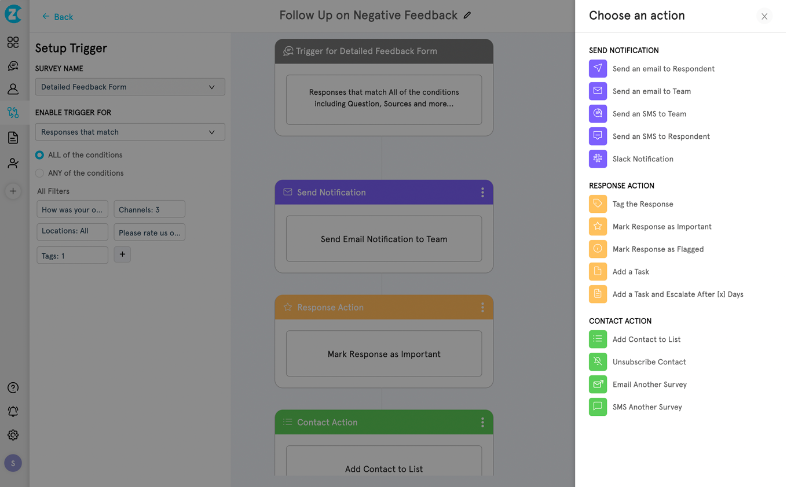 Workflow automation of Zonka Feedback can be a huge time-saver for Jessie who wants to close the feedback loop faster. Based on her survey responses, she can auto-tag the responses in 'response inbox'. She can also automate tasks using Zonka Feedback's auto-task manager or integrate her current tools with existing ticketing systems like Hubspot, Freshdesk, or Zendesk.

Jessie can also take advantage of auto-notifications in case a customer gives a bad review. The respective manager can receive the notification in such a scenario. And finally, she can automate responses using auto-responders which can be helpful in automating the replies to survey respondents based on their survey responses. While these features are included in the pre-built workflows of the platform, she can also create her own workflows using workflow builder. It will allow her to customize notifications. So, if she gets a bad response from a client, the notifications will be sent to the survey respondent. At the same time, she can create a ticket, tag the response as 'Poor Rating" or 'Service Issue', and send the notification to the respective team member. With Zonka Feedback, Jessie can close feedback loops faster and ensure that her product-driven business remains customer-centric, something that she won't be able to do effectively with Hotjar.
Actionable Reports & Insights
Hotjar
Hotjar offers data-driven insights to a business to improve website user experience and conversion rates. The reports include heatmaps, visitor recordings, conversion funnel reports, form analysis, feedback pools and surveys.
While the heatmap of Hotjar taps into the user behavior like showing where people are clicking, hovering over, or scrolling through, the Visitor Recording feature allows you to glance into the user's experience on your website. Doing so can help you identify the friction points and understand how users utilize your website.
The other features of Hotjar analytics like conversion funnel reports, feedback polls, and form analysis are among the advanced features within the platform. They can be used to determine whether the users are finding what they are looking for on your website.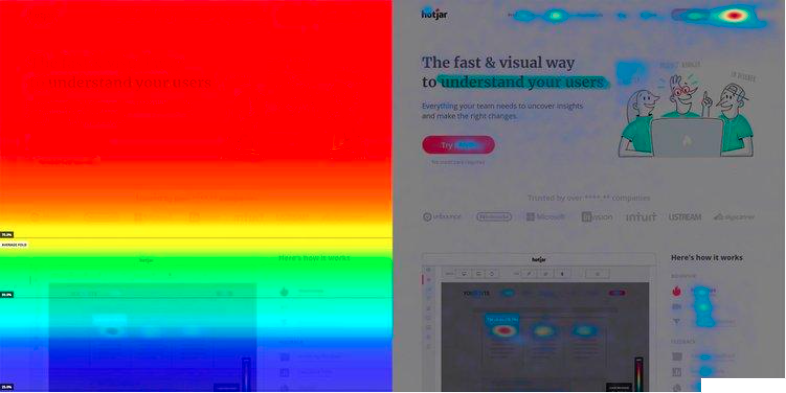 Zonka Feedback
With Zonka Feedback, you can access survey snapshot reports to get an overview of survey data. You can view survey responses, completion rate, and average completion time of the survey. It also gives you a summary and analysis of responses including the CX metrics.
Apart from survey insight reports, you can also access team performance reports to assess teams based on the CX metrics, and get heatmaps for your team. The report and analysis feature of Zonka Feedback allows you to analyze feedback collected across multiple locations. You can just track the trends to take any feedback-driven actions.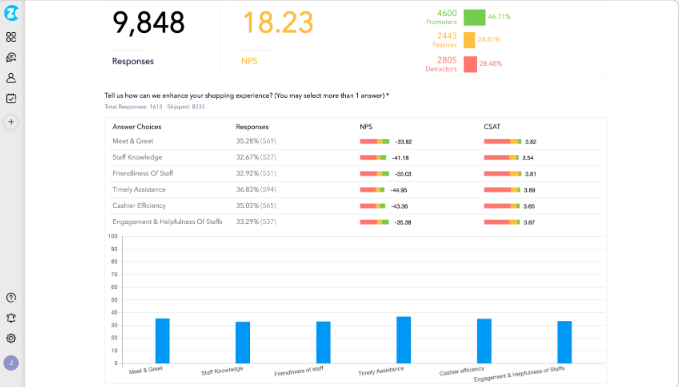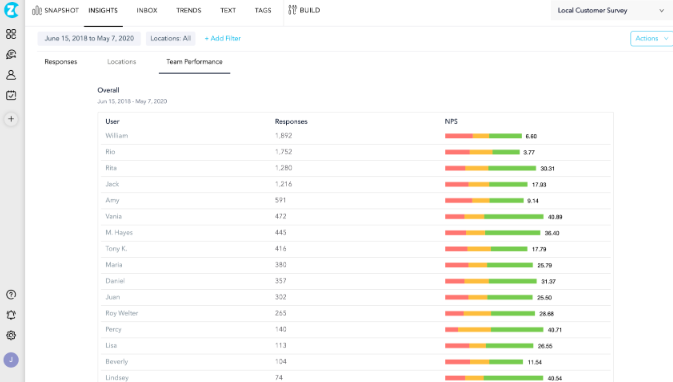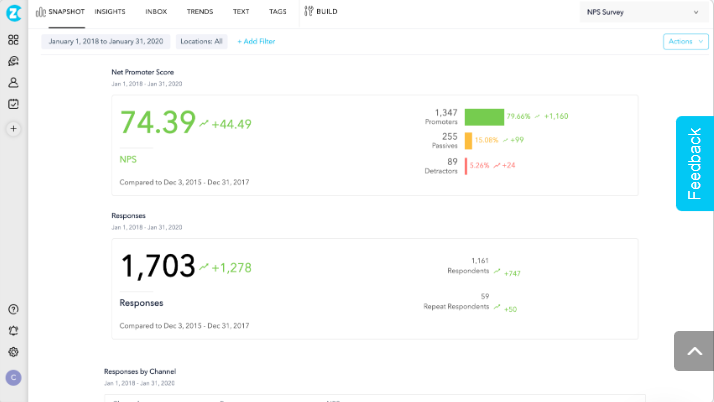 Final Verdict - Which Feedback Button is the best fit for you?
Hotjar is perfect for you if:
You want to improve your user experience and accelerate conversions.
You want to get a basic-level feedback button on your website.
You want to collect feedback and get website heat-map recordings without another 3rd party tool.
You have a new website and expect less than 1000 sessions and don't need unlimited response functionality.
Zonka Feedback is perfect for you if:
You want to access pre-built industry-specific survey templates or create your own.
You want to manage and improve your CX metrics like NPS, CES, and CSAT.
You want to collect multi-channel, multi-lingual, and multi-location feedback.
You want to incorporate CX automation into your workflows (access pre-built workflows or build your own).
You want to access reports and insights to analyze feedback across channels, and locations and take feedback-driven actions.