Every organization wants to solve customers' problems and provide them with a great customer experience. And when it comes to developing a great product or a service, it becomes even more necessary to eliminate all the bugs and problems to make your product smooth for the users. Instead of making wild guesses about your customers' problems, the right way is to provide them enough opportunities to share their experiences and tell you about the issues they face.
Collecting SaaS Feedback is the way to know how your customers feel about your products and services and how they perceive their experience with your company. In this article, we will learn how to collect and act on Customer Feedback in SaaS. Let's first explore why you should collect Customer Feedback.
Elevate your SaaS Customer Experience⭐
Measure User Feedback at various touchpoints in your product and use the User Insights to delight your customers.
Why Collect Customer Feedback in SaaS?
While there are many benefits of collecting Customer Feedback, there are two main reasons why companies need to gather SaaS Feedback from the customers.
The first is to know about customers' issues and resolve them. With feedback, you will be able to know what issues your customers face. Issues can be both big or small which you wouldn't even have thought. Feedback helps you identify them all and resolve them before they cause much damage to your business. But this is just one aspect. There is another big reason to collect Customer Feedback.
Customer Feedback is not only useful in resolving customers' issues and providing them with a smooth experience, but it is also essential to develop products that customers love. Great products cannot be developed in a vacuum. Collecting feedback is a medium to connect with your customers and know more about your product and how much it is able to satisfy your customers' needs and expectations. This helps you in developing better versions of your products, prevent any potential bugs and issues, and ultimately be able to bring an improved and competitive product in the market.
Let's explore how you can collect and act on Customer Feedback.
How to Collect and Act on SaaS Feedback?
The only way to collect feedback from your customers is to ask them. And what's the correct way to ask them? By giving them opportunities to connect with you and to take a Customer Feedback Survey. Here are some tips and ways to collect and work on SaaS Feedback from your customers.
Ways to Collect and Act on SaaS Feedback
Know your Audience
Send Email Surveys
Send SMS Surveys
Collect Website and In-Product Surveys
Use Email Signature Surveys
Use Live Chat
Analyze Product Usage Data
Let's learn more about these ways to collect Customer Feedback.
1. Know your Customers
Your customers are the core of your business. All your efforts to develop amazing products are to make your customers happy and ensure their satisfaction. But how will you ensure Customer Satisfaction if you don't know your customers? So it is necessary to understand who your customers are, what they need from your business, and why they are investing in your product or service. It is important to know what your customers like and what they dislike. So don't forget to collect this information when you are asking for feedback from your customers.
Gather this information and use this to segment your customers as per their demographics and their needs and purpose to take your product. This will help you to deal with them effectively, target your products and services better and offer them personalized experiences.
Researches suggest that 80% of the customers are more likely to make purchases from a company that offers personalized experiences.
2. Send Email Surveys
Email Surveys are a great way to ask for Customer Feedback. With the help of effective Online Survey Tools, you can easily create and send your SaaS Feedback surveys through emails to a large pool of customers. You can send Embedded Email Surveys where the first question of the survey is embedded in the email body itself or Email Surveys with Hyperlink where a survey invitation message is written in the email body followed by the survey link which customers visit in a single click and respond to the survey.
3. Send SMS Surveys
SMS is another reliable medium to send your feedback surveys to your customers with a high open and read rate.
Researches suggest that the open and read rate of SMS Survey is 98% and 90% of the text messages are opened within 3 minutes of receiving.
So you can send SMS Surveys to your customers with a survey message requesting them to take the survey and provide valuable feedback followed by the survey link. The link should open within seconds on one click so that customers can easily and quickly share their feedback.
4. Collect Website and In-Product Surveys
Your product is itself the best medium to collect feedback from your customers regarding their experiences with your product. On your product and website, you always don't need to ask for feedback. You just need to provide adequate opportunities and ways for your customers so that they can share feedback whenever they feel like sharing. Here are the ways in which you can enable your customers to share feedback.
Survey Popups
Survey popups appear on the screen while your customers are scrolling your website or webpage on your product. The popup invites the customers to take the feedback survey and share their valuable website feedback insights or product feedback opinions. The customers can click on it and easily take the survey. If they don't wish to take the survey, they can easily close the popup and continue with using the product or website.
Survey Buttons
You can use survey buttons on your website and product pages to provide your customers with an opportunity to share feedback. You can name these buttons with one word like 'Feedback'. The buttons neither take much space of your webpage, nor they hamper your customers' regular work. They should be just clearly visible to the customers so that they can use these buttons to take the feedback survey if they feel like sharing feedback.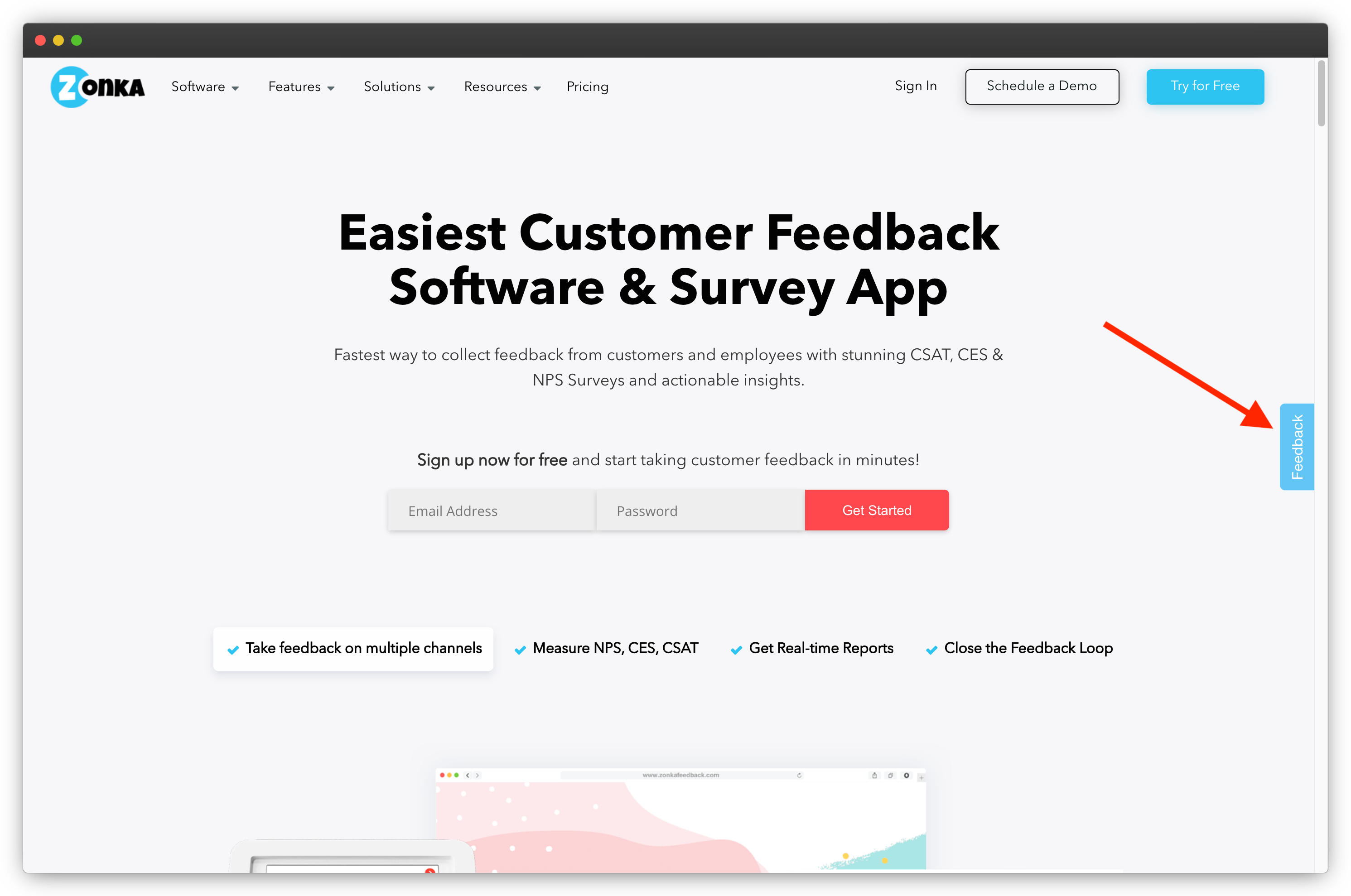 Slide Outs
You can use slide out at a side of your web page with usually a one-word name like survey buttons. They also don't take up much space on your web page and are visible to the customers. If the customer's wish to view them, they can click on it and it will slide on the screen and present the survey or option to take the survey before the customers. The customers can then easily take the survey and share their feedback.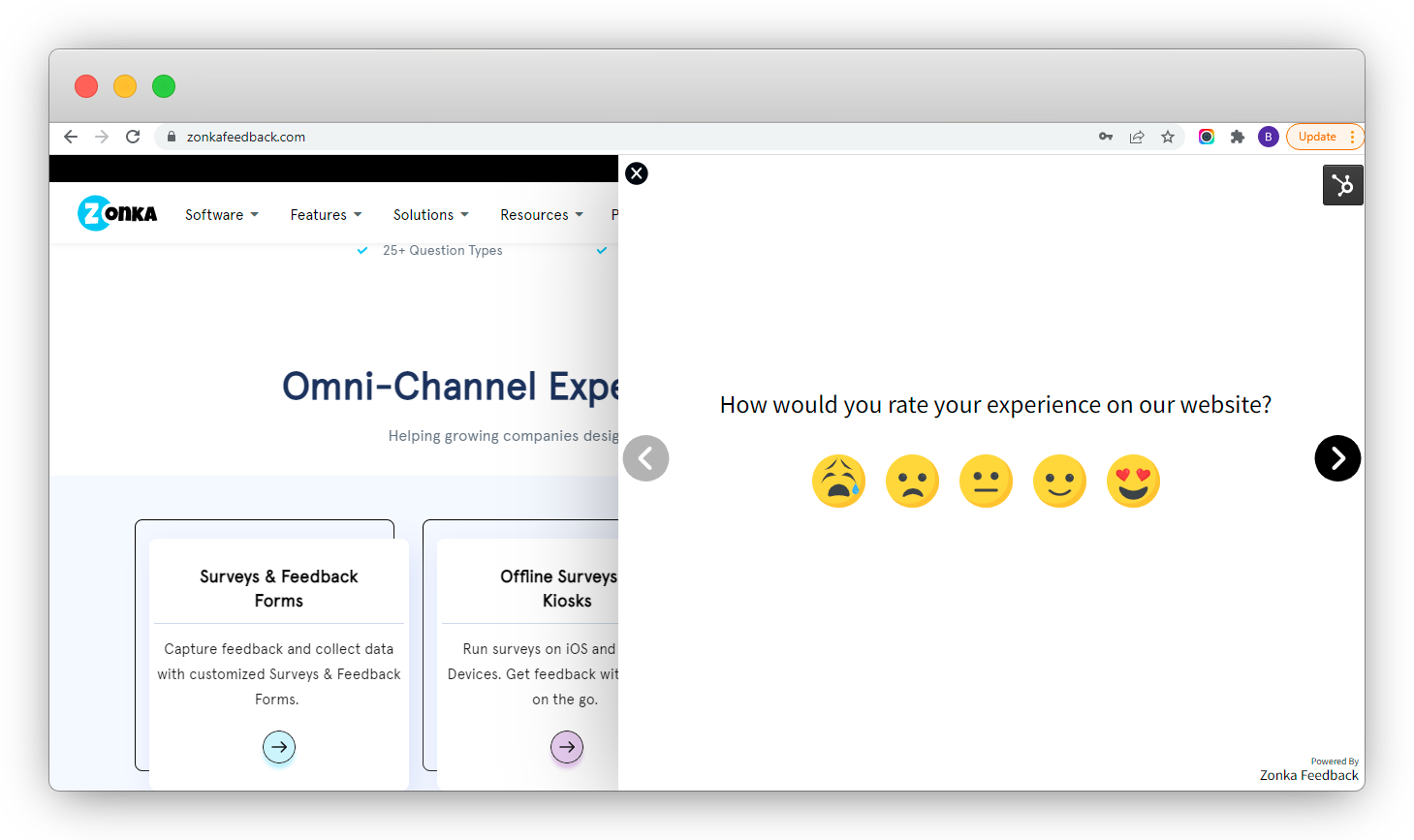 5. Use Email Signature Surveys
Emails are a great way of sending feedback surveys. But when you don't want to proactively collect feedback, and just want to provide an option to the customers to share feedback, then Email Signature Surveys are also a useful option. The biggest benefit is that you don't need to send a survey email to the customers, especially for inviting them to take a feedback survey. Instead, you send this survey along with your regular emails that you use to communicate with your customers.
In these surveys, you just add a one liner in the signature of your regular email inviting the customers to share feedback followed by the survey link. If the customers wish to share feedback, they can click the link and easily take the survey.
6. Use Live Chat
Live Chat is a medium through which customers can communicate with your service agents to share and get resolved their queries and concerns. Live Chat conversations are a sought of feedback from the customers. You can collect Live Chat data and use it as feedback. You agents can also share a survey link in the Live Chat and request the customers to share feedback.
7. Analyze Product Usage Data
Product Usage Data is a useful source of information that you can use to collect Product Feedback from your customers. You can use tools like Zonka for Salesforce that give you a 360-degree view of every interaction of your customers and their product usage. This information helps you analyze how your customers use your product, which features they use more than others, and which features are not useful for them. All this helps you provide them better and tailored experiences.
Closing the SaaS Customer Feedback Loop
Now, when you have collected feedback from your customers through SaaS Feedback surveys, it's time to take action! First of all, you must keep in mind that you need to respond to every feedback whether it is a positive, neutral or negative feedback. With the help of an effective SaaS Feedback tool like Zonka Feedback, you can also set automated responses to be sent to the customers as soon as they submit their feedback.
Thank the customers who share positive feedback about your product and services for recognizing your efforts. If you have truly loyal customers, and they agree to recommend your product, like in an NPS survey response, you can also reward their loyalty or offer them incentives for recommendations.
To the customers who share neutral feedback, you can ask them what you can do to make your product better for them and try to know what their ideas are regarding an ideal product. You can take their suggestions, and follow them if they are feasible. If you follow any suggestion and make changes to your product, do inform them personally that you have made the respective changes as per their suggestions. This can make them feel delighted and drive loyalty in them towards you and your business.
To the customers who shared negative feedback, firstly, apologize to them for their bad experience. Then ask them where the things went wrong, and what went against their expectations. Try to genuinely help them and make efforts to improve their experience. Customers do recognize your efforts! And lastly, inform them what you have done for them and then close the feedback loop.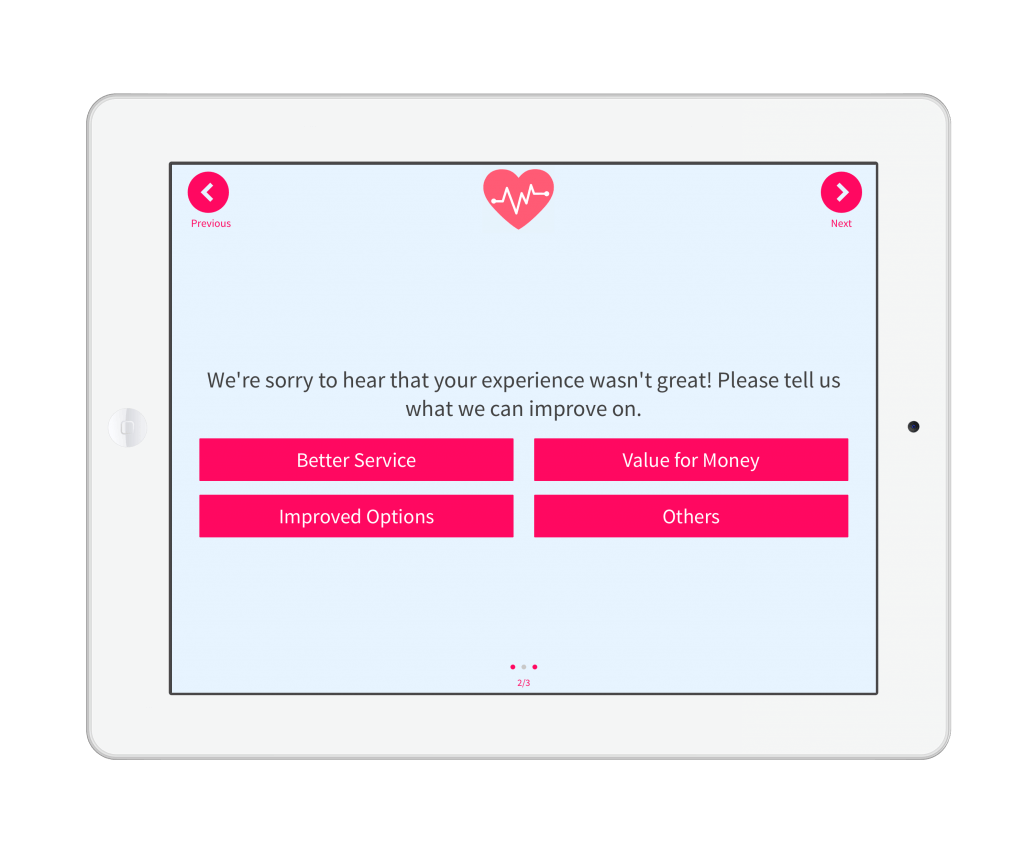 It is vital to take action on every feedback and close the Customer Feedback loop effectively. Closing the Feedback loop can even turn your unhappy customers into happy promoters.
Conclusion
Customer Feedback is vital to know your customers' problems and issues that they face while using your product and services. It helps you resolve the customers' existing concerns and prevent potential issues that may occur in future ultimately making your product better for your SaaS users.
You can easily collect feedback using the ways mentioned above with the help of an effective SaaS Feedback Software or app like Zonka Feedback. With this tool, you can create and send feedback surveys through multiple channels. With advanced features like real-time feedback alerts, automated responses, and ability to close the feedback loop, you can get notified about every feedback in real time and take instant action on it to improve Customer Experience and make your product better for the users.
It also offers a free trial. Try it for free for 7 days and see how it works for your business.