To ensure customer satisfaction and build a great customer experience, it is necessary to survey your customers and collect their insights regarding their experiences, needs, and expectations from your business. Creating an effective survey is one step, but the key to successful surveys lies in convincing a large number of customers to take the survey and provide their valuable feedback. One of the best ways to do this is by crafting and sharing compelling survey invitation emails.
The success of a survey lies in the survey response rates. An effective survey invitation email has the capacity to convince most of your customers to take the survey and boost the response rate of your survey.
In this article, we will explore what a survey invitation email is, how it is important for the success of your email surveys, and how you can craft a compelling survey invitation email and leverage it to collect valuable insights from a large number of customers. Let's get started!
TL;DR
A Survey Invitation Email is an email invitation that you write to introduce your survey to the customers and invite them to take the survey and share their valuable insights.

Email feedback invitation is an easy and non-intrusive way of asking for feedback through survey emails. It helps to establish communication with the customers, reach multiple customers at the same time, and stimulate a high response rate.

Popular brands like Airbnb, Yelp, Stanford Graduate School of Business, and Nordstrom Rack use effective email survey invitations to seek feedback from their customers, guests, and students.

To get the maximum benefit of survey invitation emails, you should follow some best practices - be clear about the objectives, personalize the survey emails, use a compelling subject line, keep the message short, send survey emails at the right time, mention survey duration and deadlines, and send reminders if needed.

With effective email survey software like Zonka Feedback, you can easily create engaging survey invitation emails and share them with your customers with powerful surveys. You can choose among different ways of sharing surveys - a survey link, survey button, or embedded survey email. The tool also helps to measure and ensure customer satisfaction. It also offers a free trial for 7 days.
What is a Survey Invitation Email?
A survey invitation email is an email message that you write to introduce your survey to the customers, and invite and convince them to take the survey to share their valuable feedback about their experience with your products, services, and the overall organization.
These survey email messages are necessary to convince the customers to fill out the survey and share their responses which will help you collect meaningful insights from them.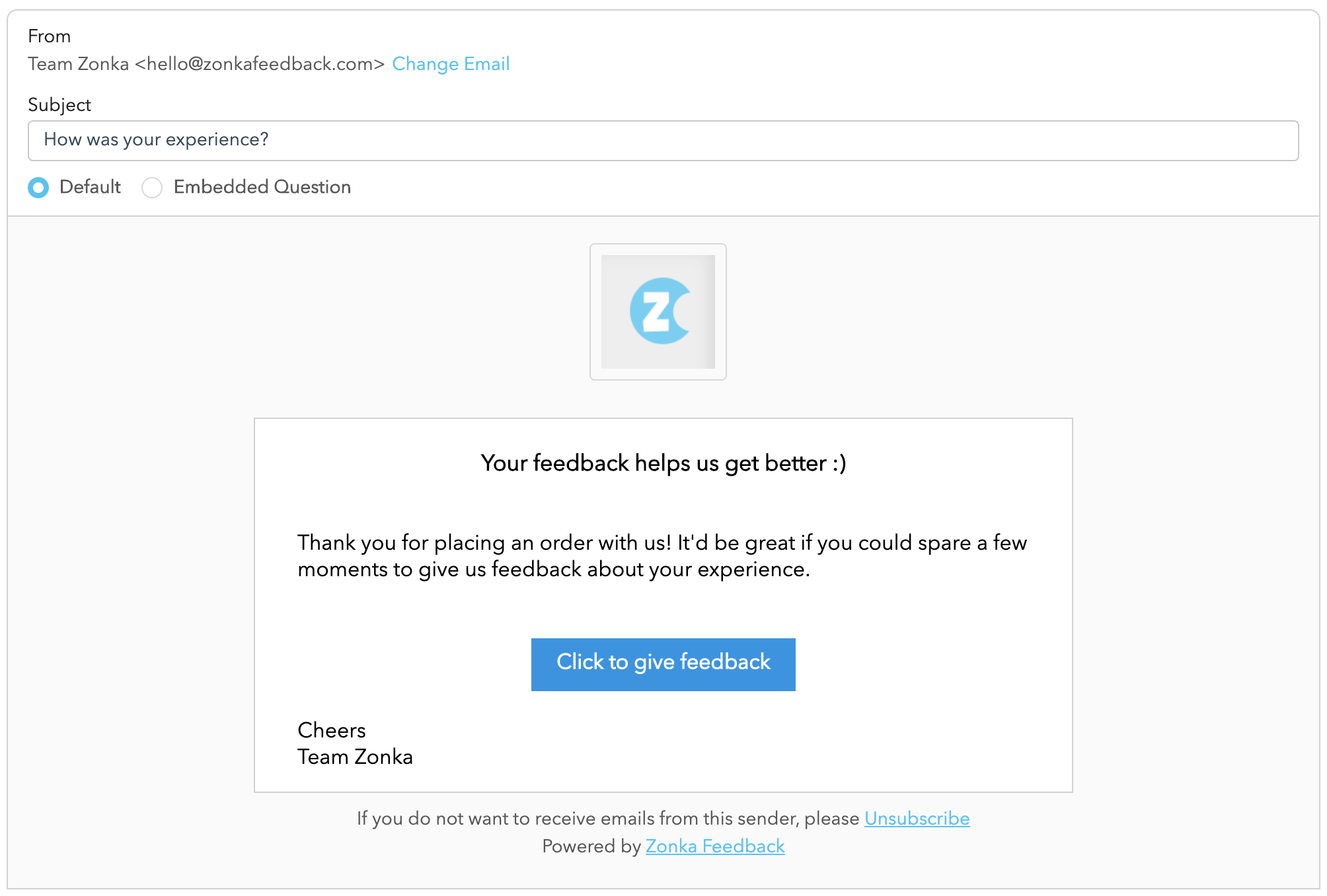 Importance of Survey Invitation Email
A good survey email helps you in many ways:
It helps to motivate the customers to share feedback - A survey email is a way not only to invite the customers to take a survey but also to motivate them to fill out the survey and share their accurate insights and feedback. A good survey email invitation message conveys that you value their feedback and sharing it will ultimately benefit them in the form of better products and services. This encourages them to take the survey and share their valuable insights

It establishes communication and helps to build customer relationships - Survey invitation emails help you establish communication with your customers. This communication becomes two-way when they respond to the survey, and further strengthens when you respond to their feedback and take action on it. This fosters healthy relationships with your customers.

It is easy to send multiple customers at the same time - One of the prominent advantages of email feedback invitations is that you can send them to multiple customers in a matter of few clicks. This streamlines and smoothens your overall feedback process. Moreover, email surveys are cost-effective and can fetch you valuable customer feedback data at a minimum cost.

It is a non-intrusive way of asking for feedback - A feedback request email is a non-intrusive way to ask for feedback. It shows that you respect the customers' time and preferences and reduces the likelihood of annoyance as the customers can respond to the survey in their own time and convenience.

It stimulates more responses - Email feedback invitations are designed to be engaging and encourage the customers to take the survey. So they often stimulate more survey responses as compared to other methods.
Let's explore some survey invitation email examples from some popular brands that use email feedback invitations to gather customer feedback.
Survey Invitation Email Examples
Many companies have used powerful survey invitation emails to share with customers requesting them to take the feedback survey. Here are some survey invitation email examples of such brands.
1. Yelp
Yelp uses an embedded survey email with a simple yet effective survey email invitation message to invite their customers to respond to a feedback survey about food delivery. The survey email invitation says:
"Hey (Customer Name)! Tell us about your delivery experience with My Ivy Thai."
After this short invitation message, the survey is embedded in the survey email body itself.
Image Source: Really Good Emails
2. Stanford Graduate School of Business
Stanford Graduate School of Business collects feedback from its students and offers incentives to take the survey. This motivates the students to fill out the survey and share their valuable feedback. Here is the feedback survey invitation email sample.
Image Source: EmbedSocial
3. Nordstrom Rack
Nordstrom Rack, an American off-price departmental store chain sends its customers a feedback email after a customer visits its store. This is a good example of triggering survey invitation emails at a specific touchpoint.
The survey invitation email sample expresses that the customers' opinion matters, tells the objective of the survey i.e. to make the next visit better, and at the same time tries to convince them that the survey will take only a few minutes. Here is the sample survey invitation email.
Image Source: Sender
4. Airbnb
Airbnb uses a survey button in the survey email, writes a compelling message and conveys the clear purpose of taking the survey. It conveys that the survey will help the whole community of travellers like the recipient, and also help them improve their services. Here is the survey invitation sample.
Image Source: Hubspot
5. MacPaw
MacPaw, a file encryption app shows gratitude to the customers for choosing their platform and then requests the users to share their experiences through a survey. The message is followed by a survey button to collect users' responses.
Showing gratitude is also a good way to start a healthy conversation, and then the humble request to share experiences can add to the stimulation to take the survey.
Image Source: Forms
Let's learn some best practices to write effective feedback request emails.
Best practices for Writing Email Survey Invitations
Here are some best practices you need to follow to make your email feedback invitation effective.
Personalize your email - Studies suggest that personalization of emails increases their open rate by around 26%. So always personalize your email invitation and subject line to engage your customers. Personalization involves addressing the recipient by name, acknowledging their previous interactions, or giving reference regarding specific details that make the email body and subject line feel tailored to their individual preferences and history.

Use a Compelling Subject Line - Craft a subject line that not only grabs the recipient's attention but also clearly conveys the value of the survey or any potential rewards. A compelling subject line can significantly impact open rates and initial interest.

Offer Incentives - Mentioning incentives, such as discounts, gift cards, or a chance to win prizes, provides a tangible reason for the customers to invest their time in the survey. Incentives can boost participation rates by appealing to the customers' self-interest.

Keep it short and simple - The email content should be concise and to the point. Avoid lengthy paragraphs and use straightforward language to ensure clarity and readability. Focus on essential information to effectively convey your message.

Use Motivating content - Create content that emphasizes the significance of the recipient's feedback and explains how it will directly impact the organization's action to serve the customers better. Motivational language can inspire the customers to participate and take the survey.

Tell the Survey Duration - Providing an estimate of the time needed to complete the survey helps recipients plan accordingly and increases their willingness to participate. Knowing what to expect in terms of time commitment can reduce barriers to entry.

Be Clear about the Objective - Clearly convey the purpose of the survey to your customers. Explain to them in detail how the gathered survey data will be utilized and how it aligns with the customers' interests or experiences. Transparency fosters trust and encourages honest opinion and feedback leading to accurate survey results.

Send invitations at the right time - Timing is crucial when sending survey invitation emails. Choose a time when your customers are most likely to check their emails and have the time to engage. Consider factors like business hours, weekends, or specific seasons. You can also choose to send the invitations at a specific touchpoint of the customer journey like a recent purchase, a visit, a checkout, and more. This can lead to better survey results.

Tell Deadlines or Expiry date - Communicate any survey deadlines or expiry dates of the survey link to make it evident that the opportunity to participate is time-sensitive. This creates a sense of seriousness and encourages customers to open the survey link or button and respond promptly.

Send Reminders if needed - If initial survey invitations do not yield sufficient survey responses, consider sending a polite follow-up survey invitation reminder. These gentle emails can remind recipients who may have overlooked the initial feedback request email, and thus improve participation rates without being intrusive.
Let's learn how you can send survey invitation emails using good email survey software like Zonka Feedback.
Emailing Survey Invitation: Steps to Send Email Survey Invitation Using Zonka Feedback
1. Compose the Survey Email
The first and core step of the process is to compose the survey email. It is similar to composing a regular email as you have to put in the details like you put in a simple email.
Customize the following in the email survey:
From - Put your customers' email addresses here to which you want to send the surveys.

Subject Line - Put a compelling subject line as this is the thing that the recipients will first see when they receive the email survey invitation. With Zonka Feedback, you can use Placeholders to automatically put the first names of your customers in the subject line wherever you opt. This will help to personalize the subject line.

Email Content - Here you can compose the body of the email which includes the invitation message that you want your customers to see along with other details like logo, heading, and signature.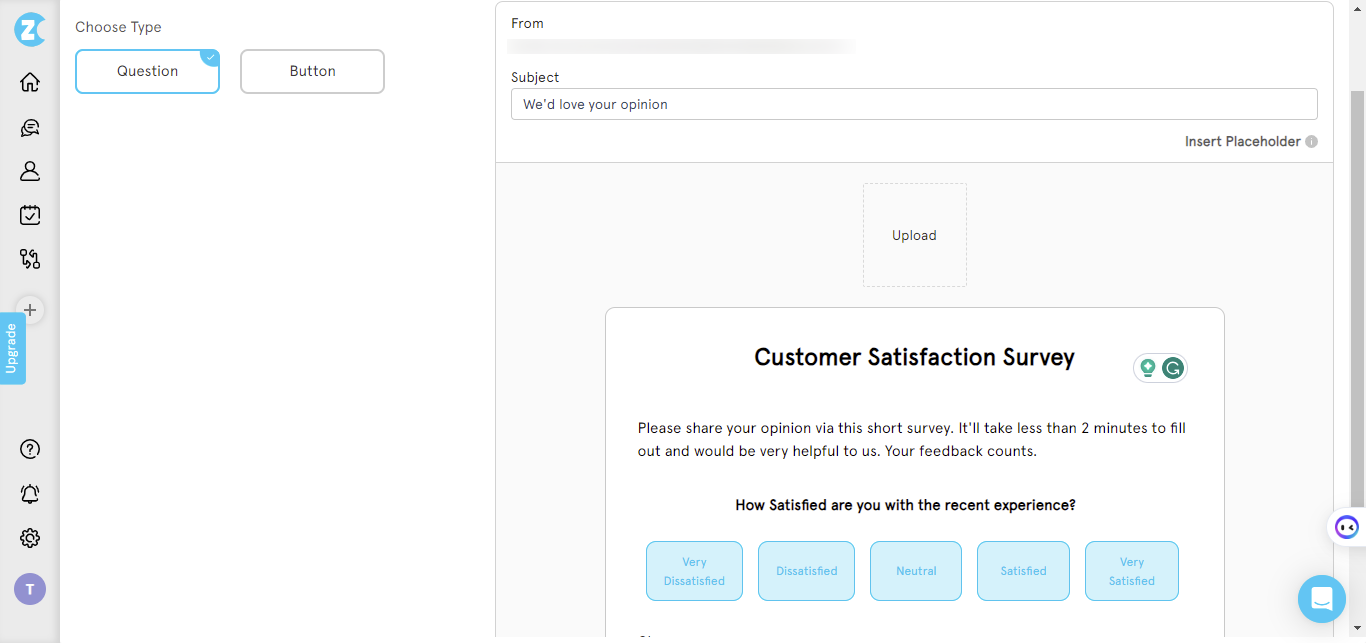 2. Choose the type of survey email
The next step is to choose the type of survey you want to insert in your survey email. You can share:
Hyperlink - A survey link that the customers can click and open to take the survey and submit their survey responses.

Survey Button - A feedback button that the customers can click and it will take them to the full survey.

Embedded Question - Here, you can embed survey in emails. This means the first question of the survey will be embedded in the survey email body itself. As the customers choose a response option to answer this question, it takes them to the full survey or the next question of the survey.
In case you want to send a feedback survey with the signature of your regular customer interaction emails, you can choose the option of adding an email signature survey.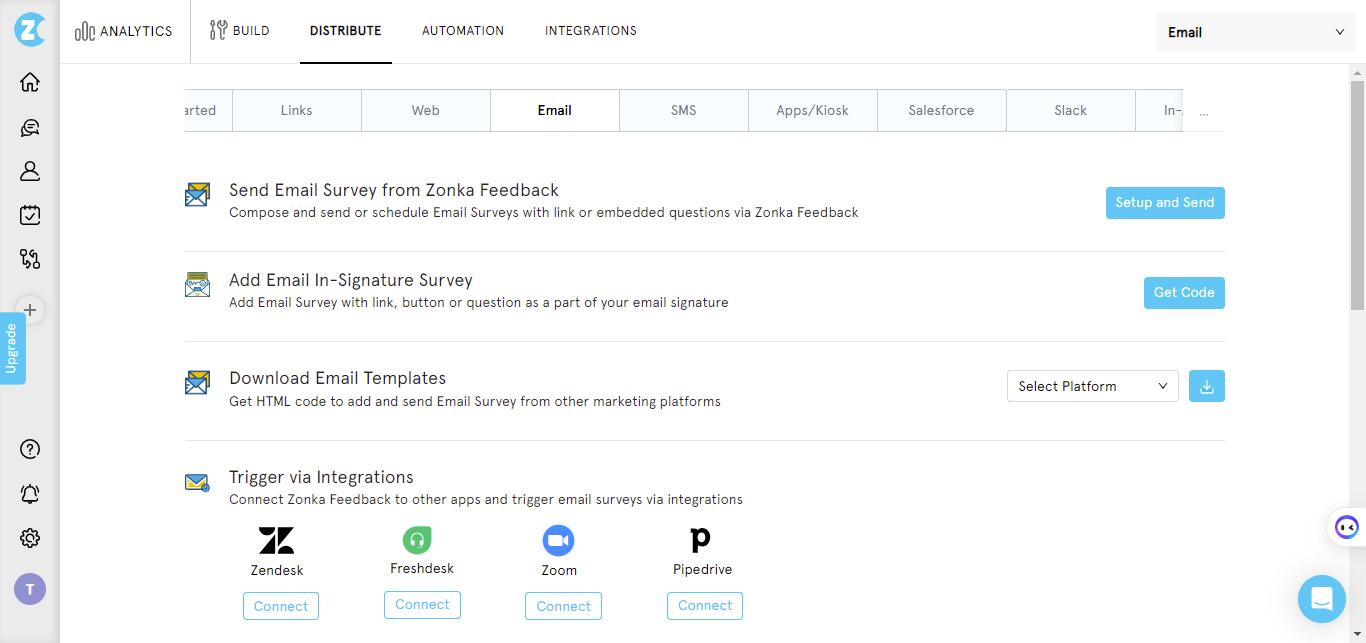 3. Use Placeholder to personalise your invitation
The next step is to insert Placeholders in the content of your email feedback invitation wherever you want to put the customers' details like first name, order number or any other personal detail. Placeholders help you to personalize your message by making the details of various customers appear in the respective survey invitation emails they receive.
4. Add Recipients and send the survey email
The next step is to add the recipients you want to send your feedback request email. You can do this in three ways:
Add manually by inputting customers' email addresses. This is suitable when you have a small survey sample.

Select from a Contract Segment or group with the help Zonka Feedback as it is able to integrate with CRMs and fetch customer data from it.

Import a CSV file with your customers' email addresses and relevant information.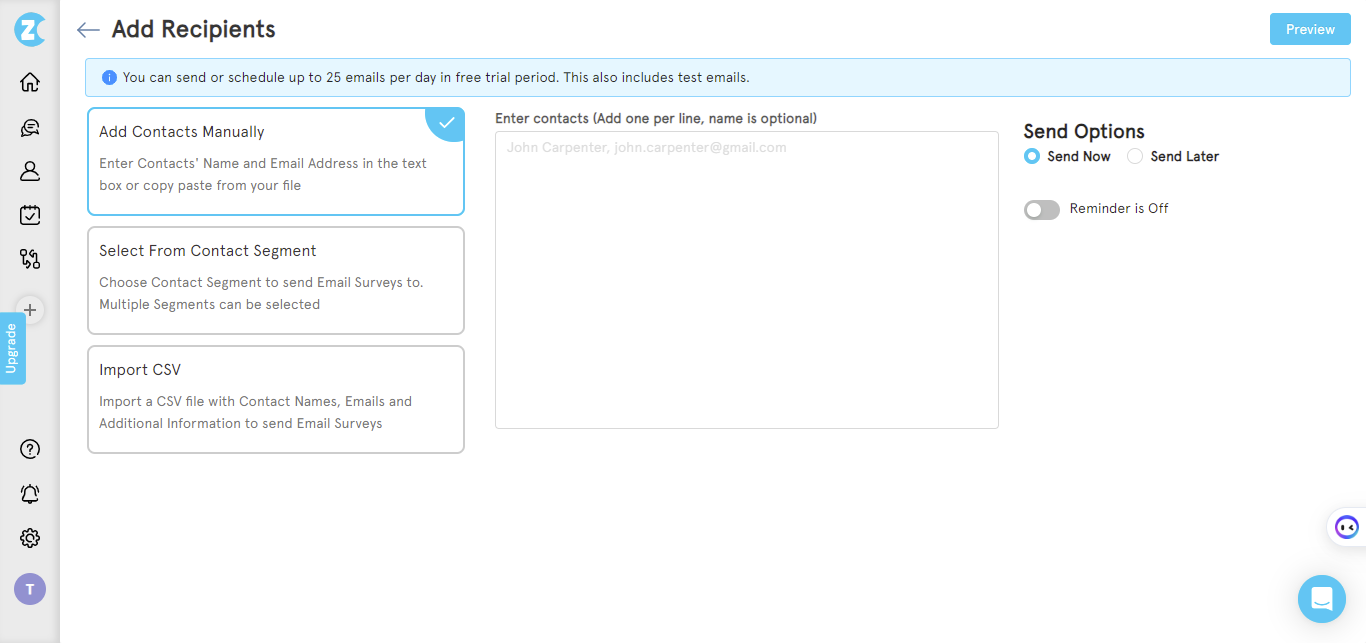 Now, send the email survey to your customers.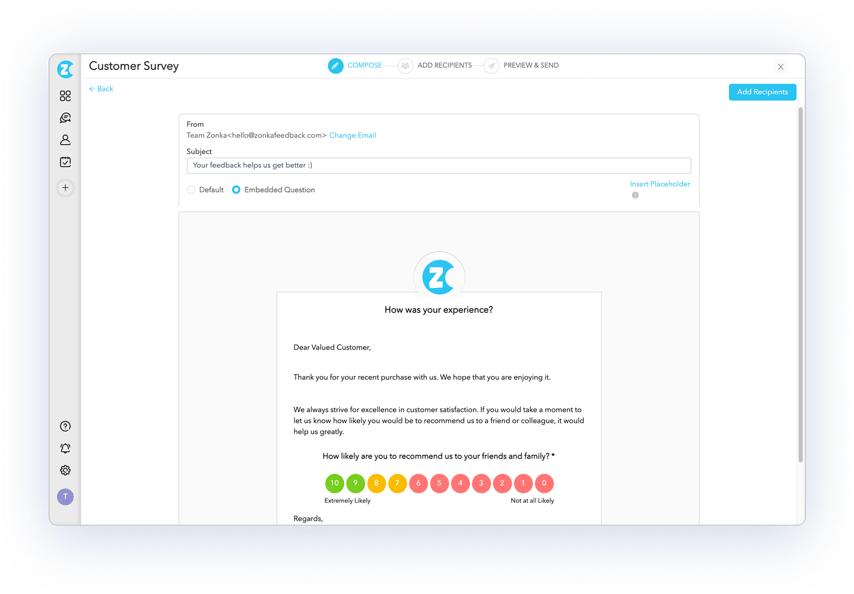 5. Set Reminders
With Zonka Feedback, you can also set up survey email reminders to be sent to the customers who don't take the survey and submit responses in a definite period of time. This will help you fetch survey responses from those customers who procrastinate filling out the survey and forget it afterwards.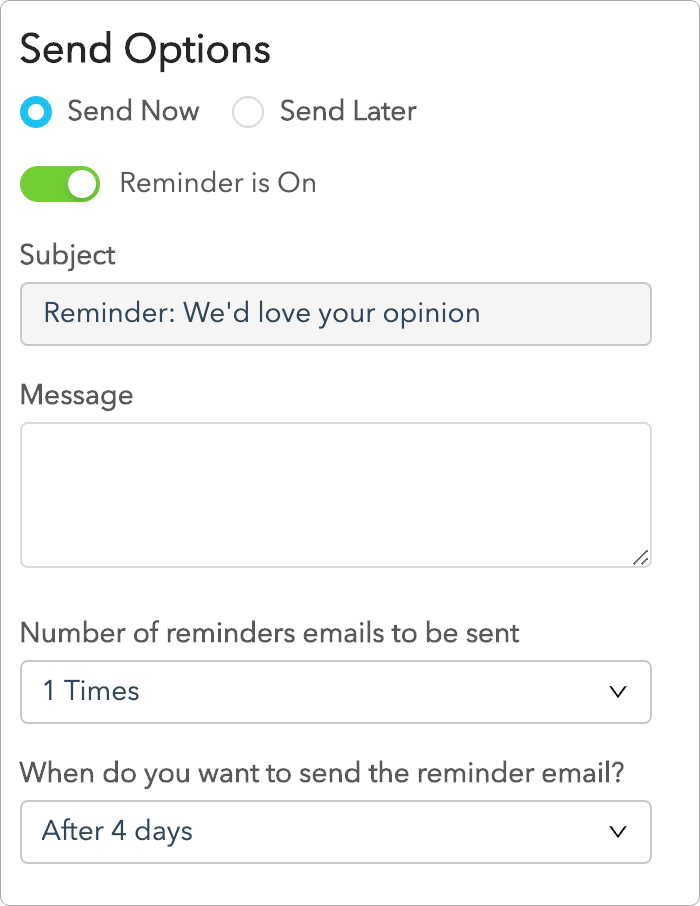 Conclusion
Effective survey invitation emails are necessary with email surveys to motivate your customers to respond to your surveys and share valuable customer feedback about their experience with your products and services. So you must pay a good amount of focus to crafting effective email survey invitation messages with compelling survey email subject lines.
A powerful email survey tool can make this task easier for you and helps leverage the power of email surveys to get maximum responses. Zonka Feedback is one of the best email survey software that you can use to create powerful surveys and personalized email survey invitation messages to motivate your customers to share meaningful insights. With this tool, you can choose to share surveys through different ways - a survey link, button, or embedded question in the email.
Moreover, it helps to not only collect feedback but also take instant action on it and close the feedback loop to improve customer experience.
It also offers a free trial. Try Zonka Feedback for free for 7 days and see how it helps you get more survey responses to your email surveys.