With a vast number of customer feedback software available to us today, it is easy to get confused. While some tools may help you create the most attractive surveys, some may have features that enhance feedback management and make way for implementation.
What you need is a feedback survey tool that meets your unique business requirements and helps you build effective customer surveys.
Fuel Business Growth with Customer Feedback 🔥
Collect real-time, in-moment feedback at all touchpoints in customer journey and leverage feedback insights to transform customer experience.
To begin your research, you would first need to list down all the survey requirements in terms of distribution channel requirements, audience size, survey types, integration with other tools, etc.
Once you are done with this step, you can compare the features of the top tools against your requirements and understand which customer feedback software perfectly fits your requirements.
To make it easy for you, we have discussed the most popular feedback survey software in this article. Let's get started.
Now, let's read in detail about all of these top survey tools:
7 Best Feedback Survey Tools
Now, let's read in detail about all of these top feedback survey tools:
1. Zonka Feedback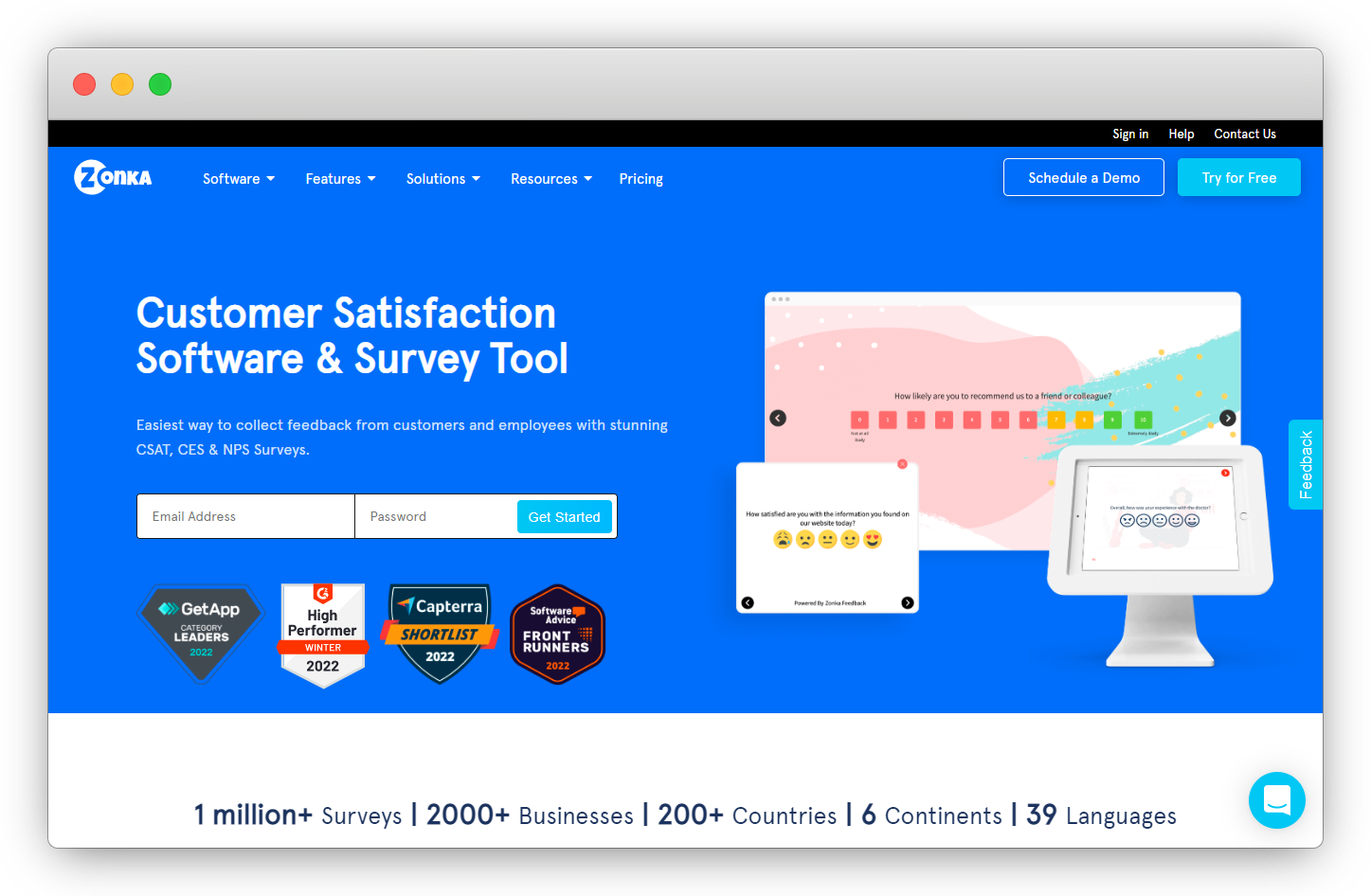 Zonka Feedback is one of the best customer feedback software that comes with a code-free survey builder and yet helps create the most intelligent and attractive feedback surveys. The software enables brands to collect feedback at almost every touchpoint across different channels like email, SMS, website, mobile app, phone, tablet, kiosk, QR code, etc.
The tool is perfect for both small-scale and large-scale businesses since you can measure feedback across CX metrics like CSAT, NPS, and CES, and also get more complex feedback through different question types. You can also leverage survey automation, data analysis, collaboration, integration with BI tools, etc. to better manage data and close the feedback loop.
Key Features
500+ ready-to-use survey templates
Website surveys and in-app surveys, including a popover survey, feedback button, embedded survey, and side tab survey
Email embedded and email signature
Surveys in 30+ languages
Real-time notifications
Survey automation and workflows
Insightful reports and analysis
Mobile-optimized surveys
Branding, personalization, survey throttling, and survey logic features
Integration with various business tools like Salesforce, Zapier, Zendesk, Hubspot, Intercom,
Zendesk, Freshdesk, Google Sheets, Teams, Slack, etc.
Rating
4.8/5
Free Trial
7-day free trial
Pricing
Starting from $99/month
2. NIceReply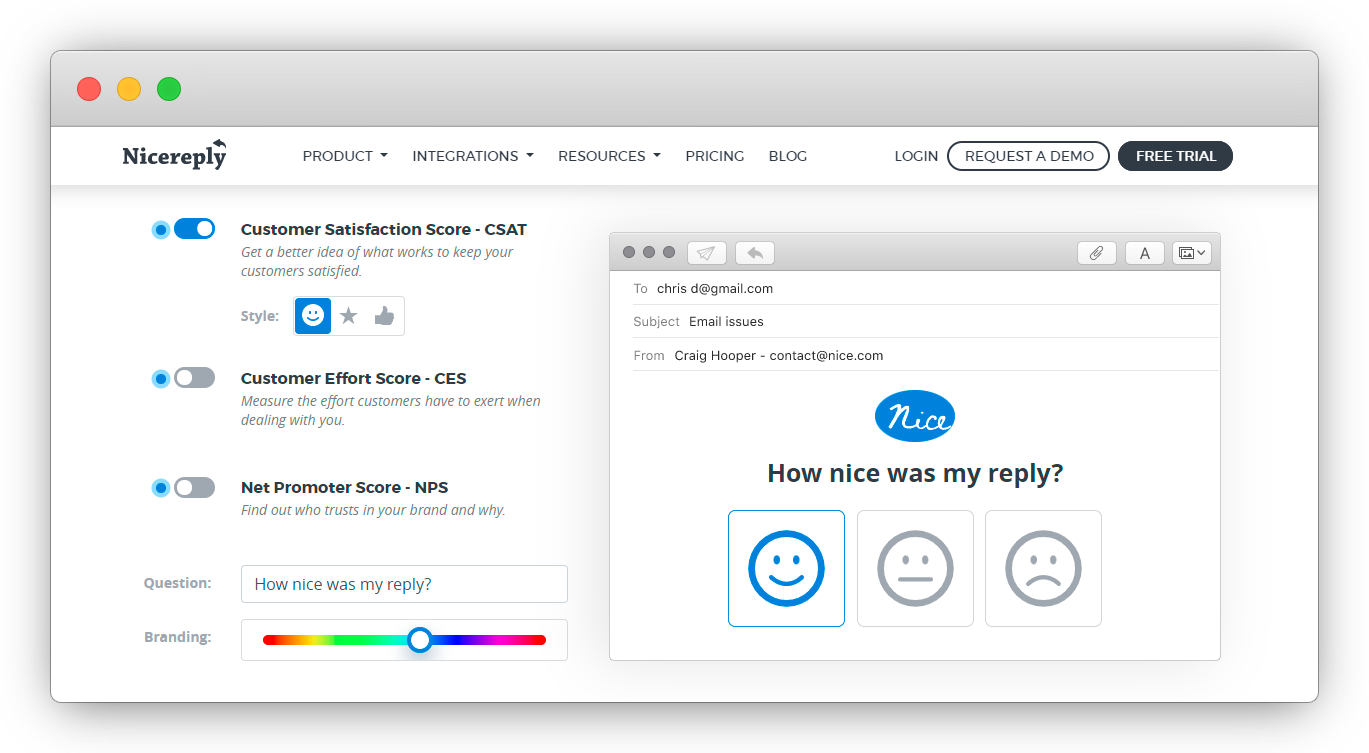 NiceReply is among the best customer feedback software that helps in collecting customer feedback across primary CX metrics like CSAT, NPS, and CES. The tool allows surveying customers through different channels and also combines different distribution methods so brands can reach the customers at the right time and collect maximum responses.
Key Features
Different question types like a rating scale, smiley survey, thumbs up and down surveys, etc.
Post-resolution (embedded), email signature, and link surveys
Integration with BI tools like Zendesk, HelpScout, LiveAgent, PipeDrive, etc.
Rating
4.7/5
Free Trial
Available
Pricing
Starting from $49/month
3. QuestionPro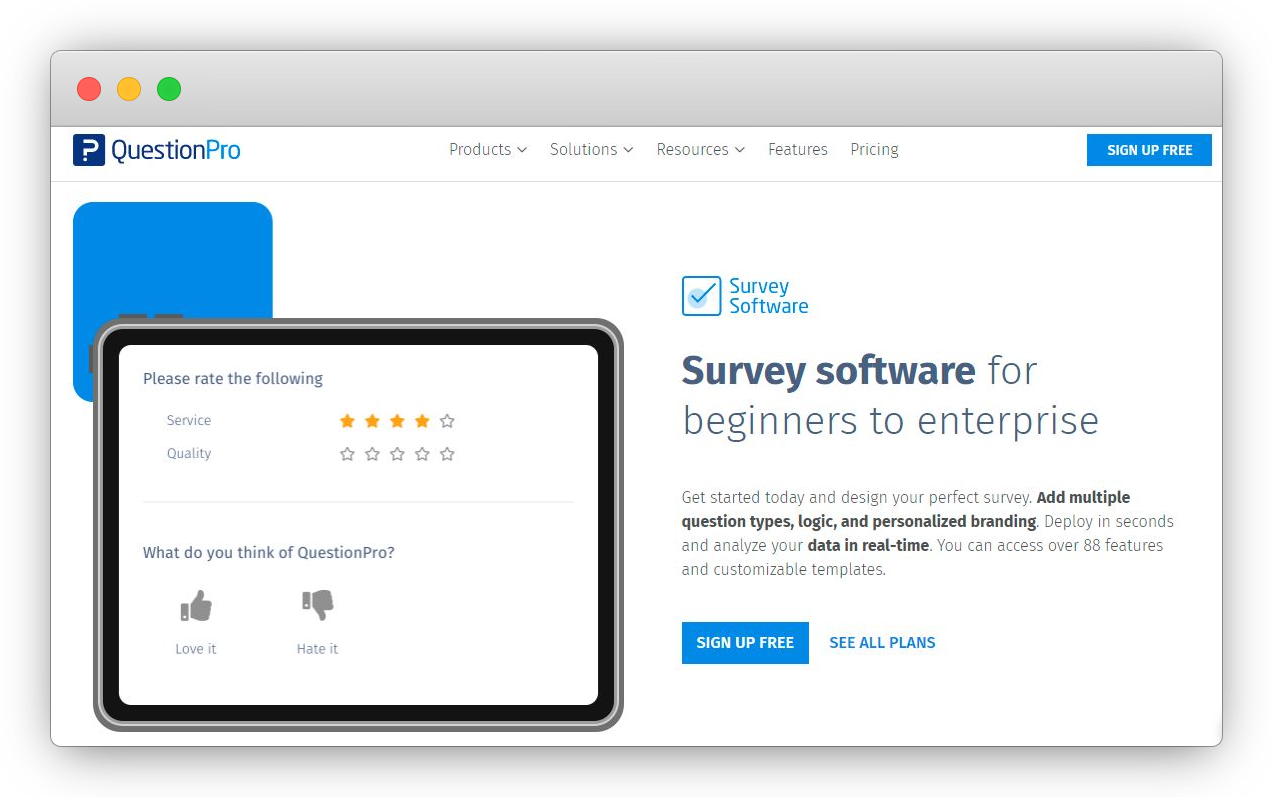 Another powerful customer feedback software is QuestionPro which consists of an easy-to-use survey builder and survey formats that you can immediately get started with. You can leverage various design themes, and elements like a brand logo, image, color palette, etc. to better customize your surveys and attract customers to share feedback.
The biggest plus point of this tool is that NGOs can access it for free. However, advanced features come at a cost. Some advanced features include survey automation and integration.
Key Features
Code free survey builder
Survey distribution and management of templates
Skip logic and branching in surveys
Multilingual surveys
Branded surveys
Feedback analysis and reporting
Data exporting
Integration with other business tools
Rating
4.7/5
Free Trial
Free version with limited features
Pricing
Starting from $99/month
4. TypeForm
TypeForm is one of the top customer feedback software that helps you create simple yet beautiful forms to collect feedback from customers. The survey tool helps you build customer feedback surveys that are effective and engaging with its features like survey themes, personalization, branding, etc.
What makes the tool stand out is the high form loading speed. Moreover, survey software also integrates with several business tools so you can efficiently manage feedback and use it for decision-making.
Key Features
Question types and survey templates that can be used right away

Personalized survey and survey flow

Multi-page forms

Survey logic and branching

Reporting features for data analysis

Integration with other software(500+ integrations)
Rating
4.7/5
Free Trial
Free version with limited features
Pricing
Starting from $25/month
5. Zoho Survey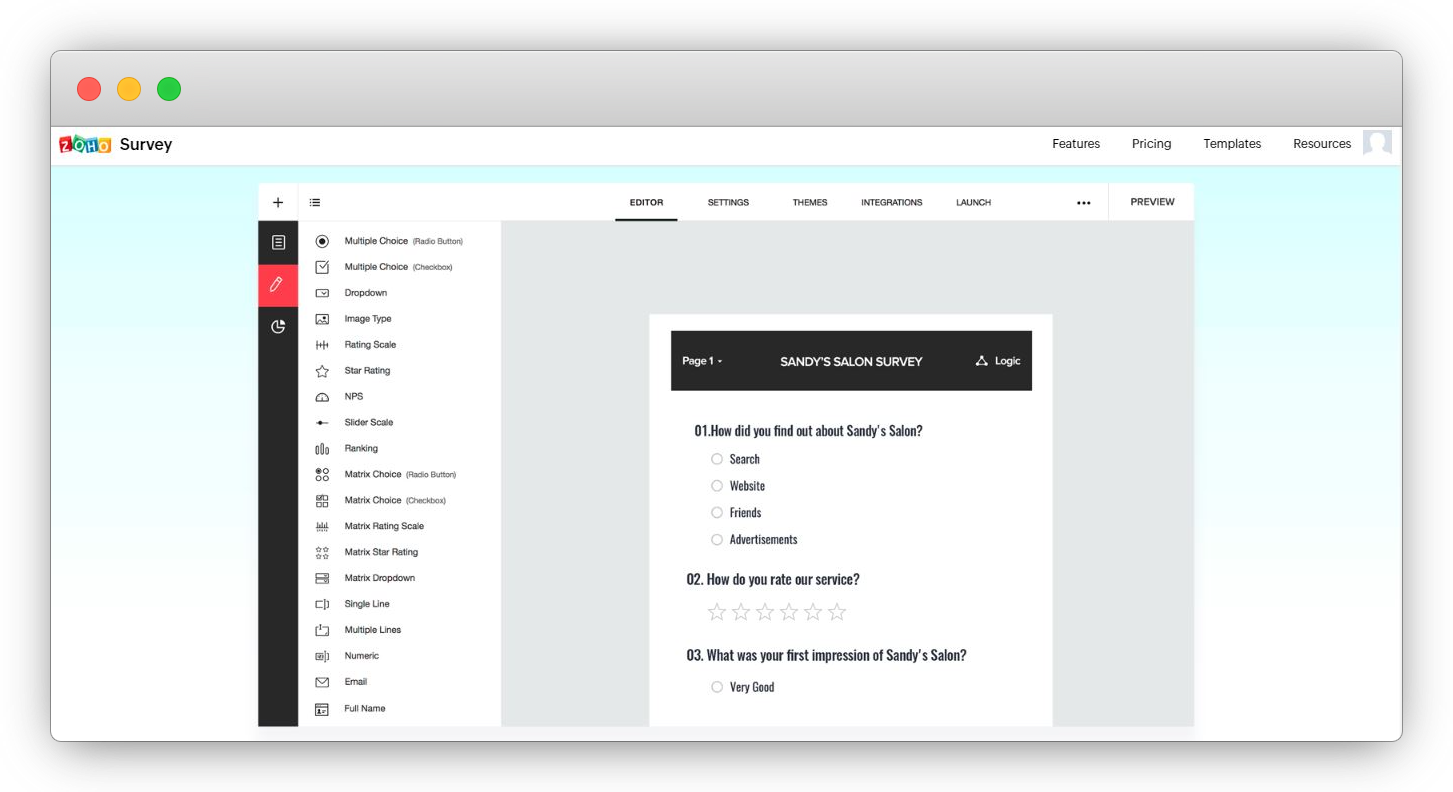 Customer sentiment analysis is one of the top requirements of brands collecting customer feedback. And Zoho Survey software offers an extensive array of feedback reports that helps brands accurately decode customer responses based on Sentiments, Word Cloud, and TURF.
This cloud-based software offers 360-degree survey solutions that cater to businesses of all sizes.
Key Features
200+ survey themes

Customizable surveys

25+ question types

Surveys in 30+ languages

Branding for appealing customer surveys

Intelligent survey reports
Rating
4.6/5
Free Trial
Available
Pricing
Starting from $11/month
6. Jotform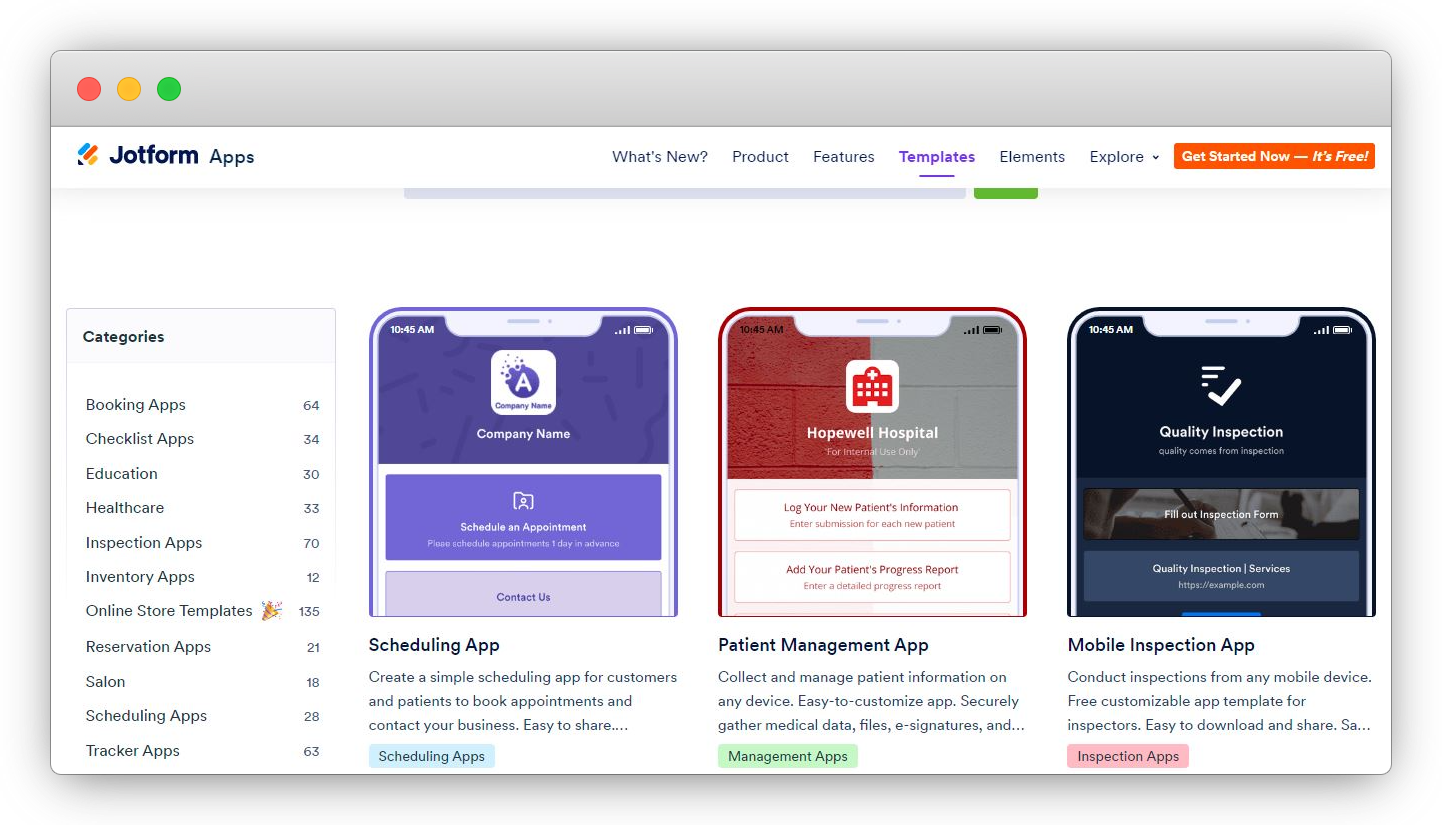 Jotform is a super easy-to-use survey platform ideal for small businesses. The tool allows creating CSAT feedback surveys that you can share with your customers through direct links, emails, website embeds, social shares, QR codes, etc.
Moreover, this tool offers a huge number of integrations so that you not only collect feedback but also use it to improve brand performance and customer experiences. Another thing that makes this customer feedback software stand out is its payment feature through forms.
Key Features
Drag and drop surveys

ACH payments

Form translation

Offline forms

Google analytics form tracking

Conversational forms

Survey logic and branding
Rating
4.6/5
Free Trial
Available
Pricing
Starting from $34/month
7. SurveyMonkey
SurveyMonkey is among the most popular customer feedback software that enables customer feedback collection through intuitive surveys, polls, and quizzes. Its code-free survey builder helps you either build surveys from scratch or customize the existing templates. You can also brand your surveys to increase survey response rate as well as make the survey more relevant with features like skip logic and conditional logic.
You can share SurveyMonkey surveys through web links, social media, email, SMS, chats, app, website, etc. Moreover, you can always integrate this customer feedback software with other business tools for feedback implementation and collaboration.
Key Features
Multi-channel surveys

Polls and quizzes

Survey branding and white labeling

Mobile-optimized surveys

Question types like rating scale, MCQ, emoji scale, comment box, etc.

Snap reports and summaries

Filters, tags, and trend analysis for feedback analysis

Integration with BI tools
Rating
4.6/5
Free Trial
Free version with limited features
Pricing
Starting from $27/month
8. Trustmary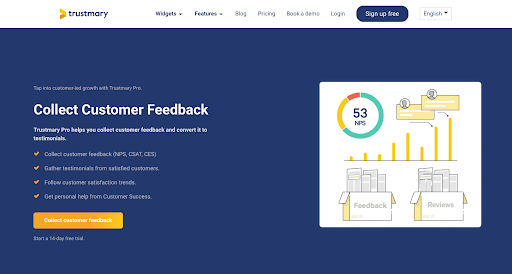 Trustmary is a tool for collecting customer feedback and converting it to your greatest marketing asset – customer testimonials. The tool enables you to automate the whole feedback process and up your digital trust.
Trustmary includes templates for collecting NPS, CES, and CSAT. The easy survey maker enables you to create surveys from scratch and personalize them to fit your brand. Distribute surveys via email, SMS, and website embeds. Derive custom reports and share them easily with colleagues.
The tool is the best fit for companies who want to invest in customer experience and collect effective customer testimonials to use in marketing. Trustmary includes various solutions to showcasing the received customer feedback, such as testimonial widgets, or integrating testimonials into your forms and pop-ups.
Key features
Survey maker
NPS, CSAT, CES templates
Convert feedback to testimonials
Integrate with your CRM
Automation
Rating
4.7/5
Free Trial
Available
Pricing
The full-suite plan has custom pricing starting from $590/month.
Conclusion
Getting confused about which software to go with is common when you have so many options available. But remember, it's not about the features that a survey tool has to offer; it's all about which software matches your business requirements.
So, first list down what you want in your customer feedback software, and then from your shortlisted choices, which tool fits the bill in terms of flexibility, scalability, pricing, and free trial.
I hope this article was helpful!