Email Surveys can be described as a data collection method that is used to collect quantitative data with the help of feedback forms that are sent to targeted respondents via email. Surveyors can answer the surveys through embedded questions in email or through a survey link in the email, depending upon the delivery method selected by the researcher.
It's been quite some time that Email Surveys are in the market. They are one of the most reliable methods to collect survey data and take feedback. There are numerous methods like mobile phones, tablets, desktops, laptops through which emails can be checked.
As per a research conducted to evaluate email marketing, approximately 72% of people prefer getting their promotional content or professional communication over emails.
As per a research conducted to evaluate email marketing, approximately 72% of people prefer getting their promotional content or professional communication over emails.
Email Surveys are considered as one of the best communication channels because they offer an array of functionalities that help companies target the right audience at the right time. Nowadays, mobile usage has increased, so has the percentage of emails opened on mobile. Since email surveys are extremely economical way and can be sent to a large audience and one of the most widely used methods for the collection of data.
Global email users are set to grow to 4.3 billion users in 2023 (Statista, 2020).
For example, a fashion brand would like to know customer opinions about the new product which is launched recently. Consumers who purchased the products from the brand registered their emails. Since emails are registered in the application, email survey should be sent to those who purchased the product. With the help of using powerful Email Survey Software, the feedback was collected from the brand's audience and analyzed later.
Get Started with Email Surveys
Send Email Survey Invitations, Embedded Email Surveys, In-Signature Surveys, and measure Customer Feedback remotely, in real-time.
Tips to Create an Effective Email Survey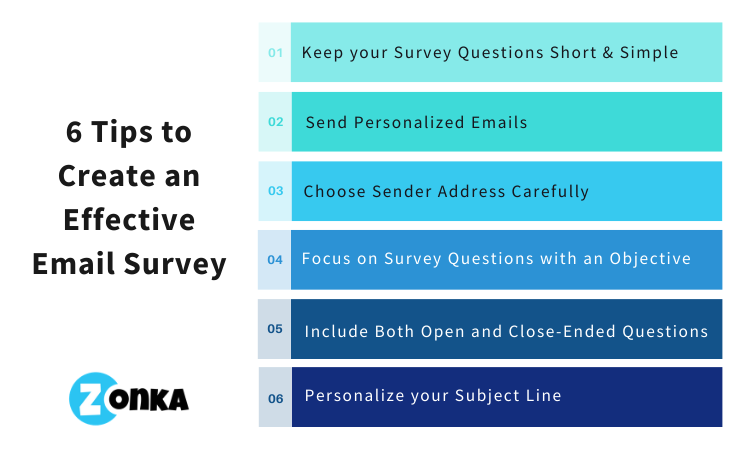 Email Surveys can provide invaluable customer insights to marketers. To make your surveys as effective as possible, let's have a look at some of the best practices.
1. Keep your Survey Questions Short and Simple
Avoid making use of technical words, jargon, or industry-specific language that might be confusing or difficult to understand for your respondents. It's better to keep the survey questions short and easy to understand. If a survey takes more than 15 -20 minutes to complete, then it may be too long.
Emails are expected to increase to over 347.3 billion daily emails in 2022 (Statista, 2020)
2. Send Personalized Emails
In email marketing, personalized emails are the act of targeting an email to a specific subscriber by leveraging the information related to a specific subscriber. It could be details like their first name, the last product they purchased, their address, the number of times they logged into the app, or several data points. Personalizing the email campaigns is a proven way to increase your open and click-through rates and have a quantifiable impact on your ROI and revenue. There are lots of excellent, reasonably priced email marketing service providers with a good selection of features that are also user-friendly for beginners, such as MailerLite. However, if you're looking for something created for those with little to no expertise with email marketing, you should take a look at some of the alternatives to MailerLite.
Emails with personalized subject lines produce 50% higher open rates.
3. Choose Sender Address Carefully
Sending a survey from email ids like 'customer service,' 'info,' or 'helpdesk' will not help you capture a wide range of survey responses. The email should always be sent from a trusted individual within your company, someone who has already communicated with you earlier. Make sure the email consists of a personal touch and an appeal that compels the users to take the survey.
The number of email users is predicted to reach 4.3 billion in 2023.
4. Focus on Survey Questions with an Objective
It's always desirable to do some research work before constructing your questions carefully. Keep an objective in mind and try to get the root cause of the issue. For example, when conducting a post-transaction satisfaction survey, stick to the questions related to the sale process. It will help you build the survey in the most effective manner.
According to a calculation done by Fluid Surveys, the average response rate for email surveys is roughly 24.8%.
5. Include Both Open and Close-Ended Questions
The result of a survey will not be fruitful if the questions asked in a survey are biased. Try to keep a mix of both open-ended and close-ended questions. If you keep all open-ended questions, then surveyors might not have sufficient time to answer them. If all the questions are close-ended, then it would be difficult to capture valuable details. Closed-ended questions are good because you get higher response rates when users don't have to type so much.
A mix of both open and close-ended is the best option.
6. Personalize your Subject Line
No matter what people say, people do judge emails by their subject lines. Approximately 47% of marketers say they try different email subject lines to optimize their email performance. This is why it's essential to craft subject line strategies for email surveys that are compelling enough to get people to click through.
According to Hubspot, Emails that include the first name of the recipient in their subject line had a higher click-through rate than those that don't.
How do Email Surveys Work?
There are primarily two different ways you can send a survey over an email. We are going to cover those strategies quickly.
1. Hyperlink Text
One of the best methods to distribute a survey is via email. It can be done by hyperlinking text to your survey URL. This kind of survey invitation is the most common one. This kind of survey will have a "call-to-action," which will say something like "Take the survey" or "Share your feedback," and the link will launch a survey in your web browser.
2. Hyperlink an Image
Another most effective way is to hyperlink an image. You can hyperlink a photo to a survey and add a special button that says, "Take the Survey." Hyperlinked images work just like hyperlinked text, but they tend to look more attractive as compared to text hyperlinks.
3. Embed a Survey Question
You can embed the first survey question directly into the email body if you are sending an HTML email. It will give recipients the option to respond straight from the inbox. It will look attractive and will going to increase the survey response rate to a great extent.
Follow Standard Survey Best Practices
Refine your survey design: Make the text readable and the background images attractive and should go well with the survey background.
Optimization of surveys for mobile: More than half of the emails are accessed on mobile devices these days. Recipients will launch the survey on their mobile phones and tablets. If they are mobile-friendly, then surveyors will expect a smooth experience.
Keep your survey questions clear and concise: Avoid making use of double-negatives or over-complicating words in the survey. It will help the surveyors to understand the questions.
Make use of Personalization Tools: If the surveys are long, then the completion rate will be low. As survey completion rates fall, so does the data quality. Try to include only important questions. Make use of survey personalization tools like skip logic to cut down on irrelevant questions.
Randomize questions and answers: If your question and answers don't appear in a specific order, you should consider randomizing them to decrease biasedness. As a rule of thumb, always list your most important questions first since survey takers will be more active and engaged in the starting.
Conclusion
There's no doubt that email is one of the top channels for capturing important insights. Email Surveys offer more flexibility and visibility than most other channels. Whether you are surveying consumers after support interactions or asking for feedback on your monthly newsletter, email surveys will deliver indispensable insights that will help your business refine your products and processes.
With Zonka Feedback's Email Survey Tool, send email survey invitations to customers on-the-go and get customer feedback instantly! You can customize your email surveys, send an embedded question in email surveys, send email surveys in bulk via CSV, bulk import, or connect to your systems via APIs, Webhooks, and a lot more.
Get Started with Email Surveys
Send Email Survey Invitations, Embedded Email Surveys, In-Signature Surveys, and measure Customer Feedback remotely, in real-time.
Learn more about the Email Surveys