63% of shopping occasions begin online, which means no matter where customers end up shopping, their journeys with brands are likely to begin online. And if you're reading this, you most probably already know how Website Surveys can help you take your website and online customer experiences a notch higher.
But did you know that there are different ways to use Website Surveys? And you can't possibly get the most out each survey type if you do not clearly define the feedback goal. For example, to target audiences and capture specific feedback, you can use Website Popup Surveys. Similarly, you can use the Website Feedback Button to capture general, unsolicited feedback.
Start Collecting Visitor Feedback Today
Sign up for Zonka Feedback and start asking your users what works for them (and doesn't) on your website.
A very popular and impactful website survey method is Website Embedded Surveys.
What is a Website Embedded Survey? How can brands leverage embedded surveys on their website? Read this article to know.
What is a Website Embed Survey?
A Website Embedded Survey is an inline form on your web page that can be used for anything from lead generation to collecting customers' experience. Website Embedded Surveys are usually short, informative, simple, and appear as a part of the website. They are displayed and can be taken directly on the web page.

Here's an example: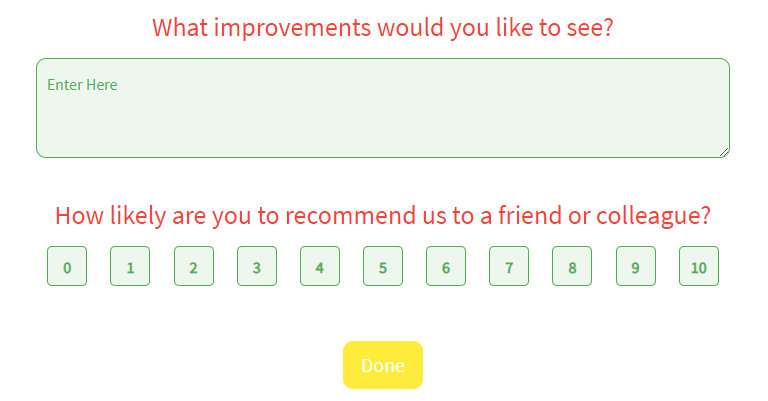 Website Embedded Surveys can be configured to look native to the website, which can help dramatically in improving brand recall. You can check out Zonka Feedback website surveys to understand how to do it.
Moving on, here are a few reasons why Website Embedded Surveys are useful:
Why Use Website Embed Surveys?
Here are a few reasons why Website Embedded Surveys are useful:
Better Response Rate
When surveys are displayed right on the web page, visitors know exactly the questions they need to answer unlike email or SMS surveys where they need to open the message and then visit the survey link to share feedback. The low effort to take website feedback form can significantly increase the response rate.
Ongoing Surveys
Most feedback platforms are great for collecting feedback or information here-and-now. You may have to create several campaigns that may not always be relevant. But Website Embedded Surveys enable ongoing feedback and information collection. For example, customers can visit your website and share what kind of products or services they are looking for. Similarly, you can embed a feedback survey in the order confirmation page to understand customers' shopping experience.
Improved Engagement
Website Embedded Surveys or forms are not just great for capturing feedback and customer data, but can also work wonders in improving customer engagement. For example, you can embed a Poll after each of your blog posts so that visitors can share if they found the blog helpful or informative.
Knowing Visitors Better
In addition to taking feedback on website, you can use Web Embedded Surveys to know your visitors better. For example, a clothing e-commerce website may have a form on the home page that visitors can fill out to share what they prefer, type of clothing, size, fit, favorite colors, etc. This can help the brand create more targeted marketing ads and send personalized suggestions to invite visitors again.
How to Create Web Embed Surveys?
Creating Web Embedded Surveys is fairly easy since you do not require any coding knowledge. All you need is an intelligent website survey tool that can help you add Web Embedded Surveys to your website pages.
To help you understand, we have explained how you can create exciting DIY Web Embedded Surveys using Zonka Feedback.
Click on

Manage

and navigate to Surveys.
Choose the Survey from the Survey List which you'd like to display on your Website.
Click on Build > Distribute from the top navigation to navigate to the

Distribute

settings.

From here, click on Web to get settings that you can use to create a Web Embed Survey. Once you are inside Web, select EMBED and then click on Add to Configure.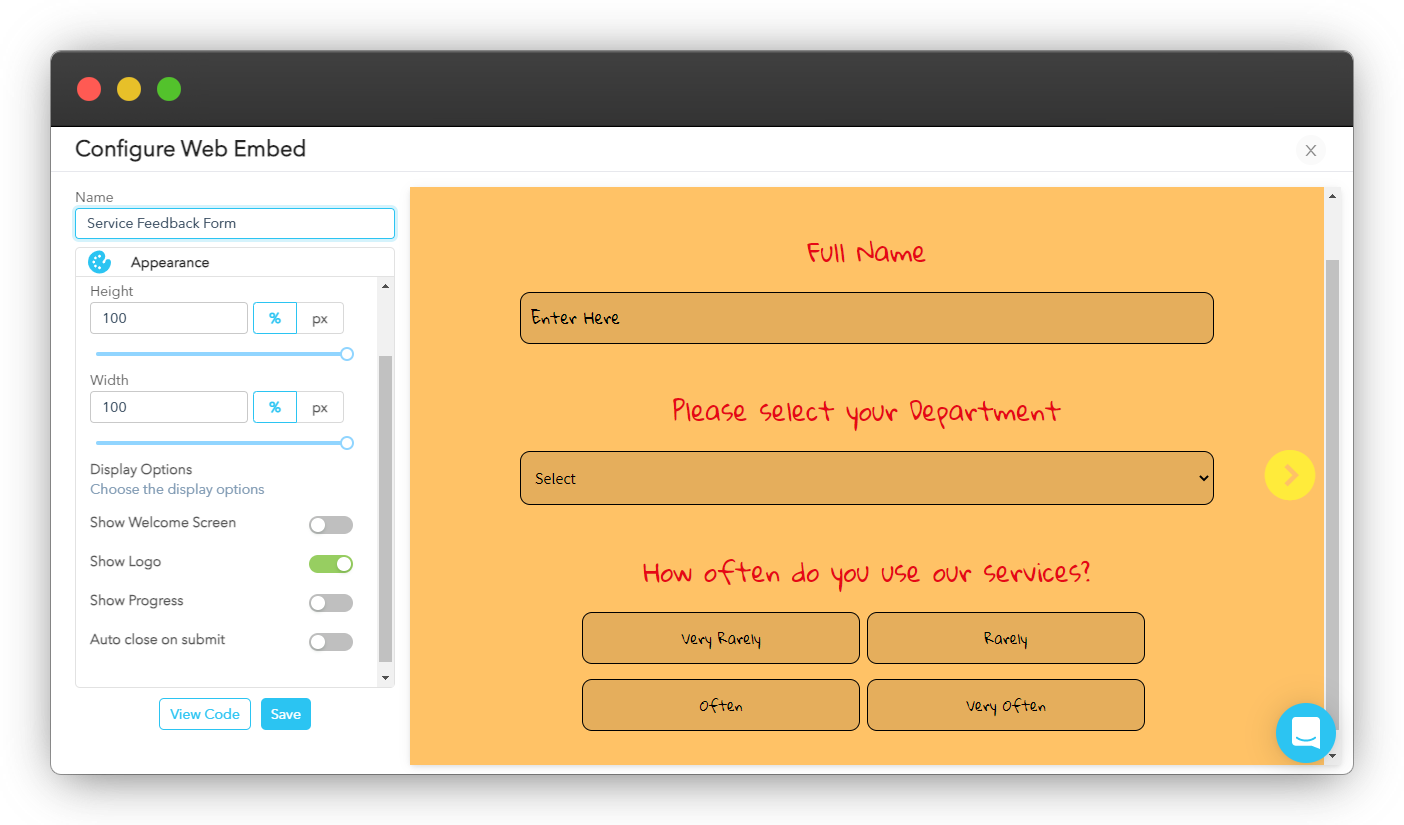 Once you are in the Embed layout pop-up, you can configure your form so that it aligns with your website or app. You can:
Change the height and width of your survey form.

Choose if you want to add a welcome screen or display the first question directly.
Add your website logo.
Add a progress par so respondents can see how many questions they have answered and how many more to go.
Set the survey to be automatically closed when the answers are submitted.
After you're done setting up the display of your Website Embedded Survey, you can get the code by clicking on View Code. You can then copy the code and paste it into your website's HTML code. This way, your survey will be displayed as a part of your website.
Website Surveys with Zonka Feedback
Zonka Feedback is designed to enable both small scale businesses and large-scale enterprises to create an omnichannel feedback strategy, which allows creating and distributing surveys across different channels, including your brand website. From an easy-to-use survey builder and readymade survey templates to insightful reports and data tracking, our comprehensive survey tool makes feedback collection quick and easy even if you're just getting started with website surveys.
Here are a few features of Zonka Feedback:
Answer piping to personalize survey questions for different visitors
Skip logic to ask participants the most relevant questions
Audience segmentation for accurate survey trigger
Automatic survey triggers to take feedback at the right time
Different ways of collecting website feedback, such as popup surveys, button surveys, live chat surveys, website polls, etc.
Intelligent reporting and analysis
Real-time feedback and notifications