Most businesses around the world consider Email as the preferred communication channel. Be it sharing promotional messages, conducting marketing research, or even surveying your customers – everything is possible with Emails. According to Statista, there are more than 3.9 billion active email users and is estimated to grow in the coming years. Despite being one of the traditional platforms, it's a cost-effective and quickest way to reach out to your customers.
For the same reason, Email Surveys are also popular to conduct surveys. Why businesses use it to conduct surveys is because of its high open and response rates. If you want to understand your customer's expectations and concerns, then you need to conduct Email Surveys at frequent intervals.
Top 8 Email Survey Software for 2023
The process of shortlisting the right Email Survey Software becomes difficult when there are lots of options available. But if you are aware of the requirements, then the whole process becomes easy. Moreover, it's always advisable to opt for a trial version first before investing your money in the software. You might not be able to explore all the product features with the trial version, but you will still get a fair idea about how the software works. In this blog, we are going to review and compare features for the top 8 Email Survey Software.
1. Zonka Feedback
Zonka Feedback is an omnichannel customer feedback app that lets you build mobile-responsive and engaging Email Surveys to collect real-time insights from your customers and employees. With Zonka Feedback, you can create Email Surveys in two ways – Email Embed and Email Button. In Email Embed, you can embed the first close-ended survey question inside the Email body. In Email Button, you can give a button which has the survey link. It also has a unique feature where you can restrict your surveyors from taking the same survey multiple times by blocking their IP address.
While the Email Surveys are fully trackable and you can view Email Logs to monitor deliveries and response rate, you can also choose to take anonymous feedback using Zonka Feedback.
Ideally using Integrations and APIs, the platform triggers Email Surveys based on events and transactions, or you can send them manually by adding Email Addresses, uploading CSV files or creating Contact Lists in Zonka Feedback.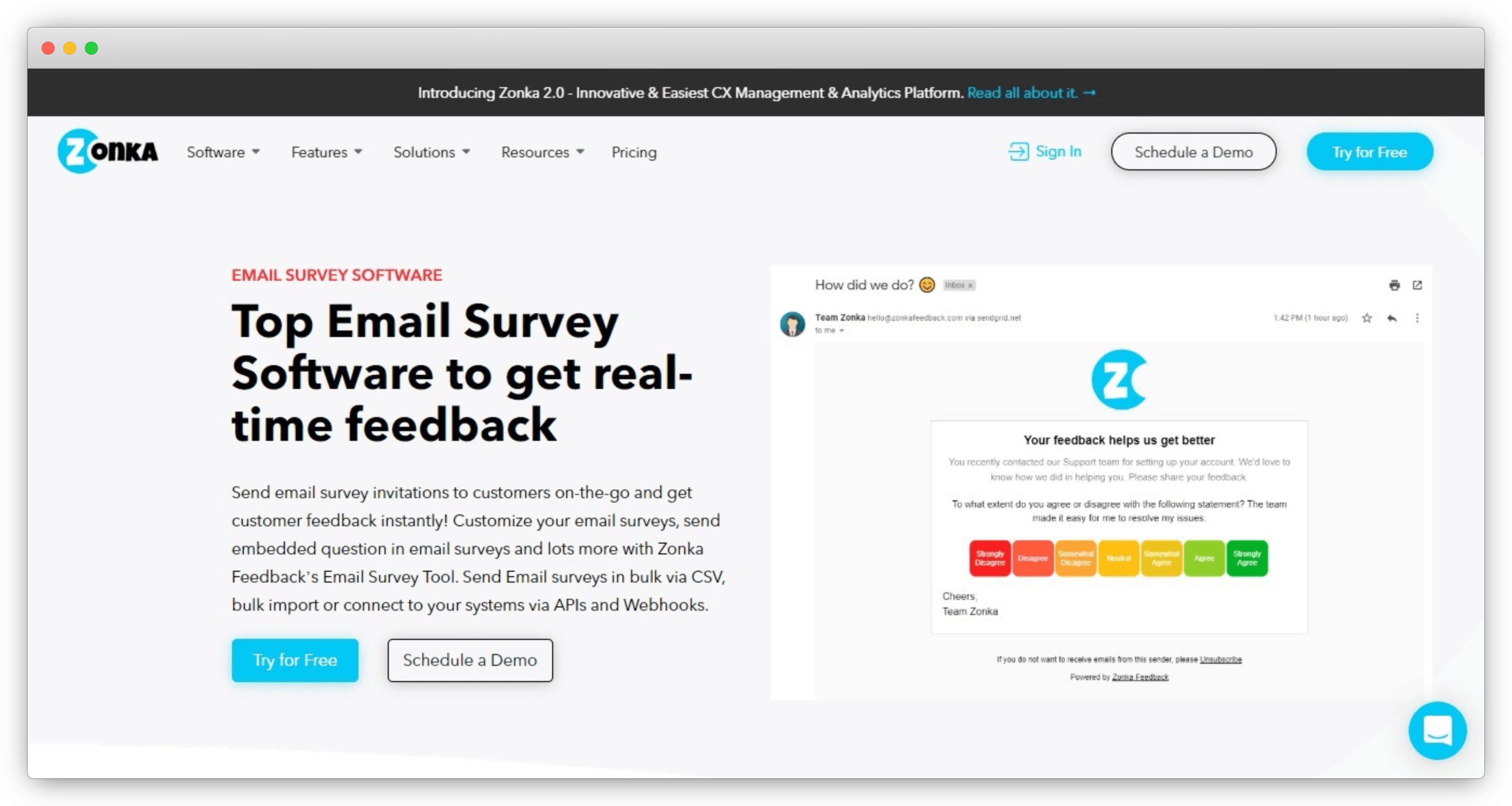 Pricing (Monthly): $29
Email Credits/Sends: 1,000
Features: Easy to use WYSIWYG editor to create multi-lingual Email Surveys, 50+ feedback templates, and forms, customizable email fields – header, content, button, upload bulk contacts via CSV, personalize email content with custom variables and placeholders, choose from 10 closed-ended question types, set reminders for non-surveyors, survey throttling setting to shun over-surveying, schedule surveys manually or trigger surveys based on conditions, receive email notifications for different types of responses, 1400+ apps integration, test & preview surveys, view email logs based on different activities – email open, survey open, survey completion, etc.,
Customer Experience Metrics: NPS, CSAT, CES 2.0
2. Survey Monkey
Survey Monkey manages all your Email Campaigns in one place. It helps you to capture the voice of your customers that can play a vital role in refining your products and services. The platform gives you a comprehensive overview of the users that have unsubscribed as well as the bounced emails.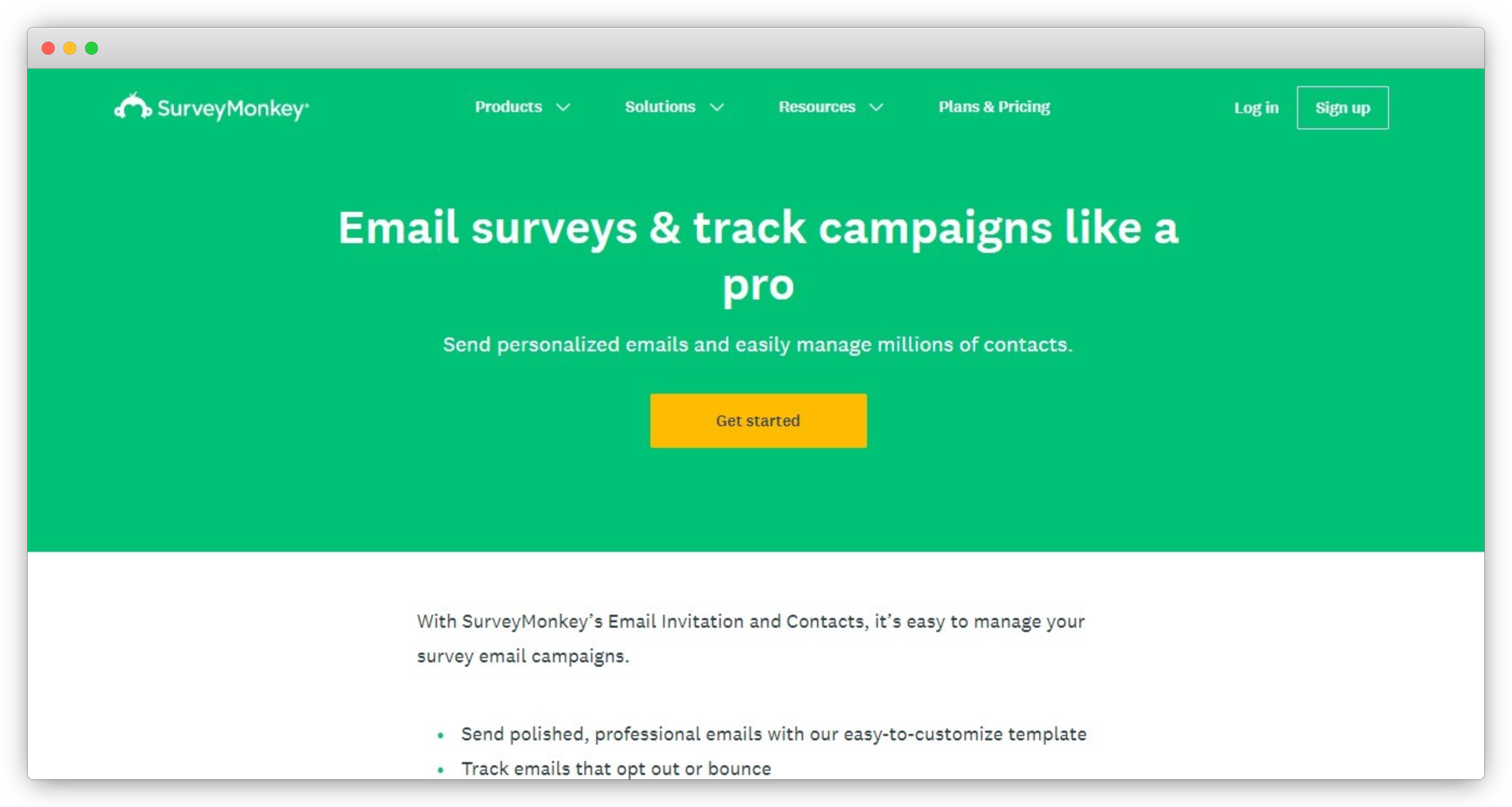 Pricing (Monthly): $25
Email Credits/Sends: 1,000
Features: Provides Email Embed option to create surveys, collects feedback anonymously, customizable HTML email templates, add bulk contacts via CSV, Gmail, Yahoo, Outlook, Office 365, LinkedIn, etc., manages up to 2 million contacts, 6 custom fields to store additional information like location, profession, etc. about contacts, embeds 3 closed-ended question types – multiple choice, star rating, net promoter score, use custom variables to customize email content, option to copy previously used messages, tracks survey open and click-through rate, surveyors can edit responses before/after survey completion, 100+ apps integration, schedule email or trigger it after an interaction, ability to capture partial and complete responses, send reminders and thank you emails automatically, intuitive dashboard to view the invitation, response, and follow-up emails statistics, export responses in CSV
Customer Experience Metrics: NPS, CSAT, CES
3. Survey Sparrow
Survey Sparrow offers conversational Email Surveys that can make you achieve high open, response, and completion rates. With pre-built question types, you can design and deploy the surveys instantly. It let you import bulk contacts using Excel, CSV, or any other application such as Google Contacts, HubSpot, Salesforce, etc.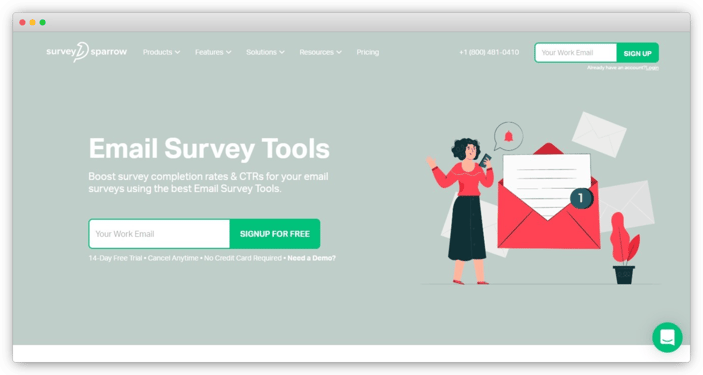 Pricing (Monthly): $69
Email Credits/Sends: 10,000
Features: Comes with in-built email templates, embeds the first question within Email, uses custom-variables to personalize email content and subject lines, white-label surveys, option to add piping question, sends thank you and reminder emails, A/B testing of surveys, reminder email setting, supports multiple devices, supports diverse formats such as image, audio, and video, recurring feature for email setting, scheduling of survey reports, integration with 2000 apps, export reports offline - SPSS, PDF, Excel formats
Customer Experience Metrics: NPS, CSAT, CES
4. Promoter.io
Promoter.io is designed for small and medium-sized businesses to improve their customer retention rates. It follows a 5-step process – Engage, Measure, Respond, Analyze, Grow to gather actionable feedback from your customers & employees, and take relevant action to close the feedback loop. Apart from creating beautiful Email surveys, the tool determines customer's loyalty towards your brand by measuring NPS at frequent intervals.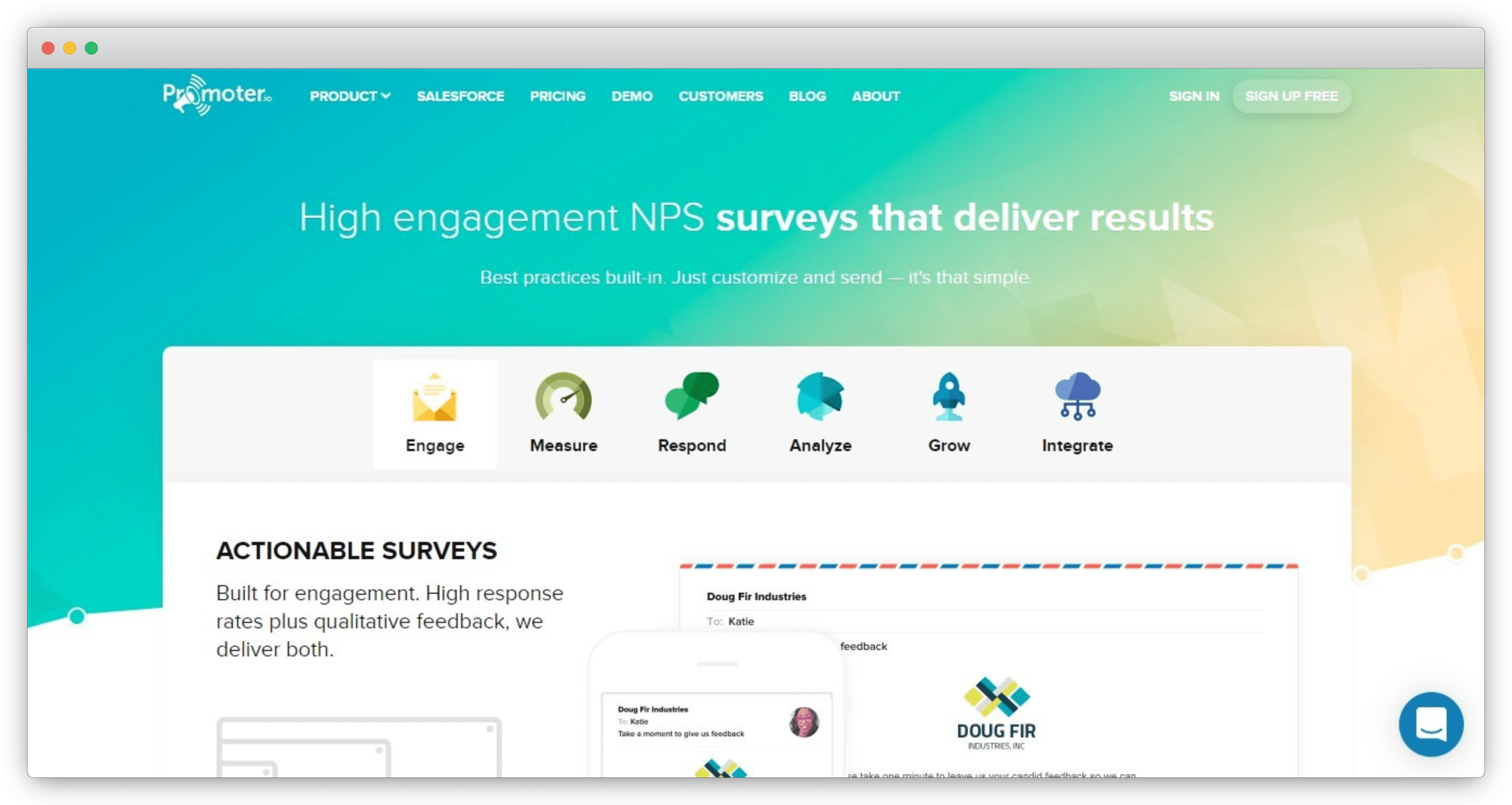 Pricing (Monthly): $199
Email Credits/Sends: No information available
Features: Different customizable email templates available, option to add intro message, email reminder setting, scheduling of follow-up and recurring emails, supports 27+ languages, manages feedback under separate campaigns, intuitive dashboard to measure customer sentiments, tests surveys in real-time, customizable thank you page, sends messages along with link based on scores, option to keep surveyor's identity anonymous, survey throttling setting, integration with third-party apps using APIs and Webhooks
Customer Experience Metrics: NPS, eNPS
5. Delighted
Delighted designs beautiful Email Surveys that are compatible with all the devices and platforms to capture in-depth customer insights. The tool comes with pre-designed templates consisting of NPS, CSAT, CES, Smileys, 5-star, and Thumbs surveys that are available in 37 languages. With Delighted, you can change the look and feel of the surveys to match it with your brand without doing any coding.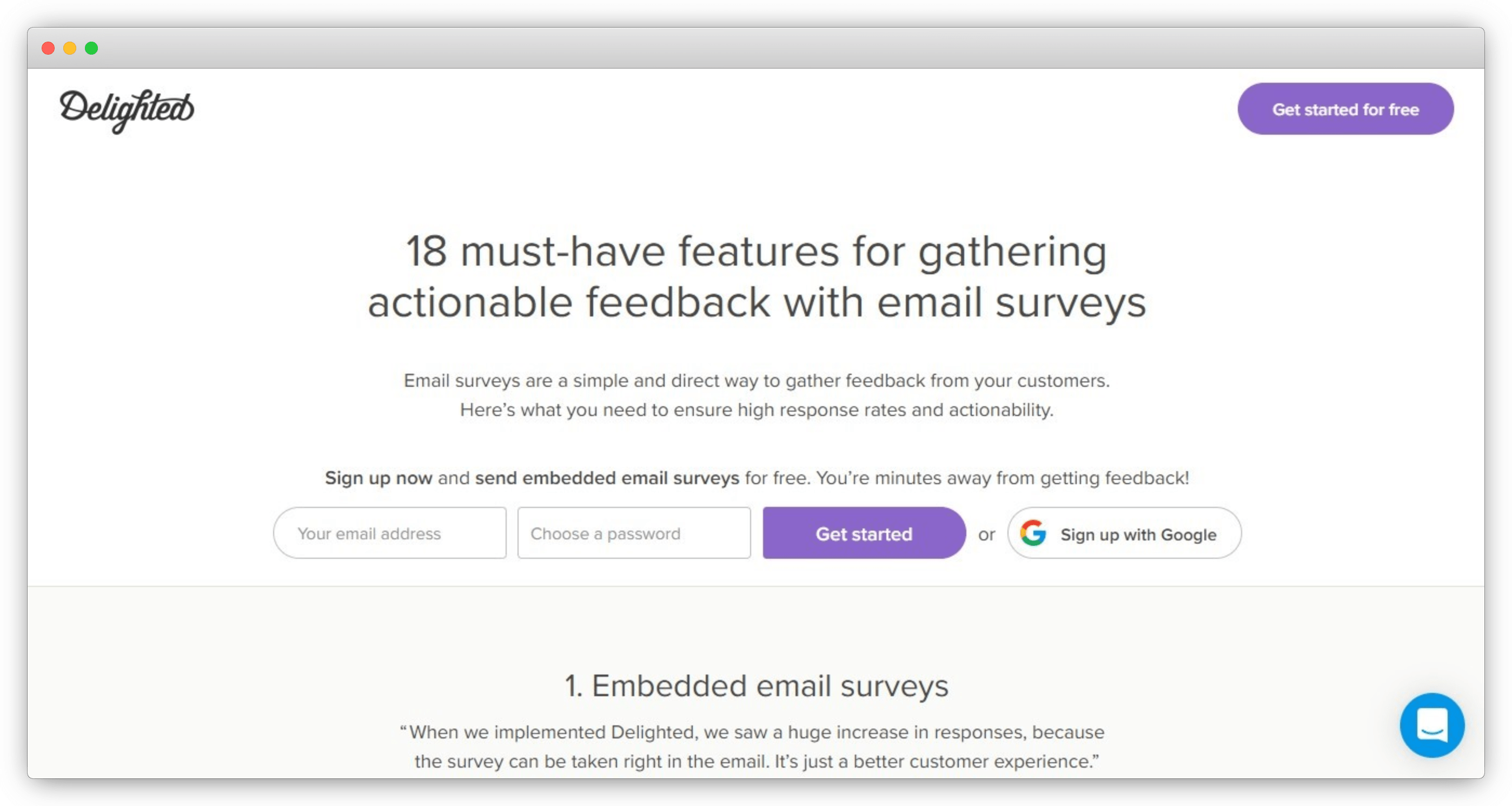 Pricing: $224
Email Credits/Sends: No information available
Features: Creates surveys with signature, embeds survey in Email, add up to 10 questions, customizable thank you page and survey questions, automatic ticket creation in CRM tools, schedule surveys with autopilot, survey throttling setting, secure and reliable email delivery using DMARC, DKIM, and SPF, uses the business domain to send emails, option to share feedback with teams, segments feedback on different factors, integration with apps such as Slack, Shopify, Zendesk, Intercom, etc
Customer Experience Metrics: NPS, CSAT, CES
6. GetFeedback
GetFeedback keeps a pulse on your customers by setting up personalized Email Surveys. The platform offers 5 different ways to distribute Email Surveys - send automated emails from the GetFeedback platform, send from Salesforce, send from Paradot, send to a list from GetFeedback, and send from another email provider to reach out to your customers wherever they are available.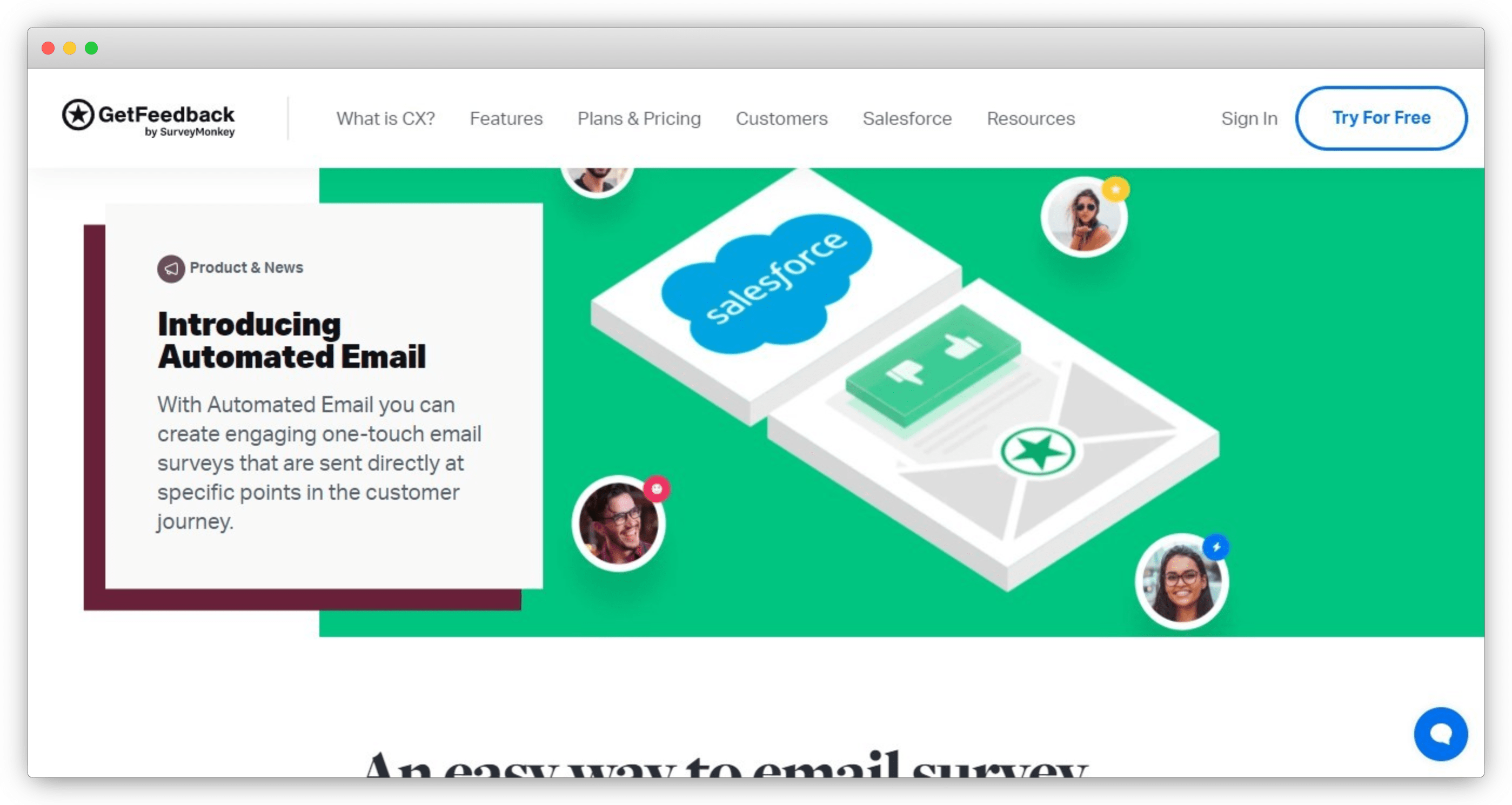 Pricing: Available on request
Email Credits/Sends: No information available
Features: Creates one-touch and mobile responsive surveys, embeds different question types- NPS, CSAT, CES, like/dislike, rating, multiple-choice, email survey templates for Salesforce, triggers surveys based on customer activity, option to set up logic rules, setting to export one-touch HTML templates to external email service provider, creates workflows in Salesforce, DKIM compliant, option to set up reminders for non-surveyors
Customer Experience Metrics: NPS, CSAT, CES
7. QuestionPro
QuestionPro conducts Email Surveys and analyzes survey results by using powerful analytical tools such as Conjoint, TURF, GAP, Trend, etc. The software creates surveyor- centric surveys by providing a library of 300+ readymade email templates, 80 standard and advanced question types, and smart survey-logic & branching tools.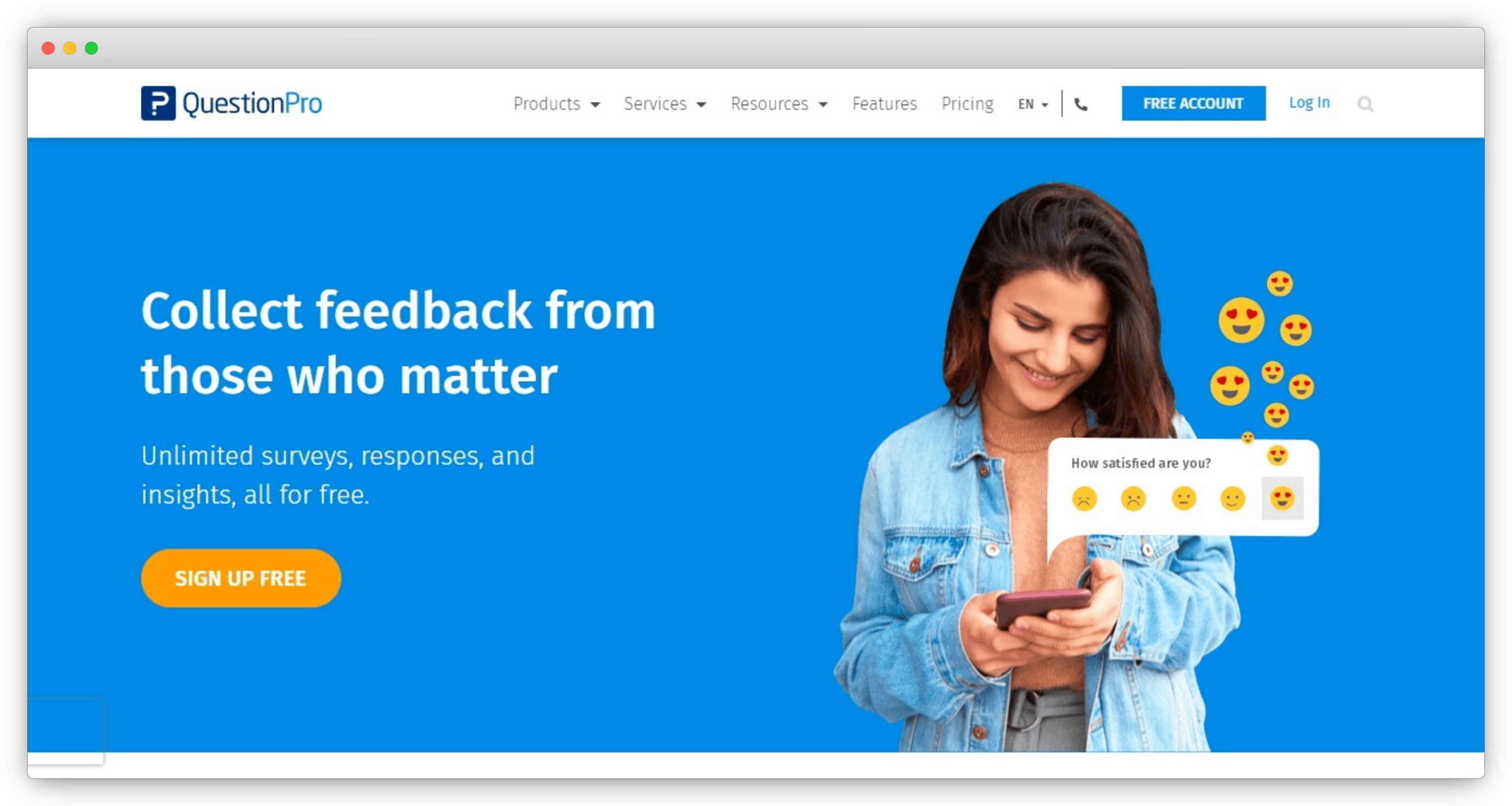 Pricing: $85
Email Credits/Sends: No information available
Features: Easy to set up embedded and redirect emails, uses single user credential on multiple devices, supports 100+ languages, personalize email content with variables, automatic scheduling of emails, view response data with graphs and charts, option to share reports with stakeholders and teams, compatible with desktop, mobile, and tablets, GDPR and SSAE 16 (SOC 2) compliant, 1000+ apps integration, export data in Excel, SPSS, txt, Dropbox, and Google Drive
Customer Experience Metrics: NPS, CSAT, CES 2.0
8. Survicate
Survicate comes with a user-friendly survey builder tool that creates Embedded and Link Email Surveys. It captures both partial and complete responses from your customers. It's easy to customize basic survey elements such as logo, color, etc., or make use of custom CSS to perform advanced-level customization.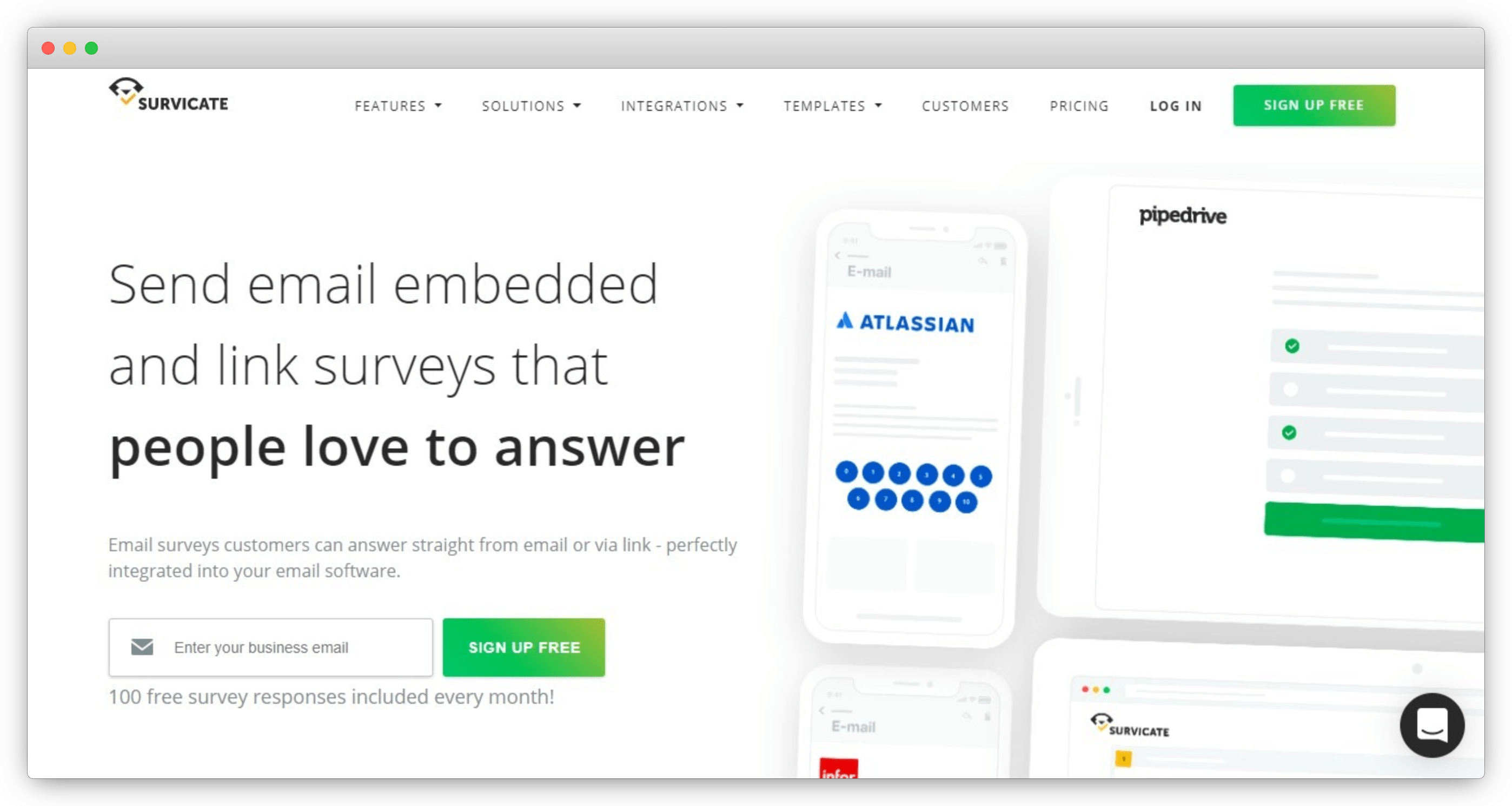 Pricing: $49
Email Credits/ Sends: No information available
Features: Designs mobile-friendly surveys, uses conditional logic for relevant results, option to add different question types– NPS, CSAT, CES, etc., adds unlimited follow-up questions, host surveys on your domain, integration with 35 popular Email providers such as Mailchimp, HubSpot, etc., set up and receive Email or Slack notifications, export survey results to Excel or CSV, share surveys with a link or hyperlinked image
Customer Experience Metrics: NPS, CSAT, CES
Conclusion
Collecting customer feedback solely will not help you improve your brand reputation or customer experiences until you don't take appropriate action to resolve your customer's issues or improve your products and services. With Email Survey Software, you can address these issues and perform a lot of other functionalities that are not possible otherwise. You don't have to waste time in designing a survey as you can use ready-made templates available inside the software or customize them as per your requirements. In manual surveys, you can survey only one person at a time. Whereas, with the Email Survey tool, you can send surveys to bulk contacts, receive responses in real-time, view and analyze responses, measure customer satisfaction & loyalty scores. Plus, you can assign issues to the right people, take action to close the feedback loop, and notify your customers about what you have done with their feedback.