The Net Promoter Score is the most popular CX metric that businesses across the globe use to measure customers' loyalty. It can be measured using an NPS survey that enables customers to rate their experiences and also share the reason for their scores.
However, creating an NPS survey isn't all you need to do to run a Net Promoter Score campaign successfully. You must follow the right strategy so that you can:
Collect NPS feedback effectively
Manage customer feedback efficiently
And, retain customers or increase customer loyalty based on the insights derived from the NPS data
Measure Customer Loyalty with NPS ❤️
Create NPS surveys, measure customer loyalty, and close the feedback loop with Zonka Feedback.
But how can you go about doing these things? We have broken down the entire process into 7 simple steps that cover everything from creating excellent NPS surveys and managing NPS data strategically to drive results.
Read this article and find out how you can run a successful NPS campaign.
Steps to a Successful NPS Campaign
Let's now read each step in detail.
1. Select the Right Survey Tool
The Net Promoter Score is a global metric and you can set up an NPS survey even if you're using Google Forms. But you cannot ascertain the effectiveness of such surveys in terms of response rate and feedback quality.
To make your surveys engaging so your customers actually want to take them, you can use a dedicated survey tool that not only helps in collecting feedback effortlessly but also enables sophisticated feedback management.
Here are a few benefits of using advanced NPS survey software:
i. Code-Free, Customized Survey Templates for Ease of Creation
The first thing that you must look for is ready-to-use survey templates that you can also customize as per your industry and feedback requirements. Here's a Zonka Feedback NPS survey template for example:
Moreover, a code-free survey builder would enable effortless survey creation without any coding or technical knowledge.
ii. Omnichannel Surveys for Optimized Survey Participation
You can get higher response rates if you leverage all channels that customers use to engage with your brand. With an NPS survey tool, you can set up your surveys once and run them across different channels like email, SMS, mobile, tablet, kiosk, website, mobile app, QR code, and even offline.
For example, you can use kiosk, mobile, tablet, and QR code surveys to get feedback from your on-site customers. For your remote and online customers, you can use email, SMS, website, and in-app surveys. You can even have your delivery executives collect feedback at the time of delivery using mobile and tablet devices.
iii. Intuitive and Efficient Surveys for Quality Feedback
Here are some intuitive survey features that you would find in an advanced feedback tool:
Branding: You can brand your surveys with your logo, send surveys via your own domain and company email addresses, customize your survey design aesthetics, and do much more. All of this can dramatically improve the survey response rates.
Personalization: Survey personalization makes your surveys more human. For example, you can address each respondent with their name in the survey with this simple yet powerful feature. Moreover, you can make your questions more clear and descriptive like "How would you rate your order of one non-veg platter from The Royal Hotel?"
Survey Logic: Survey logic like skip and hide logic ensure that your survey respondents only see the questions relevant to them. For example, if the first question asks the respondent to select their gender, the next question each sees would be specific to the gender they selected in the first question. This improves the feedback experience while giving you relevant and actually helpful customer data.
Question Types: A variety of question types would basically help you collect different types of feedback like quantitative data, customers' comments, ratings, etc. Likert scale, rating scale, emoji scale, multiple-rating questions, bullet choices, open-ended questions, etc. are some of the key question types.
iv. Integrations for Enhanced Feedback Management and Collaboration
Your survey tool should be able to integrate with multiple business tools to enable collaboration, enhanced marketing efforts, better feedback management, closing the feedback loop faster.
For example, with collaboration tools like Slack and Teams, you can share feedback internally and conduct in-meeting surveys. In ticketing software like Zendesk and Freshdesk, you can survey customers along with helpdesk responses and centralize all the feedback data for multiple stakeholders.
Similarly, Salesforce integration and HubSpot integration with survey software can enable effective feedback management and targeted marketing campaigns.
v. Real-Time Alerts and Advanced Reports for Feedback Analysis
Real-time alerts and notifications to stakeholders help in quickly acting on the data and closing the feedback loop faster. And once the data is received, you can easily make sense of it with the help of insightful reports where you can see category-wise segregation of responses, for example, location-specific and response-specific data.
You can do so many other great things as well, like analyzing customer complaint trends, viewing the overall Net Promoter Score over a period of time, identifying customers at churn risk at just a glance, etc.
With Zonka Feedback, you get a daily, monthly, and weekly digest so you can view a summary of all NPS trends and responses. If you'd like to read more about it, you can check out our article How to Get the Most Out of Zonka Feedback Reports?
vi. Survey Automation to Send Surveys Quickly & At the Right Time
Survey software that can automate survey distribution and management will make your life ten times easier because you do not have to do all the manual work. Setting your survey and survey triggers up just one time will automate surveys at the correct touchpoints and the feedback would be synced automatically back to your CRM for easy collaboration and action.
2. Chart Out the NPS Survey Strategy
Once you have your ideal survey tool with you, you can start creating your NPS survey campaigns. And to do that, you will have to define a few things -
Feedback Goal

: There are different feedback goals that you can define, which would help you chart out a survey flow for different sets of customers. A few examples of NPS feedback goals may be measuring the overall NPS of the business, analyzing agent performance, increasing referrals, etc.

Who to Survey

: Once you decide what your NPS feedback goal is, you can figure out who to survey. For example, if you're looking to measure overall brand loyalty, you can survey your existing customers. Similarly, if you wish to measure NPS based on customer service standards or agent performance, you can survey customers who seek support.

When to Survey

: Based on your feedback goals, you can also understand when to survey your customers or when to collect NPS feedback. For example, if you wish to measure customers' loyalty to the brand, you can send relational NPS surveys based on customer maturity and the last survey date.
Similarly, if you wish to measure NPS based on specific transactions, you can send transactional surveys like post-purchase NPS surveys and an NPS survey after a customer ticket is closed.
If you wish to read in detail about timing your NPS surveys correctly, you can check out our article The Right Time to Send NPS Survey.
3. Create an NPS Survey
Now here comes the fun part. Once you're all set with your NPS survey strategy, you can finally create surveys, which is a whole lot effortless and interesting if you're using a dedicated feedback survey tool. You can either create a brand new survey or use an existing template and work your magic into it.
i. Set Up the NPS Survey Question
If you're building a survey from scratch, you will need to select all the different elements from the survey builder that you wish to add to your survey, for example, a question, a rating scale, the background image, etc.
And if you use a readymade survey template, you can save yourself significant time. For example, you can customize our NPS survey templates so the NPS question perfectly fits your feedback goal and brand's voice.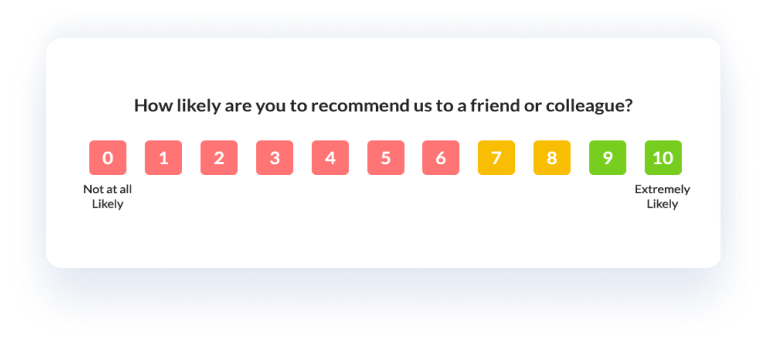 ii. Write an NPS Follow Up Question
While the primary NPS question helps in measuring customer loyalty, the NPS follow-up question helps understand the reason behind it. The follow-up question is an open-ended question where customers can share why they would or wouldn't recommend the brands. This helps in identifying both customer challenges as well drivers of customer loyalty.
Here's the NPS follow-up survey question, for example:


iii. Customize the Survey Design
Once you are done setting up the NPS survey question, you can customize the look and feel of your survey. You can customize the background, add images, gifs, your company logo, etc. You can also choose the font and color family as per your brand's voice.
Note: You can also translate your survey to desired languages as per your geo-specific location. For this, make your NPS survey tool offers the multilingual survey feature.

iv. Enhance the Feedback Form
This is the step where you can build customer feedback surveys that are super effective. For example, here are a few things you can do:
Make your surveys more relevant using survey logic
Add the number of questions and time to take the survey on the survey welcome screen
Add a progress bar, etc.
This will ensure that your surveys are engaging and interesting enough for your customers to share feedback, which can significantly increase the survey response rate.

v. Add Integrations
Creating feedback survey forms alone isn't enough unless you're leveraging all the critical channels to collect customer feedback. And even after the responses start coming in, you must be able to strategically manage data to make sense of it. This is where the role of survey tool integrations comes into play.
Integration of customer communication, marketing, CRMs, affiliate marketing channels, and marketing tools enables businesses to send surveys where the customers are and instantly get feedback. Let's understand this with an example.
When you integrate your survey tool with helpdesk software like Zendesk, you can ask for feedback by directly sending surveys along with ticket resolution via emails. And once the ticket is resolved, the integration with this helpdesk tool would allow automatically collecting feedback on the resolution offered after a ticket is marked closed.
Similarly, if you integrate your survey tool with a customer communication channel like Intercom, you can send surveys right within the chat window while the customer is still engaging with you. This ensures quick, quality feedback that is actually helpful.
Talking about effective feedback management, you can integrate your survey tool with CRMs like Salesforce, Zapier, etc., where feedback can automatically be synced back to a centralized database so different stakeholders can access it. And further, you can ensure effective collaboration with internal communication tools like Teams and Slack where you can not only collect internal feedback but can also share responses with the team members to put them into action.
4. Send the NPS Survey
When you're looking to send NPS surveys to your customers, you will need to first answer two important questions:
i. Where to Send NPS Surveys?
In this step, you can decide the channels you wish to leverage to send NPS surveys. For example, if your customers usually prefer using email to reach out to you, you can send email-embedded or email signature NPS surveys. You can read in detail about it in our article In-Signature Surveys vs. Email Embedded Surveys.
Similarly, if you're looking to collect feedback on website, you can ask the NPS question on your website. You can also choose other survey methods like SMS, QR code, kiosk surveys, etc. depending on where your customers usually hang out.
ii. When to Send NPS Surveys?
For your customers to give genuine and useful feedback in terms of brand, product, or service, you must be able to perfectly time your surveys so that they are relevant to them. For example, if your customers have just made a purchase of an electronic item from you, you can send a survey 5 to 7 days after the sale so the customer has spent enough time using the product and is in the right state to provide genuine feedback.
Similarly, if you're looking to understand whether the customer would recommend your brand based on your customer service standards, you would need to send NPS surveys right after the service support. Timing is key and can dramatically impact the quantity and quality of feedback.
We have a full-fledged article on timing your NPS surveys right. You can read it here – The Right Time to Send NPS Surveys.
5. Set Up Real-Time Notifications
If you're a customer-centric business, it is best to respond to customers' feedback or queries within 24 hours. However, when you're collecting feedback at scale, it can get difficult to keep track of everything and personalize responses to the survey participants.
However, if you set up real-time notifications, you and your team can get notified about the feedback instantly. This enables businesses to quickly act on the feedback received and respond to resolve challenges before the customer churns away.
You can also set up custom notifications for Promoters and Detractors so you can prioritize feedback and respond accordingly to retain a maximum number of customers.
6. Calculate the NPS Score
After receiving feedback and responses, you will need to calculate the Net Promoter Score to understand where you stand.
Here's the simple way to calculate NPS: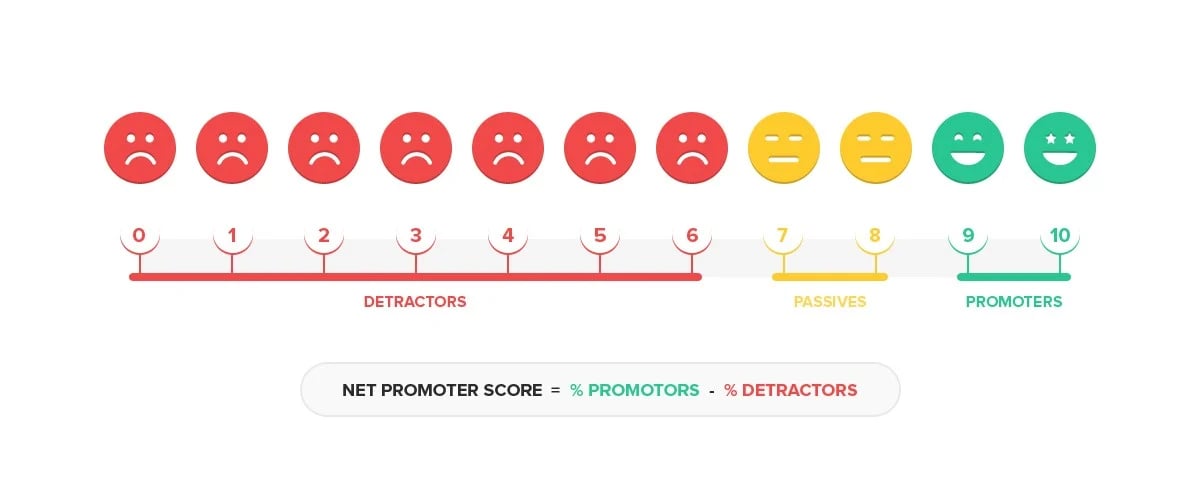 However, if you use Zonka Feedback NPS surveys, you can get the final NPS score without having to manually calculate NPS. But if you're planning to do NPS calculations on your own, you can also try out other methods like NPS using Excel or Online Calculator. In any case, you can read all about the three methods in our detailed article Calculate Net Promoter Score.
What is a Good NPS Score?
The scores 31 to 50 are good NPS scores, which means that you have a lot more promoters than detractors. This is an absolute method where an NPS score above 0 is considered good.
You can read in detail about the absolute method, relative method, and what each NPS score means in our article What is a Good Net Promoter Score to Have?
7. Close the Feedback Loop
The idea of measuring the Net Promoter Score is to improve customer experiences and increase loyalty across the customer base. However, this can mean nothing if you do not act on the feedback received and actually resolve issues leading to a low NPS.
So, make sure to close the feedback loop so customers are willing to give your brand another chance despite challenges or a bad experience.
How to Close a Feedback Loop?
Here are a few things you can do to respond to NPS feedback:
Send automated acknowledgment emails
Send personalized responses with an action plan to resolve the customer's challenges
Address positive feedback and ask for testimonials
Clearly specify how long it would take to resolve customers' issues
Offer discounts, coupons, or offers to make up for the bad experiences and retain customers
We also have a detailed article written on closing the feedback loop. You can read it here: Ways to Close the Feedback Loop to Prevent Customer Churn.
Conclusion
Though NPS surveys can be created in the simplest of survey tools, advanced survey software can help you efficiently execute your NPS strategy so the results are insightful and crucial in business-wide decision-making.
Remember, the Net Promoter Score is a lot more than just a tool to measure customers' loyalty; it helps in identifying disloyal customers, chart out a retention plan, and earn second chances with those who may be on the verge to leave you for your competitors.
So, make sure to choose the right survey tool so you can get your NPS program right from the get-go.