SaaS, short for software as a service, is a business model where a company develops a piece of software and takes full care of its maintenance, security, infrastructure, and updates. Customers, in turn, access the software by paying a recurring fee (typically monthly or annually).
In a SaaS business, customer support is the act of providing assistance to customers throughout their pre- and post-sale journey. The core function of this SaaS customer support is to provide prompt and helpful aid to consumers whenever they have questions or run into trouble.
TL;DR
SaaS customer support is crucial for ensuring user satisfaction and success. It involves assisting customers throughout their journey with a SaaS product, from pre-sale to post-sale.
Effective customer support helps users have a positive experience, builds trust and loyalty, and impacts various aspects of business, including retention, SEO, and competitive advantage.
A smart SaaS customer support strategy includes support tools, self-service resources, multichannel support, ticketing systems, customer feedback, and more.
Best practices for SaaS customer support include well-trained support reps, proactive service, asking for feedback, using product feedback tools, closing the loop between support and product teams, and using the right customer service tools.
Examples of SaaS companies with great customer support include Zendesk, HubSpot, Slack, Shopify, Atlassian, HubSpot, MailChimp, Basecamp, Salesforce, and Zonka Feedback.
Zonka Feedback is a powerful customer feedback and experience management tool that lets you improve your customer support for SaaS by capturing feedback regarding the customer service teams and agents. You can try it for Free or Schedule a Demo to explore its customer service templates that you can send to your SaaS users post-support.
Measure Product Feedback & User Insights
With SaaS Surveys, understand what users need and learn ways to delight your customers.
What is SaaS Customer Support?
SaaS customer support, also known as Software as a Service customer support, plays a crucial role in ensuring customer satisfaction and success in the modern digital landscape. As businesses increasingly rely on cloud-based software solutions, the need for efficient and effective customer support has become more evident than ever.
The main goal is to help customers have the best experience with your product and company as a whole.
If we define SaaS customer support, it is the support offered by any SaaS business to its customers before, after, and throughout the user journey.
With SaaS customer support, businesses can ensure that their customers have access to the help and guidance they need, whenever they need it. Whether it's troubleshooting technical issues, answering questions about product functionality, or providing guidance on best practices, a dedicated support team can make all the difference in the customer's experience.
But SaaS Customer Support goes beyond simply resolving customer issues. It also plays a crucial role in building trust and loyalty with great customer service. When customers feel that their concerns are being heard and addressed in a timely manner, they are more likely to develop a positive perception of the brand and become loyal advocates.
How important is Customer Support for SaaS Companies?
Although SaaS brands focus on software development, consumer care remains crucial for their success and profitability.
First of all, it affects client satisfaction. Consumers always love to feel cared for. Thus, when you provide them with this care, they feel happier, which affects their loyalty, retention, and overall vision of your brand. Needless to say, retention is especially crucial for SaaS companies that often face high churn rates.
Additionally, customer support affects search engine optimization (SEO). As you must know, SEO stands for how high you appear in search results and, respectively, how many prospects find you on the web. Today, there are plenty of different SEO tactics and helpful rank-tracking software, such as those that are short-listed on the Top 10 websites, that can help improve your ranking.
However, customer support helps build trust and accumulate positive reviews that can further boost your search engine visibility.
Also, quality support can help you with the following:
Up-selling and cross-selling;

Feedback and improvement;

Reputation;

Crisis management, etc.
Most importantly, taking good care of your clients can give you a significant competitive advantage. Recent surveys show that as many as 54% of consumers switch to other brands after just one negative experience. That is, if you deliver positive experiences, you don't just retain your existing customers but also get a chance to win over the ones your competitors' couldn't keep.
Components of a Smart SaaS Customer Support Strategy
A smart SaaS customer support strategy consists of various components that work together to ensure the best possible customer experience. Here m 8are some key components to consider:
Support Tools: You will need a customer support ticketing system, live chat software, CRM software, email management tools, customer feedback management tools, SaaS feedback software, and various other support tools to offer required assistance to customers by every means possible.
Self-Service Resources: You can develop a comprehensive repository of help articles, documentation, developer centers, FAQs, guides, tutorials, demo videos, and more to let your SaaS users understand your product more effectively.
Multichannel Support: Offer support through various channels to accommodate different customer preferences. This may include email, live chat, phone support, a knowledge base, social media, and even in-app support.
Ticketing System: Implement a ticketing system to efficiently manage and track customer inquiries and issues. This helps ensure that no request falls through the cracks.
Customer Feedback Mechanism: Collect customer feedback to understand their satisfaction levels and areas for improvement. This can be done through surveys, post-interaction feedback forms, or social media listening.
Support Data & Feedback Analysis: Utilize data analytics to gain insights into customer support performance, such as common issues, response times, and customer satisfaction ratings. Use these insights to make data-driven improvements
Continuous Agent Training: Regularly train your support team to keep them updated on product changes, industry trends, and exceptional customer service best practices.
Multi-Tiered Support: Offer tiered support with different levels of expertise, with front-line support handling basic inquiries and more specialized teams addressing complex technical issues.
Cross-Functional Collaboration: Encourage collaboration between the SaaS customer support team and other departments like product development and sales to ensure a unified approach to customer success.
10 Best Practices for SaaS Customer Support Teams
Now that you know how support helps shape the customer experience and what other benefits it brings, you must be wondering how to make your client care flawless.
In this part of the guide, we will share with you a few simple yet effective tips.
1. Well-trained Customer Support Reps: Agents
The best user experiences are created by people. Therefore, people are always at the heart of every SaaS business client care department. So it's important to hire them wisely.
Indeed recently introduced a list of the top qualities a specialist must possess to create the best client experiences:
Friendliness;

Patience;

Active listening;

Attention to detail;

Persuasion;

Empathy;

Critical thinking;

Effective communication, etc.
Look for these skills in your client care reps, and you won't make a mistake in ensuring exceptional SaaS customer support and service.
2. Train Your Team Well
A perfect SaaS support team consists of people who know how to provide excellent service and who know everything about your product. Since every SaaS business is different, these skills can't be found in freshly-hired specialists. But they can be trained.
To deliver the best experience, develop a thorough training program to ensure that your team is knowledgeable of your products, policies, and terms and that they can assist your customers in the best way possible.
3. Ask for Customer Feedback After Issue Resolution
Modern consumers are impatient, especially when they are dealing with a product or a SaaS company. According to the 2022 Customer Service Excellence report by Deloitte, the time required to solve their issue is one of the main things consumers care about when contacting support (33%).
Simply put, they expect almost immediate reaction to their queries. So if you want to deliver the best experience, you must be responsive and ensure that your team is accessible right when your clients need it.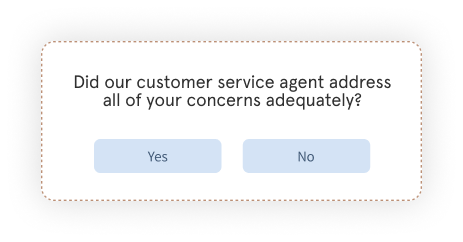 After resolving a customer's issue, it's important to ask for their feedback about their experience with the helpdesk or SaaS customer service team. This helps you understand their satisfaction level, identify areas for improvement, and gather insights into the effectiveness of your SaaS customer support.
By soliciting feedback, you demonstrate that you care about their opinion and are committed to enhancing their experience.
After resolving a technical issue, you can send an email to the customer, thanking them for their patience and asking them to rate their satisfaction with the support received on a 1 to 10 rating scale. You can also provide an open-ended question for additional comments.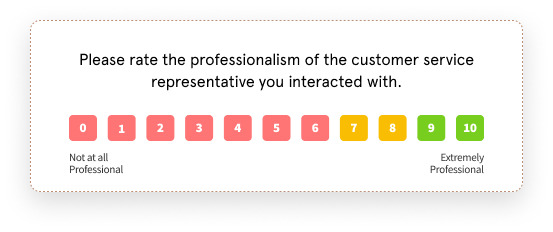 4. Use Feedback Tool to Automate Follow-ups when Ticket Status Changes
Feedback tools such as Zonka Feedback can automate the process of collecting feedback at specific touchpoints, such as when the status of a support ticket changes. This ensures that you gather feedback at the right time, increasing the likelihood of receiving relevant and timely insights.
For Example: When a customer's support ticket is marked as resolved in your system, an automated email is triggered, asking the customer to rate their experience and provide comments on the support they received.
5. Capture Real-time Feedback and Measure Team Performance Using CES Surveys
Empower customers to provide feedback on your product in real-time. This not only helps you identify and address product-related issues promptly but also shows your commitment to continuously improving your offerings.
CES (Customer Effort Score) surveys are a way to measure the ease of a customer's experience with your support team. By using CES surveys, you can understand how much effort a customer had to put in to get their issue resolved. This helps you identify friction points and streamline your support processes.

After a customer's issue is resolved, send them a survey asking how easy or difficult it was to get their problem solved, using a scale (e.g., "Very Easy" to "Very Difficult").
This provides a quantifiable measure of the customer's effort as well as how much customer support efforts are being appreciated.
6. Inform Customers about the Changes you've made based on their Feedback
When customers take the time to offer feedback, it's important to show them that their input matters. Closing the feedback loop involves communicating the actions you've taken based on their suggestions or complaints, creating a sense of involvement and accountability.
If a customer suggests a new feature that gets implemented, send them a personalized email informing them about the addition and thanking them for their contribution.
Reinforce the value of service feedback by showcasing how it has resulted in meaningful enhancements to your product or service. This not only acknowledges their input but also encourages more customers to share their thoughts.
Share success stories on your website or newsletter, highlighting instances where customer feedback directly influenced positive changes in your product, accompanied by metrics that demonstrate the impact.
7. Seamless Customer Onboarding
When first landing on your website, trying your products for the first time, and all the way through the rest of their journeys, consumers will be facing a variety of questions, concerns, and issues. The core task of your client care team is to always go the extra mile and be helpful.
Simply put, your support teams must be willing to answer consumers' questions, walk in their shoes to see the problem, and provide accurate guidance to solve these problems.
8. Close the Loop between Support and Product Teams
To be truly satisfied, customers need to feel like you hear and understand them. Sometimes, their questions or problems might feel obvious, silly, or otherwise hard to understand. Nevertheless, your team should be patient and empathetic at all times.
Show your customers that you value and care for them, and they will pay you back with loyalty, positive reviews, and more purchases.
9. Be more Proactive than Reactive
Proactive service basically means anticipating consumers' needs and challenges and offering solutions instead of waiting for them to reach out to you on their own. This can be attained by communicating common problems or providing self-service opportunities. In any case, such a proactive approach has multiple benefits:
Lower need for support calls

Better satisfaction;

Higher loyalty;

Valuable insights that can help you improve your SaaS business.
Most importantly, taking a customer team should be taught to offer proactive customer support. This approach allows you to create brand advocates and ambassadors.
So don't let your team be passive.
Encourage them to analyze common issues and reach out to customers regularly to offer helpful solutions or ask if they need anything to have the best experience.
By analyzing the customer behavior trends from feedback, you can identify recurring problems or areas of confusion. This enables you to proactively address these issues through resources, guides, or features that improve SaaS customer experience.
If customers frequently mention difficulties using a specific feature, create a comprehensive guide or tutorial video that explains how to use the feature effectively. This preemptively assists users and reduces the number of support requests related to that feature.
10. Use the Right Customer Service Tools
Delivering top-notch service isn't easy. Luckily, today, there are plenty of great tools that can help your SaaS business keep your clients happy and loyal.
There are tools for managing inquiries, mapping out journeys, tracking satisfaction, etc. Leveraging the right tools can help you provide better care overall. You can also use customer service surveys and integrate their data into your CRM, helpdesk, or other business applications to know the painpoint or behavior of every customer. So don't neglect this tip.
Examples of SaaS Companies with great customer support
There are many SaaS companies that have succeeded with their customer support strategy. Here are some SaaS products with a reputation for excellent customer support:
#1. Zendesk
Zendesk, a customer service and engagement platform, is renowned for its customer support. They offer various support channels and have extensive self-service resources. You can contact their support from within the product by simply going to Get Help and talking to their chatbot or taking it forward with an agent.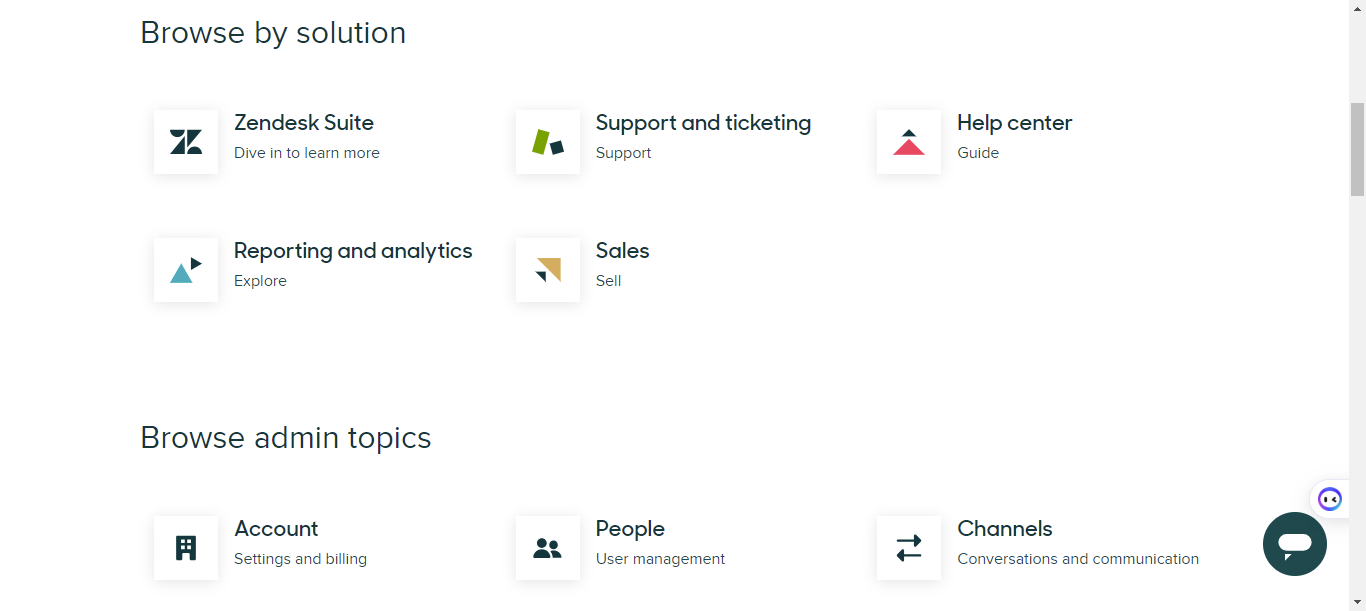 #2. HubSpot Service Hub
HubSpot Service Hub is a comprehensive customer service software that enables businesses to manage and resolve customer issues efficiently. With features like ticketing, knowledge base management, and feedback tools, HubSpot Service Hub helps businesses provide personalized and effective support to their customers.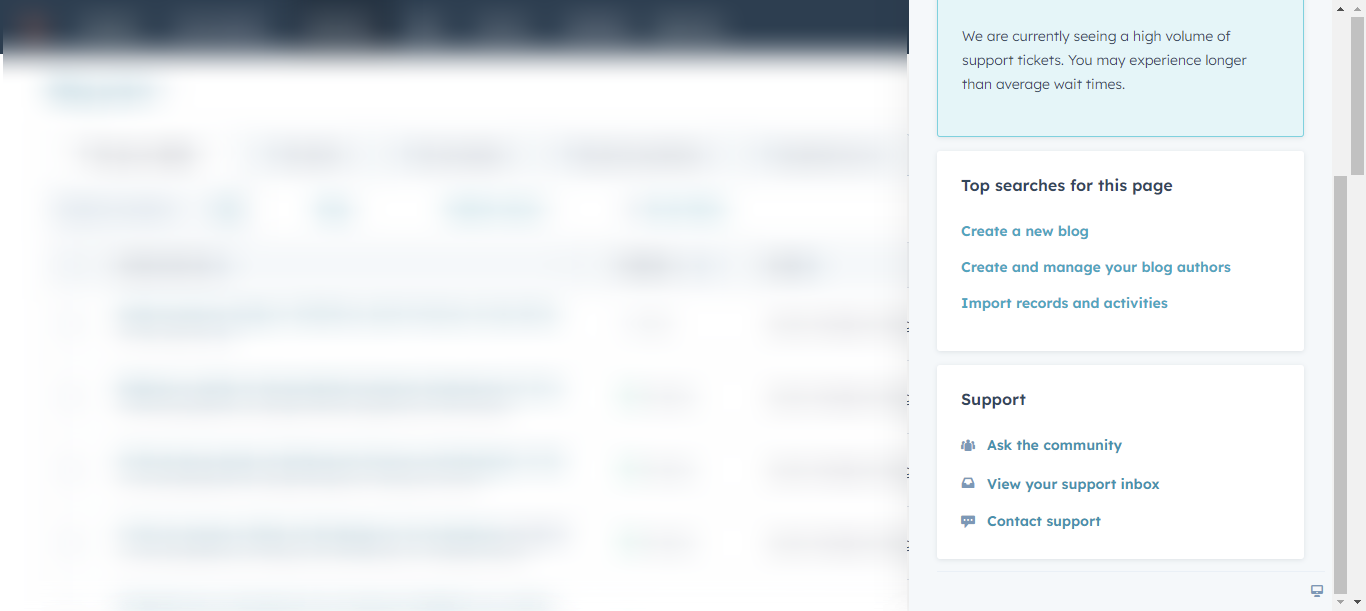 #3. Slack
Slack, a team collaboration platform, provides multiple channels for customer support, including live chat, email, call center support, knowledge base, Slack form, ticketing system and more. They are known for rapid response times and helpful support agents.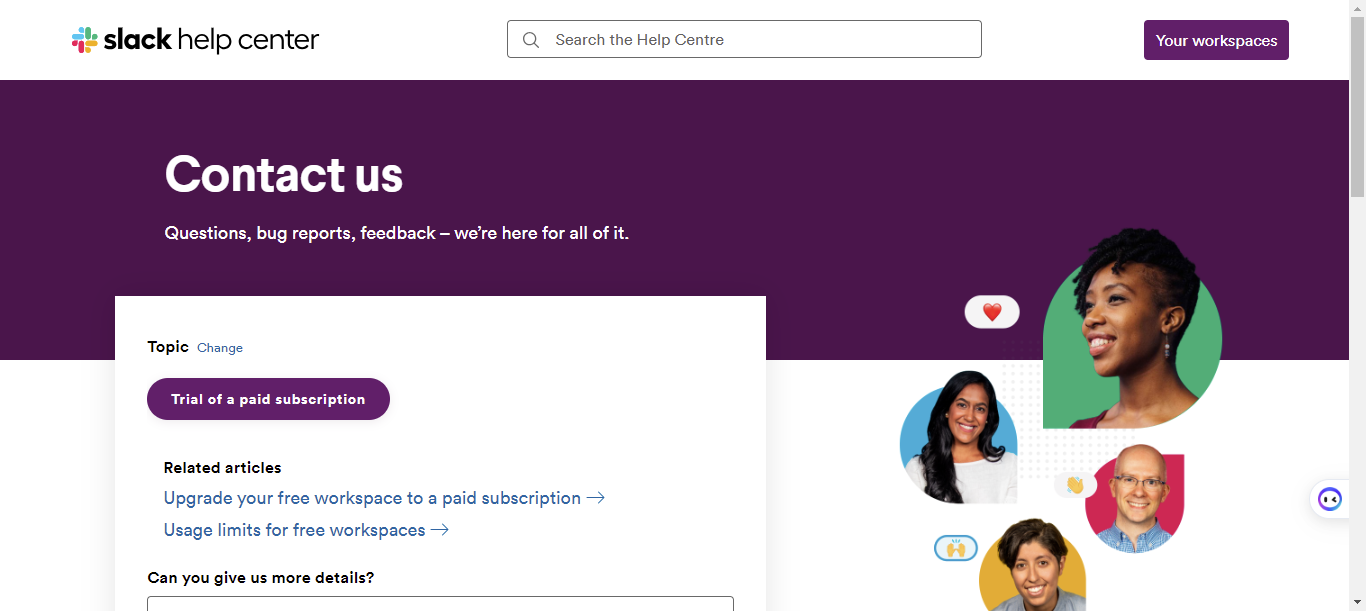 #4. Shopify
Shopify, an e-commerce platform, is renowned for its exceptional customer support services, which are available 24/7 through various channels such as email, chat, phone, and community support. They go above and beyond to ensure that their users receive prompt and helpful assistance whenever they need it.
In addition to their round-the-clock support, Shopify provides an abundance of resources like guides, FAQs, help articles, etc., to aid users in setting up and managing their online stores. It also offers interactive webinars and workshops to educate users on best practices and industry trends.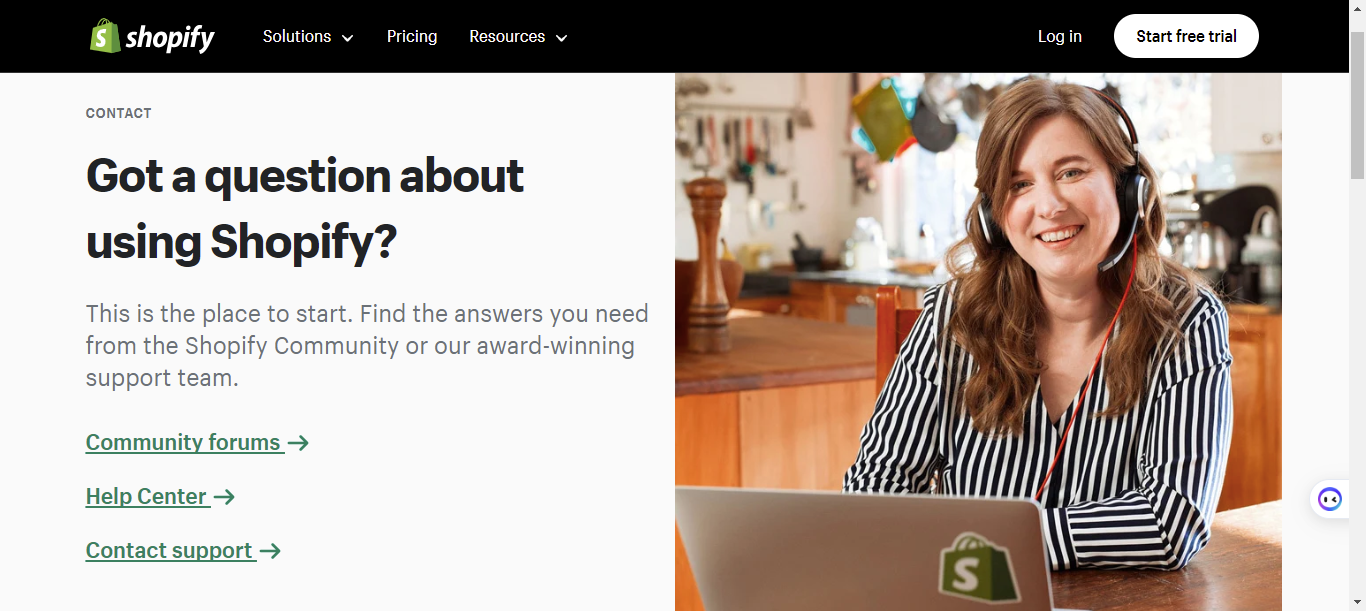 #5. Atlassian
Atlassian, known for products like Jira and Confluence, provides extensive documentation and an active user community. You can contact technical support or report a bug anytime it is required. They offer both email and chat support and are praised for their responsiveness.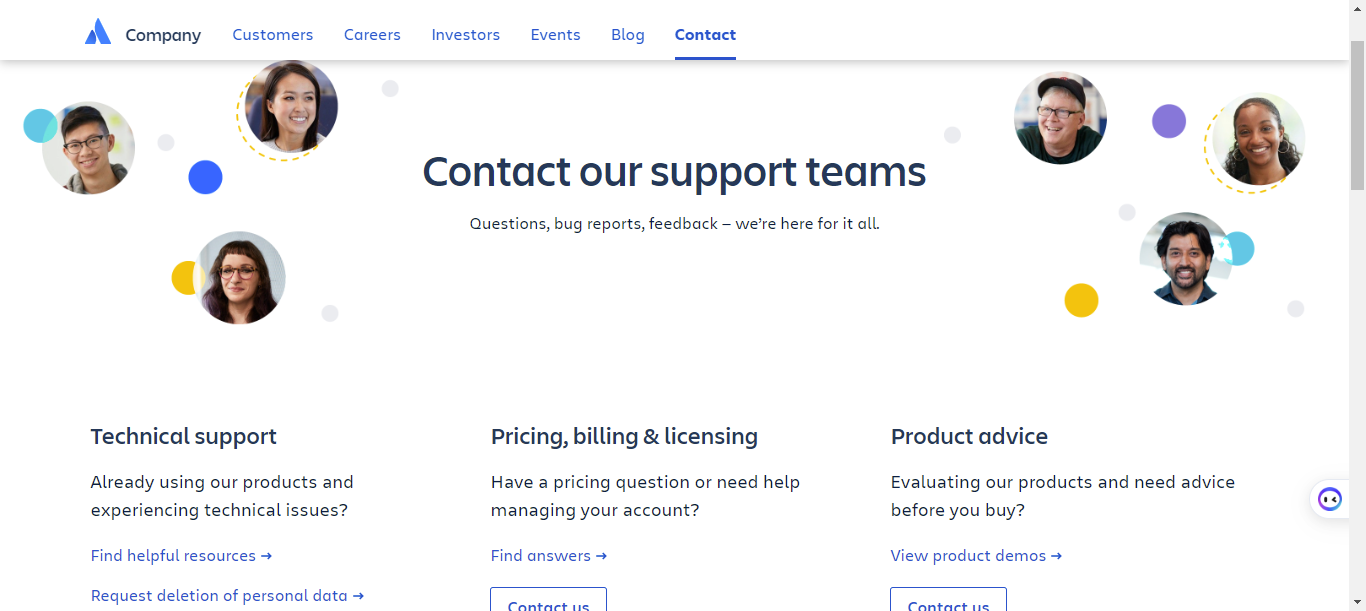 #6. MailChimp
MailChimp's support system is quite responsive and assists its customers through each step in the customer journey. This email marketing platform offers a help center with resources and tutorials on setting up accounts, choosing audiences, creating campaigns, and viewing reports. They provide support in multiple languages and users can send inquiries through the contact form. They also have a directory of experts that you can contact as your Mailchimp partner and get answers to your questions.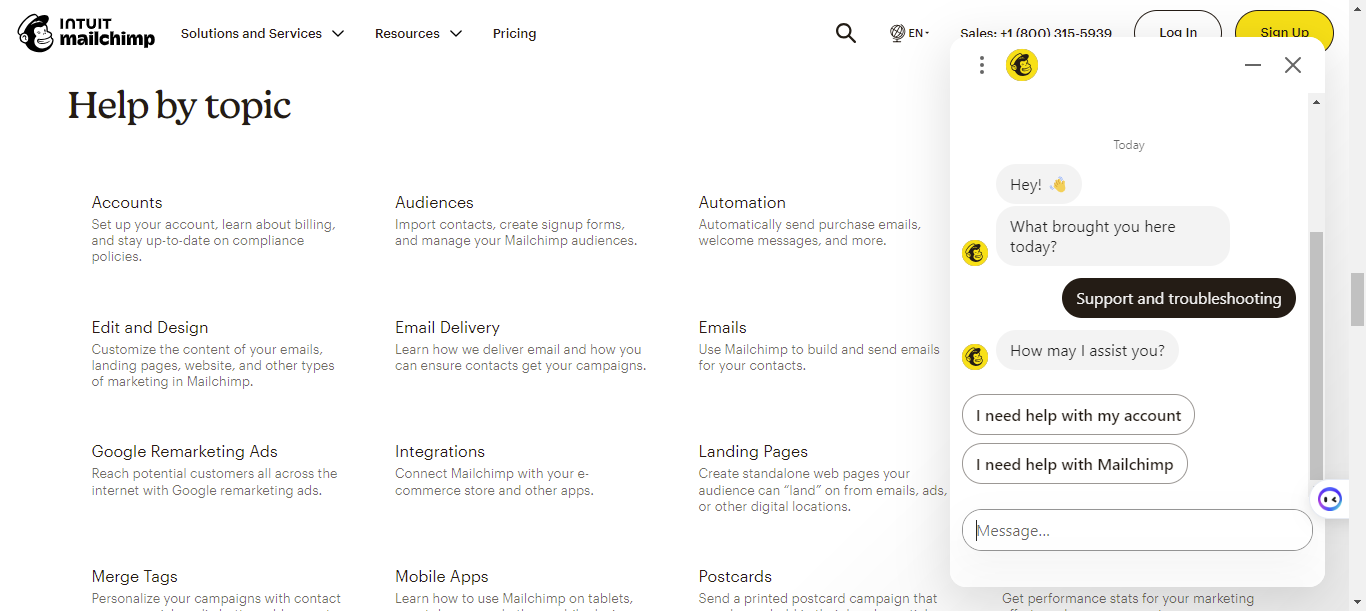 #7. Basecamp
They have an active and responsive customer support team that is known for its willingness to assist users promptly. They offer support through email, documentation, guides, educational resources, community engagement, and more.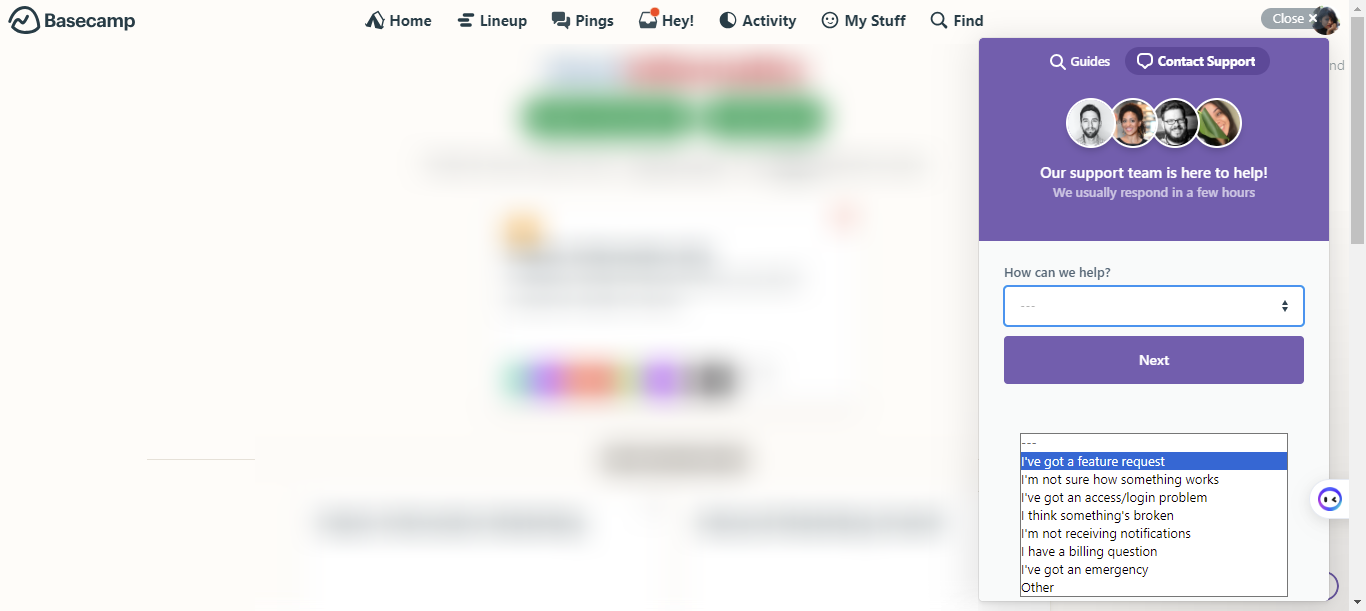 #8. Salesforce
Salesforce, a leading CRM platform, provides robust customer support through various channels, including phone, email, and a comprehensive knowledge base. They also offer a Success Community for users to share best practices.
#9. Zonka Feedback
Zonka Feedback is a powerful customer experience and feedback management tool that offers all-round support. It comes with help articles, documentation, a developer center for coding, SDK support, chat support, email support, and more.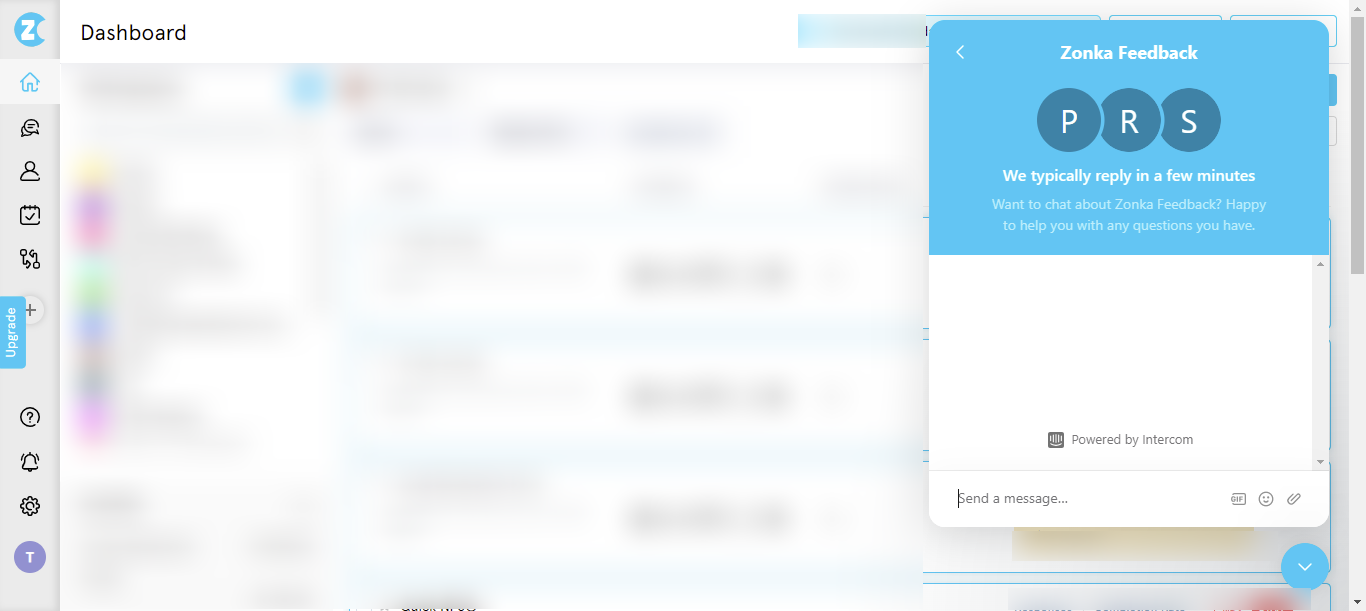 These are just a few examples of SaaS products that are known for their excellent customer support. By choosing the right tools for your business, you can ensure that your customer support team has the necessary resources to deliver exceptional service and exceed customer expectations.
Conclusion
On an ending note, it is crucial for SaaS businesses to prioritize customer support and continuously strive to improve the customer experience. By implementing the best practices mentioned above, you can ensure that your customer support team is well-trained, knowledgeable, and responsive to customer needs.
Encouraging cross-functional collaboration and capturing feedback from customer will also help you identify areas for improvement and make necessary changes to enhance your product or service.
Additionally, by closing the feedback loop between your support and product teams, you can demonstrate to your customers that their feedback is valued and that you are committed to providing them with the best experience possible. Remember, customer support is a vital aspect of SaaS businesses, and by following these best practices, you can ensure that your client care is flawless and that your customers are delighted with their experience.
Now you know what role customer support plays in a SaaS business and how you can take yours to the next level.
By following these simple SaaS customer support practices, you can deliver excellent client experiences and improve satisfaction and retention to ensure business growth.