Retaining its current customers and expanding the customer base is the desired goal of every restaurateur. To retain your customers, you need to keep them happy and satisfied by offering best-in-class services. Customer Satisfaction thus plays a crucial role in the success of restaurants.
Apart from packing a gastronomical delight, quality & freshness of food, hygiene level, prompt services, staff behavior, ambiance, and decor are few parameters on which your customers form an opinion and rate your restaurant. Restaurant Feedback by customers can help you to boost your business exponentially.
Measure Restaurant Feedback and Satisfaction
Gauge feedback from guests and visitors at various touchpoints in your restaurant.
Are You Taking Feedback, but Still Lagging?
Most restaurateurs complain that when present a feedback form to the customer, they ignore it. A major reason for this could be the fact that their previous feedback wasn't implemented. When your customers invest time in giving reviews & feedback to you, they expect you to take action and improve the service in the future. If you do not respect their reviews, at some point in time they'll stop giving feedback.
According to the survey conducted by Shep Hyken , customer service and experience expert, 43% of customers don't give feedback because they don't think 'that the business cares.' Whereas, 81% of customers are willing to give feedback if they are assured that they would get a fast response.
If you want to get actionable restaurant feedback from your customers, then support your feedback with the right questions. Along with this, you need to focus on the right manner of asking questions to genuine and actionable feedback.
So, here are 6 Elemental questions you should ask while collecting restaurant feedback.
Top 6 Questions For Restaurant Feedback
How Satisfied You Are With Our Menu?
What Do You Like Most About Our Restaurant?
How Did Our Service Staff Treat You?
Where Do You Like To Eat, When Not Dining With Us?
Which Website or App Do You Use To Find Restaurants?
How Likely Are You To Recommend Us To Your Friends or Family?
#1 How Satisfied You Are With Our Menu?
This is the basic question that cannot only help you to revamp your menu but also provides you with insights into what your competitors offering in the market. When you ask your guest for feedback on the food menu, they will mention the name of the food items or segments of cuisine that are missed at your place. Therefore, when you consider customers' opinions on food items, more than feedback, they provide you with the opportunity to improve your menu that helps your restaurant business to grow exponentially.
#2 What Do You Like Most About Our Restaurant?
This question can help you to ascertain the strong & weak points of your restaurant. Be it ambiance or food, service or price, this question provides you with the direction that what to change and improve. Once you identified your guest's preferences and taste, you can easily tailor your services accordingly. This can help you to improve the customer experience of the visitors and boost your brand presence.
#3 How Did Our Service Staff Treat You?
Usually, every restaurateur runs the restaurant to provide a personalized experience to their guests. So, if you are looking for the scope of improvement in housekeeping services, or staff performance, then this is the perfect question you can ask your guest. This feedback can not only enhance your services but also increase the productivity of the staff members.
#4 Where Do You Like To Eat, When Not Dining With Us?
We know that surviving in this competitive landscape is the hard nut to crack. Therefore, it is important to do a competitor analysis and plan your action accordingly to take your restaurant business a level ahead of your competitors. The best way to do competitor analysis is by using customer feedback tactically. A question like "Where do you like to eat when not dining with us" can help you to get a clearer picture of your competitor. Your guests can tell you about the competition and what they like about their service. This feedback hence provides you a chance to improve your service to refine your customer experience.
#5 Which Website or App Do You Use To Find Restaurants?
The biggest challenge in the digital space is the high competition of visibility. If you are looking forward to solidifying your brand presence across the online and social media space, then you need to understand the search behavior of your customers. The best way to identify the search behavior of consumers is through their feedback. A question like "Which website or app do you use to find restaurants?" is considered to be the lead generation question that can help you to reach your potential customers and serve them with what they want.
#6 How Likely Are You To Recommend Us To Your Friends or Family?
This is the most common question, but still has significance that can help you to popularize your brand and create large customer networking.
According to Bright Local, 91% of customers regularly read online reviews and 84% of customers trust online reviews as much as a personal recommendation.
The positive word of mouth marketing cannot only elevate your brand awareness across the digital space but also expand your customer base.
These are the few important questions that you can consider to add in your form to get genuine and actionable feedback.
According to a survey of over 3,200 random consumers , 75% of consumers stated that they share a negative experience with their friends and colleagues, whereas 42% of them stated they'd recommend a product/service.
Therefore, always focus on delivering out-of-the-box service to your customers to enhance their experience. If your customer is happy, they will spread a positive word of mouth and recommend others to visit your establishment.
Do's and Don'ts For Getting Restaurant Feedback From Customers
We have put together some Do's and Don'ts for getting Restaurant Feedback from your customers that can make your customer feedback process easy and quick.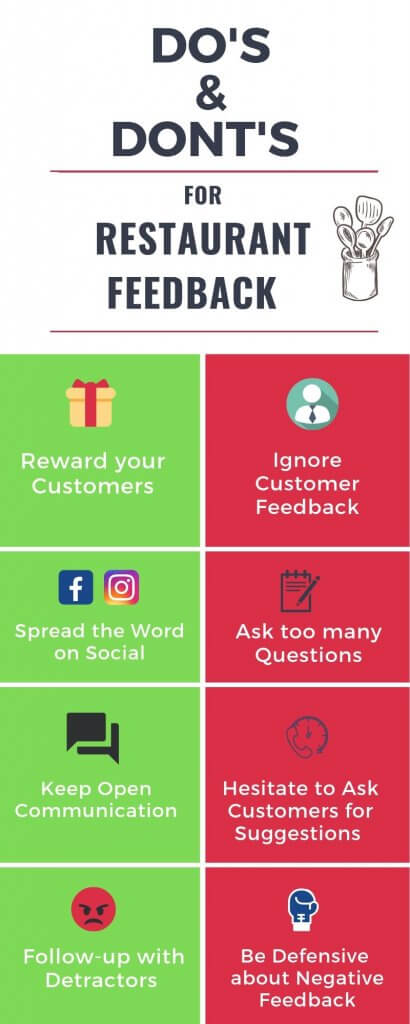 Looking For Automated Customer Feedback Software for Your Restaurant & Cafe?
A smart automated customer feedback app and software is your best bet to approach customers and get Restaurant Feedback from them easily. Whether you want to get feedback for your food, ambiance, service, or staff, Zonka Feedback is designed impeccably for standalone restaurants and large chain restaurants. This is a complete customer feedback platform that enables you to acquire real-time customer feedback and manage them in a simplified manner.
Learn more about the Restaurant Feedback