Increasing customer satisfaction and engagement with your brand requires a lot more than bombarding them with targeted ads and weekly mailers. There are proven techniques and tools being used by marketers every day that allow them to engage with customers. One such tool is a customer service chatbot.
Do you know that a customer service chatbot alone can drive 80% of your engagement with customers?
Right now, 50% of enterprises are heading to invest in chatbot creation rather than in application development for mobile, for example, 25% of hospitality and travel businesses worldwide are already using chatbots.
See why live chat interfaces ruled by artificial intelligence (AI) are gaining more respect and, afterward, discover how to leverage the strengths of an only-bot chat and manage your services more effectively, improving customer experience and engagement.
Why Customer Service Chatbots Are on the Peak of Popularity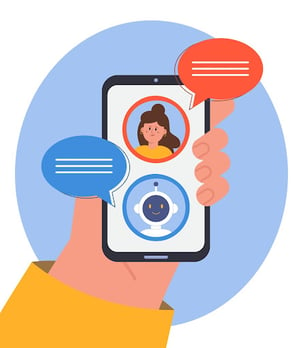 AI bots are predicted to power 95% of customer interactions by 2025. They are going mainstream, and for all the good reasons. Here's why it may be worthwhile for you to implement conversational AI-powered solutions:
They save 30% of costs on customer support services

They generate high-quality leads (55% of businesses have already experienced that)

They smoothen selling processes

They offer routine task automation

They collect info and transfer it to specific departments, boosting the overall performance of call centers

They respond faster and solve simplistic problems on the spot
These advantages can be tangible only if you learn how to harness the power of a customer service chatbot correctly. Want to know how to do that to reduce customer churn and see engagement skyrocketing? Read on.
How to Use a Customer Service Chatbot to Better Engage with Customers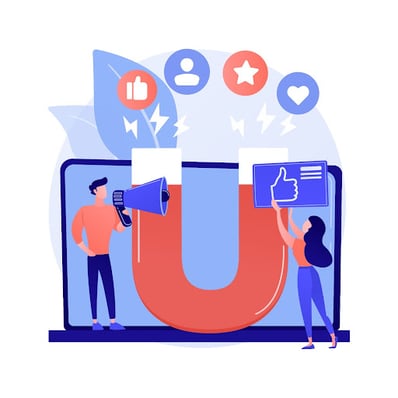 Grab the below tips.
Impatience is a crucial trait of today's users in the digital space. No wonder 68% of consumers prefer chatbots because of quick answers.
"Instead of making your customers wait on hold, motivate and empower them with the possibilities for self-servicing," recommends Logan Mallory, VP of Motivosity.
"You should "feed" your chatbot with the existing data about your products and procedures within your company, as well as resources like knowledgebase articles and FAQs to help answer users' inquiries and lead them by hand," Logan adds.
The FAQ page is slowly approaching its death door because a chatbot for servicing customers can fully replace it by offering options for smooth self-service, therefore reducing customer effort.
Enable non-stop interaction
Day-and-night support is one of the things you should provide to achieve your customer satisfaction goals. In this case, an automated conversational agent can help you ensure 24/7 collaboration and communication with your customers, understand their wants and needs, make a closer bond with them, and build deep, trustful, and meaningful relationships.
Here's a list of in-bot features to assist you with that:
Your company's presentation and values
Product visuals (images, video reviews, etc.) and audio files
Follow-ups
Reservations/bookings
Reminders/alerts
Offers and promotions
Congratulations on special days, etc.
Smart bot assistants enhance engagement throughout the customer journey on different touchpoints. They do it effectively using sentiment analysis and personalization.
According to the MIT Technology Review Insights report, two-thirds of the surveyed companies have already been strengthening ties with their customers and delivering highly personalized experiences with the help of AI-driven chatbot solutions. With those, you can also prioritize your B2B customer experience and level it up with personable, customer-centric approaches.
Integrate your chatbot with other platforms for flawless omnichannel
Cross-channel integration is one of the primary factors that drive better customer experiences.
In the words of Chelsea Cohen, Co-Founder at SoStocked, "When you deploy and manage an AI-enabled bot across all communication channels, integrating it seamlessly for cross-device and cross-platform interactions (e.g., your Amazon seller account + website + mobile app + social networks), you automatically deliver all-encompassing assistance. Take advantage of omnichannel to guarantee continuous user support and engagement."
To achieve that, follow the steps suggested by Chelsea Cohen below:
Determine your aims and select a proper chatbot
Prioritize the channels
"Teach" your bot on training portals
Do usability testing and optimization
Link it with other business apps and systems
You can pair it with marketing automation software like Zapier or a feedback collection tool like Zonka Feedback, or both.
Now to feedback itself.
A chatbot is one of the fastest ways to collect product feedback and other valuable customer insights to see whether you're engaging with them well enough.
Use the best survey software to make quizzes, polls, and surveys (NPS, CSAT, CES, etc.) and let your chatbot handle the process further – sending them and collecting results.
If via email, for example, survey respondents have to make several clicks to answer it, with a bot, they typically make only one.
Chatbot as a Backbone for Higher Engagement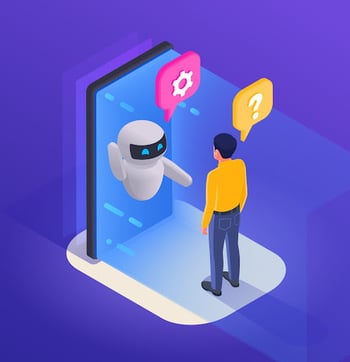 Engaging with digital consumers has become easy as ever with automatic messaging systems and bots. They are remarkably beneficial for customer experience management and lifetime value enhancements.
Explore the benefits of your customer service chatbot as one of the top marketing tools for your growing business. Let it revolutionize your engagement strategy and check how well you do that with Zonka Feedback.
Measure Customer Service Performance
Improve your customer service and grow your business with real-time feedback