Finding Qualtrics too expensive and complex for your customer experience strategy? Or need a survey software with simple UI, advanced analytics, real-time feedback collection, and cost-effective solution? Switching to a Qualtrics alternative can be the right step. 
From being a single-product survey company for academic market research, Qualtrics transformed itself into a multi-suite organization empowering businesses to create exceptional experiences. Since its inception in 2002, the company has reinvented its business several times. Often out of necessity, sometimes to catch up with the market trends, and twice to get a headstart in the CX market.
In 2017, Qualtrics launched its experience management product - Qualtrics XM. This enabled its customers to focus on four crucial aspects of their business - customer, employee, product, and brand, via a single platform.
While the move proved successful for the business, the transformation of Qualtrics to Qualtrics XM turned out quite stressful and cost-intensive for several businesses looking for specific solutions to manage their customer feedback and experience on this expansive platform.
Measure Product Feedback & User Insights 💻
With Product Feedback Surveys, understand what users need and learn ways to delight your customers.
Even today, major Qualtrics customers and potential users get intimidated by the endless features and capabilities offered by the single platform. And that's when the switch to Qualtrics alternative proves effective.
If you are also looking for a simpler and cost-effective customer feedback software and survey tool with similar reporting & analytics capabilities to improve your customer experience strategy, this write-up is for you.
So, without further ado, let's dive into the list of top ten Qualtrics alternatives to collect customer feedback effectively.
Table of Content
Reasons why you should look for Qualtrics Alternatives
With the merger of two technologies, experience design and experience improvement, Qualtrics aimed to deliver an all-encompassing product to its customers. However, in striving for greater heights, it became a platform too complex for those looking for specialized services. And that's not the sole reason businesses have started looking for Qualtrics alternatives today.
After analyzing the customer feedback of Qualtrics across top platforms like G2 and Gartner, here are some of the recurring cons that compel customers to switch to Qualtrics competitors.
High Costs & ROI: While companies with larger budgets tend to focus less on the pricing side of Qualtrics, many mid-size companies and startups claim Qualtrics to be too expensive. Compared to other survey software products in the market, Qualtrics, in general, falls in the high-budget category.
Complex User Interface: In an attempt to offer an all-in-one experience management software, Qualtrics made its customer pay the brunt in the form of a complex interface. Several Qualtrics users complain that it has become too cumbersome for them to find the right functions or integrate new apps.
Higher Time to Master: As the Qualtrics platform is too expansive with several features and integrations, it might become difficult for many to master it. The steep learning curve takes a lot of time for users to train on the platform. All of this is because it comes with countless features and services rolled out by the platform.
Inconsistent Collaboration: There are many instances where collaboration with team members becomes too clunky and hassling. Several existing customers of Qualtrics have complained that it can be tiring and require constant removal and addition of members to collaborate seamlessly.
Inefficient Customer Service: A significant reason why customers look for alternatives to Qualtrics is its inefficiency in handling customer complaints and tickets. The lack of customer support and response time from service agents is a frequent dislike of many. And having a support staff readily available to handle all customer issues is a must for any survey software.
Limited Options in the Free Model: Where there are so many free survey makers in the market, there are minimal features when it comes to the free version of Qualtrics. Those in the trial phase are unable to explore the product as much as they would want to. At the same time, survey software like Zonka Feedback unlocks all its features for the users in the free trial itself.
Overwhelming Platform: Many existing customers are looking at Qualtrics competitors like Zonka Feedback to enjoy an easy-to-use WYSIWYG survey builder. With the countless options, Qualtrics can be a bit overwhelming for those looking for a simple platform to build their surveys or survey collection.
Top Qualtrics Alternatives to make the Switch
While making the purchase decision, buyers of survey software compare and evaluate different tools based on parameters like features, pricing, integrations, support, and other competencies of each solution.
1. Zonka Feedback: Simplifying CX Management & Feedback Collection with CSAT, CES & NPS Surveys
Zonka Feedback is a powerful customer survey and product feedback platform that allows businesses of all scales to build their customer surveys and collect insights from them. What makes Zonka Feedback one of the top contenders for Qualtrics alternatives is its unmatched customization and reporting capabilities. The tool is made for organizations of all scales and sizes and helps them drive customer satisfaction based on the feedback they receive. This multi-channel platform provides a mode for businesses to tap the customer at different touch points like in-product, website, offline, email, SMS, and more.
With Zonka Feedback, customers can collect all types of customer surveys, including but not limited to in-product, offline surveys, and transactional & relationship feedback. This tool is built to enable startups and enterprises to improve their experiences and accelerate business growth.
As an all-encompassing customer experience tool, it enables users to do more with customer data. Zonka comes with out-of-the-box reporting features, like snapshot reports, response inbox, trends reports, text analytics reports, and more. It allows businesses to streamline their CX processes and automate various aspects of feedback collection and analysis. Gone are the days of manual data entry and cumbersome feedback management.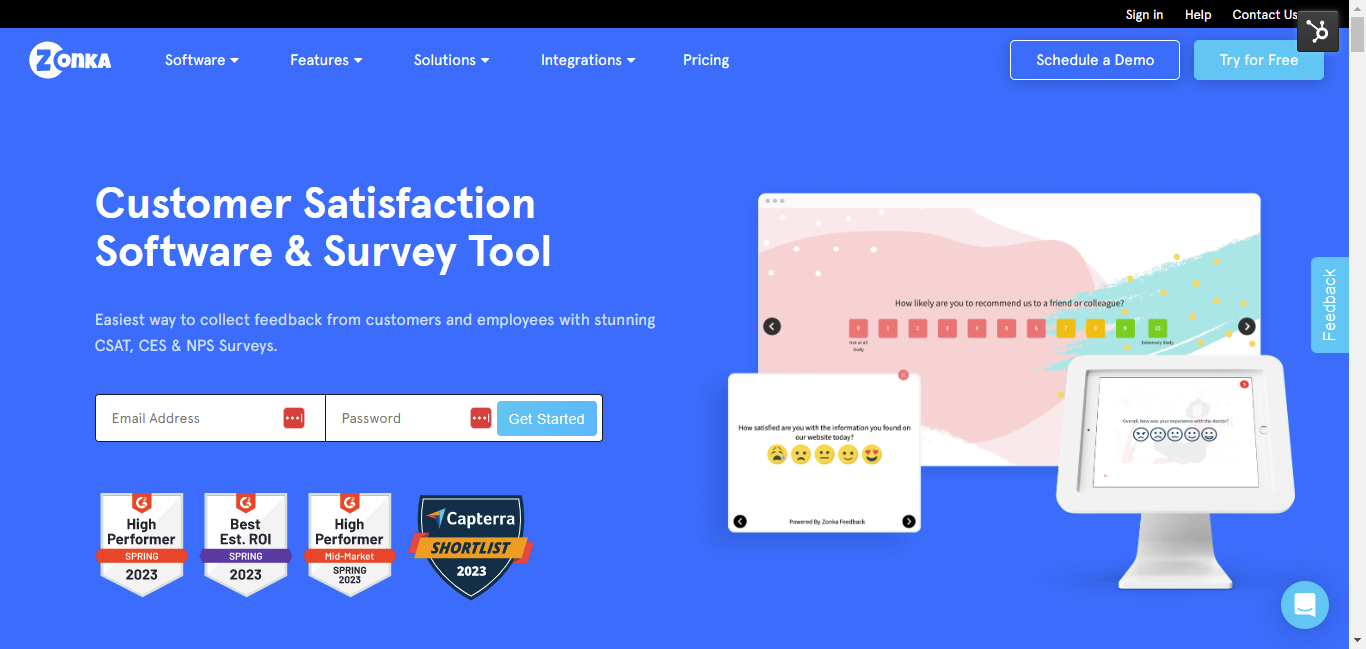 Zonka Feedback offers a range of automation features designed to enhance efficiency and drive continuous improvement for enhanced customer experience. One of the standout features of Zonka Feedback is its Customer Experience (CX) Automation. One can trigger notifications across multiple touchpoints, label survey responses, and even create & assign new tasks based on the responses automatically. The best part is that it offers real-time insights and notifications on negative feedback that facilitate businesses to take action spontaneously and close the feedback loop.
What makes Zonka Feedback the best Qualtrics alternative is its specialization in feedback collection, and CX reports through CSAT surveys, NPS surveys, CES surveys, and more. The offline survey feature, ease of setup, and outstanding customer support are also appreciated by its customers.
Features
Conversational and dynamic survey
NPS, CES 2.0 & CSAT Scores
Multi-Chain, Location Management
Real-time Reporting, Alerts, and Digest
Modern interface with several pre-made templates
Easy customization for engaging surveys
Automating customer experience (CX)
Closing the feedback loop with real-time tracking & alerts
| | | |
| --- | --- | --- |
| Parameters | Qualtrics | Zonka Feedback |
| Templates | 50+ | 500+ |
| Integrations | 100+ | 50+ |
| G2 Rating | 4.4 | 4.4 |
| Multilingual | 86+ languages | 37 |
| Pricing | Not provided | Starting: $49/Per-Month |
| Ease of Use | 8.5 | 9.3 |
| Ease of Setup | 8.3 | 9.4 |
| Quality of Support | 8.7 | 9.6 |
Limitations
As an alternative to Qualtrics, Zonka Feedback lags behind in offering many questions out of the box. One may require to type in questions for some use cases. Apart from that, it can also work on offering reporting insights based on metrics like median score, customer lifetime value, and more.
What makes Zonka Feedback the best Qualtrics Alternative?
The real-time feedback collection and simple and intuitive design of Zonka Feedback make it a strong competitor of Qualtrics, which has become too complex for users looking for simpler tools. Further, Zonka Feedback lets its users collect offline surveys or kiosk surveys, a feature missing in Qualtrics.
2. SurveySparrow: Chat-like Interface for Interactive Survey Experiences
SurveySparrow is a popular choice when it comes to choosing a Qualtrics alternative. It is an easy-to-use experience management platform that allows businesses to refine their end-user experience across multiple channels. As an alternative to Qualtrics, SurveySparrow allows you to build conversational surveys in a matter of minutes.
With surveys available in 86+ languages, SurveySparrow might just be the perfect solution for those looking to optimize their customer experience across the globe. However, the tool does let big businesses down. In fact, many even call it the survey software builder for small businesses. Its enterprise-grade offerings can be improved when compared to Qualtrics.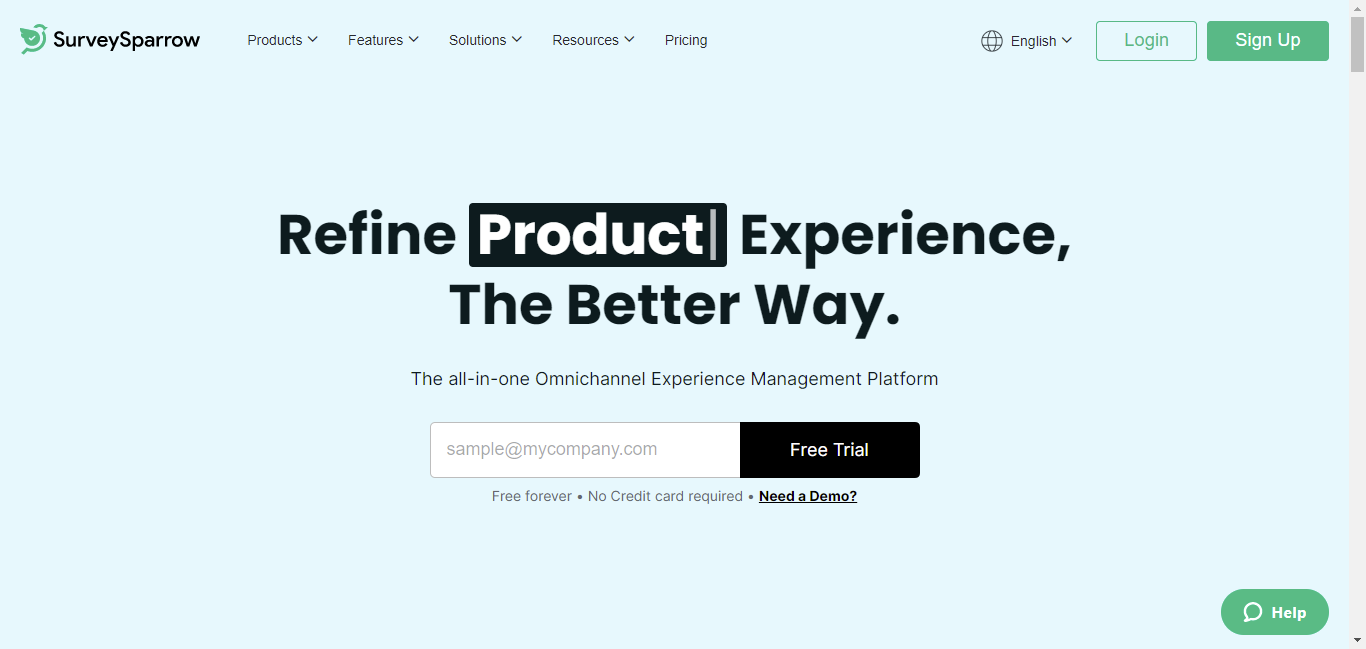 It has visual workflows that can be easily automated to decrease the response time. One can use SurveySparrow to collect data using many survey collection channels like Emails, SMS, weblinks, Slack, Social Media, MS Teams, Mobile SDK, and more.
Features
Conversational and dynamic survey
Automated workflows to set up branching logic and conditional actions
Multi-channel distribution through different channels
Multilingual surveys to collect feedback in customer's preferred language
Seamless integration capabilities with CRM like Salesforce surveys & marketing tools
| | | |
| --- | --- | --- |
| Parameters | Qualtrics | SurveySparrow |
| Templates | 50+ | 800 |
| Integrations | 100+ | 200+ |
| G2 Rating | 4.4 | 4.4 |
| Multilingual | 86+ languages | Multiple Languages |
| Customer Support | Tedious | Responsive |
| Pricing | Not provided | Starting: $99/Per-Month |
| Ease of Use | 8.5 | 9 |
| Ease of Setup | 8.3 | 8.9 |
| Quality of Support | 8.7 | 8.8 |
Limitations
The survey software lacks logic capabilities and has very limited question types for specific surveys. Even the reporting and analytics feature of SurveySparrow can be improved to offer advanced analysis and even integration with external tools.
What makes SurveySparrow the best Qualtrics Alternative?
As an alternative to Qualtrics, SurveySparrow stands out with its conversational surveys and chat-like interface. Its customer support system is also quite responsive compared to Qualtrics.
3. Typeform: Initiating Conversations from Surveys
An easy-to-use and thoughtfully-designed survey solution, Typeform stands out with its fully customizable user interface. A favorite of small and mid-market businesses, this online survey and form builder takes the guesswork out of building feedback forms or surveys. Its use cases span eliciting feedback, performing research, and generating leads.
It also allows businesses to strike up conversations with their customers instead of simply collecting their feedback and leaving them hanging. However, that's all that Typeform does- create forms, quizzes, surveys, polls, and tests. It falls behind on several parameters compared to its peers. Many believe that the analytical information that the tool offers about respondents can be more extensive and info-rich. It can also work on offering an NPS survey platform, offline surveys, an executive dashboard, and much more.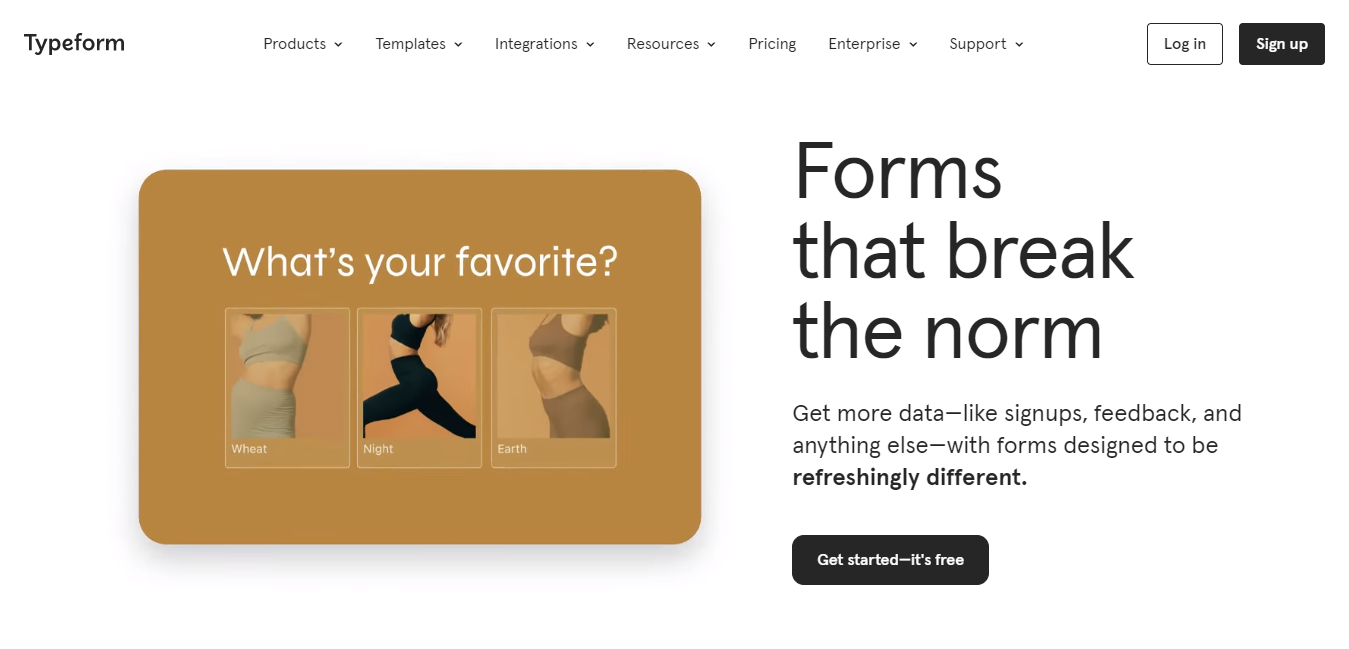 Nonetheless, this platform has gained a lot of popularity owing to its intuitive interface that allows businesses to shift away from boring surveys and make everything more interactive. Its built-in photo and video library helps give life to the surveys.
Features
Unique, conversational way to interact using surveys
Pleasing & interactive designs
Extremely responsive customer support
Ease in creating dynamic surveys through logic jumps
| | | |
| --- | --- | --- |
| Parameters | Qualtrics | Typeform |
| Templates | 50+ | 3,000+ |
| Integrations | 100+ | Multiple |
| G2 Rating | 4.4 | 4.5 |
| Multilingual | 86+ languages | 26+ |
| Pricing | Not provided | Starting: $25/Per-Month |
| Ease of Use | 8.5 | 9.3 |
| Ease of Setup | 8.3 | 8.9 |
| Quality of Support | 8.7 | 8.4 |
Limitations
Typeform lacks the analytical capabilities and advanced survey logic that most of Qualtrics' competitors can offer. It is only limited to creating intuitive surveys but can work on offering in-depth data analysis, data segmentation, and reporting.
What makes Typeform the best Qualtrics Alternative?
Those looking to create engaging and more impactful surveys can switch to Typeform as an alternative to Qualtrics. Its visually appealing user interface is unlike any other survey tool. And even the customization that it offers to make surveys more brand-centric is unmatched.
4. FormStack Forms: Clean Interface to build Dynamic Surveys
FormStack Forms offers a versatile and user-friendly interface to build online surveys in a matter of a few minutes. It has a thoughtfully-designed interface that simplifies the process of creating feedback forms, surveys, and more. FormStack Forms goes beyond simple form creation. It provides users with the opportunity to initiate conversations and engage them in meaningful conversations.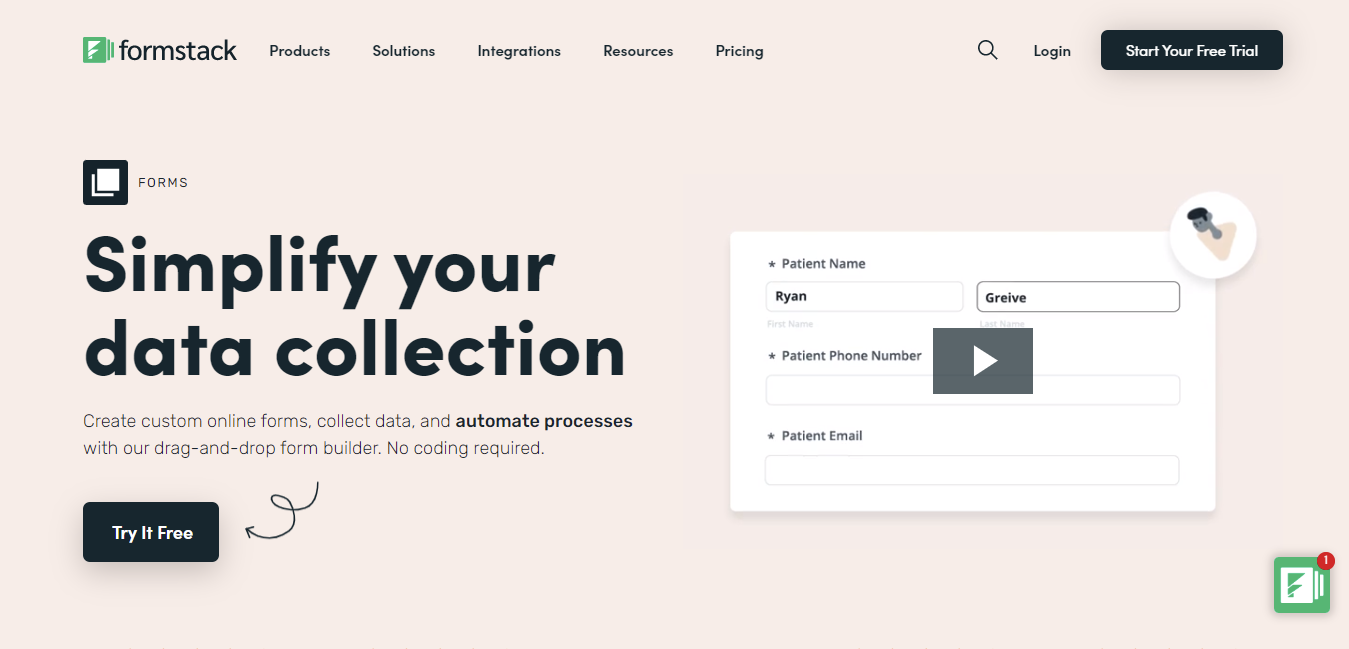 It eliminates all the guesswork that goes into creating online surveys and forms. With its drag-and-drop form and workflow builder, it enables businesses to collect information that matters swiftly. While it works great for the business creating the surveys, it can work on improving the end-user experience (those submitting the surveys).
Features
Clean and easy-to-use interface for building surveys
Conversation initiating for engagement
Survey forms customization for branding
Conditional logic, form routing, and approval workflows to streamline data collection
| | | |
| --- | --- | --- |
| Parameters | Qualtrics | FormStack Forms |
| Templates | 50+ | 100+ |
| Integrations | 100+ | 100+ |
| G2 Rating | 4.4 | 4.4 |
| Multilingual | 86+ languages | 36 |
| Pricing | Not provided | Starting: $59/Per-Month |
| Ease of Use | 8.5 | 8.8 |
| Ease of Setup | 8.3 | 8.9 |
| Quality of Support | 8.7 | 8.5 |
Limitations
FormStack Forms can work on providing businesses with actionable insights from the data collected from the feedback forms. It lacks an executive dashboard for users to view advanced reports. Even the integrations that it has with other apps can get clunky. If these are worked upon, FormStack Forms can certainly rise as a leading Qualtrics Alternative in no time.
What makes FormStack Forms the best Qualtrics Alternative?
Businesses looking for an easy-to-use online can always switch to FormStack Forms as a Qualtrics alternative. Its drag-and-drop interface is quite simple and lets users easily customize the existing templates.
5. SurveySensum: Advanced AI-powered Survey Insights
SurveySensum is one of the few online survey builders that empowers its surveys and feedback forms with the power of artificial intelligence. It uses machine learning to identify and predict detractions, issues, or complaints and even track customer sentiments from the data in real-time.
As a comprehensive experience management platform, SurveySensum allows businesses to collect, analyze, and act upon customer feedback effectively. The in-depth CES, CSAT, and NPS data analytics and reporting capabilities offered by SurveySensum make it a powerful tool for feedback collection. It claims to help businesses reduce their support calls by 40% by identifying their complaints in real time beforehand.
Features
AI-powered insights based on patterns and correlations in customer feedback
Derive meaningful insights from customer data
Survey designs can be fully customized to enhance the experience
Data security on AWS


| | | |
| --- | --- | --- |
| Parameters | Qualtrics | SurveySensum |
| Templates | 50+ | Multiple |
| Integrations | 100+ | 4-5 |
| G2 Rating | 4.4 | 4.7 |
| Multilingual | 86+ languages | 54 |
| Pricing | Not provided | Starting: Free, $49/Three Users |
| Ease of Use | 8.5 | 9.3 |
| Ease of Setup | 8.3 | 9.1 |
| Quality of Support | 8.7 | 9.9 |
Limitations
The dashboard can be improved and include customization options for reporting. Being a new survey builder, SurveySensum users keep facing smaller glitches and bugs which are fixed in time. However, it still lacks major integrations, which would make this platform a much more powerful Qualtrics competitor.
What makes SurveySensum the best Qualtrics Alternative?
The key USP of SurveySensum is its advanced AI capabilities for identifying user complaints in real time for actionable insights. It also captures product feedback from all channels and offers advanced insights to help improve the product more effectively.
6. Jotform: Effortless Forms with Endless Possibilities
Yet another Qualtrics alternative that you can explore is Jotform. Trusted by over 18 million users, Jotform comes with 10,000+ ready-made form templates and offers integrations to 100+ third-party applications.
For those who are looking for a simple and straightforward online survey builder, Jotform is the perfect Qualtric alternative for them. This tool comes packed with built-in features that enable users to design forms that are responsive, conversational, and more. It even allows businesses to accept payments through the forms by integration through payment gateways like PayPal and Venmo.
Features
Integration with 100+ third-party apps, allowing you to do more with surveys
10,000+ ready-made template forms
No technical expertise is required to build professional-looking forms
| | | |
| --- | --- | --- |
| Parameters | Qualtrics | Jotform |
| Templates | 50+ | 400+ |
| Integrations | 100+ | 100+ |
| G2 Rating | 4.4 | 4.7 |
| Multilingual | 86+ languages | 130+ |
| Pricing | Not provided | Starting: Free, $39/Per-Month |
| Ease of Use | 8.5 | 9.3 |
| Ease of Setup | 8.3 | 9.2 |
| Quality of Support | 8.7 | 8.7 |
Limitations
The majority of Jotform users feel that the platform is a little on the pricey side. It can be improved by lowering the price or unlocking more submissions within the package. It can also work on providing advanced enterprise-level features for analytics and product management tool to become a more powerful alternative to Qualtrics.
What makes Jotform the best Qualtrics Alternative?
The fact that Jotform comes with 10,000 plus pre-made templates is a feature that definitely makes it stand out. Apart from that, Jotform has much higher integration capabilities with all types of CRM, payment, and other tools.
7. Promoter.io (CheckMarket): Drive Customer Loyalty with Powerful NPS
Promoter.io is a customer feedback and Net Promoter Score (NPS) tool that enables businesses to collect their customer feedback, measure satisfaction, and drive loyalty. It offers a very streamlined approach for businesses to gather actionable insights from data collected and use it to improve the customer experience. It's lined with intelligent and engaging capabilities that make it even more powerful survey software.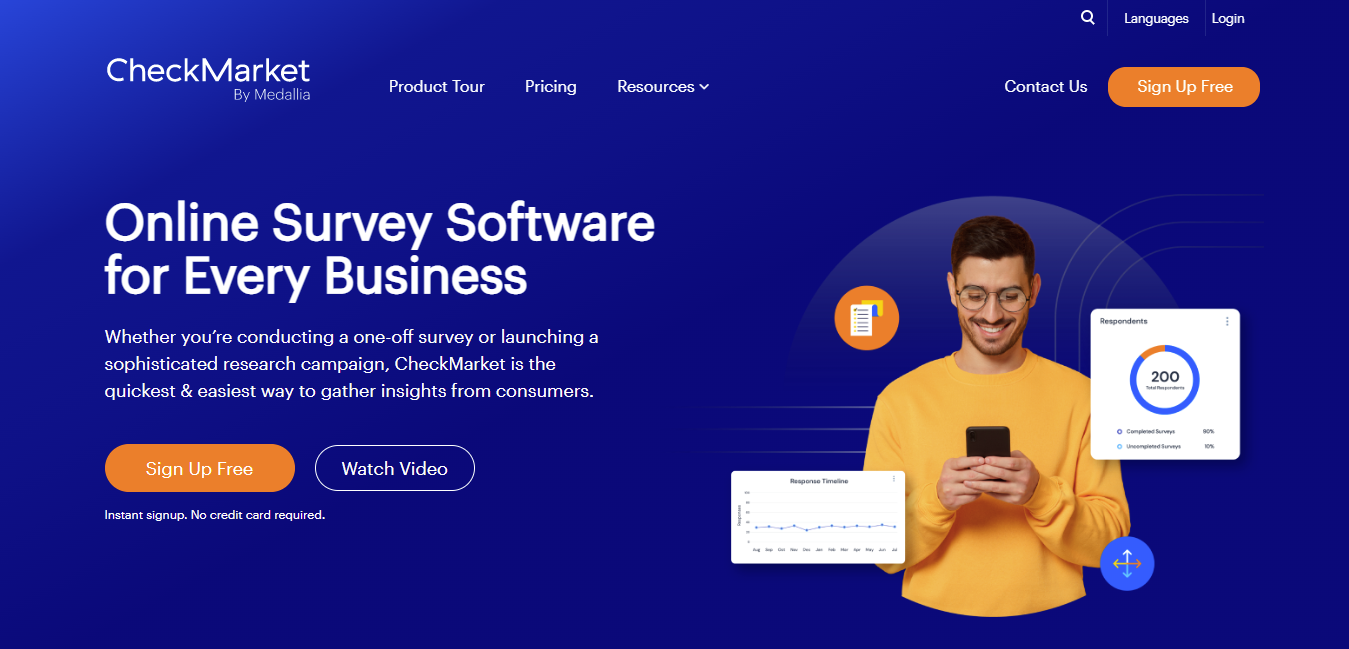 Promoter.io is one survey tool that helps create visual and easy-to-respond surveys in a few minutes. It records all the data that is collected and tracks the information. Apart from creating simple surveys, Promoter.io also allows businesses to create deeper and more complex survey questions to elicit detailed responses.
Features
Trigger automated surveys at specific touchpoints
Customer segmentation based on different criteria
Respond to feedback within the platform to close the loop
Focus on NPS surveys is unmatched
| | | |
| --- | --- | --- |
| Parameters | Qualtrics | Promoter.io |
| Templates | 50+ | Multiple |
| Integrations | 100+ | 100+ |
| G2 Rating | 4.4 | 4.5 |
| Multilingual | 86+ languages | 39 |
| Pricing | Not provided | Starting: Free,s $75/Per-Month |
| Ease of Use | 8.5 | 9.0 |
| Ease of Setup | 8.3 | 8.5 |
| Quality of Support | 8.7 | 9.2 |
Limitations
While Promoter.io acts as a powerful alternative to Qualtrics, there are certain areas where it lacks or can work on to move further ahead in the race. For one, its survey customization capabilities are quite limited and restricted. As it is more focused on NPS, it lags behind in the comprehensive approach that Qualtrics offers.
What makes Promoter.io the best Qualtrics Alternative?
Its specialization in NPS surveys is one crucial reason that Promoter.io can be considered one of the best Qualtrics alternatives in the market today. The insights it provides can help businesses drive customer loyalty and make them their promoters in no time.
8. Alchemer: Unleash Powerful Insights with Advanced Reporting
Formerly known as SurveyGizmo, Alchemer is one of the most powerful enterprise-ready survey software everyone can use. It is considered as a flexible and easy-to-use survey software that can deliver even the most advanced capabilities seamlessly.
Offering the right balance for the complexities offered by Qualtrics, Alchemer empowers businesses with a number of insights from feedback collection from the very start.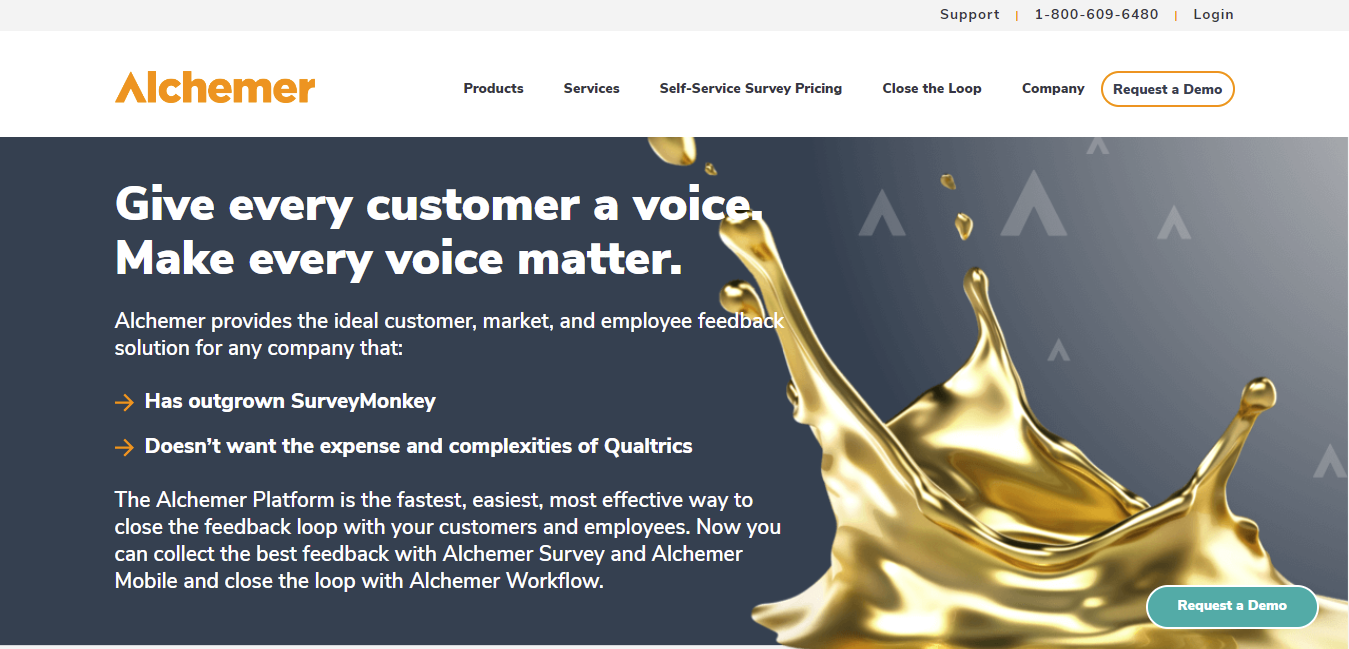 The best part? Unlike several other survey software in the market, Alchemer doesn't charge per response. Not just that, it also offers 43+ question types out-of-the-box and even a custom question developer kit. It also comes with 20 survey logics and branching options to help businesses improve their response rates.
Features
Flexibility in designing surveys
Advanced survey logic for complex branching
Collaborative features and role-based permissions
| | | |
| --- | --- | --- |
| Parameters | Qualtrics | Alchemer |
| Templates | 50+ | Multiple |
| Integrations | 100+ | Dozens |
| G2 Rating | 4.4 | 4.4 |
| Multilingual | 86+ languages | Manual Translations |
| Pricing | Not provided | Starting: $55/Per-Month |
| Ease of Use | 8.5 | 8.8 |
| Ease of Setup | 8.3 | 8.9 |
| Quality of Support | 8.7 | 8.7 |
Limitations
Alchemer (Survey Gizmo) limits users to online surveys and doesn't let users capture feedback from multiple channels like offline or in-person surveys. Further, Alchemer is continuously evolving, and this leads to bugs and issues faced by users. Many users have also complained about data loss due to the constant changes in this Qualtrics alternative survey tool.
What makes Alchemer the best Qualtrics Alternative?
Its user-friendly and straightforward interface is praised by its users. It allows them to set up surveys pretty quickly. It also balances the complexities offered in Qualtrics with its complete suite of survey logic while still remaining very easy to use.
9. Medallia: Transform Feedback Data into Exceptional Experience
Another popular alternative to Qualtrics is Medallia. It is a powerful customer experience management (CEM) platform that empowers businesses to do more with their customer feedback data. As per the G2 comparison, it found that several users called Medallia an easier-to-use platform for customer experience and survey creation.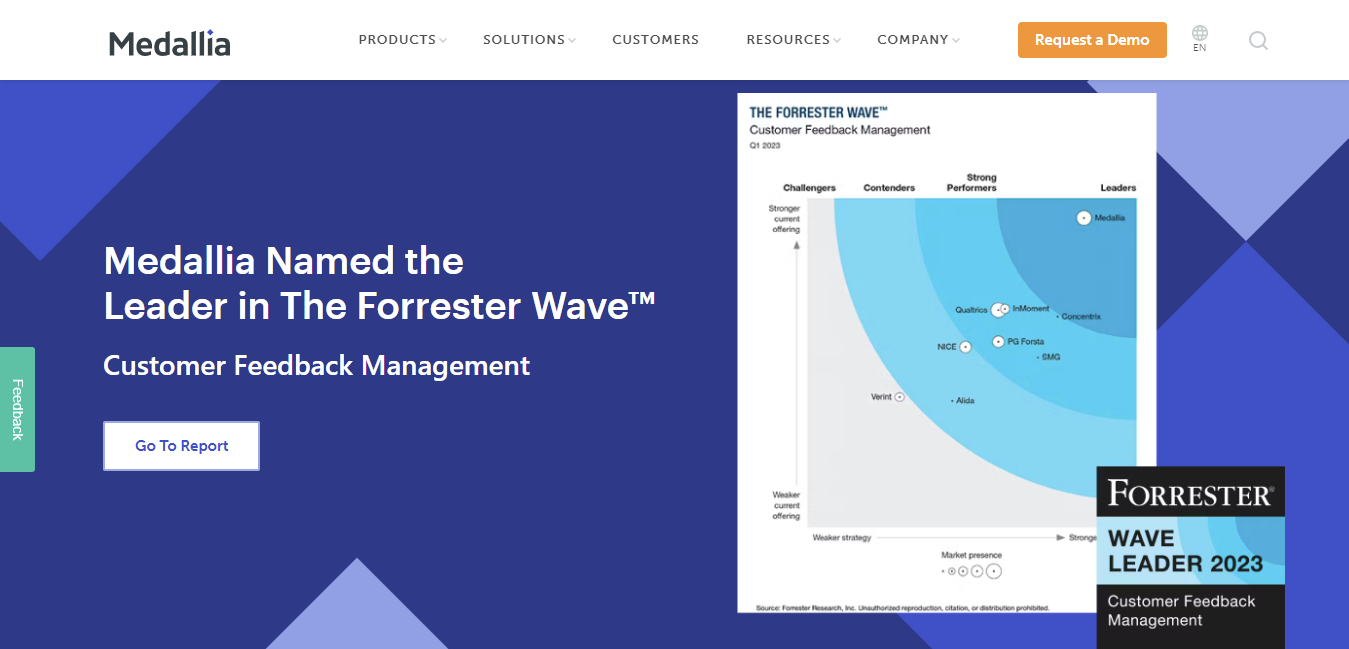 With its suite of tools and features, the software focuses more on customer experience management. The feedback collected through the software through surveys, in-app feedback, website intercepts, SMS, and other touchpoints can be used for action planning and case management. Its workflow and collaboration feature to track and resolve customer cases is also quite powerful.
Features
Text analytics to analyze and derive insights from unstructured customer feedback data
Role-based access control, customizable dashboard, and reporting capabilities
Offers industry-specific solutions for healthcare, hospitality, financial services, and more
| | | |
| --- | --- | --- |
| Parameters | Qualtrics | Medallia |
| Templates | 50+ | 600+ |
| Integrations | 100+ | 100+ |
| G2 Rating | 4.4 | 4.4 |
| Multilingual | 86+ languages | Multiple Languages |
| Pricing | Not provided | Not Provided |
| Ease of Use | 8.5 | 8.6 |
| Ease of Setup | 8.3 | 7.1 |
| Quality of Support | 8.7 | 8.5 |
Limitations
Where Medallia lacks as a Qualtrics alternative is in its offering of specialized survey tools. It also does not provide its users with ownership over the platform. They need to engage with the project team of Medallia for each requirement, which makes it pretty tiresome.
What makes Medallia the best Qualtrics Alternative?
The text analytics feature of Medallia that allows users to analyze the comments on different review sites is quite impressive. heir NPS tool is also one of the best and most powerful offered by any Qualtrics alternatives out there.
10. SurveyMonkey: Unleashing the Power of Customer Insights
One of the most popular Qualtrics alternatives, SurveyMonkey, is a cloud-based survey platform that offers robust features for collecting customer feedback and analyzing it to yield actionable business insights. It offers integration into 120+ systems and 250+ pre-existing templates. It also offers AI-powered guidance when it comes to customizing questions for users for faster and more accurate implementation.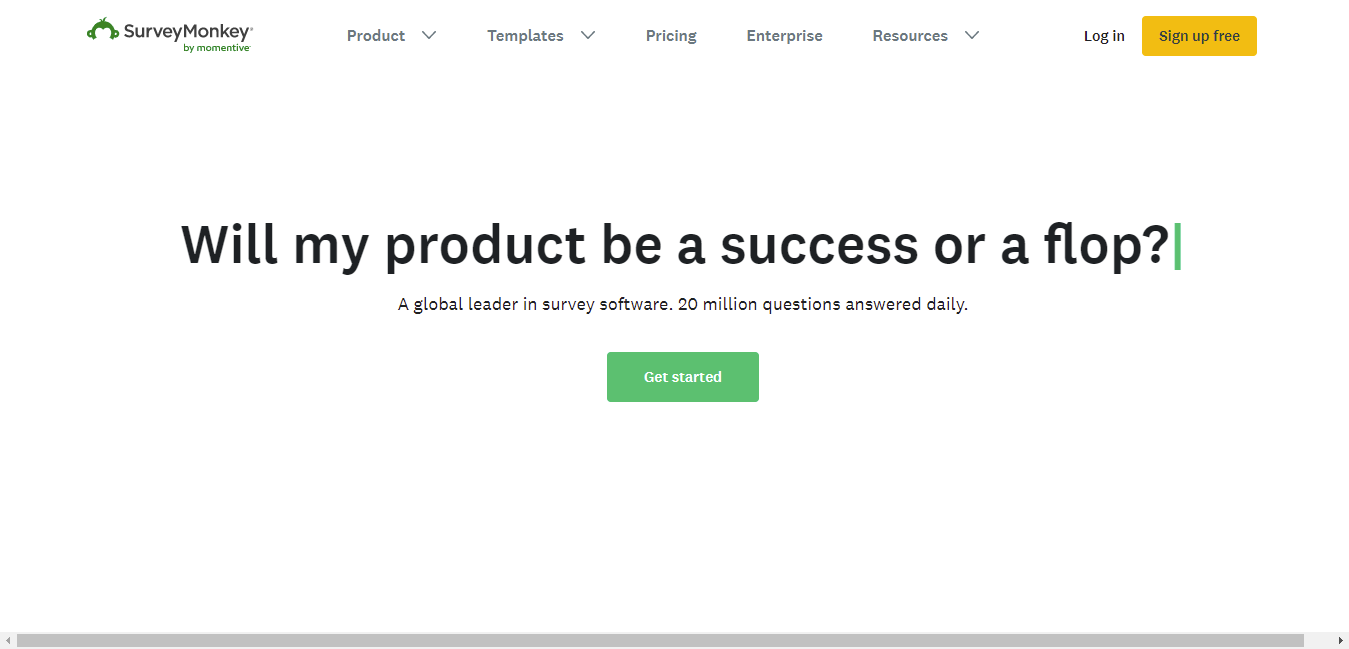 Qualtrics offers a whole suite of features for managing customer experience, while SurveyMonkey is majorly driven toward feedback collection. Don't get us wrong, its feedback collection as well as data analysis, is pretty strong. But when thought of as an alternative to Qualtrics, SurveyMonkey can certainly work on its market research tools and AI functionalities, considering the market's inclination towards the technology.
Features
Advanced survey creation with AI guidance for creating better questions
250+ survey templates for various use cases
Survey respondent panels that allow users to target specific demographics
Intuitive experience for admins, users, and survey respondents
| | | |
| --- | --- | --- |
| Parameters | Qualtrics | SurveyMonkey |
| Templates | 50+ | 150+ |
| Integrations | 100+ | 100+ |
| G2 Rating | 4.4 | 4.4 |
| Multilingual | 86+ languages | 56 |
| Pricing | Not provided | Starting: $25/Per-Month |
| Ease of Use | 8.5 | 9.2 |
| Ease of Setup | 8.3 | 9.0 |
| Quality of Support | 8.7 | 8.6 |
Limitations
SurveyMonkey, although one of the top competitors of Qualtrics, does not offer a free plan. Many of its users found this to be a major setback and even claimed that its pricing model is on the higher end compared to other online survey builders. The latest analysis features added in SurveyMonkey also need an enormous learning curve.
What makes SurveyMonkey the best Qualtrics Alternative?
The survey creation and feedback capturing offered by SurveyMonkey are unmatched. When considered as a Qualtrics alternative, SurveyMonkey is also a more cost-effective solution to the former. Its question library and pre-built templates are quite extensive.
Conclusion
Qualtrics is undoubtedly one of the most powerful and advanced CX platforms out there. It offers unlimited capabilities and advanced options for identifying gaps, analyzing areas of improvement, and building a culture of action.
However, with the advancement and reinvention, the platform has become too complex and expensive for companies that don't have a huge budget set out for feedback collection. One can find several alternatives to Qualtrics that offer unique features and capabilities for collecting and analyzing feedback. Whether you're looking for user-friendly interfaces, real-time feedback collection, customizable surveys, robust reporting and analytics, customer experience management, or cost-effective solutions, there are several options for Qualtrics alternatives available in the market to meet your specific needs.
Ultimately, the choice of survey software platform depends largely on your specific requirements. One can assess and evaluate the online survey tools based on factors pricing, ratings, customization capabilities, and more to land on the right Qualtrics alternative for your organization