The best time to ask an NPS® Question is after a transaction, a purchase, a delivery or a meaningful interaction. When the customers' experience is fresh, they are in a better position to share the exact emotions and perceptions with a high accuracy of the responses.
The success of any survey depends on the survey response rate. And when it comes to Net Promoter Score survey, the response rate means everything! With a low response on NPS survey, you cannot estimate how many detractors or promoters actually exist in the market promoting or defaming your products and services.
Measure Customer Loyalty with NPS ❤️
Create NPS surveys, measure customer loyalty, and close the feedback loop with Zonka Feedback.
The response rate of the NPS surveys largely depends on the timing to send the surveys. Be it in terms of quantity of responses or the quality or accuracy of the responses, timing of asking the NPS Question affects both!
If you send the survey too early let's say just after onboarding, the customers would not be in a position to rate your products and service because they haven't properly used them yet. Whereas, if you send the surveys too late, there are high chances for you to miss the actual customer emotions and feedback of some parts of their experience they went through which they may have forgotten with time.
So, if you want to make your NPS surveys successful, it is crucial to understand what is the right time to send them to your customers to have a good response rate as well as to maintain the accuracy of the responses.
To determine the best time to ask NPS Question, let's review the two types of NPS Surveys - Relationship NPS Surveys and Transactional NPS Surveys.

Relationship NPS Surveys and Transactional NPS Surveys
There are two popular types of NPS Surveys - Transactional NPS Surveys and Relationship NPS Surveys, majorly based on two timings when you can send the NPS Surveys.
1. Transactional NPS Surveys
Transactional NPS Surveys are those that are sent just after an event like a transaction, an interaction, a purchase or billing. With the help of a NPS Survey, you can set triggers for automatic surveys emails or SMS to sent to the customers after an event.
2. Relationship NPS Survey
Relationship NPS surveys are those that are sent after regular intervals of time like you can send a monthly survey, a quarterly survey, a half-yearly or an annual NPS survey to your customers in order to keep a track on the Customer Loyalty. As the name suggests, these surveys are used to continue regular relationship with your customers and ensure that customers stay with you.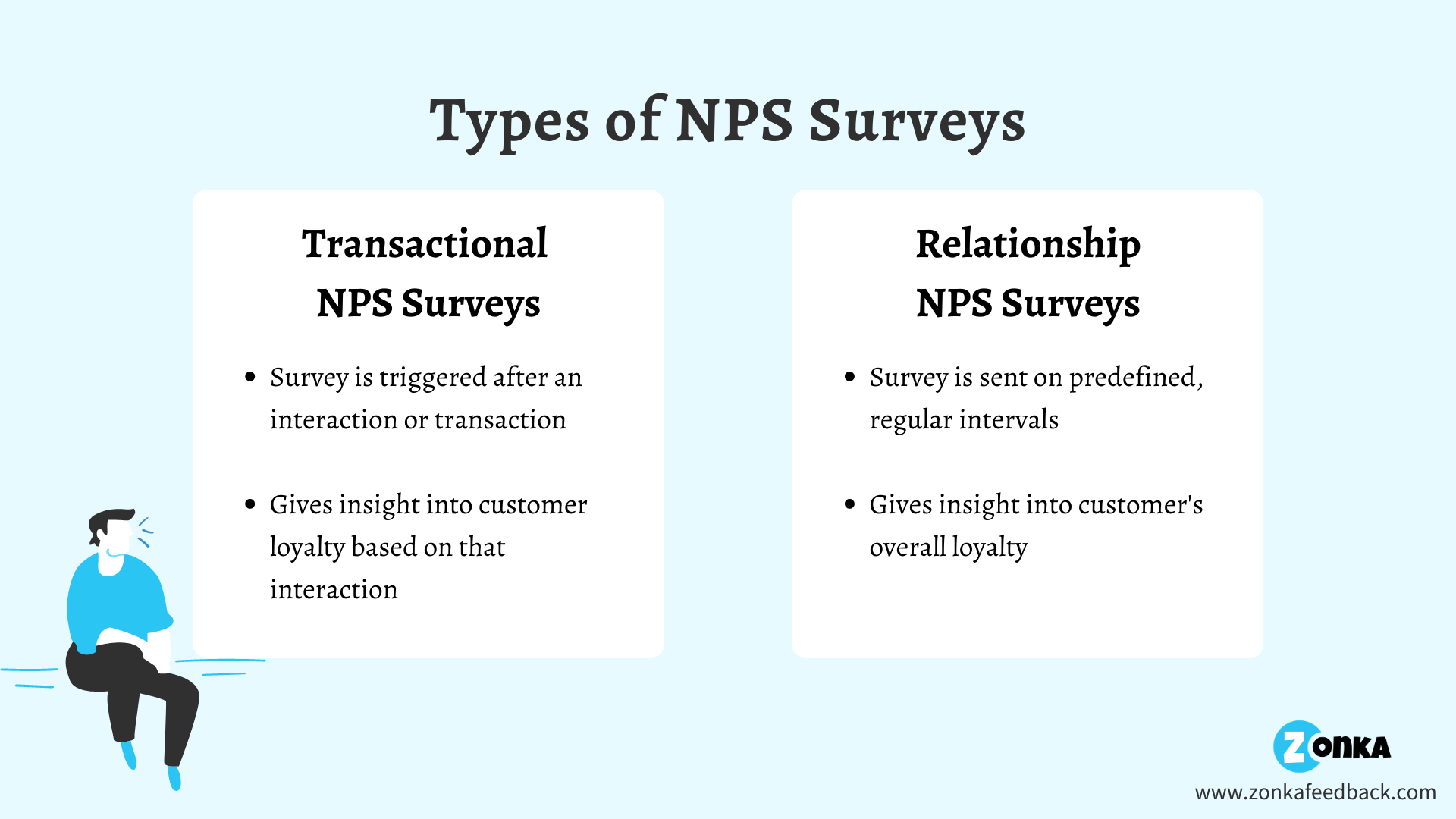 When Should you Ask NPS Question?
Traditionally, relationship surveys were used commonly by the companies. They used to run a round of Customer Feedback survey to be sent to all the customers. This process is cumbersome and time-consuming, yet nowadays, it is not so much capable to deliver good response due to some reasons.
If it has been a long time the customer has an experience with your or your products, they tend to forget some parts of the experience and are not in a position to give accurate responses of their opinion regarding your brand.
Due to increasing cyber frauds, customers are really cautious of clicking on any link received through a random email or SMS received all of a sudden.
Customers may not be using the product or the services of your company at present and thus not serious about sending response to a feedback survey.
So, we cannot consider it always beneficial to send the relationship NPS Surveys. Whereas, in the case of Transactional NPS surveys, the Customer Experience is fresh in their minds and they are more likely to be willing to share feedback. Moreover, surveys received right after an event doesn't seem to be fraudulent to them and they are more likely to trust that survey email or SMS and respond.
So, nowadays, we can say that sending Transactional NPS Surveys is a better idea to send NPS Surveys. However, you should decide on the best time to ask the NPS Question according to your industry and the nature of your products and services.
Best Time for Service Industry
In the service industry, you can still choose to send Relationship NPS Surveys to your customers like you can send annual NPS surveys if you are doing business in industries like banking and insurance. You can send quarterly NPS surveys if you are dealing in subscription services like internet services.
In case of Transactional NPS surveys, the best time is to ask the NPS Question is after the customers have completed one month with you. At this time, the customers have used your services well and are in the best position to share accurate feedback with you.
Best Time for Product Based Industry
If you are doing business in product based industry, you can ask the NPS Question after a week of the purchase. By this time, customers would have used the product and are able to share their views about their experience with your products.
Moreover, if you are running business in industries like retail or food industry, you can send transactional NPS Surveys just after a purchase transaction or a delivery or just after a billing is done.
Learn more about the Net Promoter Score (NPS)