Every business needs the right set of tools to continuously measure and improve their quality of support. Know how satisfied your customers are with your customer service & support teams using the top CSAT tools for Freshdesk.    
When it comes to customer support, measuring and improving customer satisfaction with the support delivered can work wonders. It can drive positive experiences, boost customer retention, and build long-term relationships. And what's the best way to achieve this?
Integrating your Customer Satisfaction (CSAT) tools with your Customer Relationship Management (CRM) platform.
By leveraging the power of CSAT software within Freshdesk, a popular CRM and helpdesk tool, businesses can unlock a range of benefits. They can gain a deep understanding of customer satisfaction levels, identify areas for improvement, and proactively address customer concerns in terms of issue resolution & support delivered. With these insights, organizations can refine their support strategies, enhance agent performance, and ultimately cultivate a loyal customer base.
Start Measuring Customer Satisfaction (CSAT)
Measure Customer Satisfaction at various touchpoints and leverage Insights to delight your customers.
In this blog, we delve into the list of top CSAT tools, including Zonka Feedback, SimpleSat, SurveyMonkey, SurveySparrow, Delighted, Qualtrics, and more. We explore these survey software solutions in terms of their CSAT surveys and seamless integration with Freshdesk, allowing businesses to supercharge their customer satisfaction initiatives while optimizing support operations.
Table of Content
Top CSAT Tools For Freshdesk
When it comes to customer satisfaction, having the right tools can make all the difference. Freshdesk is a popular choice among businesses of all sizes; integrating it with your CSAT tools can take your customer satisfaction efforts to the next level. Freshdesk and CSAT tools combined can enable you to gather customer feedback, measure customer satisfaction levels, and help you improve your support processes. Let's take a look at the top CSAT tools for Freshdesk.
#1. Zonka Feedback
Zonka Feedback's CSAT survey builder lets you quickly collect, measure, and improve your CSAT score. It enables businesses to take feedback from customers in real-time, track satisfaction at the moment, and take immediate action simultaneously. CSAT scores also help you to identify unhappy customers and take immediate action. In terms of its popularity, Zonka Feedback has helped brands like Samsung, EY, Nikon, Lenovo, BCG, SAP, and more to measure and improve their customer satisfaction with its customizable surveys and feedback forms. You can choose from different styles for CSAT surveys and customize them accordingly.
Although the Zonka Feedback CSAT integration is flexible with several CRM software like Salesforce, Pipedrive, and Zendesk, one of its integrations that we will be discussing today is with Freshdesk. By integrating Freshdesk and Zonka Feedback CSAT survey builder, you can quickly streamline your support services and simultaneously make your customers satisfied. Communicating with your customers becomes a matter of minutes as you can send surveys online using email surveys, SMS surveys, chat, and the web.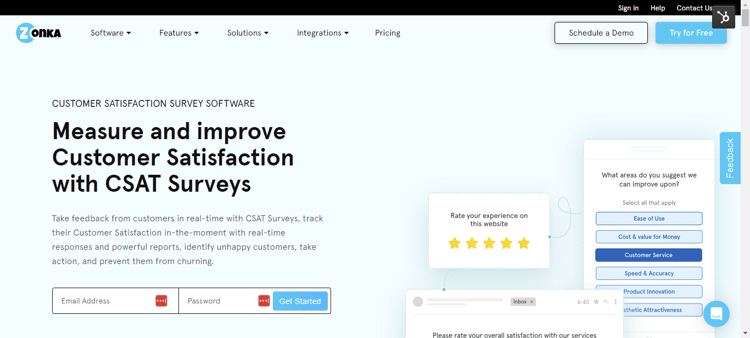 One of the interesting features is that you can also send automated surveys to customers after closing, updating, or adding new tickets to Freshdesk. Setting up delay duration is simple, after which you can send CSAT surveys, a feature you get with Zonka Feedback.
For organizations that want to keep track of their agent performance and agent performance metrics, Zonka Feedback also offers the option to sync your agents added in Freshdesk within the survey software. You can measure your contact's satisfaction level and their experiences with your agents. If you are looking to add multiple conditions to automate CX and send out email or SMS surveys automatically based on changes in ticket status, Zonka Feedback lets you do it in a few clicks.
The best part of Zonka Feedback and Freshdesk integration is that it is available on every plan and doesn't add any extra charges apart from Zonka Feedback and Freshdesk. Another advantage is that when a customer completes the survey, you can automatically take action in Freshdesk. You can also trigger email surveys or SMS surveys when a ticket is closed or addressed in Freshdesk and measure the experiences of your service agents at the same time.
Why choose Zonka Feedback as your CSAT Tool for Freshdesk?
By integrating Zonka Feedback with Freshdesk, you can gain effortless customer service across different touchpoints. With this integration, all the responses can be automatically synced with your Freshdesk account and your CRM. Zonka Feedback also enables you to create intelligent, attractive, and branded white-labeled surveys with the code-free builder through its native integration with Freshdesk.
Here are the top features available for Zonka Feedback and Freshdesk
Automatically trigger Email Surveys on updates in ticket status
Create Freshdesk Tickets based on Survey Responses
Sync Survey Response Data and CX metrics, especially Customer Satisfaction Metrics, from Zonka Feedback to Freshdesk
Get feedback for every conversation your customer has with support staff or agent in real-time
Trigger a ticket in case of delays, responses on bug report form questions, or low feedback
Enable your service agents to take action based on new tickets added automatically after a survey
View all your survey responses and feedback data on the Freshdesk dashboard
Set rules and conditions to add Freshdesk tickets based on your survey to be shared with customers
Get survey responses based on your agent's performance
Apply conditions and change the ticket's priority to high in case of complaints, unhappy or unsatisfied customers. Assign it to the leader or manager
Pricing:
Survey & CX platform with Freshdesk starts from $49/ month
Offline surveys platform with Freshdesk starts from $15/month
Product Feedback platform with Freshdesk starts from $39/month
You can also try any Zonka Feedback platform for free for 7 days.
G2 Rating: 4.8 out of 5
#2. SurveyMonkey
SurveyMonkey, which is one of the longest-standing and widely recognized survey tools, has gained significant popularity in the realm of customer feedback. With a wide range of surveys available, Survey Monkey offers integration with Freshdesk along with a large number of other integrations.
However, by integrating SurveyMonkey with Freshdesk, you can add its surveys right inside tickets, the same way you'd add the default satisfaction survey. Although the integration is pretty basic, SurveyMonkey offers a limited number of features when combined with Freshdesk.
An interesting feature that you get when combining SurveyMonkey CSAT with Freshdesk is to tap immediate feedback from customers after any survey response. Another thing to note is that you can disable Freshdesk integration anytime from the admin customer satisfaction settings and use SurveyMonkey survey alone.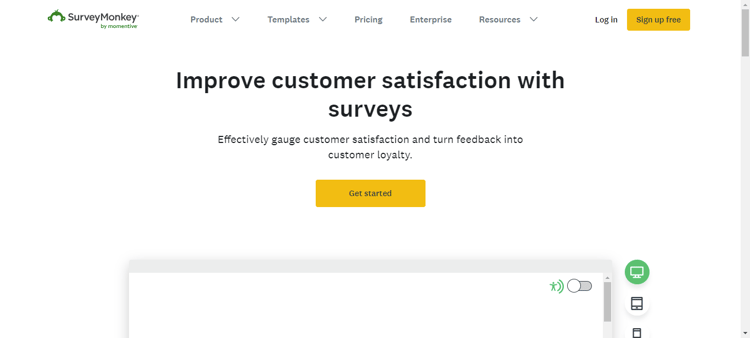 Why choose SurveyMonkey as your CSAT tool for Freshdesk?
SurveyMonkey is a renowned player in the realm of customer feedback. It is known for its extensive selection of survey types and pre-designed templates. It's user-friendly interface and robust research capabilities have made it a popular option for businesses seeking valuable customer insights. Here are the top features you get when integrating SurveyMonkey with Freshdesk:
Understand customer satisfaction with SurveyMonkey's CSAT survey
Ask customers to fill out market research or feedback surveys you already use in other survey channels
Select whether you want customers to take the survey when a ticket is resolved or closed or with every ticket
Support multiple survey links based on specific Groups or custom fields in Freshdesk
Limit sending survey links to the same requester within a specified time period
Pass ticket attributes as custom variables in the survey link to help analyze the survey response results by adding filters based on ticket attributes
View survey responses for each ticket based on the user's role
Limitations
Although SurveyMonkey pricing is not expensive, it is unclear which plan contains Freshdesk integration. Unlike several SurveyMonkey alternatives, you do not get the advancements in terms of survey reports & dashboards with this tool. Additionally, potential customers are restricted to survey design, which can be frustrating when trying to achieve a specific survey format or layout.
Pricing: $22 per month.
G2 Rating: 4.4 out of 5
#3. Nicereply
When it comes to capturing CSAT surveys, Nicereply is one of the top choices among companies like Microsoft, Lenovo, Hubspot, and Buffer. It is one of the oldest survey software companies and is popular for its Net Promoter Score survey builder. However, the offerings lack modernity and the latest survey techniques as offered by others in this list.
Although Nicereply offers a number of features and functionalities when you choose its CSAT survey, one of its drawbacks is not being able to send emails directly from Nicereply. In other words, you can send emails on the CRM when integrated with Freshdesk, but the platform doesn't provide a separate email option to send emails. You need to copy the Nicereply survey code and insert it into your Freshdesk email template. Apart from CSAT, you can also use NPS and CES surveys using Nicereply as your CSAT tool for Freshdesk.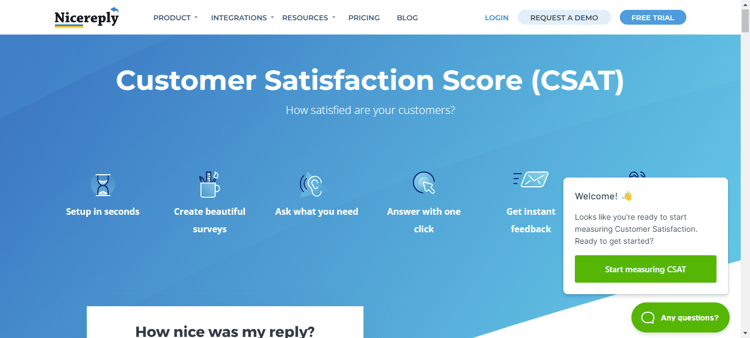 Why choose Nicereply as your CSAT tool for Freshdesk?
Nicereply is a top choice when it comes to measuring CSAT surveys in a single click. However, it works more efficiently when integrated with other tools like Freshdesk. You can measure customer satisfaction directly, scan the status of the tickets regularly, edit the trigger behavior, and copy the Nicereply survey code to insert in Freshdesk. Here are the top features available for Nicereply and Freshdesk integrations:
You can push all the ratings and comments to the relevant ticket as a note
You can automatically create a custom field and save the CSAT rating value directly in the rated ticket
You can identify feedback in context with the direct link to the rated ticket
Sync all your customer names automatically in the rating feed based on the ticket ID
Set alert tags for bad or low ratings
Sync all your Freshdesk users with Nicereply with one click
Customize your surveys and add additional customer satisfaction survey questions
Limitations
Unlike other platforms, Nicereply lacks modern touch for its surveys and doesn't provide a separate option to send emails. Also, it can work on providing a better option when exporting reports for each individual team member and also for the entire team.
Pricing: Starts from $59/ month
G2 Rating: 4.7 out of 5
#4. Qualtrics
Among the featured customer feedback tools, Qualtrics stands out as the most suitable option for enterprise-level organizations, primarily due to its comprehensive range of offerings. As a complete customer experience platform, Qualtrics goes beyond surveys and encompasses various facets of the customer journey. It also offers integration with Freshdesk, allowing for automatic updates of Freshdesk tickets based on survey responses. This integration streamlines ticket resolution and enhances the efficiency of customer support processes.
However, it's worth noting that the integration's capabilities are limited to this particular functionality. While some additional features can be offered, the scope related to CSAT surveys remains relatively limited.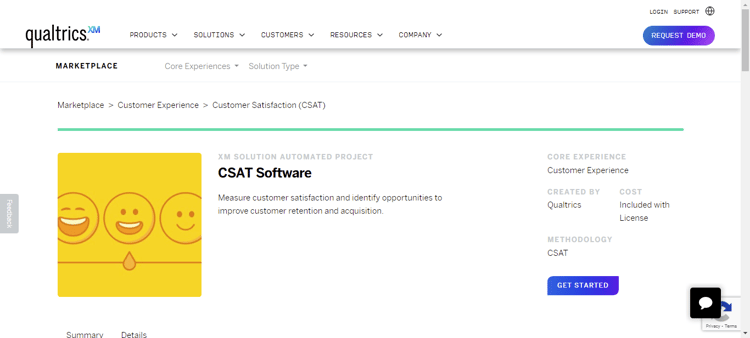 Why choose Qualtrics as your CSAT tool for Freshdesk?
Qualtrics is one the leading customer experience platforms, mostly suitable for enterprise-level organizations. Although it offers effortless integration with Freshdesk, the platform should provide a clear workflow and basic features to make it more usable for smaller businesses and startups. However, here are some of the top features you get from Qualtrics and Freshdesk integration.
Seamless sends relevant data and updates tickets in Freshdesk.
Create and update tickets using Qualtrics response data.
Automatically trigger ticket creation in Freshdesk based on Qualtrics feedback insights.
Automatically map responses into any custom object or field in Freshdesk
Create new tickets based on insights identified from customer feedback
See your experience data connected to Freshdesk customer support data
Update existing Freshdesk tickets using Qualtrics experience data
Add type and custom fields in your create and update operations
Limitations
There is no pricing available publicly; therefore, you need to get in touch with their sales team. Also, it lacks basic parameters to export responses and comes with a much longer learning curve. You would require detailed guides or tutorials to use the platform better as your CSAT tool for Freshdesk. There are various other Qualtrics alternatives you can look for in order to find a simpler and more intuitive survey builder to integrate with Freshdesk.
Pricing: You need to contact their sales team, as the pricing is unavailable on public platforms.
G2 Rating: 4.4 out of 5
#5. Delighted
Developed by Qualtrics, Delighted is a versatile customer feedback platform that offers multiple channels for collecting feedback in diverse formats. It provides an extensive range of survey types, including NPS, CSAT, CES, star-rating, and product-market fit surveys, among others. You can send automated CSAT, CES, and NPS surveys using Delighted. When integrated with Freshdesk, you can send automated email surveys after a ticket is closed or resolved using Delighted.
The Freshdesk integration is effortless and lets you connect with your users throughout the customer journey. You can hook up Delighted and Freshdesk to send automated email post resolutions to ask about your agent's performance. A few of the interesting features it offers are that you can watch insightful feedback roll into your real-time CSAT dashboard, calculate your CSAT score, and close the loop, all with Delighted and Freshdesk integration.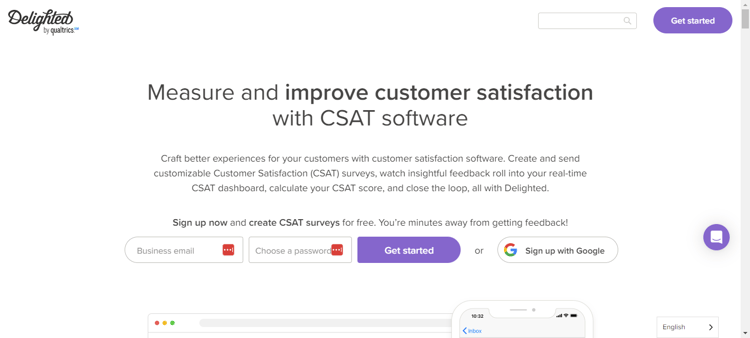 Why choose Delighted as your CSAT Tool for Freshdesk?
By integrating Delighted with Freshdesk, you can automate the process of sending surveys to customers after ticket resolution, ensuring prompt feedback collection. The integration can enable you to customize the questions as per each recipient's specific situation. Although there are limited features when it comes to Delighted and Freshdesk integration, here are some of the top benefits you get with your Delighted and Freshdesk integration:
The ability to trigger surveys following interactions in Freshdesk
The ability to fully configure the events/actions that trigger those surveys
The ability to configure each component of your survey - all directly within the Delighted dashboard
The ability to trigger a survey directly following a ticket being solved in Freshdesk
The ability to verify each agent's performance based on metrics like CSAT or CES
The ability to verify how well customers were handed off from sales to CS representatives
Limitations
Although the platform is quite popular, Delighted offers limited features when integrated with Freshdesk. Also, you can't directly send surveys from the tool, which could be a major drawback among potential customers.
Pricing: Starts from $224/month. Also, you get a free 7 days trial option.
G2 Rating: 4.7 out of 5
#6. SurveySparrow
SurveySparrow, one of the leading SurveyMonkey alternatives, comes with a wide range of survey types to collect customer satisfaction seamlessly. Some of its popular tools are NPS, CSAT, and CES. Although its integration with Freshdesk is effortless, the features it offers are pretty basic. Its survey editor is also super easy to use, but it can certainly work on adding more functionalities in terms of reporting. You can create or update tickets in Freshdesk based on survey results from SurveySparrow and update Freshdesk contacts based on the results that come in.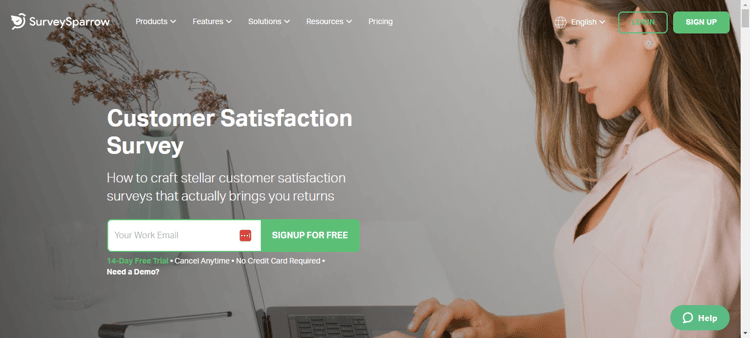 Why choose SurveySparrow as your CSAT Tool for Freshdesk
SurveySparrow stands out with its interactive and engaging interface for its survey respondents. It offers a range of surveys, including NPS, Offline, Chat, Classic, and 360° Surveys, all designed to be mobile-first and user-friendly. With its conversational user interface, SurveySparrow provides a chat-like survey experience to help to reduce survey fatigue and increase response rates. Here are the top features you get when integrating SurveySparrow with Freshdesk.
Trigger surveys when a ticket/contact is created or updated on your Freshdesk account.
Tap customer feedback effortlessly at the right time and close the loop.
Trigger a CSAT survey through Email/SMS, and share whenever an update happens in the ticket fields.
Trigger a survey when a contact is created or updated.
Trigger a CSAT survey after a contract has been successfully onboarded into Freshdesk.
Trigger a survey whenever an update happens with an existing contact.
Limitations
SurveySparrow pricing is an issue. First, it isn't publicly available, and you need to contact their sales team. Second, the pricing is tiered, and there are two tiers with three plans each which can confuse customers.
Pricing: Starts from $99/month
G2 Rating: 4.4 out of 5
#7. Simplesat
Simplesat is yet another CSAT tool that you can use with your Freshdesk CRM. One of the interesting features that it provides is the ability to offer automated follow-ups. You can set up automatic survey distribution and follow-up emails based on predefined triggers.
By integrating Freshdesk and Simplesat, you can quickly collect customer feedback and give your team full control and transparency over the customer satisfaction experience. You can consolidate customer feedback with their existing customer data through native integration. The most common usage is to trigger an email after the ticket is closed to ensure context in customer support.
Additionally, you can also track unhappy customers and gauge the performance of your agents. Simplesat's ticket-based reporting system also aligns with Freshdesk's ticketing system. This feature allows you to analyze CSAT scores and feedback at the ticket level, enabling you to identify trends, recurring issues, and opportunities for improvement on a granular level.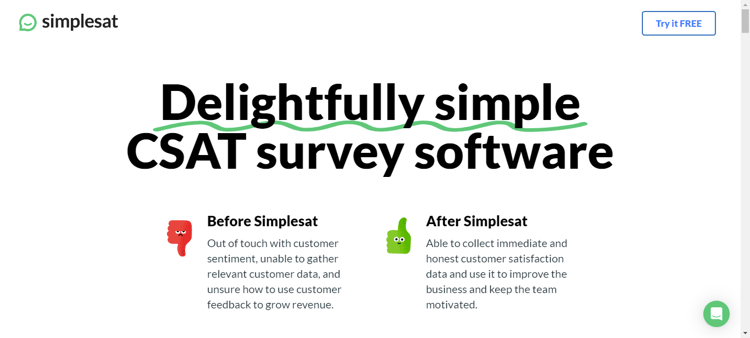 Why choose Simplesat as your CSAT tool for Freshdesk?
When talking about its integration with Freshdesk, you can easily embed any Simplesat surveys with the Freshdesk email template. The copy/paste process takes less than ten minutes and only needs to be done once. The platform also lets your customers rate any ticket and enables your customer reps to send quarterly survey emails directly from Freshdesk. Moreover, SimpleSat incorporates Freshdesk-specific metrics, such as CSAT (Customer Satisfaction), FRT (First Response Time), and ATT (Agent Talk Time). Here are some of the top features you get when integrating Simplesat with Freshdesk:
Update contact fields with rating details
Create follow-up tickets from feedback
Add private notes to rated tickets
Update ticket fields with rating details
Update ticket tags with rating and sentiment
Limitations
Simplesat is great for basic things like triggering email notifications and measuring CX but falls flatter when customers want to build more complex interactions. Also, the pricing is a bit confusing and needs to contact the sales team for Freshdesk integration.
Pricing: Starts from $99
G2 Rating: 4.8 out of 5
#8. Survicate
Survicate is one of the popular survey software that enables businesses to gain valuable insight and uncover actionable insights. The Freshdesk integration is pretty simple and flexible with Survicate. Creating a survey in Survicate is as easy as sending an email, thanks to its survey builder. However, you don't have to create it from scratch as you get templates to build the surveys. Integrating Survicate with Freshdesk, you can collect valuable insights and boost growth by improving customer satisfaction. Another interesting feature it gives you is that you can choose when you want the account update to happen: once the survey is completed or when the customer meets certain conditions.
Survicate includes collaboration and workflow features that facilitate teamwork and streamline CSAT management. You can assign surveys to specific team members, track survey progress, and set up workflows to automate actions based on survey responses. The Freshdesk integration is available in all the plans.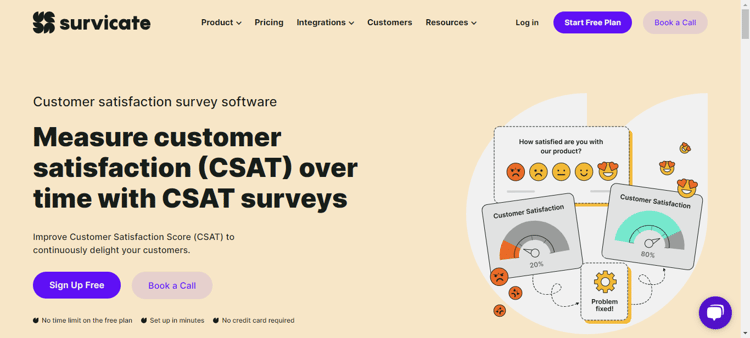 Why choose Survicate as your CSAT tool for Freshdesk?
Integrating Survicate with Freshdesk, it is easy to send automated emails and get quick responses. Although its integration with Freshdesk is flexible, you can analyze survey results in real time. The platform offers intuitive dashboards, and visualizations, making it easy to interpret and extract actionable insights. Here are some top features you get when integrating Survicate with Freshdesk.
Research and improve your Net Promoter Score® or Customer Effort Score.
Use unlimited follow-up open-ended questions to collect deeper insights.
Send a link to your Customers via email, messenger, or social media, or place it in your articles.
Use questionnaires to get in-depth customer feedback.
Gain qualitative insights into your customer support process.
Limitations
Although Survicate is one of the leading CSAT tools for Freshdesk, it requires improvement for mobile experiences. It should provide a more seamless and optimized user interface. Also, the monthly subscriptions are a little expensive if you plan to run surveys with a high volume of responses.
Pricing: Starts from $99/month
G2 Rating:4.5 out of 5
Wrapping up
Finding powerful CSAT tools that integrate seamlessly into Freshdesk can make a massive difference in how quickly your teams can collect, analyze, and respond to customer feedback.
If you're looking for a CSAT tool that integrates well with Freshdesk, why not try Zonka Feedback? With Zonka Feedback and Freshdesk integration, you can capture customer feedback easily at all touchpoints. Being one of the great alternatives to some of the bigger names from this list, Zonka Feedback has all the popular survey types, and it lets you run surveys online and offline. Apart from measuring customer feedback through Freshdesk, you can also track your agent's performance. The price plan is affordable and available publicly.
Sign up with Zonka Feedback for a 7-day free trial to start creating CSAT surveys for Freshdesk.