Common feedback survey distribution methods, such as email, SMS, web link, mobile app, website, etc., have been around for a while. But businesses are now increasingly using QR code surveys to collect feedback on the go and bridge the gap between the physical and digital worlds.
Almost everyone today has a smartphone and we are all accustomed to using QR codes to make payments, place orders, etc. So, it is only practical to leverage QR codes for feedback collection. And you will surprised to see how the participation rate and goes up. Wish to collect feedback in your brick and mortar business space or need to remind your customers to take a feedback survey as soon as they see a package delivered from you? A QR code survey is your answer!
There are several benefits to using QR code surveys irrespective of the industry. And the best part is that creating and distributing QR code surveys is completely effortless. In this article, we will talk all about it. Let's get started.
Collect Instant Customer Feedback with QR Code Surveys 🔥
Leverage QR Code Surveys to collect in-moment Customer Feedback wherever your customers are.
Benefits of a QR Code Survey
Here are some of the super important benefits of a QR code survey:
1. Easy of Taking Surveys
Taking feedback through a QR code survey is as easy as it can get. All that the participants require doing is scanning the QR code through their cameras and start taking the survey.
2. Convenience for Brands
Most brands today prefer feedback collection through QR codes (QR codes can be created easily using a QR code maker) since generating one and embedding a survey link into it is super easy. You do not need the knowledge of complex coding to create surveys, get a sharing link, and insert it into the QR code. All you need is an efficient survey tool that would help you create attractive and intelligent surveys and also generate QR codes for survey distribution.
Moreover, you do not need to install dedicated devices, such as a tablet or kiosk, to be able to collect feedback. You can just print your survey QR code at different touchpoints and start receiving valuable feedback.
3. Faster Data Collection
QR code surveys are super accessible since they can be shared easily. And since there is no dedicated device that participants need to take the survey on, they can share feedback simultaneously through their own mobile devices. As a result, you can cover a wider range of audiences in the least amount of time.
4. Contactless Feedback
After the COVID-19 breakout, everything from placing orders to making payments went contactless, thanks to QR codes. Similarly, QR code surveys enable contactless feedback collection – something that is not possible with mounted tablets and digital devices. This can highly encourage people to participate and share insights about your brand.
5. Better Survey Participation
It goes without saying that sharing feedback by scanning a QR code is super easy, which encourages customers to participate. And even when they do not share feedback at a particular touchpoint, the QR code surveys fit so perfectly into the customer journey that customers are prompted to take the survey at different touchpoints.
For example, in a restaurant, you can print the survey QR code right on the table, menu, tent cards, exit doors, and even the bill. This means that when customers miss out on one of the survey prompts in the restaurant, they can always be reminded to share their feedback even after they leave.
6. Instant Feedback Sharing
Often, people forget to take a feedback survey because it is extremely common to forget about email and SMS requests if you receive dozens of them every day. And sometimes, they may share feedback when it's already too late.
This can be avoided with QR code surveys since they can be taken instantly while you're in the queue, waiting for your bill, taking a break during an event, etc. Moreover, people are more encouraged to share feedback instantly when they know they do not have to open their inbox or browse through a list of text messages or emails to find a survey link.
7. Unidentified Source Feedback
You may think that people who have business with you can only share feedback to enhance your offerings. But people who decided to not do business with you because of some shortcomings can share even more valuable feedback. For example, when visitors in a retail store leave without making a transaction, you can ask them what they did not like about your brand. This information can help you capture the interest of similar potential customers and convert them by offering exactly what they expect.
And since you can't send these unidentified visitors a survey request on their contact numbers or emails, you can use QR code surveys to collect their feedback.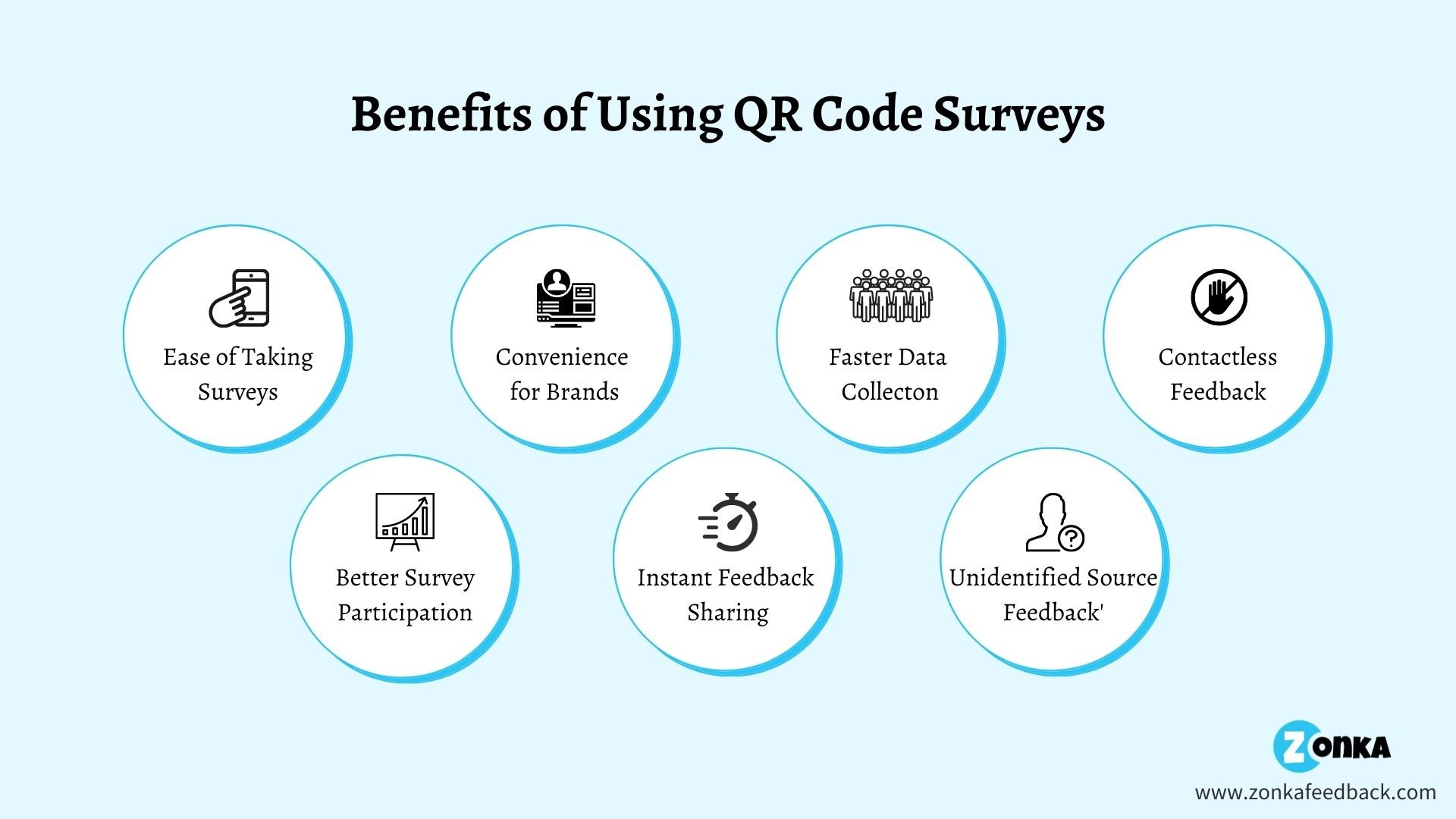 Use Cases of QR Code Survey
QR code surveys can help you collect feedback irrespective of the industry. Let's understand with a few use cases.
Retail Experience Feedback
In any retail destination from lifestyle to tech space, there are several things that can make or break the experience of visitors, such as, the availability of products, waiting time, payment mode, customer service, etc. And if you do not survey all your visitors to find out the challenges they faced, you may end up losing potential customers and never knowing drove them away.
You may resort to mobile, tablet, and kiosk feedback stations to survey customers. But it is unlikely for customers who left without shopping to stop and share feedback through any of these channels. So, you can use QR code surveys so that all they would need to do is scan the code through their phone cameras and fill survey answers on their way out.
To make it easier for customers and even visitors in your retail store, you can embed a survey link into a QR code and print it on exit doors, billing counters, standees, banners, etc. Make sure to cover various touchpoints where visitors are likely to interact with your brand.
Product or Service Experience Feedback
In the case of product experience, your customers would be willing to share feedback only once they have used the product. And in all honesty, this is the only way to get genuine feedback. But since there's a chance that your audience may miss email, SMS, or in-app survey requests, you can ensure getting their feedback by printing the survey QR code on the product packaging.
For example, a food delivery brand or restaurant can print a survey QR code on the food package to prompt customers to share feedback. Similarly, in the case of products other than food, you can print QR codes on instruction manuals, guides, product assembly guides, warranty cards, packaging boxes, etc., and even directly on the products, such as washing machines, refrigerators, etc.
In the case of service experiences, you can share survey QR codes on pamphlets, visiting cards, invoices, payment receipts, etc.
Event, Conference, and Workshop Feedback
When you're hosting an event and looking to collect feedback, sending feedback surveys to the attendees after the event is over may not be helpful since the experience wouldn't stay fresh in their minds. Rather, it is suggested to collect feedback both mid-event and post-event while your attendees are still on the premises.
Now you may hand out physical feedback forms or share a survey URL where attendees can take the survey. In both cases, it can be a lot of work for them, which can poorly affect the quality of feedback and participation rate.
A great alternative to this is QR code surveys that can easily be printed on standees, tent cards, banners, presenter slides, printed on cardboard boxes, etc. All that the attendees will have to do is scan the survey QR code using their phone cameras and they will be directed to the survey screen.
Employee Feedback
Anonymous employee surveys are extremely important if you wish to get access to the most honest feedback. You would notice that some employees wouldn't like being seen sharing feedback at the kiosk station on the premises. And email survey requests may get lost among other work-related emails.
QR code surveys can come in handy since they allow sharing feedback quickly and effortlessly. Moreover, it can encourage instant feedback, preventing insightful information to get lost in monthly or quarterly surveys. You can print the survey QR code in washrooms, waiting areas, cafeterias, elevators, employee handbooks, etc. This would ensure that feedback is shared every time employees come across a challenge.
Student Feedback
In colleges and universities, you can print survey QR codes across the premises, such as entry & exit gates, cafeteria, student brochures, classrooms, laboratories, library cards, test papers, presenter slides, banners, course material, etc. This again will ensure instant and insightful feedback. Moreover, displaying survey QR codes across the campus will create a culture of consistent feedback, where students will not need to reach out to HODs or wait for quarterly surveys to resolve issues.
Healthcare Feedback
In healthcare, people may not care to visit you again after having a single bad experience, forget sharing unsolicited feedback. They may not even take time out of their busy schedules to open your email survey request or download your hospital website to share feedback. Your best bet in such cases is asking for feedback while they are still on the premises.
You can print QR codes on various touchpoints where patients are likely to share their challenges or good experiences. For example, if you think patients or their families may experience challenges while understanding the insurance payment plan with your hospital, you can print a survey QR code on the billing counter so that patients can share their experience instantly. Similarly, you can print survey QR codes on bills, hospital forms, brochures, etc. You can also print it across the premises, such as washrooms, patient wards, cafeteria, pharmacy counters, waiting area, etc.
Restaurant & Hospitality Feedback
In hotels and restaurants, there is a high chance of guests writing a review for you online instead of taking your email or SMS surveys. You can give them a chance to vent or to share what they liked, right while they are on the premises. QR code surveys make it simpler. In restaurants, you can print survey QR codes on menus, tent cards, doors, tables, trays, bills, payment receipts, parking tickets, etc.
And in hotels, you can print survey QR codes on local maps, postcards, check-in & check-out counters, guest rooms, restaurant table tops, concierge, gift shop, parking tickets, entrances of activity zones like spa, pool, golf, yoga, etc.
Travel and Entertainment Feedback
Let's say that you wish to collect airline feedback from passengers. Instead of sending out survey requests after the journey, you can ask them to take a survey on the flight itself. For example, you can print the QR code on the in-flight drink and food menu, behind the seats, boarding passes, tickets, etc.
Similarly, in a movie theatre, a bowling alley, etc., survey QR codes can be printed on menus, tickets, standees, etc., to gather feedback instantly.
How to Create a QR Code Survey
QR code surveys can be created and shared easily all through a single survey tool. You do not need a separate tool generator; you can create an attractive and intelligent survey and generate the QR code for the same to share with your audience. Let's understand using the Zonka Feedback survey tool.
Step 1: Go to the survey list view and choose a survey template suited for your industry.
Step 2: Edit the survey design and text as per your requirements.
Step 3: On the navigation bar at the top, click on Distribute.
Step 4: Now select Survey Link.
Step 5: Download the QR code in the format you prefer.
Step 6: Print the QR codes where you want your audience to see.
Conclusion
QR code surveys are easy to create and distribute. The only thing that you must make sure of is to select a survey tool that makes it all easier. The Zonka Feedback survey tool boasts intelligent functionalities and an easy-to-use interface to help you create attractive surveys and distribute them across through QR codes, website, weblink, mobile app, email, SMS, live chat, mobile, tablet, and kiosk.
Moreover, it gives you access to:
Survey logic to make your surveys more relevant for different categories of participants.
Branding features to personalize your surveys according to your brand values.
Intelligent reports and a dashboard to get a birds-eye view.
Ready-to-use, customizable templates for different industries.
Real-time notifications for various team members, and much more.