Integrate your NPS Tools with Front to view your Net Promoter Score in your team's shared inbox. Here are the top NPS Tools for Front for quick responses syncing, easy tracking, and faster resolution.  
Net Promoter Score (NPS) is a vital indicator of customer loyalty that provides insights into how likely your customers are to recommend your product, service, business, or brand. Understanding your NPS can give you valuable insights into the overall health and potential of your company. However, merely collecting NPS data is not enough to propel your business forward.
To unlock the true potential of the Net Promoter Score and drive growth, you need to pass it through customer communication channels. This integration empowers your team with the necessary tools to craft personalized responses, nurturing every passive or detractor into an enthusiastic promoter.
One such tool that you can use to seamlessly pass your NPS data to boost customer loyalty is Front.
Collect & Measure Product Feedback & User Insights
With NPS Surveys, understand how willing your customers are to recommend your business, product, or service to others.
Front is a popular Customer Operations Platform that enables you to bring all your customer conversations into one place. By integrating your NPS tool with your team's shared inbox of Front, you can streamline communication and bring together the entire team on a single customer communication platform. With Front, you can:
Have a centralized platform to manage all your customer conversations from channels like SMS, email, social media, and more
Automatically assign messages to the right person on the team
Assign clear ownership of the conversation based on expertise, availability, and more
Collaborate on creating the responses with shared drafts
Basically, Front lets you streamline your entire customer communication and ensure team collaboration, workflow management, multi-channel communication, and more. By running your NPS data into Front, you can know exactly what the respondents are thinking about your product, the reason or the NPS score, and assign it to the required person for a quick resolution.
If you're looking to run your NPS surveys and have that data flow into Front, then you're in the right place. In this blog, we will share the top NPS tools for Front.
Table of Content
Top NPS Tools For Front
Front is a popular customer communication platform that streamlines team collaboration and enhances customer interactions. Integrating Front with NPS (Net Promoter Score) tools can be highly beneficial as it provides a powerful way to measure customer loyalty and have the survey responses flow directly into your shared inbox. You can assign them, comment on the message, discuss them within the team, and share or edit drafts together to turn any passives or detractors into promoters.
With NPS tools combined with Front, businesses can quickly collect feedback, analyze responses, and take actionable steps to improve their products, services, and overall customer experience. Let's now take a look at the top NPS tools for Front.
#1. Zonka Feedback
The NPS tool is one of the several CX metrics that Zonka Feedback offers. With its robust NPS platform, you can easily measure your customer's loyalty and likelihood of recommending your brand. Also, with Zonka Feedback and Front integration, creating rules to sync your survey responses within Front is easy. You can also create new messages for the existing contacts or add new responses in Front with custom-based settings. The best part is that you get Front integration available in any plan you choose with Zonka Feedback.
The integration lets you easily show NPS survey responses, including the Net Promoter Score, comments, complete survey responses, customer information, and more within your Front inbox. One feature that sets Zonka Feedback apart from other NPS tools for Front is creating contacts and conversations within the Front App and following up with your customers after they complete the surveys.
Zonka Feedback NPS tools stand out by offering customization for surveys with your branding while still using the same gradient color palette of NPS surveys, a feature that not many NPS tools offer.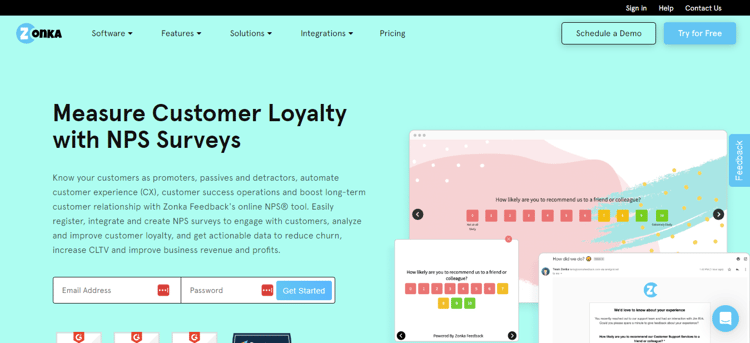 But that's not all; Zonka Feedback isn't limited to only NPS tools for Front. You can also integrate Zonka Feedback NPS tools with other CRM tools like Zendesk, Freshdesk, Intercom, Salesforce, Hubspot, and more.
The multi-channel platform doesn't only offer NPS to measure your customer's loyalty and follow-up questions. You can also measure other CX metrics through CSAT surveys and CES surveys to gauge your customer's effort and satisfaction.
With Zonka Feedback NPS tools, you can build surveys from scratch within seconds or choose from pre-build survey templates to win your customers' loyalty. Another cool feature Zonka Feedback offers is adding survey logic for follow-up questions. This can help you know your areas of improvement and gain a better NPS score in the future. You can even set up delay durations, after which you can send NPS surveys, calculate NPS, and measure your agent's performance, a feature that you get only with Zonka Feedback.
Why choose Zonka Feedback as your NPS tool for Front?
Integrating Zonka Feedback with Front, you can track customer feedback right from within your inbox by syncing survey responses. Although you get limited features with Front integration, Zonka Feedback NPS allows you to customize your NPS surveys, sync responses, add new contacts, and much more. By gathering customer data, and NPS feedback, Zonka Feedback integration with Front empowers businesses to identify areas for improvement and make informed decisions to enhance customer experience.
Here are some features you get with Zonka Feedback and Front integration.
Create rules to sync survey responses from Zonka Feedback to the Front platform
Share NPS survey responses with the entire team
View survey responses as messages in Front and stay in touch with your customers
Create a new note with response details to the matching contact in the Front app every time a new response is received
Assign tasks based on NPS score to team members, keep track of the conversation, and automate workflows to close the feedback loop effectively
Limitations
Zonka Feedback is a powerful NPS tool. However, it can work on offering reporting insights based on other CX metrics like median score, customer lifetime value, and more. You might also find the interface to get a little clunky when you start creating long-form NPS surveys from scratch instead of using the offered template.
Pricing
Survey & CX platform with Front starts from $49/ month
Offline surveys platform with Front starts from $15/month
Product Feedback platform with Front starts from $39/month
You can also try Zonka Feedback for free for 7 days
G2 Rating: 4.8 out of 5
#2. AskNicely
AskNicely is one of the oldest survey tools that has been helping businesses to send surveys to their customers for years. The cloud-based survey platform enables businesses to use the best NPS tool to collect feedback in real-time mainly. Combining AskNicely with Front empowers your team to take immediate action to drive retention, upgrades, reviews, and referrals regularly.
Another interesting feature it offers is to communicate with your customers on the Front app. Also, tracking your customers through other customer communication channels is simple with this integration. Unlike other integrations, you need to be an admin on your Front account to set up the AskNicely integration.
Why choose AskNicely as your NPS tool for Front?
Integrating AskNicely with Front, it is easy for you to increase customer retention, reviews, and referrals using the Net Promoter Score (NPS). It also empowers your team to take immediate action and have real-time access to valuable data.
Here are some benefits you get when you integrate the AskNicely NPS tool with Front.
Sync AskNicely NPS scores and feedback in the Front app
CX Automation to Automate workflows to send your AskNicely responses
Every NPS score and feedback is easily visible on the Front
Quickly review the new response and take action
Limitations
The platform doesn't offer pricing plans publicly, and that can confuse potential customers. You also do not get a platform to send out emails from AskNicely itself. You can download the HTML and send it from Front.
Pricing: You need to contact their sales team, as the pricing is unavailable on public platforms.
G2 Rating: 4.7 out of 5
#3. Nicereply
Nicereply is another NPS survey tool popular among top companies like Microsoft, Lenovo, Hubspot, and Buffer. Although the platform has a number of features and functionalities to capture NPS, it enables businesses to be honest and forthcoming about what customers liked and didn't like about their products or services. Like AskNicely, Nicereply is also an older survey tool that needs more modernity and the latest survey techniques offered by others.
The integration between Nicereply and Front is effortless. Combining Nicereply and Front, it is easy to track the quality of your customer service and measure your customers' loyalty via email after a ticket resolution or in-between conversations. A cool feature that it provides is that you can customize the NPS surveys as per your needs and requirements.
With its Front integration, responses are pushed back into the Front app as comments and custom field values, so you never miss any feedback. Also, you can set different automation rules based on customer sentiment.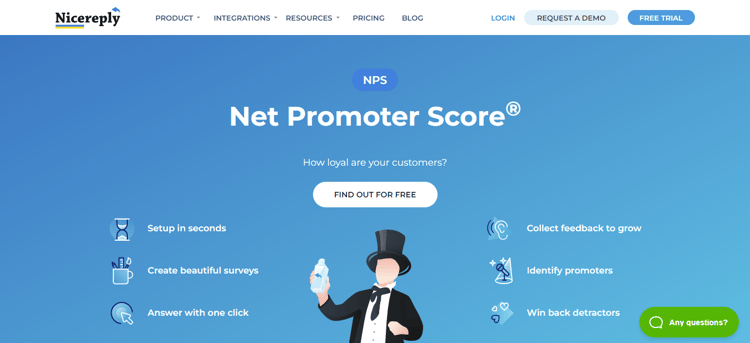 Why choose Nicereply as your NPS tool for Front?
Nicereply enables users to give real-time feedback in one click. However, it works efficiently when integrated with other tools like Front. It takes a few seconds to add NPS surveys within Front emails and sync all data back to the Front app.
Integrating Nicereply with Front, you also get some other features as:
Push ratings & comments right to the Conversation as a note
Save the NPS rating in the custom conversation tag
Identify feedback in context with the direct link to the rated Conversation.
Sync customers' names to NPS ratings
Setup triggers based on NPS value
Sync all your Front users with Nicereply with one click
Customize your NPS surveys according to your branding and needs
Limitations
Nicereply lacks modern touch and the latest survey techniques. The platform also doesn't provide a separate option to send emails, as you need to download the HTML to send emails via Front.
Pricing: Starts from $39/month
G2 Rating: 4.7 out of 5
#4. Delighted
Delighted, a Qualtrics company, is a multifaceted platform that offers multiple channels for survey collection and collecting feedback in diverse formats. Trusted by some of the top brands like Uber, Cisco, Slack, Bonobos, Instacart, and Target, the platform provides a range of survey types, including NPS, CSAT, CES, product-market fit surveys, and more.
Organizations using Delighted can instantly collect, analyze & distribute customer feedback, but when Delighted is integrated with Front, you can sync responses to your contacts. Another feature you get is that you can automatically create tickets in Front once survey responses are received.
Also, creating custom-based tickets is easy, as you can create them for any specific response. The integration enables you to automatically address the survey respondent, helping your service team close the feedback loop with NPS surveys.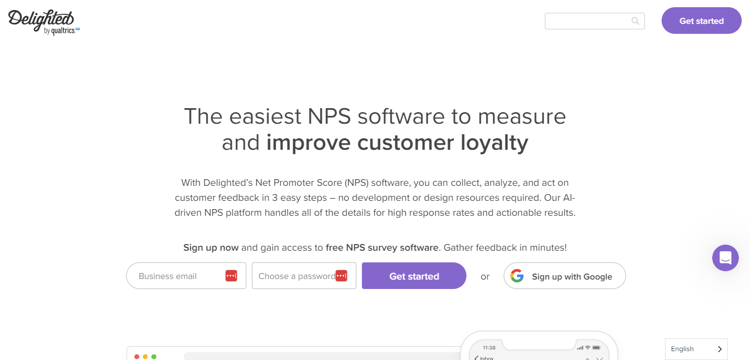 Why choose Delighted as your NPS tool for Front?
When integrated with Front, Delighted makes it easy to gather valuable customer feedback and measure your customers' loyalty. Thus with a single survey, your customers can rate your product and comment on what they love or dislike about it.
Although there are limited features when it comes to Delighted integration with Front, here are some of the top benefits you get with your Delighted and Front integration:
Share survey scores and feedback with your entire team in one place.
Empower your team to quickly and easily close the loop with customers
Use rules to create a new message in Front as soon as a response rolls through your Delighted dashboard
Auto-tagged the NPS scores once you receive a new message
Add a private note with each new message created
Get all the information in one place needed to deliver a contextually sensitive response
Limitations
Although Delighted is a popular choice among many top companies, the platform doesn't allow sending emails directly. You need to integrate it with other tools like Front to send emails. It is one of the significant drawbacks among potential customers.
Pricing: Starts from $224/month. Also, you get a free 7 days trial option.
G2 Rating: 4.7 out of 5
#5. SurveySparrow
Considering itself as one of the leading alternatives for SurveyMonkey, SurveySparrow provides a wide range of survey types like NPS, CSAT, CES, and more. The platform is popular as it makes it easier for businesses to start collecting NPS surveys and customer feedback in a fraction of a second. You can explore hundreds of questions across different survey types using Survey Sparrow, designed to get accurate results.
Although its integration with Front is flexible, it lets you quickly manage your emails. You can also trigger a survey when a new tag is added to a message, or a new comment is posted. The integration allows you to update contacts after every survey submission.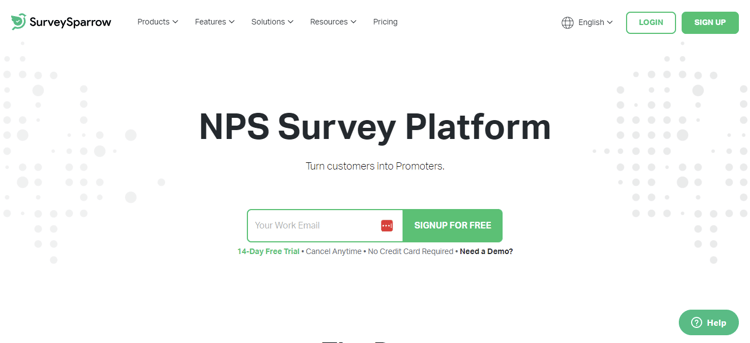 Why choose SurveySparrow NPS tools for Front?
SurveySparrow stands out with its interactive and engaging interface for its survey respondents. It enables users to collect meaningful insights that matter to their business. Apart from this, the platform lets them run polls, conduct quizzes, and more.
Here are some of the benefits you get when integrating SurveySparrow with Front.
Trigger a survey when a new tag is added to a message
Follow up with customers, and resolve them effectively using Front
Trigger a survey when a new comment is posted to a message
Update contacts from survey submissions
Collect contact details via survey responses and update the same with Front integration
Limitations
The biggest drawback of using SurveySparrow is its pricing. The pricing plans aren't available in the public domain, and there are two tiers with three plans each that can confuse customers.
Price: Starts from $99/month
G2 Rating: 4.4 out of 5
Final Thoughts
NPS is one of the crucial metrics to measure customer loyalty for your products and services. Although there are a number of NPS tools available, but integrating Zonka Feedback with Front will enable you to get the most out of your NPS surveys. When choosing your NPS tools for Front, you need to ensure they offer native integration, a flexible setup, and no extra added cost.
Before you choose any tool, take your time to ensure it meets your business needs, goals, and budget. If you're considering choosing one of the NPS tools for Front, why not choose Zonka Feedback? The integration lets you show the survey messages as notes and measure your service agents simultaneously.
One of the major factors that make Zonka Feedback a great choice is its pricing. You can also try Zonka Feedback for a 7-day free trial and start creating NPS surveys for Front