Feedback is critical in businesses of every size. However, in small businesses, every decision has the capability of making or breaking the company. Also, all members of a small business usually have key roles to play and may also occasionally take on a variety of tasks to keep the business running smoothly.
Fuel Business Growth with Customer Feedback 🔥
Collect real-time, in-moment feedback at all touchpoints in customer journey and leverage feedback insights to transform customer experience.
Talking about feedback, a small business may not necessarily have a dedicated CX team to collect and analyze feedback. If you're a small-scale business, you would be able to relate.
What small and growing businesses need is a feedback tool that:
Allows creating and distributing surveys effortlessly
Allows managing customer data effectively
Allows analyzing data intelligently
Doesn't burn a hole in your pocket
The good news is that there are some really reliable and intelligent survey tools out there that allow you to create a free survey for different customer platforms without any hassle. All you need is a little research in choosing the best free survey maker.
To save you a lot of research time and help you be confident about the tool you go for, we have put together the most popular and reliable tools with the rating and unique free survey feature comparison.
By the end of this article, you will have selected or at least shortlisted the top tools for your small business. Let's get started.
8 Best Free Customer Feedback Tools for Small Businesses
Zonka Feedback
TypeForm
QuestionPro
SoGoSurvey
SurveyMonkey
Formsite
Alchemer
ProProfs Survey Maker
Let's read about each software in detail.
1. Zonka Feedback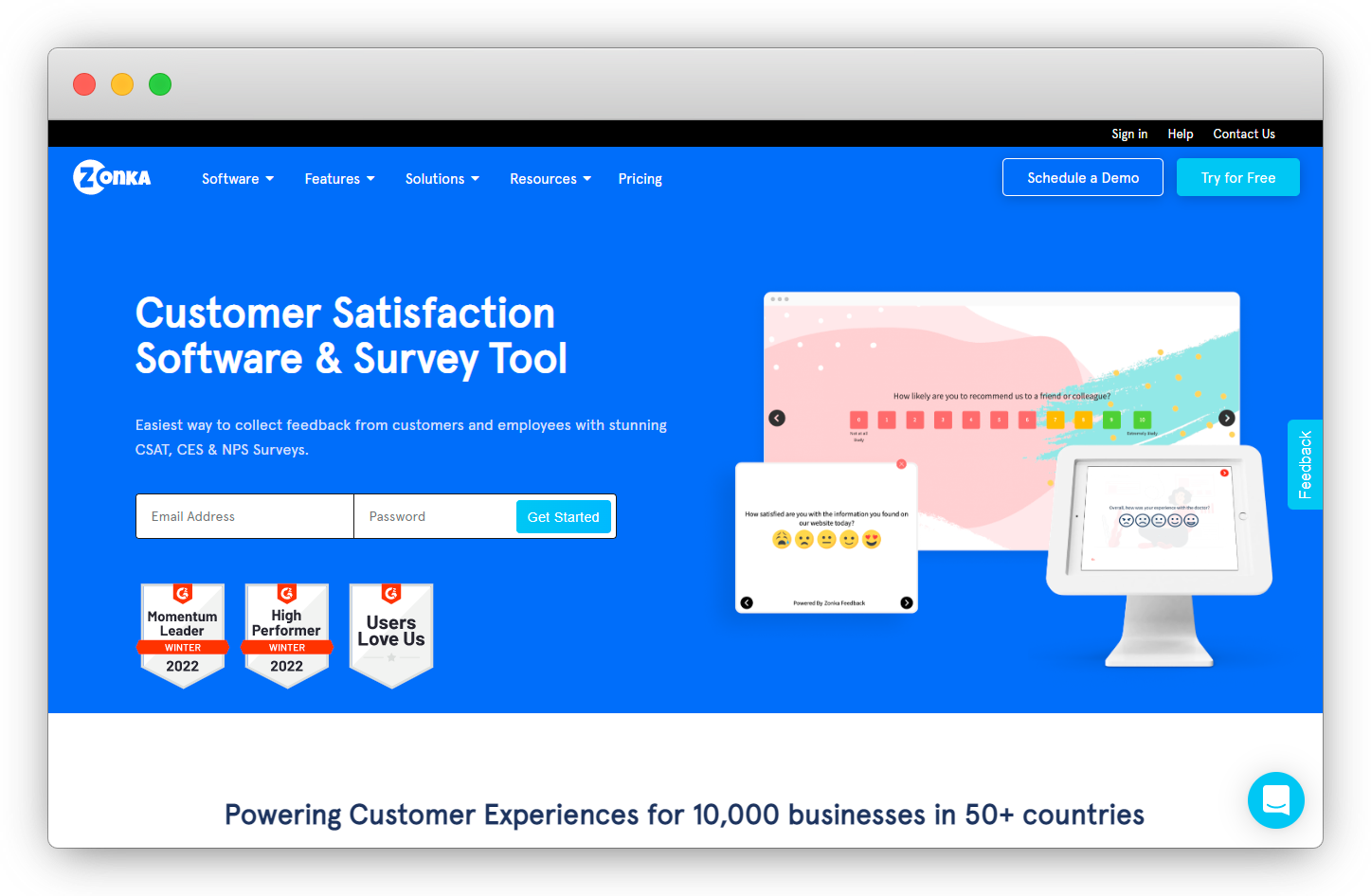 Zonka Feedback is one of the most helpful free customer feedback software which is designed for customer-centric businesses, both small and large scale. It is multichannel customer feedback software that enables seeking feedback, looping in the team, and closing the feedback loop – all on the same platform.
Zonka Feedback goes beyond measuring feedback across the standard metrics NPS, CSAT, and CES. You can create short as well as long surveys based on the feedback platform and customer touchpoints. You can add a rating scale, MCQs, and even open-ended survey questions to collect qualitative feedback.
Key Features
Here are the key Zonka Feedback features:
Code-free survey builder
Three active surveys
25+ question types, including MCQs, rating scales, emoji scales, etc.
500+ survey templates, including NPS survey template, CSAT survey template, website feedback survey template, etc.
Customizable surveys with images, videos, GIFs, etc.
Multilingual surveys with over 30 languages
Multichannel surveys
Free website feedback widget, including popup surveys, feedback buttons, polls, etc.
Real-time notifications
Mobile-responsive surveys and free customer feedback app
Unlimited members and unlimited responses
Intelligent reporting and analysis
Below is a free market research product survey questionnaire which allows customers to share feedback on the product quality, innovation, requirements at the moment, and value for money. It also consists of an NPS rating scale to let participants share their likeliness of recommending your brand.
Rating
4.8
Free Option
Lifetime Free Customer Feedback Software Version Available
A Free Trial for paid plans is also available for 7 days.
2. TypeForm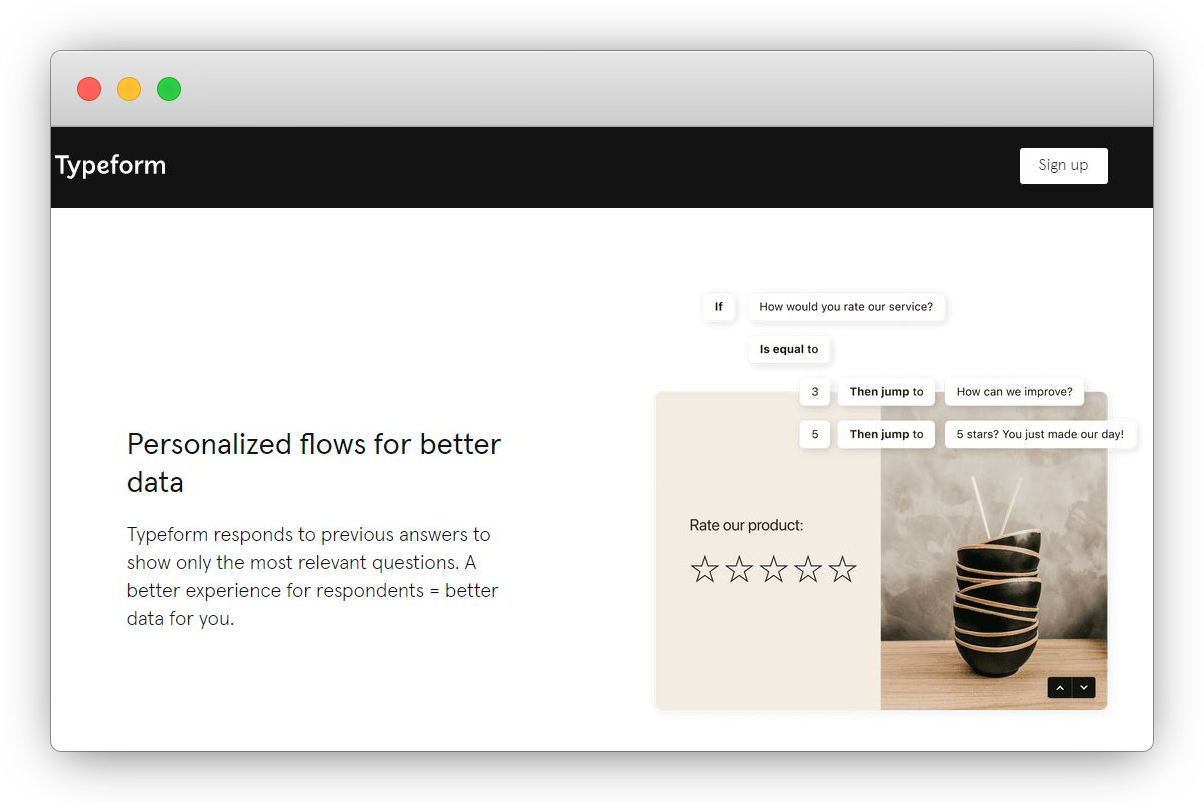 TypeForm has to be one of the most interactive free customer feedback tools if you are looking for surveys that engage your target audience. You can embed images, videos, icons, etc, in your survey forms. Moreover, you can create unique survey flows and tones in order to capture the most relevant customer feedback.
TypeForm also allows you to accept payment through its free customer feedback app. You can also schedule your surveys if you wish to clearly define a process.
Key Features
Here are the main features offered by TypeForm:
Unlimited surveys with 10 questions and 10 responses per month
Skip logic and hidden fields
Templates
Downloadable survey data
Integration with business tools like Zapier, Slack, Mailchimp, HubSpot, etc.
Rating
4.7
Free Option
Lifetime Free Account Available
3. QuestionPro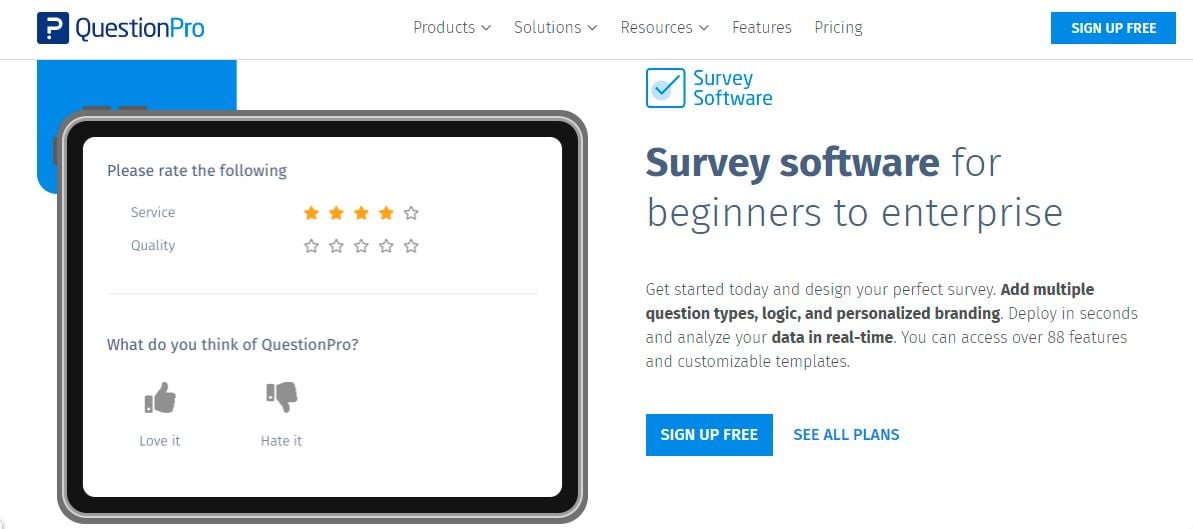 QuestionPro is a community feedback tool that manages all kinds of feedback through a centralized customer feedback platform. You can collect the most accurate feedback data – both qualitative and quantitative – with the help of its branching feature. You can also customize your surveys with your brand theme to improve brand recall.
Key Features
Here are the primary features you can enjoy with the QuestionPro free customer feedback software:
Unlimited free surveys with up to 300 responses per survey
Access to 1 member
30+ question types
Customized surveys for branding
Skip logic
Integration with Google Sheets
Export feedback to CSV and XLS
Rating
4.7
Free Option
Customer Feedback Software Free Version Available
4. SoGoSurvey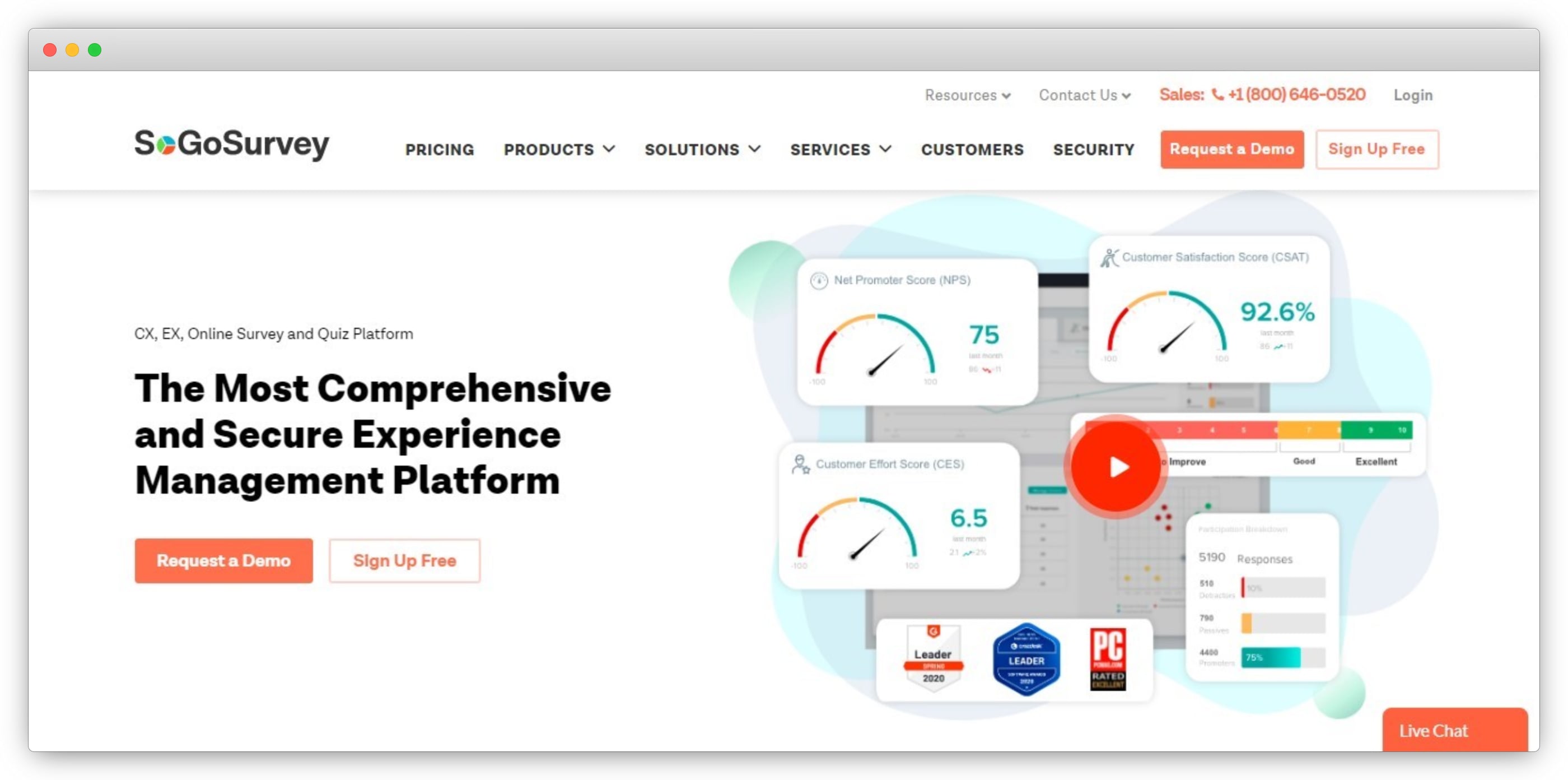 SoGoSurvey is among the top free customer feedback tools ideal for businesses of all sizes. So, if you're using SoGoSurvey for your small business, you can continue using it even after you expand. The tool is known for its short learning curve. However, you cannot access integration benefits with the free plan.
Key Features
Here are the main features offered by SoGoSurvey:
Template bank with customizable reports
Social media sharing
One-click reports
Built-in data analytics (Predictive Analytics)
SSL encryption
Rating
4.7/5
Free Option
Lifetime Free Plan Available
5. SurveyMonkey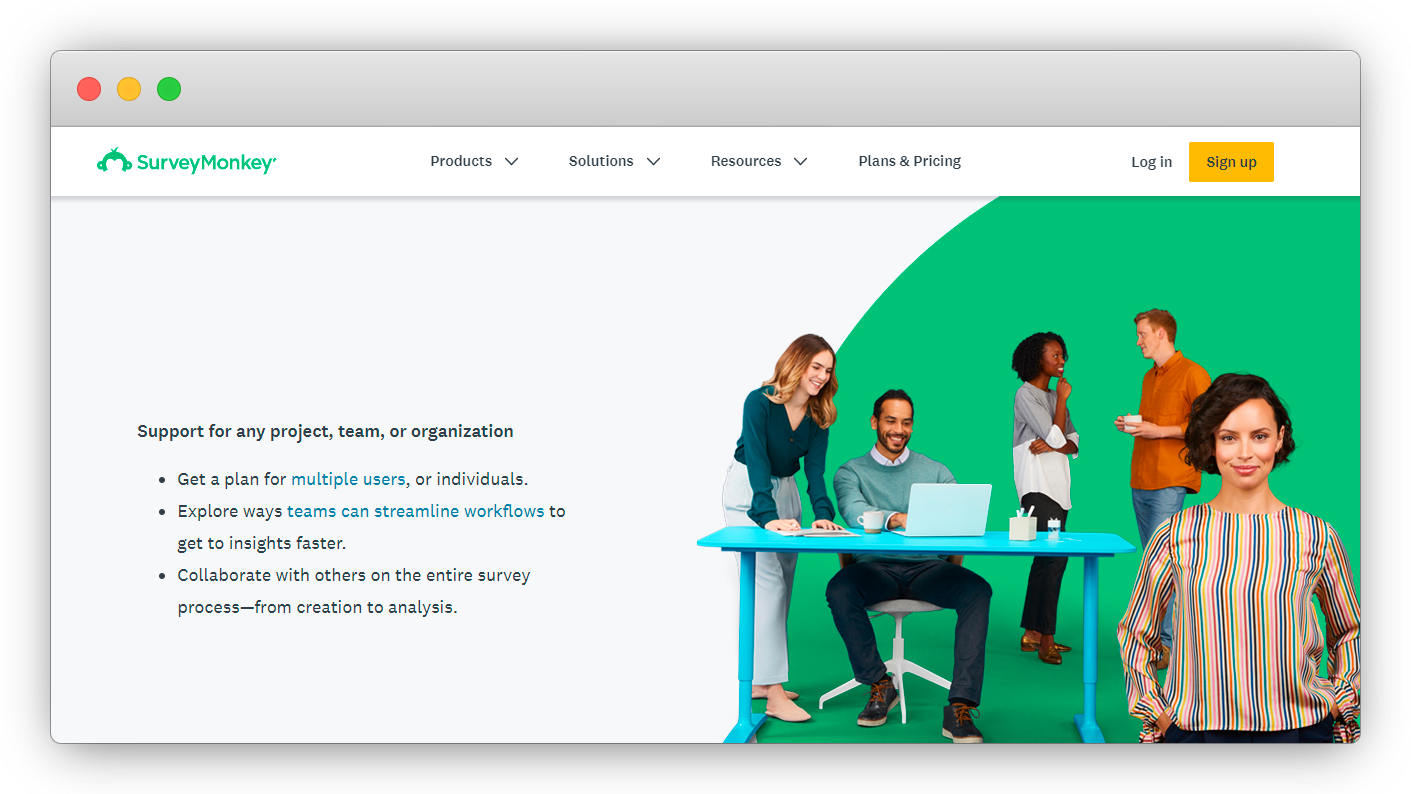 SurveyMonkey is a popular feedback tool. You can use SurveyMonkey customer feedback software free of cost with some limited features. However, the tool is excellent when it comes to data management. For example, you can access all your survey data on a single dashboard and analyze it with the help of graphs and charts.
Moreover, it is one of the easiest free customer feedback tools since it allows creating surveys without any coding required.
Key Features
Here are some of the primary features offered by SurveyMonkey:
Up to 3 team members and 10 questions per survey
40+ short survey templates
Real-time notifications
1 survey report filter
Rating
4.6
Free Version
Lifetime Free Customer Feedback Software Version Available
6. Formsite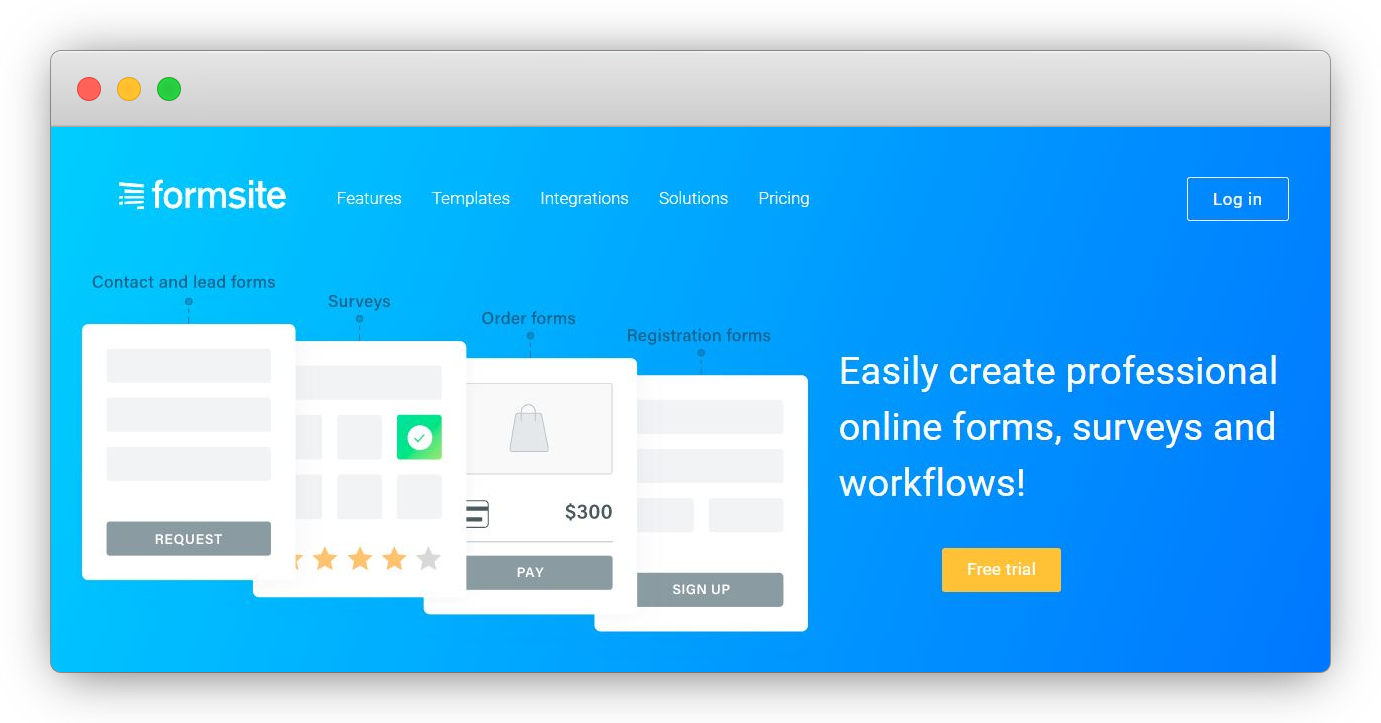 Formsite is one of the simplest free customer feedback tools for small businesses that allows creating professional HTML survey forms. However, you can simply drag and drop to create your surveys from scratch or use readymade survey templates. You can also customize your surveys to match your branding theme.
You can share Formsite surveys through email or a link, or you can also directly embed customer surveys into your website.
Key Features
Here are the top features offered by Formsite:
5 surveys
10 responses per survey
100+ customizable templates
Survey branding
Real-time email notifications or alerts
Rating
4.5
Free Option
14-Day Free Trial Available
7. Alchemer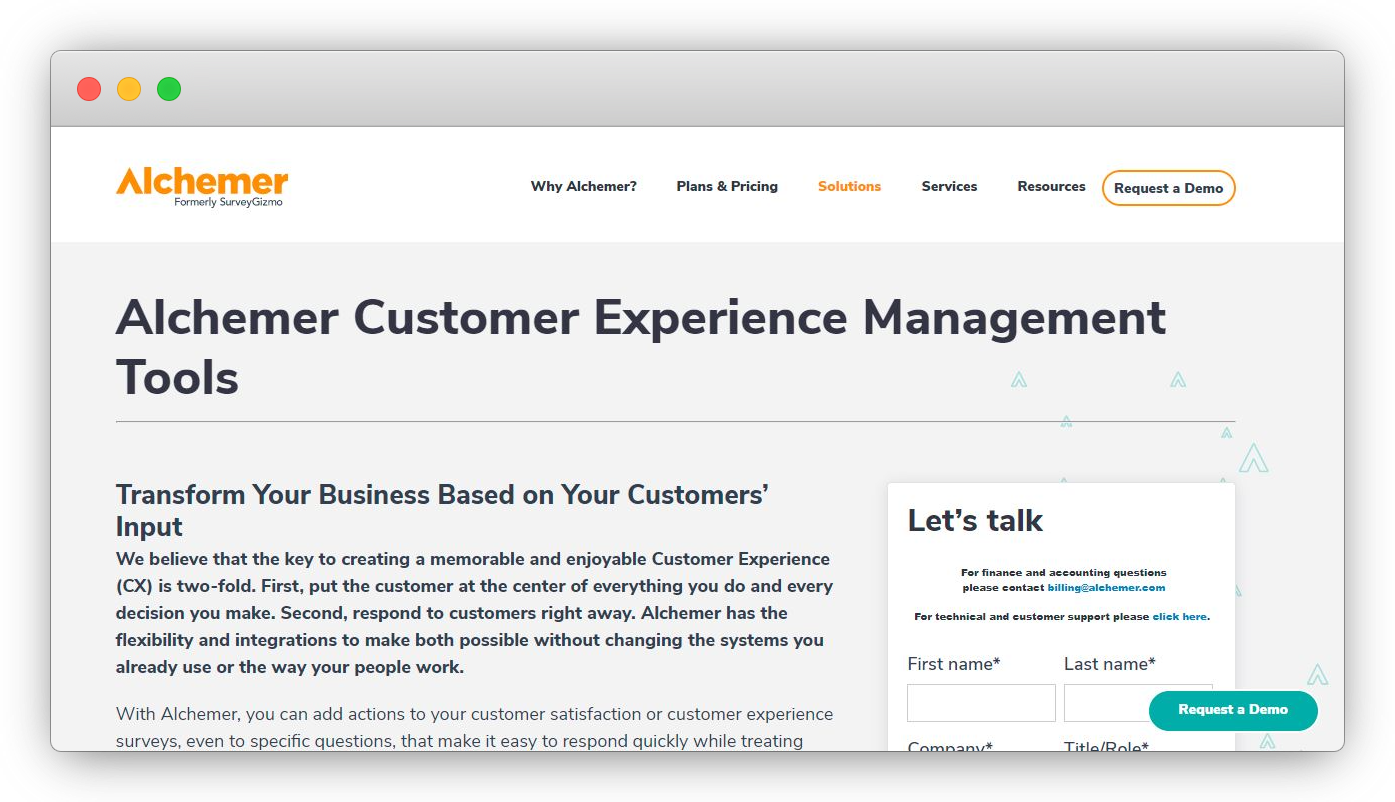 Alchemer is one of the well-established free customer feedback tools that small businesses can use. There are several free templates available that you can customize to achieve your purpose.
There is, however, a disadvantage of using the free version of Alchemer. You cannot download your old reports and data. Also, you will be able to only view the recent 12 hours of data.
Key Features
Here are the primary Alchemer features:
Up to 5 contacts in email surveys
API - 60 requests per minute
Survey sharing through links and other platforms
Rating
4.5
Free Option
Lifetime Free Account Available
8. ProProfs Survey Maker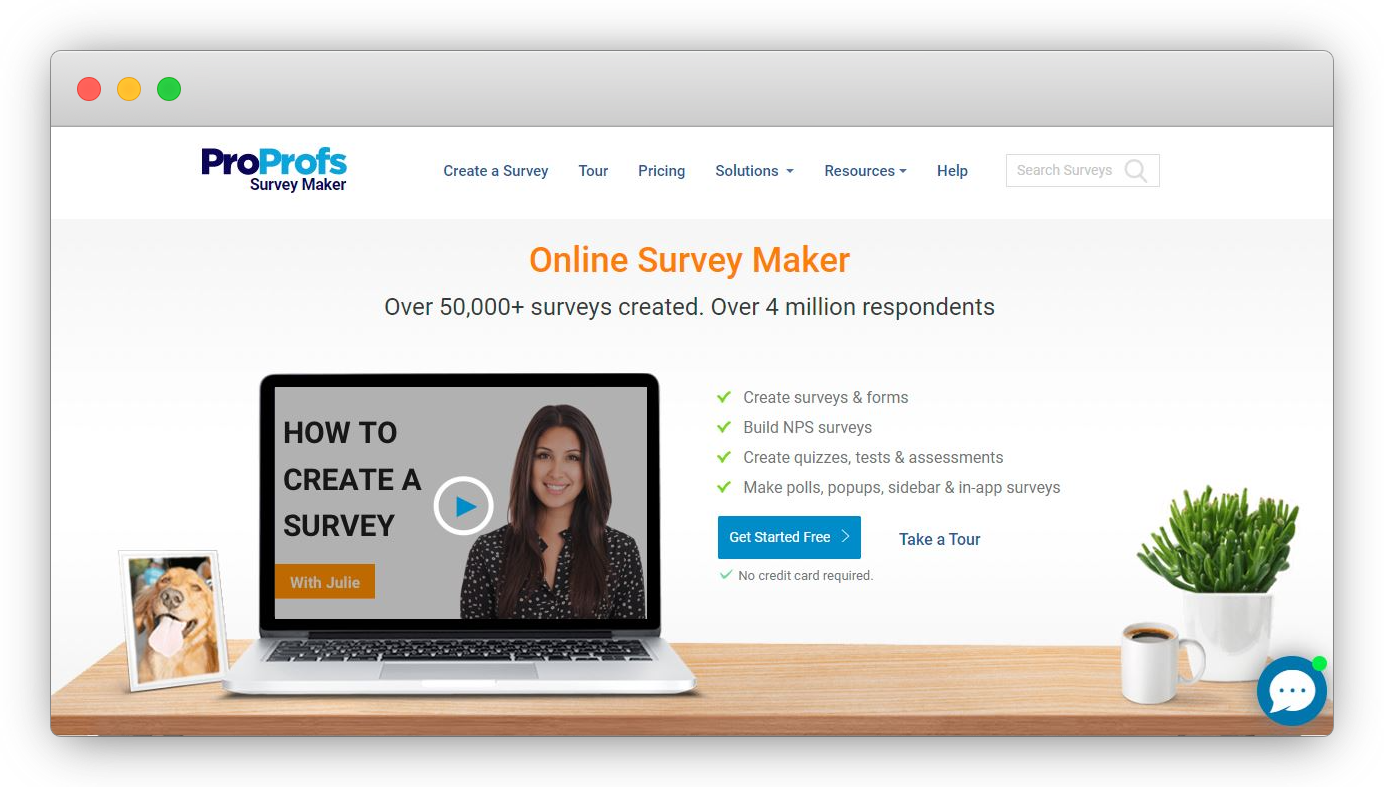 If you want to design engaging surveys to gather real-time customer feedback, then ProProfs Survey Maker is the best option. The tool offers free 100+ ready-to-use survey templates that you can customize using colors, fonts, and your brand logo designs to create a fully personalized experience. You can share surveys via email or social media or embed them directly on your website.
Key Features
Unlimited surveys with up to 10 responses
Library of ready-to-use questions
Integrations with WordPress, Salesforce, and Zendesk
Skip Logic
20+ question types
Advanced reporting with intelligent analytics
Rating
4.8
Free Option
Lifetime Free Version Available
Conclusion
There is no dearth of free customer feedback tools in the market today. What small businesses need is to find a tool that they can upgrade and continue using even after their requirements increase with the business growth.
So, do not look for the number of free surveys or the number of responses available with each survey. Rather, look for a tool that you can see using in the long term.