The job of a CX manager or professional is to create experiences that are aligned with customers' expectations from the brand. And with over 2 billion people shopping online in 2021, digital experiences have become just as important.
Can your audience easily discover and access your website?
Do they like the user interface?
Do they find it effortless to make transactions on your website?
Can they easily access customer service support through the website?
The best person to answer these questions is not the brand but the audience itself. Website feedback on different aspects, such as accessibility, discoverability, content, navigation, etc., can help you optimize your website to ensure excellent customer and visitor experiences.
And the best part is that you don't have to spend a fortune on expensive survey software. You can use a free survey package for website feedback that several reliable survey tools offer to give you the best results.
Start Collecting Visitor Feedback Today
Sign up for Zonka Feedback and start asking your users what works for them (and doesn't) on your website.
To save you time and effort, we have done the research for you and put together information on popular feedback tools with a free survey maker for websites.
Let's read in detail about the top tools to create a website survey free of cost.
Top Website Survey Free Tools
Let's explore the free survey software to collect website feedback.
1. Zonka Feedback
Zonka Feedback's free customer feedback software package allows creating free surveys across multiple channels, including the website and mobile app. The survey tool is packed with other brilliant features to upgrade feedback collection and management. From feedback collection to feedback analysis, Zonka Feedback enables complete feedback management inside a single tool.
Key Features
Here are the key features of Zonka Feedback:
Code-free survey builder which is self-explanatory and easy-to-use
Feedback across CX metrics like CSAT, NPS, and CES – the three most important feedback metrics
25+ question types like MCQs, rating scale, emoji scale, Likert scale, radio button, star scale, drop-down, open-ended, and many other types of survey questions
Free website survey templates like customer exit survey template, online shopping attitudes survey template, website usability feedback survey template, post-transaction survey template, etc.
Surveys in 30+ languages
Website feedback widget with popup surveys and feedback button surveys
Microsurveys, embedded surveys, polls, etc.
Mobile-responsive surveys
Real-time notifications and response-tracking for all customer experience team members
Reporting and analysis; dashboard with all the surveys and their detailed insights, leaderboards and heatmaps, trend and sentiment analysis, data comparison, etc.
Easy integration with customer ticketing, customer servicing, communication, CRM, and other business-specific software, for example, Zapier, Slack, Excel, Intercom, Zendesk, Hubspot, etc.
Unlimited team members, unlimited responses, and unlimited templates
Up to 3 free surveys
Rating
4.8/5
Free Plan
Available (lifetime free website survey maker)
Here is a Zonka Feedback online shopping experience feedback form template that you can embed on your order confirmation page to gauge your customers' experiences while shopping on your website.
2. Delighted
Delighted is an easy-to-use software that enables measuring actionable website feedback. It helps gather feedback at different points on the website, based on the pages that receive significant traffic.
Delighted offers limited website surveys in its free trial, post which you will need to upgrade to its premium packages.
Key Features
Here are some Delighted website survey features:
Easy setup
Website feedback form customization with surveys in 30+ languages
Follow-up questions for low scorers
Integration with business software for data syncing and workflow management
Reporting and analysis for comparison, keywords and themes to monitor feedback, and trends analysis
Mobile-responsiveness
1 free survey, 3 team members, 1 project, 1 survey template
Rating
4.9/5
Free Plan
7-Days Free Trial and Free Plan Available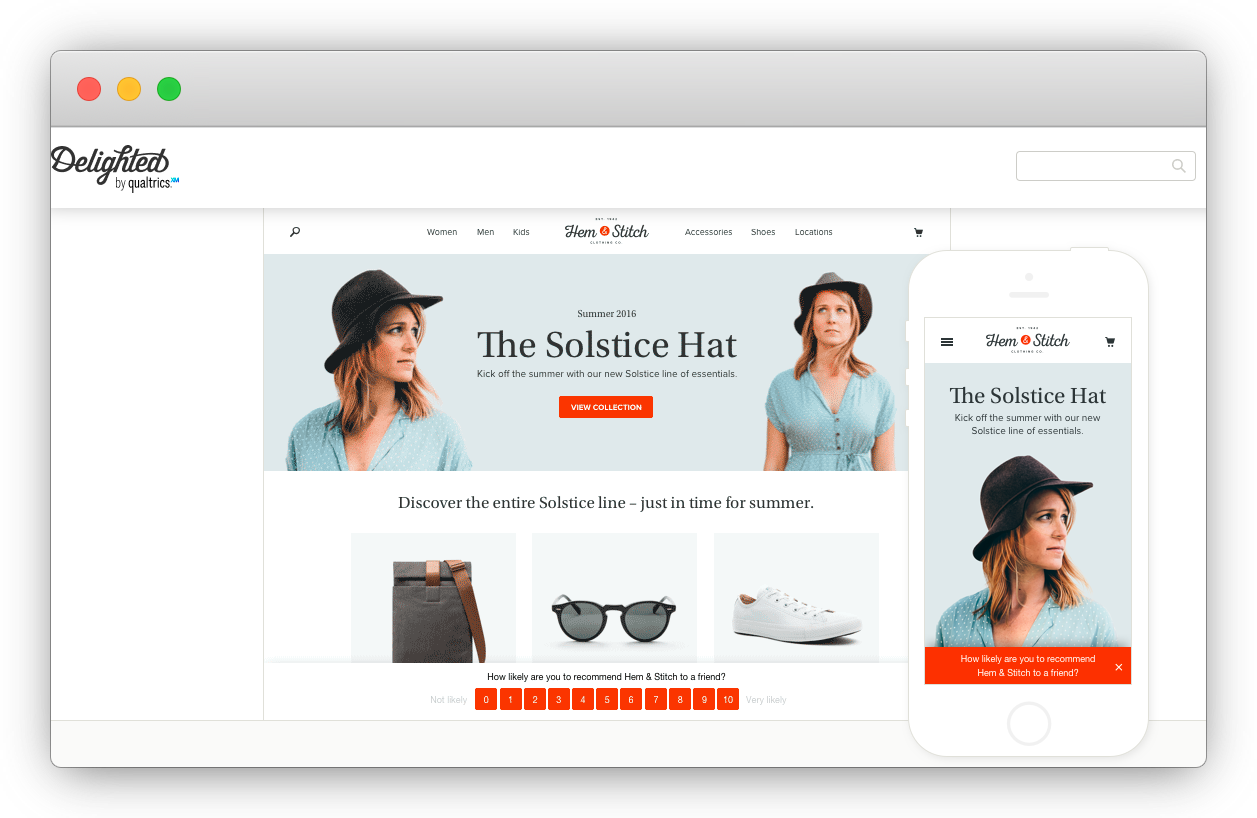 3. Qualtrics
Qualtrics survey tool is designed to increase website conversions through its interactive surveys that can be triggered at key moments in the customer journey. With easy surveys and reports, Qualtrics is created to drive business impact.
Key Features
Here are the main features of Qualtrics website surveys:
Up to 500 responses
50+ survey templates
8 question types
Predictive intelligence and analytics
In-app optimization
Drag and drop functionalities for easy survey creation
Actionable insights
Rating
4.8/5
Free Plan
Available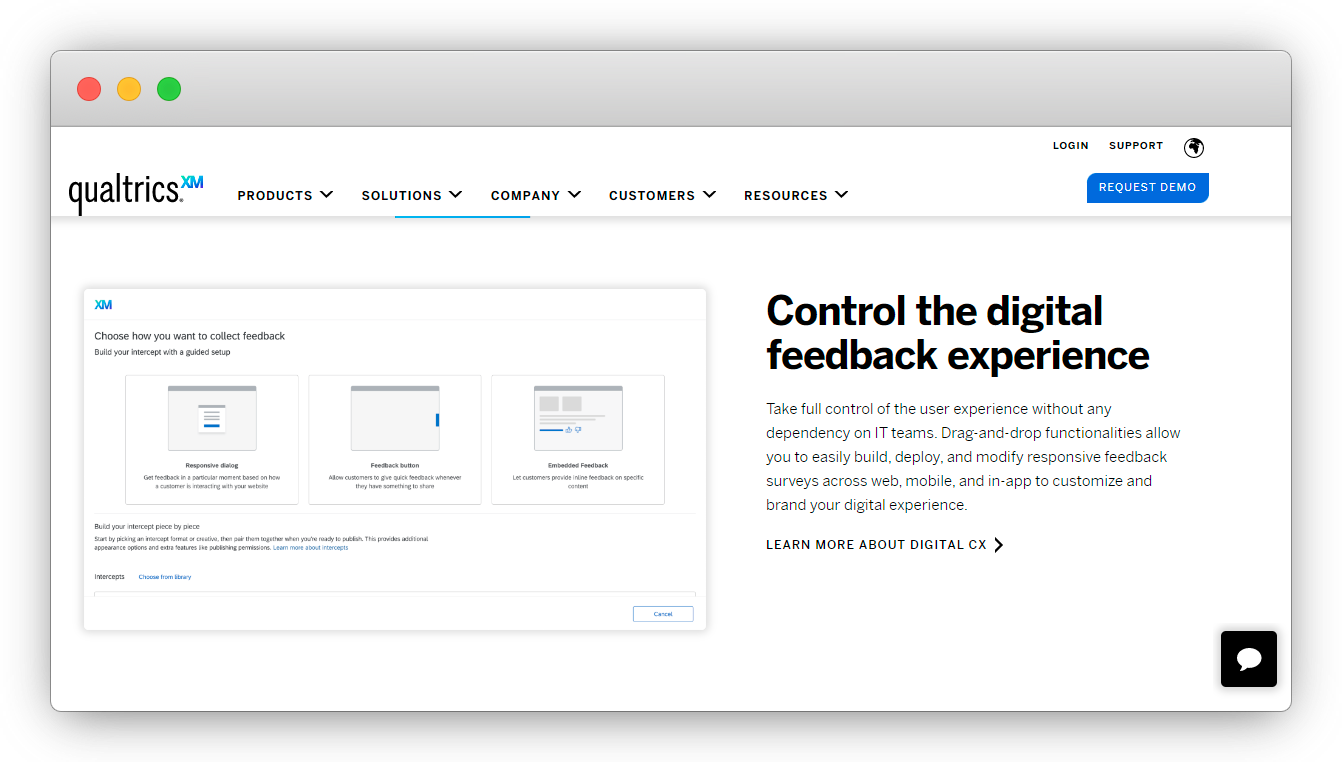 4. Qualaroo
Qualaroo offers website surveys to collect customer feedback. It allows you to ask the visitors the right question at the right time using the nudge technology which is used for advanced targeting. You can target your visitors by their activities, page number, source, etc. The website survey tool is designed to understand visitors' intents on the website, which then helps brands increase conversions.
Key Features
Website survey for website, mobile, Android, and iOS
Asynchronous code so that it doesn't slow the website
Survey creation without any professional's assistance
Popup surveys called nudges to ask the right question at the right time
In-app surveys
Open-ended questions for qualitative feedback
Rating
4.8/5
Free Plan
Essential, Premium, and Enterprise plans Available for Free for 15 Days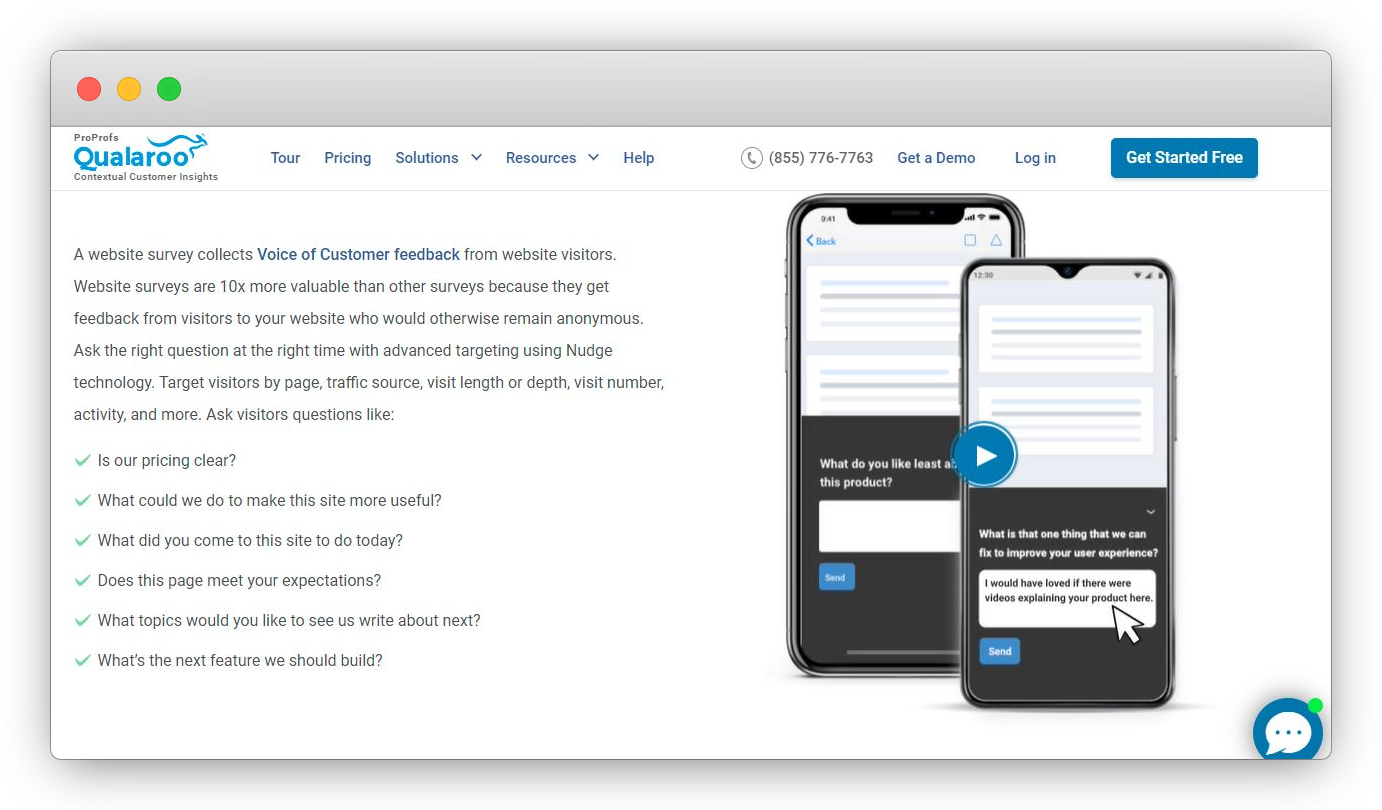 5. SurveyMonkey
SurveyMonkey enables learning more about visitors through its website survey free package consisting of website feedback widget as well as website embed surveys. Moreover, it also allows configuring popup surveys to collect specific feedback from visitors.
Key Features
Ten questions per survey
40 responses
3 team members
40+ short survey templates
Reporting & analytics
Real-time notifications
Rating
4.6/5
Free Plan
Basic Plan Available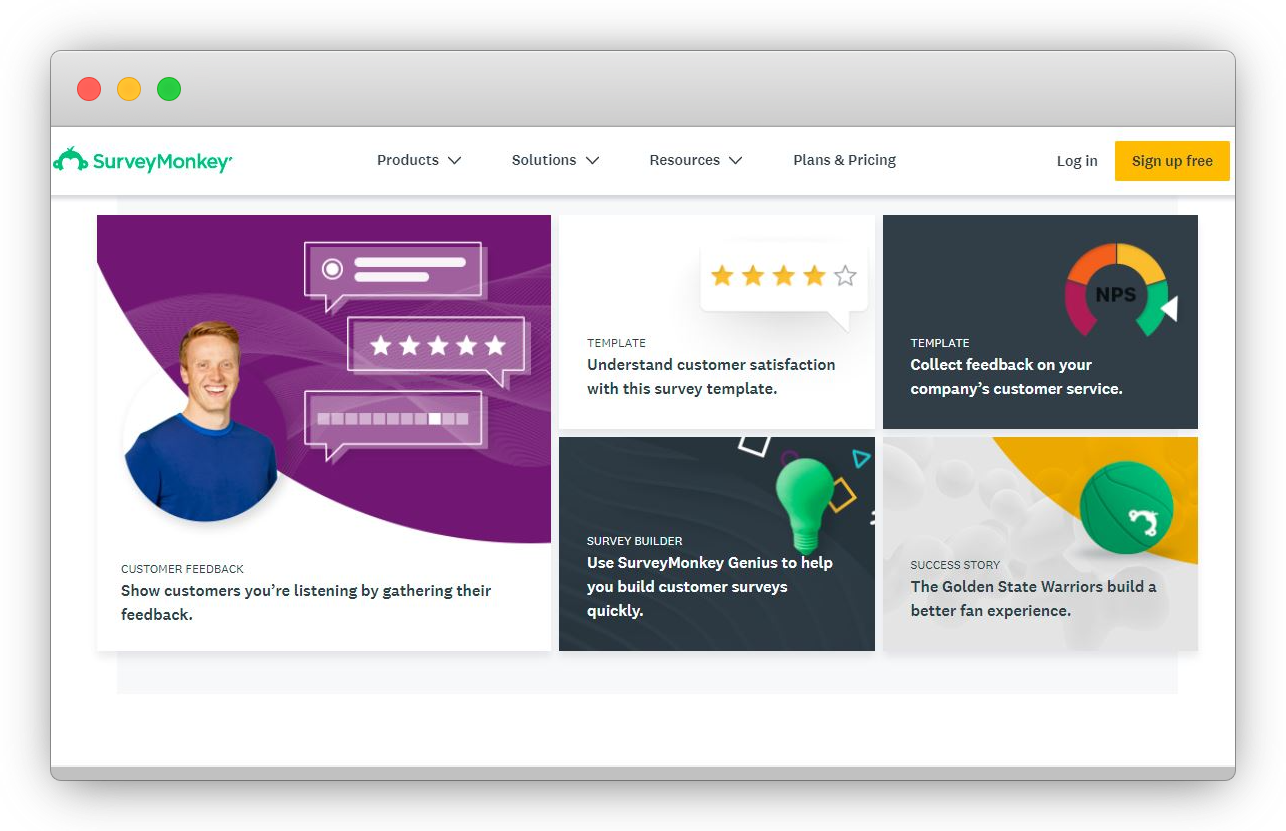 6. Zoho Survey
Zoho Survey is an easy-to-use online survey tool that can help you create web survey forms using its templates. It is a great option if you have basic feedback needs without any specific customization requirements. The tool is quite basic but has a lot of templates that can get you kick-started.
Key Features
15+ question types
200+ templates
Drag-and-drop surveys
Scoring system
Multi-lingual surveys
Rating
4.6/5
Free Plan
Free Plan Available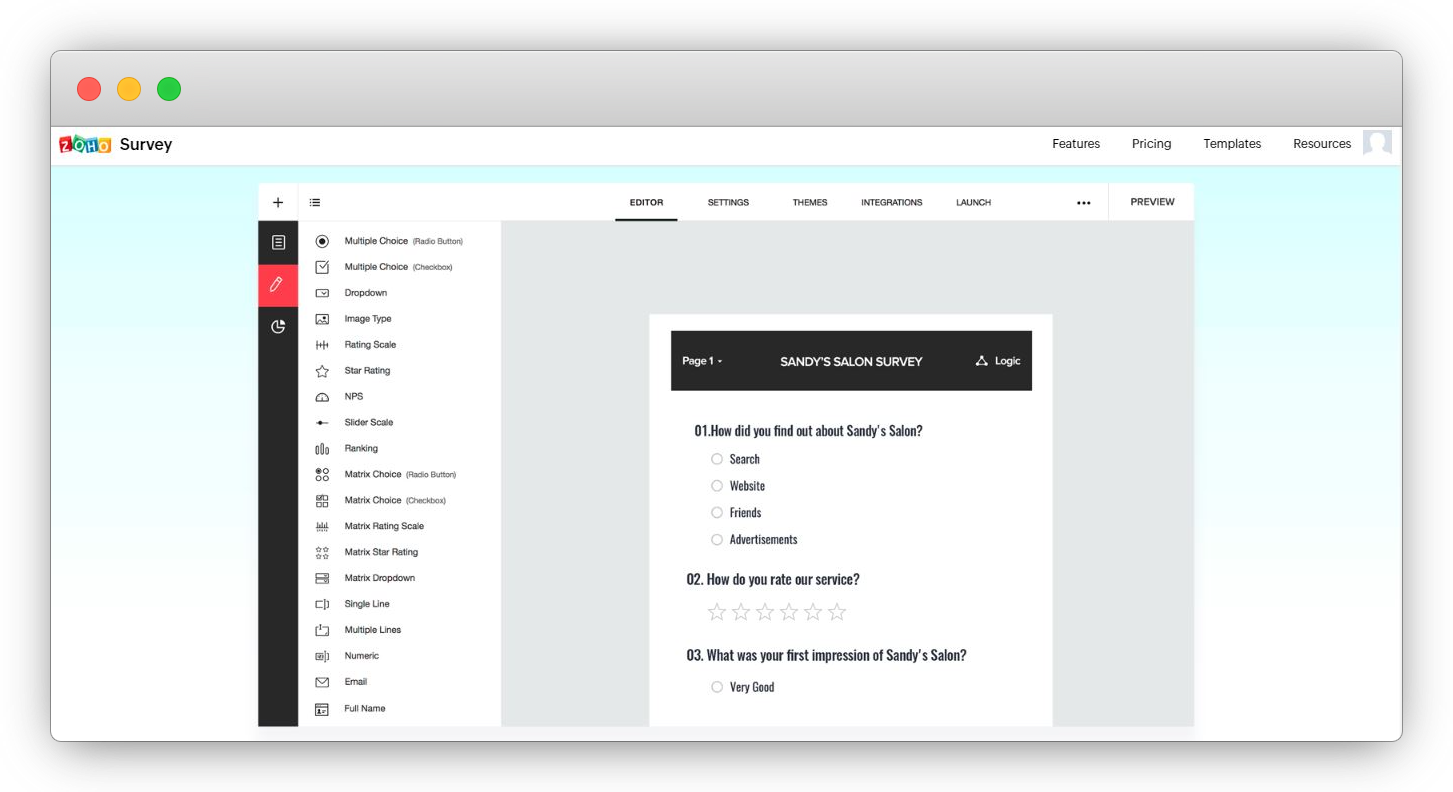 7. Survicate
Survicate, a lightweight website feedback software, offers a website survey free package that helps in collecting feedback from visitors at the right time while they are on the website. The surveys can be designed without the help of a developer and never slow the website down.
Key Features:
The primary Survicate software features include:
15 Question types
125 survey templates

Brand-friendly surveys

with logos, fonts and custom CSS
Exit intent surveys,

automated recurring surveys

Reports

that can be exported to Google sheets, CSV and XLS
Rating
4.5/5
Free Plan
Available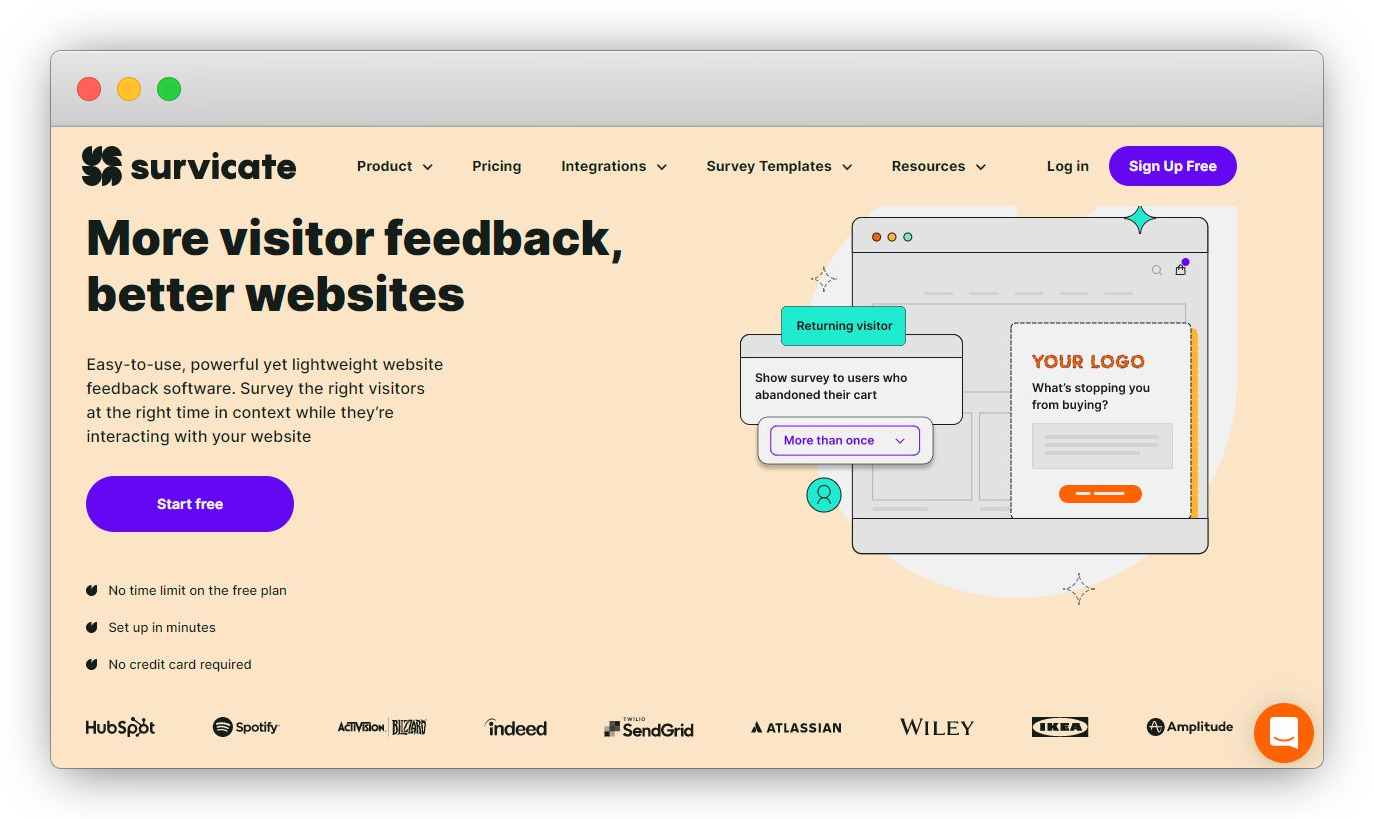 8. SurveySparrow
SurveySparrow is an end-to-end customer experience management tool that allows creating highly engaging and user-friendly surveys. The surveys offer a chat-like experience which can increase the survey completion rate.
Key Features
SurveySparrow's key features include:
Mobile-first surveys
Dashboards with access management
Conversational, easy-to-build surveys
Real-time reports and analysis
Data security using SSL
Feedback across all CX metrics
Embedded surveys
Response notifications
1500+ app integrations with Zapier
Rating
4.4/5
Free Plan
Available
Comparison of Website Survey Free Packages
You can check out the main features of all these website survey tools in the snapshots below to be able to effortlessly compare the website survey features.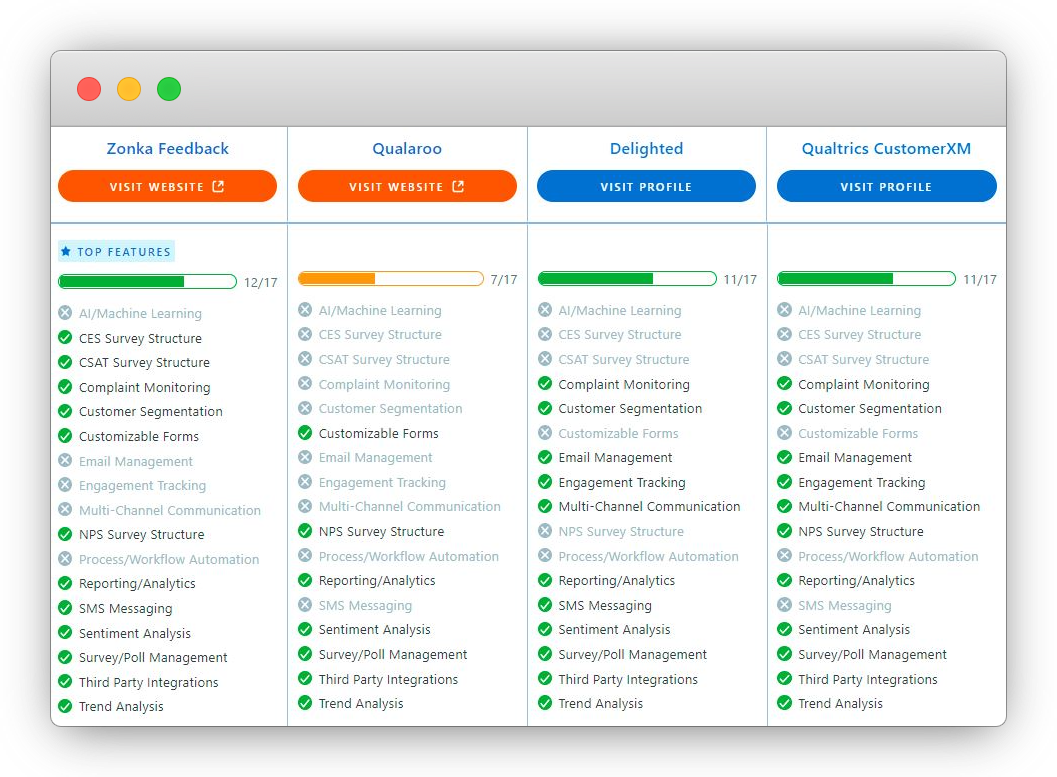 Conclusion
There are several brands offering website survey free packages. And it is easy to get confused between them. But if you clearly establish your requirements in terms of how many surveys you need, the kind of survey templates you would require, the website survey types, reporting and analysis, etc., you can make an informed decision.
Moreover, all the website survey tools discussed above offer free website feedback. So, the research material is narrowed down for you. All you have to do is find out which of these website survey free packages best suit your business requirements