It goes without saying that customer feedback should be the basis of all decisions when you're running a customer-centric business. But when we say customer feedback, we do not necessarily mean sending out customer surveys in bulk and then trying to recover helpful data from thousands of responses.
You can now collect customer feedback strategically so that everything from survey creation to distribution to response analysis aligns with the outcomes you expect from your feedback campaign. For example, if you want to sell products or services online, you can use website surveys. If you are looking to collect on-site feedback at different locations, run on-premises surveys and segment responses location-wise effortlessly. If you are looking to make a single digital survey relevant to different customers, use survey logic so that your customers see only relevant questions.
There are infinite survey strategies you can leverage today to make feedback collection more effective than ever. And the best part is that you can collect equally insightful feedback with a free survey maker. However, you will need to put in some research to select the tool that works best for your business.
If you have read this far, we have another great piece of news for you. We have narrowed down the list of top free customer feedback software that you can use to create not just one free survey but multiple surveys across different channels.
Let's get started.
8 Best Customer Feedback Software for Your Business
Zonka Feedback
Qualaroo
TypeForm
SoGoSurvey
SurveyMonkey
JotForm
Zoho Survey
Crowdsignal
1. Zonka Feedback
Zonka Feedback is one of the most reliable free customer feedback tools which enables businesses to collect feedback effortlessly with the use of the latest technology. It enables multi-channel survey distribution and easy response tracking so that you can target different audiences with different surveys and still be able to make sense of all the feedback you have collected.
Using Zonka Feedback, you can measure feedback across the most important CX metrics, including NPS, CSAT, and CES. Moreover, you can collect quick and in-the-moment feedback using its free customer feedback app.
Key Features
Here are the main features of Zonka Feedback customer feedback software:
Multi-channel feedback tool that allows you to collect feedback through email, SMS, survey link, QR code, mobile app, mobile, tablet, and kiosk
Website survey free of cost - up to 3 free surveys
Surveys can be created with a few clicks; no need for coding and technical knowledge
500+ ready-to-use, industry-specific survey templates, including NPS survey template, CSAT survey template, post-transaction survey template, etc.
Three active surveys and unlimited survey responses
Multilingual surveys (30+ languages)
Automated workflows
Feedback segmentation and tagging
Real-time alerts, notifications, and response actions
Reporting and analysis to retrieve insightful data and trends from responses
Unified response inbox
Survey logic to create relevant surveys despite different customer experiences
Mobile-responsive surveys
Rating
4.8/5
Here's a Customer Effort Score survey template by Zonka Feedback consisting of a CES survey question and an open-ended question to let customers share feedback in their own words:
2. Qualaroo
Qualaroo is another free tool and among the top free in-app feedback tools that businesses prefer to use because of its amazing features, such as advanced targeting. It is ideal for collecting website feedback because of its pop-up surveys called Nudges that enable brands to ask the right questions at the most appropriate time. It is also effective in growing website leads.
Key Features
Qualaroo's key features include:
Mobile-responsive surveys
Ability to create free surveys online and asynchronous code for website surveys so they don't slow the website
In-app surveys using its free customer feedback app
Closed and open-ended questions
Rating
4.8/5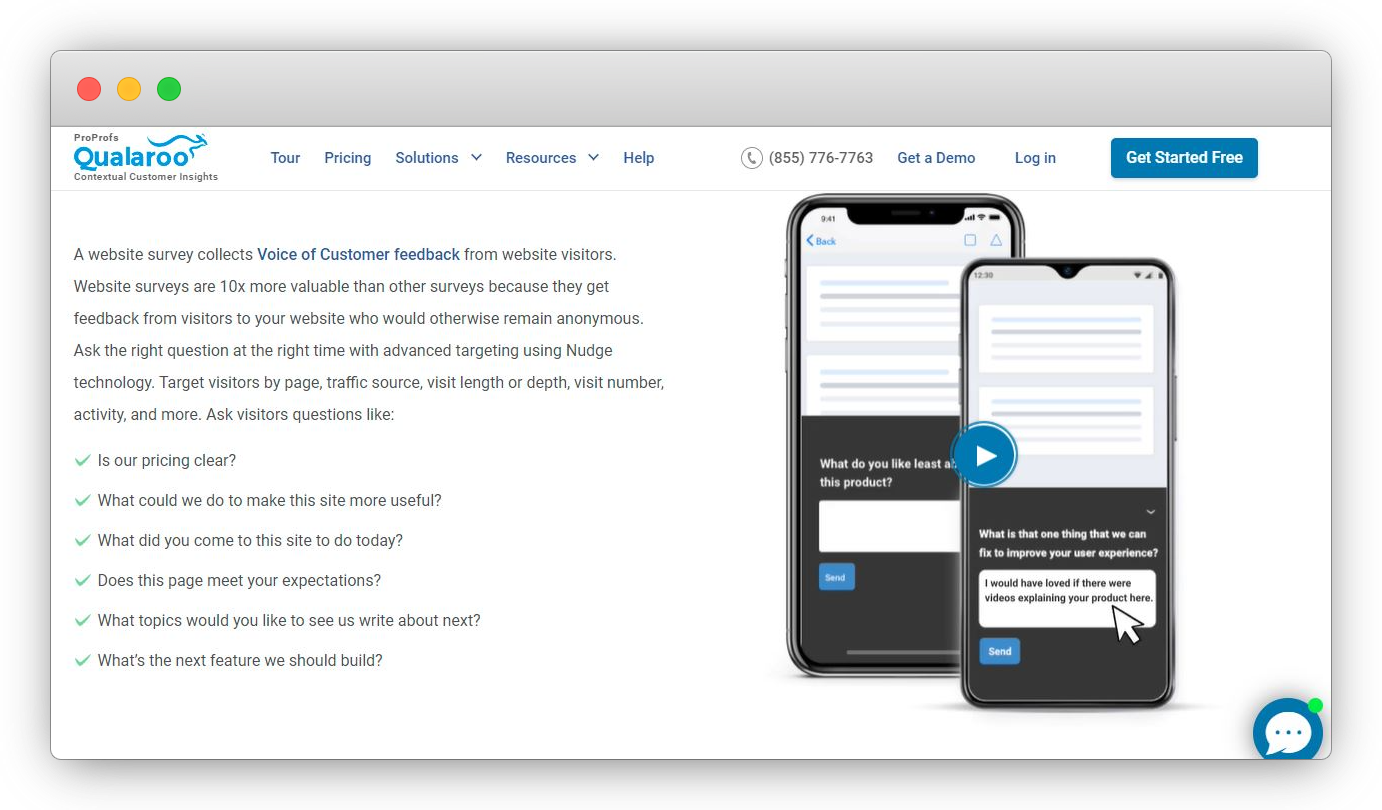 3. TypeForm
TypeForm is a popular, free customer feedback software that allows asking one question at a time so that the feedback survey flows like a conversation. This works effectively in engaging customers and even increasing the survey response and completion rates.
Key Features
Here are the primary features of this free customer feedback tool:
Unlimited surveys with a maximum of 10 questions
Ten responses per survey per month
Built-in photo and video libraries to create interactive and attractive surveys
Custom layouts and themes
Conditional survey logic
Rating
4.7/5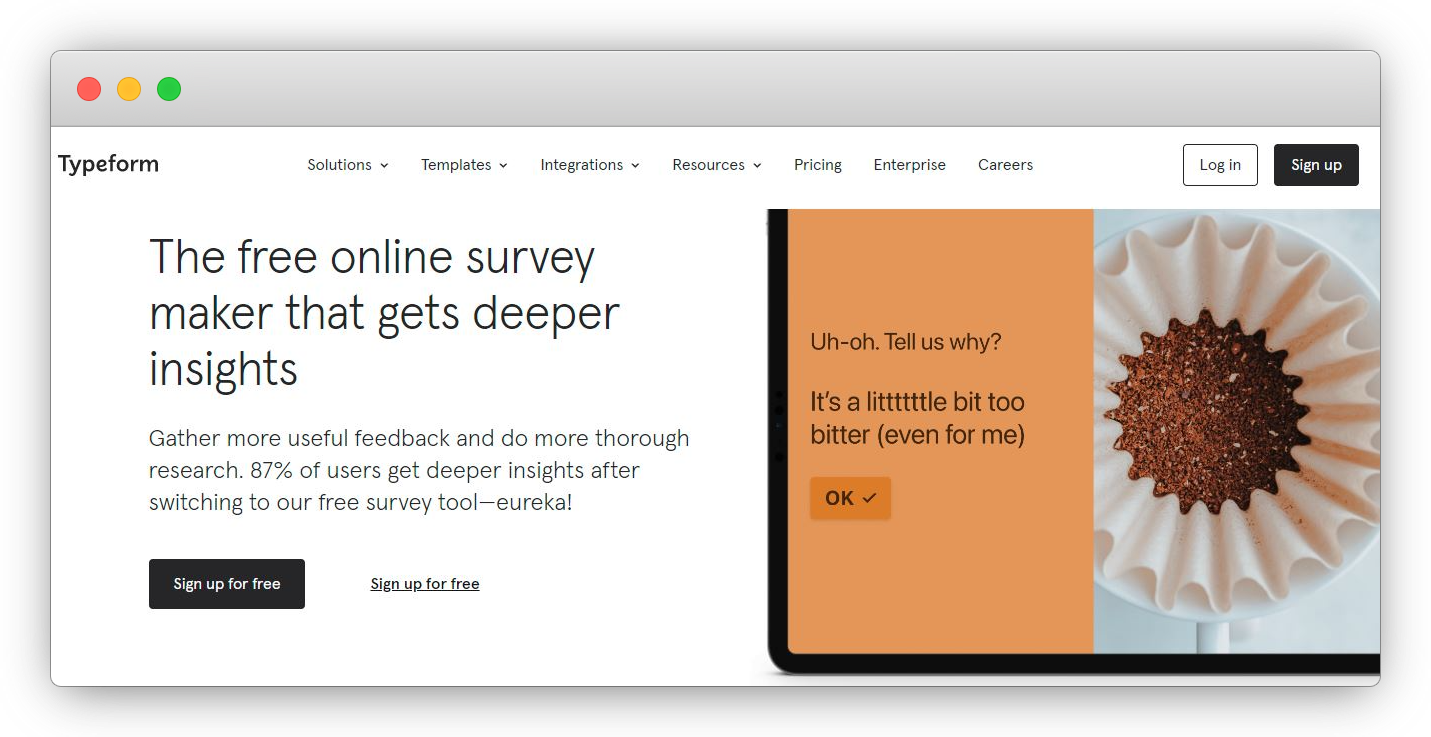 4. SoGoSurvey
SoGoSurvey's free customer feedback software is ideal for businesses of all sizes. This means that if you are currently operating at a small scale and using this software, you can continue using it free of cost even when you plan to expand. If your focus is more than just feedback collection, you may need to invest in the paid plan that offers additional benefits like integration and branding.
Key Features
Here are the main features that you can leverage:
Unlimited surveys with a maximum of 100 responses per year
Template bank with customizable forms
Question types, including Likert scale, radio button, rating scale, emoji scale, etc.
Audio or video embedding to improve the quality of survey forms
Social media sharing
SSL encryption to protect participants' data
Rating
4.7/5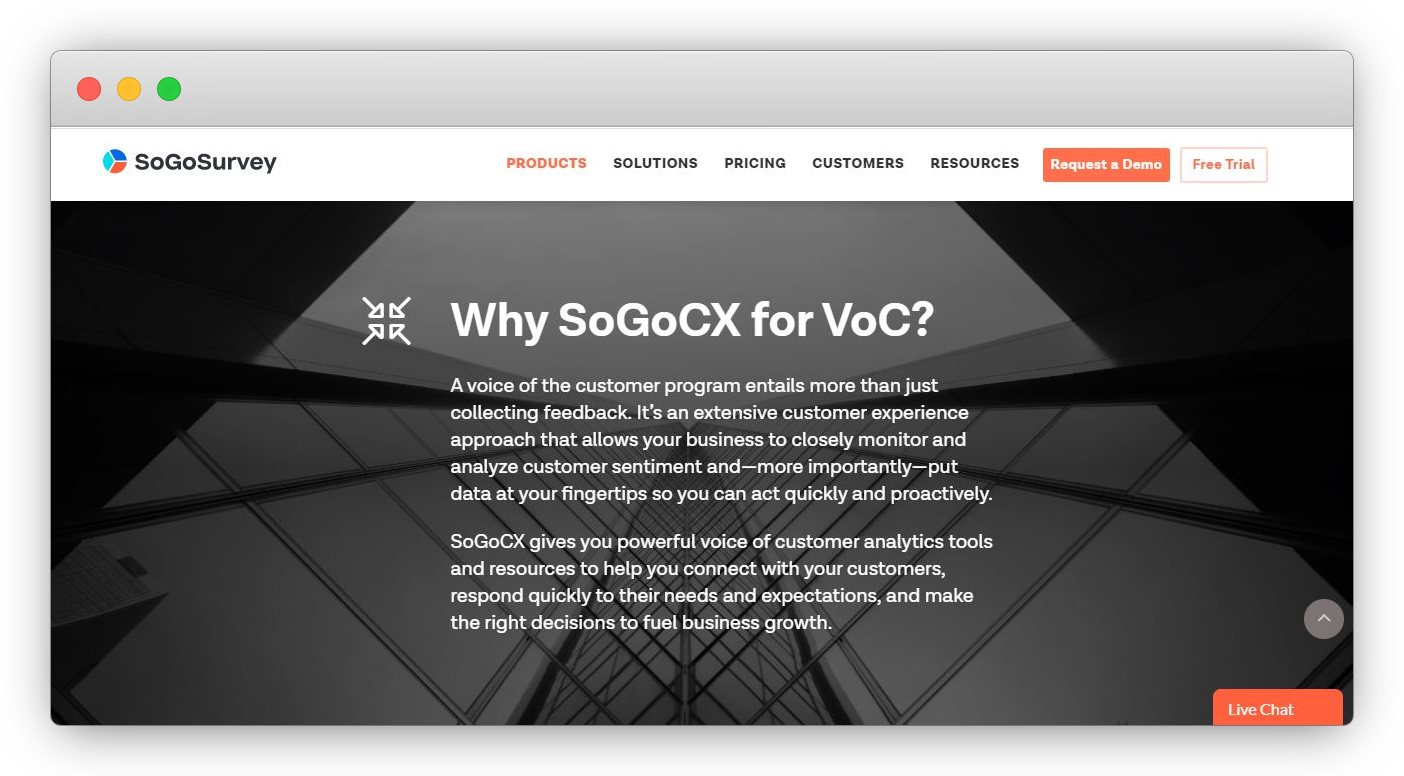 5. SurveyMonkey
SurveyMonkey is an effective customer feedback tool that allows creating both long and short surveys at different customer touchpoints. You can measure feedback across all CX metrics using existing survey templates. You can also use the website feedback widget to create website surveys.
Key Features
Here are the top features you can use with SurveyMonkey's customer feedback software free package:
Unlimited surveys with a maximum of 10 responses
Readymade templates and multilingual surveys
Survey reports with filters to segment responses based on the type
Survey customization
Rating
4.6/5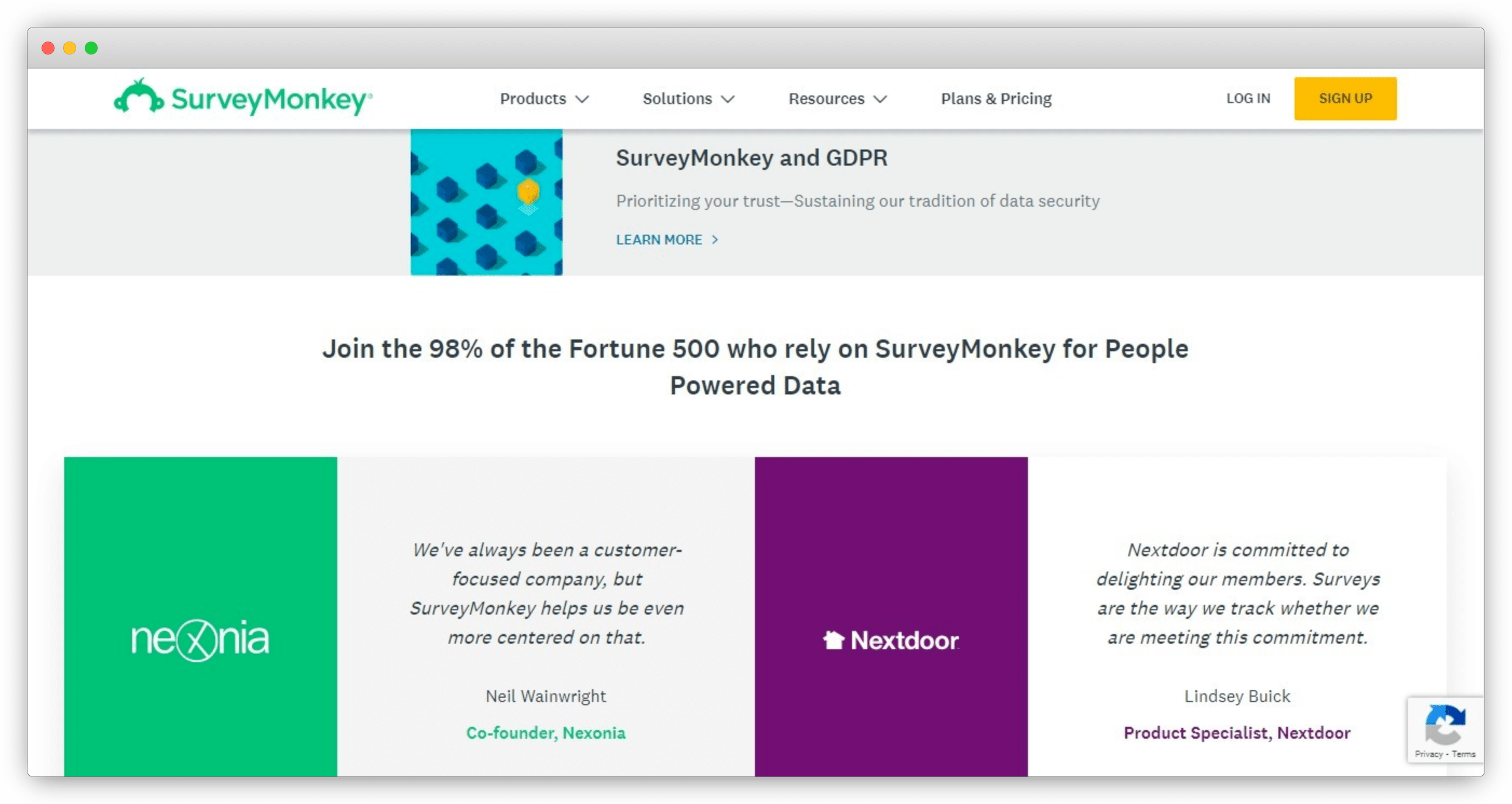 6. JotForm
JotForm is packed with flexible features that do not just help effectively collect feedback but also enable payment collection through forms. You can use conditional logic, automate workflows, generate insightful reports, and much more. The free customer feedback app is great for businesses with advanced needs.
Key Features
Here are the key features that JotForm has to offer:
5 surveys and a total of 100 responses per month
The largest collection of free survey templates
Integration with business tools
Widgets for feedback, including e-signature, checklists, PDF embed, etc.
40+ payment gateways
Rating
4.6/5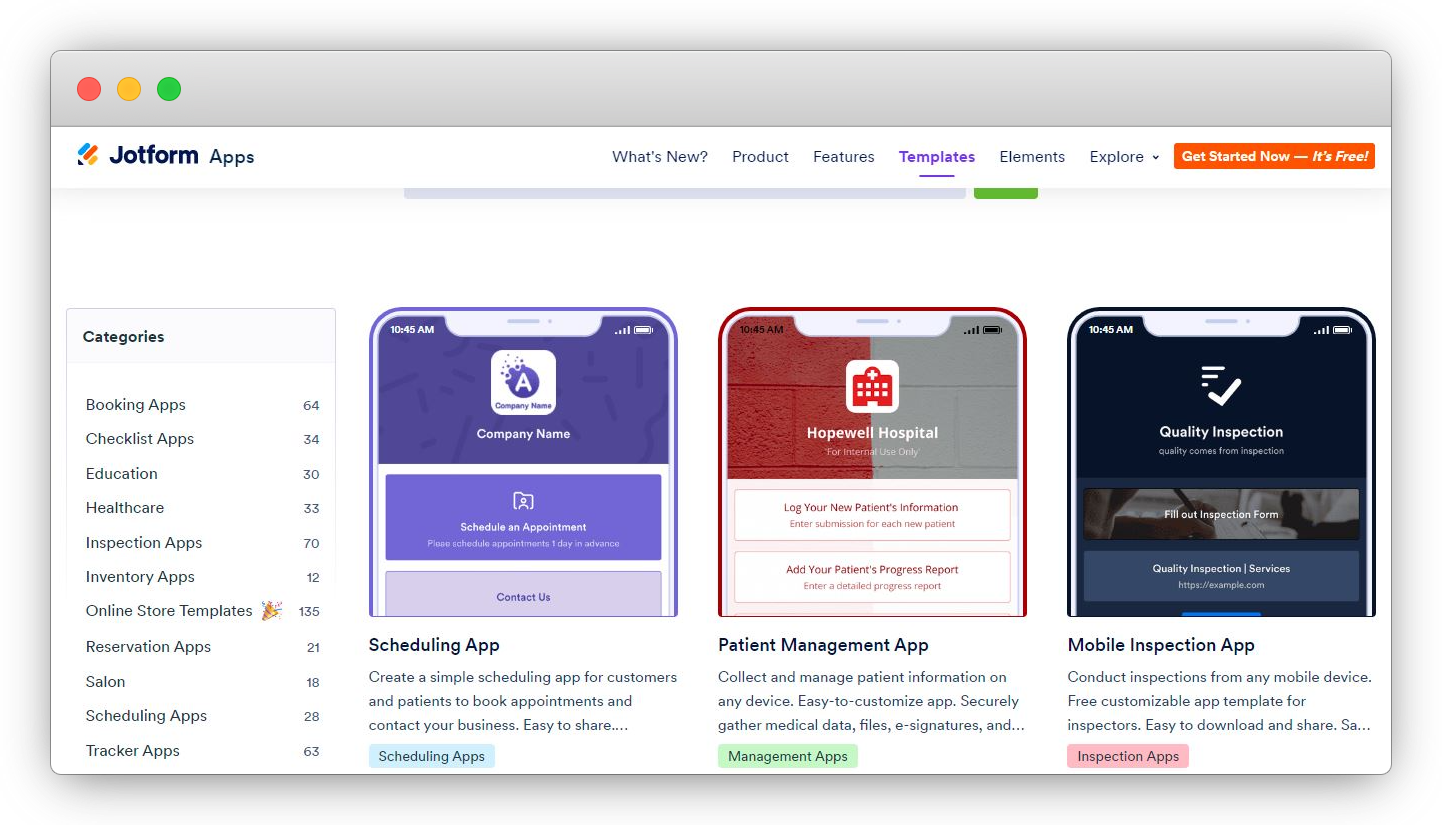 7. Zoho Survey
Zoho Survey is another free customer feedback software that has good ratings and is highly preferred by brands. The free tool, however, doesn't have advanced features like conditional survey logic or integrations.
Key Features
Here are the main features that you can use in this free customer feedback software:
Unlimited surveys with 100 responses per survey
250+ survey templates
Real-time responses
Mobile-friendly surveys
Website surveys that can be embedded directly into the web page
Rating
4.6/5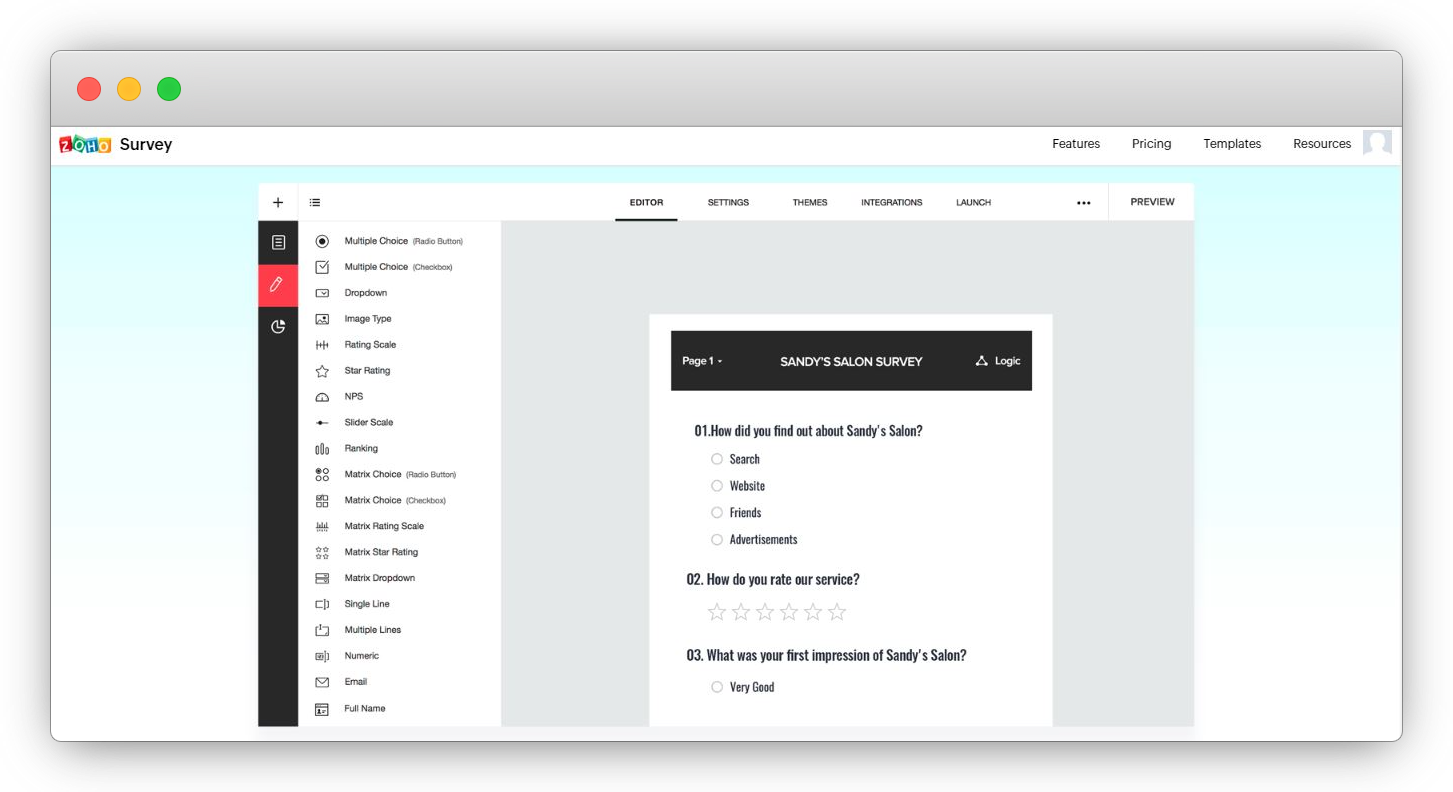 8. Crowdsignal
Crowdsignal is the work of the team behind WordPress.com. It is one of the most effective free customer feedback software which records responses as signals from the customers. It also allows creating quick polls so you can capture the general sentiments of your customers without requiring detailed responses to long surveys.
Key Features
Here are some unique Crowdsignal features that you can benefit from:
Unlimited surveys with up to 2,500 hundred responses or signals
WordPress design themes for your survey forms
No login required if you're using an existing WordPress account
Drag and drop survey builder features
Printable survey reports
Rating
3.6/5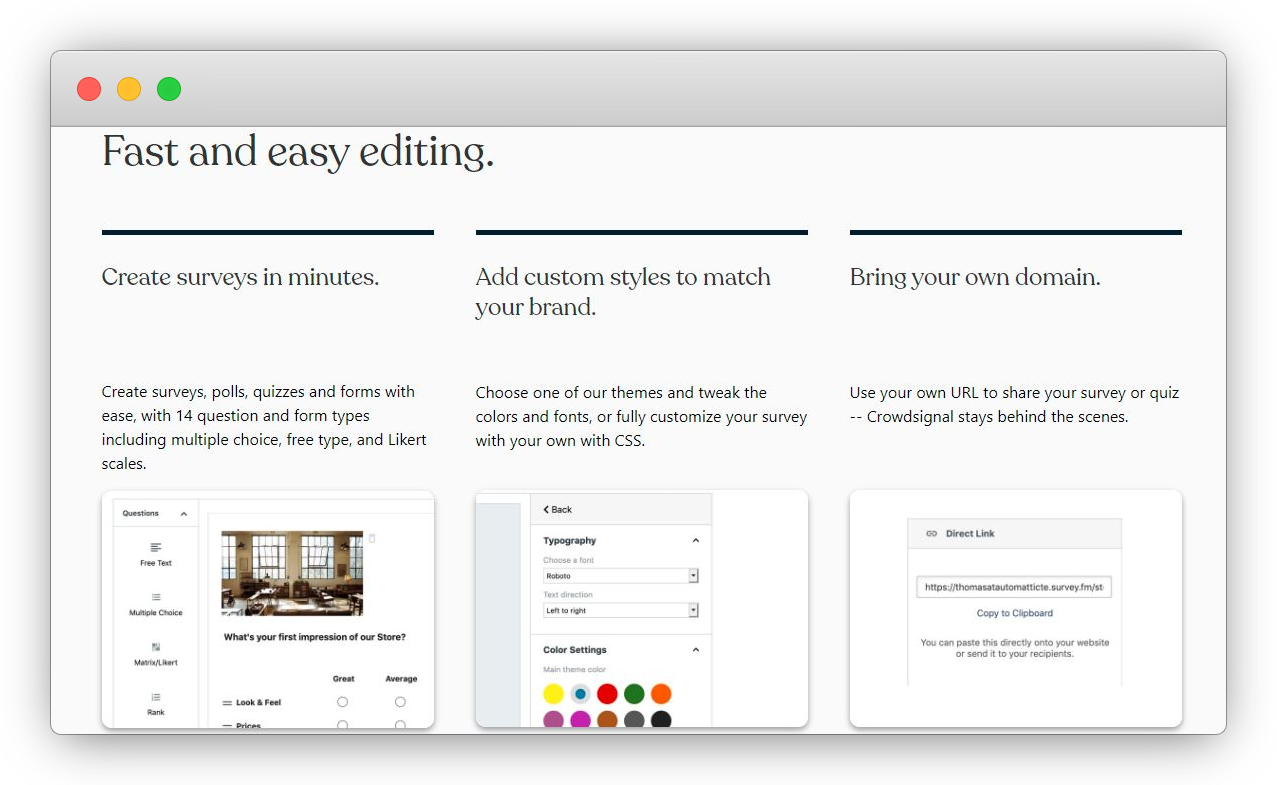 Conclusion
Most free customer feedback software would have a limited free trial available. You can try the tool out to see if it works well for your brand. However, if you think that you may not be able to explore all the free features in just a few days, you can use the survey apps that have a completely free package available as well.
The descriptions of the top free customer feedback software above will certainly help you get started without many trials and errors.