Feedback surveys are the best way to get to know your customers and understand what matters to them from time to time. Surveys help you understand your customers' pulse and position yourself correctly to retain the existing ones and continually attract potential customers.
And if you're already using Salesforce, you have an added benefit of centralizing every unit of feedback data in your Salesforce environment either by using native surveys or Salesforce surveys through survey tool integration. The complementary advantage of intelligent and attractive surveys in a dedicated tool obviously makes businesses gravitate toward specialized survey tools.
So, in this article, we talk about Salesforce feedback management using a survey tool like Zonka Feedback, which can help you take your customer feedback strategy a notch higher with its unique capabilities. We explain the use and benefit of each feature with Salesforce survey examples to help you understand how businesses make the most of them.
Measure CX at all touchpoints with Salesforce Surveys
Send surveys and get 360° view of your customers right within Salesforce with Zonka Feedback
Let's get started.
1. Run Smart, Personalized Surveys
Zonka Feedback allows an easy flow of information between Salesforce data and Salesforce survey forms. This means that you can map survey fields to your CRM, which doesn't only help sync feedback data, but also create more personalized surveys for customers.
As a result, you can address your audience with their first names, so they are more likely to connect and share feedback. You can also add order specific-details, like the name of the item, so your customers know what the feedback is being asked for.
Here's one of the personalized Salesforce survey examples: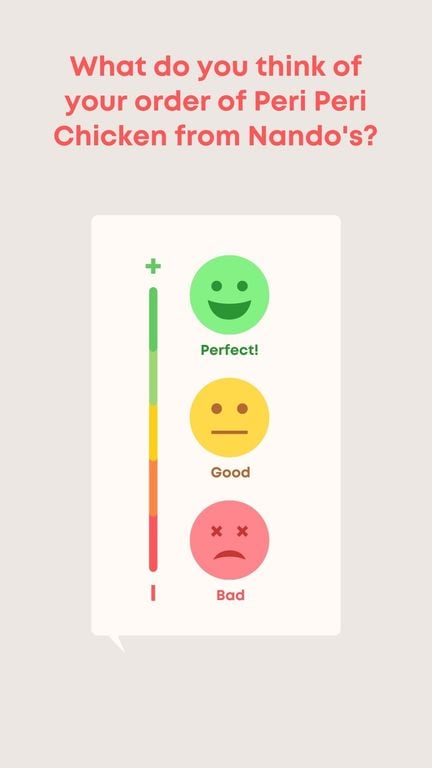 Tip
Hardly anybody is naturally motivated to take surveys. What you can do is make feedback sharing easy for your customers. So, you can use pre-fill surveys to automatically add customer details, like name, company, email, etc., so they don't have to.
Benefit
Pre-fill surveys save customers' time, make feedback requests more personal, and share more information on what feedback is needed. This improves the feedback-sharing experience and increases their likeliness of taking the survey.
Example
A co-working space in Chicago sent semi-annual surveys to members and pre-filled information automatically from the Salesforce database with information that had already once been collected. This improved survey participation and reduced efforts in efficiently managing member feedback data.
2. Get the Most Specific Feedback with Screenshot Surveys
Screenshot surveys are great for when you're looking to collect very specific feedback on a website or mobile app. This means that your Salesforce survey would allow users to take a screenshot and mark their feedback very specifically without having to leave the website. This has taken feedback sharing notches higher since your users do not need to pick up their phone to explain an issue or write an email with screenshots and other details to share feedback.
For example, if a user is unable to see a product in the cart of your eCommerce website despite adding it repeatedly, they can take a screenshot, write the challenge they are facing, and submit it – all on the website.
Tip
You can leverage screenshot surveys during the testing phase of a website or for beta testing of an online product.
Benefits
Screenshot surveys help collect the most detailed feedback, eliminate ambiguity in feedback, and make the feedback experience easy and effortless.
Here is one of the Salesforce survey examples for a website or in-app feedback. Let's say you wish to collect feedback from all the members or employees on the company website redesigned through a website usability survey. You can use a screenshot survey to let users take a screenshot, highlight the bug or error, and submit the screenshot with feedback right on the website.
3. Use Automated Surveys to Capture Continuous Feedback
When you're dealing with customers at a large scale, you cannot possibly survey each customer manually at every touchpoint. Therefore, Zonka Feedback allows you to automate surveys so that they are triggered every time a pre-specified condition is met. For example, if you have the email address of your customers, you can send an email survey automatically at different trigger points.
Tip
Time surveys correctly in order to get the most relevant and useful feedback. For example, if a customer is sent a CSAT survey immediately after receiving a mattress delivery, they may not even share feedback so soon. So, you can set the product feedback to be collected 10 days after the product was delivered. This way, you would get the most genuine feedback.
Benefit
Automated surveys reduce the manual work and collect feedback at all the important touchpoints without missing any ideal survey candidate. They also help in collecting more high-quality feedback.
Example
Here's one of the Salesforce survey examples to explain survey automation: The guest experience manager in a hotel configures surveys to be sent to guests at different touchpoints. First, a CSAT survey is sent right after the guest checks in to measure their check-in experience and collect feedback across factors like cleanliness, staff's support in checking in, etc.
After that, when the guest moves on the premises to use different amenities, like the in-house restaurant or spa service, an automated survey is sent to collect amenity-specific feedback. Finally, after the guest checks out, an automated survey is sent one day after the check out to measure their overall experience during their stay at the hotel.
Here's an example of a Salesforce survey CSAT question at one of the hotel touchpoints:

4. Sync Customer Data Back to Salesforce Both Manually and Automatically
With a survey tool like Zonka Feedback integrated with Salesforce, you can seamlessly sync all feedback and responses from your customer surveys back to Salesforce. This is done in two ways:
Custom Mapping: Custom mapping requires you to manually map Salesforce objects with survey data response fields so that the responses can be stored in respective Salesforce objects. It also requires you to set when you wish to sync feedback, for example, you can sync all responses that come in or only the ones that meet your predefined criteria.
Managed Mapping: Managed mapping is a much easier alternative since it automatically syncs feedback data back to Salesforce contacts without you having to map fields and objects. You can sync responses based on parameters like contact number, email, or new contact.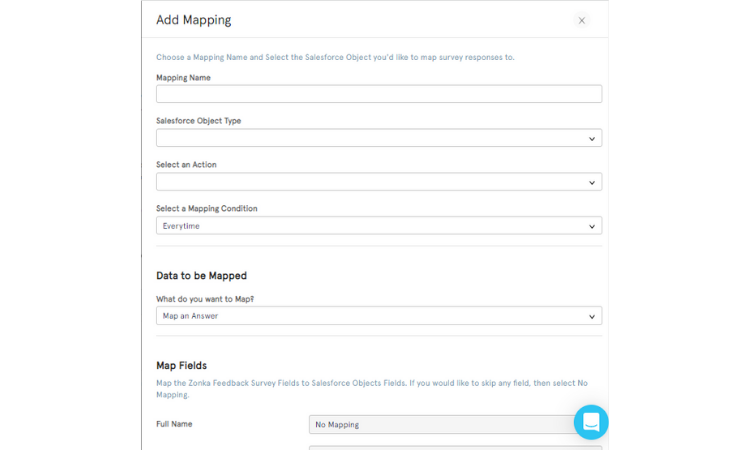 Tip
When you're mapping feedback with Salesforce, add logic to your mappings to create tasks or define actions so that the information doesn't just sit there but is rather actionable.
Benefit
Logical mapping helps in creating an actionable data center, which helps in closing the feedback loop with customers.
Example
This is one of the best Salesforce survey examples to explain the benefit of using logic when mapping customer data. Let's say you run a Salesforce CSAT survey. Now, to use the CSAT scores to improve customer satisfaction, you can add all contacts with scores less than 7 to the object 'Follow Up'. This way, your customer service team would know whom to follow up with and when.
You can further use Zonka Feedback's automated workflows to assign tasks to team members directly by tagging them to feedback.
5. Create a Centralized CRM View of Customer Feedback
With survey tool integration, you can create a custom object consisting of all the feedback results and have a centralized data view. This means that you can share access with different team members and support different functions within the organization.
You can create custom reports to understand the general sentiment of your customers and also view survey insights like day, location, time, etc. You can also view actionable reports like customer service team performance reports, including individual scores.
Data centralization allows for managing data efficiently using such reports and helps tremendously in decision-making. For example, you can identify complaint trends and flag an ongoing issue to be worked up on priority.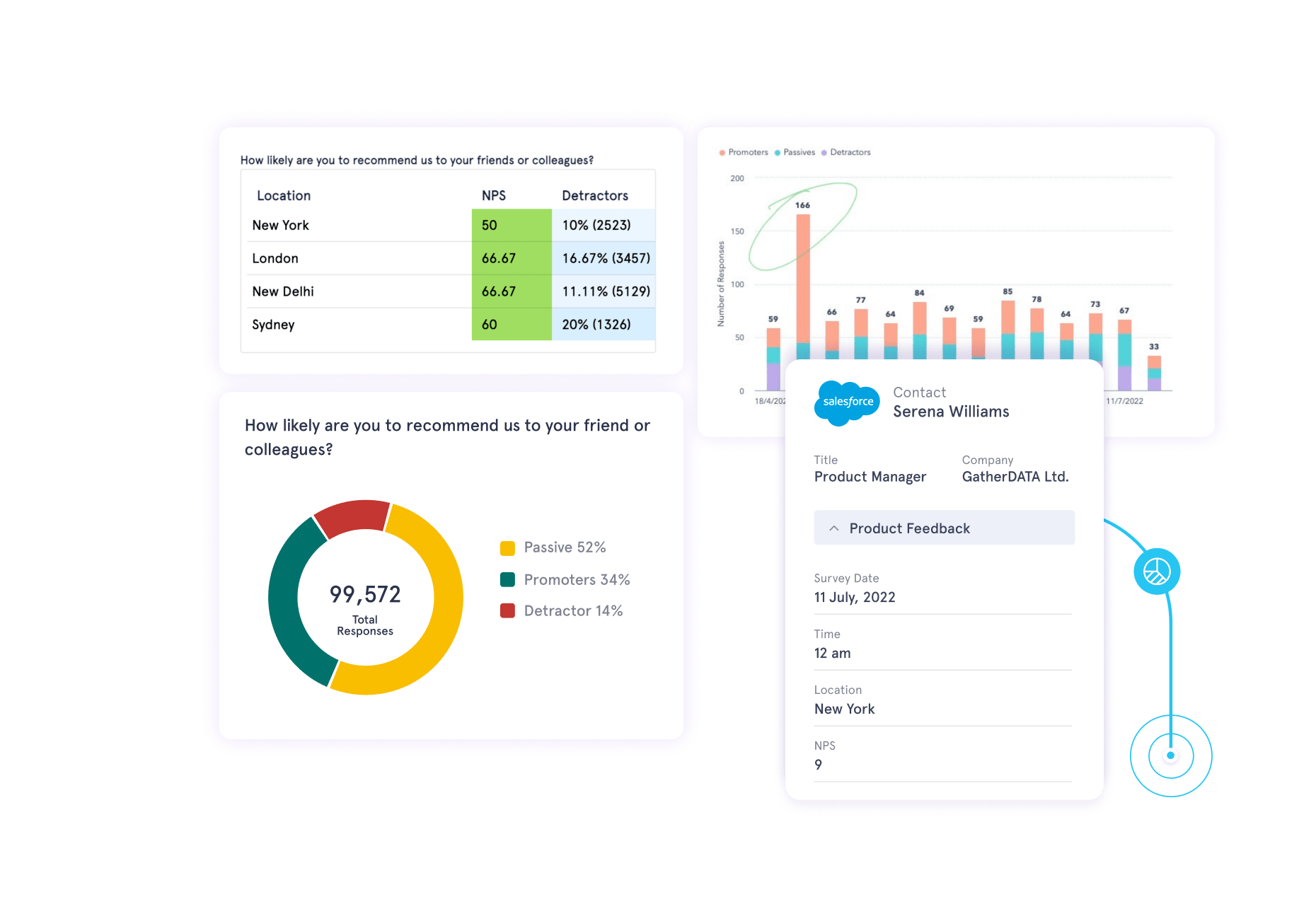 Tip
Create a single custom object where all feedback data will be mapped. This object may tie back to the contacts, account, or any other objects you may have set in your Salesforce environment.
Benefit
This allows different teams from different departments to create their own views of feedback using filters and be able to see customer information at different touchpoints. This helps the business to operate as a unit and create seamless customer experiences.
Example
A customer who has given a low score in a Salesforce NPS survey should not be contacted for the renewal of the subscription. Both the marketing and customer service departments can view this information and work on retaining the customer with follow-ups instead of sending irrelevant marketing emails and renewal reminders.
6. Close the Positive and Negative Feedback Loops
Zonka Feedback integration with Salesforce allows using automated workflows so you can close positive and negative feedback loops. This means that you can create tasks automatically for your team members and keep the required people in the loop. This further helps in communicating with the customer appropriately to close the feedback loop.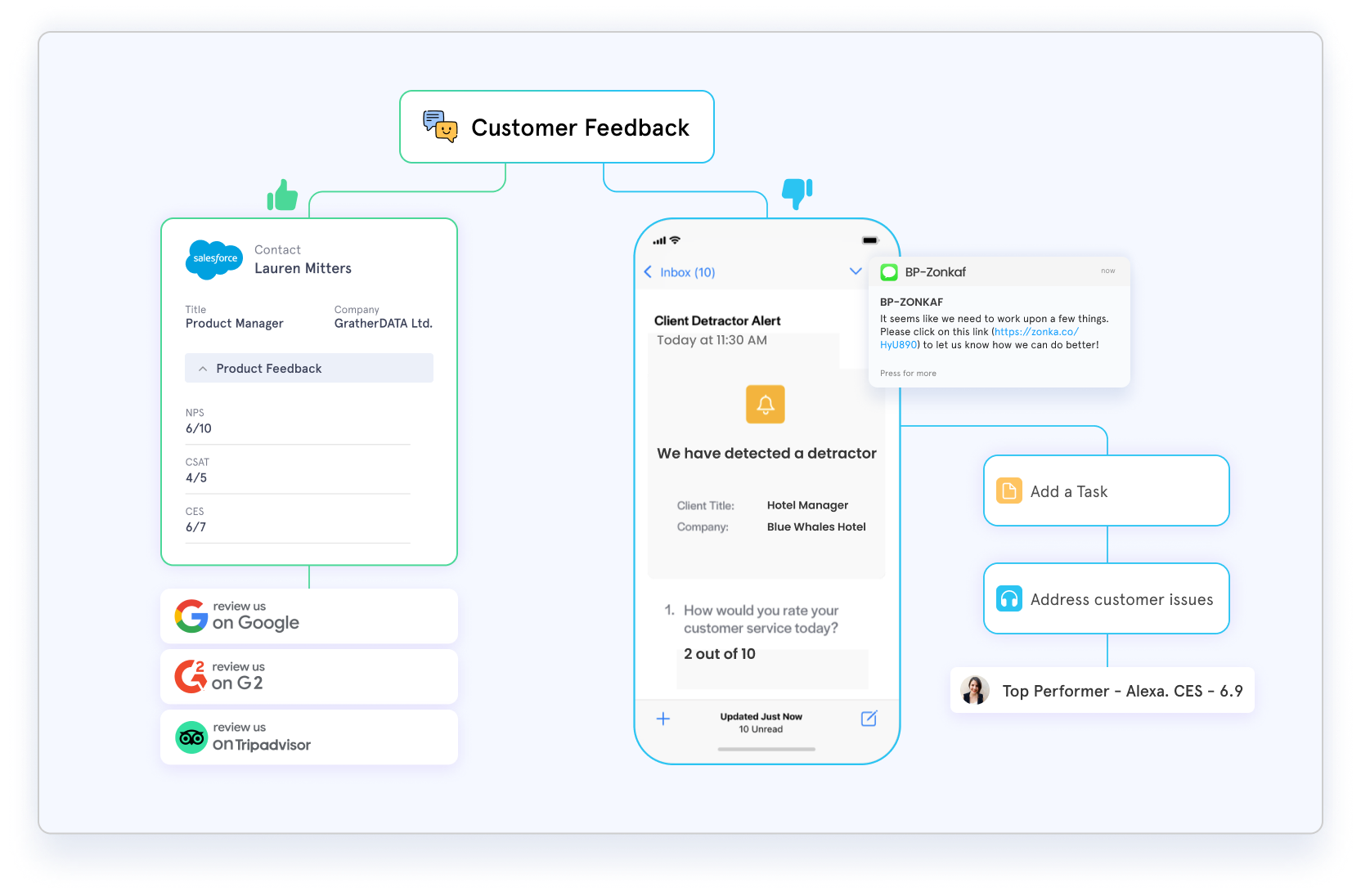 Tip
Use workflow automation when the feedback mapping is happening. This means that you can customize tasks or tags to be created based on the score the customer has given. It will then send a notification to the concerned department or perform a specified action as soon as the customer feedback comes in.
Benefit
Using automated workflows streamlines all the data used as input and ensures that the feedback is acted upon quickly instead of simply sitting in Salesforce. This helps close the feedback loop, and most importantly retain customers that you are likely to lose.
Example
One of the Salesforce survey examples to explain workflow automation is score-based action on survey responses. Let's say a customer gives a score of 9 to an NPS survey. Now, in this case, an automated survey can be set to be sent to the Promoter thanking them for their feedback. You can also include a testimonial request in your follow-up survey.
Similarly, in the case of a Detractor, i.e. a score of 6 or below, you can set actions like - add a task, escalate after x days, send an email or SMS follow-up survey, etc. When you create a task, automatic alerts will be sent to the customer service representative asking them to, let's say, follow up with the customer. This ensures that the Detractors are contacted and assisted with the challenge they faced in doing business with you.
7. Monitor and Improve Team Performance
Monitoring team performance using survey insights is one of the best Salesforce survey examples when talking about Salesforce survey integration. You get access to a centralized dashboard where you can access all reports including customer support performance. You can view collective scores as well as individual scores in reports.
Tip
Use the Customer Effort Score survey to measure your staff's performance and also collect feedback on aspects like knowledge, friendliness, resolution, communication, etc.
Benefit
You can identify team performance and identify the scope of improvement in the service standards. You can evaluate individual scores to measure each team member's performance and identify the need for retraining or support.
Example
A customer service organization uses NPS surveys to measure the overall brand loyalty and CES and CSAT to measure customers' satisfaction with the support they received. Based on the individual scores, the company identifies representatives who need training as well as top performers following the performance review.
8. Use Multi-Location and Multilingual Surveys to Capture Feedback Everywhere
One of the huge benefits of Zonka Feedback and Salesforce integration is the availability of multilingual surveys and geo-tagging that allows you to capture feedback at different locations. This enables effective data management since you can use a single account to capture feedback at different locations.
Tip
Use geo-tagging to measure the location-wise performance of a particular product or the brand as a whole. Use actionable reports to compare results and make a decision.
Benefit
Location-specific feedback helps using a single tool helps keep all the data in a single place and yet view it based on segmentations. This way, you can ensure intelligent business-wide decision-making.
Example
Taking one of the Salesforce survey examples of a multi-location retail brand, the business observes the lowest Net Promoter Score at the New York branch at 50% compared to other locations at 60% or more. Further drill-down of the reports helps understand the reason for the same which is lack of availability of support staff on the premises. As a result, the brand hires more staff and increases the location-specific NPS by 10% in just 3 months.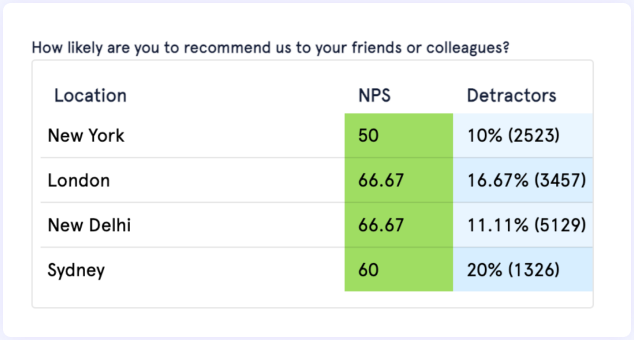 9. Use Offline Surveys to Collect Feedback Without Internet
Zonka Feedback enables you to use Salesforce offline surveys and cover more grounds without internet limitations. This is especially important for businesses operating out of a remote location or location without internet access. Offline surveys like kiosk surveys load automatically and can be taken even if there is no internet. The responses are then synced to the Salesforce CRM when the device is connected to the internet.
Offline surveys can be run on a mobile device, tablet, or kiosk. All you need is to install the survey app and you can start collecting feedback on your device.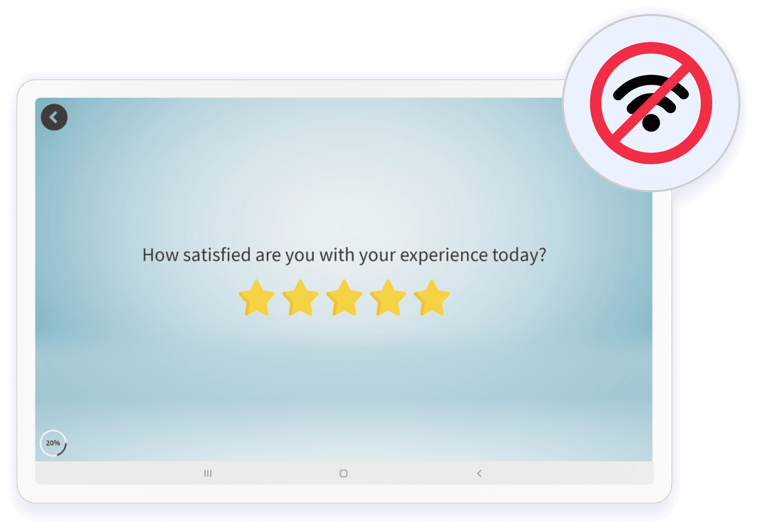 Tip
While offline surveys are great for feedback collection in NGOs or hospitals in rural locations, you can benefit from this feature even when collecting feedback door-to-door. The delivery executive can take facility feedback from the customer on their location conveniently via mobile phones even without internet availability.
Benefit
In addition to working without the internet, offline surveys remove all limitations and help capture the most insightful feedback even when the survey is abandoned. For example, if a customer leaves the survey halfway, the responses to the questions they have answered will be stored in the device to be synced later. No responses go to waste and you can measure the general sentiment of your customers even if they chose not to share detailed feedback.
Example
One of the best offline Salesforce survey examples would be collecting parking feedback in a multi-level underground parking lot where there is no internet availability.
Conclusion
In addition to collecting multilingual, multi-location feedback and using centralized data efficiently to close the feedback loop, Zonka Feedback allows creating the most relevant and personalized surveys to encourage your customers to share feedback. Moreover, you can collect multi-channel feedback across emails, SMS, websites, mobile or desktop apps or tools, iPad, Android tablets, kiosks, etc.
You can kickstart feedback collection with simple integration of the survey tool with Salesforce.
Measure CX at all touchpoints with Salesforce Surveys
Send surveys and get 360° view of your customers right within Salesforce with Zonka Feedback