Nowadays, every business is investing a lot in streamlining the customer experience. Collecting Customer Feedback will help in building a strategic process to fulfill your consumer's requirements and help your business understand how well the company is performing.
Customer Feedback is one of the key drivers of the long-term growth of any business. Most of the organizations never miss any opportunity to interact with their customers to know about them. Businesses spend millions of dollars on setting up feedback channels: emails, reviews, and online surveys to capture informative customer insights.
Definition of Customer Feedback
The insights, issues, and input shared by the customers regarding their experience with your company, product, or services are termed as "Customer Feedback." The feedback gathered will improve customer experience and can empower positive change in the business.
Importance of Customer Feedback
Customer Feedback is vital in improving customer experience and retention rate. Collecting feedback shows that you give importance to your consumers and their point of view. Listening to them helps your business create long-lasting relationships.
5 Most Effective Ways to Collect Customer Feedback
There are numerous benefits of measuring Customer Feedback. It's the best way to keep your consumers engaged with you. There are different ways to collect feedback from your customers. The ones discussed here are the most popular yet most effective ones. Some involve directly asking your customers for feedback, monitoring your interactions with consumers, and observing customers' behaviors. Some of the most common ways of collecting customer feedback are: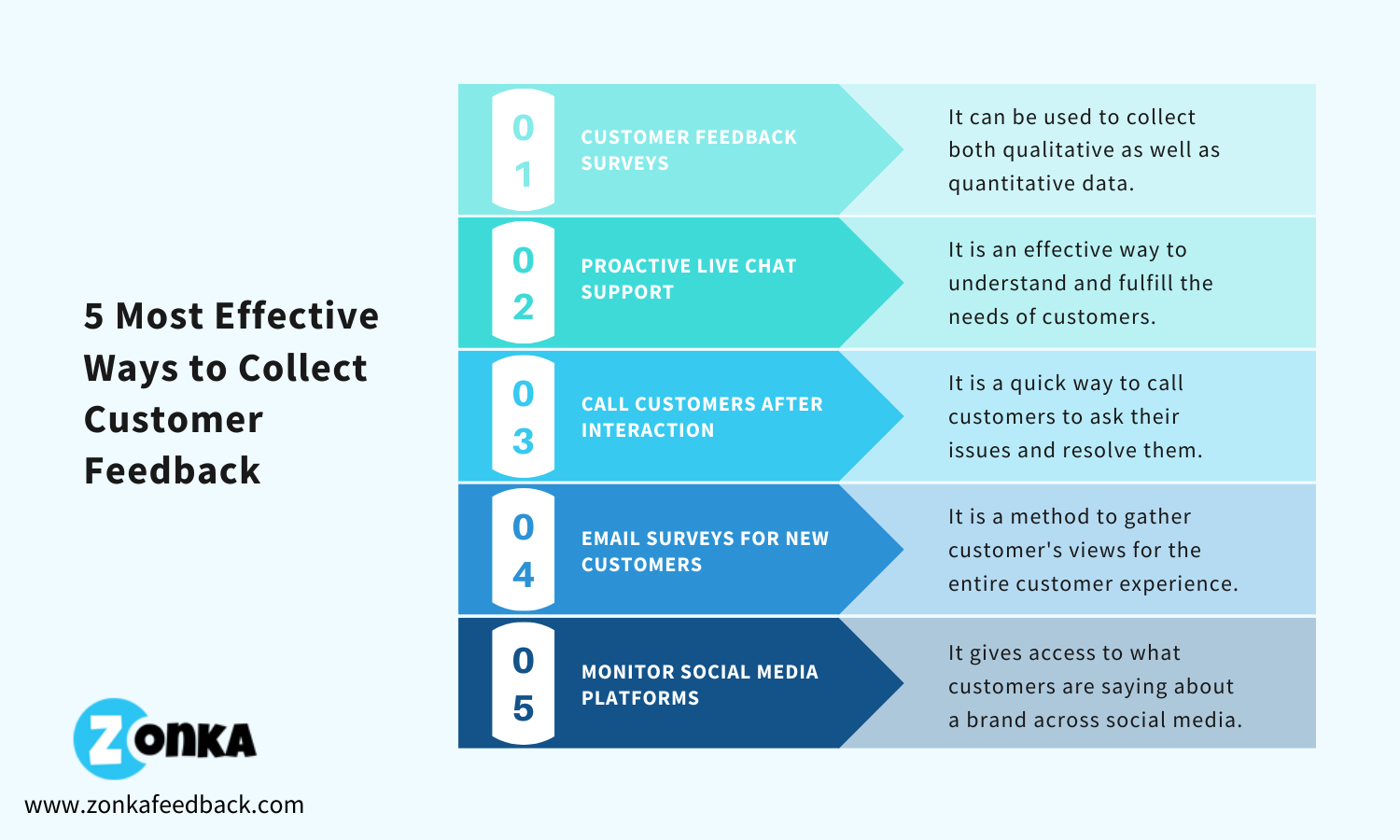 1. Customer Feedback Surveys
Surveys are one of the most effective ways in which you can ask customers for direct information. It can be used to collect both qualitative as well as quantitative data. A Customer Feedback Survey will help customers choose responses from the given list of responses. You can conduct online surveys over the email, phone, or in person. One of the easiest ways to create online surveys are with the help of a Online Survey Tools . The link of the survey website can be shared on social media, over email, and also on the website.
2. Proactive Live Chat Support
Nowadays, most of the e-commerce websites have a live chat feature. Customers can directly interact with the support executives to locate items they seek, answer queries related to products and services, payment, shipping, etc. Live chat support will assist a company by getting closer to its customers by understanding their requirements and fulfilling their needs. It will also help you identify any issues and find feasible solutions for the consumers. You can also seek feedback once a live chat session has been closed.
The Customer Feedback can include basic questions about whether the chat experience was helpful, and you can rate the effectiveness of the chat-support executive.
3. Call Customers after Every Interaction
One of the most personalized ways to seek Customer Feedback is by calling your customers. It's a proactive method and generates some of the best response rates. It will also help you get feedback directly from the customers. Interacting with them will help you see how much your they are satisfied.
The objective of the call should be to help or benefit your customers genuinely and not merely a call made for formality or sales purposes. After it's executed well, it will help your customers feel more valued and strengthens your relationship with them. This method requires a considerable amount of effort to maintain a long-lasting customer relationship.
4. Make use of Email Surveys for New Customers
Email surveys should be used to gather information related to the entire shopping experience (from search to shipment) from a customer's point of view. Make sure to send Email Surveys within 3 to 5 working days of order confirmation. Sending surveys, again and again, will annoy the customers. You can use Zonka Feedback's email survey app to send out these surveys.
5. Monitor Social Media Networking Channels
Social media networking sites such as LinkedIn, Facebook, Twitter, etc. is a vital resource for capturing Customer Feedback. Numerous tools are available which can help in "social listening" or gathering "conversations" on social media networking sites about a brand.
Social listening is a perfect way to boost user experience and quickly respond to any issue that might arise. There are different tools available in the market which can help in monitoring the social presence of your competitors. The best way to handle negative complaints on social media is to address all customer issues and resolve them quickly.
What to do with Customer Feedback?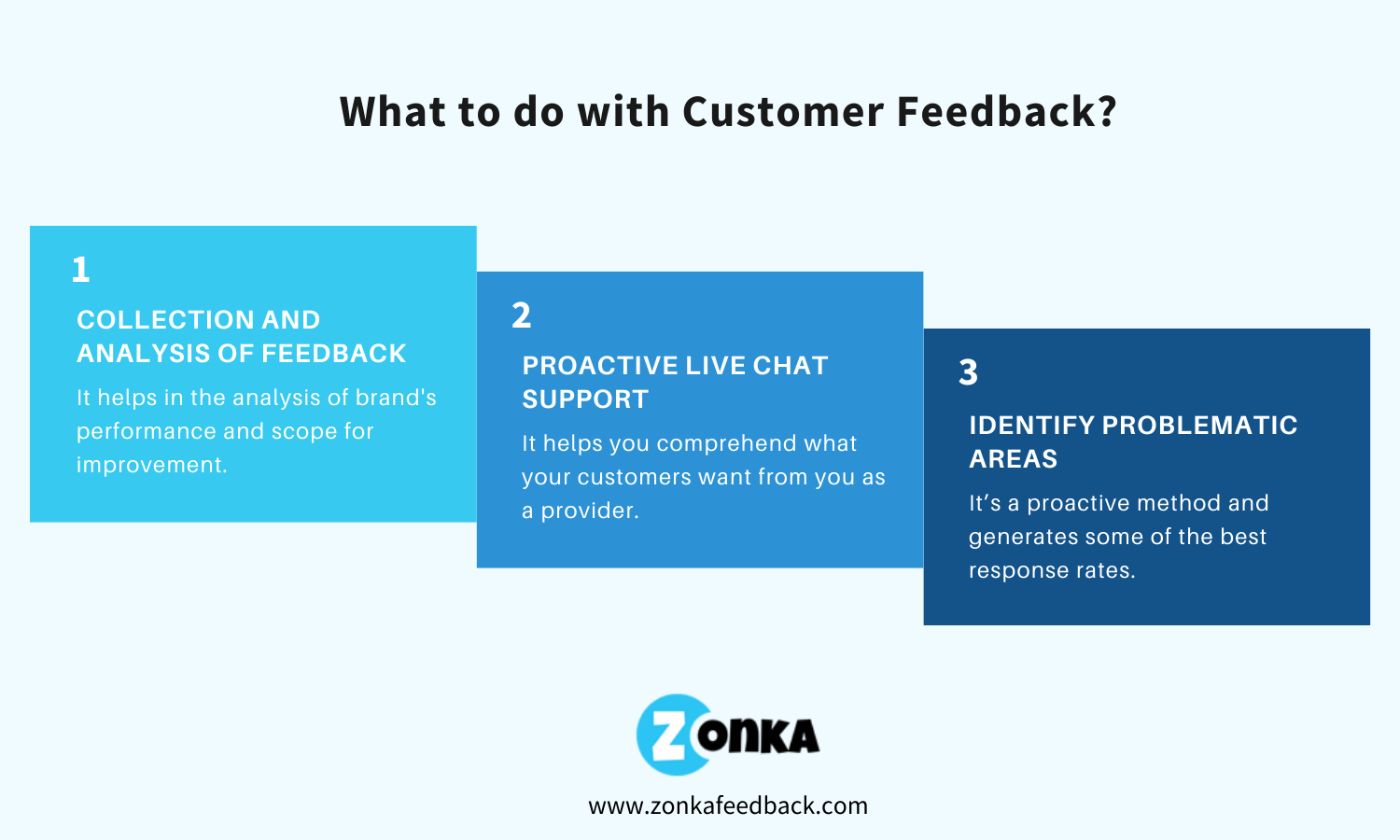 Collection and analysis of consumer feedback data help you see whether your company is doing well or not and whether there is any room for improvement. It can also reveal opportunities for the expansion of your business.
Insightful Customer Feedback can help in modifying the products and services of your company, which will help you comprehend what your consumers want from you as a provider.
Gathering Customer Feedback helps you identify the problematic areas and helps in eliminating them. Don't take people's complaints about your products and services in a negative way. Collecting quality feedback will help you create customer loyalty.
Conclusion:
Customers play a vital role in transforming every aspect of your company only if you listen to their feedback. Whether negative or positive feedback, all are equally important for the progress of your business. Building the right product and marketing it is only a half job done. Creating a customer-centric culture in the company requires a commitment to gathering, analyzing, and sharing the feedback plays a vital role in propelling your product and taking your business forward.
The first step is to establish excellent customer service at your company is to collect actionable customer feedback. There are plenty of Customer Feedback Survey Tools available that are used to collect feedback to help you acquire new customers and retain them. It's a quick way to set your business apart from your competitors in this digital world.
Learn more about the Customer Feedback