Nowadays, every business is investing a lot in streamlining the customer experience. Collecting customer feedback helps in building a strategic process to fulfil your consumers' requirements and help your business understand how well the company is doing.
Fuel Business Growth with Customer Feedback 🔥
Collect real-time, in-moment feedback at all touchpoints in customer journey and leverage feedback insights to transform customer experience.
Customer Feedback is one of the key drivers of the long-term growth of any business. Most organizations never miss any opportunity to interact with their customers to know about them. Businesses spend millions of dollars on setting up feedback channels: emails, reviews, and online surveys to capture informative customer insights.
What is customer feedback? How to collect customer feedback effectively and make the most of it? Let's understand.
Definition of Customer Feedback
The insights, issues, and input shared by the customers regarding their experience with your company, product, or services via customer surveys are termed "Customer Feedback." The data gathered improves customer experience and can make way for positive changes and growth in the business.
Why Collect Customer Feedback?
Customer Feedback is vital in improving customer experience and retention rate. Collecting feedback shows that you give importance to your consumers and their points of view. Listening to them helps your business create long-lasting relationships. As a result, you can expect:
Increased Conversions: 49% of buyers have admitted to making impulse purchases after receiving personalized experiences.
Increased ROI: 86% of buyers would pay more for a great buying experience.
Customer Loyalty: 96% of customers say that great customer service experiences are important in their choice of loyalty to a brand.
7 Most Effective Ways to Collect Customer Feedback
Customer satisfaction surveys are the most ideal tool to effectively take feedback from your customers. However, you must use customer surveys creatively to get feedback that is actually insightful and helps in business decision-making. You can also leverage other insightful channels to extract feedback from simple customer activity and use a Customer Satisfaction Score survey templates for effective feedback collection.
Let's read about some super creative and best ways to collect customer feedback.
1. Run Customer Feedback Surveys on Multiple Channels
Surveys are one of the most effective ways in which you can ask customers for direct information. It can be used to collect customer feedback that is both qualitative and quantitative. For example, you can give participants options to choose from or share their answer in their own words through an open-ended survey question.
You can use an online survey tool to collect customer feedback at different touchpoints through different channels like email, SMS, website, QR code, etc., based on how your customers choose to interact with your business. This means that if your customers make a purchase on your website, you can use a website survey to collect feedback right on the order confirmation page.
Similarly, if the customer is on the site, you can use mobile, tablet, kiosk or QR code surveys to collect on-premises feedback. If you're looking to collect product feedback once the user has had enough time to experience your product or service, you can go for email or SMS surveys. This ensures that you capture feedback wherever your customers are so you do not miss out on any critical piece of information.
2. Collect Feedback During Live Chat Support
Nowadays, most e-commerce websites have a live chat feature. Customers can directly interact with the support executives to locate items they seek, answer queries related to products and services, payment, shipping, etc. Another benefit of live chat is that you can collect customer feedback on the quality of support offered right in the chat window.
Let's say you're measuring CES in Intercom on your website. In addition to proactively offering support via the communication tool, you can:
Add a CES or agent performance survey to the home screen of the Intercom Messenger on your website
Send surveys in the Intercom inbox and messages
Send CES surveys using custom bots, and
Embed surveys in Intercom emails
This way, your agents can collect customer feedback right after customer interactions to measure how your customer service and agent efforts are perceived.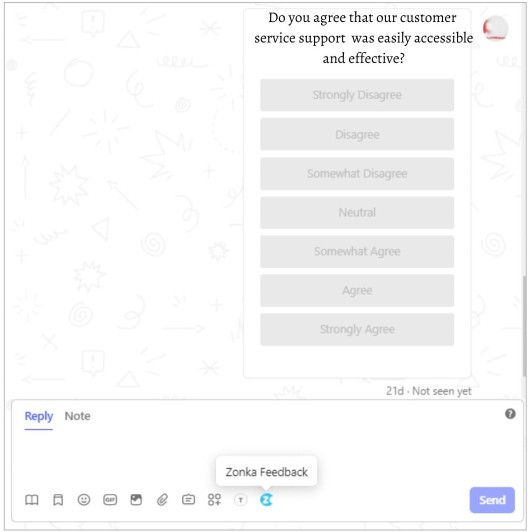 3. Monitor Social Media Networking Channels
Social media networking sites such as LinkedIn, Facebook, Twitter, etc. are vital resources when you're looking to collect customer feedback. Numerous tools are available which can help in "social listening" or gathering "conversations" on social media networking sites about a brand.
Social listening is a perfect way to boost user experience and quickly respond to any issue that might arise. For example, if a customer tweets about your brand sharing their negative experience, you can quickly get in touch with them and try to understand what went wrong, and even retain the customer. Remember, social media is equally helpful when it comes to spreading positive word-of-mouth about your business.
4. Select the Right Time to Send Feedback Surveys
Your feedback surveys may not always find your customers at the right time. This can mean that customers do not either take the survey or share feedback that may not be 100% genuine. This is the reason you should choose the right time to send a survey.
For example, the right time to send NPS surveys is after the customer has had enough time to thoroughly use and experience the product. To explain this better, we will take an electronics goods seller, for instance, that must ideally send a product feedback survey after 7 to 10 of the purchase so that the user is in a better position to share insightful feedback.
Based on the kind of feedback you're looking for, select the best time for your surveys to get a good number of quality responses.
5. Do Not Flood Your Customers With Surveys
There's nothing that customers hate more than too many emails from the brand they shopped once or more with. You may initially get survey responses, but if you keep sending surveys every once in a while, chances are your customers would stop responding.
So, find out what kind of feedback matters to you the most and decide the frequency of surveys accordingly. For example, if you're looking to collect NPS® feedback from your SaaS product customers, it is best to stick to half-yearly or annual surveys. However, if you're looking to collect transactional feedback, you can send surveys after every purchase. Keep in mind to not overwhelm your customers with feedback requests.
6. Create Mobile-friendly Surveys
Nowadays, the use of mobile phones has increased to a large extent for multiple purposes. Due to its ease of use and handy nature, people are preferring mobile phones for many things, be it checking and replying to emails, doing online banking, or online shopping.
It is quite obvious that no one will open their laptop or desktop just to respond to your survey. So, make sure that the surveys you create are mobile-friendly. People should be able to open the survey link and effortlessly share feedback just as they would on a larger screen.
For this, it is necessary that the survey software or app you choose enables you to create effective mobile surveys that can be sent through email or SMS.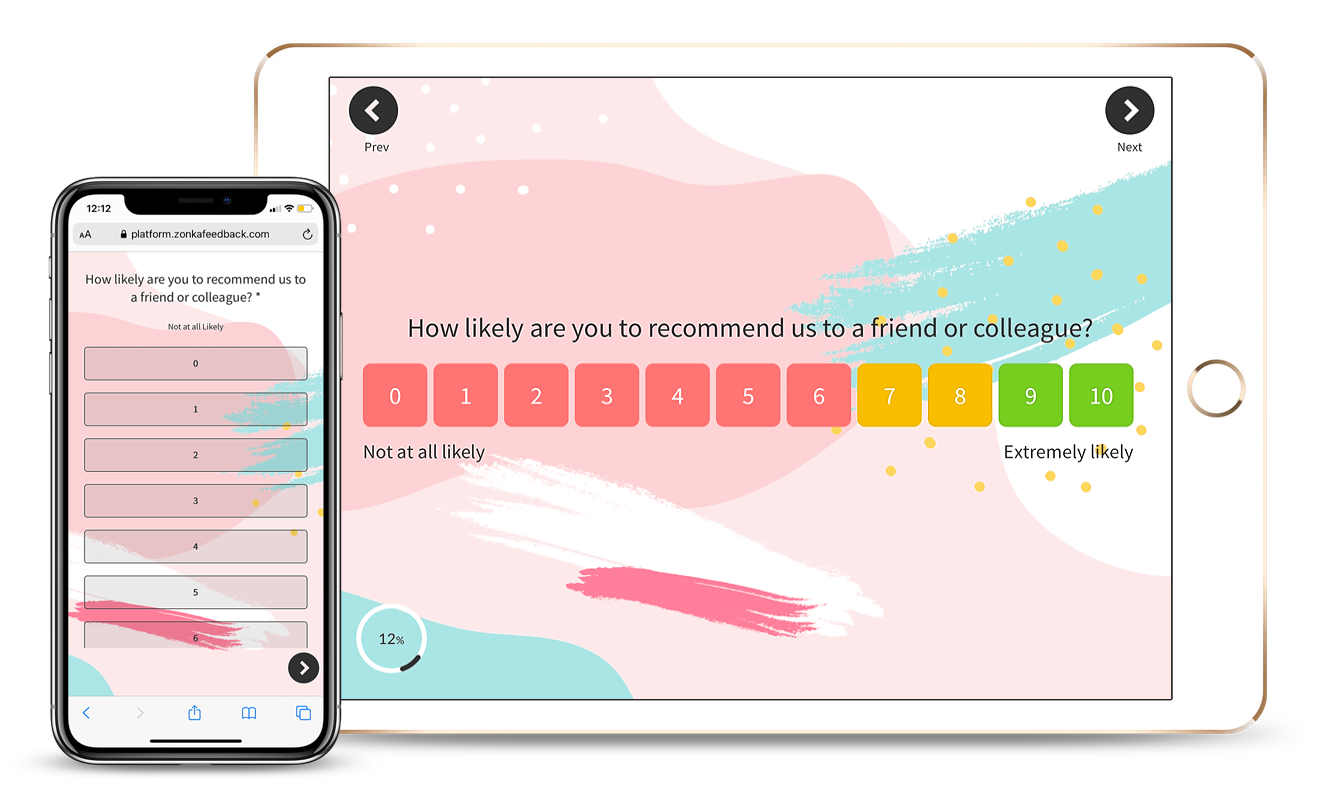 7. Make Use of Exit Intent Surveys
An exit intent survey appears when the customer is about to exit a website without making a purchase. The survey is usually inside a pop-up requesting the visitors to share their reason for not completing their purchase.
You can use a closed-ended question for users to select from the reasons like poor website interface, absence of a payment method, incomplete information, out-of-stock items, etc. You can also add an open-ended question to let customers share in their own words what you can do better to help them complete the purchase.
This is the most efficient way of knowing how you can improve your website to increase conversions.
We also have a detailed article that you can check out to see how to create exit intent surveys.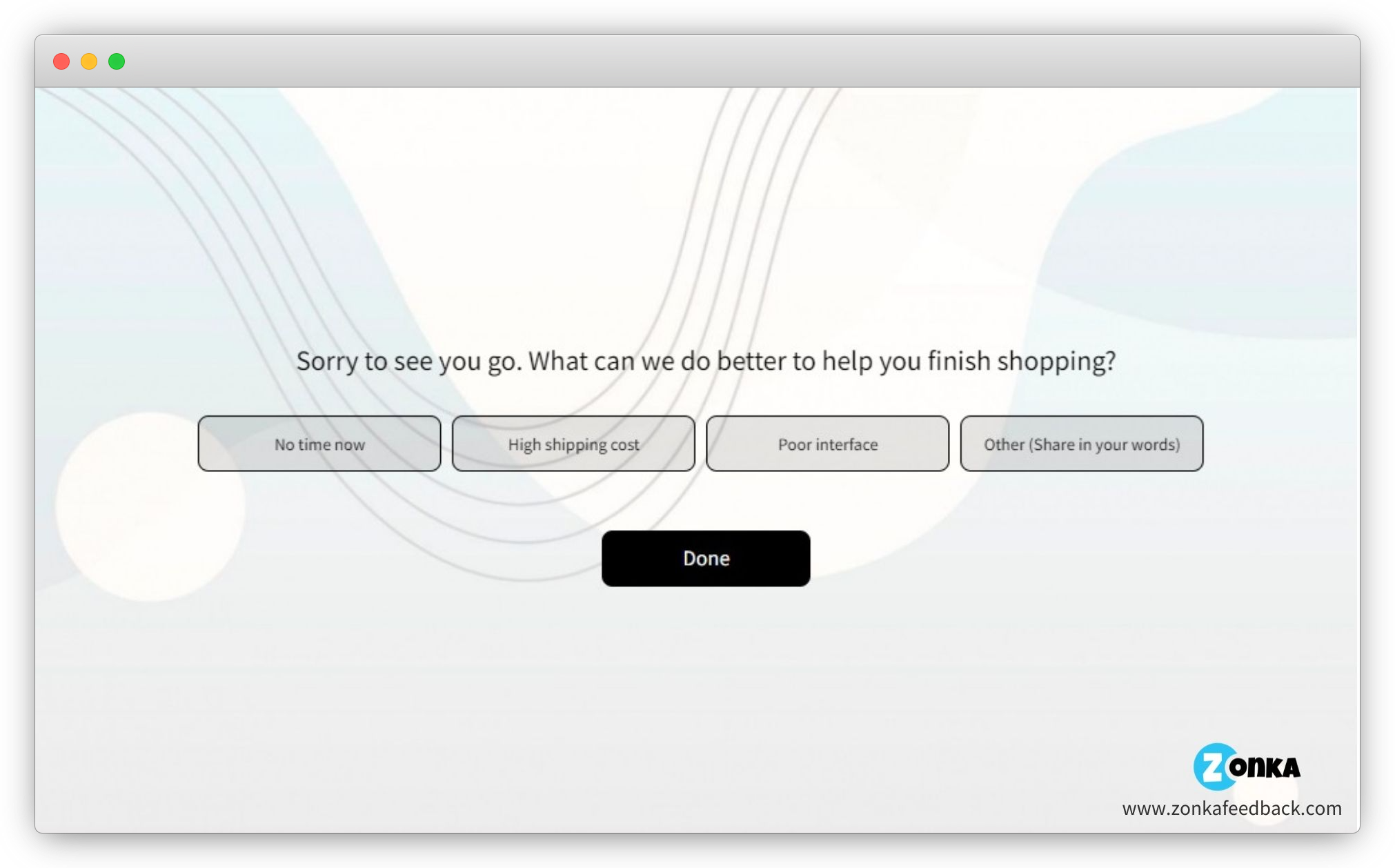 What to do with Customer Feedback?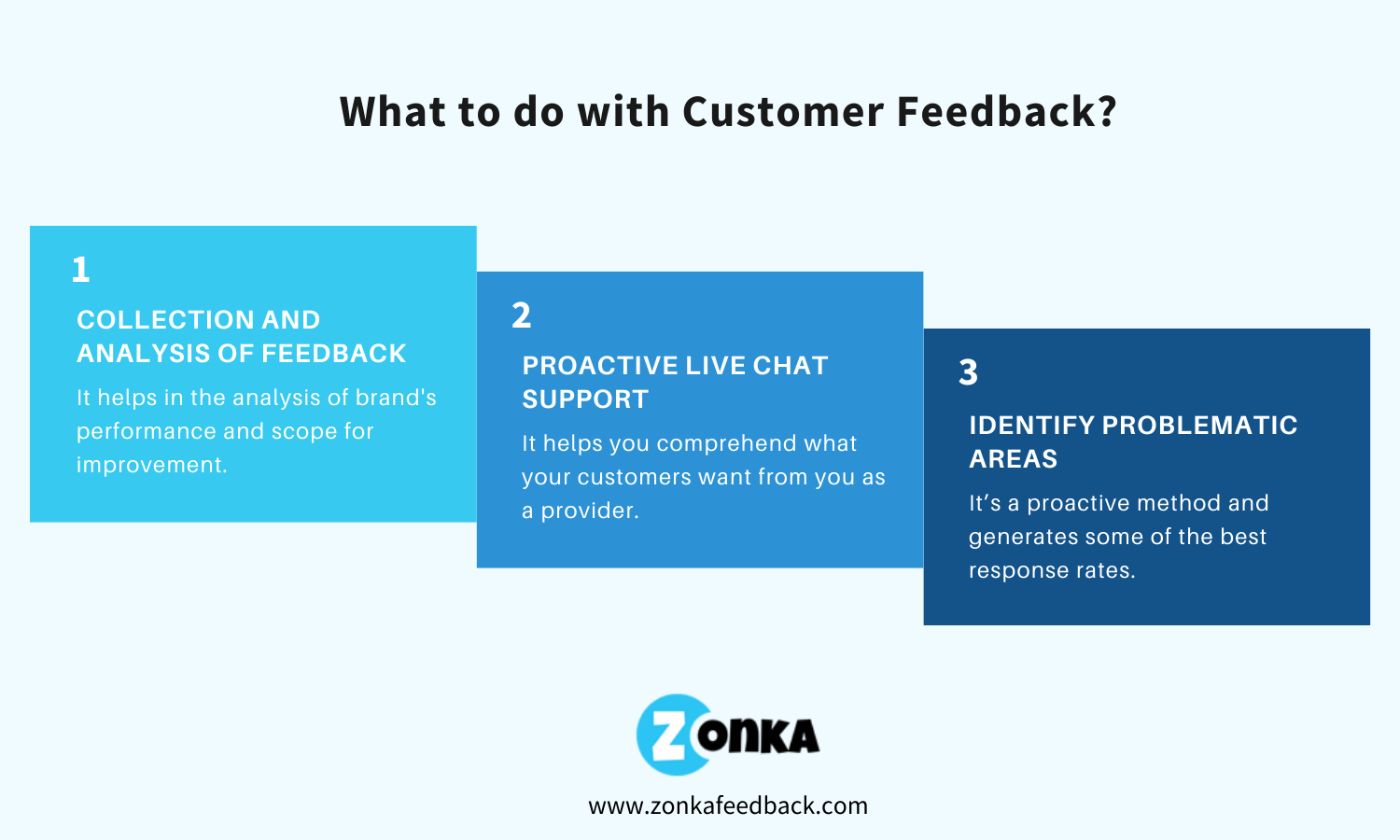 Collection and analysis of consumer feedback data help you see whether your company is doing well or not and whether there is any room for improvement. It can also reveal opportunities for the expansion of your business.
Insightful Customer Feedback can help in modifying the products and services of your company, which will help you comprehend what your consumers want from you as a provider.
Gathering Customer Feedback helps you identify the problematic areas and helps in eliminating them. Don't take people's complaints about your products and services in a negative way. Collecting quality feedback will help you create customer loyalty.
Conclusion:
Customers play a vital role in transforming every aspect of your company only if you listen to their feedback. Whether negative or positive feedback, all are equally important for the progress of your business. Building the right product and marketing is only half the job done.
Creating a customer-centric culture in the company requires a commitment to gathering, analyzing, and sharing the feedback that plays a vital role in propelling your product and taking your business forward.
The first step to establishing excellent customer service at your company is to collect actionable customer feedback. There are plenty of Customer Feedback Survey Tools available that are used to collect feedback to help you acquire new customers and retain them. It's a quick way to set your business apart from your competitors in this digital world.
Learn more about the Customer Feedback