There are many factors that go into deciding what can be the best among the pool of feedback survey tools for your business and its specific needs.
For example, you would need to understand the scale of your feedback project. Or how often you would need to survey your customers? Who will be creating and sharing surveys; will a code-free tool solve your needs to optimize time and resources? Would the tool make way for collaboration and feedback implementation?
There may still be many more questions that you may not have given much thought to yet if you're just starting out. So, to help you narrow down your research and look in the right direction, we have talked about the top feedback survey tools and other related factors like their features, pricing, and free trial options.
Let's get started.
7 Best Feedback Survey Tools
Let's read in detail about each feedback survey tool:
1. Zonka Feedback
Zonka Feedback is one of the most popular feedback survey tools, which enables multi-channel feedback collection across channels like email, SMS, mobile phone, tablet, kiosk, website, mobile apps, and Link Surveys. The tool consists of ready-to-use survey templates like a customer feedback survey, agent performance survey, employee feedback survey, guest or visitor survey, patient survey, etc.
It's a great survey tool for enterprises as well as small businesses; you can automate surveys with specific triggers, access insightful reports, use multilingual surveys, integrate the survey tool with different business tools, centralize data and collaborate with team members, and close the feedback loop faster. Moreover, the survey tool is code-free and easy to use so anybody can quickly and efficiently build customer feedback surveys and make sense of the feedback received.
Key Features
500+ readymade survey templates
Email embedded, email signature, and button surveys
In-app surveys and website surveys, including feedback button, website popup, embedded, side tab, and micro surveys
Surveys in 30+ languages
Real-time alerts and notifications
Automated surveys and workflows
Insightful reports and analysis
Mobile-responsive surveys
Survey logic, personalization, branding, and survey throttling features
Integration with a variety of business tools like Zapier, Salesforce, Hubspot, Zendesk, Intercom, Freshdesk, Slack, Google Sheets, Teams, etc.
Rating
4.8/5
Free Trial
7-day free trial
Pricing
Starting from $99/month
2. Delighted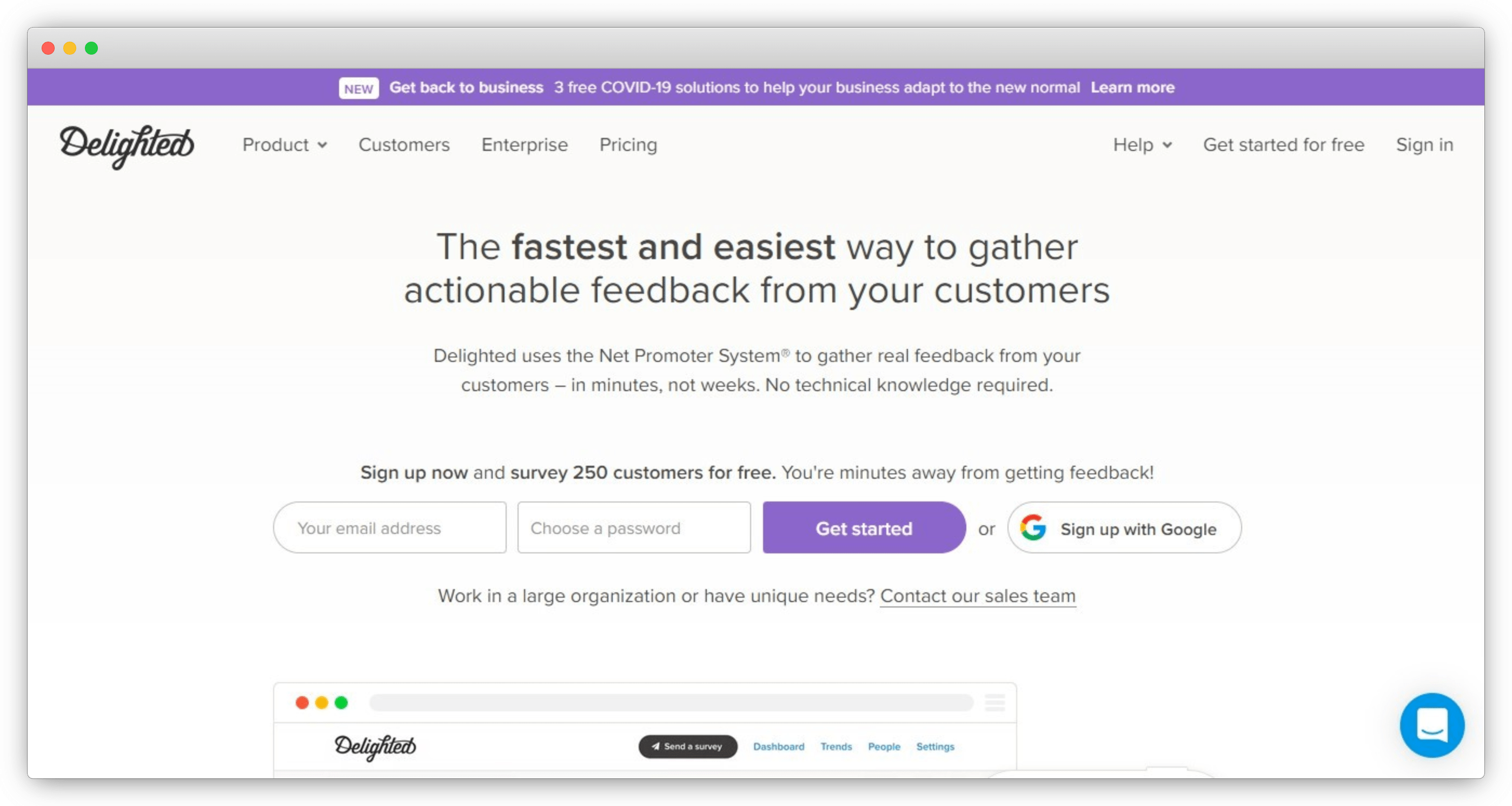 Among the popular customer feedback survey tools, is Delighted which is a self-serve experience management platform that you can set up in minutes without any technical knowledge required. You can collect feedback across the different CX metrics like CSAT and NPS and also create customized and personalized surveys.
The feedback survey tool allows you to use different types of survey questions for feedback so you can collect both quantitative and qualitative data. The brand also offers multi-language customer support for users who speak different languages.
Key Features
Multi-platform surveys
Readymade survey templates and question types including star surveys, smiley surveys, rating scale surveys, etc.
Email-embedded surveys and survey throttling
Mobile app and website surveys
Automated survey responses
Response tagging, feedback analysis, and reporting features
Third-party integrations
Response alerts to team members and collaboration
Two-step security and SSL encryption
Rating
4.9/5
Free Trial
Available
Pricing
Premium packages starting from $224/month
3. UserReport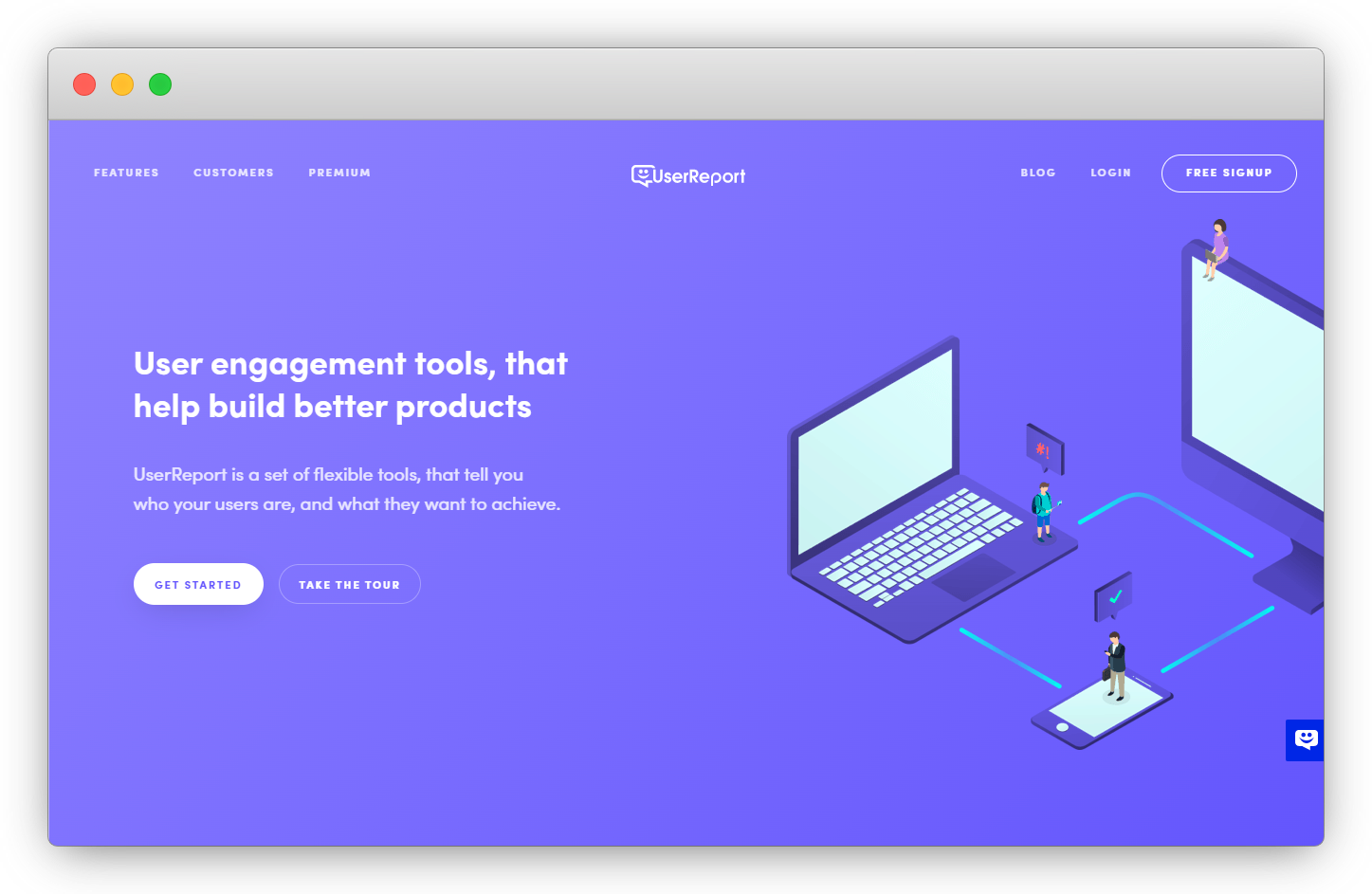 UserReport is among the top feedback survey tools, especially if you're looking to collect product or mobile app feedback. The tool collects feedback across different CX metrics through surveys running as an integrated part of your product. Brands can directly interact with users and collect feedback while they are engaging.
Key Features
User demographics
Localized, customizable feedback widgets
Poll surveys
Third-party integrations
Google analytics integration for enhanced reporting
Rating
4.5/5
Free Trial
Available
Pricing
Customized Plans
4. SurveyMonkey
SurveyMonkey is a popular name in the feedback industry known for its long and short surveys that can be distributed across multiple channels depending on where your customers hang out the most. You can use readymade templates to collect feedback across different CX metrics.
SurveyMonkey also allows scoring your surveys using the SurveyMonkey Genius to calculate the estimated success rate of your feedback forms. This can set you in the right direction and even increase the survey response rate.
Key Features
Multi-channel feedback surveys
Mobile-responsive surveys with polls and quizzes
Survey branding and white labeling
Question types, including MCQ, rating scale, comment box, etc.
Snap reports and summaries with filters, tags, and customer trend analysis
Integration with business intelligence tools
Rating
4.6/5
Free Trial
Free version with limited features
Pricing
Starting from $27/month
5. TypeForm
Typeform is another one of efficient feedback survey tools, which helps create personalized surveys that flow better and give survey respondents a better experience. The customer feedback software also allows for speeding up the whole feedback process with its integrations and fast form loading speed.
What's great about Typeform is its beautiful forms that tend to increase customers' interest, and as a result, engagement with the brand. These surveys can also be powerful in terms of improving brand recall.
Key Features
Question types and survey templates that can be used right away
Personalized survey and survey flow
Multi-page forms
Survey logic and branching
Reporting features for data analysis
Integration with other software (500+ integrations)
Rating
4.7/5
Free Trial
Free version with limited features
Pricing
Starting from $25/month
6. QuestionPro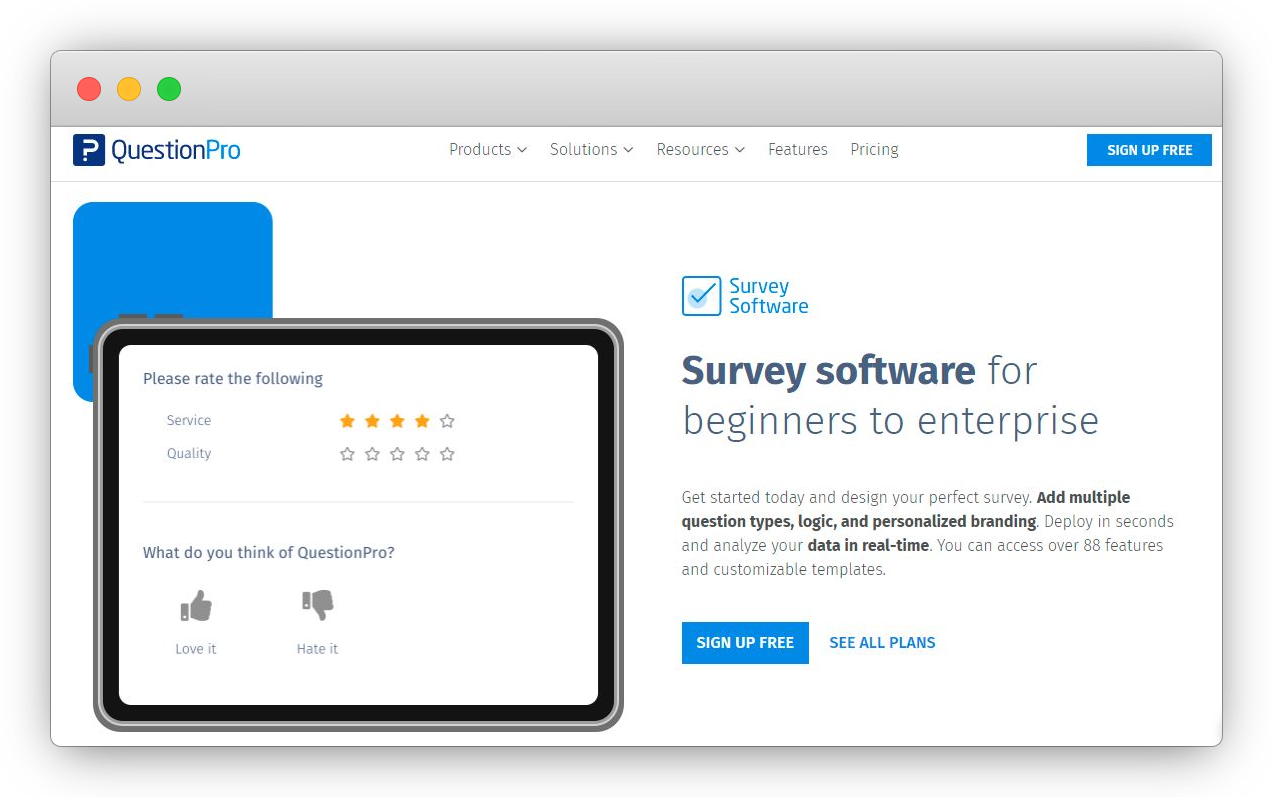 QuestionPro is another powerful feedback survey tool that makes feedback collection easier with its readymade templates. You can use 40+ types of feedback survey questions, create customized surveys with a variety of design themes, and add elements like a background image and brand logo to your surveys.
Non-profits can get access to the free version of this tool. However, you would need to pay for advanced features like survey branding, integration, automation, etc. The survey tool is fairly easy to set up and use and is efficient, but the forced style of reporting and data segmentation can restrict users to some extent.
Key Features
Easy-to-use survey builder
Survey distribution and management of templates
Skip logic in surveys or branching
Multilingual and branded surveys
Feedback analysis and reporting
Integration with business intelligence tools
Rating
4.7/5
Free Trial
Free version with limited features
Pricing
Starting from $99/month
7. Qualtrics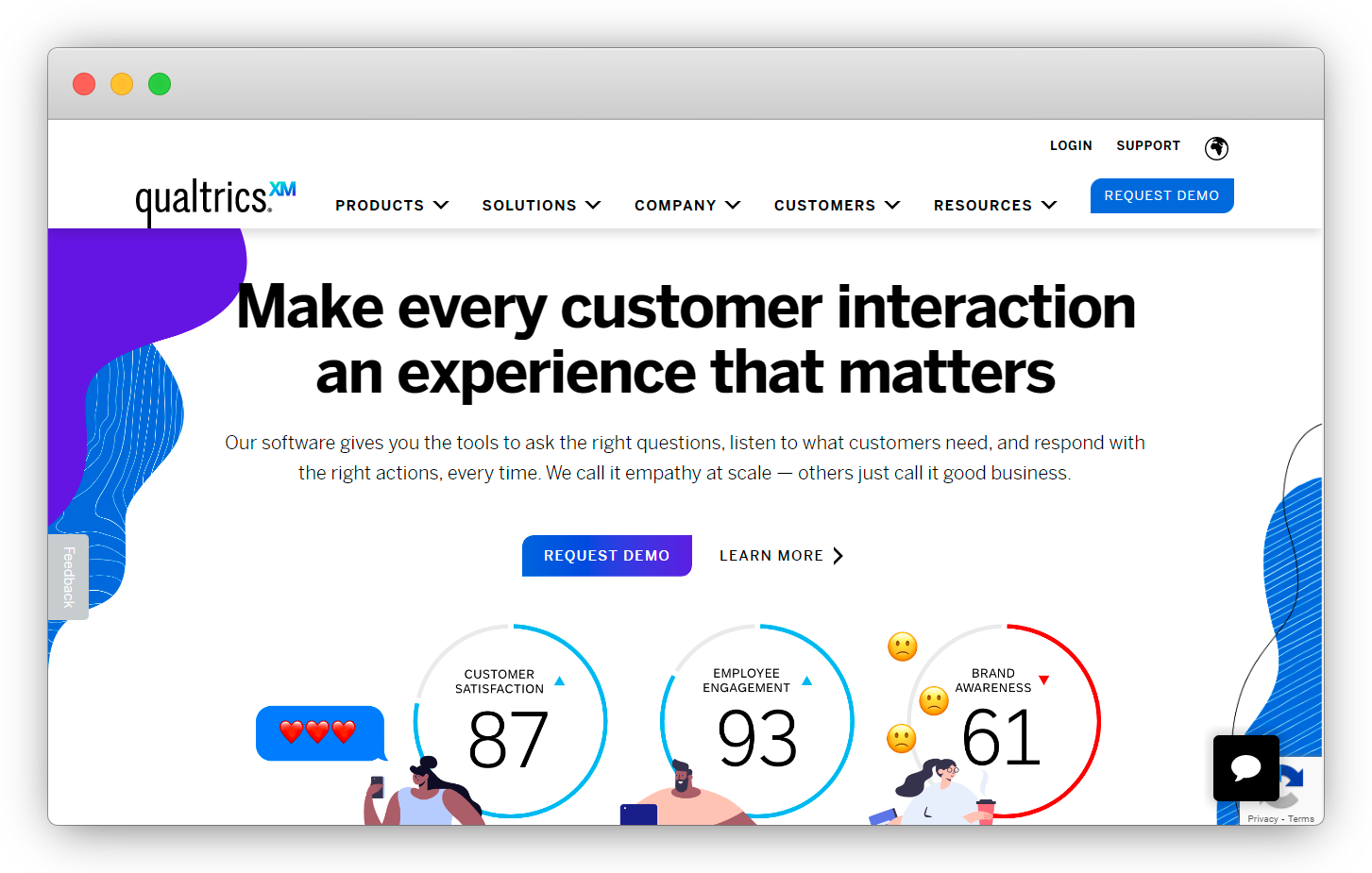 Qualtrics is among the top feedback survey tools, which offers 50+ specially-crafted surveys that you can use instantly. The survey software also consists of 100+ question types to collect responses faster and also make your surveys appealing.
Another attractive feature of Qualtrics is analytics; the AI tools analyses survey data or responses and presents it in visual form using 30+ types of graphs. This can help retrieve summarized, valuable data from complex feedback.
Key Features
50+ survey templates with 100+ response types
Webhooks and API
Survey widgets
Survey throttling
Integration with business software
Powerful analysis and reporting feature


Rating
4.8/5
Free Trial
Free version with limited features
Pricing
Starting from $1500/year
Conclusion
This article would help you shortlist some super reliable feedback survey tools and understand how they can help you achieve your feedback goals in the most efficient way.
But, before you make a final decision, make sure to understand both the present and future scope of your feedback strategy so you can invest in a more flexible and scalable software setup.