"If you reject feedback, you also reject the choice of acting in a way that may bring you abundant success." ― John Mattone

Feedbacks are the easiest way that convey product or service improvements. Also, they offer the best way to measure customer satisfaction, employee satisfaction or product feedback, website feedback and general sentiment about what you're offering.
The feedbacks you receive can also give actionable insights that can be used to create a better customer experience. Direct Feedbacks deliver tangible data that can be used to make better business decisions.
Fuel Business Growth with Customer Feedback 🔥
Collect real-time, in-moment feedback at all touchpoints in customer journey and leverage feedback insights to transform customer experience.
While the importance of collecting customer feedbacks is manifold, we will walk you through the 3 most compelling and pragmatic reasons for the same
1.Venting
The worst thing is not to have dissatisfied customers, but rather to have customers who leave without saying a word, thus leaving the company with no way to win them back and identify ways to improve.
<strong><span style="font-weight: 400;"><strong><strong><a href="http://blockquoteclass=twitter-tweetdata-lang=enplang=endir=ltrCompaniesshouldnotviewtheabsenceoffeedbackasasignofsatisfaction.Thetrueenemyisindifference.ahref=https://twitter.com/hashtag/ZonkaStatTuesday?src=hash#ZonkaStatTuesday/aahref=https://twitter.com/hashtag/feedback?src=hash#feedback/aahref=https://t.co/DAtK0GDkNapic.twitter.com/DAtK0GDkNa/a/p—ZonkaFeedback(@zonkafeedback)ahref=https://twitter.com/zonkafeedback/status/800915280167739394November22,2016/a/blockquotescriptasyncsrc=//platform.twitter.com/widgets.jscharset=utf-8/script"><script src="//platform.twitter.com/widgets.js" async="" charset="utf-8"></script></a> </strong></strong></span></strong>
Customers churn because they can simply switch to alternatives or either they could not find a mechanism to vent out their feelings. Businesses should respect that customers are willing to giving them good advice to help improve their business for all current and future customers to witness. But unfortunately, maximum businesses are failing to provide them with a comprehensive platform like a feedback app to do the same.
Businesses must provide a platform for customers to vent out their feelings. Let it be frustration, anger, compliment or any general suggestion, feedback acts as a platform for customers where they can give voice to their feelings and express themselves.
And before a customer turns towards social media to express frustration or a bad review, it is better you provide them with a feedback system right at your premises itself. Once you start taking feedbacks and begin acting on them you will gradually see more feedbacks coming in as it will become customers go to place to communicate with you easily and unhesitatingly.
2.Interception
The second most vital reason for capturing customer feedbacks is that it facilitates intercepting the customer problems as soon as you catch one. Emotions become permanent with time. It's best if an effective intervention takes place as soon as possible.
In order to catch issues while your customers are still on your premises following feedback mechanisms can be used -
Tablet Surveys
Install interactive tablet surveys in your premises and fully automate the feedback process. Let your customers come and register their feedbacks on the tablets rather than you circling around them for getting their feedbacks. You can set the tablets as kiosks or hand them over to your customers for capturing their experiences through tablet surveys.
Surveys on Smartphones
Getting customer feedbacks over a smartphone is the easiest and cheapest way of collecting on-premises feedbacks. Just offer the smartphone to your customer post their interaction with your brand/company. For example, offer a smartphones loaded with a dining experience survey to the guests at your restaurants after their meal.
Real-time intimidations on SMS and Emails regarding feedbacks can further help you intercept a potential customer issue.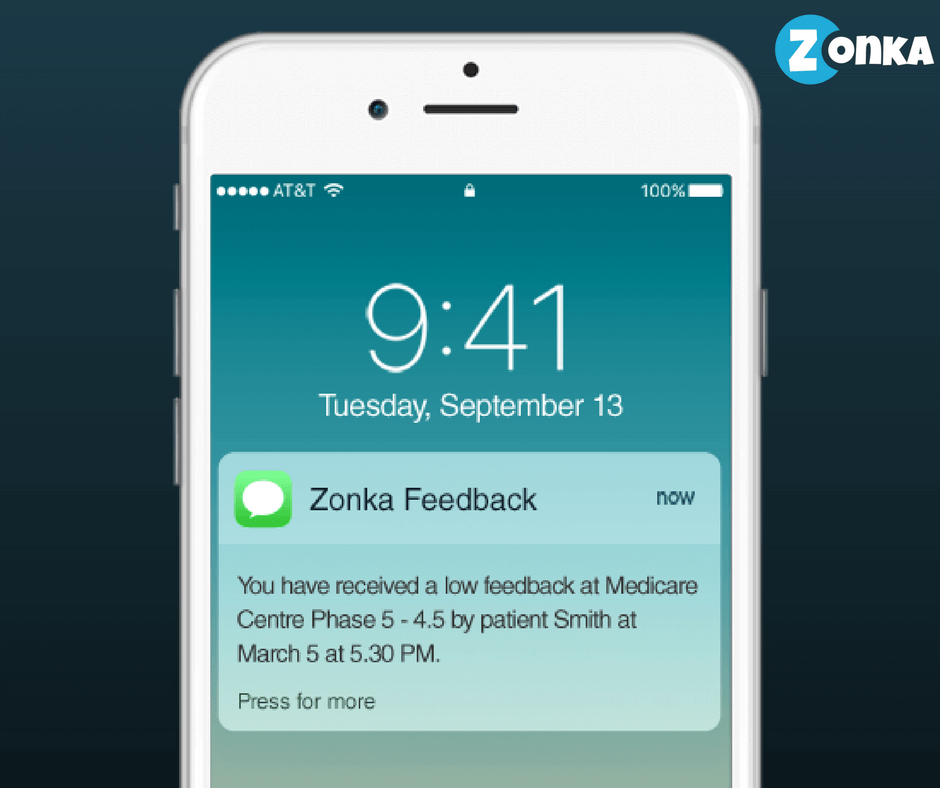 While you approach your customers after the intimidation, remember the 2 golden rules to make your involvement a success
Timing is everything!
It's always better to approach customers with a solution than an apology.
Also, intercepting a negative feedbacks at the right time reduces the impact and the damage it could have created if it wasn't intercepted initially. Businesses that do not collect feedbacks or measure customer satisfaction have to face backlashes from their audiences publically on platforms like social media. While in the case of well-implemented
feedback app everything remains up close, personal and direct.
3.Trend Analysis
A single negative feedback should never be something that should lower the morale of the company or its employees. Top performing companies are not only good at accepting feedback, they deliberately ask for feedback and measure it. Feedback is helpful only when it highlights weaknesses as well as strengths.
For getting a clear picture of the company's performance and measuring its customer satisfaction, it is not the number of negative feedbacks that should be considered or positive ones but the overall feedback trends. Analyzing feedback trends is the best way to gauge the customer satisfaction over a fixed period of time.
In order to access drill down reports and analyze feedback trends, implement a feedback management system or a comprehensive feedback app.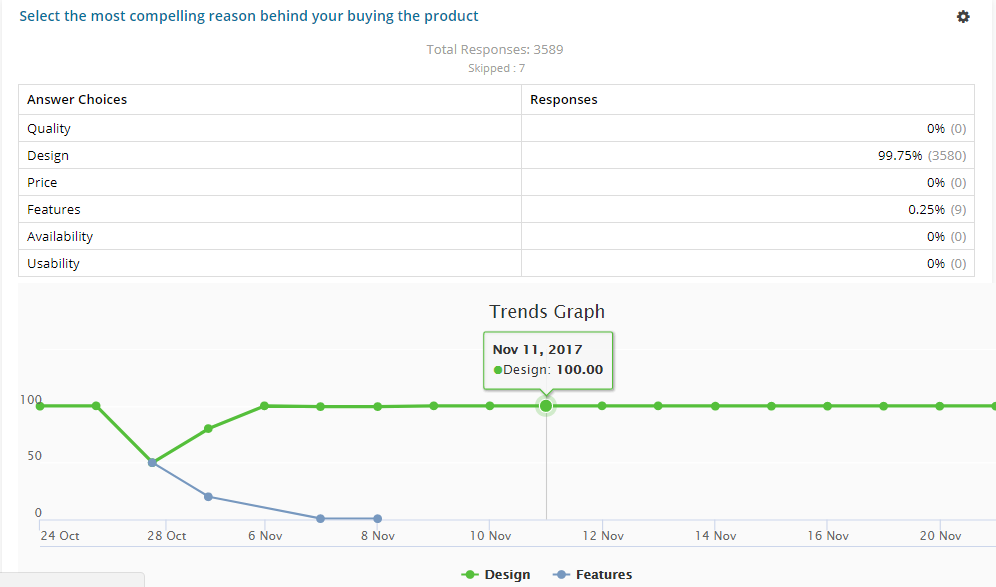 Continued feedback analysis is important as it conveys the real condition of what customer think about the company and thus helps them to remain aligned to goals and create new ones, create strategies in accordance with the trends, foster improvements in products and services, improve relationships, and much more.
Feedback trends help businesses determine what the preferences of their customers are. Knowing your customers' likes and dislikes is also one sure route to success as it gives you a precise idea of what matters to your customers so you can act on them.
Trends, therefore, play an indispensable role in analyzing the true performance of a business in their customer's eyes and help businesses to keep up accordingly.

Don't have a mechanism to manage feedbacks? Start now with Zonka Feedback App!
Feedbacks are never too much! The more the better. Your customers will appreciate if you provide them with digital platforms like a feedback app to vent out their feelings and opinions personally and directly. Also, any comment/review coming in from your customers about your products and services should never be underestimated.
Try to always be responsive and intercept the real-time feedbacks receive and solve or tend to issues before they become big. Your responsiveness will always be valued by your customers. Keep a track of the feedback trends in order to really understand what are your customer sentiments and the level of their satisfaction with your company. Customer feedbacks are priceless so if you do not collect them yet, begin now!
Learn more about the Customer Feedback