Looking for different ways to capture product feedback for your SaaS product? Here are nine proven methods that product managers can implement to gather SaaS Product Feedback.  
As a Product Manager, your dedication to the success and growth of your business relies on providing exceptional satisfaction to your customers and creating outstanding product experiences. However, it can be challenging to determine if your SaaS users are genuinely satisfied with your product and services.
Instead of relying on guesswork, it is always advisable to ask for product feedback directly from your customers.

Collecting SaaS Feedback is the most effective way to get customers' insights about their experience with your products and services. But it is not always that easy to collect feedback. At times, it becomes challenging to reach your customers and bring out accurate and meaningful insights from them.
Elevate your SaaS Customer Experience⭐
Measure User Feedback at various touchpoints in your product and use the User Insights to delight your customers.
In this article, we will explore and learn how you can collect Customer Feedback effectively being a Product Manager. We will also help you with some cool tips for doing this. Let's start with some necessary things to consider while collecting feedback.
Table of Content
Things to Consider Before Collecting SaaS Feedback?
Collecting Feedback is essential to know what your customers want and expect from your products and services.And this insight can unlock a lot of information regarding your product, it's missing features, best usage, and more that product managers can then use to improve the product. But before working on collecting feedback, you should be clear about these things and accordingly work to collect feedback.
1. Why do you want to Collect Feedback?
When it comes to collecting feedback for your business, it is crucial to have a clear understanding of your goals. Ask yourself why you want to collect feedback and what specific goals you hope to achieve through it. By defining your objectives, you can tailor your feedback and survey collection efforts to ensure they align with your desired outcomes.
For example, if your goal is to improve the usability of your product, you can focus your feedback collection on gathering insights about any pain points or areas of confusion that users may be experiencing. On the other hand, if you want to refresh your product's user interface, you can seek feedback specifically about the design elements and overall user experience.
Similarly, if your aim is to enhance any type of product experience, you can gather feedback on the specific features or functionalities that users find most valuable or frustrating. This feedback can then be used to prioritize improvements and updates.
By keeping your goals in mind while designing your feedback surveys, you can craft product feedback questions that are targeted and effective. This will not only maximize the value of the feedback you collect but also save time and effort for both you and your customers.
Do you want to improve the product's usability?
Do you want to refresh your product's user interface?
Do you want to know and improve user experience of your SaaS product?
Do you want to continuously iterate your product and add new features?
Keep in mind the goals to achieve through feedback, and design your surveys and draft the product survey questions accordingly.
2. From whom should you collect feedback?
The second thing to consider is from whom you want to collect feedback. This will be again based on the goals of collecting feedback as well as the issues you are facing. If you are facing difficulty in the conversion of your product users from free trial users to your customers, you should collect feedback from your Free Trial Users. If you want to know the reason behind customer churn, you should as the churn survey questions from customers that are abandoning your product.
If you want to track the ongoing relationship with your customers, you should collect regular feedback with Relationship Surveys. If you want to know about the customers' various experiences at different touchpoints and events, you should collect Transactional Feedback with Transactional surveys from the customers who just made an action or transaction.
3. How do you want to collect Feedback?
The third important thing you have to decide is how you want to collect feedback. There are various ways and methods of collecting feedback; you have to choose the right way from which you can gather maximum response and the most accurate feedback. The best way to collect feedback is by creating and sending SaaS Feedback Surveys.
You can create various types of feedback surveys and can share these surveys through various channels. To decide the best channel for you, you can do A/B testing and see which channels work best for you.
Let's explore some effective ways to collect Customer Feedback.
Ways to Gather Customer Feedback in SaaS
Let's dive deeper into the various methods you can use to collect customer feedback and how they can benefit your business. By understanding these methods, you will be able to gather valuable insights from your customers and make informed decisions to improve your products and services.
Remember, collecting customer feedback is just the first step. It's equally important to analyze and act upon the feedback received. By carefully analyzing the feedback and implementing necessary changes, you can continuously improve your products and services, leading to increased customer satisfaction and loyalty.
Here is a product feedback survey template that you can use to effectively gather customer feedback on your SaaS product. You can use the template as is or add or update the questions, white-label the survey, add more customization, and much more with this template offered by Zonka Feedback.
1. Make the most of In-Product or In-App Surveys
In-Product or in-app surveys are considered the most effective method for collecting SaaS feedback due to their ability to capture customers' thoughts when they are actively engaged with your product. By asking for feedback at this specific time and platform, you can gather accurate and maximum feedback from your customers.
To implement in-Product or in-app surveys, it is crucial to strategically place these surveys at various touchpoints within your product. This ensures that customers can easily access and complete the surveys while using your SaaS product. By integrating surveys seamlessly into the user experience, product managers can create a frictionless process that encourages more customers to provide valuable feedback.
These surveys can be strategically placed at different stages of the customer journey, such as after completing a task, before signing out, or when encountering specific features or functionalities. By targeting specific touchpoints, you can gather insights that are directly related to the customer's experience at that moment.
By utilizing in-product or in-app survey tools, you create a convenient and intuitive feedback collection method that not only increases response rates but also ensures that customers can easily share their thoughts and suggestions. This feedback can then be used to inform product improvements and enhance the overall customer experience.
In conclusion, by incorporating In-Product or In-app Surveys into your feedback collection strategy, you leverage the prime opportunity to capture customers' feedback when they are most focused on your product. This approach enables you to gather accurate and valuable insights that can drive continuous improvement and enhance customer satisfaction.
2. Gauge Feedback Through Email Surveys
Email is a common and official form of communication that most businesses use. So you can share SaaS Feedback surveys through emails. You can send two types of Email Surveys, viz. Surveys with Hyperlinks and Embedded Email Surveys.
In Email Surveys with Hyperlinks, a survey invitation is written in the body of the email, followed by the survey link. As the customers click the link, a survey opens, which the customers can easily respond to and submit their responses.
Another form of Email Survey is an Embedded Email Survey, wherein the first question of the survey is embedded in the email body itself. As the customers click the answer option to respond to this question, the full survey opens, or the next embed email survey question appears on the screen, which the customers can easily respond to and submit their responses.
3. Send out SMS Surveys
SMSes are also an excellent method to collect feedback from customers due to their high open and read rates of 98%. With an SMS survey, you can send a text message inviting customers to participate in the survey, providing them with a survey link. Once the customer opens the link, they are redirected to the survey within seconds, allowing them to easily and quickly provide their feedback.
The convenience and immediacy of SMS surveys make them a valuable tool for gathering customer insights. Since most people have their phones readily available and frequently check their messages, SMS surveys provide a convenient way for customers to share their thoughts and opinions.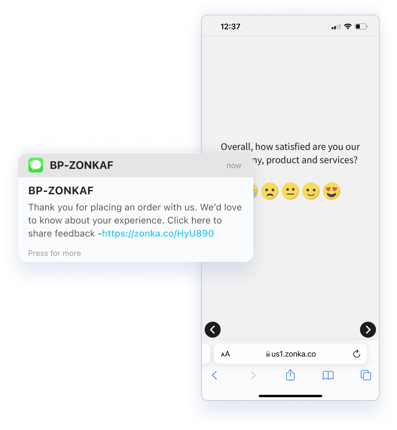 Furthermore, SMS surveys can be particularly effective for capturing feedback from customers who may not regularly engage with your product or app. By reaching out to customers through their mobile devices, product managers can tap into a wider audience and gather feedback from individuals who may not typically participate in other feedback channels.
4. Capture In-moment Feedback with Web Surveys
Website feedback urveys are another form of in-product or in-app surveys that you can share with your website visitors to ask for feedback. Website surveys can be shared on your website with the help of website widgets or popovers. You can use feedback buttons, slideouts, and survey popups on your website for this purpose.
5. Analyze Customer Tickets
Customer Tickets regarding requests, queries, and issues are also a great source of Customer Feedback. When customers reach out to your support team with their tickets, it provides a valuable opportunity to gather insights directly from the users themselves. By analyzing these tickets, you can identify common issues and recurring requests that customers have, allowing you to address them and improve your product accordingly.
By closely examining the content of customer tickets, you can:
Gain a deeper understanding of the pain points and challenges that your customers face
Prioritize your product roadmap and make informed decisions about which features and changes to prioritize
Get valuable information about the customer experience
Gain insights into the emotions and sentiments of your customers
Whether you want to ask bug report form questions, get product feature request, or a general inquiry, each customer ticket is a valuable piece of feedback that can contribute to the overall improvement of your product.
This can help you identify areas where your product or customer support may be falling short, allowing you to make the necessary improvements to enhance customer satisfaction.
Furthermore, customer tickets can serve as a basis for proactive customer support. By proactively addressing the issues and requests raised in the tickets, you can demonstrate your commitment to customer satisfaction and build stronger relationships with your users. This can lead to increased loyalty and advocacy, as customers appreciate the prompt and effective resolution of their concerns.
6. Product Usage
Product Usage data is also a good source of knowing how your customers use your product and what they expect from your product. This information will help you know what's working and what's not working in your product, which features are mostly used by the customers and which features are useless for most customers, and what plans do customers with various demographics prefer the most. Getting this important information will help you serve the customers better.
7. Review Platforms
Aggregator Platforms are also a good source where customers share their experiences and rate the product. Popular platforms like G2, Capterra, and GetApp are commonly used by customers to rate their products. Product managers can go through these review platforms, filter them out based on features, usability, and more to view what type of feedback the users are sharing.
Almost every review platform has detailed reviews section of products where actual product users talk about the likes, dislikes, missing features, and more. They can assess these reviews to understand what users are actually looking for.
8. Interactions with CX Or Support Teams
Customer Interactions are a vital source of feedback information that can provide valuable insights into your products and services. When customers directly interact with your customer success teams, they often share their thoughts, opinions, and experiences, offering a unique perspective on your offerings. By tapping into this conversational data from all customer interactions with your support or service team, you can gain a deeper understanding of how your product is performing among users.
These interactions can uncover valuable feedback that may not be captured through traditional survey methods. Customers may share specific pain points, highlight areas for improvement, or provide suggestions for new features or enhancements. By analyzing these conversations, you can identify recurring themes or patterns, helping you prioritize areas of focus for product development.
In addition, customer interactions can provide context to feedback received through other channels. For example, if a customer mentions a particular issue in an email survey, their conversation with the support team may provide further details or clarification on the problem. This additional context can be invaluable in understanding the root causes of issues and finding effective solutions.
9. Product Usability
Understanding how your customers are utilizing your product is an essential aspect of collecting valuable feedback. By analyzing Product Usability Data, product managers can gain insights into which features are most commonly used by customers, allowing them to make informed decisions about where to focus their efforts. This data can also highlight common challenges that customers face, providing opportunities for improvement and refinement.
By closely examining product usability, product managers can identify areas that may require enhancements or adjustments. For example, if a certain feature is frequently utilized by a large portion of customers, it may indicate a high level of satisfaction and effectiveness. On the other hand, if customers encounter common challenges or difficulties with a particular aspect of the product, it presents an opportunity to address those pain points and improve the overall user experience.
Product usability data can serve as a valuable tool for prioritizing development efforts. By understanding which features are most valuable to customers, product managers can allocate resources effectively and focus on enhancing those areas. This enables them to deliver a product that aligns with customer needs and expectations, ultimately leading to higher satisfaction and retention rates.
Let's learn some cool tips and tricks to follow while collecting Customer Feedback.
Some Tips to Follow While Collecting SaaS Feedback
There are different tips that product managers can follow when it comes to collecting SaaS feedback. By following these tips, you can make sure that you are able to make the most of the insights you've received from your SaaS product users and make data-driven decisions to ensure product-led growth.
By following these tips, you can create a feedback collection strategy that maximizes the insights you receive and helps drive product-led growth. Remember, the key is to listen to your customers, make necessary improvements, and continuously iterate to provide the best possible experience for your users.
So, without further ado, let's jump into the tips for product managers.
1. Keep the timings right
Always send your surveys at the right time. Of course, you cannot plan Transactional Surveys, so it is best to use a good SaaS Survey Software and trigger them with customer events and transactions. For other surveys, choose the timings wisely.
Avoid Mondays, Fridays and Weekends to send surveys. Avoids odd timings like late night or early morning to send surveys. Send your surveys preferably from Tuesday to Thursday during noon to get a better response rate on your surveys.
2. Analyze All Feedback
Analyze the feedback received to get meaningful information out of it. You may receive a lot of suggestions that are not feasible. But there must be some of them that can actually prove to be fruitful for your business. Dig deeper to bring out those suggestions and do what you can to improve your products and services.
3. Do not over survey the customers
Avoid over sending surveys to your customers otherwise, your surveys may lose their value. Using a survey tool with a feature like Survey Throttling can help you set limitations for sending surveys in a specified period of time.
4. Let customers know you heard them
Always acknowledge the receiving of customers' responses to your surveys. You can also set automatic emails for this purpose. Also, when you take action on feedback, inform your customers about what actions you have taken on their feedback or as per their suggestions. Let them know that you care for them and they are being heard.
5. Utilize Feedback
Not doing anything on the feedback is the worst thing you can do with Customer Feedback. Always take feedback seriously and utilize the meaningful information to make improvements to your products and services and thus improve Customers' Experiences. This will let your customers know that their feedback matters, and eventually more customers will start responding to your surveys with their accurate insights.
6. Use a good SaaS Feedback Tool
Always use a good SaaS Feedback Tool to collect Customer Feedback. Tools like Zonka Feedback help you easily create SaaS Feedback surveys and send them to your customers through multiple channels. With its advanced reporting and analytical features, you can easily analyze your customers' responses and get reports like NPS Report, Snapshot Report, Trends Report, and more in order to do a better analysis of your survey responses.
Using Zonka Feedback To Gather SaaS Feedback
Zonka Feedback is not only a powerful tool for collecting customer feedback, but it also provides valuable features to help you take action on that feedback and improve customer experiences. With Zonka Feedback, product managers can easily track and monitor feedback in real-time, and respond promptly and effectively to any issues or concerns raised by SaaS users.
The platform allows you to set up CX automation for workflows and notifications, ensuring that feedback is addressed in a timely manner. By closing the feedback loop effectively, you can show your users that their feedback is valued and that you are committed to making necessary improvements.
Additionally, Zonka Feedback provides comprehensive reporting and analytics features, allowing you to gain deeper insights from the feedback collected. You can generate survey reports on key metrics such as Net Promoter Score (NPS), customer satisfaction, and trends analysis. These reports enable you to identify patterns and trends in customer feedback, giving you valuable information to make data-driven decisions and drive product-led growth.
One of the best aspects of Zonka Feedback is that you can try it for free. This allows you to experience the full range of features and see firsthand how it can benefit your business. By utilizing this powerful tool, you can gather meaningful feedback, take action on it, and ultimately enhance the overall customer experience, leading to increased customer loyalty and reduced churn.
Take a Free Trial of Zonka Feedback for 7 days and see how it works to gather and utilize Customer Feedback.