Chapter 1
Introduction to Email Surveys
Various new channels have developed over the past few years but Email is one of the oldest yet most effective communication channels that connect business with other businesses and customers. In 2019, the number of global e-mail users amounted to 3.9 billion and is set to grow to 4.48 billion users in 2024. The email has always been a great choice for market professionals and business leaders, also when it comes to surveying customers and employees. The reachability, high open, and response rate (depend on factors like short survey, catchy subject line) have made the Email Survey a viable and cost-effective medium to collect customer feedback.
This extensive Email Survey Guide provides a better understanding of the Email Survey and how to use it to improve the customer experience. This guide covers various crucial things like email survey methods, email survey design requirements, strategies, best practices to maximize response rates, tips to choose Email Survey Software or Tools, how to embed a survey in an email, and much more.
So, let's get started!
Chapter 2
What is an Email Survey
Email Survey is a data collection method that collects customer data and feedback using surveys or questionnaires sent to the customer's email. Email Surveys are sent to targeted respondents to their email address with a button (which on click leads to the survey on the browser) or with the question embedded in the email body. In Embedded Email Surveys, the respondents can answer the first question directly in the email body and continue the rest of the survey on the browser. Whereas in the Button Email Survey Invitation, when respondents click on the button, it takes them to the survey page on the browser.
Chapter 3
Advantages of Email Surveys
Conventionally, an Email Survey has been achieved by linking the survey into an email and distributed it manually to the respondents. But now, Email Survey Software is equipped with a plethora of features that have made customer feedback survey collection and analysis quick, easy, and cost-effective. Other compelling reasons can help you to understand the significance of making an email survey a part of your survey strategies:
To quickly follow respondents

-

85% of the respondents said they check their emails

before they go to work and close to a quarter look at their email before they even get out of bed in the morning. This insight amplifies the scope to get a quick response to an email survey.
To improve the response rate - After in-person and mail surveys, the Email Survey is the third most popular channel having an average response rate of 30%.

To ease down the process of data collection - Emails are easy to be sent and so are the email surveys. Email survey tools allow you to easily create customized surveys and distribute them to your customers in a matter of a few clicks. Customers can easily check their emails, visit the link, fill survey responses, and submit. In this way, Customer feedback and other data can be easily collected through email surveys.
To reduce the cost - One of the greatest advantages of an email survey is that it involves

a very little cost to send email surveys

. You don't need to do any major setup to capture Customer Feedback or survey responses.
Chapter 4
How Email Surveys work?
The functionality of the Email Survey depends on the method you choose to send your email survey to the customers. There are three different ways you can send a survey through email:
Embedded Email Survey
Button Email Survey
Hyperlink Email Survey
Embedded Email Survey - In the Embedded Email Survey, you can embed your first survey question in the email itself, and the respondent can answer the question directly in the email body. With the Embedded Email Surveys, since the survey gets triggered from the Email Body itself and customers can start giving feedback right there, it increases survey response rates significantly. The rest of the survey continues on browser. Embedded Email Surveys are also ideal if there is only one question to your survey.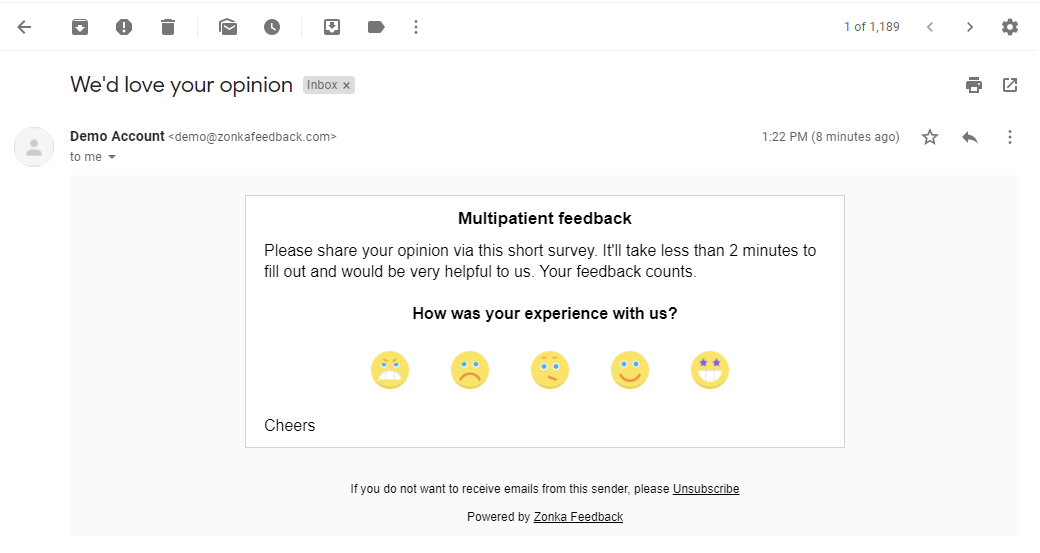 Button Email Survey - In this survey method, you can link your survey on the button. When your respondents click on the button, it redirects them to the survey page. Nowadays, a button survey is the default setting available in every Email Survey Platform.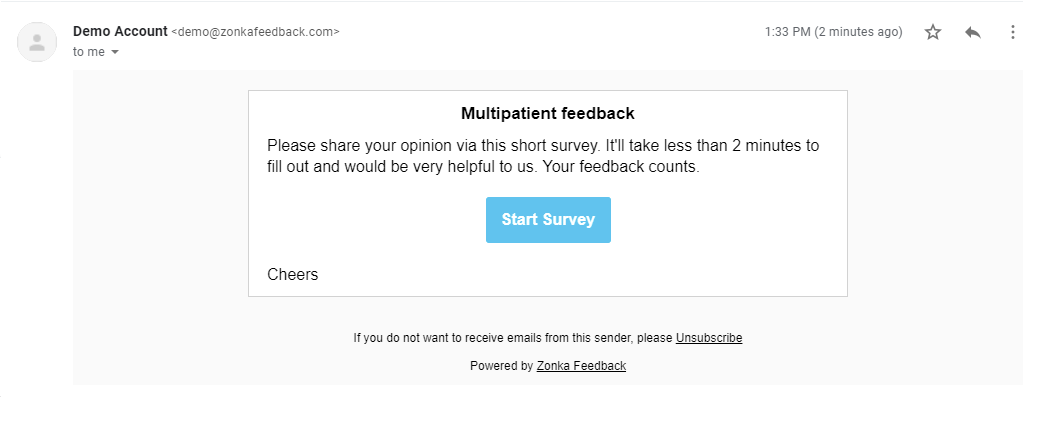 Hyperlink Email Survey - Very similar to the button Email Survey, this Link-based Email Survey is the most common method to survey email. Here in this, you can hyperlink a suitable text or any call-to-action like "Take the survey" or "Share your feedback" to your survey URL. On click, this link launches a survey in your respondents' web browser.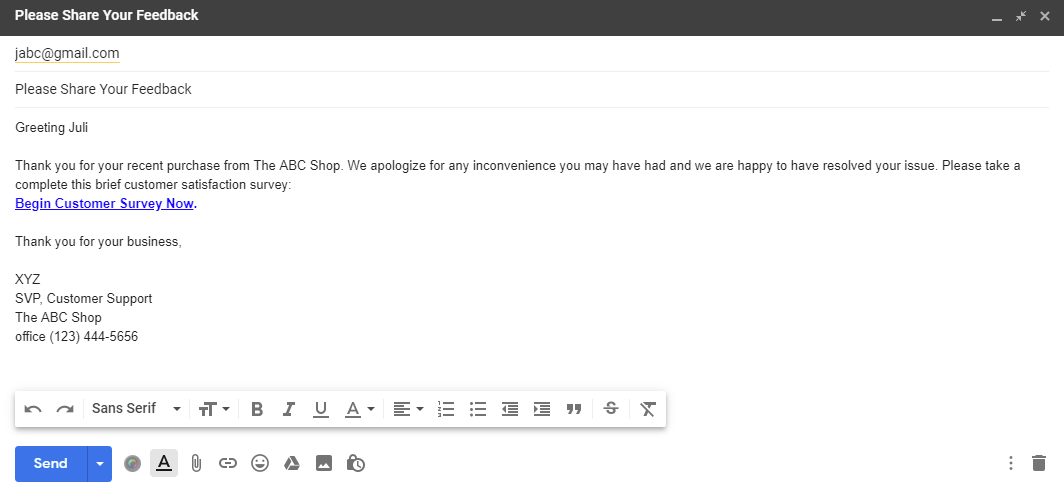 Chapter 5
What are different types of Email Surveys?
The way you compose and use the Email Survey can be very different. Based on the use-case, the industry and what you're looking to measure, here are 6 different types of Email Surveys.
Customer Satisfaction & Customer Experience Surveys

Taking customer feedback regarding their satisfaction and experience help you to streamline your product strategies and improve the customer experience. When it comes to gauging the customer experience and satisfaction, various customer experience metric surveys including NPS, CSAT, and CES can be sent to customers via Email.

Net Promoter Score (NPS

®

) - The Net Promoter Score (NPS) data can be collected via email. Herein, the customers are asked to scale their likelihood to recommend the brand or business based on the experience they perceived. You can embed your first NPS question in the email body itself. This helps your respondents to quickly respond to your survey. You can also send the follow-up email, where you can ask the reason of the score they gave you.

Customer NPS email template
Subject: Your honest feedback can make a difference; please rate us.
Body:
Hi <Name>
You have been using <Product/Service Name> for some time now. Thank you for selecting us over others.
Could you please spare a few mins to answer this <Survey*> and help us further improve our services.

We appreciate your time and feedback.
Thank you,
<Name>

Customer Satisfaction Score (CSAT) - Customer Satisfaction Score metric is used to gauge the satisfaction level of the customers. With CSAT, you can also measure the in-the-moment feedback instantly post-transaction, order, or any event. Post-shopping or purchase, it is awkward to ask for feedback, so, in this case you can ask about the shopping experience. Later on after a gap of 2-3 days you can send the CSAT email survey to take feedback about products.

The Amazon team has made the perfect use of email surveys. Instead of asking the customer to write a review, they get engaged with the customers by simply asking about the fit of a recently purchased piece of clothing or shopping experience.

Customer Effort Score (CES) - Customer Effort Score is the metric that measures the effort experience of the customers. Here, effort experience refers to the amount of efforts customers have to put to get their queries solved. CES is basically a behavior test that detects how customers are feeling about your customer support services. 96% of customers with a high-effort service interaction become more disloyal compared to just 9% who have a low-effort experience. So, you should send an CES Email Survey immediately after the call gets finished.

The CES Surveys post transaction and interaction can be after booking an appointment, after an online purchase, after a subscription, after a free trial sign up, after a demo and more.

Post Transaction & Delivery Survey

To track the instant customer experience you can immediately send a transactional survey via Email. There are various post-transaction touchpoints where you can send email surveys like after placing a new order or after completing any specific business transactions.

You can send the post-delivery feedback survey via email to capture in-the-moment customer feedback. This helps you to discover the answers to the different questions like how flexible was your shipping and delivery schedule? Was the delivery on time? What was the quality of packaging and the quality of the product upon delivery?

Cart Abandonment Surveys

According to the study,

69% of online carts are being abandoned by the users on the average

. It is indeed a disappointing situation for an ecommerce business owner to see abandoned carts on their website. So, to avoid such cases, you need to know the exact reason that leads to cart abandoned. You can send Cart Abandonment Surveys to your customers via Email. This helps you to improve your website along with the online shopping experience.

Human Resource Surveys - Employee Feedback

You can capture the pulse of your employees by regularly capturing feedback through short-customized employee feedback forms. Or, use email surveys to solicit employee opinion on any number of amenities. To improve the survey experience of your employees, you can also send them

Employee Net Promoter Score (eNPS)

surveys via Email.

Market Research Surveys - Information Gathering

Market research surveys help the agencies or businesses to evaluate the condition, competition, and other important dynamics of marketing. It also helps businesses to predict the consumer behavior, buying habits, preferences, and lots more. The Email Survey Tool enables you to conduct a post-sales marketing survey to gauge the experience you are providing.

Event Surveys - Trade Shows & Exhibitions Satisfaction Survey

According to the Display Wizard states "44% of business owners and marketing managers don't measure ROI of their trade shows," and that "39% said trade shows create a profitable marketing tactic." Being an exhibitor, you need to know the response of the event or what are the perceptions of the attendees about the event. Thus, you can capture the real-time instant reaction of the customers. These data provide you with clear pictures of your attendees, their perceptions about your event, their loyalty level about your brand without investing extra time, resources, and capital.

Industry-based Surveys

Different Industry verticals focus on improving their products and services to make their brand more customer-centric. For this, they are continuously using the Email Survey to get the feedback of their customers. Various industry verticals like Restaurant, Hotel, Healthcare, Retailers, Automobile, Banking & Insurance, Spa & Salon, and Airline & Airport, Beauty & Fitness, etc. are sending industry-based surveys via email. Industry-based Email Surveys can be used effectively:

Healthcare & Hospitals - When it comes to gauging the in-patient and out-patient feedback, healthcare centers & hospitals send patient surveys via Email and effectively use this feedback to improve patient satisfaction.
Restaurant or Hotel - Restaurant owners seek feedback about food, dining experience, and delivery experience. With the Email Survey, they can get real-time feedback from their guests at the moment. This allows the customers to rant their experience to them directly. This in turn allows the restaurant owners to take action and improve the guest experience.
Automobile Sector - There are various interactions or customer touchpoints like a post test drive, post interaction, post-purchase and post-service at the car, bike and automobile centers where a service provider needs to take the customer feedback. Email Survey Software offers you a complete customer feedback platform to hear the voice of each customer and get their feedback about your product, staff, service and more– all in real-time.
Banking & Insurance - Feedback helps you easily hear the voice of each customer, their experience and opinion about your services, staff and efficiency of operations – all in real-time.
Spa & Salon - An Email Survey platform having customizable feedback forms helps you to get real-time reporting, in-depth analysis and instant alerts for beauty centers, salons, and spas.
Airline & Airport - Send emails with survey links to passengers to give feedback or embed survey questions within email about their airline experience.
Chapter 6
Setting up your Email Survey
What to send in an Email Survey?
This section focuses on the design requirements of the survey, whether you represent your Email Survey in a button or embedded form. Secondly, it focuses on the Email Survey Questions. Email Survey design requirements cover two important things that you should consider before embedding survey in the email:
Email Survey Behavior - Asking different questions from customers provides you with valuable insights and information that will help you to identify the pain points of your customers. But sometimes respondents abandon your survey and the reason behind it is irrelevant questions. You should cautiously choose questions, especially if you are employing behavior surveys.
Email Survey Question - Survey questions play a crucial role in the customer feedback process. The right choice of survey question helps you to track customers' satisfaction levels and drive actionable customer-powered data. It is advisable that always embed Supported Question Types as the first question on the first page of the survey. There are broadly 4 types of Supported Question Types - NPS Question, CES Question, CSAT Question, and Rating Questions.
Get Started with Email Surveys
Send Email Survey Invitations, Embedded Email Surveys, In-Signature Surveys, and measure Customer Feedback remotely, in real-time.
Who do you want to survey?
After streamlining the sending & scheduling of your email survey, Zonka Feedback also helps you to keep control over the reachability of your survey i.e. who do you want to survey? There are multiple ways in which you can Add Recipients for your Email Surveys to send from the Zonka Feedback platform. These methods include.

Add Contacts Manually — In the box to add Recipients' Names, you can enter Contact Name and Email Address separated by a comma. Multiple contacts can be added here in separate lines. Example: James, james@linkedcommunications.com
Import - Here, you can import as a contact list or a CSV file. In Contact List, you can choose from contact Lists created in the Contacts section. whereas , in Import CSV, you can import a CSV file containing bulk of contacts. Once you have added your Recipients, your survey is ready to be sent. While sending, you can decide whether you would like to send it immediately or schedule it for later.
When do you want to send the Email Survey?
When it comes to customizing the schedule of sending surveys to the customers, Zonka Feedback Email Survey facilitates you to schedule your survey according to the availability of your customers. You can send your email survey - Immediately or can schedule based on the events.

Sending Now, Right away - Getting instant feedback from the customers enables you to take quick action. If you want to send the Email Survey right away, you can do it directly through Zonka Feedback by uploading a list of contacts or choosing from your Contact List and triggering the email survey by using the Send Now option.
Send Later

- Sometimes, you need to wait for a couple of days to take feedback, especially if you are selling any products or services. Definitely your customers will use your product or service for some time span and then provide genuine feedback. So, in this case you can send your survey later or better you schedule the trigger of your survey.

Based on Event

- Besides products, there are other touchpoints, where you need to take the customer feedback like post-event, post-payment, and post-interaction. Taking at-the-moment feedback is very useful. So, in this scenario you can automate the trigger of the schedule of your survey using APIs and Webhooks or Integrate with your tools (see

Zonka Feedback Integrations

).
Set up your Sender Email Address and Sender Domain Main (White-Labelling your Email Survey)
In Zonka Feedback, you can personalized the name and email address and white-labeled your surveys. This will not only personalize the survey experience of your customers but also promote your brand. Zonka Feedback enables you to customize the sender name and email address that highlight your organization's brand and personalize your Email Invitation.
Chapter 7
How To Maximize Email Survey Response Rate?
The ultimate goal of conducting an email survey is to getting customers to respond to your surveys. It might seem futile if the customers do not share their feedback with your organization or ignore the request.
There are multiple hurdles that stand between your email survey and customer response. Here, we'll discuss some useful strategies to increase and optimize your email surveys better to drive maximum responses:
Keep Your Email Survey Short and Simple
Embed Survey Questions into Emails
Write catchy Subject Lines
Add Sense of Urgency in Your Survey
Optimize Your Survey Emails For Mobile Devices
Integrate Your Email Surveys with the CRM Platforms
Motivate Your Respondents
Chapter 8
How to Choose Best Email Survey Tools?
When it comes to choosing a powerful Email Survey Tool, then you need to observe the differences between various email survey software available in the market. Now the thing is what are the pondering features based on which you can analyze the functionality and quality of the email survey tool.
So, to make your task easy we have listed some must-have features you should consider while choosing the best email survey software:
Customized Survey
Varied Question Types
Skip Logic & Branching
Integration
User Management
Real-time Feedback Tracking
Instant Reports
Ability to Close the Feedback Loop
Getting Started with Email Surveys at Zonka Feedback
You need to make the nature and availability of your survey quick and easy to convince your respondents to open your email survey. If you are looking for a free, quick & easy way to add button or embed a survey in an email, we have complied down the 5 easy steps to embed the customer feedback survey to your email:
Create & Design Your Survey
Click on 'Send an Email' Option
Compose Your Email
Add Your Recipients - (Either you import CSV Or Respondent list)
Preview Your Screen and Send it all Added
Why Choose Zonka Feedback as Email Survey Tool
At Zonka Feedback, we have made the use of Email Surveys very easy and effective. Here are some reasons why we are one of the best Email Survey Software available today:
4 Steps to Embedding Questions in your Email Survey
A comprehensive Survey Builder to fully customize your surveys
An editor to customize your Email Survey Message
Track your Email Survey Usage and Response Rate
Get Real-time Survey Responses
Get Detailed Survey Reports & Analytics
Automate your Email Surveys with APIs