Chapter 1
What is an Email Survey?
Email has always been a great choice of market professionals, especially when it comes to communicating with customers/employees or distributing the survey. Email Survey's potential to reach customers is very high and thus, it becomes a viable and cost-effective medium to collect customer feedback.
Not really! Almost every business is flooding its customers' inbox with the tones of email surveys. Thus, your email may be lost in the crowd of thousands of email surveys.
So, we have come up with an extensive guide that covers everything about the Email Survey. This guide will help you to gain better understanding about Email Survey and how to use it to improve the customer experience.
Here We have discuss about email survey methods, email survey design requirements, strategies, best practices to maximize response rates,how to choose email survey tools, how to embed survey in an email and much more.
Chapter 2
Why we need Email Survey?
The success of the customer feedback survey also depends on the survey distribution channel. Earlier, conventional survey distribution methods were not only time consuming and costly, but also slow on the part of respondents. So, businesses have started using Email as a distribution channel.
Conventionally, an email survey has been achieved by linking the survey into an email and distributed it manually to the respondents. But now, Email Survey Tools are equipped with a plethora of features that have made customer feedback survey collection and analysis quick, easy, and cost-effective.
Other compelling reasons can help you to understand the significance of making Email Survey a part of your marketing strategies:
To improve survey response rate
After in-person and mail surveys, the Email Survey is the third most popular channel having an average response rate of 30%.
To quickly follow respondents
Entrepreneurs usually follow emails regularly. According to the Small Business Trends, 85% of the respondents said they check their emails before they go to work and close to a quarter look at their email before they even get out of bed in the morning. This insight amplifies the scope to get a quick response to an email survey.
To deliver personalized survey experience
Today's customers are tech-savvy and thus expect better customer experience. Email surveys with a personalized tone can improve not only your response rate but also deliver six times higher transaction rates.
Chapter 3
How Email Survey works?
The functionality of the Email Survey depends on the method you choose to send your email survey to the customers. There are three different ways you can send a survey through email:
Button Survey
Embedded Survey
Hyperlink Text Survey
Button Survey
In this survey method, you can link your survey on the button. When your respondents click on the button, it redirects them to the survey page. Nowadays, a button survey is the default setting available in every Email Survey Platform.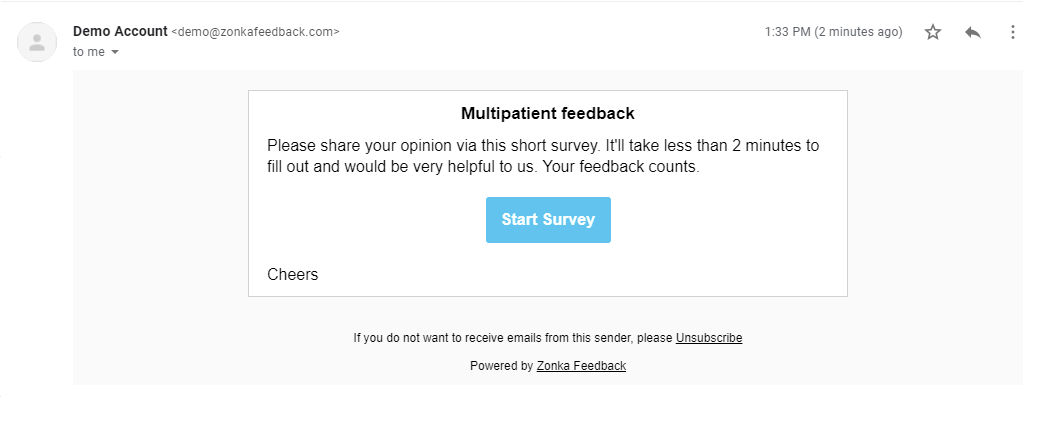 Embedded Survey
In this customized option, you can embed your specific first survey question in the email itself, and the respondent can answer the questions directly in the email body. The Embedded Survey method helps you to cut down the mess of clicking on a link, waiting for the page to load and then filling the survey. It increases survey response rates significantly.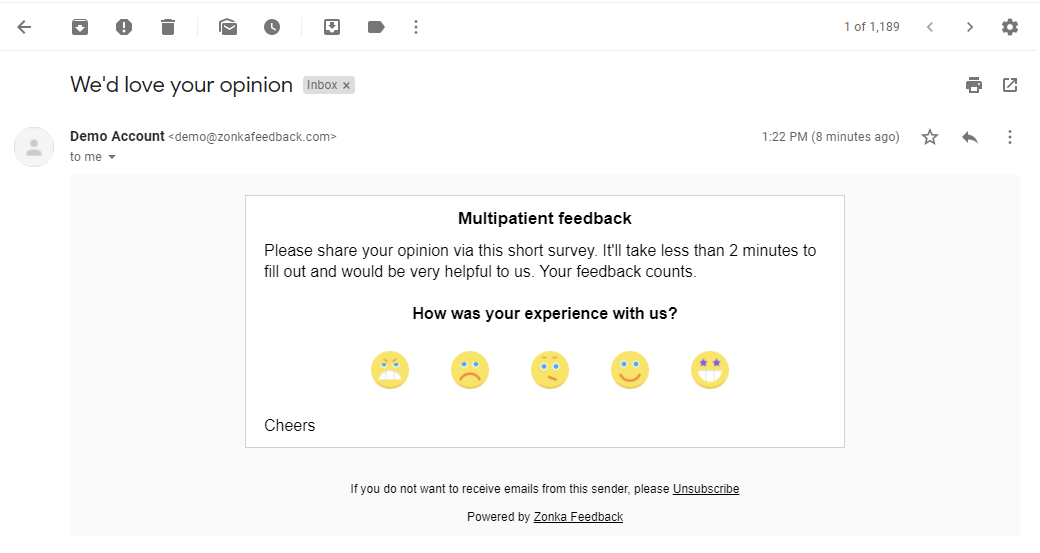 Hyperlink Text Survey
This is the most common method to survey email. Here in this, you can hyperlink a suitable text or any call-to-action like "Take the survey" or "Share your feedback" to your survey URL. Further, this link launches a survey in your respondents' web browser.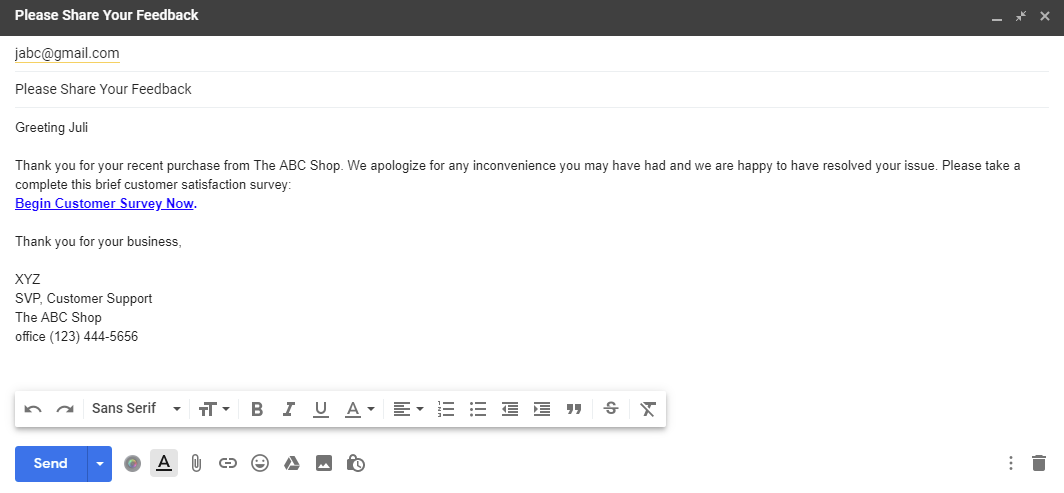 Chapter 4
Email Survey Design Requirements
When it comes to embedding any survey question to the email, you must implement some survey design requirements. These requirements cover all your email survey questions related queries.
Survey design requirements cover two important things that you should consider before embedding survey in the email:
Email Survey Behavior
Email Survey Question
Email Survey Behavior
Asking different questions from customers provide you with valuable insights and information that will help you to identify the pain points of your customers. But sometimes respondents abandon your survey and the reason behind it is irrelevant questions. You should cautiously choose questions, especially if you are employing behavior surveys.
Email Survey Questions
Survey questions play a crucial role in the customer feedback process. The right choice of survey question helps you to track customers' satisfaction levels and drive actionable customer-powered data. It is advisable that always embed Supported Question Types as the first question on the first page of the survey.
Supported Question Types
It is the range of survey question types available in an online survey tool. It offers you the right mix of question types to create a survey that not allows your customers to give feedback but also engages them in your brand.
Types of Supported Question Types
There are broadly 3 types of Supported Question Type:
Multiple Choice Questions (MCQs)
Star Rating Questions
Net Promoter® Score (NPS) Questions
Chapter 5
How to Embed Questions in Email Survey?
A great way to increase email survey responses is embedding customer feedback surveys within the email. Embedded Email Surveys are email surveys where a question of your survey is sent embedded within the email body itself. Since the customers can see the question when they open the email, they are more likely to click on the response and this leads to better response rate. On clicking the embedded email survey, the rest of the survey continues on browser.
Let's learn how to embed customer feedback surveys in your email, in 4 easy steps:
4 Steps to Embedding Questions in your Email Survey
Create your Email Survey
Customize your Email Survey
Add your Recipients
Preview your Email and Send
Learn to embed survey questions in your email here.
Chapter 6
Email Survey Strategies
A result-driven email survey requires planning. Smart planning helps you to identify your survey goals and positioned your survey in a better way to collect valuable and actionable customer feedback. Explore 4 Ws and 1 H components as an important part of Email Survey Strategies:
Why - Purpose of conducting Survey
Who - Identify Your Audience
What - Survey Content
When - Plan Your Delivery
How - Determine the Distribution Channel
Why? - Identify Your Survey Goals
You need to acquire customer data that serve a better market to your audience and drives a better sale. Thus, it is crucial for you to identify the purpose and objective of conducting the survey. So, keep your survey goals in mind while framing your feedback questions and plan how you'll take action on the feedback.
Who? - Identify Your Target Audience
The tone, style, structure, and content of the email survey are considering factors that determine the success of your email survey. But all these factors vary as per your targeted audience. After setting your survey goals, identify your targeted audience and focus on their preferences. For Example - Say, if your targeted audiences are mobile users, then you need to make your email survey mobile-optimized.
What? - Decide Your Survey Content
The response rate of your email survey also depends on the content of your survey. What questions you will ask and how this matters a lot while designing the survey. On top of all these, you also need to settle on your subject line and survey introduction content because both the parameters provide a chance to state your purpose and make a perfect environment for active participation.
When? - Plan Your Delivery Time
Timing is one of the important factors that determines the open rate of your email survey. When it comes to delivering a survey at the appropriate time, you need to ascertain a few things including the time of day, transactions, and customer status. According to Campaign Monitor, over half of all emails are opened during standard work hours, between 9 am and 5 pm.
How? - Determine the Survey Distribution Channel
Since you've chosen your time, now focus on determining the survey distribution channel. Will you send your email survey manually or automate the process through a tool? Before choosing any email survey tool, there are few important things to acknowledge like will the email survey tool supports CRM & APIs integration, storage of survey results, recipients segmentation process and much more.
Chapter 7
How To Maximize Email Survey Response Rate?
The ultimate goal of conducting an email survey is to getting customers to respond to your surveys. It might seem futile if the customers do not share their feedback with your organization or ignore the request.
There are multiple hurdles that stand between your email survey and customer response. Here, we'll discuss some useful strategies to increase and optimize your email surveys better to drive maximum responses:
Keep Your Email Survey Short and Simple
Embed Survey Questions into Emails
Write catchy Subject Lines
Add Sense of Urgency in Your Survey
Optimize Your Survey Emails For Mobile Devices
Integrate Your Email Surveys with the CRM Platforms
Motivate Your Respondents
Chapter 8
How to Choose Best Email Survey Tools?
When it comes to choosing a powerful Email Survey Tool, then you need to observe the differences between various email survey software available in the market. Now the thing is what are the pondering features based on which you can analyze the functionality and quality of the email survey tool.
So, to make your task easy we have listed some must-have features you should consider while choosing the best email survey software:
Customized Survey
Varied Question Types
Skip Logic & Branching
Integration
User Management
Real-time Feedback Tracking
Instant Reports
Ability to Close the Feedback Loop
Getting Started with Email Surveys at Zonka Feedback
You need to make the nature and availability of your survey quick and easy to convince your respondents to open your email survey. If you are looking for a free, quick & easy way to add button or embed a survey in an email, we have complied down the 5 easy steps to embed the customer feedback survey to your email:
Create & Design Your Survey
Click on 'Send an Email' Option
Compose Your Email
Add Your Recipients - (Either you import CSV Or Respondent list)
Preview Your Screen and Send it all Added
Why Choose Zonka Feedback as Email Survey Tool
At Zonka Feedback, we have made the use of Email Surveys very easy and effective. Here are some reasons why we are one of the best Email Survey Software available today:
4 Steps to Embedding Questions in your Email Survey
A comprehensive Survey Builder to fully customize your surveys
An editor to customize your Email Survey Message
Track your Email Survey Usage and Response Rate
Get Real-time Survey Responses
Get Detailed Survey Reports & Analytics
Automate your Email Surveys with APIs