Using Intercom and looking for NPS Survey Tool to measure your Customer Loyalty? Here's a list of top NPS Tools for Intercom you can use. 
The cloud-based technology company Slack has capitalized on the pent-up demand for a workplace communications tool and has become the tech darling of Silicon Valley. But do you know how?
Customer loyalty!
Customer loyalty, measured through Net Promoter Score, plays a major role in building momentum with your users for tracking how likely your customers are to recommend your brand to their friends and family. To unleash the power of NPS and foster business growth, it is crucial to integrate it seamlessly into your customer communication channels. And one such communication tool is Intercom.
Measure Net Promoter Score with Intercom
With NPS Surveys integrated into your Intercom, capture customer loyalty within conversations and learn ways to boost retention.
NPS surveys, when combined with Intercom, become a game changer for many businesses. The AI-enabled tool can facilitate businesses with various messaging products for sales, marketing, and customer service. However, integrating one of the best NPS tools, like that of Zonka Feedback, with Intercom can not only enhance your customer experience but also grow your business. If you're looking to run your NPS surveys and have that data flow into Intercom, then you're in the right place. In this blog, we will share the top NPS tools for Intercom.
Table of Contents
Top NPS Tools For Intercom
Intercom is one of the most powerful and popular customer communication platforms today, and integrating it with your NPS tools can help you measure customer loyalty in real time. Using Intercom as your primary customer communication platform with integration to your NPS tools can enhance your ability to collect, analyze, and act upon valuable customer feedback. The seamless integration empowers your business to measure and track NPS scores, and automated survey campaigns, and derive actionable insights to improve customer experience.
Moreover, the communication platform enables businesses to create conversational relationships with customers while allowing customer representatives to measure Net Promoter Score in Intercom by adding an intuitive survey app to Messenger. Let's now take a look at the top NPS tools for Intercom.
#1. Zonka Feedback
A powerful customer experience and feedback platform, Zonka Feedback offers an NPS tool that is fully customizable and provides in-depth survey reports and CX automation. With this robust NPS tool, you can assess the sentiment of your customers about why they would or wouldn't recommend your brand.
By Integrating Zonka Feedback with Intercom, capturing real-time customer feedback during the time of conversation becomes a cakewalk. You can pick any type of NPS survey and add it to a live conversation or a bot workflow in Intercom. In addition to sending NPS surveys within Intercom conversations, you can use email or SMS surveys to gauge their feedback externally and fetch the response data within your Intercom Customer Profile. Every response rating and comment is added as a note against the customer, which the agents can immediately view and gain an understanding of the customer experience.
The cherry on top is you can have a complete view of the customers using your products and can easily communicate with them personally through targeted and behavior-based emails or in-app messages. By integrating Zonka Feedback with Intercom, you can simplify your task through workflow automation. Based on the response received, you can enable your Intercom bots to take the next best step, like sending a resolution email, assigning to a teammate, and more. It even takes the load off your users and sends recurring surveys based on the delay that you have set.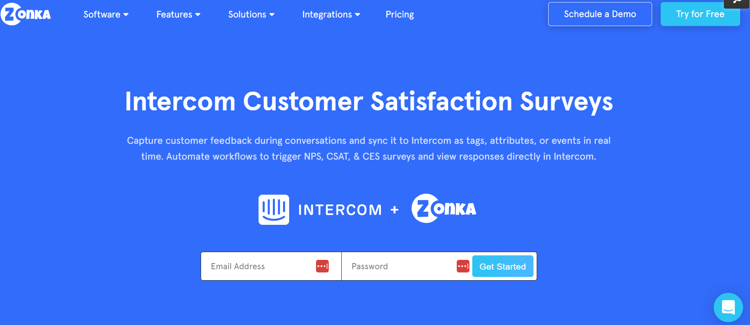 With Zonka Feedback, you can customize your surveys with the appropriate NPS survey questions and survey logic & branching based on different segments in Intercom and send out automatic surveys to the customers in the respective segment. It also provides detailed feedback reports to help you identify trends, patterns, or pain points and effectively turn detractors into brand promoters and passives into advocates, successfully closing every feedback loop.
You can also view agent-based reports by syncing Intercom Users as Agents in Zonka Feedback. The best part of Zonka Feedback and Intercom integration is that it is available on every plan and doesn't add any extra charges apart from Zonka Feedback and Intercom.
Why choose Zonak Feedback as your NPS tool for Intercom?
By integrating Zonka Feedback with Intercom, you can create rules to sync survey responses. The synced responses are shown as notes in Intercom, including the NPS score, comments, full survey responses, customer information, and more. Apart from simplifying your task, it helps you send personalized surveys to customers after resolving a query or adding new users to the customer list. Zonka Feedback also offers endless customization to create and send NPS surveys to customers through its native integration with Intercom. Here are some features you get with Zonka Feedback and Intercom integration.
Create and Update contacts in the Intercom based on the NPS responses you've received on Zonka
Quickly sync survey responses in the Intercom
Create a new Intercom conversation based on different conditions set by your users
Show surveys in Zonka Feedback Intercom Inbox App
Get reports on Agent performance and find out areas of improvement
Automatically send Zonka Feedback email surveys based on triggers in the intercom
Add Zonka Feedback surveys to Intercom Home to get quick feedback
Send NPS surveys in real-time during communication in the Intercom Messages & Inbox
Effortlessly send NPS Surveys using Intercom custom bots
Sync Net Promoter Score with contacts in Intercom
Sync survey responses with contacts and messenger
Send NPS surveys to different customer segments at the right time in Intercom
Limitation:
Although Zonka Feedback offers a powerful NPS tool, it falls behind in offering metrics like for measuring customer feedback. For businesses looking to delve deeper into customer sentiments through an array of CX metrics, Zonka Feedback might not provide the comprehensive surveys and capabilities they require. However, for organizations primarily focused on tracking Net Promoter Scores, CSAT Scores, CES Scores and gathering high-level customer feedback, Zonka Feedback's NPS tool can still be a valuable asset.
Pricing:
Survey & CX platform with Front starts from $49/ month
Offline surveys platform with Front starts from $15/month
Product Feedback platform with Front starts from $39/month
You can also try Zonka Feedback for free for 7 days
G2 Rating: 4.8 out of 5
#2. Qualtrics
Qualtrics is more suitable for enterprise-level organizations due to its extensive capabilities and comprehensive pricing plans. Being one of the featured customer feedback tools, Qualtrics includes its Predict IQ feature, which couples NPS and operational data to predict customer behavior. It also offers integration with Intercom, allowing automatic updates of Intercom tickets based on survey responses. It's easy to collect structured, actionable feedback from your customers while following up with them in a way that is personable and scalable. The integration streamlines ticket resolution and enhances customer support efficiency.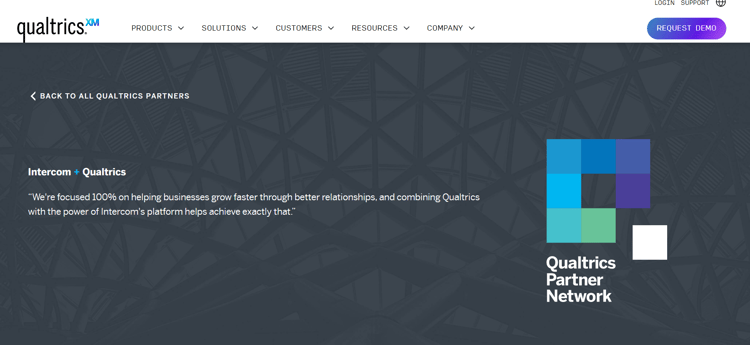 However, the integration capabilities are relatively limited to this particular functionality, some additional features could be offered in terms of NPS surveys.
Why choose Qualtrics as your NPs tool for Intercom?
Together, Qualtrics and Intercom power the feedback loop between customers and businesses. While Qualtrics enables you to collect actionable feedback, Intercom also provides your sales representatives the opportunity to request feedback and follow-up from customers. The Qualtrics integration with Intercom also provides an added advantage where you can use Task Bots, Custom Bots, and Answer Bots to leverage the feedback from Qualtrics to grow your business faster. Here is what you can expect from Qualtrics and Intercom integration.
Create new contacts in Intercom from Qualtrics survey responses
Effortlessly keep your Intercom leads list updated with its workflow automation
Manage new Qualtrics survey responses by adding or removing tags on Intercom users
Keep your customer data up-to-date and better serve them by seamlessly integrating their feedback into your Intercom user profiles
Keep your team updated by sharing notes via Intercom integration
Limitations:
There is no pricing available publicly. Also, the platform is more suited for enterprise-level brands. The Intercom integration capabilities are limited and require detailed guides or tutorials to use the platform better.
Pricing: You need to contact their sales team, as the pricing is unavailable on public platforms.
G2 ratings: 4.4 out of 5
#3. Delighted
Developed by Qualtrics, Delighted is a multifaceted platform that allows you to collect customer feedback through its multiple channels. It provides an extensive range of survey types, including NPS, CSAT, CES, star-rating, product-market fit surveys, and more. Although its integration with Intercom is effortless, you can send automated NPS surveys using Delighted. The integration process is also pretty quick with their pre-built integration.
One of the interesting features it offers is to check which customers have been surveyed and when in case the email survey recurs. Your sales reps can also judge if all the responses should be synced to the user's record in Intercom. When integrated with Intercom, you can send automated email surveys after a ticket is closed or resolved using Delighted.
Why choose Delighted as your NPS tool for Intercom?
By choosing a Delighted NPS tool for Intercom, you can harness the power of NPS surveys within your Intercom customer interactions. This integration lets you measure customer loyalty, gain insights, and take proactive steps to enhance customer loyalty. Here is what you can expect from Delighted and Intercom integration.
Streamlined feedback collection within the Intercom platform.
Enhanced customer engagement at critical touchpoints through Intercom
Unified customer data for deeper insights, personalized communication, and targeted improvements.
Automated workflows and follow-ups for consistent follow-up and prompt resolution
Schedule surveys using the Autopilot option and gather reports, trends, and text analytics using their simple dashboard
Limitations:
Delighted is a popular choice among top companies like Uber, Cisco, Slack, Bonobos, Instacart, and Target, the platform offers limited features when integrated with Intercom. Also, you need to integrate it with other tools like Intercom to send emails.
Pricing: Starts from $224/month. Also, you get a free 7 days trial option.
G2 Rating: 4.7 out of 5
#4. AskNicely
Being an award-winning customer experience software, AskNicely is one of the oldest survey tools that has been helping frontline teams serve every customer right. The cloud-based survey platform enables businesses to use the best NPS software to collect feedback in real-time mainly. Combining AskNice with Intercom empowers your team to track the NPS score directly from their phone.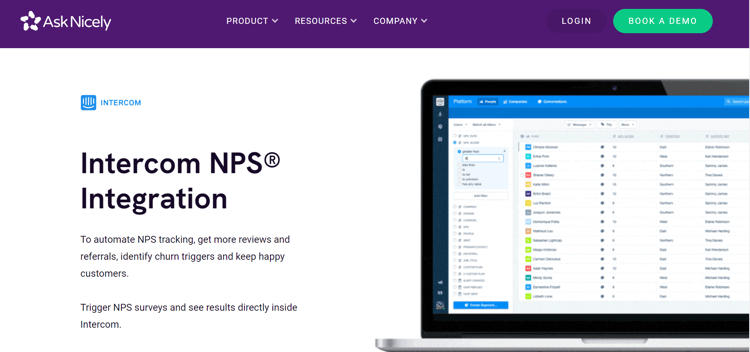 Although its integration with Intercom is pretty simple, another interesting feature it offers is allowing your sales team to get customer feedback right from Intercom Messenger. Thanks to the integration of Intercom and AskNicely, it can help you to identify the touch points and stages in a customer's lifecycle and take action. Giving your customer reps the option to get more reviews and identifying churn triggers while improving customer satisfaction has made the platform one of the best of its kind.
Why choose AskNicely as your NPS tool for Intercom?
The platform helps your frontline reps with automatic NPS tracking and better review while keeping the customers happy. It empowers your sales team to take immediate action and have real-time access to valuable data.
Autonomously survey a sample of your customers daily from a specific segment in Intercom.
Put survey results into Intercom contact records, and track Net Promoter Score in real-time.
Customer service staff can see NPS feedback and close the loop on at-risk customers.
Use Intercom to act on dissatisfied customers and drive prompt follow-up.
Users can pull contact and company data directly from Intercom into AskNicely as per region, agent, and product.
Get real-time feedback anywhere your team
With your built-in response, escalation, and workflow management tools, generate quick reviews and referrals.
Limitations:
One of the drawbacks is its higher pricing plans; potential customers have to pay their highest subscription price to access certain integrations. It is also quite pricey for a small business with less than 500 surveys a month.
Pricing: You need to contact their sales team, as the pricing is unavailable on public platforms.
G2 Rating: 4.7 out of 5
#5. InMoment
Formally known as Wootric, it describes itself as a full-service CX platform that lets you run customizable NPS surveys on several channels, such as email, web, mobile, and SMS. The customer experience solution platform is one such tool that works really well with Intercom integration. However, you may take a little time once landed on the InMoment website, as it might take you a bit to figure out what are the surveys that the company offers.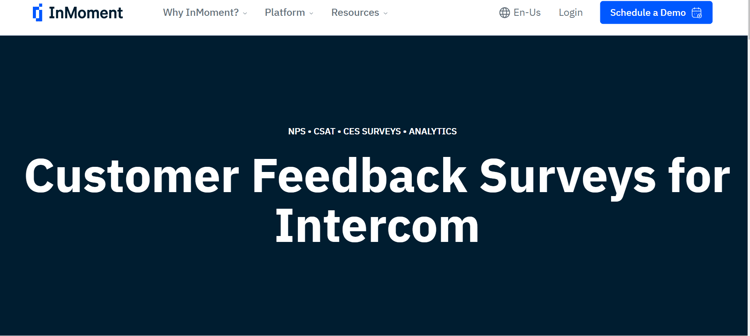 By integrating InMoment with Intercom, you can trigger in-app or email surveys in Intercom Messenger based on user attributes. For example, you can trigger NPS surveys 60 days prior to renewal. Also, you can trigger customized surveys once a ticket is closed or follow up with the detractors to learn more about them. It is also easy to check and analyze your customers' journey metrics in a single dashboard. You can send personalized thank you messages based on your agent's performance, get notified for low scores, and act upon them immediately.
Why Choose InMoment as your NPS tool for Intercom?
Although the integration with Intercom is flexible, surveys in Intercom Messenger provide a seamless customer experience. The best part about InMoment NPS integration with Intercom is that you get real-time notifications, and with workflow automation, it is easier to follow up with customers promptly and address any concerns they may have. Here are the top features you get when integrating InMoment with Intercom.
Target a specific customer segment with an NPS survey campaign.
Hear from more customers by sending an in-app survey to people who don't respond to email surveys.
See survey feedback & respond to customers in Intercom.
Automatic trigger in-app surveys, email surveys, or surveys through Intercom messenger
Quick conversations with customers as soon as feedback comes in and follow-up if required
Follow up with detractors and unhappy customers in Intercom
Reach offline stakeholders with email surveys
Limitations:
Although integrating InMoment with Intercom is effortless, it can be expensive and unsuitable for smaller companies with limited budgets. Also, it requires coding and technical expertise to use the platform for specific needs.
Pricing: You need to get in touch with the sales team.
G2 Rating: 4.7 out of 5
#6. SurveySparrow
SurveySparrow, one of the leading SurveyMonkey alternatives, has revolutionized the way businesses collect feedback from their customers. With its user-friendly interface and innovative approach, the platform comes with a wide range of survey types to collect customer feedback seamlessly. Some of its popular tools are NPS, CSAT, and CES. Also, one can explore hundreds of questions across different survey types using Survey Sparrow, all designed to get users accurate results one can rely on.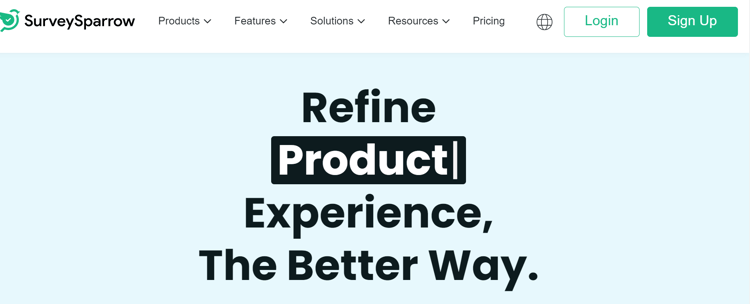 Talking about its Intercom integration, it is flexible and lets you trigger the NPS score directly from the intercom chat. You can also set a predefined set of rules as per your requirement. One of the best parts about this integration is that you can send surveys to any group of audience that matches the rule conditions. Another cool feature you get is to choose either SurveySparrow Classic or Chat Survey option when interacting with the customers on Intercom Chat. Additionally, you can collect feedback on the quality of service and check if the customer is satisfied with the products and services.
Why choose SurveySparrow as your NPS tool for Intercom?
Integrating SurveySparrow with Intercom will help you to decode customer sentiments, uncover loyalty insights, and drive growth. The platform provides an option to explore hundreds of questions across different survey types. Besides increasing productivity, the integration allows users to switch back and forth within a unified platform. Here are the top features you get when integrating InMoment with Intercom.
You can trigger an NPS at any user touchpoint to understand customers better
Collect customer feedback and ratings at regular intervals
Enables you to identify mistakes and helps to dive deep
Customize NPS with follow-up questions to gain more insights about customer loyalty
Capture customer loyalty without moving an inch from your Intercom account
Send an NPS survey during your conversation with the customer
Import Intercom contacts to your SurveySparrow account effortlessly
Update the contacts list as per your needs
Limitations:
One major drawback is that SurveySparrow's NPS integration with Intercom is available in their business plans. While the pricing plans aren't available publicly, that may restrict the ability of the potential customers to improve the overall customer experience.
Pricing: Starts from $99/month
G2 Rating: 4.4 out of 5
#7. QuestionPro
Thinking outside the box is something QuestionPro excels at. With its advanced data-driven surveys, it enables you to gather valuable insights to make data-driven decisions. The platform offers affordable ways to rapidly collect customer data and integrate it with tools such as Hubspot, Freshdesk, Zendesk, and more. With its robust features and user-friendly interface, QuestionPro offers a wide range of survey solutions, including NPS, CSAT, CES, market research surveys, and employee feedback surveys.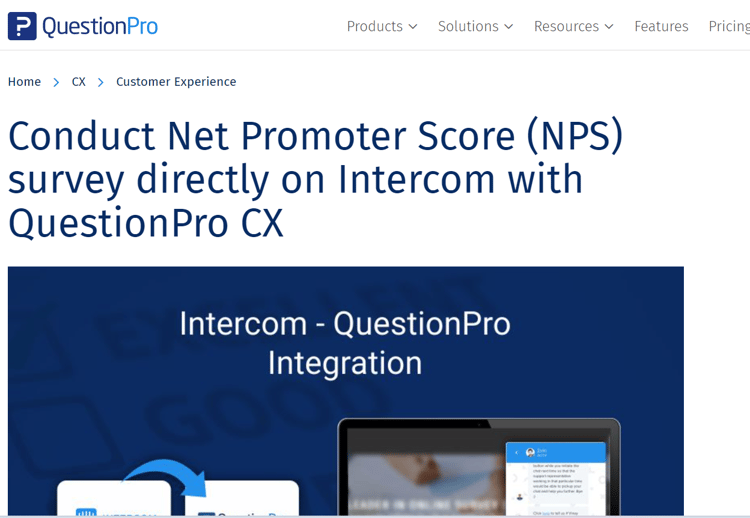 Questionpro integration with Intercom allows you to have real-time conversations with customers by offering a range of messaging products for sales, marketing, and customer service. The integration allows you to get in touch with your customers from anywhere. Also, the integration lets you automatically address the survey respondent, helping your service team close the feedback loop with NPS surveys.
Why choose QuestionPro as your NPS tool for Intercom?
QuestionPro's robust yet easy-to-use interface ensures you build powerful surveys within minutes. With its advanced reporting options, you can get real insights into customer sentiment. By combining both platforms, it is easy to facilitate teamwork and streamlines NPS scores. Here are some top features you get when integrating QuestionPro with Intercom.
Get an elaborate platform to focus on customer experience in Intercom
Get a dashboard that provides real-time updates
Quickly improve your team's efficiency and productivity
Get real-time notifications after any closure/purchase/renewal
Limitations:
Unfortunately, QuestionPro pricing isn't available publicly, which can frustrate potential customers. Additionally, the platform increase prices over time without prior information.
Pricing: You need to get in touch with the sales team
G2 rating: 4.5 out of 5
#8. SatisMeter
As we have headed to the end of our list, the last platform that we will be talking about is SatisMeter. SatisMeter is a handy feedback collection tool that makes integrating customer insights into your tech stack a breeze. Integrating Intercom with SatisMeter NPS benefits you with customer success, marketing, and product teams. You can collect feedback in-app or via email through the NPS survey, as the data is channeled directly into Intercom. This way, it is easier for SatisMeter users to respond to feedback when it comes in, either using Intercom chat or through simple automated messaging.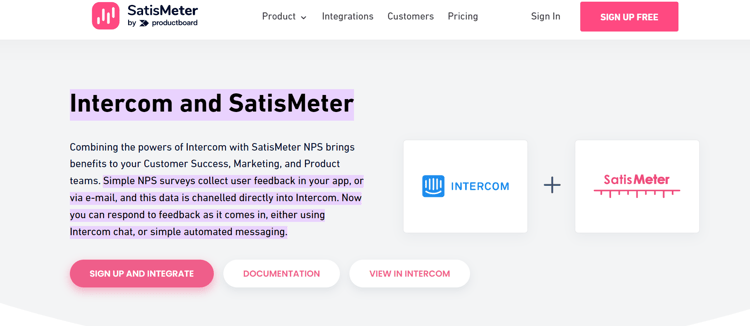 Interestingly you can also check NPS scores and traits in Intercom users' profiles. Moreover, you can trigger targeted automated emails according to the NPS score.
Why choose SatisMeter as your NPS tool for Intercom?
Combining Intercom with SatisMeter, you can leverage the power of NPS surveys to gather actionable feedback and enhance customer satisfaction. The seamless integration, real-time feedback collection, targeted survey distribution, advanced analytics, and automation capabilities make SatisMeter a valuable tool for optimizing your Intercom customer interactions and driving continuous improvement. Here are some top features you get when integrating SatisMeter and Intercom integration.
Automate NPS surveys by sending results directly to Intercom.
Get written feedback when it appears as conversations in Intercom chat.
Get NPS scores and traits that appear in Intercom user profiles.
Target customers automatically through messages according to NPS score.
Follow up with detractors or ask promoters for reviews with zero effort
Easy to send feedback directly to Intercom
Ensures a smooth data flow, enabling you to gather feedback directly from your Intercom account.
Collecting real-time feedback from your Intercom users
Enables you to target specific segments of your Intercom user base with NPS surveys.
provides advanced analytics and reporting features to help you derive meaningful insights
Limitations:
The tool is great for NPS surveys but lacks detailed multi-question surveys. Also, it offers less integration which may be annoying for potential customers.
Pricing: Starts $199/month
G2 rating: 4.8 out of 5
Wrapping Up
Intercom shows no signs of slowing down, and it's sure to hold its position as one of the leading customer messaging platforms that enable businesses to communicate and engage with their customers in a personalized and meaningful way. With its user-friendly interface and advanced features, Intercom empowers companies to deliver seamless and personalized experiences, increasing customer satisfaction and loyalty.
Now that you have a fair idea of the most popular NPS tools for Intercom, choose the one that best suits your business needs. Then why not choose Zonka Feedback? You can use this tool for Intercom integration to gather, analyze, and act upon customer feedback effectively. It enables you to optimize the customer experience, make data-driven decisions, and foster long-term customer loyalty.
It also offers a free trial. Try it for free for 7 days and see how it works for your business to enhance customer loyalty and satisfaction.