Customer Experience is the key factor that determines the success of any business. And one of the major factors that affect Customer Experience is Customer service. In such a scenario, CRM tools like Salesforce are used by many companies to provide their customers a great service and create awesome experiences.
Salesforce is a Customer Relationship Management (CRM) tool that many businesses use to manage their customer data, especially because of an array of Salesforce apps that integrate with the software for different business functions. They allow you to connect to customers across various channels and touchpoints, provide customer service and support, resolve all customers' issues, and provide them with a great experience.
Salesforce is a cloud platform used by more than 150,000 small and big companies around the globe. Companies that use Salesforce have noted around 35% increase in Customer Satisfaction. This is because it allows integrations with many software and applications to create seamless workflows and do your business in an easier and more effective way.
Measure CX at all touchpoints with Salesforce Surveys
Send surveys and get 360° view of your customers right within Salesforce with Zonka Feedback
In this article, we explore some of the great Salesforce apps, i.e., the apps that you can integrate with Salesforce and use in your business to simplify your processes and create excellent customer experiences.
Top Salesforce Apps to Boost Customer Experience
Zonka Feedback
Groove
Ortoo Q-Assign
DocuSign
Quip
Cirrus Insight
Netomi Virtual Agent
1. Zonka Feedback - Create Surveys, measure and improve customer satisfaction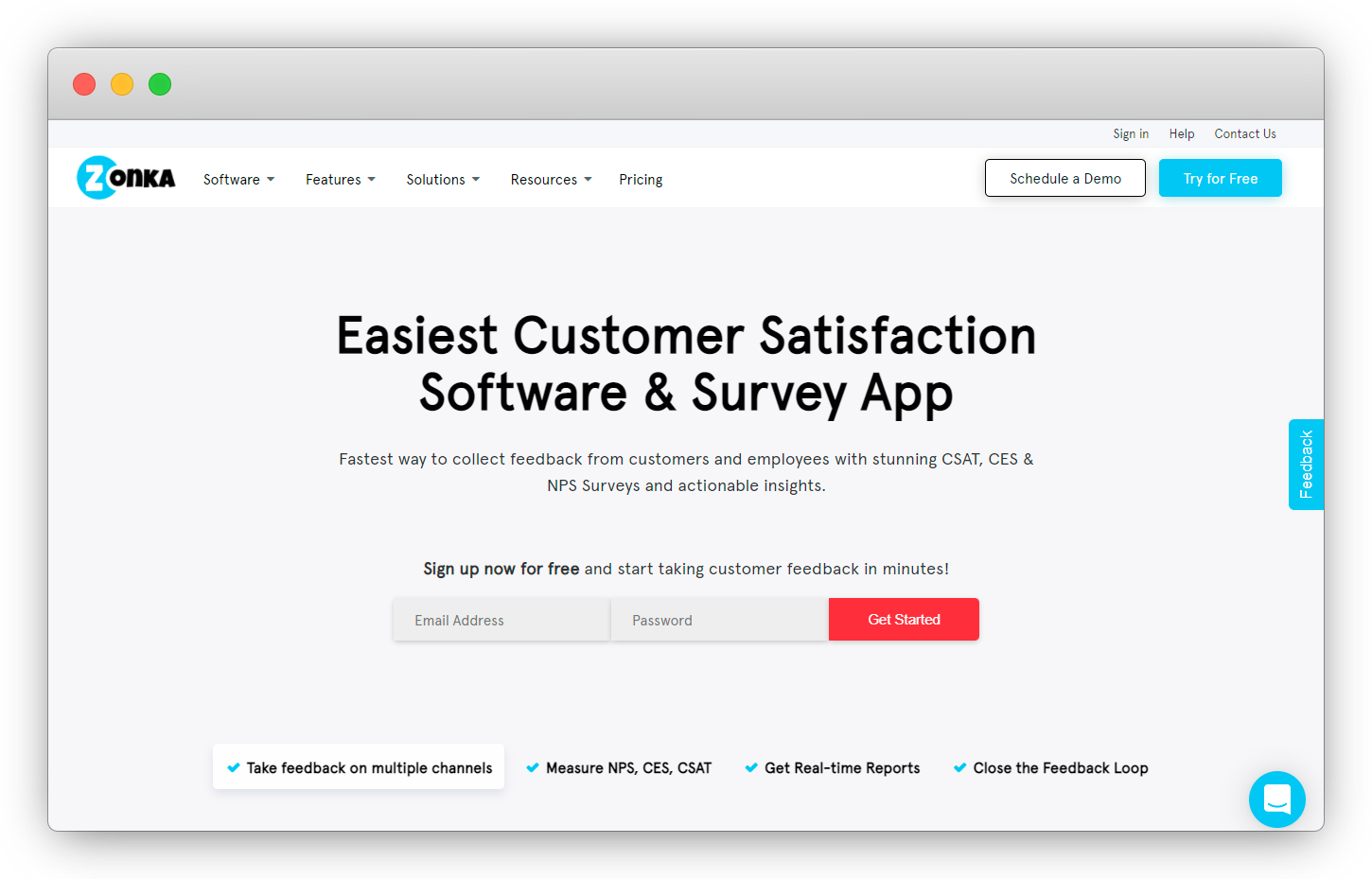 Zonka Feedback is one of the most important Salesforce apps and the easiest Survey Software and Customer Experience Management platforms that you can use to survey your customers to collect feedback at different touchpoints. The Salesforce app integration with Zonka Feedback enables automated surveys to your customers with every interaction or at different touchpoints in the customer journey, like the closure of a ticket.
Moreover, you can map your feedback with customer details and map the customers' details or objects with the feedback and responses from the customers. Zonka Feedback allows you to map in both ways - Custom Mapping and Managed Mapping.
Key Features
Use Managed Mapping to view Zonka Feedback responses with details of the customer contact.
Use Custom mapping to add or modify the customer details you want to view with Zonka Feedback responses.
Create customized surveys with your own brand name and design.
Get ready-to-use templates and 40+ question types for surveys for different industries and purposes.
Create metric surveys to measure CX metrics like NPS, CSAT, and CES at any touchpoint.
View last NPS, CES, CSAT scores, and customer feedback directly in Salesforce.
Check your agent's performance by triggering feedback surveys automatically with the closure of a ticket.
Automate ticket generation based on the feedback or responses from customers.
Convert feedback into tasks, loop in your team, and assign response-based tasks to the respective team members.
Decide which question or survey page the respondent sees next based on their answer to the previous question using Survey Logic.
Use Personalization to insert details of your interaction or transaction like customers' names, the salesperson who dealt with the customers, the customer care executive who had a word with the customer, and so on.
Get end-to-end feedback and customer satisfaction reports about the survey responses with every department and teams like Sales, Marketing, and Customer Care.
Integrate with powerful tools like Shopify, Slack, Google Sheets, Webex, and more.
Pricing
The price of Zonka Feedback starts from $29/month. It offers various plans.
Professional Plan costs $79/month.
The growth Plan costs $169/month.
Enterprise Plan costs $429/month.
Custom Plan provides custom solutions, and personalized quotes are prepared based on your business requirement.
It also offers a free trial for 7 days.
2. Groove - Perform non-sales activities with Groove to get more engaged in Sales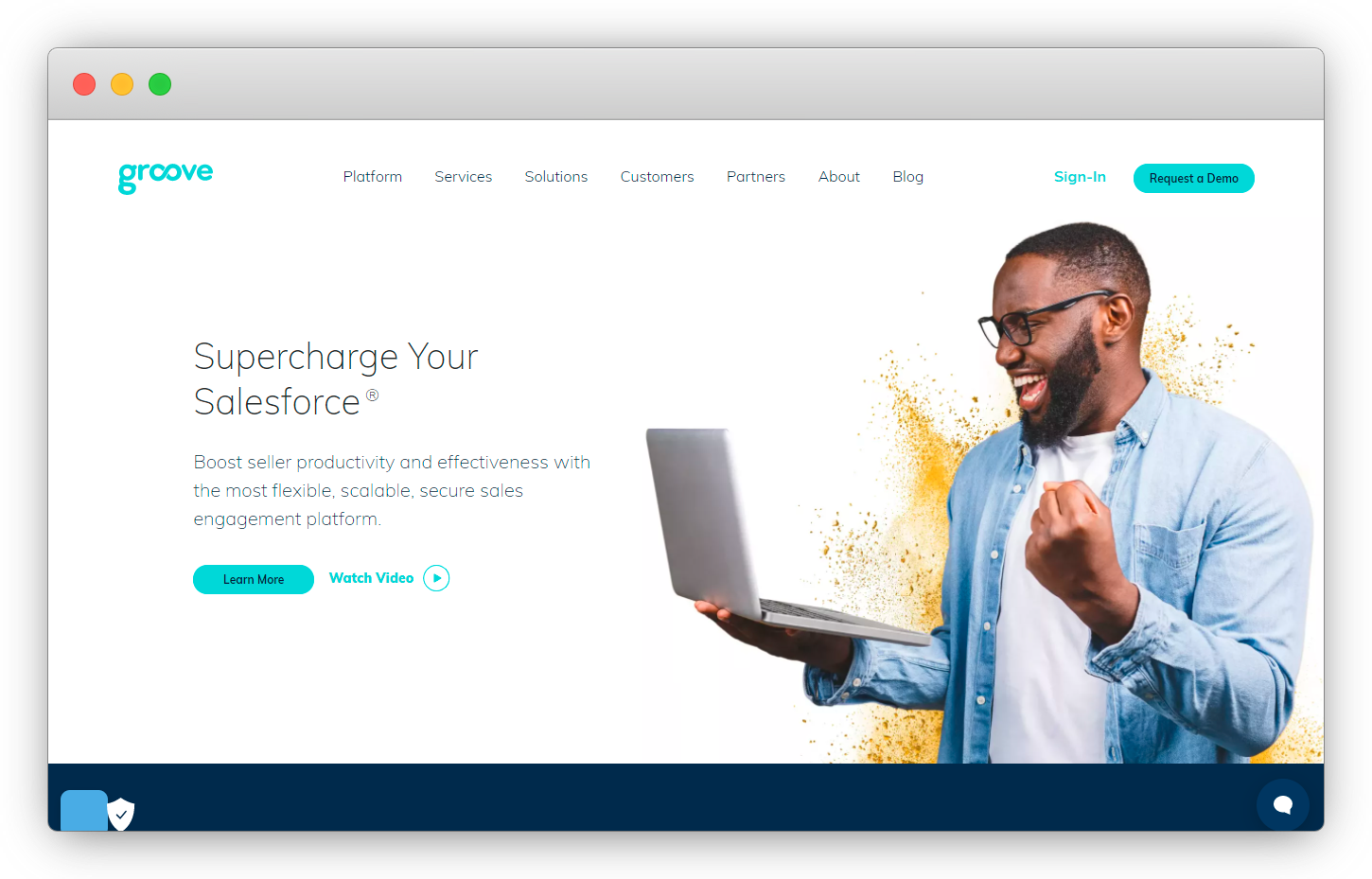 Groove is a leading Sales Engagement Platform to make enterprise sales and revenue teams more effective and efficient. It is one of the most flexible, scalable, and secure Salesforce apps used by more than 70,000 sellers to boost seller productivity.
It automates the non-sale activities so that your representatives can utilize their time and effort in building new customer relationships and generating more revenue.
Key Features
Search Salesforce account history, access profiles, make meeting schedules, and log activities.
Send personalized emails to hundreds of accounts.
Get a range of professional services to accelerate sales, save time, and reduce costs.
Get customized onboarding packages designed to meet the unique needs of the businesses.
Get dedicated implementation specialists to provide you with specialized training and support.
Get access to extensive technical resources.
Migrate data, campaigns, templates, and more.
Pricing
It offers different plans.
The standard plan costs $20/month per user.
The Pro plan costs $35/month per user.
The company plan with all pro features is a custom plan as per your requirements.
Groove also offers a free trial for 15 days.
3. Ortoo Q-Assign - Assign tasks and sales leads to service agents and sales representatives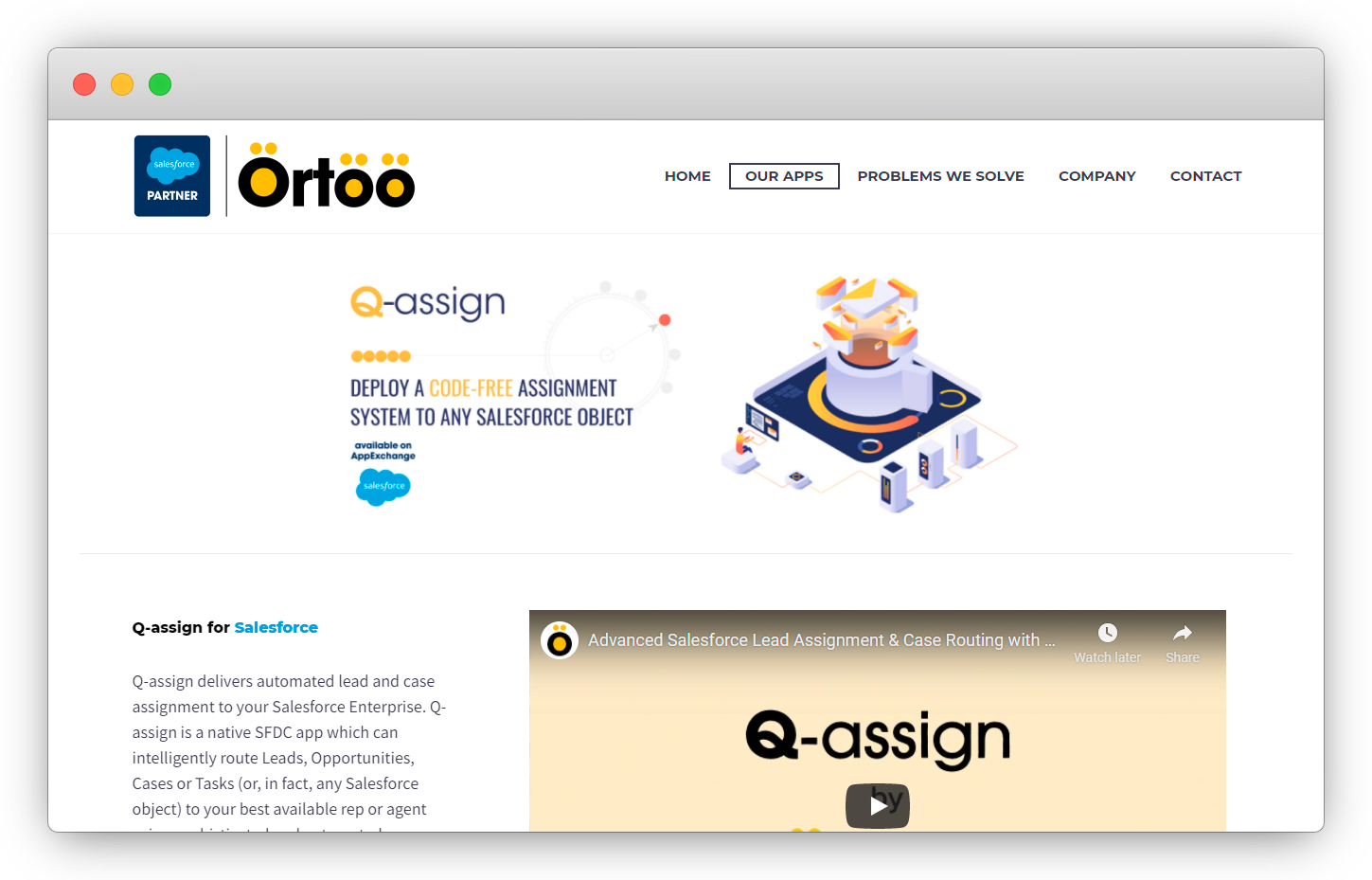 Q-Assign by Orto is an advanced Assignment and routing system that is used to assign customer service tickets to the most appropriate service agents automatically. It is a native Salesforce app that can route leads, cases, tasks, or any Salesforce object to the best available representative or agent.
It has its own automated assignment rules that consider and manage various aspects like agents' skills, availability, current workload, and more. You can also create your own rules regarding these aspects and others like language, territory, or anything you like to increase customer satisfaction and improve customer experience.
Key Features
Set rules to prioritize hot leads and assign them to the best sales representatives.
Set rules to assign SLA-bound urgent cases to the first available agents.
Set rules to assign cases that require special knowledge to the expert agents as per their qualifications and expertise.
Manage workload and ensure that new cases are assigned to the agents with the lowest current workloads with the help of round-robin lead and case assignment feature.
Facilitate assigning tasks to the most deserving or needed agent using scoring and point-based assignment rules.
Set your own assignment rules based on various attributes like skillset, language, location, experience, a Salesforce object, and more.
Reassign tasks to available agents.
Monitor and manage live status, Out of Office status, and Sickness status from a single platform.
Pricing
It offers various support plans.
Standard Support costs $20/month per user.
Premium Suport costs $25/month per user.
Enterprise Support costs $30/month per user.
Volume Pricing is also available with custom plans.
It also allows a free trial for 30 days.
4. DocuSign - Secured app for Digital Signature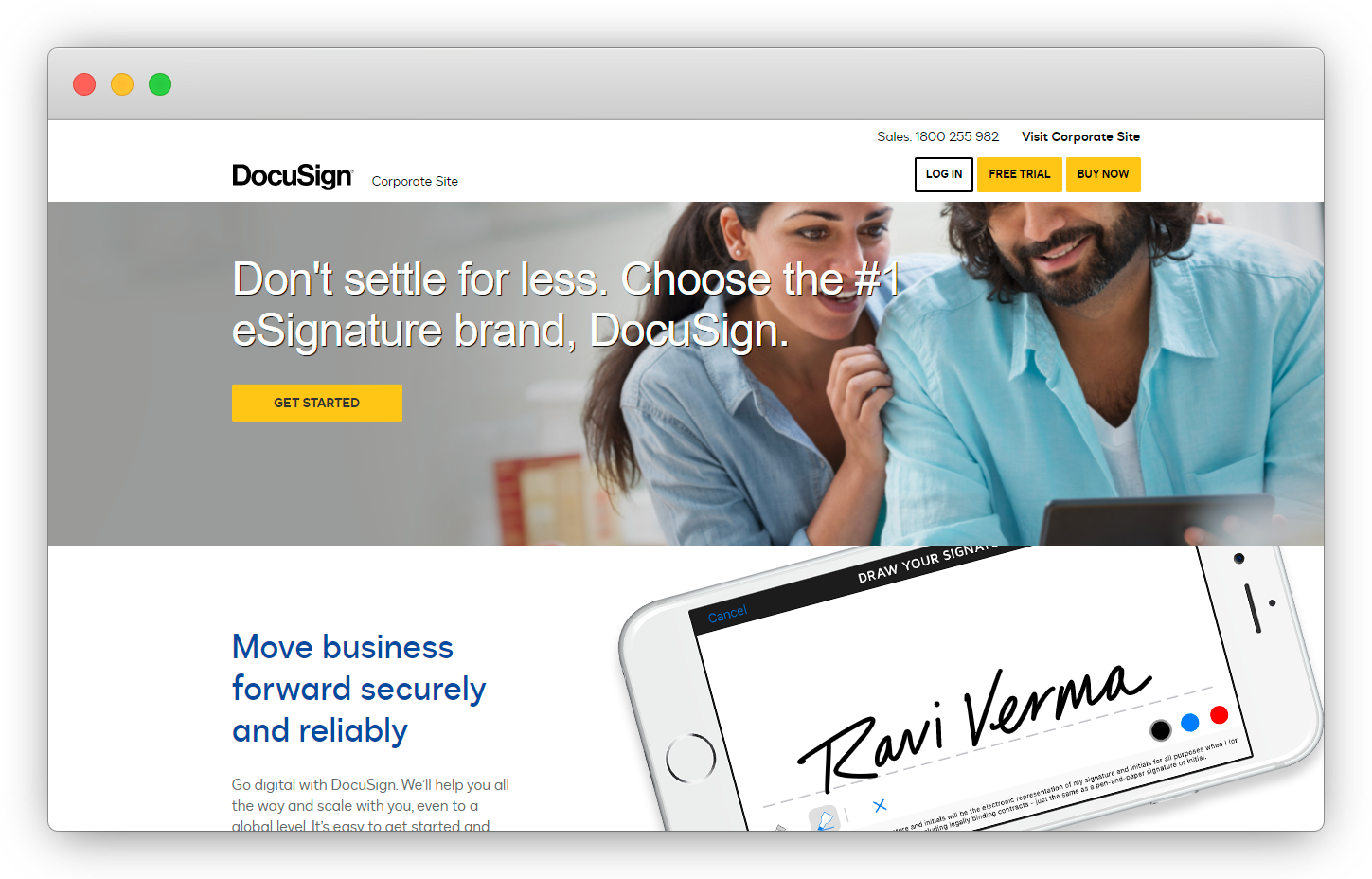 DocuSign is one of the best eSignature Apps which allows you to go digital on a global level. Being recognized as an industry leader by brands like Aragon Research, the Salesforce app is very easy to get started with and use. It is a fast and secure way to send signatures and approve documents from anywhere anytime.
Trusted by over 85 million users worldwide, DocuSign is a trusted brand for electronic signatures and approvals.
Key Features
You can use it anywhere from any digital device.
It is easy to learn and use and convenient for everyone involved.
Along with Salesforce, it also works with powerful platforms like Microsoft, Google, Apple, and more.
Pricing
It offers plans for individuals and businesses.
Personal Pan for a single user costs $10/month.
Realtors Plan costs $20/month per user.
Standard Plan costs $25/month per user.
Business Pro Plan costs $40/month per user.
It offers a 30-day risk-free refund option that can be used once per customer.
5. Quip - Create and modify documents collaboratively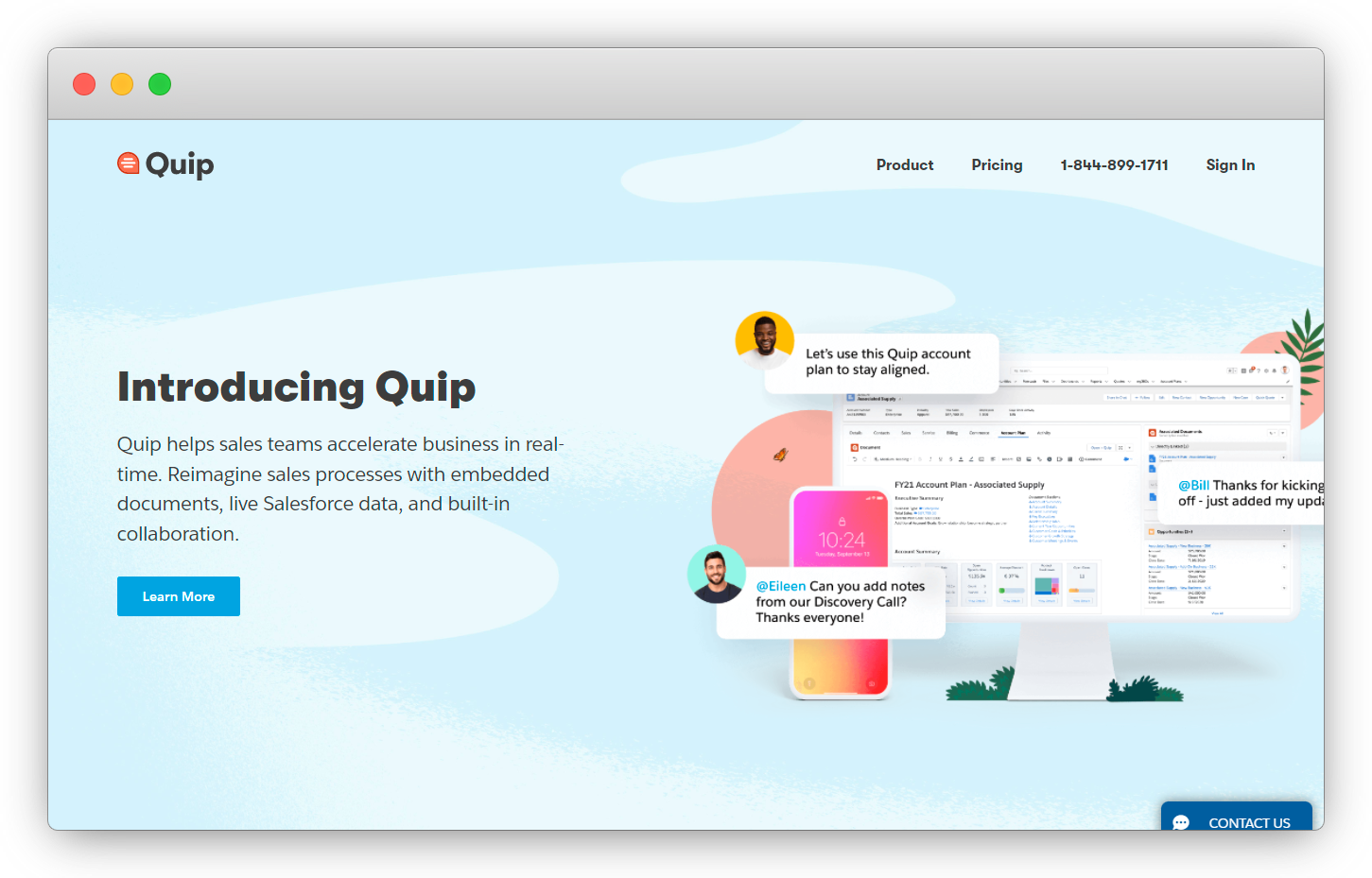 Quip is a collaborative Productivity Software suite that allows a group of people to create and edit documents and spreadsheets collaboratively for business purposes. With Quip integrated with Salesforce, your sales and service teams can easily create, discuss, and execute Account plans, Opportunity Notes, Live Deal Feeds, and more. You can standardize, automate, and embed collaborative documents inside Salesforce in real-time.
Quip is a useful Salesforce app as it transforms the way enterprises work together, and delivers modern collaboration in a simple and secure way.
Key Features
A very high level of data protection, privacy, and control.
Embed collaborative documents, spreadsheets, and slides in Salesforce records and ensure that every aspect of a deal or case is present in one place.
Customize doc templates to standardize and simplify your services and sales process.
Engage teammates with live data present in Salesforce reports in Quip that you can open in just a single click.
Use the mobile-friendly Salesforce app on the go and quickly view, update, and discuss Salesforce data from your phone.
Pricing
It offers multiple plans.
Quip Starter plan costs $10/month per user
Quip Plus plan costs $25/month per user.
Quip Advanced plan costs $100/month per user.
It also offers a free trial.
6. Cirrus Insight - Manage emails and track activities on emails and attachments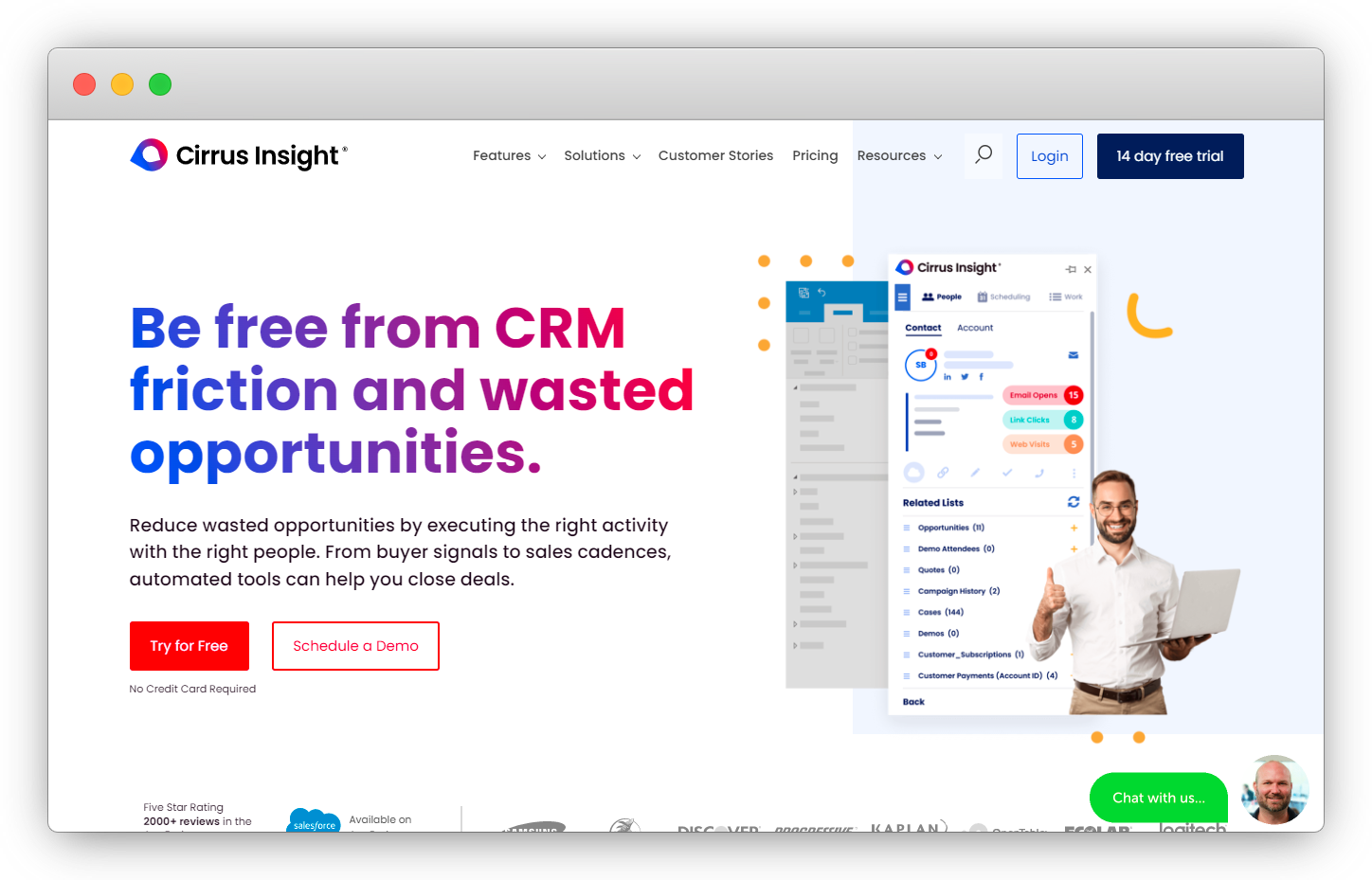 Cirrus Insight is a Customer Relationship Management app that businesses use in Gmail and Outlook to log all activities and reduce wasted opportunities by executing the right activity by the right people. It tracks the opening of emails and attachments, creates personalized email templates, sets up follow-up reminder emails, and sends email drip campaigns.
With its integration with Salesforce, you can connect with leads, set up campaigns, schedule meetings, and track the activities on the emails. You can sync your emails, tasks, and calendar directly into your Salesforce data.
Key Features
Monitor your inbox and sync all emails to the corresponding contact or leads in the Salesforce data.
Sync the team members' schedules to Salesforce and from Salesforce, access the organization's calendar using the calendar sync feature
Prevent missing any task by syncing all tasks to Salesforce data using task Sync.
Manage your tasks, cases, and opportunities right from your inbox with Salesforce Sidebar.
Use email templates that you can personalize and send invites to the prospects faster.
Know who opens your emails, visits links, and web pages using Buyer Signals.
Know whether your attachments are opened or not using the attachment tracking feature.
Pricing
It has different plans to choose from.
Salesforce Sync plan costs $10/month.
Pro plan costs $21/month.
Expert plan costs $29/month.
It also offers a free trial for 14 days.
7. Netomi Virtual Agent - Virtual agent to resolve customer service tickets automatically
Netomi is a Virtual Agent App that is powered by Artificial Intelligence to resolve customer queries and issues automatically, without needing any manual intervention. The Salesforce app enables businesses to use the Salesforce chatbot and resolve customer service tickets quickly through channels like email and webchat. Netomi's virtual agent can interact with the live customers, suggest responses and resolve tickets in seconds, thus increasing Customer Satisfaction.
The Salesforce app can resolve most routine queries and enable your human agents to focus on complex tickets that require a human touch.
Key Features
Connect with Salesforce chatbot and resolve customers' queries through virtual support.
Get most of the queries resolved quickly through Netomi without deploying human agents.
Resolve an infinite number of tickets simultaneously since this Salesforce app has no limit to the number of tickets.
Tailor conversations with current context and sentiment.
Work across multiple channels - email, chat, and messaging.
Besides Salesforce, integrate the app with other tools also like Zendesk, Freshdesk, Zoho, and more.
Pricing
Not provided, contact to get personalized quotes.
Measure CX at all touchpoints with Salesforce Surveys
Send surveys and get 360° view of your customers right within Salesforce with Zonka Feedback