Regardless of the industry you work in or the kind of products or services you offer, the only thing that will remain consistently important is your customers. Therefore, it is important to actively hear and understand voice of the customers in terms of the product or experience.
And that's where voice of customer (VoC) tools come into the picture.
From understanding the perceptions and expectations of your customers to collecting feedback and customer insights – you can do everything on a single platform and excel at customer experience.
There are several VoC survey tools that can help you take your Voice of Customer program several notches higher. And, we have created a consolidated list for you with ratings and availability of a free trial to help you make an informed choice. Read on to find out which VoC tool would fit perfectly among your VoC methodologies and is the right choice for your business as per customer experience requirements.
TL;DR
There are several approaches to listening to the voice of the customer. Using VoC survey tools is the most effective way to collect feedback at different touchpoints across the customer journey and get an in-depth analysis of customer sentiment.
There are many online survey tools in the market that can help you listen to the voice of your customers and assess their sentiments to improve the overall experience.
Our list of top VoC survey tools includes names like Zonka Feedback, SatisMeter, Wootric, AskNicely, Jotform, and more.
We have curated this list based on different parameters like their ratings, if they have a free trial available, the pricing of the tool, and the key features that they offer as a VoC tool.
You can choose Zonka Feedback as your voice of customer software. It lets you get a holistic view of your entire customer journey and what they feel about your product, service, or brand. You can sign up for a free trial or schedule a demo to use this VoC app.
Hear the Voice of Every Customer🔊
With VoC Surveys, reach your customers wherever they are and capture their feedback. Leverage customer feedback to boost customer experience.
What are Voice of Customer Tools?
Voice of customer survey tools are powerful resources that enable businesses to capture and analyze customer feedback to improve their overall customer experience. These tools allow companies to reach their customers wherever they are, whether it's through online channels like email, SMS, website, or mobile app, or offline touchpoints such as kiosk booths and tablets.
There are different voice of customer tools and methods that you can use to listen to your customers. Some of these are:
Surveys, feedback forms, and questionnaires

Customer reviews and ratings

Text and sentiment analytics

Net Promoter Score

Social media monitoring

Customer journey mapping

Email surveys and feedback requests

In-app feedback and ratings
Different businesses adopt different tools and approaches to listen to the voice of the customers. However, in this blog, we'll be focusing on voice of customer survey tools.
Top Voice of Customer Survey Tools
Voice of Customer (VoC) survey tools are specialized survey software platforms designed to collect feedback directly from customers regarding their experiences with a product, service, or brand. These tools enable businesses to gather structured feedback through surveys and questionnaires.
Here are some popular VoC survey tools:
1. Zonka Feedback
Zonka Feedback is a Voice of Customer survey tool designed to enable enterprises as well as SMBs to collect customer feedback at various touchpoints. It features an easy-to-use survey builder and customizable survey templates to help your customer experience team create beautiful and interactive surveys that can be distributed both online and offline.
This means that you can collect customer feedback online through email, SMS, website, mobile app, web URL, live chat, and QR code, as well as on-premises through a mobile, tablet, and kiosk booth, both with and without internet connectivity.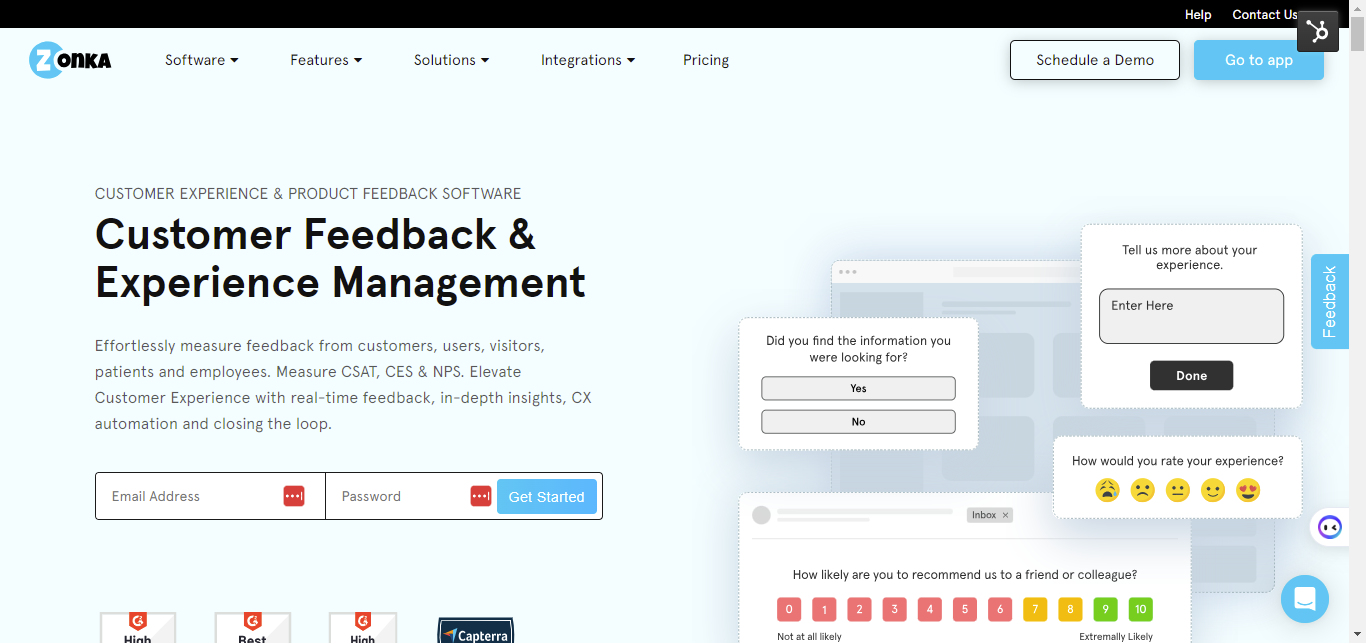 Here are a few other features of Zonka Feedback survey software:
It enables you to create NPS, CSAT, CES, and CSS surveys, and also embed microsurveys into your questionnaire.
It helps in collecting real-time feedback and closing the feedback loop quickly to create the best customer experience.
It features 100+ customizable survey templates and a survey builder that doesn't require coding skills to create surveys.
With the help of white-labeling and other features like survey logic, it allows you to make sure that your surveys are branded and relevant for all your customers.
It creates intelligent reports and transforms complex customer feedback data into actionable insights.

Rating:

4.8

Free Trial:

15 Days

Pricing:

Starts at $79/month
2. SatisMeter
SatisMeter is a multi-channel platform that is designed to improve customer retention by understanding customer sentiment for the brand through NPS and CES surveys. SatisMeter allows tailoring your customer satisfaction surveys, which can then be distributed via emails, text messages, in-app channels, and web links. This VoC tool also manages all the customer feedback data at a single location on the survey platform, which can then also be sent over to Slack, Salesforce, and other tools.
Rating:

4.8

Free Trial:

First 100 Survey Responses Free

Pricing:

Starts at $49/month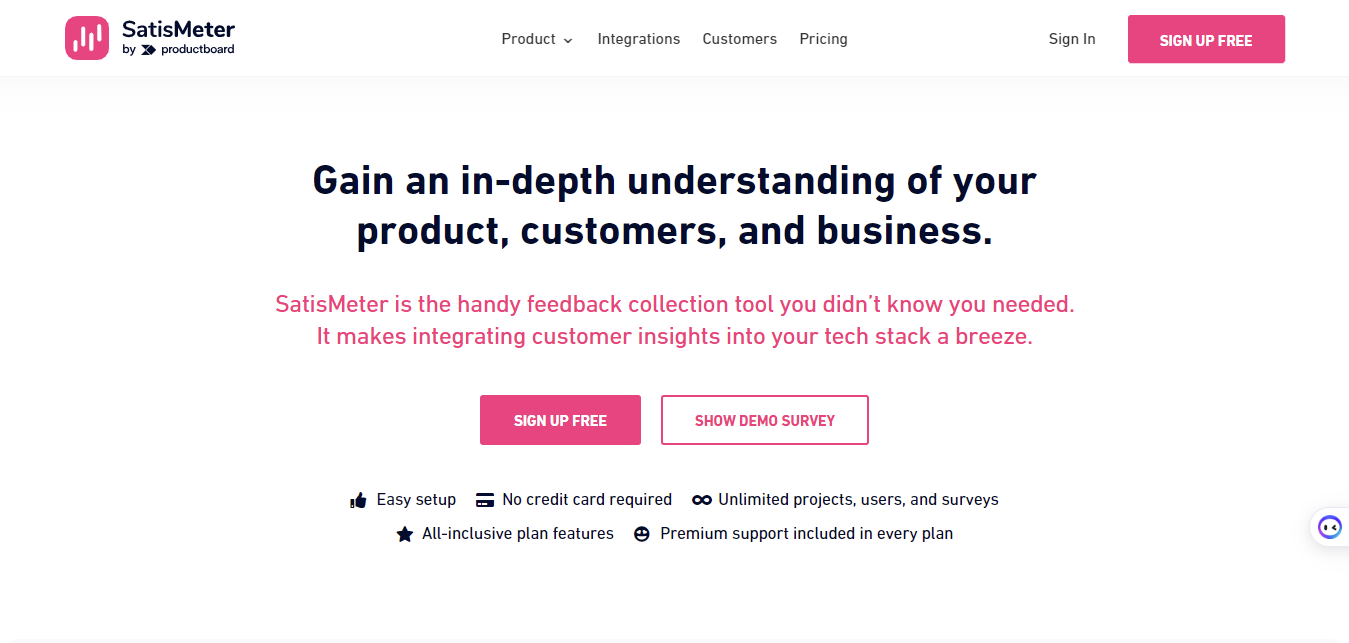 3. AskNicely
AskNicely is a VoC survey tool that allows creating the voice of customer surveys to collect NPS or Net Promoter Score to measure customer loyalty. It consists of a 'leaderboard' where leaders can see how customers interact with the business and how the teams are performing. This not only helps understand customer insights and inclinations but also helps in assessing employees' performance when it comes to delivering memorable customer experiences. Insights from listening to the voice of the customer can also be used to coach the frontline team to enhance their customer service efforts and customer effort score.
Rating:

4.7

Free Trial:

N/A

Pricing:

Not Mentioned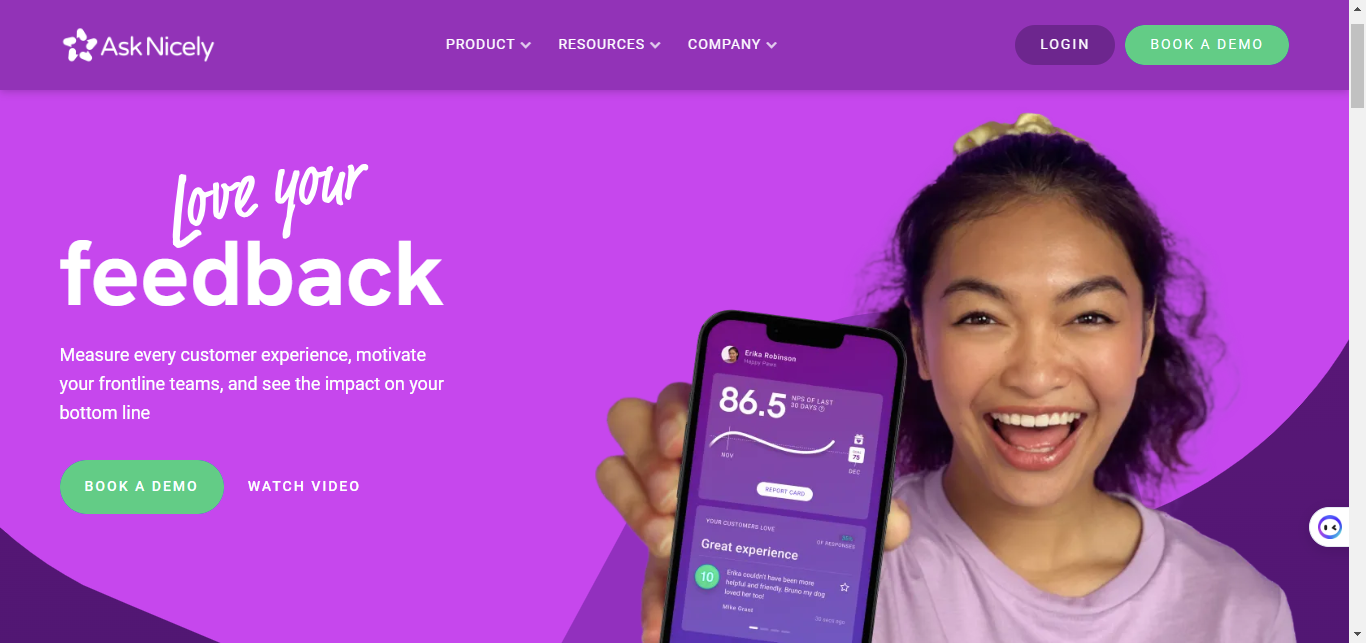 4. Wootric
Wootric is an enterprise feedback management tool that leverages NPS, EFS, and ESS surveys to collect customer insights. Wootric surveys can be sent via emails, text messages, and mobile apps. You can get access to qualified data and then record patterns of customer experience with the help of data and sentiment analysis. Further, your team can use the results produced to discover the pulse of your organization and create business improvement plans.
Rating:

4.7

Free Trial:

30 Days

Pricing:

Starts at $89/month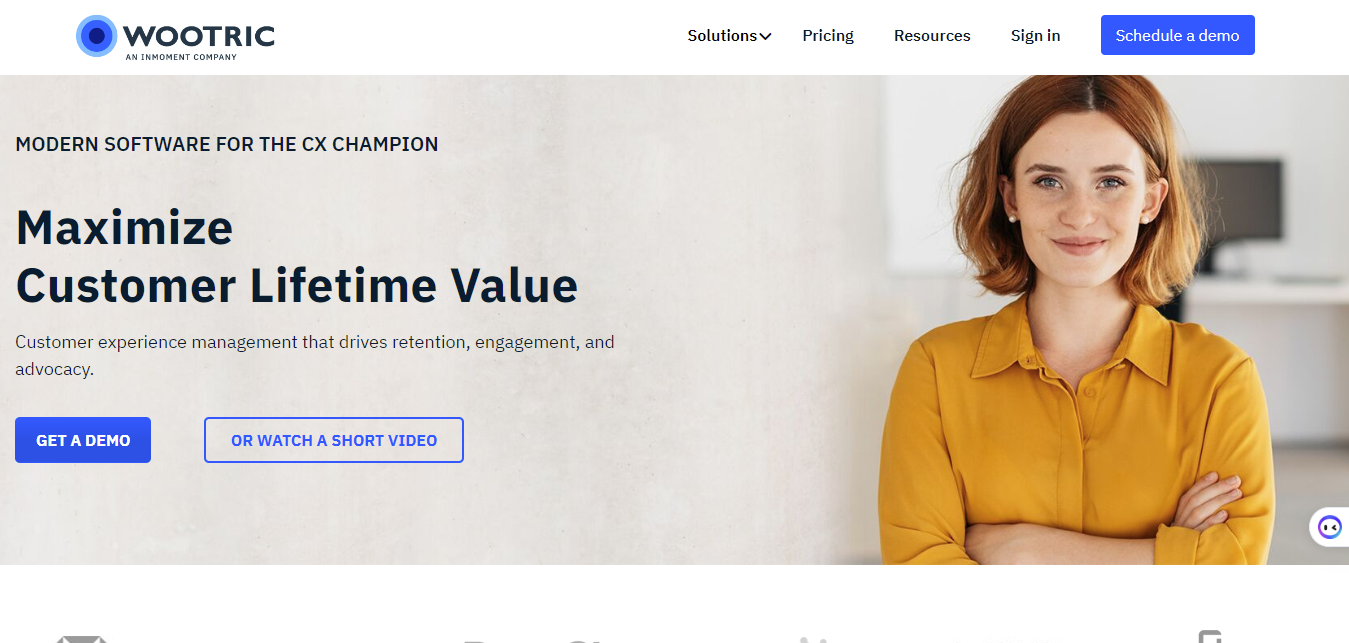 5. OpinionLab
A renowned VoC platform, OpinionLab is designed to harness customer feedback and improve their digital experiences with businesses. Though the brand was initially focused on website feedback, its product has now evolved to gather feedback from multiple channels, including offices, shops, and service centers. OpinionLab also features real-time notifications and team collaboration to close the feedback loop.
Rating:

4.7

Free Trial:

30 Days

Pricing:

Not Mentioned
6. JotForm
JotForm is a customer experience platform that gauges customer experiences through easy-to-create survey forms. It enables businesses to add a personalized button to all website pages which prompts website visitors to take the survey. Moreover, JotForm also offers a free WordPress plugin for 100 form submissions every month.
Rating:

4.7

Free Trial:

Free Version with Basic Features

Pricing:

Starts at $24/ month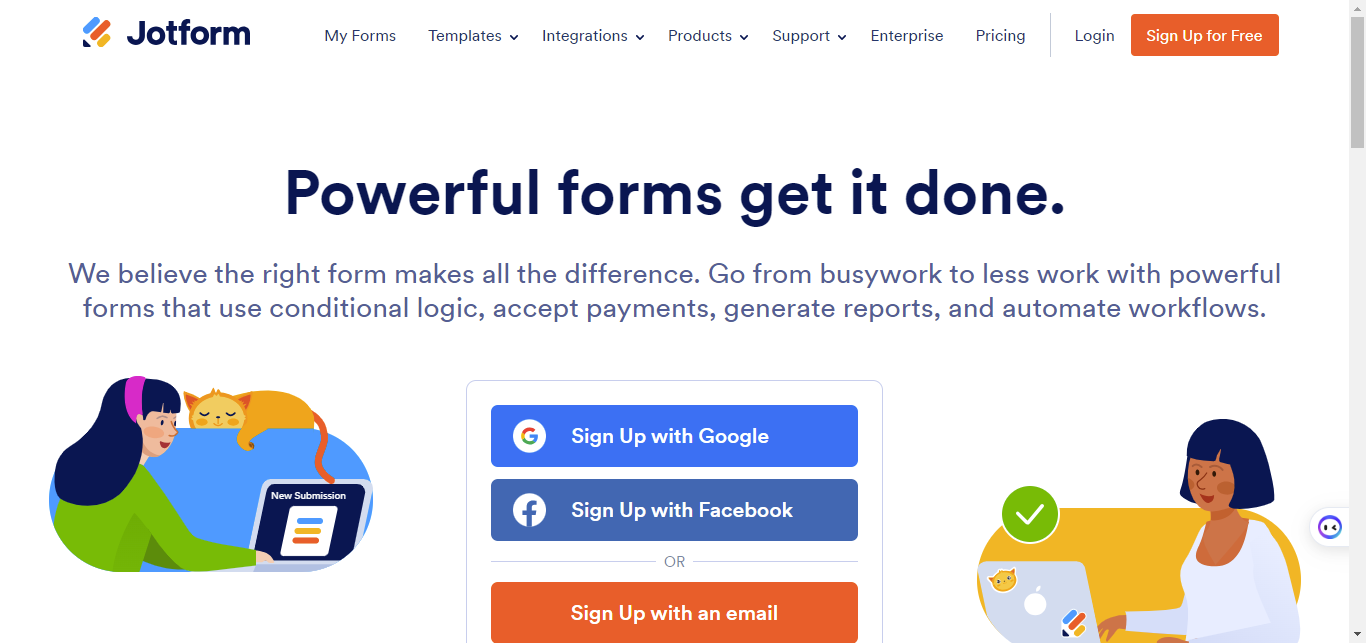 Need a tool that goes beyond feedback forms and online surveys? Check out the top Jotform alternatives that are more comprehensive and help you capture multichannel feedback.
7. Track.co
Track.co is a VoC tool that allows businesses to track and manage all interactions with their customers during their relationship journey. One of its key offerings to measure customer satisfaction is its Net Promoter Score surveys that can be distributed across digital platforms. Track.co also allows sending reminders to people who haven't taken a survey yet, thereby increasing the chances of a better response rate.
Rating:

4.6

Free Trial:

Not Available

Pricing:

Not Mentioned
8. Survicate
Survicate is a customer experience company that boasts its easy-to-use and fully functional survey platform. It allows creating branded surveys using various survey templates, question types (CSAT, NPS, and CES), and several design elements. Further, the surveys can be sent via email links and websites and can also be embedded into apps. Survey results can be seen in real-time and are used to create consolidated reports.
Rating:

4.6

Free Trial:

Free Account with Basic Features

Pricing:

Starts at $89/month
9. SentiSum
SentiSum is a customer experience tool that leverages natural language processing to tag customer tickets and responses by topic and tone. Sentiment tagging is used to create reports that help understand the voice of customers and experience trends. The tool is also designed to convert voice calls and voice messages into texts so that all tickets can be tagged with tones/emotions. SentiSum also allows tagging all feedback received from multiple channels from social media to surveys.

Rating:

4.6

Free Trial:

30 Days

Pricing:

Starts at $1000/month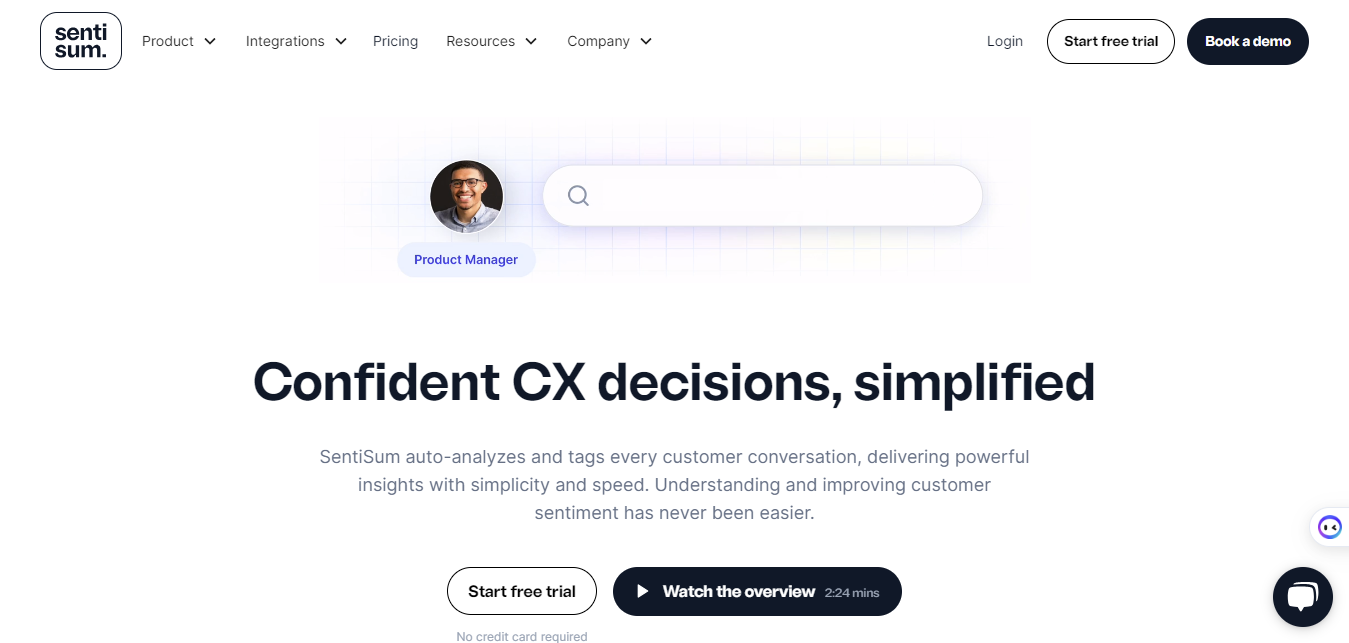 10. SurveySparrow
SurveySparrow is a VoC tool that allows offering helpdesk assistance through chats and feedback forms. The software consists of two interfaces with chat-like surveys and conversational forms to communicate with customers and listen to the voice of the customer, collect customer feedback, and assess complaints. You can also select an audience and send recurring surveys by scheduling them beforehand. In conclusion, the platform enables collecting feedback efficiently through emails, SMS, websites, weblinks, etc.
Rating:

4.5

Free Trial:

14 Days

Pricing:

Starts at $99/month
SurveySparrow looking too chat-like for your VoC survey requirements? Why not check to our SurveySparrow alternatives that offer an expansive bank of voice of customer survey questions and reporting features.
11. Medallia
Medallia is an enterprise solution for feedback management. The customer feedback tool is designed to collect data and customer sentiments at scale from various channels, including email, website, SMS, and phone. The software then uses customer data to build reports and send them directly to your phone. The reports and findings enable a comparison of customer experience with the financials, which can help in creating a revenue growth plan.
Rating:

4.5

Free Trial:

Not Available

Pricing:

Not Mentioned
Medallia can be too complex and enterprise-y for many smaller businesses. If you are looking for a simpler tool to capture the voice of the customer you are targeting, check out our list of top Medallia alternatives.
12. NiceReply
NiceReply is designed to empower your customer service agents by helping them collect more data through survey-embedded emails. Survey emails are customizable and can consist of CSAT surveys and net promoter score surveys to understand how your brand is perceived. Moreover, the software is designed to notify you about responses as soon as you receive them. This allows your business to resolve issues quickly and improve customer experience.

Rating:

4.5

Free Trial:

14 Days

Pricing:

Starts at $39/month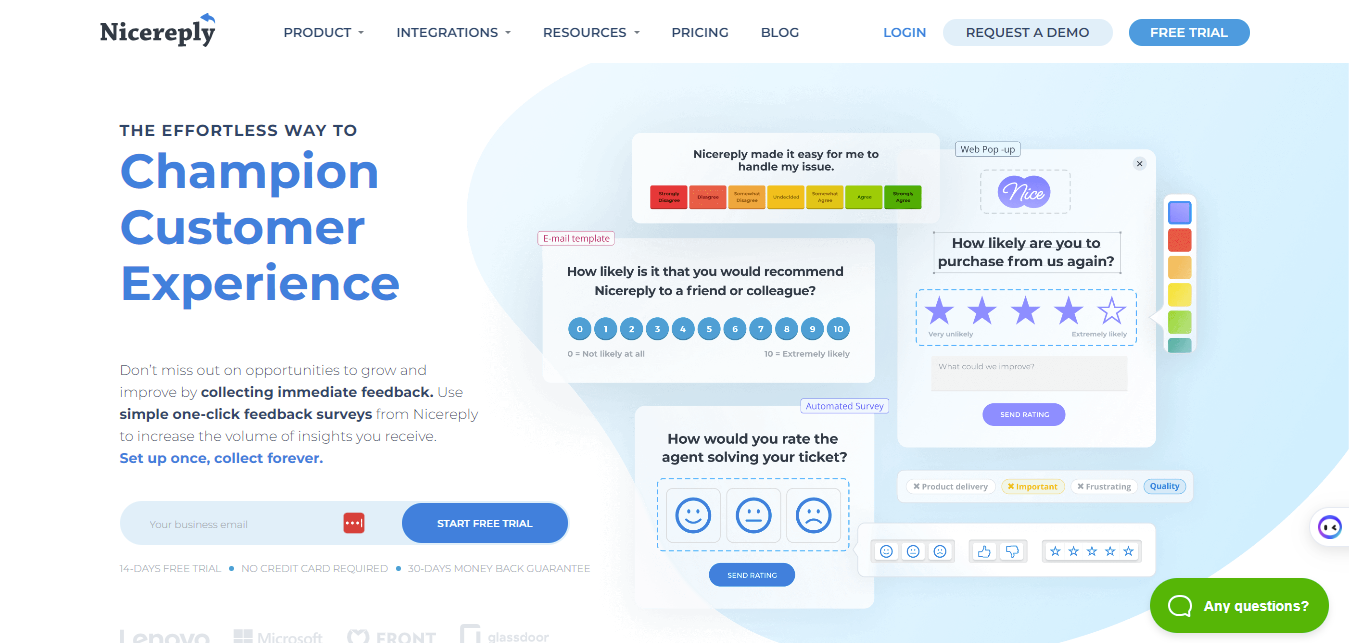 13. GetFeedback
GetFeedback is a feedback tool that helps businesses collect feedback from end-users through websites, apps, emails, weblinks, SMS, etc. You can also schedule survey triggers after various customer transactions or interactions with your business. GetFeedback allows listening to the voice of the customers through real-time feedback. Moreover, its interactive and branded surveys increase the odds of a great response rate.

Rating:

4.5

Free Trial:

14 Days

Pricing:

Not Mentioned
Not sure if GetFeedback is ideal to listen to the voice of your target audience? Check out the top GetFeedback alternatives that you can switch to.
14. Feedier
Feedier is a voice of customer tool used to improve end-user experience. It allows businesses to create surveys, send SMS and email survey campaigns, organize survey responses as per context, create various survey events, and analyze responses once they are received. Feedier also gives the customer experience manager access to live response feed, which allows them to take action quickly and improve the overall customer experience.
Rating:

4.5

Free Trial:

1 Feedback Form Free

Pricing:

Starts at $180/month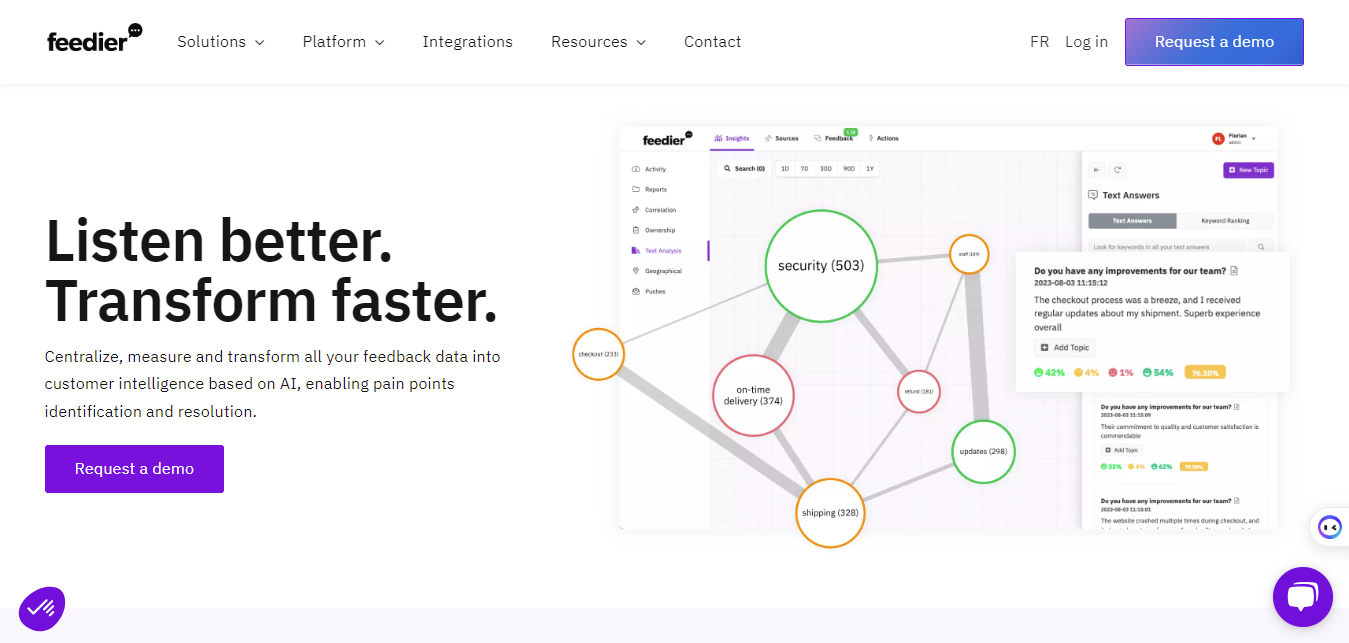 15. ResponseTek
ResponseTek offers a customer experience tool that selects customers randomly and sends them surveys to get feedback. In addition to email survey invites, ResponseTek surveys can be made available on websites and shared via social media.
Rating:

4.5

Free Trial:

30 Days

Pricing:

Not Mentioned
16. WebEngage
The WebEngage VoC tool allows businesses to create feedback forms through a survey builder and send those forms to website visitors based on their click activity. In addition to survey widgets, WebEngage has the ability to send out notifications for not just survey requests but also for other items – promoting a product, for example.
Rating:

4.5

Free Trial:

Not Available

Pricing:

Not Mentioned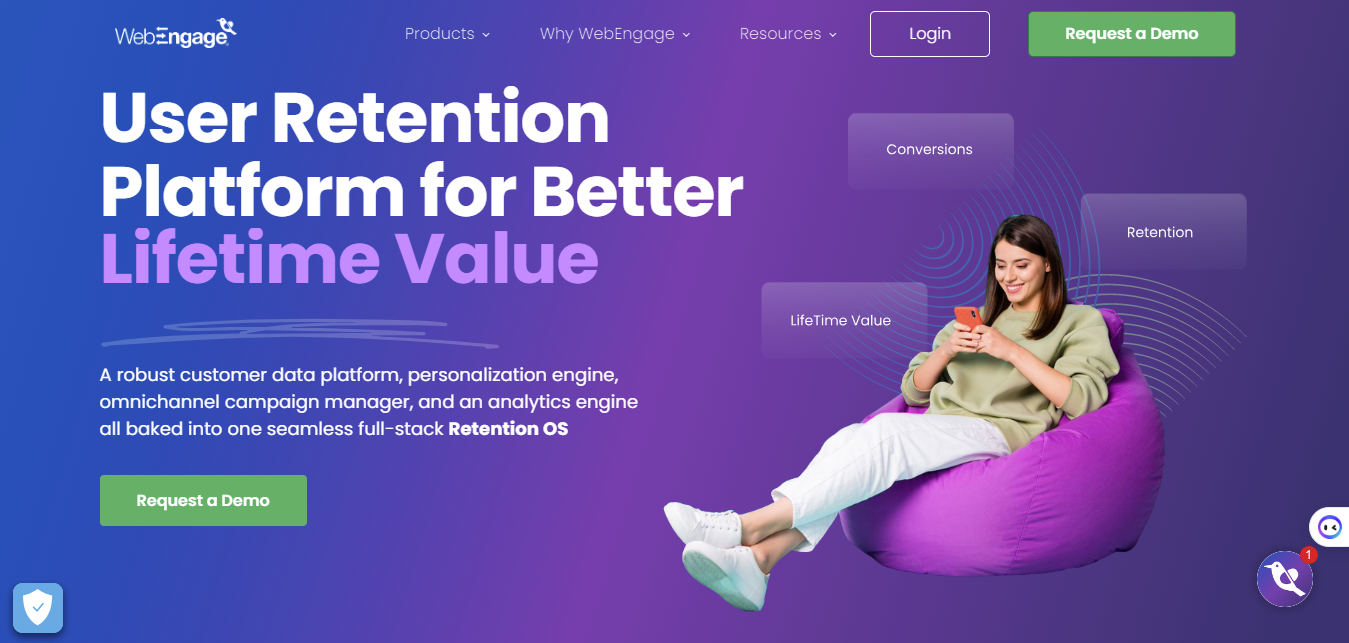 17. TypeForm
A user-friendly survey tool, TypeForm enables creating and personalizing branded surveys. The focus of this VoC tool is building beautiful and easy surveys that get more responses. The tool has built-in themes, font, video, and photo libraries – all tied together with a sleek interface. It also allows applying condition logic that works great when asking follow-up questions. Further, shareable reports help in deriving in-depth analysis.
Rating:

4.5

Free Trial:

Free Version with 10 Responses per Month

Pricing:

Starts at $83/month
18. Formsite
A form and survey building tool, Formsite can be integrated with different tools, such as DropBox, SalesForce, and Mailchimp. It allows sending surveys online through a secure link or by embedding them into your website. Moreover, Formsite surveys are responsive, which means they work well for all device types, including, desktops, phones, and tablets.
Rating:

4.5

Free Trial:

Free Version for up to 5 Forms

Pricing:

Starts at $24.95/month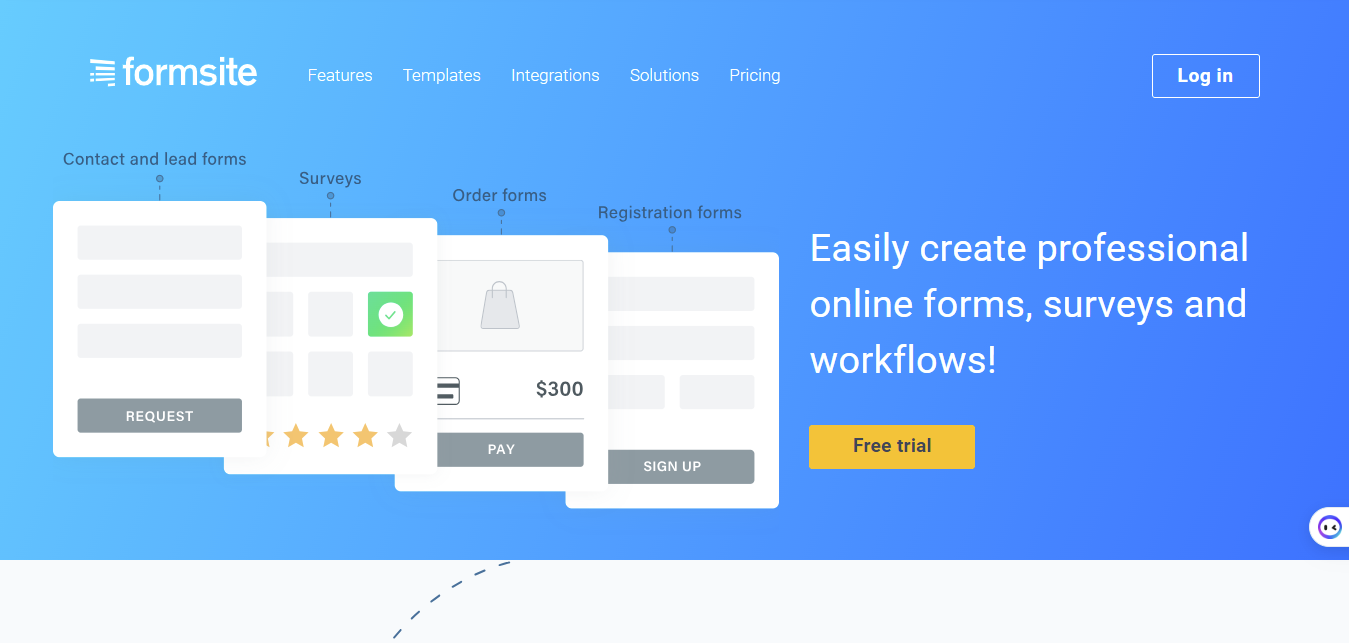 19. Astute
Astute offers a Voice of Customer solution that combines customer feedback technology with closed-loop features and industry expertise to help businesses benefit from VoC data. The feedback tool allows businesses to interact with customers and collect data through actionable survey technology, which helps in improving customer journeys through various touchpoints.
Rating:

4.5

Free Trial:

7 Days

Pricing:

Not Mentioned
20. LiveChat
LiveChat is a real-time VoC tool that allows brands to communicate with their website visitors and allows flexible conversations through a desktop or mobile app. LiveChat allows customer service representatives to reach out to prospects and customers and engage with them during their interaction with the brand. It enables your CX team to help visitors in making purchase decisions and also solve customer queries in real-time.
Rating:

4.5

Free Trial:

14 Days

Pricing:

Starts at $16/month
21. SurveyMonkey
SurveyMonkey is an enterprise solution that allows creating and sending customer feedback surveys on online survey software. The software can be integrated with your business solutions, such as a CRM tool, and also helps in reporting and analysis to get actionable customer insights. In addition to customer satisfaction and customer loyalty surveys, the tool is also popular among market research tools as it allows creating event and market research surveys that provide data to make calculated business decisions.
Rating:

4.4

Free Trial:

Basic Plan Available

Pricing:

Starts at $21.16/month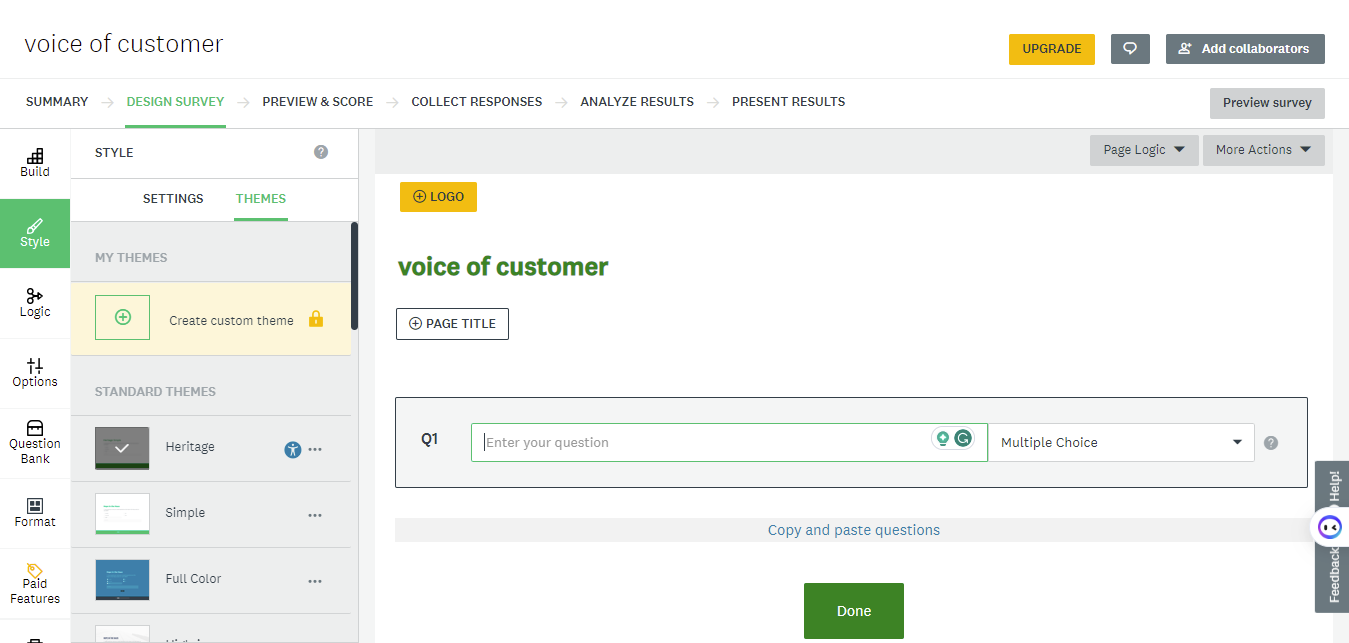 Finding SurveyMonkey's free plan too limiting? Check out SurveyMonkey alternatives with greater offerings to use as your voice of customer tool.
22. Intercom
Intercom's VoC program allows building engaging conversations with customers through targeted messages, real-time chat, and website bots. The tool uses data to re-engage customers through targeted email campaigns, product tours, and high-quality personalized help. Another great feature of this customer experience tool is that it allows layering of self-service, human, and proactive support to optimize customer engagement.
Rating:

4.4

Free Trial:

14 Days

Pricing:

Starts at $79/month
23. SurveyGizmo
SurveyGizmo is all about making feedback collection easier for people dedicated to excellent customer service. It allows listening to the voice of the customer and offers data collection forms to capture feedback through any source, including web surveys, website forms, emails, SMS, and also lets you manage your audience better. It also helps create internal and external workflows with customer experience at the center of each. Each workflow binds all the processes and connects various stakeholders so they can together deliver a seamless customer experience.
Rating:

4.4

Free Trial:

7 Days

Pricing:

Starts at $25/month
24. Usersnap
Usersnap is a customer feedback platform designed for SaaS companies to help them improve their product and service offerings by collecting actionable consumer data. Usersnap also allows sharing customer reviews and scores with all the stakeholders, which helps in resolving issues faster. Moreover, since customer trend reports are readily available, the platform makes it easier for the team to make product and marketing decisions.
Rating:

4.4

Free Trial:

14 Days

Pricing:

Starts at $19/month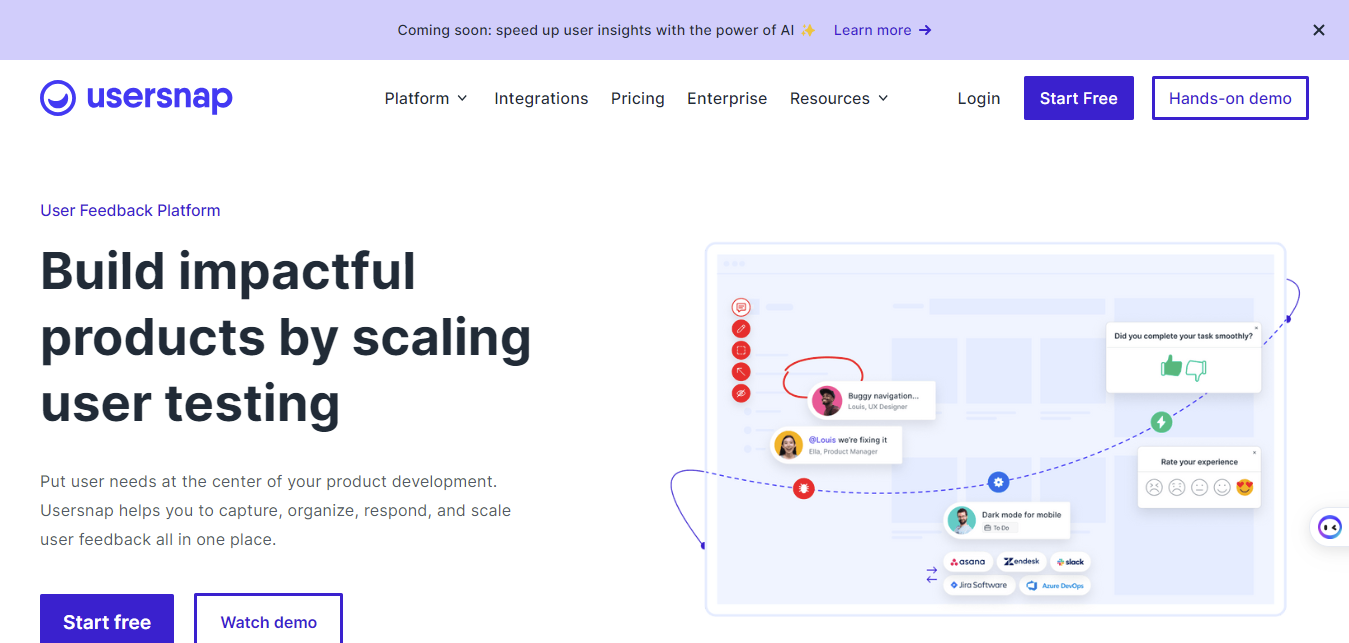 25. Alchemer
Alchemer is a VoC tool that allows conducting market research to understand which customers to really go after. It also helps in tracking customer success through personalized surveys to collect experience feedback and product feedback. Alchemer also caters to the need for businesses to gather employee experience feedback, which helps in making employees happier and more productive.
Rating:

4.4

Free Trial:

7 Days

Pricing:

Starts at $49/month
26. QuestionPro
QuestionPro is a customer experience software tool that is designed to help businesses identify their promoters and detractors through NPS surveys. It features a customizable dashboard and detractor recovery to help brands create great customer experiences. QuestionPro's surveys can be shared through emails and taken on mobile devices for convenience. Moreover, it consists of a ticketing system used to close the feedback loop after every query is resolved.
Rating:

4.4

Free Trial:

10 Days

Pricing:

Starts at $35/month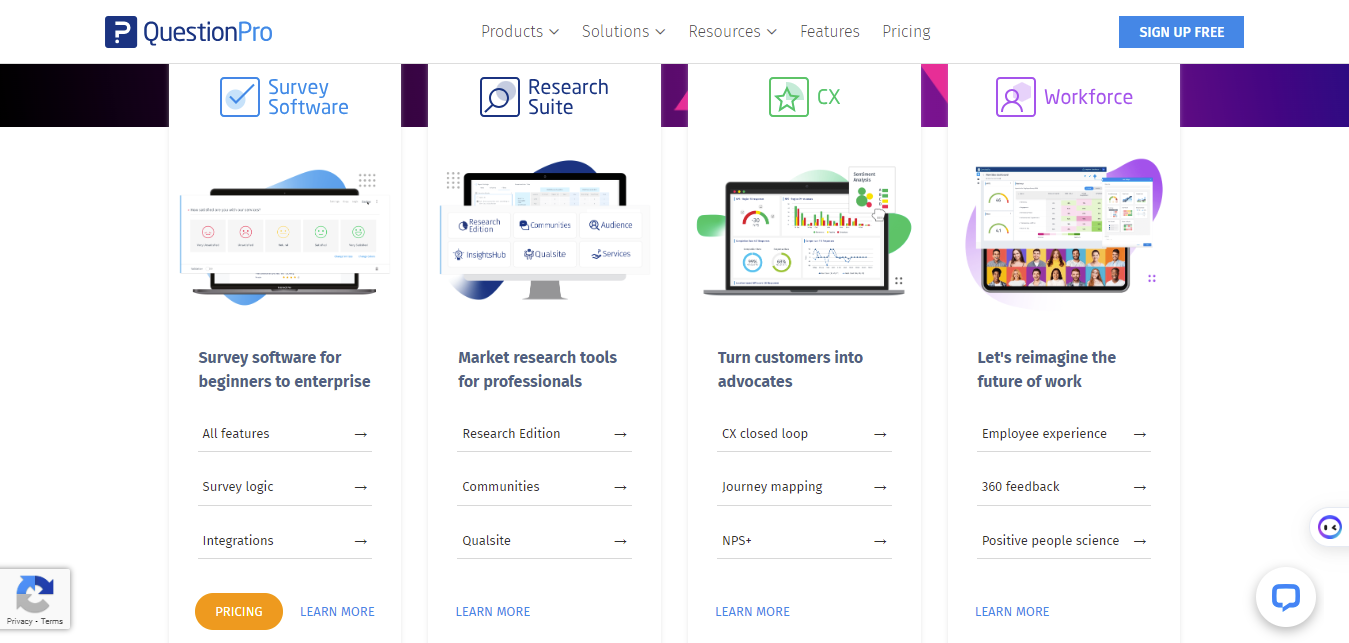 27. SurveyLegend
SurveyLegend is an engaging survey tool that helps in creating interactive surveys and extracting survey data reports. Its features include branching, adding media-rich questions, applying logic, and many more. Each feature is specifically designed to help you gauge customer experiences at various points in their relationship with you and use that data to make insightful business decisions.
Rating:

4.4

Free Trial:

Free Base Plan

Pricing:

Starts at $19/month
28. Formstack
A versatile online form builder, Formstack enables VoC managers to design and build web forms without the need to learn how to code. Its mobile-friendly forms can be embedded into your website and social media channels to capture customer feedback. The platform also integrates with web apps like Salesforce, MailChimp, PayPal, etc., making it a great tool for payment collection and workflow creation as well.
Rating:

4.4

Free Trial:

14 Day

Pricing:

Starts at $59/month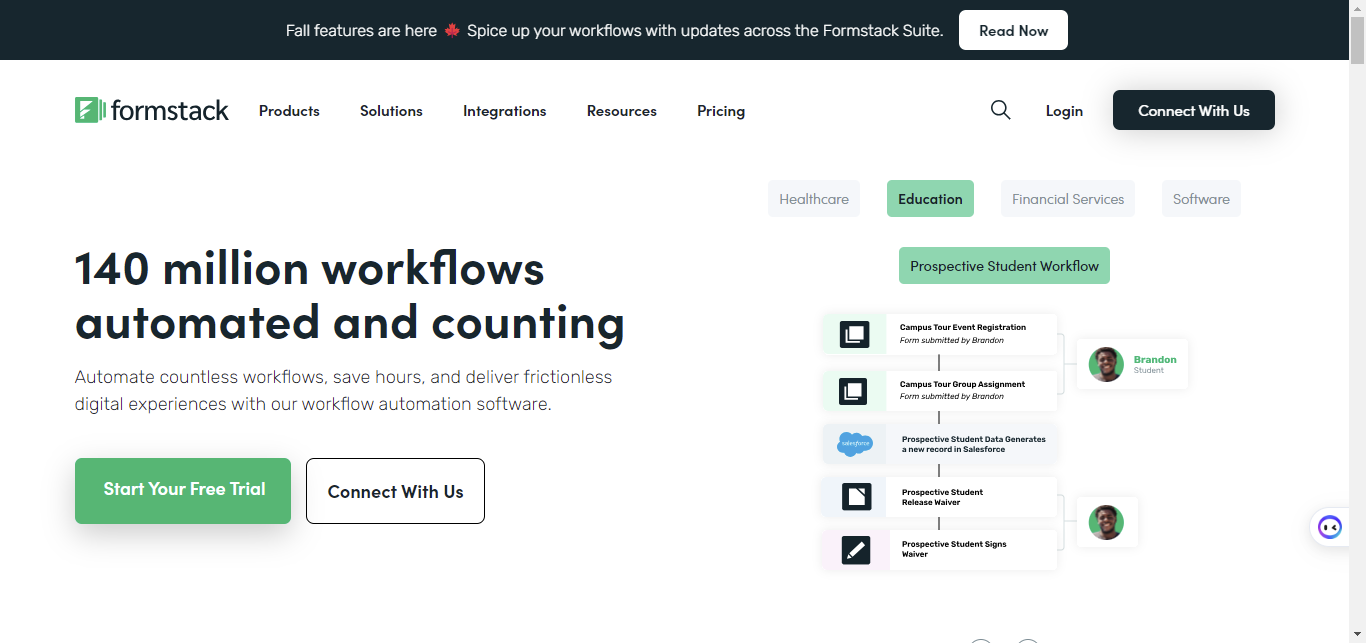 29. Nextiva
Nextiva brings all communication channels, including surveys, voice, video, SMS, chat, etc., together to help businesses create amazing customer experiences. It's easy to set up and easy to use. Moreover, it can be integrated with sales and productivity tools to understand the pulse of the customer as well as employees.
Rating:

4.4

Free Trial:

30 Days

Pricing:

Starts at $18.95/month
30. Survio
Survio is an online survey tool that helps you build beautiful surveys, collect customer data, and analyze responses to extract insights. The forms can be created in 16 languages, making the tool an attractive choice. Moreover, it's ideal for not just collecting customer feedback, but also for market research, human resource management, and customer satisfaction management.
Rating:

4.4

Free Trial:

Free Basic Plan

Pricing:

Starts at $16.58/month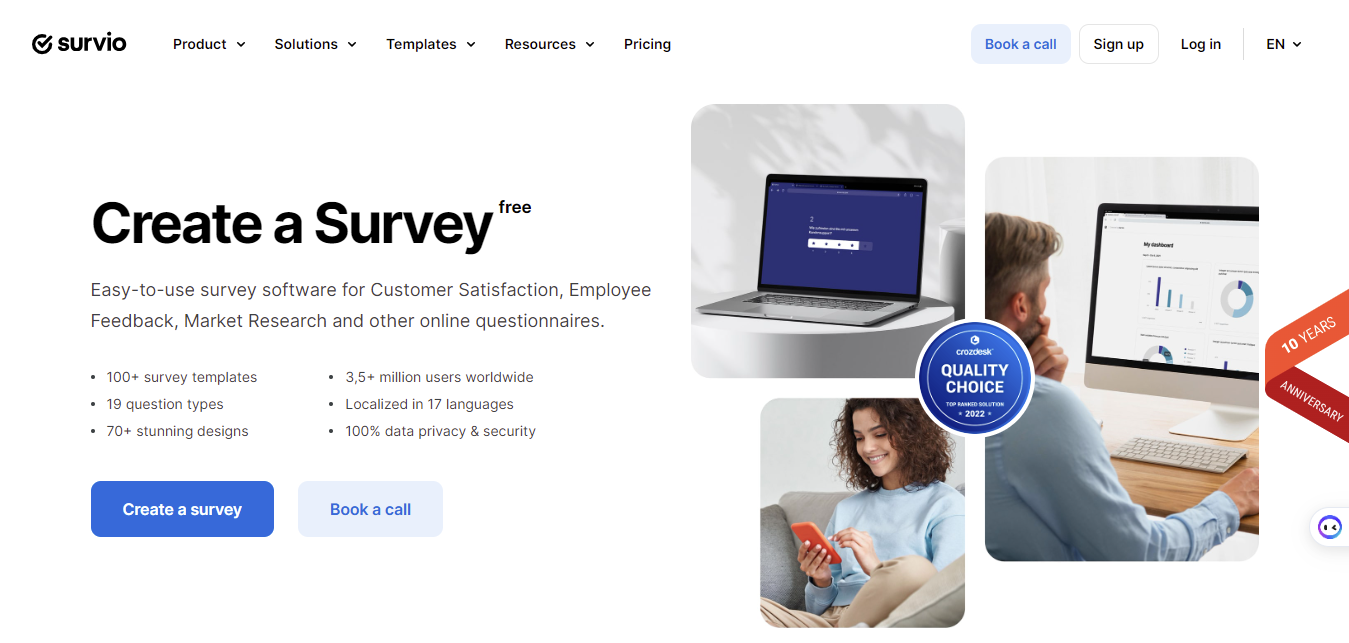 31. Qualtrics
Qualtrics is a customer experience management platform that focuses on customer needs, understanding, expectations, and product improvement. It allows you to send surveys across multiple channels and create alerts based on geographic location, departments, behaviors, etc. Qualtrics insights and analysis from the voice of the customer are also helpful in identifying process, technology, or policy that is preventing the business from delivering great experience.
Rating:

4.3

Free Trial:

One Free Survey + 100 Responses Free

Pricing:

Not Mentioned
32. Apptentive
Apptentive is a VoC tool that allows making predictive decisions based on real-time customer responses across mobile customer journeys. Its surveys are mobile-optimized and great for in-app interactions. It also consists of a dashboard that displays survey performance and a reporting tool that helps understand customer happiness levels.
Rating:

4.3

Free Trial:

Not Available

Pricing:

Not Mentioned
33. Chattermill
Chattermill is a customer feedback platform that allows collecting feedback at multiple touchpoints through VoC surveys, social media, and online reviews. You can then analyze data manually or use AI-based tools to develop insights into customer experience and response trends. Chattermill uses an email platform to send Voice of Customer suveys.
Rating:

4.3

Free Trial:

14 Days

Pricing:

Not Mentioned
34. Olark
Olark is a customer engagement tool that listens to the voice of customers on your website through the live chat feature and uses customer analytics to increase conversions, track new leads, and provide great service. Olark also leverages purchase history, geographic location, and contents of carts to empower customer service executives and help them personalize customer experiences.

Rating:

4.3

Free Trial:

Free Plan with 20 Chats Available Per Month

Pricing:

Starts at $19/month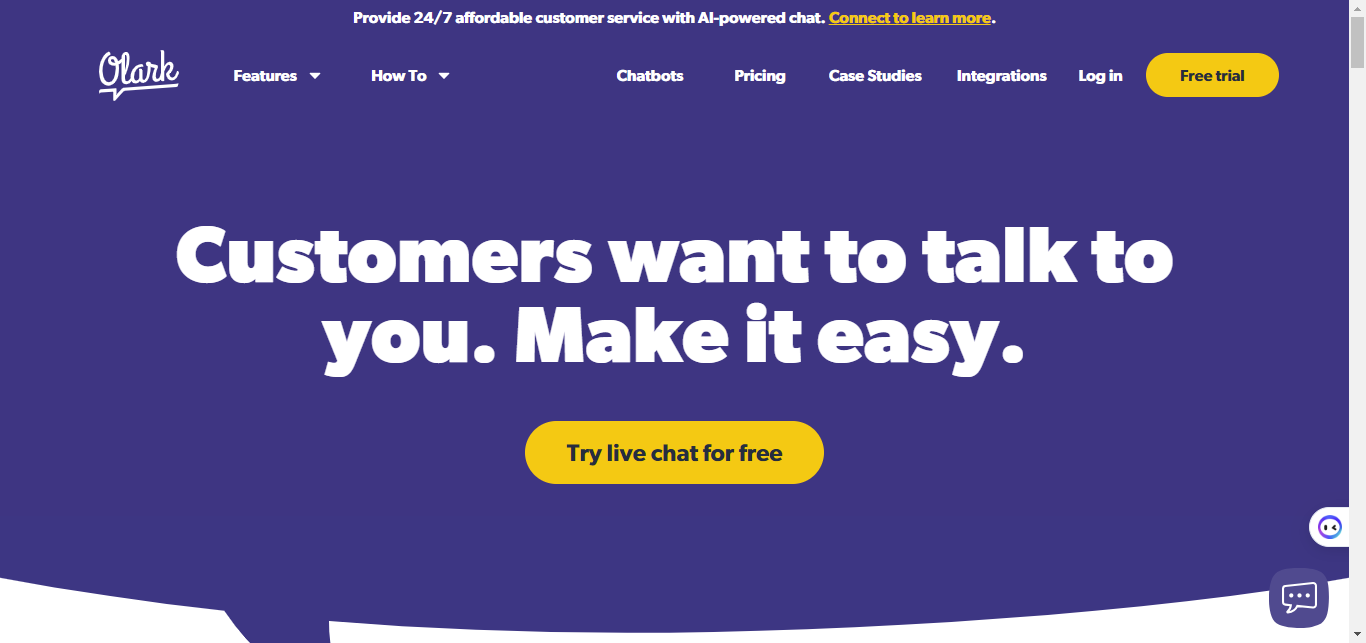 35. DeskPro
Deskpro is a helpdesk voice of customer tool that allows managing customer communication through different channels, including live chat, social media, and email. It also allows integration with helpdesk CRM to offer better support to customers and implement customer retention strategies. Further, Deskpro analyzes the customer data and converts it into reports used to draw customer experience insights.
Rating:

4.3

Free Trial:

14 Days

Pricing:

Starts at $15/month
36. Qualaroo
Qualaroo offers a survey tool to create customizable surveys that appear at the bottom of your website window as a widget. To encourage feedback from website visitors, this VoC survey tool allows creating polls that visitors can quickly take, thereby increasing responses. Qualaroo also enables businesses to set triggers when certain actions or patterns are noticed on a website. When a survey is triggered, a subtle feedback form will appear on the bottom of the screen, prompting the visitor to take a small feedback survey.
Rating:

4.3

Free Trial:

Free Basic Plan

Pricing:

Starts at $50/month
37. Confirmit
Confirmit is a customer experience platform that offers a 5-part VoC program that includes defining business needs, designing a VoC program that fits the needs, listening to the voice of customers, collecting data through a multi-channel platform, and analyzing feedback to respond to customer queries and complaints. The tool is designed to show the 'big picture' to brands.
Rating:

4.3

Free Trial:

Not Available

Pricing:

Not Mentioned
38. Webex Experience Management
Cisco's Webex Experience Management is designed to change the way businesses and brands listen to the voice of customers. The VoC software follows a journey-based approach in which predictive analysis enables businesses to understand customer sentiments and needs and lead teams proactively to meet the predicted demands. Further, real-time actionable insights help in improving customer experience.
Rating:

4.3

Free Trial:

Available

Pricing:

Not Mentioned
39. Pulse Insights
Pulse Insights is a customer experience platform that enables businesses to create personalized and profitable customer experiences at scale. It allows configuring and deploying micro surveys, engagement events, and profiling campaigns in minutes without any technical expertise. Moreover, surveys can be shared through any platform, including mobile, email, in-app, website, etc. Further, real-time insights and robust reporting capabilities help in improving the overall customer experience.
Rating:

4.3

Free Trial:

Not Available

Pricing:

Starts at $4,000/month
40. Hotjar
Hotjar combines multiple user experience tools and allows users to create heatmaps and track user sessions. Though this user experience platform works like Survicate and Qualaroo, it doesn't offer feedback analysis and reporting features, which makes it difficult for businesses using Hotjar to draw insights and identify customer trends.
However, businesses can look for Hotjar alternatives that offer more than just website feedback collection and user behavior analytics.
Rating:

4.3

Free Trial:

Free Basic Plan

Pricing:

Starts at $39/month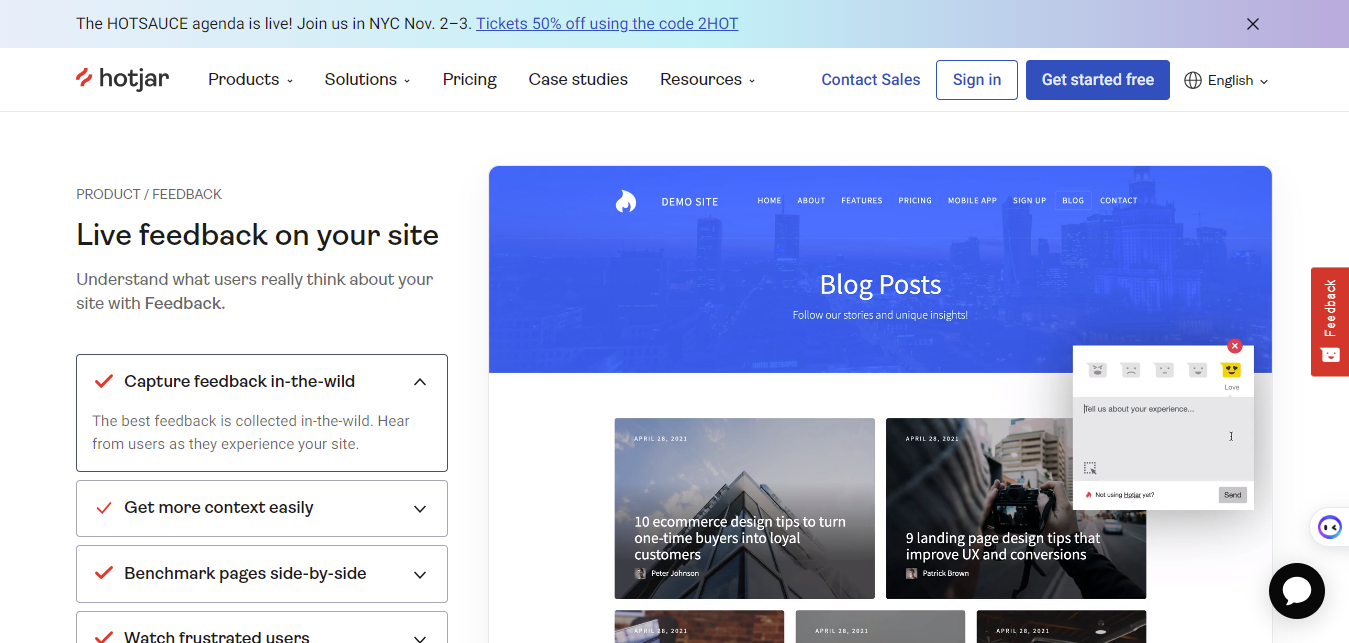 Other Voice of Customer Survey Tools you can Try
Apart from the tools that we have discussed above, there are several other voice of customer tools that can help you listen to what your customers are saying, capture their feedback, and get actionable insight to improve their overall experience.
Here are some other tools you can try:
Mopinion:

Mopinion is a Voice of Customer software that focuses on collecting real-time feedback through websites, email, and other digital platforms. It also allows for feedback collection at stores and call centers. Ideal for enterprises and small businesses with a digital-first approach to enhance overall customer lifetime value.

Zendesk: It lets you respond to customer complaints and queries at scale and basically never miss any customer complaint. This VoC channel also leverages data and analytics to accurately measure CX metrics. The idea behind the development of the Zendesk Voice of Customer survey tool was to enable businesses to deliver excellent customer service.
Dixa: With its customer service surveys, it helps customer service professionals enhance their experience by listening to the voice of the customer by sending targeted surveys through various channels, including phone, email, text, chat, and Facebook. The customer communication software allows personalizing chat experience and resolving problems quickly.
InMoment: It collects customer data through VoC surveys and real-time chats. The customer data is then combined to generate reports available on the VoC platform.
NiceSatmetrix: Allows listening to the voice of the customers through different platforms. This software solution combines direct and indirect feedback and helps your customer service agents act quickly to resolve the problem.
SalesForce: SalesForce is a great solution when you're looking to transform your entire enterprise-level processes from sales and services to finance and marketing through a digital revolution on a connected platform.
Crowdsignal: It allows businesses to collect customer experience data in two ways – by adding surveys to the website for website visitors and by sending surveys via email. After customer responses are collected, you can filter the data and create reports in different formats, including Excel, PDF, Google Docs, CSV, and XML.

Wufoo:

Wufoo is a web application that enables businesses to build online forms for customer feedback collection. It automatically builds the backend, database, and scripts that you would need to make data collection and data access more convenient.

Customer Thermometer:

Customer Thermometer is one of the best survey apps that allows customers to fill in survey responses directly from their emails. It provides real-time tracking of survey responses to analyze feedback and behavior. It also enables real-time feedback integration with popular software tools.
Sprinklr: The software uses a unified CXM platform that reads conversations from multiple modern platforms, identifies intent and sentiment, and uses categorization to direct customers to the right source where they receive personalized customer care from your in-house customer service representatives.
Verint ForeSee:

Verint ForeSee is a multi-channel voice of customer tool with multiple capabilities. It collects VoC data and merges it from chat sessions,

website feedback

, surveys, and digital participation into a single view, which further helps in measuring conversion, customer loyalty, and other metrics.

Honestly: Honestly is a SaaS platform for service-oriented companies interested in collecting and analyzing customer data to improve experiences and interactions. It offers web integration through digital devices, chat services, and email, as well as a QR code solution for directing participants to web-based surveys.
Feedbackify: Feedbackify is a customer feedback tool that prevents your website visitors from leaving the website to share feedback. It embeds small customer surveys into the website and sends customer responses directly to your inbox. Moreover, Feedbackify surveys are easy to create with quick drag-and-drop options.
MaritzCX: MaritzCX is a VoC tool that features a survey builder and a range of data collection methods through internal and external surveys. It also allows data mining, text analysis, measuring social customer experience, and management of cases.
Clarabridge: Clarabridge is a customer interaction hub that collects real-time feedback and combine survey data from multiple platforms and uses Natural Language Processing to analyze texts and identify sentiment and emotion. It helps businesses make decisions to improve product and customer service experiences.
SMB Voice Tools: If you do not want to invest in a holistic platform, then you can look for smaller and simpler feedback tools. However, SMB VoC tools are designed to collect feedback only at a small scale and are ideal for small and medium businesses. They collect customer feedback through a link sent over email to the target audience.

Taggbox:

Taggbox is the best social media aggregator that allows brands to aggregate reviews from numerous platforms and embed them on multiple marketing touchpoints. Using Taggbox you get various benefits like customization, moderation, and analytics features to deliver exceptional customer experience.
Conclusion
Depending on how far along you are in your VoC program, you can choose a VoC survey tool and make great strides. All you need to do is understand your requirements in terms of the kind of customer surveys you wish to create and the channels you wish to use to distribute those surveys.
And here's an important piece of advice – do include easy integrations as a criterion in your VoC survey tool search. Easily integrated tools will work well with your existing platforms and augment your customer experience initiatives. Also, don't forget to take into account possible IT limitations, such as privacy, hosting, and storage.
Zonka Feedback is an all-encompassing VoC platform that lets you listen to the voice of your customers at each touchpoint in the customer journey to paint a holistic picture.
Sign up for a 7-day free trial or simply try out the free plan to explore this voice of customer survey tool.