Chapter 1
Introduction to Website Feedback
In your view, you might have the perfect website. But it doesn't matter if your customers do not agree. No business is immune to the bounce rate on their website. But if it exceeds 45%, it becomes a matter of concern.
How to make your visitors notice and spend time on your website? How to convert them into customers? It's always best to know the answers directly from your website users. This is where the role of website surveys and website feedback comes into play.
Website Feedback gives insight into the reasons for a high bounce rate, for example, poor website navigation, unavailability of products, lack of useful information, lack of customer support, difficulty in finding products, etc.
Website surveys also help collect general website feedback to understand more about users and customers and create a brand more aligned with the audiences' requirements.
But, how can you start collecting website feedback? What are the types of website surveys? How to create interactive surveys to get quality feedback? We have covered all this information and more in this comprehensive guide.
Start Collecting Visitor Feedback Today
Sign up for Zonka Feedback and start asking your users what works for them (and doesn't) on your website.
Chapter 2
What is Website Feedback?
Website Feedback is the qualitative and quantitative customer and website visitor data collected through open-ended and close-ended questions in a website survey. The feedback form can be added to one or more of your website pages and may also be configured to target a specific set of website visitors. Website feedback around anything from website design and products to customer support and loyalty can be captured easily with a single website survey tool.
Website surveys can either be added as website feedback widgets or can directly be embedded into the website. You can collect user or customer feedback at different touchpoints. For example, some of your users may have feedback for website design. In this case, you can embed a general website feedback form into the home page at the bottom.
There are different use cases of website surveys. But if you're just getting started with website surveys, here is a readymade website feedback survey template that you can try out yourself:
Chapter 3
Why Use Website Surveys?
Website surveys can help you capture the most meaningful and insightful user and customer feedback, that doesn't only help improve the website, but also caters to different business functions.
Why is this important?
Brands today compete on the basis of customer experience because 49% of customers said that they stopped doing business with a brand because of a poor experience. Many potential customers would even add products to their cart and leave without completing their transactions because of one or more challenges on the website.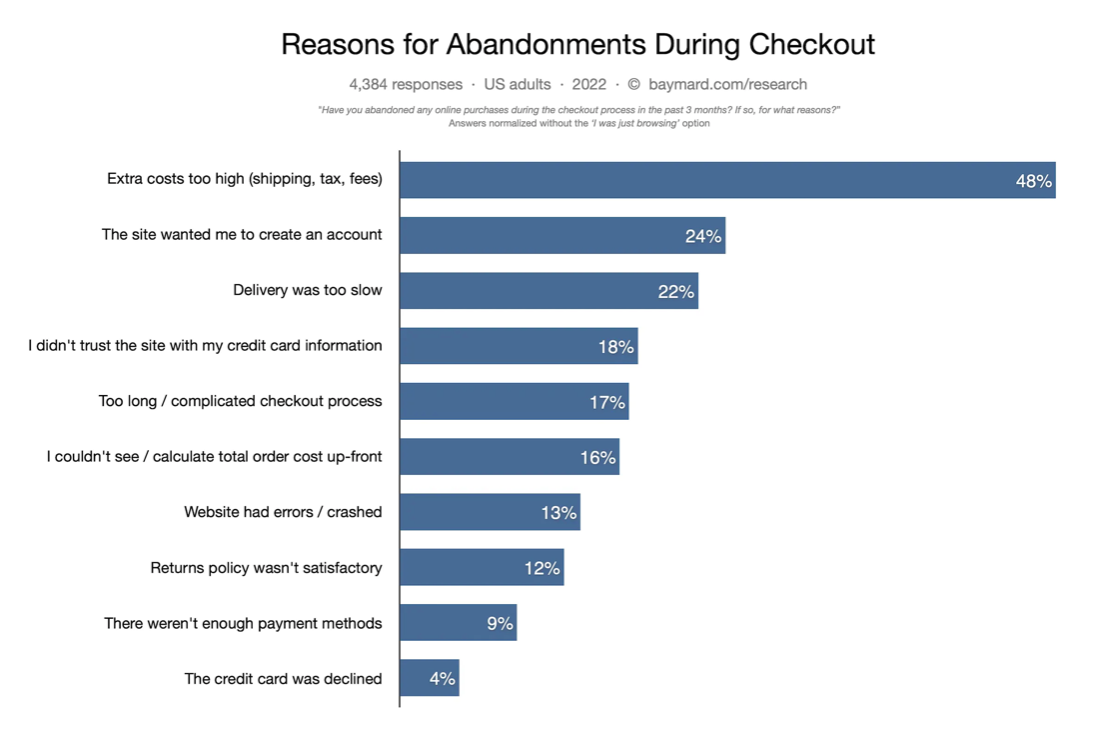 Therefore, if you do not want to lose your customers and reputation to an inefficient website, you must create a powerful website feedback strategy.
You can receive insightful information in terms of products, delivery services, customer service, marketing, and even consumer preferences. And this can help you improve your offerings and the overall customer experience.
Website Surveys Compared to Other Survey Methods
Though popular survey channels like email and SMS can get you access to helpful customer information, collecting feedback on the website can prove to be additionally beneficial.
It's best to use an omnichannel feedback strategy to be able to not miss out on critical customer data.
Here are some advantages of Website Surveys:
1. Better Participation Rate
It may be unlikely for several consumers to open a survey request over email or SMS and share feedback when there is no incentive for them. But sharing feedback on your website while they are already interacting with it is effortless. Moreover, the website feedback widget is usually short and quick. This can further increase the survey response rate.
2.
Feedback without Contact Details
Even if you do not have the contact details of your consumers, you can survey everyone visiting your website.
3. Feedback Targeting
Surveys can be configured to target only the visitors who can provide genuine and valuable website feedback. For example, you can set a Popup Survey around website design and navigation to be triggered once the visitor has scrolled a specified number of pages or a specified percentage of the landing page. Similarly, other survey settings enable that the surveys are available to the right people at the right time.
4. No Sampling Bias
Though survey sampling methods may be reliable, you can still experience some sampling bias and may miss out on important feedback. With website surveys, you do not run the risk of sampling error since the surveys may be available to either all the website visitors or visitors that meet the survey criteria. This can improve the quality of feedback dramatically.
Chapter 4
Types of Website Feedback Surveys
On a website, you can collect different feedback across different customer touchpoints based on the feedback goals you have set. For each goal, you can use one or more of these website survey types:
1. Website Popup Survey
A Website Popup Survey, as the name suggests, appears on the website inside a popup either at the center or at the bottom while sliding. It immediately captures visitors' attention and increases the survey participation rate. Popup Surveys can appear to everyone, for example, a website design feedback survey. They can also be targeted towards a specific set of visitors based on their interactions with the website, for example, a customer satisfaction survey popup post-purchase.
However, popups may annoy some visitors. So, make sure to keep the survey short with one or two multiple-choice questions. You can also add an open-ended question to allow visitors to share the reason for their answer to the first question.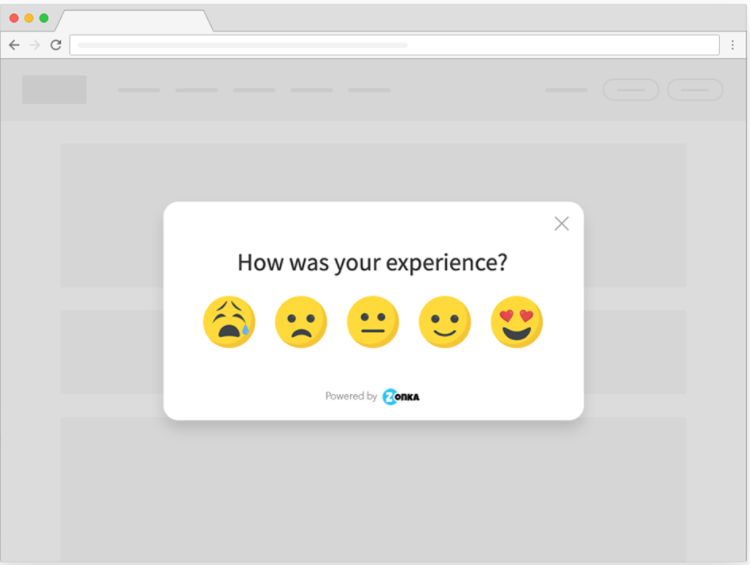 2. Feedback Button Survey
A Feedback Button Survey consists of a button that visitors can click to open a survey that overlays the screen. It encourages unsolicited feedback since visitors usually click on it only when they have valuable feedback to share. It is a great choice when you're looking for not just feedback but also suggestions on how to improve your website as well as product or service. It also allows visitors to report bugs and errors that your team can work on instantly.
A Feedback Button is simple and clutter-free, which makes it a great feedback choice for minimal websites.
3. Microsurveys
Microsurveys are short surveys that can be added to your website to enable feedback between the user and the brand. Microsurveys can be added to the website at multiple touchpoints and are accessible consistently to ensure that feedback is collected wherever necessary. Moreover, they are short and easy to take, thus reducing the effort in sharing feedback. This ensures that maximum visitors take surveys.
The main types of Microsurveys are:
Net Promoter Score Surveys
A Net Promoter Score Survey allows customers to rate their loyalty to the brand. It prompts customers to share if they would be willing to recommend your business to others. An NPS survey question can be answered on a scale of 0 to 10, where 0 may mean 'least likely to recommend' and 10 may mean 'most likely to recommend'.
Customer Satisfaction Surveys
A Customer Satisfaction Survey captures customers' satisfaction levels after purchase or transaction. It consists of a question with answer choices from very dissatisfied to very satisfied. For example, a customer satisfaction survey can be added to the order confirmation page and may prompt customers to share their satisfaction levels after a shopping experience.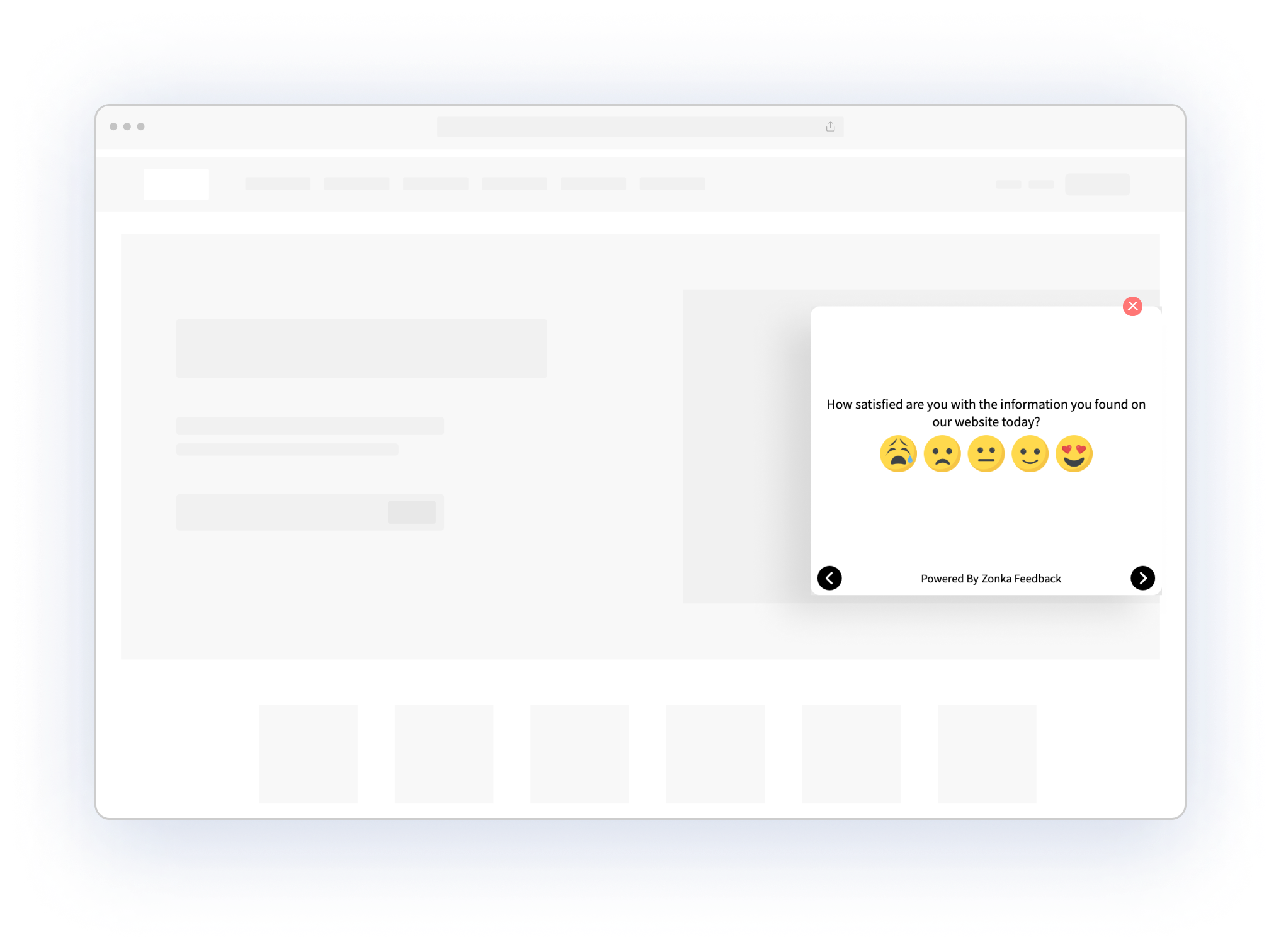 4. Slide Outs
A Slide Out survey slides out from the left or the right without taking up the entire screen space. It consists of a side tab or button that prompts visitors to share feedback anytime they want while they are on the website. It is great for collecting generic feedback in terms of the website content, design, product quality or availability, or shopping experience; what matters is their placement, i.e., the web page they are added to. Like Feedback Button Surveys, Slide Out Surveys do not take up much space on the website, hence making the design look clutter-free, and are yet perfectly visible to visitors.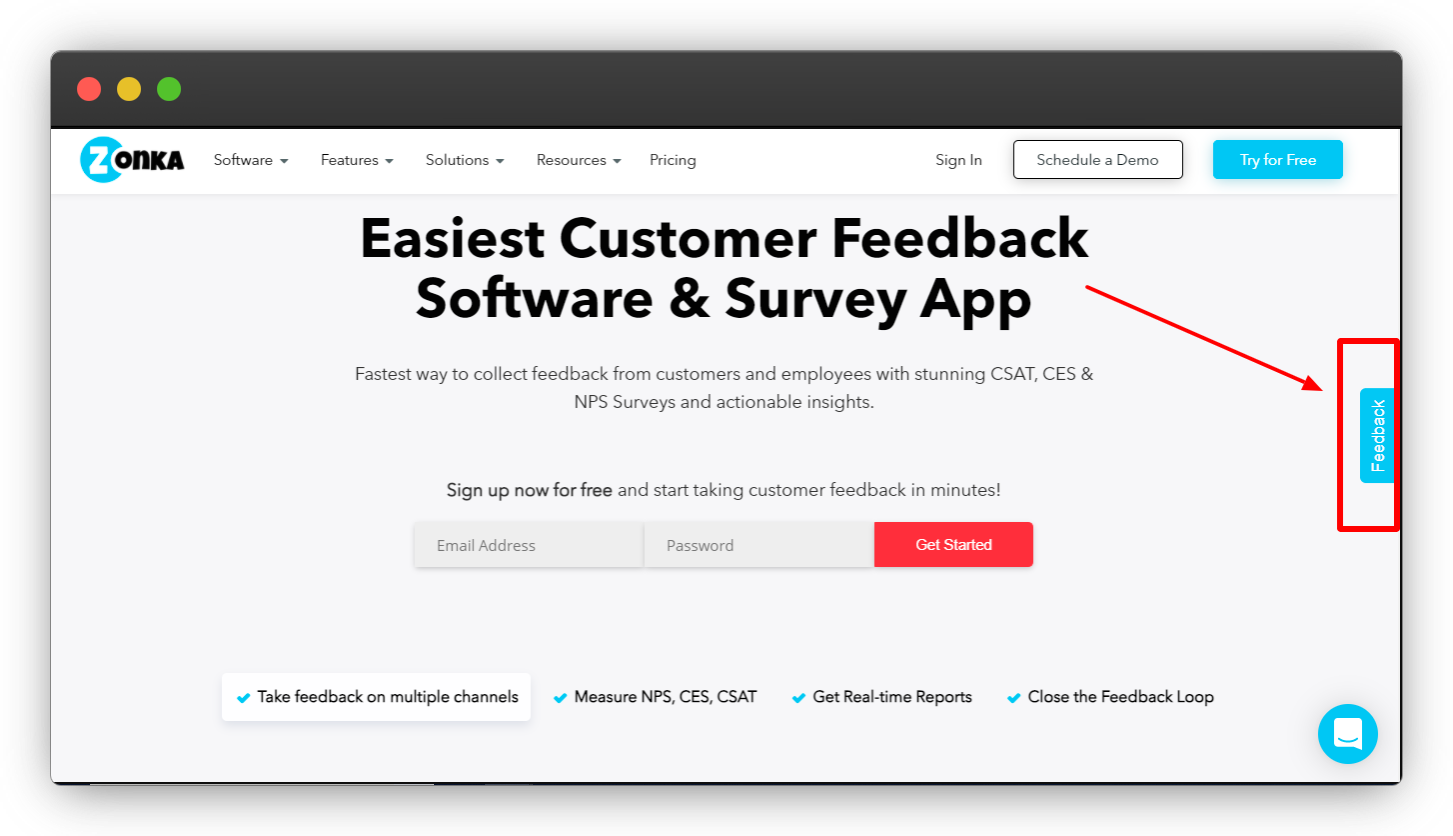 5. Exit Surveys
Website Exit Intent Surveys pop up on the screen when visitors are about to exit your website without making a transaction. They pop up when the website visitor moves towards the upper side of the browser or the 'close' button. The survey is aimed to understand why visitors leave early or without completing a transaction. This information can help brands make the right efforts in the right direction to increase conversions.
Here's an example of an Exit Intent Survey question: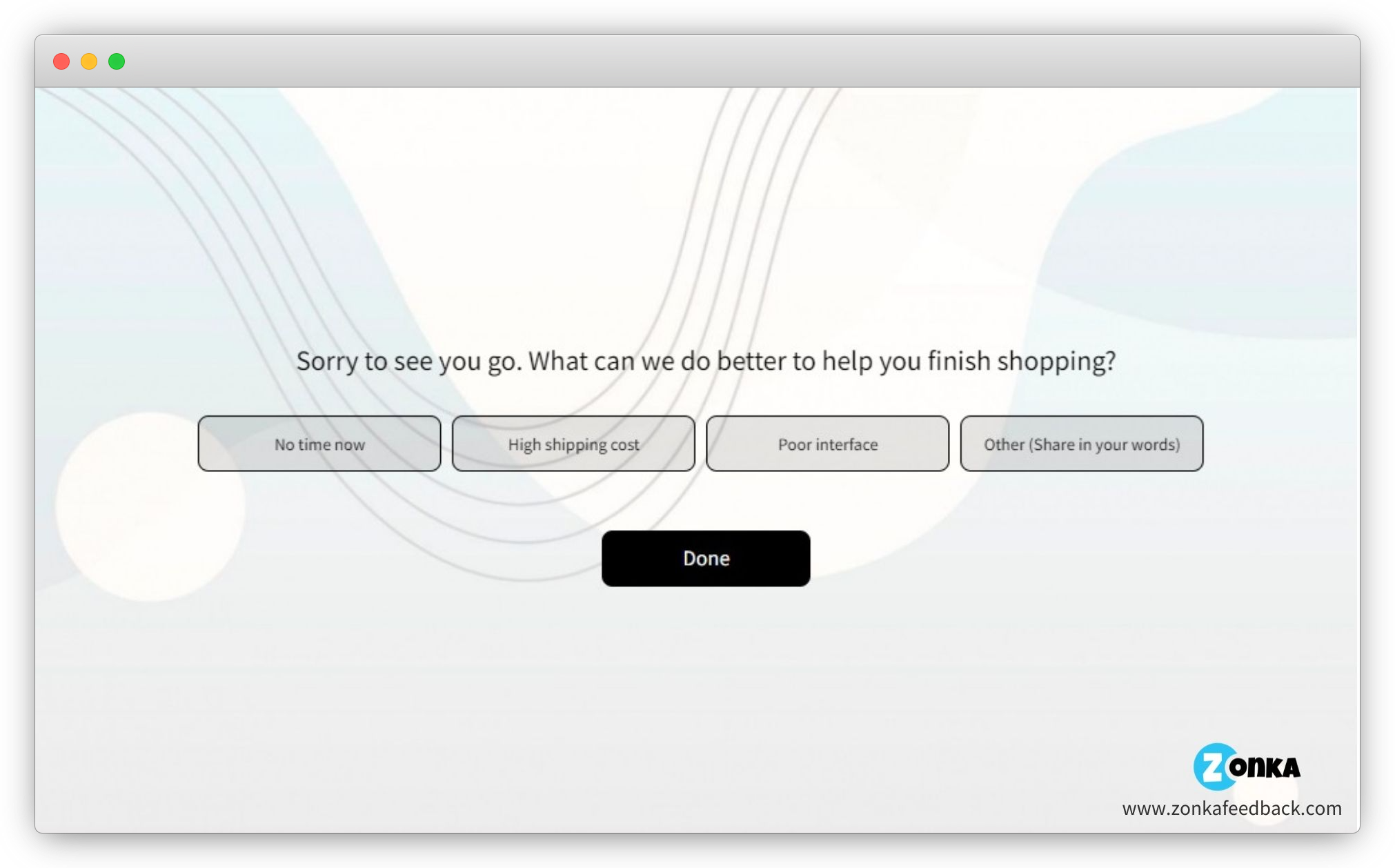 6. Embed and Link Surveys
Website Embed Surveys or inline surveys are static surveys that are added directly to your website. This means that the survey would be a part of your website and all your visitors can see it. A good example would be a simple Rating Scale survey at the end of a blog post, asking readers to rate how helpful did they find the information in the blog.
Embed Surveys are short and allow collecting quick feedback. And since the Embed Survey questions appear directly on the website, visitors may be more likely to share their feedback. You can either take page-specific feedback or also add a general survey to allow customers to talk about their experience on the website.
Similarly, link surveys can be added anywhere among the website content (for example, blogs and landing pages) and allow visitors to click on the link and take surveys relevant to the content they may be browsing through.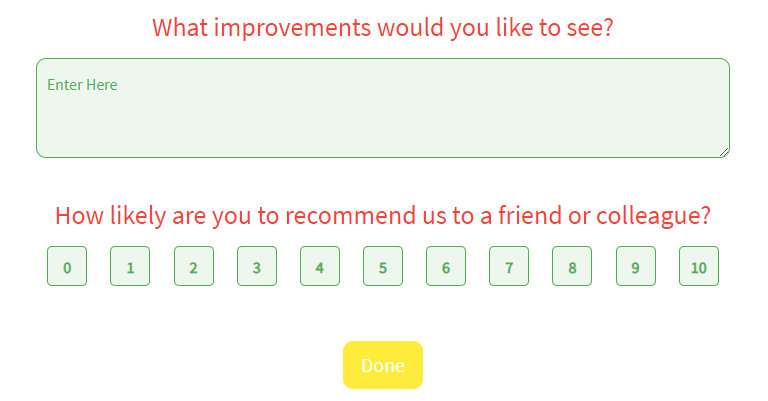 Start Collecting Visitor Feedback Today
Sign up for Zonka Feedback and start asking your users what works for them (and doesn't) on your website.
Chapter 5
When to Collect Website Feedback?
Website surveys allow engaging with visitors at various touchpoints before and after conversion. However, these are some super important uses cases:
1. To Get Post-Transaction/Experience Feedback
You can survey your online customers as soon as they make a transaction. For example, when a customer places an order, they can be prompted to share their experience through a popup survey set to trigger on the order confirmation page. Similarly, visitors can be asked to rate their experience with the website after they sign up for a newsletter or buy a subscription.
2. To Get Shopping Cart Abandonment Data
68% of online customers abandon their shopping carts. And most of these customers may never return. But by surveying such customers using an Exit Intent Survey when they are looking to leave your website, you can identify what are the challenges that are preventing the visitors to complete their transactions on your website. You can uncover underlying issues, such as unavailability of certain products, poor interface, unavailability of a certain mode of payment, etc. This way, you can highlight prevailing issues and resolve them so that potential visitors can have a seamless experience on your website and with your brand.
3. To Retain Customers with NPS Data
You can use an NPS website survey to capture feedback in real-time across various customer touchpoints. For example, you can set an NPS survey to be triggered as soon as you have business interaction with a visitor. This way, they can share their perception of your brand based on the interaction in real-time right on your home page or through a live chat survey.
Similarly, Popup Surveys can consist of an NPS question asking customers to share if they would recommend your website to others based on their experience. This can help you work on your strengths as well as shortcomings to provide an impressive experience and attract more customers.
4. To Recieve Website Design Feedback
Website surveys can help you improve your website dramatically by asking visitors to rate your website in terms of navigation, design, content, and usability. And with different survey options available, you can ensure that feedback is relevant and helpful. For example, you can set the website survey to be triggered once the visitor has gone through a specified number of pages or a specified percentage of the page.
5. To Recieve Post-Resolution Feedback
When you're offering customer support through live chat, you can ask for their feedback immediately using live chat surveys. For example, if you have just resolved a customer ticket and updated the customer about the resolution via chat, you can survey them by asking if they found the support helpful. You can ask the customer to rate the support in terms of agents' willingness to help, quick response, knowledge, and resolution.
chapter 6
Website Survey Questions
What questions you add to your website survey depends on the goal of your survey, i.e., the applications of the feedback. Where you place your website surveys also determines the kind of questions you can ask your visitors. Let's read through some great website survey questions with different goals.
1. Website Survey Questions to Improve Marketing
Here are a few questions that you can choose from for your website survey if your goal is to improve your marketing efforts and attract more visitors:
What brings you to our website today?
What made you choose us over other similar websites?
How did you hear about us?
2. Website Survey Questions Post Purchase
Once visitors make a transaction on your website, you can find out what makes your brand/website desirable and how you can improve it further. Here are a few questions you may ask:
What was the main reason behind your purchase/subscription today?
How would you rate your shopping experience?
Did you face any challenges while placing your order?
Do you have any questions about your purchase/subscription?
What did you like the most about your experience with our website?
Here's a post-purchase website survey template you can quickly try out:
3. Website Survey Questions to Identify Exit Intent
When visitors are about to leave your website without making a purchase, signing up for the newsletter, or requesting a quote, you can ask for their feedback with an Exit Intent Survey. It would allow you to understand what you can improve to increase the conversion rate on your website.
Here are some Exit Intent Survey questions that you can ask:
We are sorry to see you go. What can we do to help you complete your purchase?
What stopped you from making a purchase today?
What stopped you from signing up?
Which of these following can we improve to help you make a purchase? (Give options like website design, product availability, payment mode, etc.)
What can we do to improve our website?
4. General Website Survey Questions
Many times, your website visitors may tell you about problems that may have gone unnoticed and can improve your website dramatically. Here are a few questions you can ask visitors to share their feedback in terms of website design, functionality, products, etc.:
What did you like/dislike about our website?
On a scale of 1-10, how likely are you to recommend our website to others? (Ask a follow-up question to prompt visitors to share the reason for their score.)
How would you rate our website on a scale of 1 to 10?
Do you have any suggestions that can help us improve our website/offerings?
Chapter 7
Zonka Feedback Website Surveys
Zonka Feedback is an intuitive survey tool that enables end-to-end feedback collection and management through its easy-to-use survey builder and analysis features. It allows collecting feedback at different touchpoints on a website through different survey types, such as website design surveys, satisfaction surveys, Exit Intent surveys, NPS surveys, and cart abandonment surveys. Here are some outstanding features that can help you develop an intelligent website feedback strategy:
Answer piping to personalize survey questions for different visitors
Skip logic to ask participants the most relevant questions
Audience segmentation for accurate survey trigger
Automatic survey triggers to collect feedback at the right time
Different ways of collecting website feedback, such as popup surveys, button surveys, live chat surveys, website polls, etc.
Intelligent reporting and analysis
Real-time feedback and notifications
Start Collecting Visitor Feedback Today
Sign up for Zonka Feedback and start asking your users what works for them (and doesn't) on your website.