Do you want to know why your visitors abandon your website? Do you know if your customers are happy with your website or not? What is the best way to know their views? Analyzing your website will help you understand what is lacking. Will that be sufficient? No, the best way to gather Customer Feedback is by directly asking them and ensuring you encourage different practices to collect feedback on your website.
Why is Customer Feedback Important?
If you want to understand your consumer's perspective, then you need to communicate with them and understand their viewpoint. It can help you enhance your products or services and also build a loyal customer base. Listening to the voice of your customers will lead to business growth. Some of the benefits of measuring Customer Feedback are:
Helps in improving Customer Engagement
Helps in improving Customer Satisfaction
Helps in improving Customer Retention
Helps in identifying Product Improvement Areas
Helps in improving overall Customer Experience
Start Collecting Visitor Feedback Today
Sign up for Zonka Feedback and start asking your users what works for them (and doesn't) on your website.
Methods to Collect Feedback on the Website
There are numerous ways to collect feedback on the website. Capturing customer insights will play a vital role in optimizing the customer journey. Let's have a look at some of the best ways and which one suits your requirements. Implementing the best methods on your website can help you gain useful customer insights.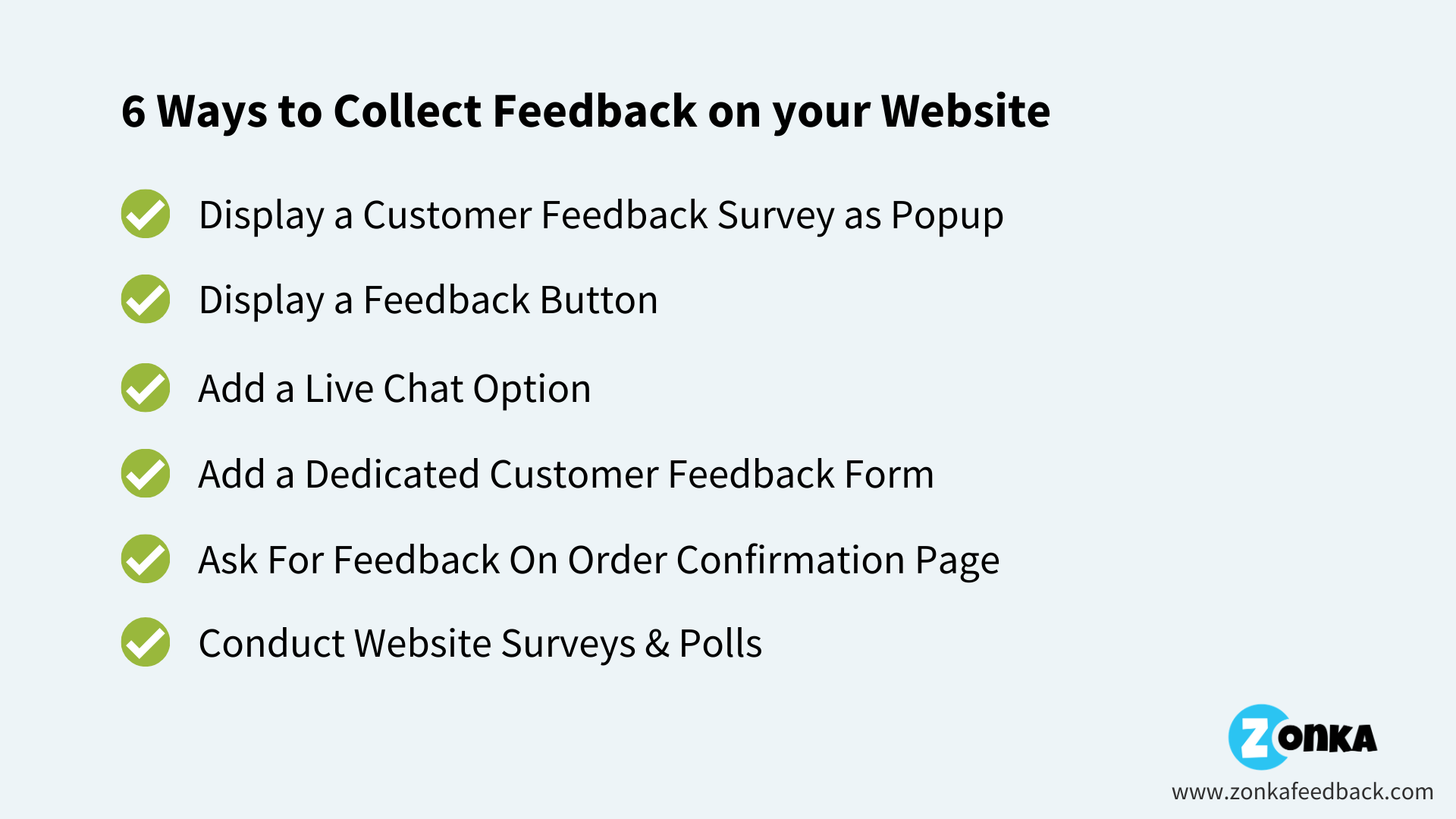 1. Display a Customer Feedback Survey as Popup
One of the best ways to collect feedback is by adding a customer feedback survey as a pop up. Embedding a survey can help you grab the attention of your website visitors. When they navigate to your website, a short message "Rate their experience by taking a Survey" will encourage them to take the survey. There are few pointers that should be kept in mind while designing a survey. Make sure that the survey should be displayed to returning visitors and the pop-up should appear after viewing 2 or more pages.
Keep the survey questions shorts to encourage people to fill out more.
Make use of both open and close-ended questions
2. Display a Feedback Button
This is another way of asking your consumers directly for their opinion. A feedback button is a button or a tab that is used to collect feedback from online visitors and consumers when they visit and access your website. They generally appear on the side or bottom of the web page. After clicking on the button, an online feedback form will appear.
Floating buttons are tend to be more attractive and result in best conversion rates
Insights captured from the feedback buttons is used to optimize the user experience and enhance the customer experience
3. Add a Live Chat Option
Live chat option is helpful in answering your consumer's questions by providing them relevant information. It will help you gain real-time insights. It will also help your consumers in locating any missing items or answer their queries related to availability, payment, shipping etc. Businesses will get close to their consumers by understanding their needs. It's becoming a preferred choice to enhance customer services because:
Helps in direct and instant interaction with your consumers
Helps in figuring out what are the important concerns of the consumers
4. Add a Dedicated Customer Feedback Form
A well-designed and fully customizable form will help you capture maximum responses. It's a good practice to include only relevant questions and avoid asking long and lengthy questions. It's always a good practice to include an email in the form to get in touch with your customers for any issues.
Ensure that your form is visually appealing. It should appear uncluttered by adding sufficient white space between the fields, labeling the form correctly, and providing optional fields
It's important that the customer feedback form added on the website should be mobile responsive.
5. Ask For Feedback On Order Confirmation Page
It's ideal to collect your customer's feedback on the order confirmation page that can help in improving products or services that can lead to a better customer experience. The feedback form or survey should consist of questions that will help your business understand whether the website is user-friendly or not, whether they were able to locate the product categories or not.
It will help in improving the website's usability
It is one of the ways to show your customers that they would like to connect with them even after the post-transaction
6. Conduct Polls
Polls are one of the quickest and most effective ways to seek feedback on the website. There are numerous Customer Survey Tools available that will allow you to input questions and multiple response options. It will help in creating and conducting online polls that can be integrated on your website to gauge customer satisfaction.
It helps in capturing instant feedback of users
It helps in finding out issues to the website pages and try not to add them to the home page
Final Thoughts
Gathering Customer Feedback is an integral part of any business. It helps in understanding both positive and negative reviews that play a vital role in business growth. Make use of the Customer Feedback Survey Tool that matches your requirements. Implementing the right strategies will help you resolve customer's concerns and strengthen your relationship with them to turn them into brand advocates.
Learn more about the Website Feedback