Net Promoter Score® is one of the most popular metrics used by companies worldwide to measure Customer Loyalty and is an essential KPI to measure Product and Brand Success.

A single question, the NPS, asks respondents about their likelihood to recommend a brand or product, or service to their friends and family. But it goes beyond telling you their satisfaction or disappointment; if used effectively, Net Promoter Score also helps you understand how you can improve the business.

Before we tell you about the Best Practices for effectively using Net Promoter Score using NPS Surveys, we'd like to recap a bit about 'What is NPS' and how you can calculate it.

(Already know all about NPS? Jump to the Best Practices to implementing NPS)
NPS or Net Promoter Score is a Customer Experience metric introduced by Fred Reichheld of Bain & Company in 2003. Businesses use this metric to measure Customer Loyalty in terms of the customers' likeliness to refer a product, brand, or business to their friends and known ones based on their experience.
The NPS Question
The NPS Question, also referred to popularly as the Ultimate Question, is: 'How likely are you to recommend us to a friend and colleague?' It is rated on a scale of 0-10, where 0 is 'Not at all Likely' and 10 is 'Most Likely'. Based on the score that is rated, respondents are divided into three categories or segments.
NPS Segments
Detractors (0-6)
Detractors are those customers who rate 0 to 6 on the NPS question. As the name suggests, detractors are least likely to recommend the brand or company to someone else and are likely to spread negative word-of-mouth. You can expect them to stop doing business with you.
Passives (7-8)
Passives are those customers who give a rating of 7 or 8. They are usually satisfied customers but are considered the most vulnerable customers. If your competitor brands offer a little better deal, they can switch to them quickly.
Promoters (9-10)
Promoters are those customers who give you a rating of 9 or 10. These are your most loyal and the most satisfied customers with whom you can expect a long-term relationship, and they can also promote our business among their friends and known ones with their positive word of mouth.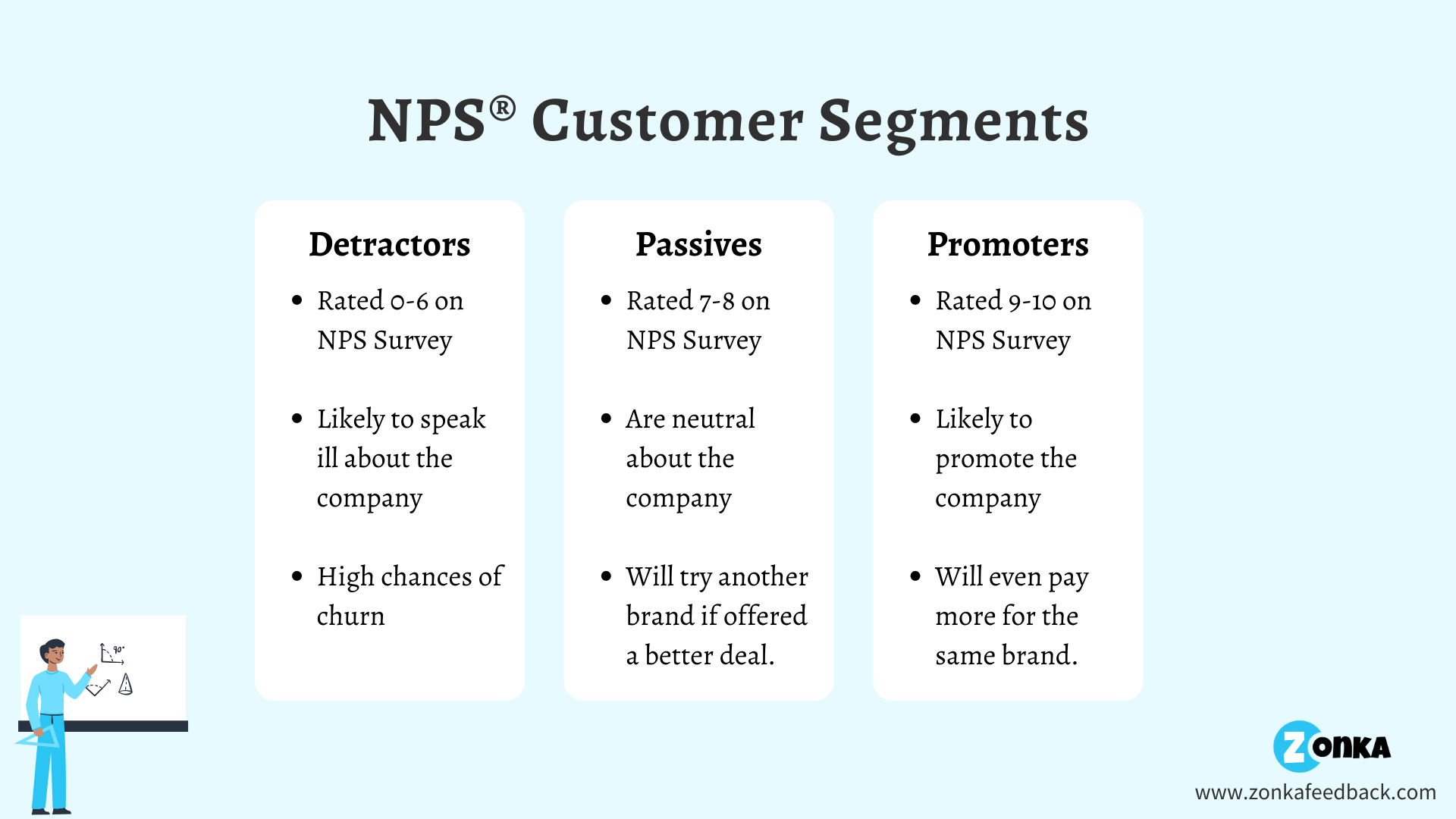 NPS Formula
Net Promoter Score is calculated by subtracting the percentage of Detractors from that of Promoters.
Net Promoter Score = Promoters/Total Respondents x 100 - Detractors/Total Respondents x 100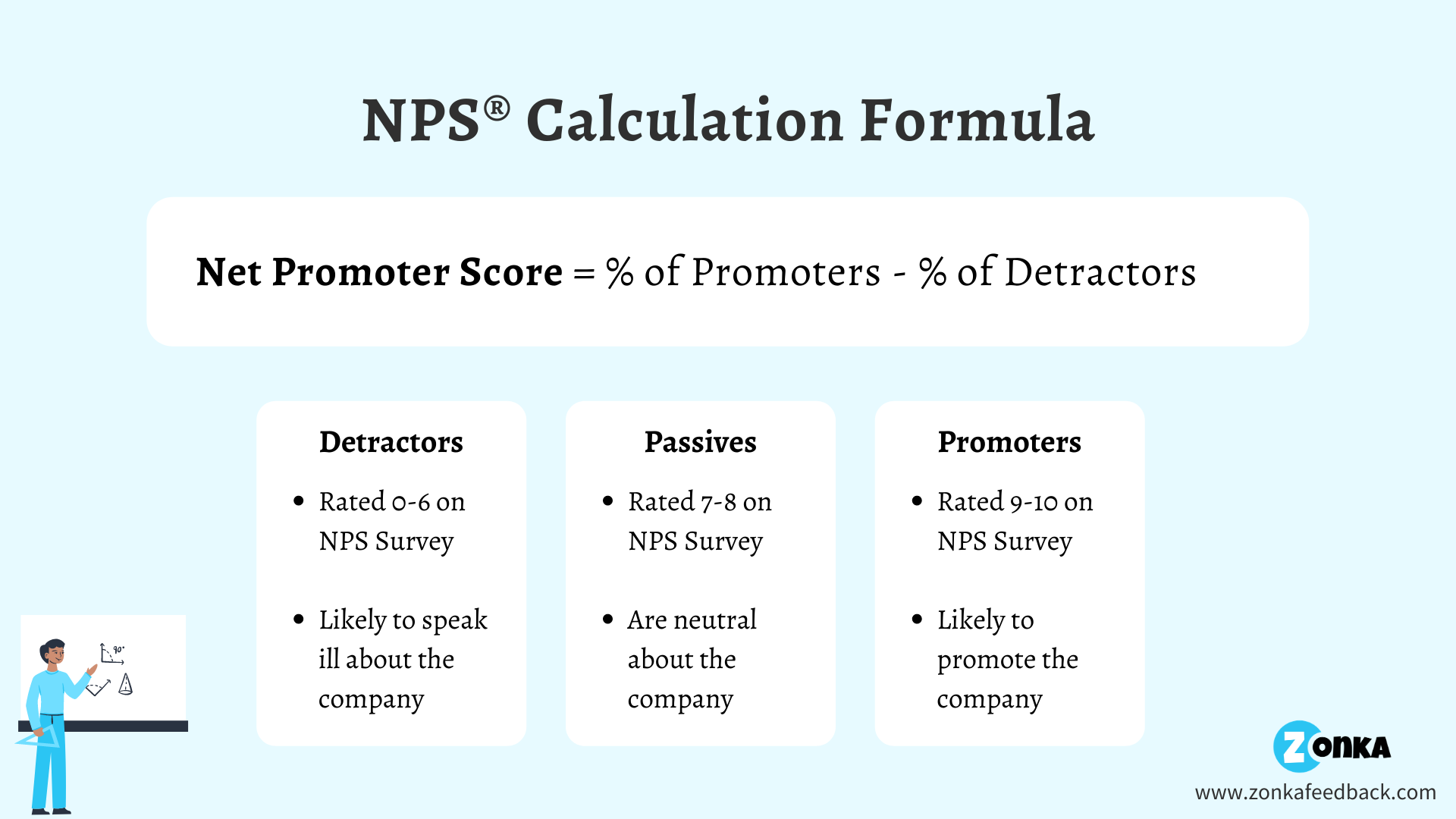 Steps to calculate NPS
Divide the respondents into the categories they fall among the three: Promoters, Passives, and Detractors.
Find the percentage of Promoters.
Find the percentage of Detractors.
Subtract the percentage of Detractors from that of Promoters. You will get a numeric value.
This numeric value is your Net Promoter Score, and it will lie between -100 to 100.
Best Practices to Implement Net Promoter Score
Tip 1
Ask a relevant NPS Question
I know the tip I mentioned above is confusing because, as we all know, there is only one NPS Question. However, you can tweak the question based on the situation and based on who you're surveying. This hugely impacts the responses you get. Before you get started with sending out your NPS Surveys, think of the following:
Who are you surveying?
When do you want to send the survey? Is it on a particular time, like quarterly, monthly, or based on a specific interaction?
Are you measuring general Customer Loyalty or measuring Loyalty based on a particular interaction.
These factors will help determine how you can tweak your NPS Question to make it more relevant for your respondents and get better and more accurate responses. If you measure Employee NPS or NPS related to a business, product, or service, you can tweak the NPS question to include the context and increase its relevancy. Some examples of NPS Survey Questions are:
On a scale of 0 to10, how likely are you to recommend (our business/business) to a friend or colleague?
How likely are you to recommend (our product) to a friend or colleague?
How likely are you to recommend (our service) to a friend or colleague?
Based on your recent purchase, how likely are you to recommend us to your friends & family?
How likely are you to recommend (Company) as a place of work to your friends and family?
Learn more about NPS Survey Questions.
Tip 2
Include a Follow Up Question
While the NPS is a single question, 'How likely are you to recommend us to your friends and colleagues?', it is not enough to understand the reasoning behind the customers' score. When used alone, the question helps identify the promoters, detractors, and passives. However, it missed telling you why they rated us as they did.
That is why it is ideal to use an open-ended Follow-Up question in your NPS Surveys. A simple follow up question, like 'What is the main reason for your score?' helps in multiple ways:
Allows customers to tell you about their experience in their words

It helps you know why customers are likely to recommend, unsure, or not likely to recommend your brand

It gives you a combination of quantitative and qualitative data for analysis
The NPS Follow Up Questions can be qualitative (asking customers to enter their comments and thoughts) or quantitive (where customers can choose from a set of options provided). See some examples below.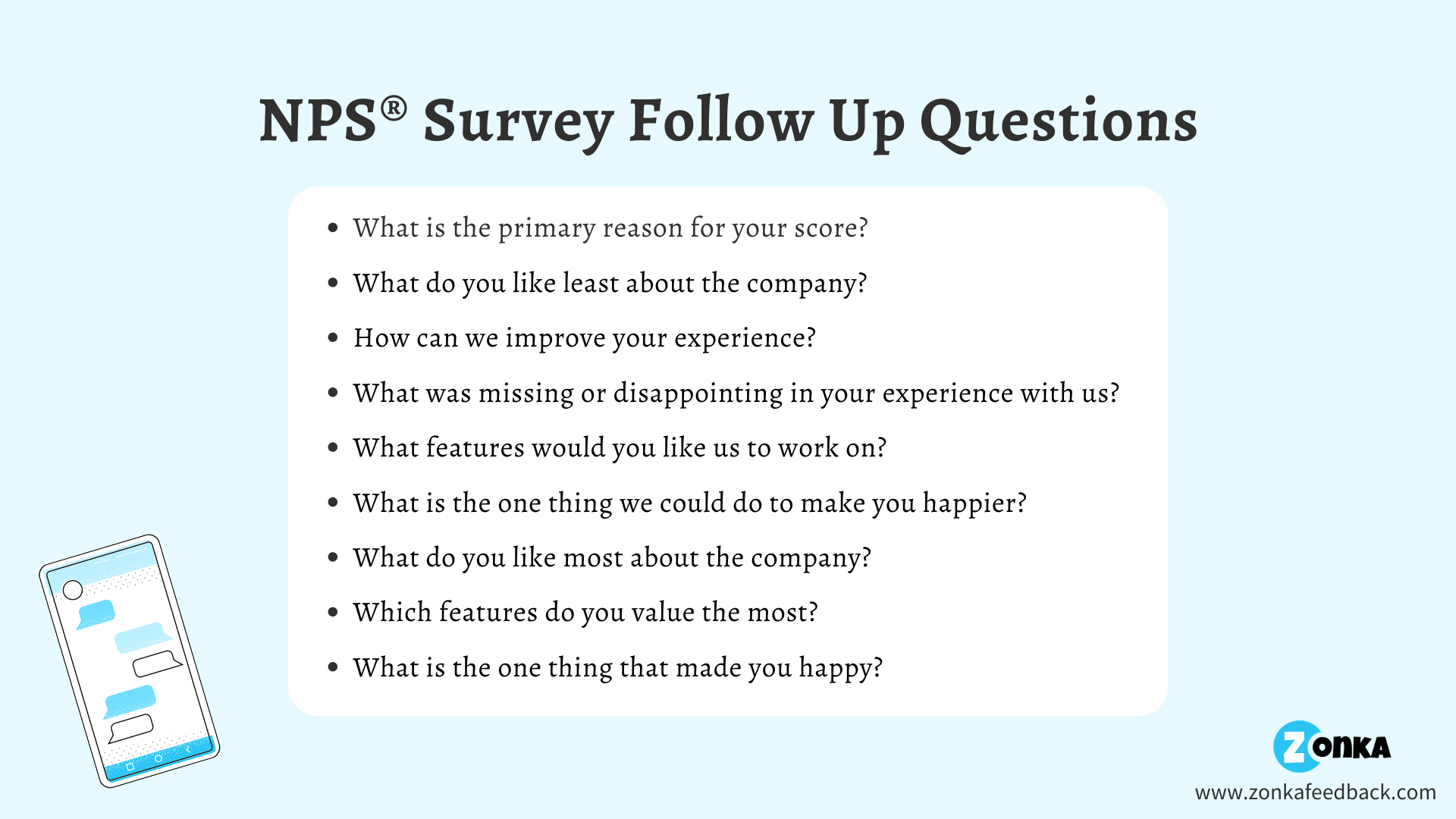 Explore NPS Survey Templates.
TIP 3
Send NPS Survey at Appropriate Time
The success of any survey depends a lot on the time of sending the survey. Even if we design a survey in the best possible way, sending the survey has a significant impact.
For instance, sending a survey at odd hours like early morning or late at night is likely to be left unattended. Since customers did not receive the email when they are likely to access their mailbox, they may consider responding afterward and ultimately forget the survey altogether.
Similarly, when you're seeking feedback for a product, sending a survey right after purchase may not be a good idea as the customer may not have had an experience of using the product till then.
Some quick pointers to remember when sending NPS Surveys:
Don't send NPS Surveys at odd hours

Don't send NPS Surveys too often

Don't send NPS Surveys right after purchase, if you're seeking to get feedback about the product experience

Send NPS Survey right after the transaction, if you're seeking to get feedback about the purchase experience
Based on what you're looking at measuring and when you send your NPS Surveys, there are two types of NPS surveys:
Relationship NPS Survey
As the name suggests, Relationship NPS Surveys are used to build a good relationship with your customers by gathering Customer Feedback through NPS surveys at regular intervals. You can these weekly, monthly, quarterly, half-yearly, or annual NPS surveys to keep tracking your Customer Loyalty.
Transactional NPS Survey
Transactional NPS surveys are sent just after an interaction or an event. You can set triggers to send a survey like after a specific purchase or billing, or an hour after food delivery, and so on.
Take care that you don't send these surveys too early. First, let the user fully complete his experience and come into the position to give feedback through an NPS score.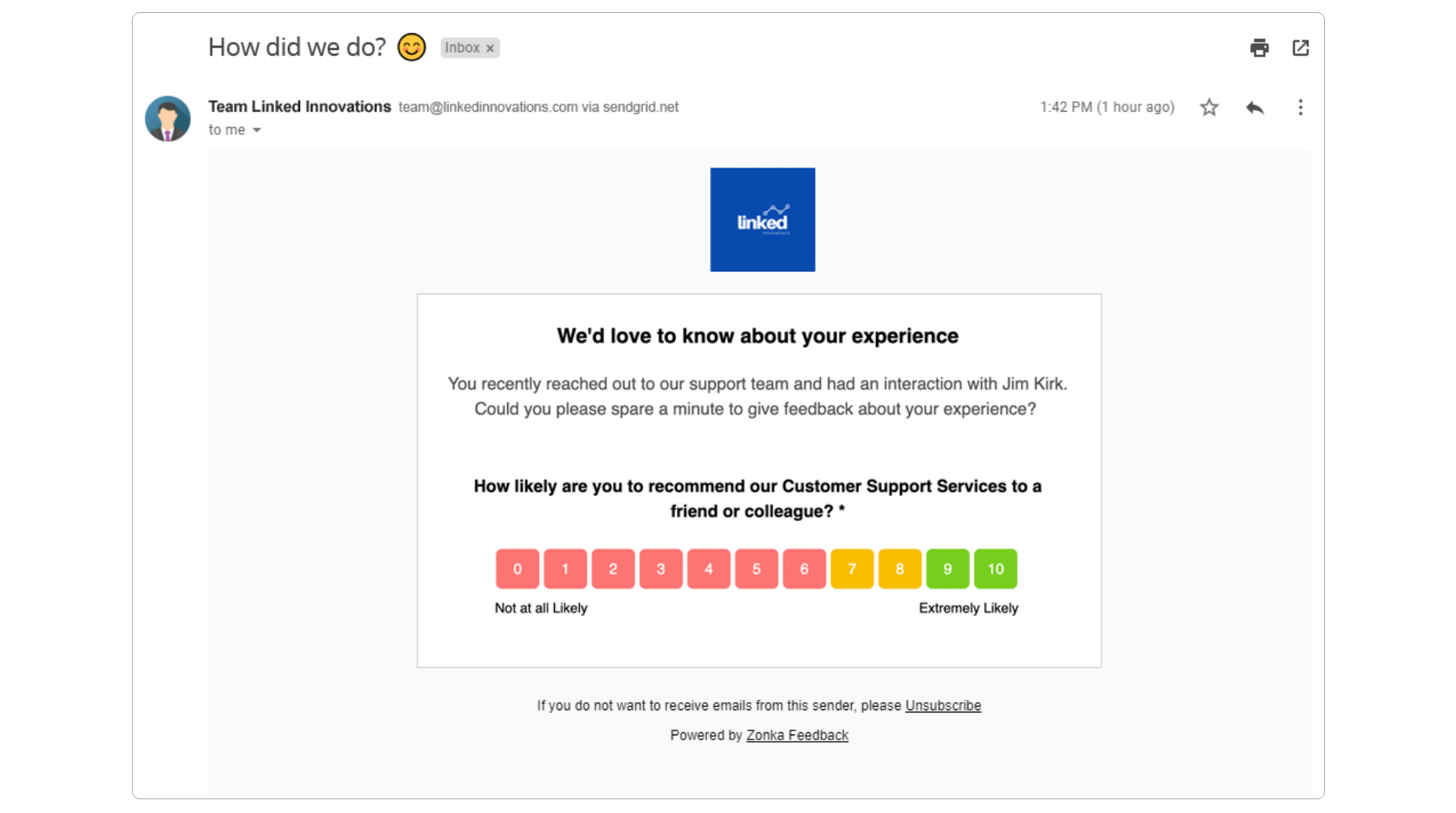 TIP 4
Pre-decide how to Handle Negative Feedback
"Hope for the best and prepare for the worst." This quote is essential to remember when you're seeking feedback from your customers. As you know, there are categories of outcomes for an NPS survey viz. promoters, passives, and detractors. It is best to prepare yourself for all the results, especially for the worst, i.e., detractors.
Here's how you can do it:
Make a proper action plan.
Who gets notified when there is negative feedback?


Set up alerts in your NPS Survey Tool to get real-time notifications as soon as there are new responses or detractors.



Learn how to set Custom Alerts in Zonka Feedback.
Who should the issue be escalated to?


If the issue is not resolved, whom should you escalate it to?



You can use your NPS Survey Software to set up Tasks and Tickets for your team members and assign pending issues and actions on feedback to them.

Learn how to set up Tasks in Zonka Feedback.
What is the ideal response time?


Share this with your team and ensure that your team members respond to Customer Feedback within the decided TAT (Turn Around Time).

What are the likely responses for anticipated issues?


Decide on some of the responses for some common and pre-expected issues that may occur.
Train your team members to send those responses as per the situation and feedback received from the customers.
Make someone responsible for taking those actions
.
Keep a dedicated team or a set of employees to take action on Customer Feedback.

Assign tasks to the team members to respond to every feedback and take necessary actions within a limited time.

Make proper action plans in advance on how to deal with negative feedback and detractors.

Get in touch with your detractors, proactively ask why they're giving such a bad rating, and how you can serve them better to improve their experience.

Do whatever it takes to enhance their experience as much as possible and inform them what you are doing.

Ensure to Close the Feedback Loop for every feedback.
When customers see you trying your best to serve them better, it substantially impacts them. In this way, you can not only bring back the miffed customers but also convert your detractors into promoters.
Tip 5
Loop in your team
NPS is not a process to be followed by one or two persons; neither is it just a metric to be measured to showcase your company's position in the market. Instead, it is a process that requires the involvement of the whole organization. Implementation of NPS is effective when every person works in the direction to improve the score.
You must loop in your teams and share the NPS scores within the organization. Doing this will help your employees to work in the right direction towards a great Customer Experience.
Share the NPS results with your teams.
Appreciate the employees who have taken the right actions to ensure Customer Satisfaction.

Train the employees about the likes and dislikes of customers through ratings from Promoters and Detractors and their response to the NPS follow-up question. Use some cases of Detractors and Promoters to make them understand this.

Train them on what can go wrong and motivate them to provide a good experience the very first time.
When your staff members get to know what customers like and what they don't like, they work better towards enhancing Customer Satisfaction. On the one hand, this enhances Customer Satisfaction and, on the other hand, improves employee performance.
Tip 6
Set up automated responses for Promoters, Detractors & Passives
Using an NPS Survey Software, set up automated response messages or email for every respondent, be it your promoters, passives, or detractors because everybody is essential for your business to focus on. Sending revert is a great way to show gratitude to your respondents as they helped you get one of the most valuable pieces of information for your business, i.e., Customer Feedback.
Type of Respondent
Type of Response
Example Response
Promoter
Thank the promoters for sharing their valuable feedback and recognizing your efforts to satisfy their needs. Seek recommendations and reviews and nudge them to spread the word about your business.

We are glad to know that you liked our product. It would be great if you write a review for us on our website which will help other customers know about us and get premium quality products.

We also request you to share your experience with your friends and known ones and give us an opportunity to serve them too.

Detractor
Acknowledge their issue and apologize for a bad experience. Simultaneously, share with them about the action you'd be taking and commit a turnaround time for their issues. Also, invite them to try out your service again when the issue is resolved.
We apologize for your bad experience. We will get your product exchanged within two days. We will bear the transportation cost. We deeply regret the inconvenience caused and request you to give us another opportunity to serve you.
Passive
Thank Passives for sharing their honest feedback and engage in active conversation about what you can do better to give them an unforgettable experience. Ensure you commit to an action or explain your reasons and keep them updated.
Thank you for sharing your valuable feedback. We will get in touch with you within 24 hours to know how we can serve you better and provide an unforgettable experience.
Tip 7
Follow up with everyone
So you have conducted an NPS survey and have got responses, and automated responses have been sent to the customers. But it's not the end yet. Your real action starts here! An NPS Survey aims to use it to achieve the goal of profit maximization through Customer Satisfaction.
You can achieve this goal by following up with every customer to ensure a smooth and excellent Customer Experience. Follow up with your promoters, detractors, and passives separately.
Follow Up with Promoters
After you have sown your gratitude to Promoters with an automated Thank You message, it's time to reward their loyalty and utilize it to grow your business.
Remember that Promoters have agreed to recommend your brand to others, but it's not necessary they actually recommend it to their friends and known ones. You need to motivate them to do so.
Reward their loyalty by giving them small perks like a discount on the next purchase, or a free gift coupon.
You can also give a free gift as a Thank You gesture. In this gift, you can give a small product which they haven't tried yet. Along with a good gesture, it will also help you to market another product.
Request and motivate them to recommend your brand to their friends and known ones. Offer them some benefits like an additional discount for every referral.
Follow Up with Passives
Passives are one of those customers who can anytime become promoters or detractors. Your actions should be such that encourage them to be promoters. After you have thanked them for their honest feedback, the time is to drill down what they feel about their experience and what they expect from you to be better.
Engage with them and ask them what they expect from a brand that makes them delighted.

Offer them better schemes, plans, products, offers, or discounts that encourage them to do more purchases.

Try to do more than they expect. Raise above just satisfying them, and reach Customer Delight. Give some free perks, a surprise gift, a free service, a voucher, or anything that adds to their satisfaction and delights them.
Follow Up with Detractors
Along with apologizing to your customers for their bad experiences, you need to do something that changes their perception of you and your brand. The key is to approach them with courtesy and resolve their issues as quickly as possible.
Give them the highest priority and follow up with your detractors as soon as possible.
Get in touch with them and ask them with courtesy what happened and where the things went wrong.
Apologize for, and empathize with their situation to understand what they went through.
Accept wherever there was your fault. Even if there is no miss at your end, explain them calmly and make them understand how you tried your best but still, their experience was ruined due to uncontrollable factors.

Work to the best extent to improve their experience.

Inform them what you have done to improve their experience and avoid any future negative experiences.
In this way, you can
Close the Customer Feedback Loop with NPS
in an effective way.
Tip 8
Take Ongoing NPS Feedback
Take ongoing Customer Feedback with the help of NPS Surveys at various touchpoints of the customers' journey.
Conduct Relationship NPS Surveys from time to time and ensure to deliver a better experience each time.
Conduct Transactional NPS Surveys to get Customer Feedback regarding every transaction and event.
NPS being a simple Customer Survey, doesn't need much to be conducted. You can use a good NPS Survey Software and, with the help of it, easily create and send your surveys to the customers and work on it to close the feedback loop.
How does it help?
Sending NPS at every touchpoint will enable you to know about the strengths and weaknesses of your business, and will help to decide actions to improve Customer Experience.

It will let you know the common issues faced by the customers at multiple touchpoints.
Sending ongoing feedback surveys will help you maintain healthy relationships with your customers.
Sending regular NPS Surveys will help you track the growth of your business and the increase or decrease in your goodwill.
Using these best practices and tips, you can implement your NPS Survey more effectively and utilize this score to the maximum by improving your customers' experience. Customer Experience directly impacts their loyalty which will gradually help you get a better Net Promoter Score each time you conduct an NPS Survey.