In every industry, loyalty plays a major role in the success of an organization. Be it education, corporate businesses, retail stores, healthcare, or hotels, businesses can retain their customers or employees if they know what influences their loyalty to the brand.
And the global standard for measuring loyalty is the Net Promoter Score. Net Promoter Score represents your audiences' or customers' loyalty to your business and their willingness to recommend it to others.
Measure Customer Loyalty with NPS ❤️
Create NPS surveys, measure customer loyalty, and close the feedback loop with Zonka Feedback.
A Net Promoter Score Survey prompts your target audience to rate their likeliness of spreading positive word-of-mouth about your brand. The responses, i.e., feedback, help you gain critical information in terms of the reason for loyalty, challenges preventing it, the effectiveness of referral programs, etc.
Although NPS is a critical customer experience metric, you can still measure it free of cost with a free survey maker that you can trust for your business. There are some completely reliable feedback tools that you can use to effortlessly create surveys and collect feedback on a website, in-app, or through other channels like email or SMS.
To save you valuable time, we have put together the details of best-in-class free survey packages that your brand can highly benefit from. Read on.
Best 8 Free NPS Survey Software for Your Business
Zonka Feedback
Qualtrics
NiceReply
SurveyMonkey
Surveylegend
Survicate
Alchemer
SurveySparrow
Here are the top free NPS survey tools that you can kickstart your NPS survey campaign with:
1. Zonka Feedback
Zonka Feedback's free NPS survey tool is designed to boost long-term customer relationships by helping brands capture customers' pulse or sentiment after individual transactions and towards the brand as a whole. This means that you can measure Net Promoter Score through relational and transactional NPS surveys.
Zonka Feedback focuses on the effortless creation and distribution of NPS surveys. It enables businesses in different industries to capitalize on factors that contribute to customer loyalty and eliminate challenges causing churn. This is made possible through qualitative and quantitative feedback collected through its NPS survey questions and templates.
Key Features
Here are the top features of Zonka Feedback's free NPS survey tool:
25+ question types like rating scale, Likert scale, emoji scale, MCQs, star scale, radio button, drop-down, open-ended questions, etc.
100+ ready-to-use, customizable survey templates, including NPS survey template, employee Net Promoter Score survey template, software and app customer feedback with NPS, etc.
Unlimited survey responses
Access to unlimited members of your team
Mobile-first surveys
Real-time notifications
Response tracking, task assignment, and issue escalation all through the inbox, so you can close the feedback loop
Insightful reports after feedback analysis with features like response tagging, data filters, etc.
Automatic mapping of feedback to respective contacts.
Rating
4.8/5
Below is an NPS Survey template that consists of a 0-10 rating scale to let customers rate their likeliness of recommending your brand to others. It is followed up with an open-ended question for participants to share the reasons for their scores.
2. Qualtrics
Qualtrics offers pulse surveys to gauge customer sentiment from time to time, and its predictive analysis helps incorporate feedback in important decisions. The free customer feedback software not only makes feedback collection easy but also helps immensely in data management. This helps escalate issues and assign tasks, which makes closing the feedback loop and following up with customers easier.
Key Features
Check out the top features of Qualtrics free NPS survey package:
Role-based dashboard
Multi-channel data collection
Mobile surveys
Issue tracking
Rating
4.7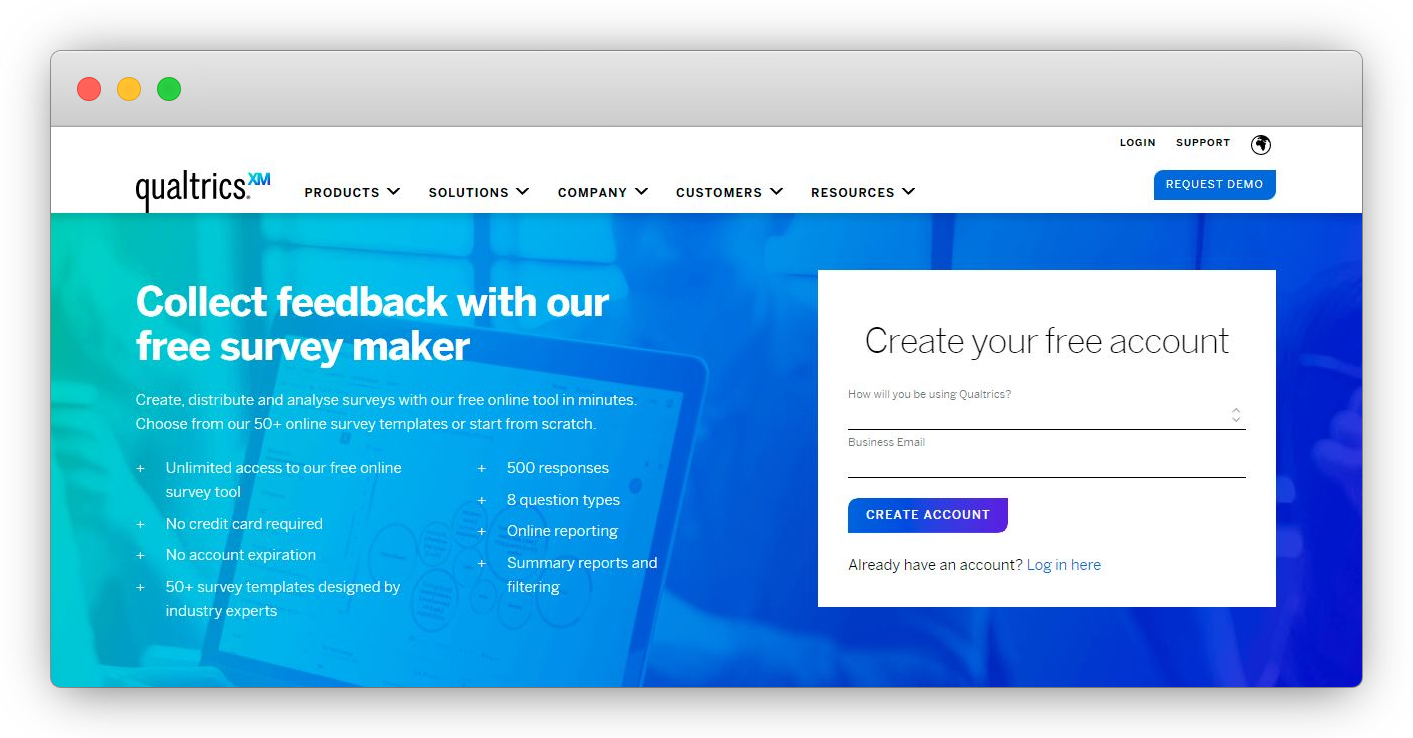 3. NiceReply
NiceReply offers an effortless way to collect immediate feedback through its free NPS survey feature. You can survey your customers via different channels. Moreover, you will get survey responses even if your customers haven't taken the full survey. This makes feedback collection quick and effortless.
Key Features
Here are some unique features offered by NiceReply:
In-signature surveys
Survey customization
Integration with multiple business tools
Unlimited number of surveys
Rating
4.7/5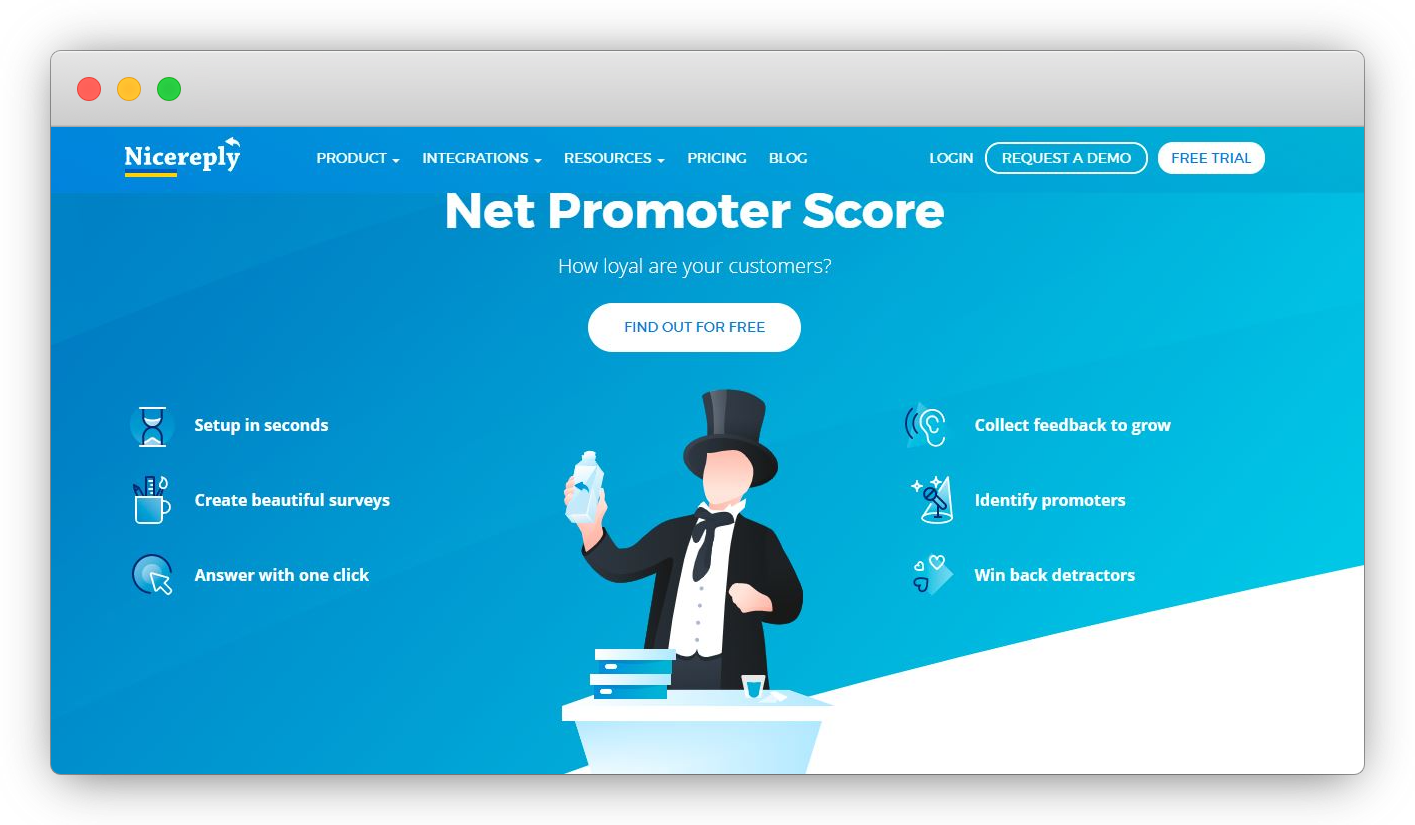 4. SurveyMonkey
SurveyMonkey offers easy-to-use NPS surveys that collect customer loyalty measuring feedback on a scale of 0 to 10. You can identify Promoters, Detractors, and Passives based on responses that you can easily download in an Excel spreadsheet. You can also manage feedback by using visibility settings, which makes SurveyMonkey's NPS survey free tool good for small and large-scale businesses.
Key Features
Here are some important SurveyMonkey features:
NPS survey free templates for customers, employees, and other target audiences
Survey success rate estimation
Multichannel feedback
Rating
4.6/5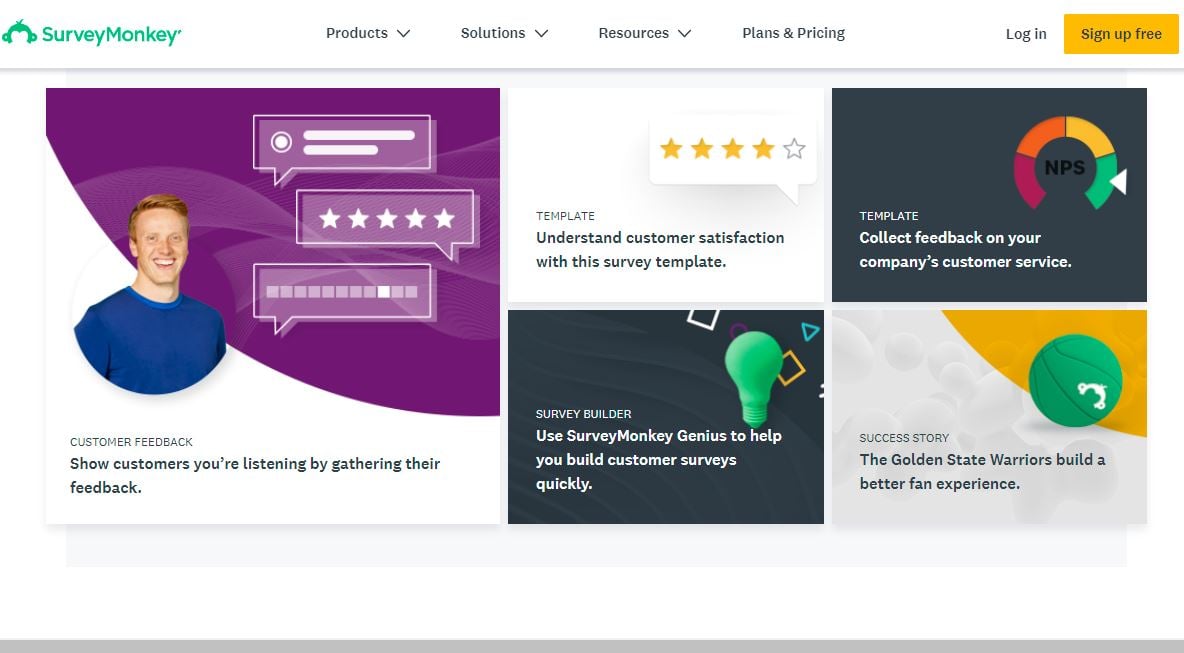 5. SurveyLegend
SurveyLegend NPS surveys are platform-independent, which means that you can collect customer feedback through any platform that you use to interact with your customers, for example, email, SMS, website, etc. However, there is no multilingual support. With certain limitations, you can use this NPS survey tool free of cost. For example, the free NPS survey package consists of ads. So, if you want an ad-free survey tool, you will require buying the premium version.
Key Features
Here are the top free features of SurveyLegend NPS survey tool:
3 Free NPS survey
Attractive mobile-friendly surveys
Social sharing of survey links
Real-time data analytics
1000 responses per survey
Rating
4.6/5
6. Survicate
You can create an interactive NPS survey free of cost in seconds using Survicate and its ready-to-use survey templates. You can survey your audience across email, mobile app, website, chatbot, etc. Moreover, after running your NPS survey, you get actionable insight into your audiences' responses and feedback trends that would help you reduce churn and attract more people to your brand.
Key Features
Here are some attractive NPS survey features that Survicate has to offer:
Intuitive survey developer – no coding
On-brand NPS surveys
Website or in-product surveys
Real-time NPS score
Feedback analysis, slicing, and dicing of data available through filters in reports
Rating
4.5/5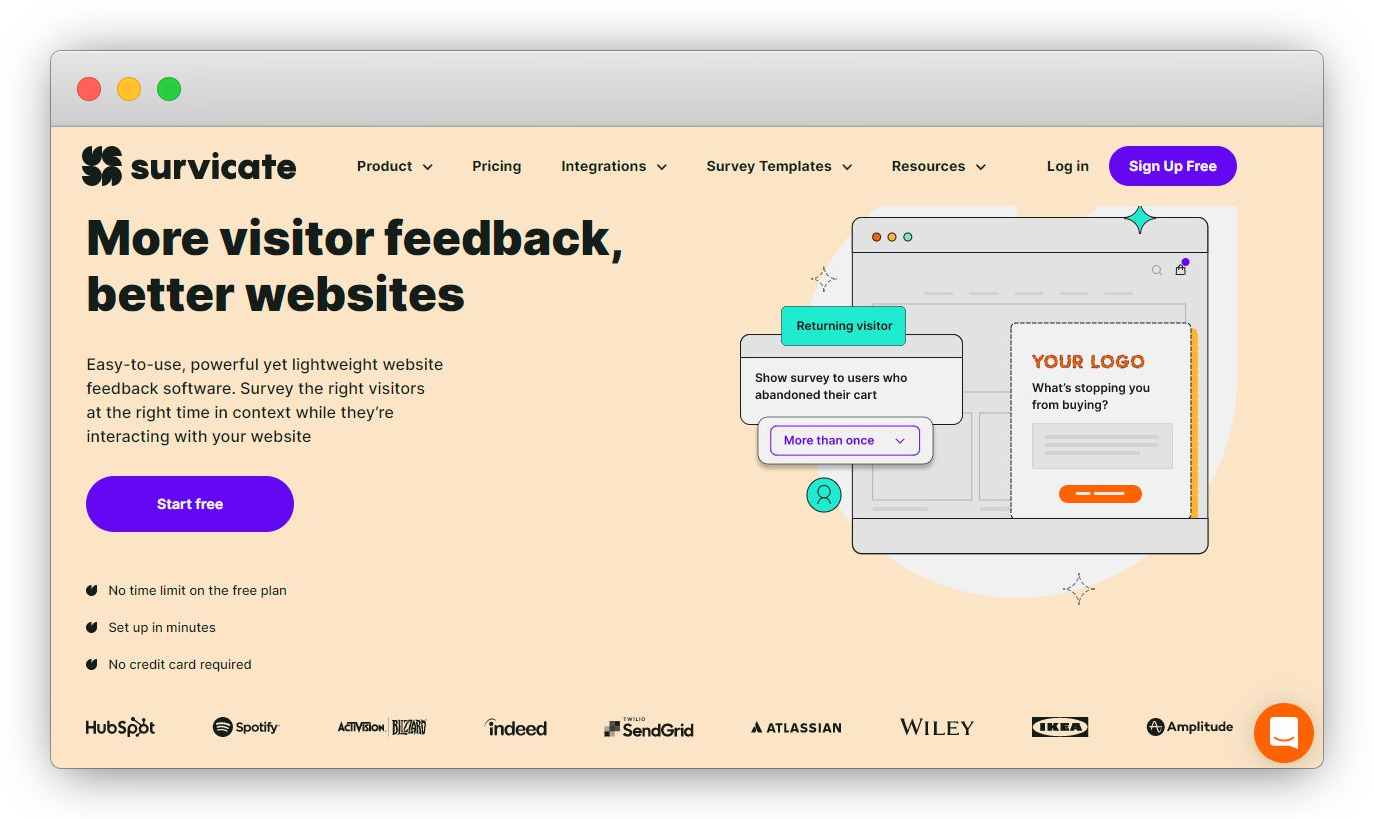 7. Alchemer
Alchemer is a feedback solution that helps organizations become truly customer-centric. Not only can you use the NPS survey tool free of cost, but you can also set the feedback to be delivered directly to people who can act on it. Moreover, you can manage feedback and communication effectively to close the feedback loop and retain customers.
Key Features
Here are some primary Alchemer free NPS survey features:
Anonymous feedback
Campaign management
Customer segmentation
Customizable NPS survey forms
Community management
Complaint monitoring
Dashboard and data analysis
Rating
4.5/5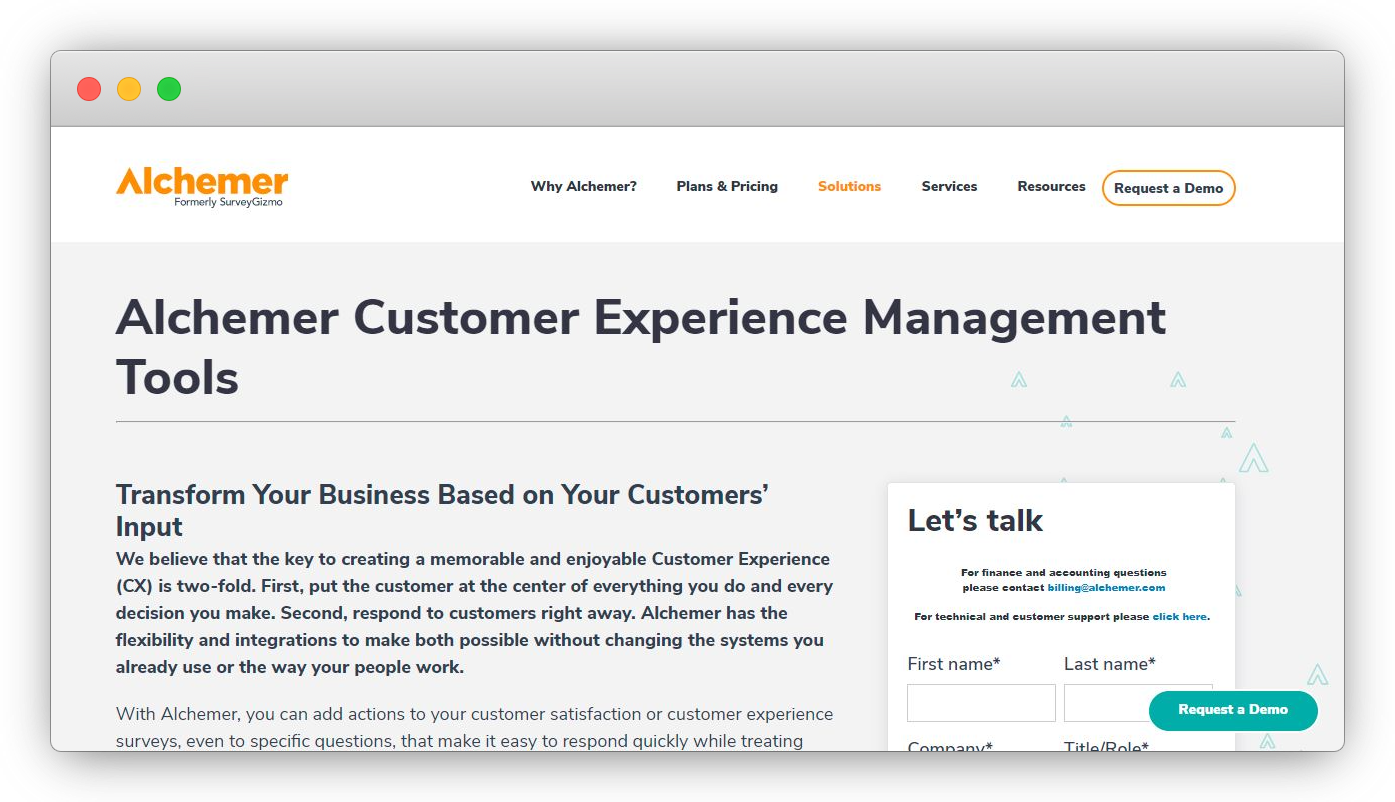 8. SurveySparrow
SurveySparrow is a free NPS survey tool that allows brands to create engaging NPS surveys with a conversational interface. It allows sharing of surveys through different channels, including mobile, web, email, and social media. You can send NPS surveys at regular intervals to gauge the sentiments of your customers at different touchpoints in the customer journey. This helps in measuring the pulse of the entire customer base from time to time and allows for taking experience enhancement and recovery measures.
Key Features
Here are the primary SurveySparrow NPS survey free features:
NPS trend tracking through the dashboard
Workflow automation with webhooks and alerts
Custom fields for audience segmentation
Easy integration with day-to-day apps
Survey sharing through emails, website, URL, and more
Slicing and dicing of data with useful feedback reports
Survey customization with brand logo, color, theme, and font
Rating
4.4/5
Conclusion
You may have different business requirements. For example, you may be wondering how to collect NPS on your website, mobile app, email, or on multiple channels at the same time. Or you may have other requirements, such as integration with other software, data syncing, reporting for stakeholders, etc.
Make sure to list down what you're looking for in your NPS survey tool, and compare your requirements with the features of the top software options discussed above.