Once a couple decided to ditch their favorite restaurant for once and try out a new one for their anniversary. The decent interiors and warm ambiance teased them in. But sadly as they say appearances are deceptive, the food in the new restaurant wasn't even half good as its charming ambiance. The couple felt regretful and without wasting any more time on their anniversary night, paid the bill and bolted out of the restaurant to switch back to their old favorite place.
Measure Customer Satisfaction and Improve Customer Experience🔥
Create customized surveys and feedback forms and take real-time feedback from your customers at all touchpoints.
This is a very common case of how customers churn. Bad experiences are the are the main reason for a high churn rate.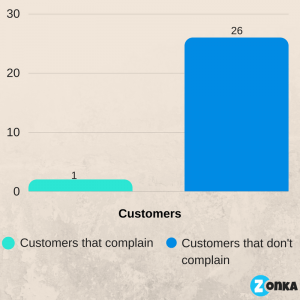 According to Esteban Kolsky of thinkJar - "Only 1 out of 26 unhappy customers complain. The rest just leave."
How do you think the new restaurant could have tackled this churn better? According to us, by either implementing a customer satisfaction software or by offering a customer satisfaction survey to be filled (on premises/online).
Customer satisfaction is imperative for the survival of a business. And the best way to evaluate customer satisfaction is to simply ask them. Ask such questions in your customer satisfaction survey that spill out the kind of data you require in order to improve your product and services.
Customer satisfaction surveys are everywhere; customers are bombarded with online surveys from companies. It would be quite believable if we say that every one of us has at least once in our lives received such surveys. And in addition to the ease of distribution and quick results, the thing that we like most about these surveys is that results from these surveys can be stored and analyzed in real time. There are numerous benefits of CSAT (Customer satisfaction ) surveys, below we have mentioned the few top benefits of them.
Benefits of customer satisfaction surveys
All the surveys that are targeted at customers generally have one common goal i.e. understand them better. Conducting customer satisfaction surveys help to understand the common customer obstacles, likes, and dislikes. On top of that, they also report discrepancies in services and help businesses improve those faulty areas. This, in turn, leads to better products and services and thus higher sales. By analyzing customer satisfaction surveys, organizations can easily identify and label unhappy customers, brand promoters and find potential advocates.
Few top benefits that customer satisfaction surveys offer are -
Improving product or services
You may build a product or offer some service and think it is what the world requires. But what actually will determine its fate in the market is what your customers think about it. Get to know the customer sentiments of your product/ service with customer satisfaction surveys and focus on what you can improve. Offering exactly what customers need places you one step ahead of your competition.
Improving customer service
70% of buying experiences are based on how the customer feels they are being treated - McKinsey
Good customer service differentiates your brand from the rest. You will eventually lose out on your customers if your customer service is not up to the mark. It does not matter how flawless your product is, if you don't offer exceptional or at least a decent customer service experience, you will lose out on customers and negative word of mouth will spread. So don't just assume the standards of your current customer service instead ask your customers. Send out customer satisfaction surveys and understand, in actuality, how satisfied are your customers with your customer service.
Turning customers into brand loyalists
People love it when they see that their feedback matters to the company. Almost all firms ask for feedback from their customers, few out of them follow through and do something about it. Fewer, take action based on the feedback and only a handful of them actually report it back to their customers what they have done with their feedback.
Even after the feedbacks are resolved and relevant actions have been taken, there lies a big opportunity for companies to make their satisfied customers feel 'delighted' and turn into brand loyalists. How? By reporting back what they did with the customer feedbacks. They're likely to appreciate it more than you can imagine.
Discovering competitive advantages & ace decision making
Find out what qualities are hugely liked by your customers. Understand the features that drive your customers the most towards your product. You can get all this data from within your customer survey results. Invest more in features that are the most important in making the decision. And improve the deficit. If you know what are the main factors leading to buying from you, you can capitalize on them.
Types of customer satisfaction surveys
Depending on what survey goal you want to achieve there are different kinds of customer satisfaction surveys.
NPS Surveys
Net Promoter Score (NPS) survey is a simple yet very effective way for businesses to measure customer satisfaction and loyalty. It is a very highly regarded measure of customer loyalty and satisfaction. It was introduced by Fred Reichheld's Harvard Business Review article "One Number You Need to Grow".
In addition, for a more detailed analysis, you can ask a follow-up question in the survey such as 'How likely are you to buy again from the company/website?'. Based on their scores, the respondents are categorized into Promoters, Neutrals, and Detractors, And the NPS score is calculated by subtracting the percentage of respondents that are Detractors from the percentage that are Promoters.
You can read more about the NPS score and how to implement an NPS survey using Zonka here.
Product Surveys
This survey will uncover what customers feel about different aspects of your product such as quality, design, price, performance and much more. Also, how satisfied are your customers with the product and how likely will they buy from you again. You will get to know the customer's expectations with the product and their perception about the product quality giving you huge scope for improvements.
Check out an amazing example of a product experience survey.
Detailed Customer satisfaction surveys
An effective customer satisfaction survey has 5-10 questions that relate to the service delivery, customer experience, and overall satisfaction. A detailed customer satisfaction survey should be sent to the customers once in a while to get the complete picture of their satisfaction levels. It is very important for the companies to strive towards making their customers satisfied and happy as happy customers come back and make repeat purchases.
View this sample customer satisfaction survey and understand how they work.
How to conduct customer satisfaction surveys
The implementation and channels through which these surveys are sent will hugely decide the quality and quantity of responses that you will receive, so it's very important to select the right channel of distribution. Ideally, customer satisfaction surveys should be distributed
Through websites/ in-app
Your website is one of the most important touch points between your company and customers. Use it to evaluate customer satisfaction. Embed customer satisfaction surveys to your website and let your customers fill it when they visit your website. Also, you can integrate these surveys into your app and survey your customers after any subsequent interaction with you like a purchase or an upgrade. All these features are easily available in any new-age survey app.
Via Email Surveys
Sending emails with links to a survey is one of the oldest and most popular methods of collecting feedbacks online. In the modern email surveys, the first question is embedded in an email and when a customer clicks one of the answers, a new tab opens in the browser where more following questions from the survey are asked or a 'thank you' message is displayed.
On-premises surveys
Conduct customer satisfaction surveys while your customers are on your business premises. This can be done with the help of kiosk surveys implemented at high footfall places over your premises. Install feedback kiosks at optimum heights and survey customers about the various aspects of customer satisfaction.
Want to create your own intelligent and beautiful customer satisfaction survey? Sign up for a free trial with Zonka and collect crucial data through customer satisfaction surveys.
Learn more about the Customer Satisfaction Surveys (CSAT Surveys)