What do you do when your website is not meeting conversion goals and more people are leaving than coming in?
You may rely on Google Analytics to find out WHAT is happening and identify pages or website elements that might be contributing to the low conversion rate. But Google Analytics may not be able to tell you WHY it is happening. To unearth the reason for a low conversion rate, the key is directly asking visitors about their experience with your brand and the website.
And one of the most practical ways to collect website on-page feedback is by using a Feedback Button on website.
Collect Actionable Feedback through Feedback Button ⭐
Survey your product users and website visitors without creating any interruption in their work and get valuable feedback to build delightful experiences for them.
What is a Feedback Button on Website?
A Website Feedback Button is either a floating or static button on a website page(s), which, when clicked, opens a survey form that visitors can fill out to share their feedback. A feedback button can be placed anywhere – at the center, side tab, or bottom of the page.
The survey that opens on clicking the feedback button on website can be customized to capture quick and short feedback through a rating scale or multiple-choice questions. You can also allow visitors to share feedback in their own words through an open-ended survey question.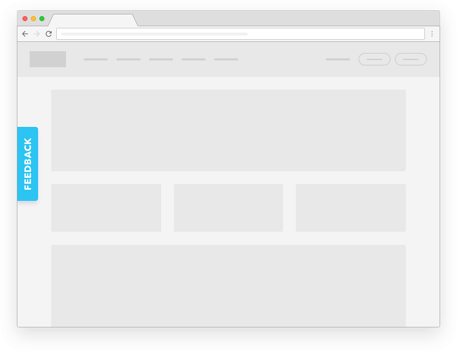 Why a Feedback Button on Website?
A simple website feedback button can help you achieve different feedback goals. For example, you can collect website usability feedback if you add a feedback button to your website home page. Similarly, you can get the most specific feedback like product feedback if you add a product purchase experience survey template to your feedback button.
However, CX managers prefer a website feedback button because of how practical, simple, and useful it can be. Let's understand why.
1. Great Visibility
A Survey Button is always visible on the screen and can be easily spotted by visitors. They can find it without wasting any time, and that can encourage them to share feedback every time they come across a challenge on your website. What increases visitors' likeliness to share feedback is that they do not have to leave your website or go to another page to hunt for your contact details. You can place the feedback button on every page of the website so that the visitors' effort in sharing feedback is reduced.
You can also use Floating Survey Buttons so that they are continuously visible on the screen even when the visitors are scrolling. All of this can increase the survey participation rate. This is especially great for website usability feedback where visitors may be reluctant to share feedback and would rather visit another website.
You can check out our website visitor online survey form sample which you can attach to your feedback button. The survey collects feedback on various aspects like usability, product availability, ease of use, etc.
2. Survey without Contact Details
Surveying customers through other online feedback channels requires customers' contact details, such as email or phone. But with a Feedback Button on website, you can collect feedback from everyone landing on your website without the need for contact details, irrespective of whether or not they make a transaction. So, every time a visitor experiences a challenge making a purchase with you, they can let you know instantly.
For example, if a visitor is unable to make a purchase because of a certain challenge while making the payment, they can share the issue by clicking on the Feedback Button. Your team can then resolve this challenge that could have otherwise gone unnoticed or unreported.
3. Unsolicited Feedback
Sometimes, you can get the most valuable feedback when you're not looking for it. A Feedback Button on website creates the experience of in-store shopping and enables consumers to speak their minds like they would if they were in a brick-and-mortar store. For example, if they come across a certain design challenge, such as less informative content, difficulty in navigation, etc., they can share the same. You can then create a website that your consumers would like to use and engage with.
Unsolicited feedback can also help you make business innovations. For example, if customers share what they are looking for, you can tap into a new business opportunity with an established market demand to generate a new revenue stream.
Unsolicited feedback can be critical when you're looking to improve your overall website. For this, you can use our eCommerce Website Feedback Survey Template which consists of an NPS question and several closed-ended questions to collect feedback on aspects like what visitors are looking for, how they perceive your brand against competitors, how they found out about your website, etc.
4. Real-Time Feedback
When you survey customers through other channels like email and SMS, you may not be able to collect feedback instantly after they experience your brand. But with a Feedback Button on website, visitors get a chance to share feedback in real-time. They can share their experiences or complaints while the experience is still fresh in their minds. This ensures that you get the most accurate and actionable data that actually helps improve and deliver experiences that make your brand stand out. Moreover, when visitors are given an opportunity to share their feedback in real time, they are more likely to take a survey. But if they see a survey request later, they may not care enough to share their feedback. A Feedback Button on the website solves this problem and allows visitors to vent out immediately and directly to you.
5. Reporting of Usability Issues
Rarely do visitors share website feedback consisting of usability issues that stop them from making a purchase. They simply hop off to a competitor's website and complete their purchase with them. But if you add a Feedback Button to your website, you can let your visitors share the bugs, design, and content errors that prevented them from making a transaction with you. This also communicates to your visitors and potential consumers that you value their feedback and that you are willing to work on it. And this, in turn, can increase their chances of coming back to your website and making a purchase.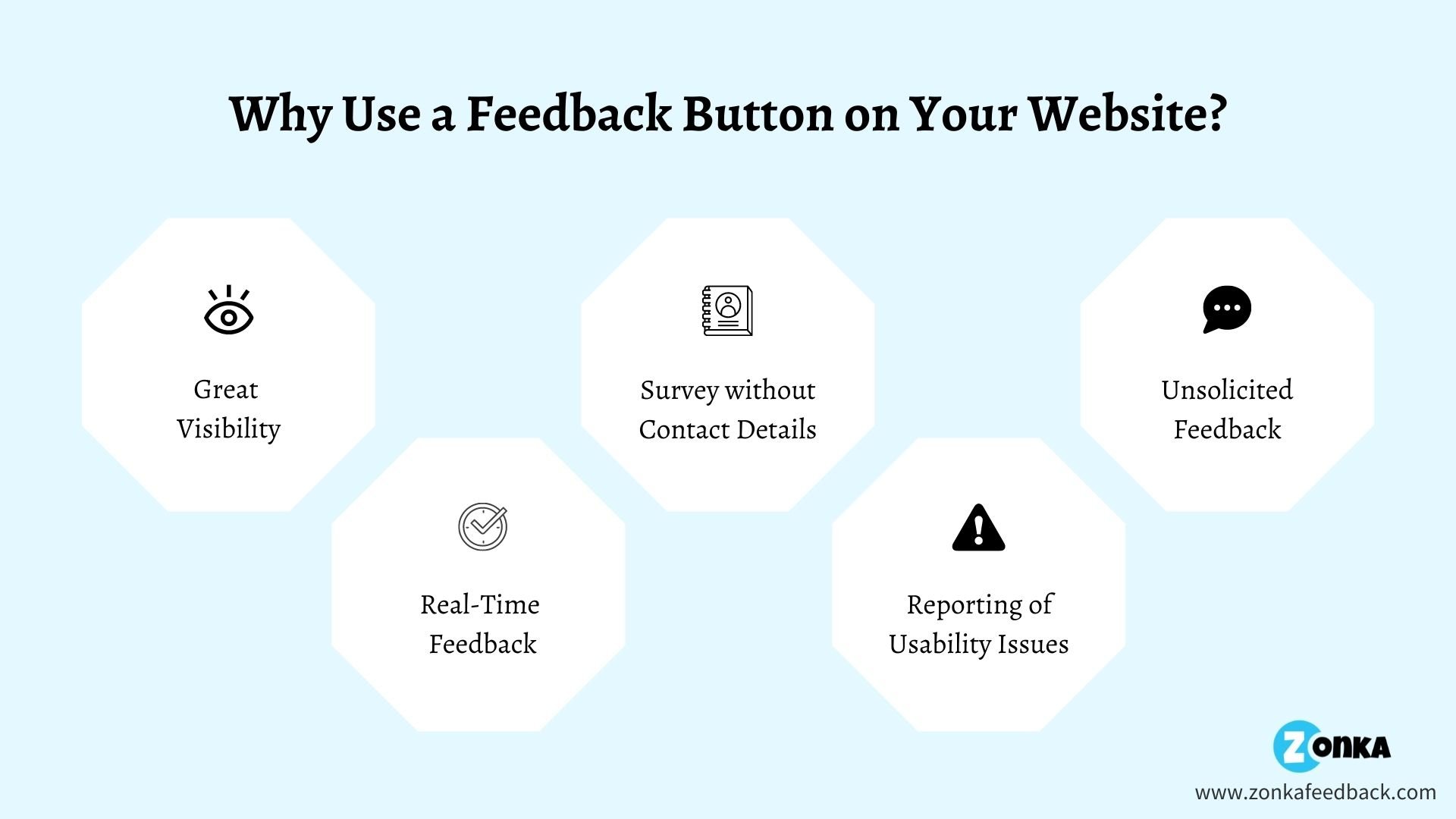 Website Feedback Using Zonka Feedback
Zonka Feedback is one of the most popular and preferred survey tools since it allows collecting website feedback in different ways, such as a feedback button, website popup surveys, Web Embed Surveys, and Live Chat Surveys. There are many other reasons for using Zonka Feedback, such as:
Feedback across all CX metrics (NPS, CSAT, and CES) on the website
Access to reports, analysis, and insightful trends
Answer piping to personalize survey questions for different visitors
Skip logic to ask participants the most relevant questions
Audience segmentation for accurate survey trigger
Automatic survey triggers for sending surveys at the right time
Different ways of collecting website feedback, such as popup surveys, button surveys, live chat surveys, website polls, etc.
Real-time feedback and notifications
Check out our article How to use a free website feedback widget to learn how to add a feedback button on website.