Customers are the backbone of any business and their opinion about a company's products and services plays an important role. An unsatisfied consumer can destroy a company's reputation, even after having customers that are completely satisfied with the products or services. The impact of a dissatisfied consumer is always much higher than the recommendation of a completely satisfied consumer.
As per research done by PWC, 32% of all customers would stop doing business with a brand they loved after one bad experience.
Customer Satisfaction is a vital facet of any business that should be assessed constantly if you need to survive and thrive in the long-term. The best way to measure it is with the help of Customer Satisfaction Surveys.
What are Customer Satisfaction Surveys?
When we talk about satisfaction in terms of business, what is the first thing that comes to your mind? Making your customers happy by meeting their expectations level. So, how will you know whether they're happy or unhappy with you? What are their expectations? Simply, by asking them directly or with the help of surveys.
A Customer Satisfaction Survey is an indispensable tool in the form of a questionnaire designed to help businesses determine the customer's satisfaction level with their products/services. These are also known as relationship surveys.
They play a vital role in capturing Customer Feedback at numerous touchpoints and through multiple channels like
email surveys
, real-time surveys using the android survey app, iPad survey app, and
kiosk survey app
, SMS surveys, online surveys, website embed & QR code, third party integration, etc.
Example:
Sending a survey to your guests after having a meal at a restaurant or after their stay at the hotel or to the end-users after their free trial has ended.
Purpose of Customer Satisfaction Surveys
There are numerous reasons why a Customer Satisfaction Survey should be used, each of which is beneficial to the company that wishes to gauge the customer experience. Some of the objectives are:
Helps in collecting real-time feedback to measure the business performance
Helps in identifying unhappy customers and situations which lead to dissatisfaction
Helps in recognizing happy customers that you can turn into brand advocates
Helps in determining the roadblocks and revamping the company's standards and policies
Helps in eliminating the issues which customers face with the products and services
Helps in understanding customer's needs and enhancing the company's products and services
An effective Customer Satisfaction survey will address all six of these objectives. The end goal of a CSAT survey is to provide you actionable feedback from your customers to boost the consumer's overall experience.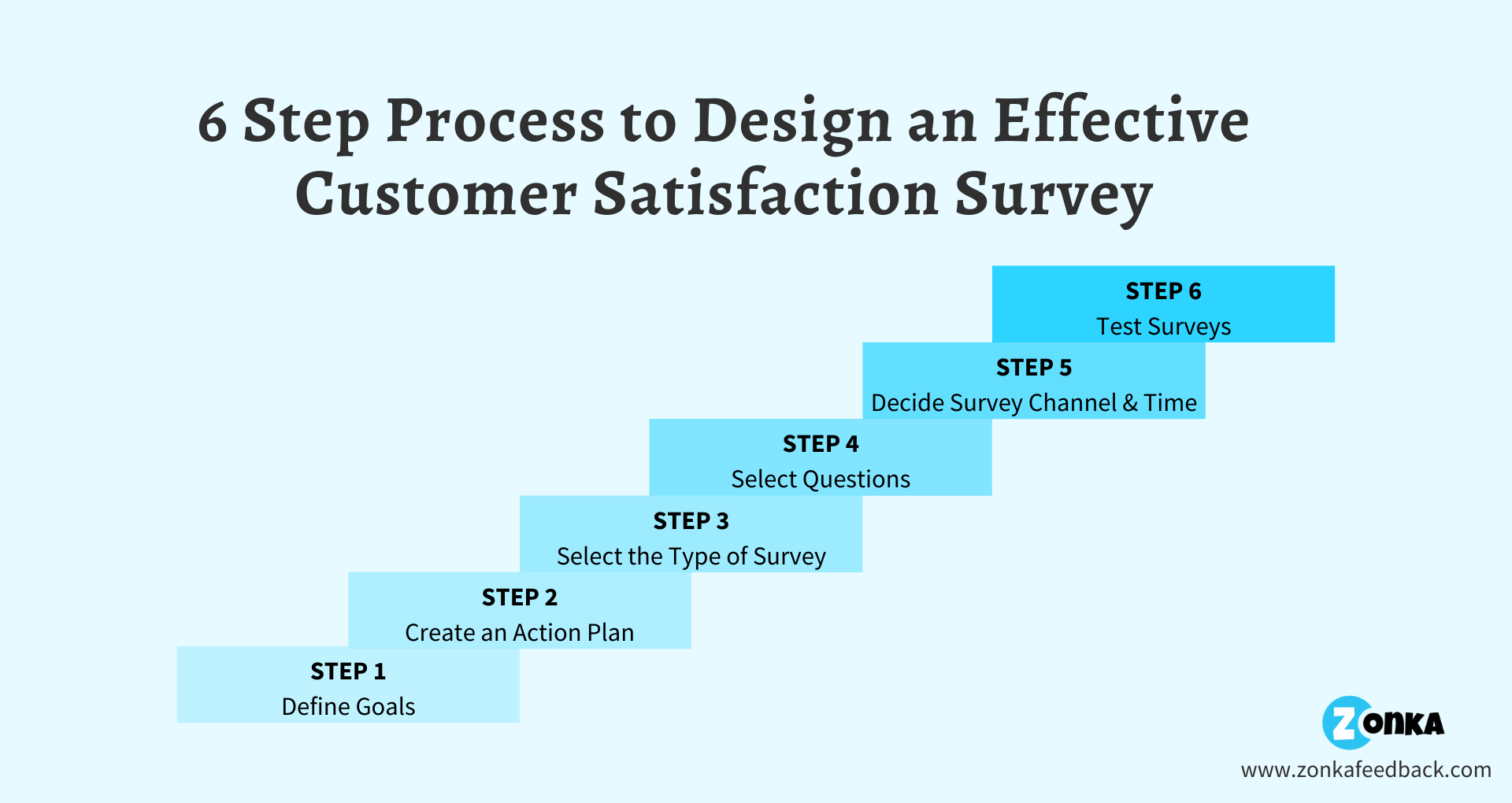 As per research done by Pointillist, high-performing CX organizations are more than 9X likely to integrate data from multiple sources, analyze customer interactions across channels, and engage customers optimally across channels.
When to conduct a Customer Satisfaction Survey?
The answer to this question is to conduct surveys whenever you interact with your customers. It helps you capture their valuable feedback when the experience is fresh in your consumer's minds. If you wait to collect the response, then chances are less than it would be accurate, and they won't even remember the incident.
How often to conduct a Customer Satisfaction Survey?
This question doesn't always have a straightforward answer. It depends upon several factors like depending on the industry, survey type, how frequently you interact with your customers, etc.
Let's try to understand with the help of some common scenarios which can help you decide how often surveys should be conducted:
Survey Sent After the Purchase: When a customer who has purchased a product from you, you'll want to send a survey immediately to get your customer's opinion about your services/products.
Survey Sent After Renewal of Drivers License: In a country that renews driver's license for a five-year period, it would be illogical to conduct a survey every year even when there are no renewals.
Conclusion
In this highly competitive world, most of the companies in the world focus on creating the best customer experiences. The best way to achieve it is by analyzing your customer's suggestions and modifying your products and services accordingly. This way, you will not be just able to meet customer's expectations but exceed them.
To evaluate Customer Satisfaction, CSAT surveys will help companies keep track of the overall customer experience, which plays a crucial role in creating incredible experiences. Keep that in mind, and you'll be on the right path towards developing an amazing product and service.
Learn more about the Customer Satisfaction Surveys (CSAT Surveys)