You develop your products by putting in your best efforts, but do you know whether your users like your product or not? What features do they love, and what they don't? Do they feel there is something missing in your product? The way to get answers to all these questions is by collecting Product Feedback.
Product Feedback is crucial to know how your product users feel about their experience of using your product, and what you can do to improve their experience. Therefore, it becomes an important responsibility of product managers to collect feedback from the users. There are various ways of collecting feedback, but the most effective way is by using a good Product Feedback Software to create effective surveys and share them with your product users to collect their feedback.
Now, the question strikes that which software you should use for this purpose and how to choose an effective Product Feedback Software among the various available alternatives. Choosing the right survey tool is crucial and at the same time a complex decision as there are various tools in the market claiming themselves to be the best. But we are here for your help!
Measure Product Feedback & User Insights 💻
With Product Feedback Surveys, understand what users need and learn ways to delight your customers.
In this article, we will explore the 10 best Product Feedback Software tools that you can use for collecting Product Feedback from your customers and take action on it to improve their experience. You can choose the one that suits the most to your business as per your requirements and budget.
Let's get started with defining Product Feedback Software and exploring some must-have features of a good Product Feedback Tool.
What is Product Feedback Software?
Product Feedback Software enables you to create feedback surveys and send them to your product users for collecting their feedback regarding their experience with your product.
This Product Feedback helps you uncover helpful user insights about what they think and feel about your product and their experience with it. It can be any view, opinion, suggestion, or anything they have in mind about your product.
Choosing a good Product Feedback Tool helps you collect feedback, analyze it, take action on it, and improve your product to meet the needs and expectations of your customers in a better way and enhance their satisfaction and overall experience with your product. Let's learn how you can choose an effective Product Feedback Software.
How to Choose a Great Product Feedback Tool?
The are many Product Feedback Tools available in the market. You can explore their pricing, reviews, and ratings on Aggregator platforms like G2, Capterra, GetApp, and more. But before finalizing your software, you must ensure it has some features that are essential for collecting user feedback effectively and using it to improve your product.
Here are some necessary features that you should ensure that the Product Feedback Software you choose must have.
Necessary Features to look for in an effective Product Feedback Software
Multichannel feedback
Various Question types
Advanced feedback Data Analysis and Reporting
Real-time alerts
Powerful Integrations
Let's learn more about these features and how they are important to be present in your Product Feedback Software or app.
1. Multichannel feedback
The key to obtaining maximum survey responses is to be omnipresent and share your Product Feedback Surveys across multiple channels. So the tool you choose must allow you to share your surveys through various channels like in-app surveys, email surveys, SMS surveys, and website surveys of different types like popup surveys and feedback buttons.
2. Various Question types
You may need various types of Product Feedback Survey Questions to add to your surveys. But it can be cumbersome to create surveys from scratch every time. So choose a Product Feedback tool that provides you with ready-to-use survey templates and various question types to be used in your surveys.
3. Advanced feedback Data Analysis and Reporting
Surveys are successful when you receive a good response rate, but they can actually prove to be useful only when you analyze them and extract meaningful information from them to improve your product. Therefore, strong analysis and accurate reporting are necessary things to do with your surveys.
So always check and ensure that the software you choose must be able to provide feedback data analysis and reporting features like Text Analysis, Sentiment Analysis, and reports like periodic reports, and metric survey reports.
4. Real-time alerts
All your hard work of collecting feedback goes in vain if you don't take any action on it. And it's not just about taking action, it's more about taking action at the right time.
Researches suggest that 52% of customers expect to get a response to their feedback within 7 days while 21% are more demanding, and feel that their feedback should be responded to within 24 hours.
In that case, you need a tool that informs you about the feedback the moment it is provided from the users' end. So always, ensure that your Product Feedback Software provides real-time feedback alerts and notifications based on the criteria you set so that you can get notified about negative feedback and take instant action and prevent customer churn.
5. Powerful Integrations
While choosing your Product Feedback tool, always check which integrations it provides to ensure a smooth workflow. It is necessary that the tool gets integrated with your workspace tools so that you can automate the feedback data flow and easily trigger feedback-driven actions.
By checking these features, it will be easier for you to select the right tool for gathering Product Feedback from your users. To make this decision even easier for you, we are here with the 10 Best Product Feedback software that you can choose from a wide range of tools. You can make the selection as per your business requirements and budget.
10 Best Product Feedback Software Tools
Zonka Feedback
Qualaroo
UserTesting
Usersnap
Pendo
UserPilot
Typeform
Chisel
Rapidr
ProdPad
Let's explore what these tools have for you.
1. Zonka Feedback
Zonka Feedback is one of the best Product Feedback Tools that businesses of all sizes can use to create effective Product Feedback Surveys and collect feedback from users. It is an easy-to-use software that not only collects feedback but also enables you to identify, prioritize, and automate customer feedback, resolve customer issues, reduce churn and foster overall product improvement.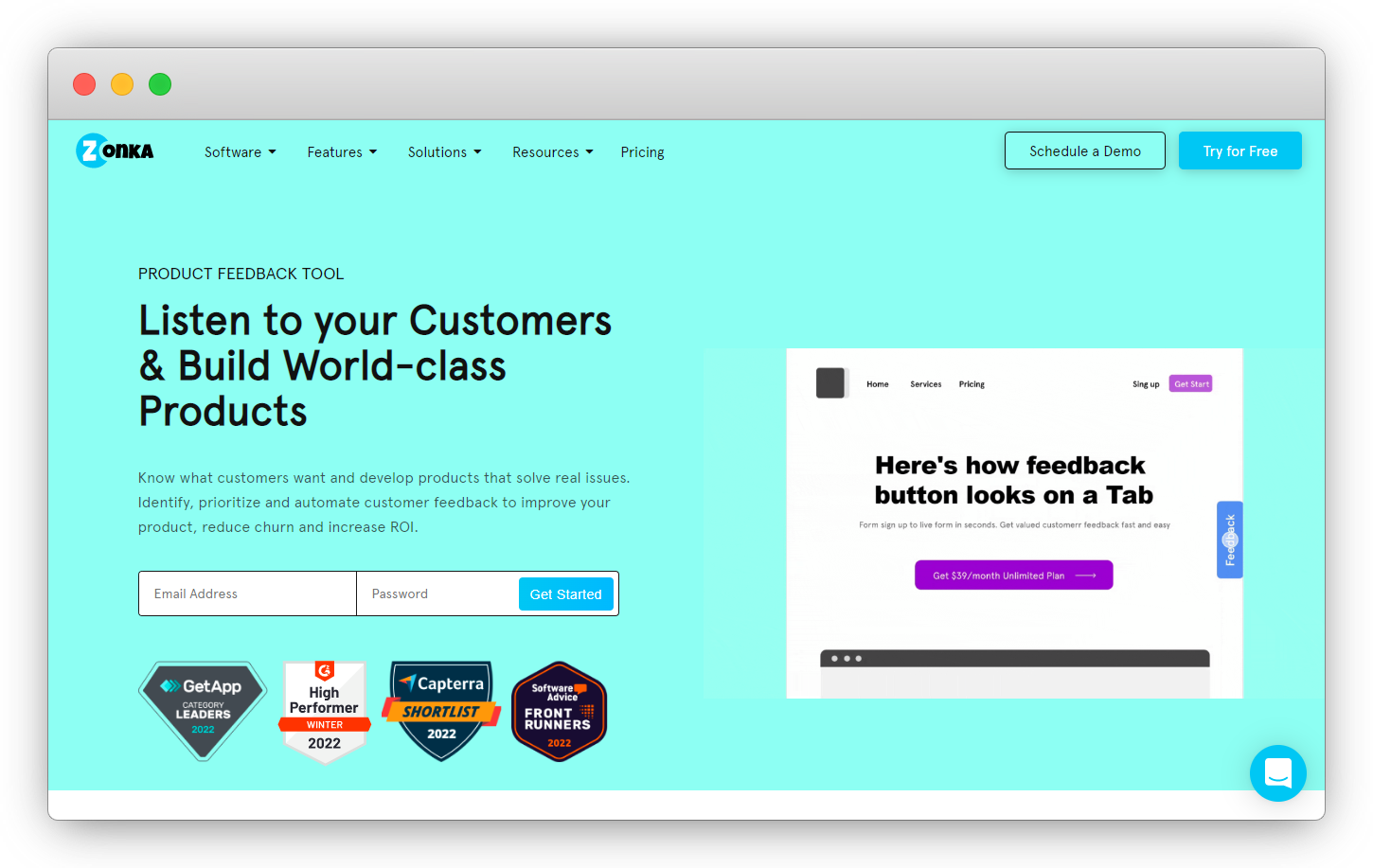 Top Features
It offers Omnichannel experiences, allows you to share surveys and collect feedback through website, mobile, email, SMS, and offline surveys.
Automated smart workflows with human touch.
NPS, CSAT, and CES Surveys to measure customer loyalty, satisfaction, and perceived efforts.
Survey Targeting and feedback distribution management to control who sees your survey when, and how many times.
Real-time feedback alerts and notifications for feedback and negative feedback(or based on the criteria you set).
Powerful Integrations with CRMs, Customer Support tools, and Marketing Automation tools. Some examples are Hubspot, Zendesk, and Salesforce.
Ready-to-use survey templates.
Segmentation of Feedback Data and advanced dashboard and reporting
Pricing
Pricing starts at $29/month. It offers various Plans:
Professional plan costs $78/month.
Growth plan costs $169/month.
Enterprise plan costs $429/month.
Custom plan with personalized quotes and pricing as per your business requirement.
It also provides a Free Trial for 7 days.
Score On
G2: 4.7/5
Capterra: 4.8/5
GetApp: 4.8/5
2. Qualaroo
Qualaroo is another good Product Feedback Software that lets you create targeted surveys and add them to your products to collect in-product feedback. You can also choose to send surveys through other channels like emails, survey links, and social media to gauge your product users' experiences.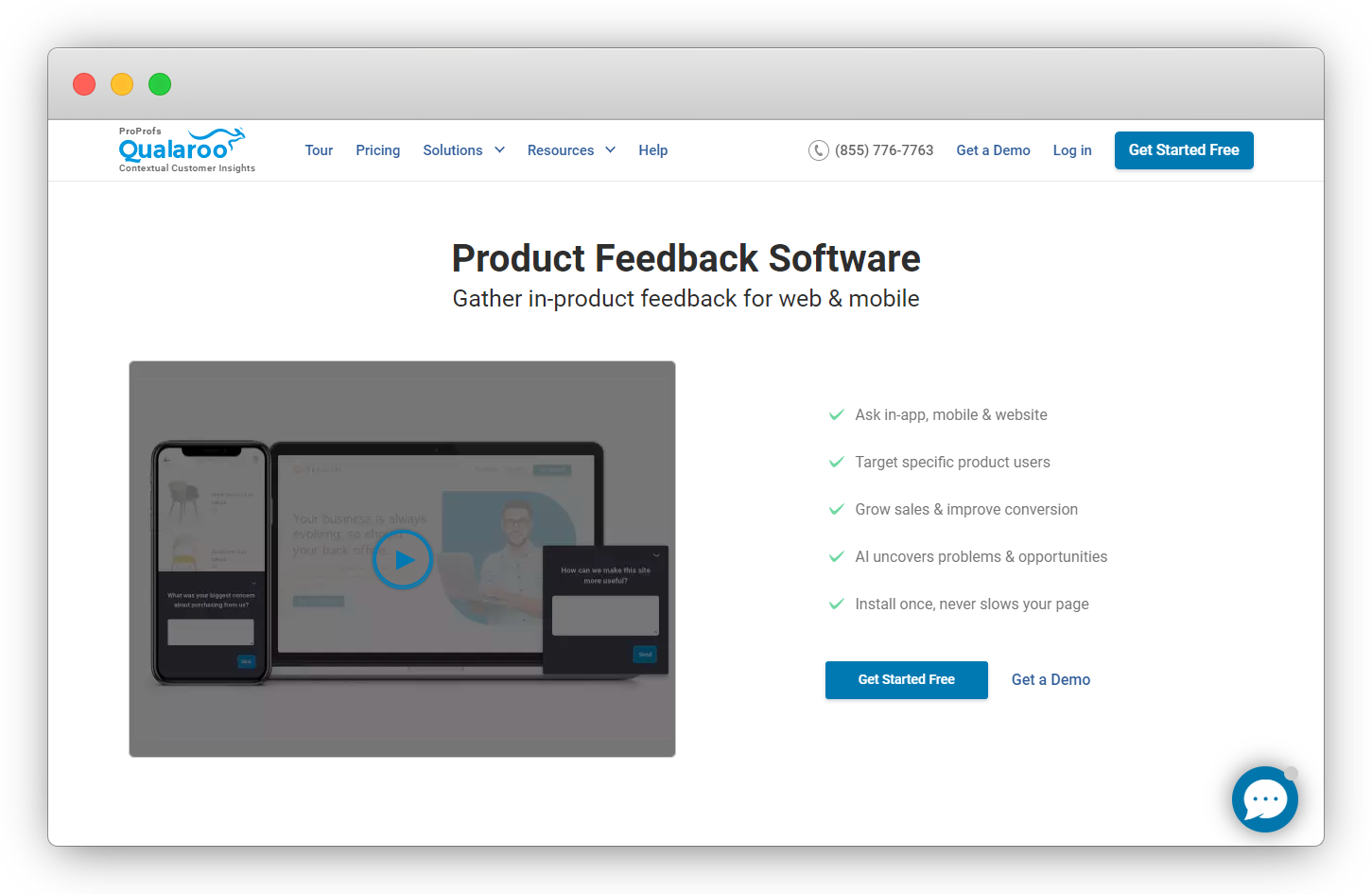 Top Features
Survey Nudges that you can deploy into the product, or also send to your product users via SMS, email, and social media.
You can target specific product users with Qualaroo.
AI-powered Sentiment Analysis feature to deeply analyze survey responses.
You can create NPS, CSAT, and CES surveys to measure loyalty and satisfaction.
Confirmation Page Surveys and Exit Intent Surveys to gauge user experience while they confirm or leave.
Integration with tools like Zendesk, Salesforce, Mailchimp, and Google Analytics.
Advanced reporting capabilities.
Pricing
Pricing starts with its Essential plan which costs $80/month. It also offers a Premium plan that costs $160/month and an Enterprise plan with personalized prices.
It also offers a free trial for 15 days.
Score On
G2: 4.4/5
Capterra: 4.7/5
GetApp: 4.7/5
3. UserTesting
UserTesting is another Product Feedback Software that businesses can use to collect feedback on user experience, analyze results and share findings in a quick way. It provides features to run remote usability tests, live interviews, and screen recordings to collect and analyze real user insights. However, the tool is more centered across a live analysis of user behavior.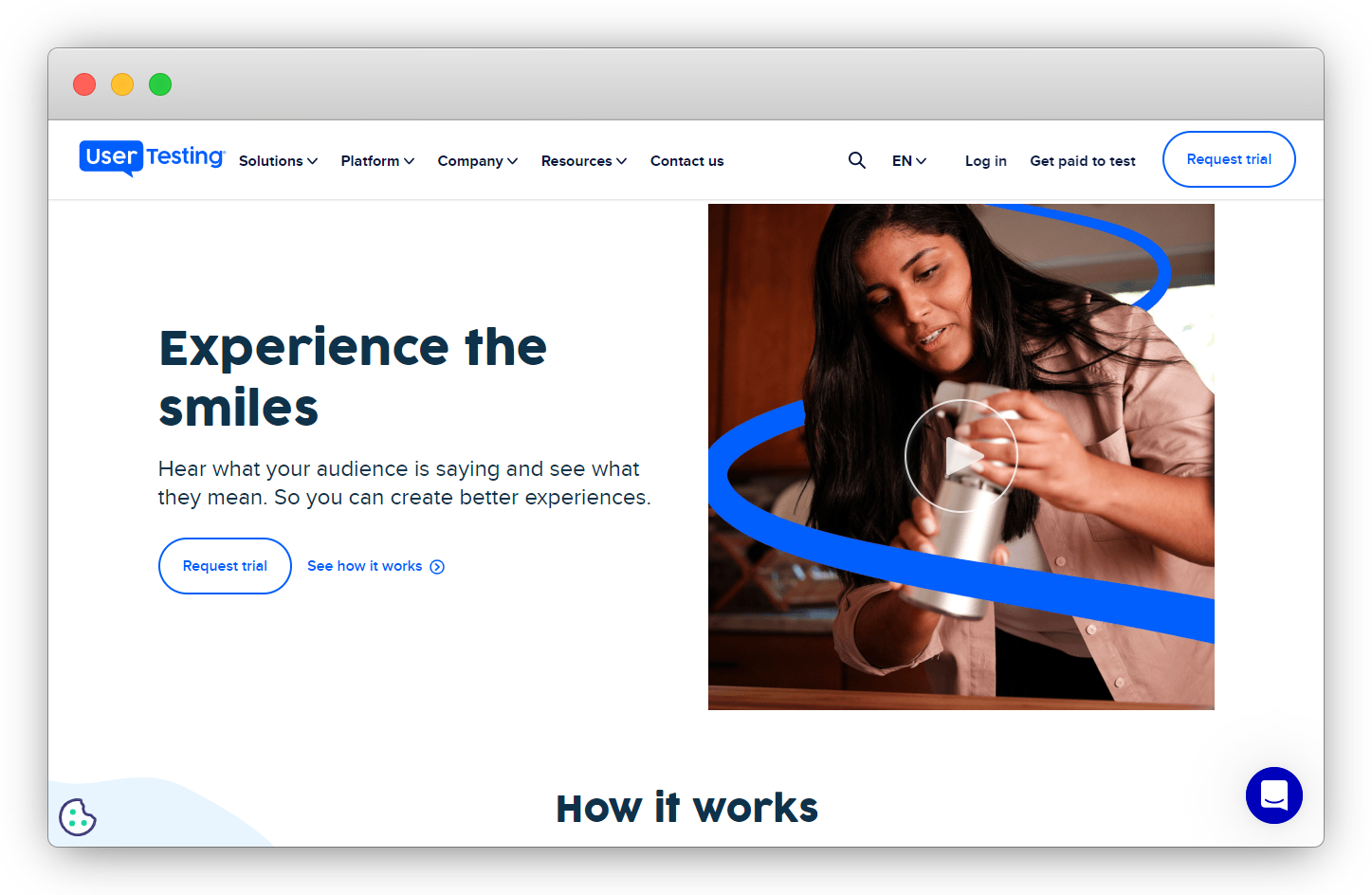 Top Features
UserTesting templates to validate concepts, discover needs and get customers' views on your product.
Screen recording and video recording to collect feedback.
Usability tests and A/B testing to test your product features.
Ready-to-use templates and designing tests from scratch.
Reporting and filter options to analyze feedback.
Sentiment Analysis feature to analyze feedback.
Integrations with tools like JIRA, Slack, and Trello.
Pricing
Pricing Not Provided
Score On
G2: 4.5/5
Capterra: 4.5/5
GetApp: 4.5/5
4. Usersnap
Usersnap is another Product Feedback Software with which your users can make requests, share opinions and suggestions, and report bugs and product issues. It not only lets your users alert you by reporting these issues, but also enables them to share screenshots, videos, and annotations as references with the feedback to give you a clear picture of the product issue.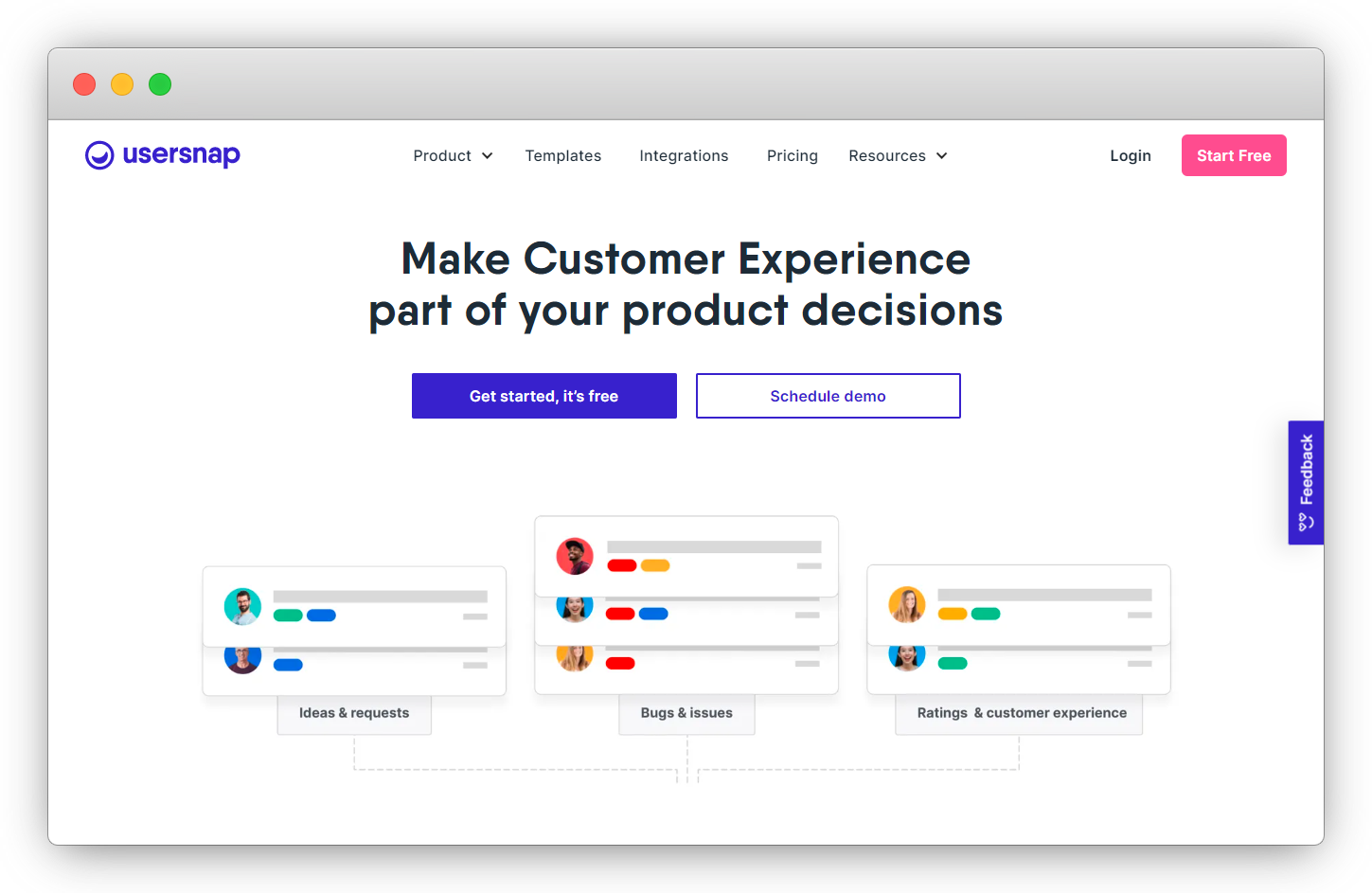 Top Features
In-product feedback with reference material like videos and product screenshots.
Feedback collection from in-product raters with NPS, CSAT, and CES surveys.
Easy installation by placing global snipper to HTML code or with WordPress plugin.
Notification setting for each project.
Split-screen to let you work on feedback with one clear view.
Report creation of particular time frames to track issue frequency.
Allows integrations with other workspace tools for managing feedback data.
Pricing
It offers various plans.
Starter plan costs 69 Euros/month.
Company plan costs 129 Euros/month.
Premium plan costs 249 Euros/month.
Enterprise plan is a customized plan as per business requirements.
It also offers a Free Trial.
Score On
G2: 4.4/5
Capterra: 4.7/5
GetApp: 4.7/5
5. Pendo
Pendo is a Product Feedback and Analytics tool that businesses use to capture and prioritize customer feature requests at scale, and build the product that customers love. It gives options for your users to share their product feature suggestions. They can view all suggestions on the dashboard and can upvote other users' suggestions too. This helps you know what your customers want and develop your product accordingly.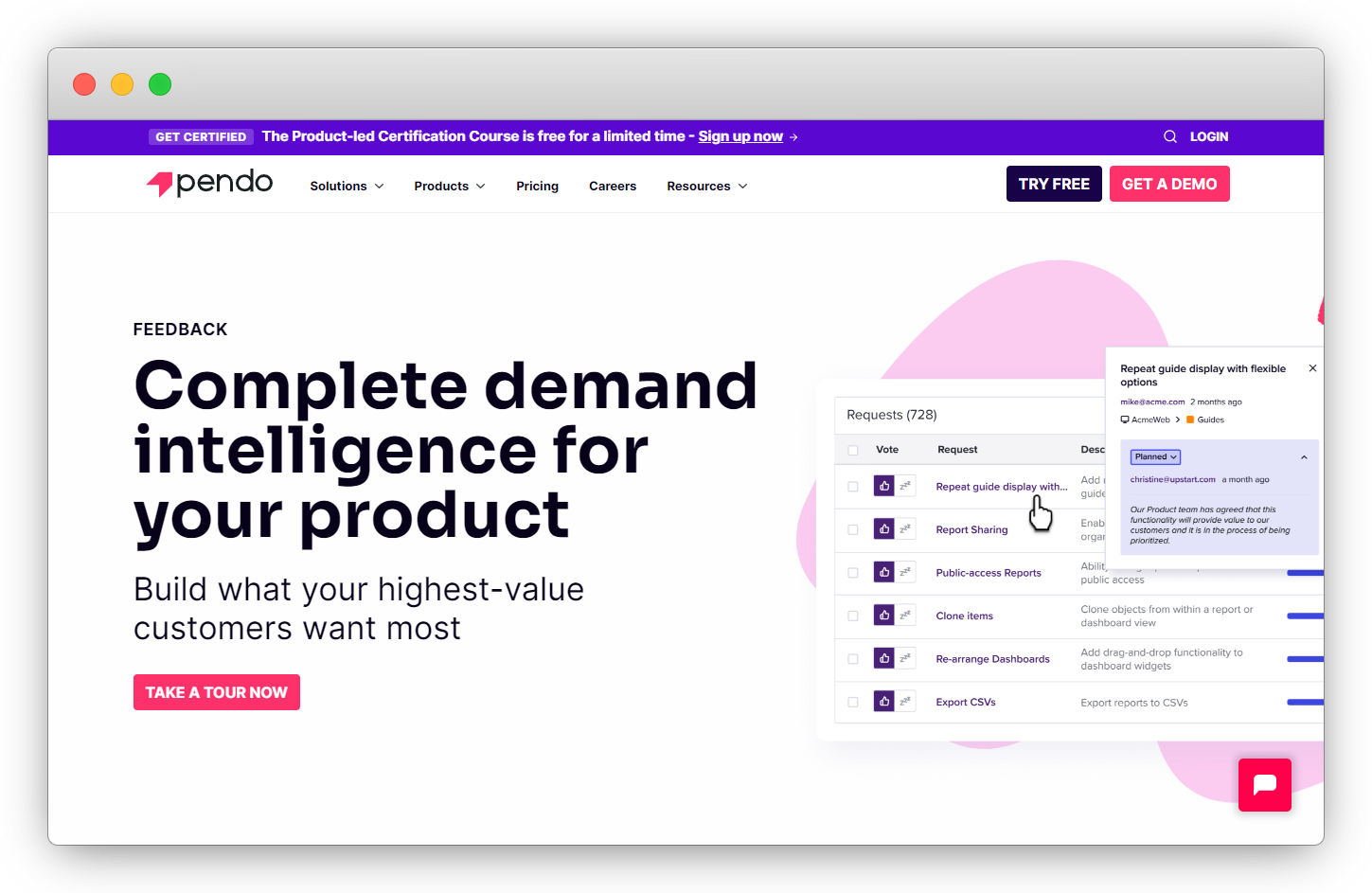 Top Features:
Segmentation of users and feedback to identify the most common suggestions.
Showcase the status of customers' requests to let them know they are being heard.
Align business demands and priorities by identifying common requests and feature suggestions.
Upvoting of suggestions by your product users to know what most people want.
Product Roadmapping to align all product stakeholders.
Integrations with everyday tools like JIRA, Salesforce, Zendesk, Hubspot, and more.
Pricing
It offers a Free plan for up to 1000 users. It also offers other plans viz., Growth, Portfolio, and Premium with personalized pricing.
Score On
G2: 4.5/5
Capterra: 4.5/5
GetApp: 4.5/5
6. UserPilot
Userpilot is another great Product Feedback Tool that helps product teams to increase user adoption by analyzing user behavior and behavior-driven experiences. With Userpilot, you can track product usage of different customer segments, and provide smooth onboarding and personalized experiences to your users at every touchpoint.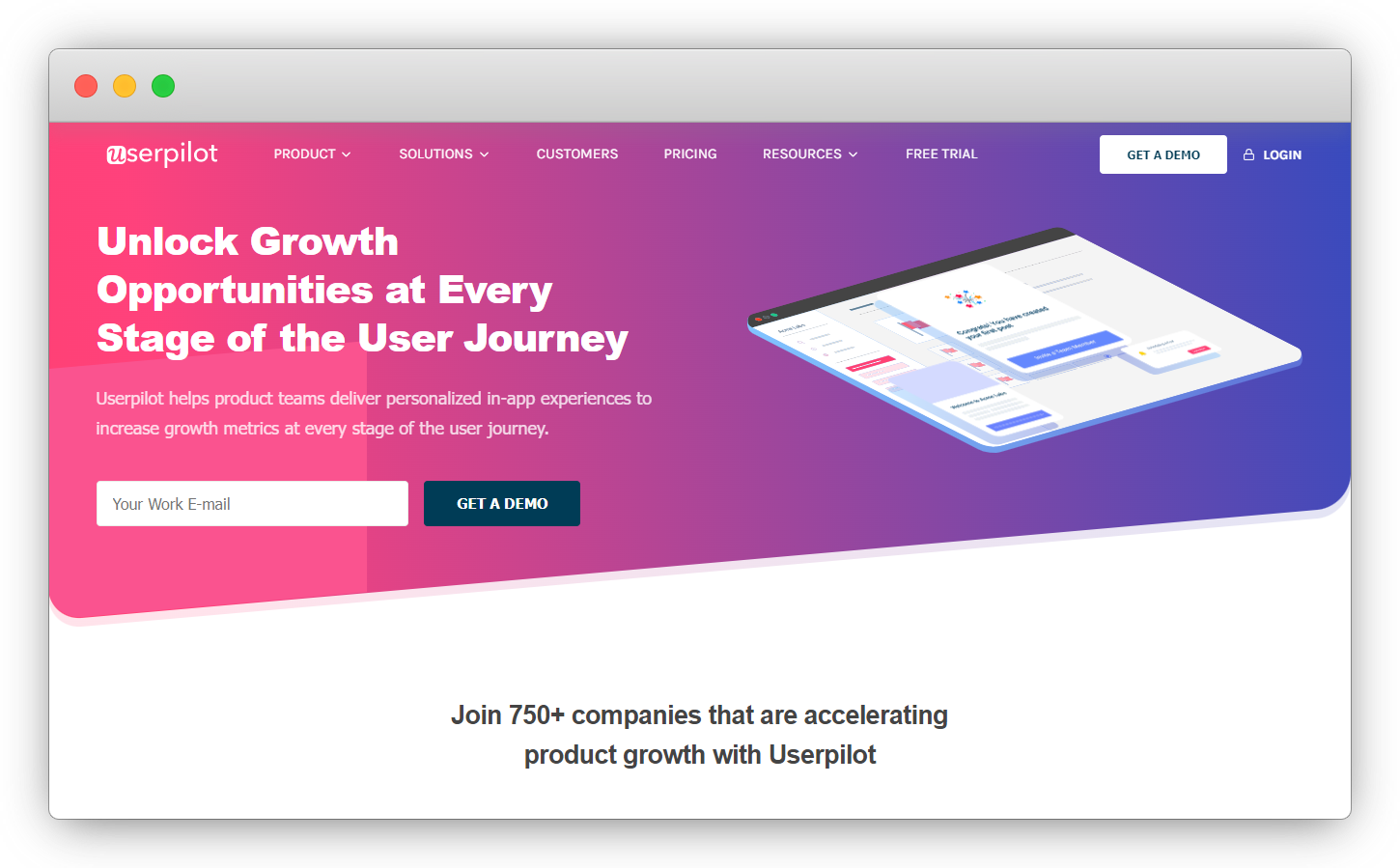 Top Features
Net Promoter Score widget to collect Product Feedback with NPS Surveys.
Microsurveys to help you provide personalized experiences as per user requirements.
Dashboard with all NPS survey responses.
Customization features and branding of surveys.
User segmentation and behavior-driven triggers to identify the most relevant users.
Pricing
It offers different plans.
Traction plan costs $249/month.
Growth plan costs $499/month.
Enterprise plan costs $1000/month.
It also offers a free trial.
Score On
G2: 4.6/5
Capterra: 4.6/5
GetApp: 4.6/5
7. Typeform
Typeform is another tool that businesses use to create intuitive surveys, quizzes, and forms. It enables you to create interactive product feedback surveys for your product users and collect their feedback. It offers a wide range of templates with striking designs to create engaging surveys easily without needing to have much technical knowledge or HTML coding.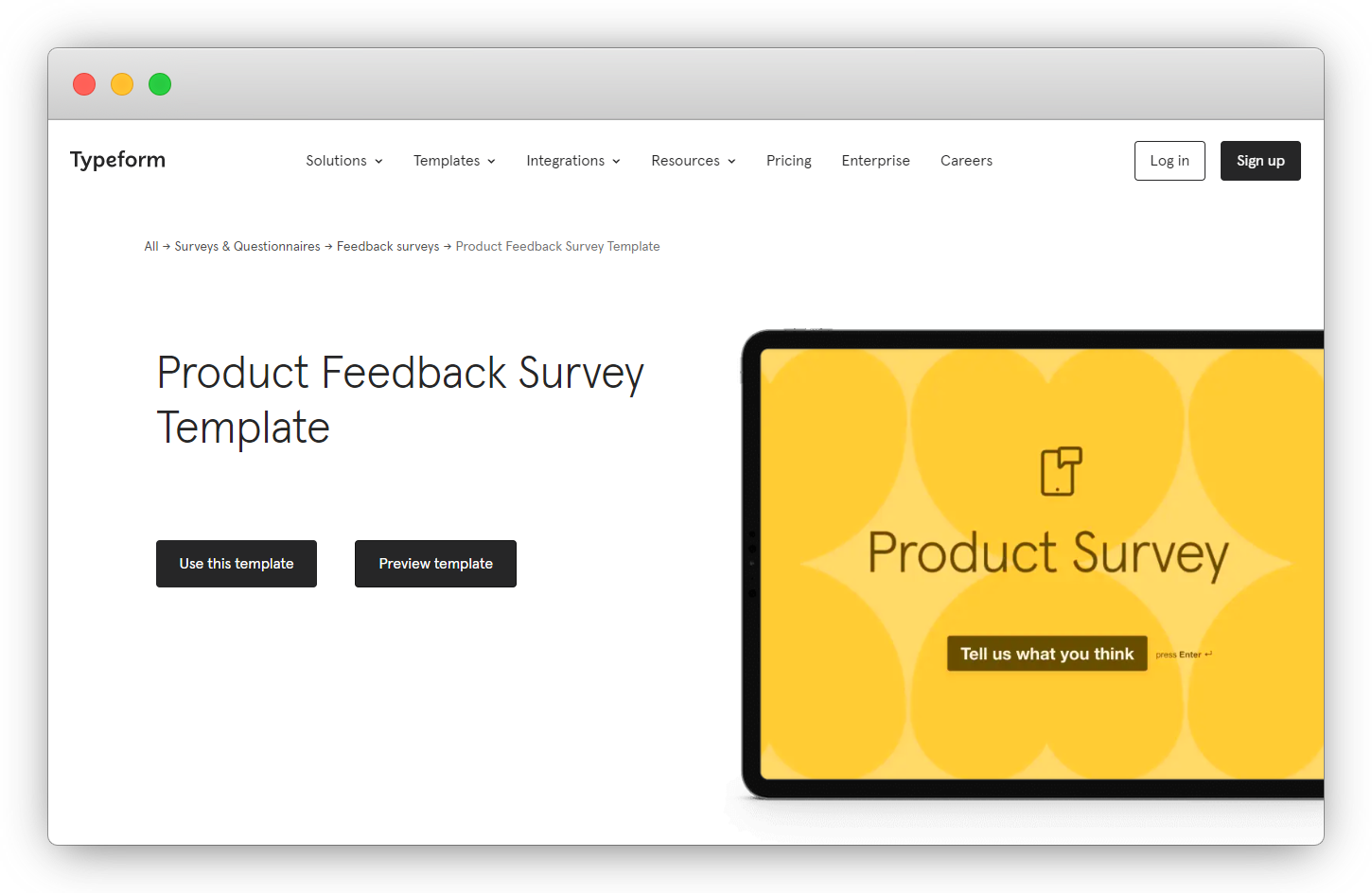 Top Features
Impressive form designs to create surveys
Ready-to-use templates with conversational survey questions.
Live Preview mode allows you to view changes in real time.
Simple analytics to track feedback and user insights quickly.
Survey Logic feature to make your surveys sound logical, conversational, and personalized.
AI-based chatbot website wizard.
Integrations with tools like Slack, Google Sheets, Mailchimp, Zapier, ActiveCamaign, and more.
Pricing
It offers multiple pricing options.
Basic plan costs $25/month.
Plus plan costs $50/month.
Business plan costs $83/month.
It also offers a free plan to start with.
Score On
G2: 4.5/5
Capterra: 4.7/5
GetApp: 4.7/5
8. Chisel
Chisel is another versatile Product Feedback and Management Tool that product managers can use to collect feedback from product users and take their product toward excellence.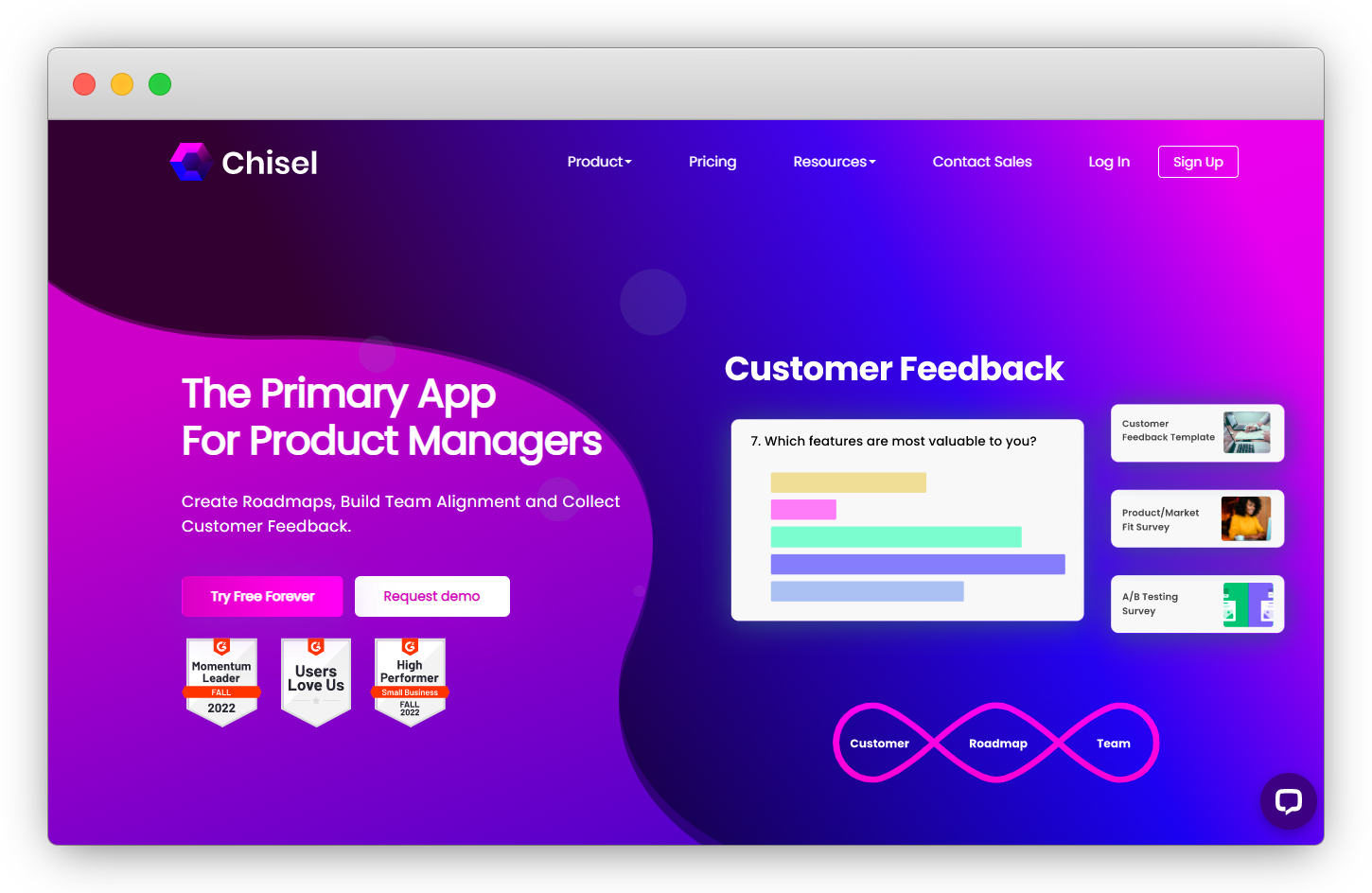 Top Features
Versatile Product Feedback Survey tool to conduct surveys of various types like Needs Assessment Surveys, and Product and Usability Feedback Surveys.
Idea Box to let you capture, curate, organize, and prioritize your ideas related to customer feedback, feature, or product enhancement.
Idea Portal where your product users can share their feature requests and ideas related to product enhancement.
Audience panel to target ideal users for surveys.
Library of prebuilt survey templates of common survey use cases.
Pricing
It offers multiple plans.
Essential plan is free of cost.
Premium plan costs $49/month.
Enterprise plan is a personalized plan, the cost of which depends on your business requirement.
Score On
G2: 4.8/5
Capterra: 4.9/5
GetApp: 4.9/5
9. Rapidr
Rapidr is a Product Feedback and Feature tracking Tool that businesses use to collect feedback and manage the complete product lifecycle. It allows you to collect feedback from your product users, analyze it, share progress with the product roadmap, and notify the users about the development or change in the product.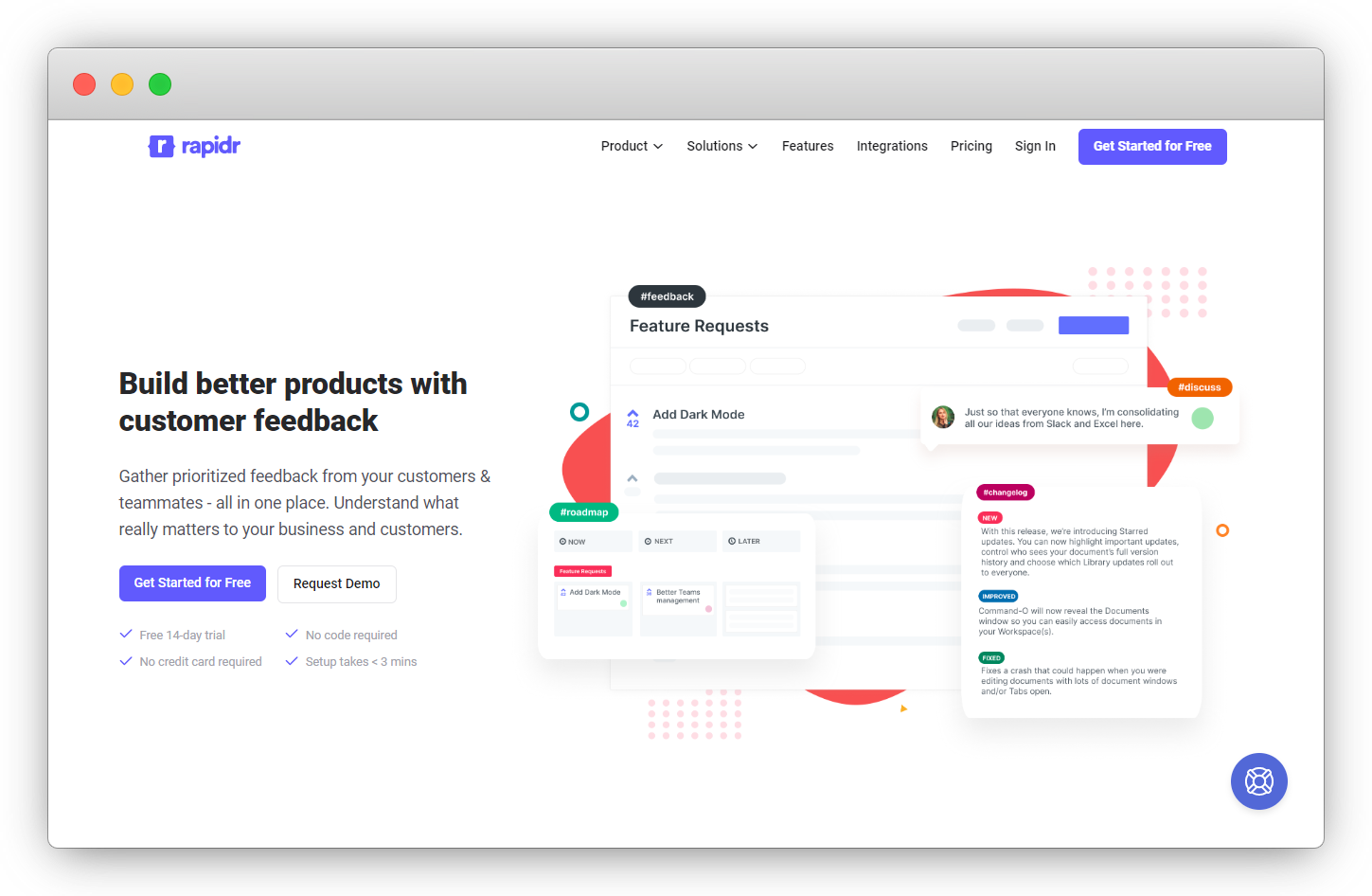 Top Features
End-to-end solution for capturing Product Feedback, analyzing and following up with the customers.
Feedback portals, and public and private boards to collect feedback. You can also share and embed Feedback Widgets anywhere in the app.
Analyze and Prioritize feedback by identifying the top ideas and the most common suggestions given by the customers.
Public Product Roadmap to communicate the upcoming features to your product users.
Product Changelog to announce updates and feature releases.
Custom Statuses for different types of feedback.
Feedback widgets to enable users to share feedback in mobile or web app.
Integrations with tools like Slack, Intercom, Zendesk, and more.
Pricing
It offers various plans.
Basic plan costs $19/month.
Startup plan costs $49/month.
Growth plan costs $99/month.
Enterprise plan is a customizable plan, and a personalized price quote is provided for this plan.
It also offers a free trial for 14 days.
Score On
G2: 4.5/5
Capterra: 0/5
GetApp: Not Provided
10. ProdPad
ProdPad is another Product Management Platform that business use to manage feedback, ideas, and product roadmaps, and take action on the feedback collected.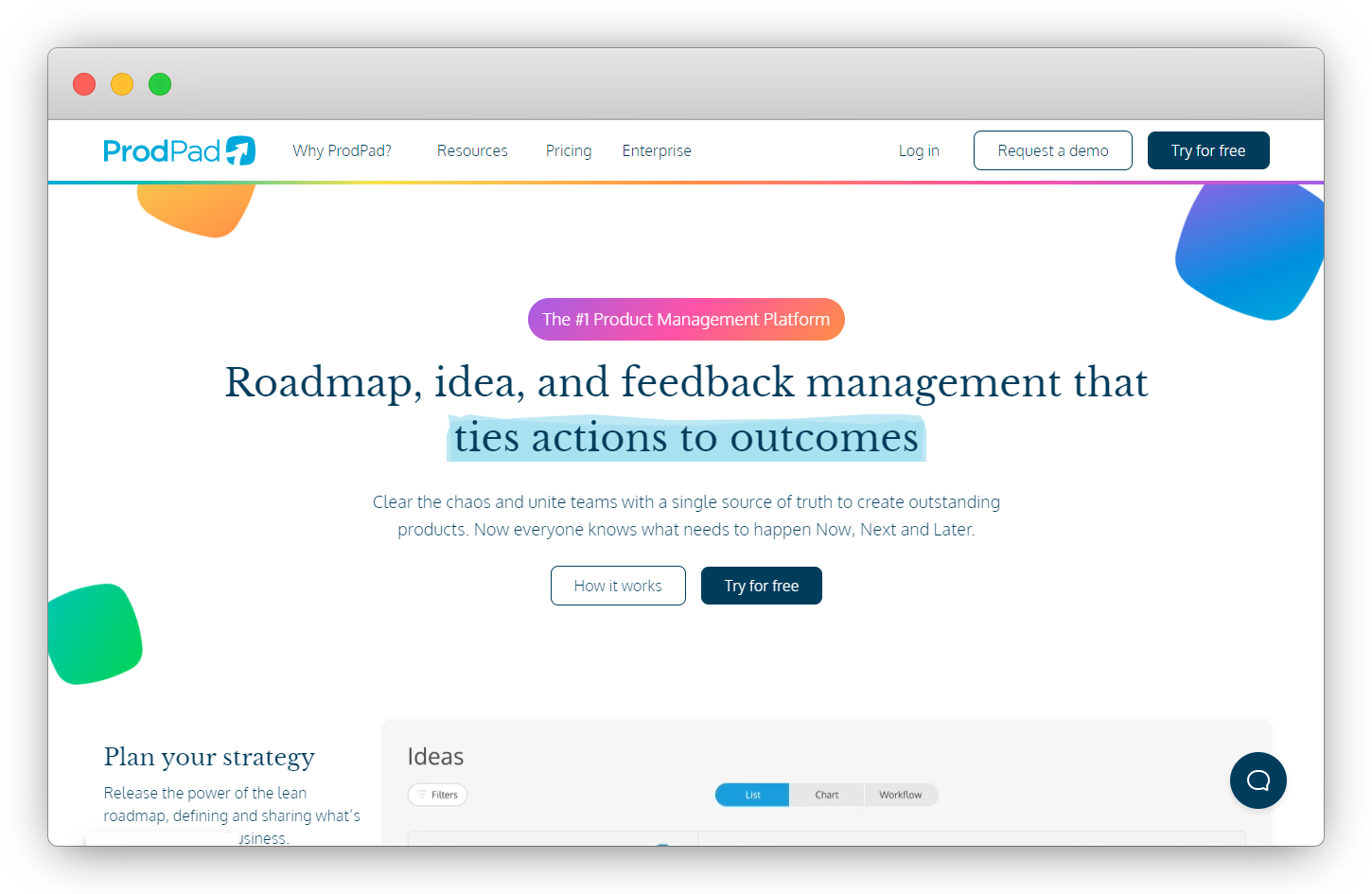 Top Features
Drag and drop Product Roadmap tool to build and publish outcome-based product roadmap.
Priority Chart to shortlist valuable product ideas to validate and move through your workflow. You also get filters to filter down the reports as per customer desire, freshness, level of detail, and team votes.
Product Feedback Closed loop process.
Product Portfolio to have a high-level view of your business progress.
Integrations with 1000+ apps and platforms like Slack, JIRA, AzureDevelop and more.
Pricing
It offers multiple plans.
Roadmaps plan costs $20/month per editor.
Ideas plan costs $20/month per editor.
Feedback plan costs $20/month per editor.
It also offers a free trial for every plan.
Score On
G2: 4.2/5
Capterra: 3.8/5
GetApp: 3.8/5
Conclusion
Choosing an effective Product Feedback Tool can become tricky. The key is to first ensure the most important features in the tools you shortlist and then decide further as per your budget and business requirements
Ensure that the tool you choose enables you to provide an omnichannel experience to your customers, and it not only lets you collect feedback, but also enables you to analyze the feedback data, and take action on it so that you can create products that your customers love.