Did your website visitors find what they came looking for? Or, did they have a pleasant website experience? Ask the right website satisfaction survey questions to capture their feedback and use the insights to enhance their experience & boost loyalty. 
In an age where it takes almost 0.05 seconds for a user to form an opinion about your website, ensuring their satisfaction is quite pivotal and challenging at the same time. The first impression lasts. And businesses are investing countless resources in building the pitch-perfect website that makes the first impression count.
Create your Website Satisfaction Survey
With Website Satisfaction Surveys, capture user feedback to improve the customer experience and reduce churn.
Websites play a critical role in shaping a business's online presence. With countless options available to users, you might lose prospective customers to your competitor if their website user experience surpasses yours. Not just that, ensuring customer satisfaction with your website is crucial in enhancing their time on your website, converting them to loyal customers and brand advocates, and compelling them to revisit your website every time a similar need arises.
But how do you know if the user is satisfied with your website experience? This is exactly where website satisfaction surveys come in.
Website Satisfaction Survey is a valuable tool that enables businesses to gather insights directly from their website visitors. These Website Surveys let you know how satisfied your website users are and guide you to make the needed changes to your website to improve your Website User Experience.
However, asking the right website satisfaction survey questions is pivotal in obtaining valuable data and deriving its benefits.
This article will explore the nine most crucial Website Satisfaction Survey Questions that can provide valuable insights for optimizing your website, where on your website you should ask these questions, and some useful tips to write better survey questions.
Let's learn what these questions are and how to use them to obtain meaningful visitor insights and website feedback to assess their satisfaction level.
Table of Contents
9 Most Crucial Website Satisfaction Survey Questions
When it comes to website satisfaction survey questions, there are many ways to question their customers regarding their website experience. Some like to ask about their overall satisfaction, some want their opinion on the website visitor experience, some love to know their loyalty through the questions, some want to get more insights into their experience, and others simply want to analyze the likes and dislikes of their website from a user's perspective.
Here are the nine most crucial Website Satisfaction Survey Questions that you should ask in your Website Surveys to collect website visitors' and users' valuable insights.
1. How would you rate the experience on this website?
This question is the core of your Website Visitor Experience Survey. The purpose of this question is to determine how your website users feel about the overall experience they had using your website.
Where to add this: You can ask this question on the homepage of your website to gauge the overall experience. Moreover, you can also customize this question as per your feedback requirements and add it through the entire website to gauge UX regarding all the web pages.
How to add this: Adding a feedback Button is the best way to add a short survey and ask this question from the website visitors. A Feedback Button can be added on any or every webpage so that the users can share their feedback whenever they feel like sharing. On the homepage, you can also add a website popup survey to ask for Website Feedback regarding the visitors' overall experience.
2. Did you find the information you were looking for?
This question is best to ascertain the utility of your web pages and the website content. The purpose of this question is to understand how useful your website or a particular webpage is for the customers to fulfill their goals of coming to your website.
Where to add this: You can add this question on the landing page of the website where the visitors visit by clicking on a link to get some specific information. Moreover, you can also add this survey question on your product page to ensure that the visitors have all the information about your product.
How to add this: You can add a popup survey to ask this question which should appear on the screen after a few minutes the user has landed on the page. This will give sufficient time for the users to navigate the webpage and search for the information they are looking for before responding to the survey.
3. How was your Purchase Experience?
This question is useful to measure the ease of making a purchase on your website and analyze the overall Purchase Experience of your customers. It is helpful to ensure that your purchase process and payment gateways are working smoothly for your website and to identify if users are facing any issues while making purchases from your website.
Where to add this: You can add this post-purchase survey question on the post-purchase thank you page, where you display to the customers whether their purchase is successfully made or not due to any issue.
How to add this: You can add an Embedded Survey on your website's success or post-purchase webpage. You can also use a Popup survey to ask this question and gauge customer satisfaction in terms of their purchase.
4. How did you hear about us?
This is a Market Attribution Question that enables you to know how your customers or website users discovered your product or brand. This question helps you to evaluate the marketing touchpoints that your customers go through and know which marketing channels are working well for your business and bringing in new customers.
Where to add this: You should add this to your website's homepage or the landing page where the customers have reached you.
How to add this: You can share this survey a few seconds or minutes after the visitors have landed on your website and have started exploring it.
5. How helpful did you find this article?
This question is useful to understand the effectiveness of your articles or help documents and know how your articles are working for your website.
Where to add this: You should add this survey question to the web pages displaying your articles and help documents.
How to add this: The best way to ask this question is to embed a survey at the end of your help article.
6. What was the one thing that almost stopped you from buying today?
This question is used in a Cart Abandonment Survey to know the reasons for Cart Abandonment by the user. It helps you understand the issues that your customers may face while making the final purchase, like additional unexpected or hidden charges or high delivery time, or any other issue.
Where to add this: You should use a Cart Abandonment Survey on the cart pages where the customer makes the final purchase or abandons the cart.
How to add this: You can add it as an Exit-Intent Survey for Cart Abandonment when the customer has abandoned a cart or exited your website.
7. What's the one thing missing from this page?
This question helps you to know if you are missing something in your website that your website visitors are looking for or your competitors are providing. The purpose is to understand why visitors are leaving the page or website and what you can do better to improve your website performance.
Where to add this: You can ask this survey question on landing pages, pages with high exit rates, or on pages where there is high traffic yet low or no conversion.
How to add this: You can add this as a Popup Survey that appears after a few minutes of browsing the webpage, or you can also add it as an Exit Intent Survey.
8. What could we have done better?
It is an open-ended question, the purpose of which is to understand the reasons for churn or cancellation of subscriptions. You can also add this as a follow-up question in your website feedback form to know the reason for a bad feedback rating by the user.
Where to add this: You can add this on the subscription or purchase cancellation page or downgrade page. You can also add this question as a Logic Survey Question when the customer has given a low rating in a Feedback Survey.
How to add this: You can add a Popup Survey asking this question from the churning customers.
9. To what extent do you agree or disagree with the following statement? "The company made it easy for me to resolve my issues."
This is the popular Customer Effort Score (CES) Survey Question that measures the customer's effort to use your website or do business with you. The purpose of this question is to understand the users' ease of using the website and to evaluate the performance of your customer service agents or live chat agents.
Where to add this: You can ask this question in a Post-interaction survey that you share just after a customer interaction or live chat.
How to add this: You can use a Popup Survey to ask this question from your website visitors and users.
Let's explore the right places and touchpoints to ask these questions on your website.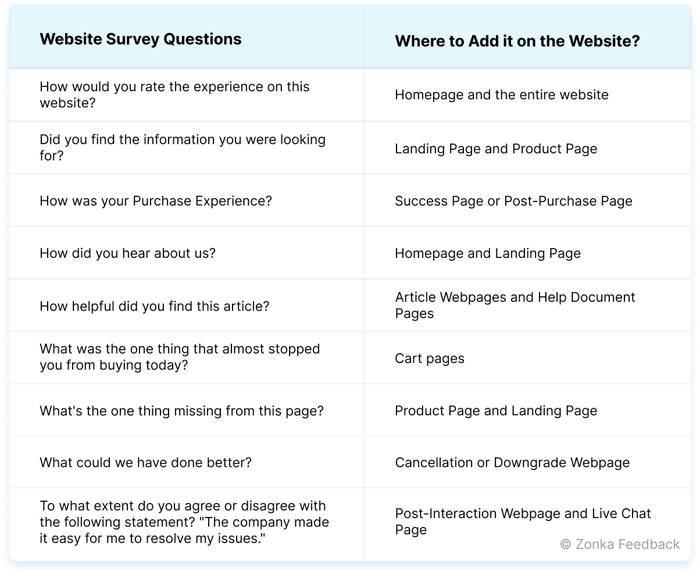 Website Satisfaction Survey Template
If you are also planning to gauge user feedback in terms of capturing their website satisfaction, there are different pre-made surveys that you can use. Below, we have shared a sample website satisfaction survey template that you can try and use to capture user feedback.
Where to ask Website Satisfaction Survey Questions?
Like questions are the core of your survey, placing them in the right place is also crucial for the success of your surveys. So before you start using the above questions in your survey, let's also learn about the different website pages and the surveys you should use on those web pages.
1. Homepage
The homepage creates the first impression of your website. So it is necessary to choose your surveys carefully on the homepage. You cannot overwhelm your website visitors with complex survey questions on the homepage. So you should add only simple surveys on the homepage like Overall Experience Surveys that ask the visitors to rate their overall experience or the Market Attribution Survey that asks the customers where they get to know about your website.
2. Landing Pages
To boost conversions, it's crucial to optimize your landing pages with high-quality content. Gathering feedback from users about the information they are seeking and whether it's easily found can improve your landing page's effectiveness. Consider adding surveys to ask users if they found the specific information they needed, ensuring a seamless user experience.
If the users leave the landing page without converting, you can use Exit Intent Surveys to know why they are leaving your website and what stopped them from buying your product or services.
3. Success Page or Post Purchase Surveys
Post-purchase or success page is a great touchpoint to ask your customers about their experience of the overall customer journey and the recent purchase experience. With a Post-purchase survey, you can ask how their shopping experience was and if they face any issues while making purchases or making payments online. This will help you identify issues that may be stopping other customers from making the final purchase.
4. Surveys on Webpages with high Exit rates
High Exit rates on certain pages convey that the visitors are not able to fulfill their goals of coming to your website through those web pages. So you should conduct surveys asking the reason for exiting from those pages. For instance, if your website users are abandoning their carts and exiting without making the final purchase, you can share a Cart-Abandonment Survey asking about the reason for Cart Abandonment.
If your customers are exiting a webpage without converting and paying for the subscription of a product or membership, you can use Exit Intent Surveys to ask the reasons for their exit.
You need to ask the right questions at the right touchpoints to bring out valuable insights from your website visitors. Here's a quick tabulation of the major website satisfaction survey questions and the best places to add them across the website.
Let's learn some cool tips for writing effective Website Satisfaction Survey Questions.
Tips to Write Better Website Satisfaction Survey Questions
Most survey software tools come with different types of survey questions out of the box. One can simply select the right question and create the online surveys to be run on the website.
Let's learn about these useful tips and tricks to write better questions for your Website Feedback Feedback Surveys.
1. Keep your Questions Simple and Clear
Use clear and concise language to ensure respondents understand the question without confusion or ambiguity. Avoid using jargon or complex terminology that may confuse the participants.
2. Limit the number of questions
Consider the time and effort required by respondents to complete the survey. Keep your survey concise, and avoid asking too many questions. A shorter survey is more likely to receive higher response rates and better-quality responses.
3. Avoid Leading Questions
Ensure that your questions do not suggest a particular response or bias the respondents. For instance, "You're happy with your recent shopping experience on our website, aren't you?" is a leading question as it leads the respondents in the direction that they are happy with their shopping experience.
Instead, aim for neutrality. The question should be like, "How satisfied are you with your recent shopping experience on our website?"
4. Avoid Double-barreled Questions
Double-barreled questions combine multiple issues into a single question, making it difficult for respondents to provide accurate answers. Break down these questions into separate, focused questions for better insights.
5. Focus on Specific Aspects
Rather than only asking general questions about Website Satisfaction, break down the survey into specific aspects or features of the website that you want to evaluate. For example, navigation, design, content, customer support, etc. Prefer asking questions at specific touchpoints through short surveys like a Post-Purchase survey just after purchase, or a Cart Abandonment Survey just when the customer is abandoning the cart and leaving without purchasing.
6. Include an Open-ended Question
Always include an open-ended Question to let your website users vent out their true feelings and share their exact insights about their experience with your website. You don't need to include many of these questions, as it will make the survey lengthy. Just include one question, like a follow-up question, in the surveys to give them the opportunity to share their insights in their own words.
How to Collect Website Feedback Effectively?
Feedback and survey collection through Website Satisfaction Surveys is a powerful strategy for optimizing your website and enhancing User Experience. And to create and use effective Website Satisfaction Surveys for your benefit, you should use effective Website Feedback Software that not only enables you to create powerful surveys but also helps you take action on them and improve your website to cater for the needs of your website users.
Zonka Feedback is one such tool that can serve the purpose. With this tool, you get ready-to-use customizable survey templates to create effective surveys and share them with the users through pop-ups, slide-outs, feedback buttons, emails, and more. With its powerful features like real-time feedback alerts, you get notified for every feedback or the feedback that falls in the category set by you so that you can take instant action on feedback to close the feedback loop and improve Website Experience for the users.