We live in a world where we cannot imagine our tasks without the internet. Every industry is somewhere reliant on the internet, and the same goes for the feedback industry. But there can be instances where the internet falters.
Take Feedback & Gather Data anywhere with the Offline Survey App🔥
Run surveys on any device in offline mode, even in remote locations and get real-time alerts, responses and insights.
Imagine this thing happens when your customer is giving feedback or providing you with information using the lead capture tool. How do you cope with it?
You go with the offline survey app. An offline survey app is a feedback and survey app for iPads and Android tablets that works without Wi-Fi.
You can run offline surveys even when the internet connectivity is down.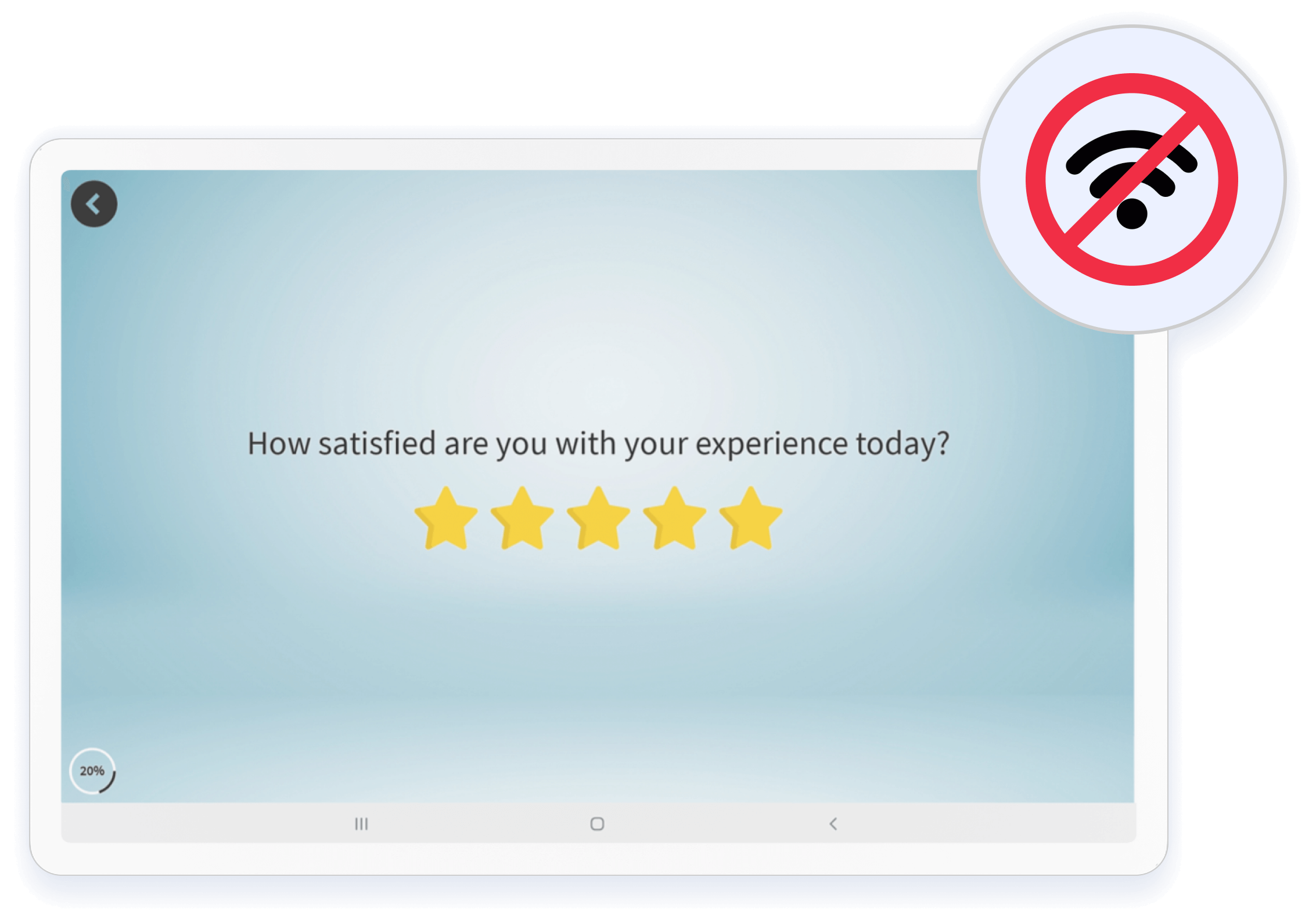 So, with a feedback app like Zonka Feeback, you can take feedback and sync them later.
There are ample benefits to using offline surveys. For example, you are in a remote location with no internet connection, which happens while gathering feedback. Or you are in an area with massive connectivity issues.
You can use an offline survey app to capture customer data in these scenarios.
Now you know about offline surveys, the next thing is to understand how offline survey works.
How Does an Offline Survey Work?
An offline survey app works for you and stores feedback for several weeks. Let's see how it works:
Download your surveys & feedback forms: While you have internet, download your offline survey app on your device (iPad, iPhone, Android Tablet, or Smartphone). Once done, you can log in to your account, and the surveys will get downloaded automatically.
Start taking feedback: Once your surveys are downloaded, you can forget about the internet and gather feedback and responses on your tablets.
Store responses and feedback for weeks: Offline survey apps can store feedback for weeks. Even if you don't get internet for weeks, the feedback will remain on the tablet.
Automatically sync once connected to WiFi: Whether you connect your device to the internet, the offline survey app will start syncing up all your survey data. You do not need manual setups; it will automatically sync as it gets the internet connection.
View detailed feedback reports: An effective offline feedback app enables you to capture feedback offline and provides you with detailed feedback reports to view in real-time.
Reasons why Offline Surveys are Reliable and Convenient
Offline surveys can reach respondents who lack internet access

The number one benefit of offline surveys is that they allow you to reach people without internet access. They are a significant advantage in certain situations where you lack internet connectivity or have a lousy internet connection.

For example, you run an NGO. You'd like to know what the people who benefit from your services think about your organization. You want to see how you can make things better. In these cases, a feedback app installed on your smartphone or tablet is a fantastic way to reach respondents. Your respondents can answer the survey without using the internet, and you can download it once you are online.

Offline feedback offers a broad reach

We can see offline feedback through apps, and tablets don't need an internet connection. They offer the versatility that the online feedback method lacks. You can collect offline surveys anywhere, in rural areas, shopping malls, or public transport. Therefore, offline surveys offer you a broad reach.

Offline surveys work great if you want your customers visiting restaurants to share their opinions about food, ambiance, etc. You can set up an offline tablet-based kiosk survey for them to leave their responses on.

Offline surveys provide rich and detailed data

Personalized interaction isn't just good for closing the feedback loop. It helps to build better relationships with respondents. Face-to-face interactions allow you to get plenty of information by reading body language and facial expressions. And they give you a chance to take customer feedback after a transaction.

Offline surveys can increase response rates

Face-to-face interactions can help you improve the response rate on your surveys. Online surveys have low response rates due to increased spam messages. Another reason is that customers can read the survey online and choose not to complete it. During offline surveys, the interviewer can gently nudge the respondent to continue filling out the form.

Summing it Up

So, offline surveys are effective and better than online surveys. Offline surveys are the long-term solution and help to collect feedback and do surveys anytime, anywhere, even without internet connectivity. What are you waiting for?

Use Zonka Feedback and start using offline surveys.